A Guide On The Refugee Resettlement Scheme
Refugees who cannot travel far beyond their home country's borders often find themselves living in refugee camps, and many spend years or whole lifetimes here. However, refugee resettlement happens when refugees are transferred to a country where they have sought protection.
In the UK, many refugees find a new lease on life through refugee resettlement schemes. However, UK law regarding refugee resettlement schemes is complex and difficult. This is why having a Total Law lawyer on your side to help you through the process can make all the difference. Give us a call today at 0333 305 9375, or message us online to get started.
The Refugee Resettlement Scheme
Countless refugees are unable to go home due to ongoing conflict, wars, and even persecution. Many of these refugees live in dangerous situations or may have specific needs that cannot be addressed in the country from which they have sought protection.
In situations like this, UNHCR helps resettle these refugees to a third country. Resettlement is the process of transferring refugees from their country of asylum to another state that has agreed to admit them and provide them with permanent residence.
UNHCR (United Nations High Commissioner for Refugees) is mandated by its statute as well as the UN General Assembly Resolutions to be able to undertake resettlement as being one of the three durable solutions.
Resettlement is a unique action as it is the only genuine durable solution that actively involves the relocation of refugees from asylum countries to a third-party country.
Being able to provide an effective reception and integration is ideal and productive for the receiving nation and the resettled refugee. Non-government and government organisations alike provide services to aid in the facilitation of integration. This includes cultural orientation, vocational training, and language training; it also includes programmes that help promote access to education and employment services in the receiving country (such as the UK).
"I'm very happy with the standard of training received on the OISC Level 1 course, i passed my exam. Thank you!"
"My application was approved and a huge weight has been lifted from our shoulders this year "
"We used this service for the spouse visa extension application to assure that all the information was valid and correct."
Resettlement Schemes In The UK
Several resettlement schemes in the UK allow people to relocate to the country.
UKRS
The UKRS (United Kingdom Resettlement Scheme) was introduced in 2021 after three previous resettlement schemes closed. These schemes were:
The vulnerable children's resettlement scheme.
The gateway protection programme.
These schemes were focused on specific groups or had geographical scope. UKRS consolidates these schemes into one simplified scheme that would aid refugees on a global scale.
This scheme was originally targeted at aiding 5,000 individuals per year; it intends to resettle refugees that are from countries that host very large populations. This includes countries that border other countries with conflicts where resettlement is likely the only durable solution.
Community Sponsorship
There is also the community sponsorship scheme, which aids local communities, charities, civil society organisations, and faith groups to directly support and welcome families into their communities.
This was introduced as a response to the desire of civil society to better support refugees and as an example of effective civil society collaboration and government.
ARAP & ACRS
Arap (Afghan Relocation and Assistance Policy) came into place in 2021 for the British military in Afghanistan. Formerly employed staff in the country who are believed to be under serious threat to their lives are eligible for relocation.
ACRS (Afghan Citizens Resettlement Scheme) was opened in 2022, welcoming 6,300 Afghans into the United Kingdom in the first year, and aims to resettle up to 20,000 individuals in years to come. There are 3 pathways for this; the first is for those who were evacuated in 2021.
The second pathway includes those who have fled the country, and UNHCR has identified them for resettlement. The third is offered protection by the UK government for at-risk individuals and their eligible family members who are in Afghanistan or locally.
Mandate Resettlement Scheme
This is a global scheme that resettles those who are recognised as refugees if they have a close family member inside the UK who is able and willing to provide accommodation for them.
Refugees who are accepted into the mandate scheme need to have been recognised as refugees in need of resettlement by UNHCR. The individual needs to be a spouse, child, parent, or grandparent over the age of 65 in the UK.
Alternatively, the individual could also be eligible if they have limited leave to remain in a category that leads to settlement and is willing to support and accommodate the refugee.
Refugee Resettlement Eligibility Criteria & Requirements
Overview
There is no application for resettlement; therefore, there are no 'traditional' eligibility criteria. UNHCR operations in the country of asylum will instead be actively seeking to address the protection concerns of the refugees in that specific country.
This means that UNHCR is in charge of finding solutions regarding the relocation of refugees. In some cases where an individual's concerns regarding protections cannot be addressed in their location, UNHCR may then seek to find resettlement opportunities for the refugee.
The country of the refugee's location will have a UNHCR office, and this office will review their case for relocation and resettlement. If they are considered for resettlement by UNHCR, UNHCR then a UNHCR official will inform them where they will be located.
Refugees who are abroad should contact the UNHCR office closest to them should they wish to report concerns regarding their protection or if they want to obtain information regarding resettlement.
It is worth noting that resettlement is not offered to all refugees, and it is typically only offered to a small number based on protection needs. UNHCR states that less than 1% of the world's refugees are submitted for resettlement each year.
This is only because there are few resettlement places available each year compared to the need for resettlement on a global scale.
This means that resettlement places are prioritised for those who are most in need of them. The refugees who are facing the most dire protection risks in their asylum country and have no prospect of a safe return to their origin country are prioritised.
Family connections in resettlement countries (i.e., the UK) may be considered; however, this is not a typical determining factor for whether an individual will be referred to for resettlement.
Resettlement Offered Only To Recognised Refugees
All of the individuals in UNHCR resettlement submissions need to be recognised as refugees by a host state or by UNHCR.
Refugees who are recognised by a host state will usually be subject to national legislation that incorporates the definitions of a refugee in the 1951 Convention Relating to the Status of Refugees and its 1967 protocol. Alternatively, the definitions in the 1984 Cartagena Declaration on Refugees or even the 1969 Organisation of African Unity Convention Governing the Specific Aspects of Refugee Problems in Africa may also be applicable. Through this family, unity could also be a basis for recognition.
Refugees who are recognised by UNHCR under its mandate will be based upon the definition of a refugee in the 1951 Convention Relating to the Status of Refugees and its 1967 Protocol. Alternatively, the definition may also be defined per the UNHCR's broader refugee definition. In this definition, family unity may also be considered as a basis for recognition through the UNHCR mandate.
There may be some exceptions to the general ruling that an individual needs to be a refugee to be resettled. These exceptions include the following:
In the case of dependent children or partners of a refugee who is being submitted for resettlement and who are nationals of the country of asylum,
Non-refugee stateless persons.
Refugee Recognition By State
States are primarily responsible for the protection of refugees in their territories. To fulfil this, states need to establish systems to determine who requires international protection. UNHCR supports the states in the development of quality asylum systems to operate with efficiency, fairness, integrity, and adaptability.
In some contexts, those who are given refugee status by a state could be recognised for resettlement. When refugee recognition is made by a state, UNHCR will look to gain as much information about the state recognition as possible, including supporting documents and the decision. During the process of resettlement, UNHCR needs to verify that the eligibility criteria are met under the relevant refugee definition, alongside references to claims and all available information.
The full scope of the certificate varies depending on the operational context; this includes the nature of the state's asylum procedures and the legal basis it uses for recognition. In cases where recognition is made under broader refugee definitions, UNHCR will typically identify and articulate the nexus to the convention as per Article 1A(2) in the RRF (Resettlement Registration Form).
When verifying refugee status, resettlement colleagues need to be alert to any exclusion triggers; this is especially important when the status is granted on a prima facie basis.
Prima Facie is an approach to recognising refugee statuses based on objective, apparent circumstances in the origin country. This is implemented through the minimization of individual components of refugee claims that are recorded at the time of registration.
The verification of refugee status is not the same as the mandated RSD (Refugee Status Determination), as certification does not include the recognition or rejection of status.
UNHCR aims to avoid engaging in mandated RSD where asylum systems are in place. The only situations in which UNHCR needs to conduct RSD under mandate before submitting for resettlement include:
Individuals are denied access to the asylum procedures of the host country.
The individual is an asylum seeker, but their case has been pending for a disproportionate period, and it is not possible for the authorities of the national asylum system to track it.
The individual has been rejected by the asylum authority, and UNHCR believes this was decided wrongly.
Refugee Recognition By UNHCR
States are primarily responsible for the determination of refugee status, but UNHCR may conduct RSD in some territories and countries not party to the 1951 Convention or those that have not yet established legal frameworks and provided adequate RSD processes.
In some cases, UNHCR will conduct RSD in line with its mandate in cooperation with the government. UNHCR offices are encouraged to explore alternative protection interventions that do not require individual RSD.
That being said, UNHCR does recognise there may be some instances in which mandated RSD is the most effective means of protection intervention. This can be undertaken via diverse case processing modalities that safeguard the efficiency, integrity, quality, and fairness of this process.
What Is The Refugee Resettlement Process In The UK Like?
Overview
UKRS allocates refugees per the UK resettlement scheme and works in close partnership with local authorities. UKRS receives offers of accommodation from local authorities or on a regional basis. Refugees will be matched with a local authority that can provide support and accommodation as appropriate.
Then, through community sponsorship, the refugee will be allocated to a suitable community group that has been approved as a sponsor formally. Local authorities do need to consent to community sponsorship applications and agree to the group being accepted as the proposed refugee 'family'.
Alternatively, refugees who are resettled via the Mandate Resettlement Scheme will be accommodated and supported by a family member who lives in the UK.
Travel & Arrival In The UK
Upon arrival in the UK, the IOM (International Organisation for Migration) plays a key role in the resettlement of refugees. They work with the region to provide a thorough health assessment and handle travel assistance and document handling before the refugee can be resettled.
Health assessments, or MHA (migration health assessments), are conducted by IOM and provided to the applicable local authority so that appropriate care can be arranged for the refugees upon their arrival. IOM will also likely inform where an individual will be resettled, especially in cases of mobility issues or health conditions that require treatment by a specialist. Refugees with TB will not receive resettlement until their condition is 'latent'.
Additionally, IOM will provide refugees with the assistance required to travel to the UK based upon agreed resettlement dates. This includes visa applications and accompanying refugees to UKVI (UK Visa and Immigration) centres for biometric enrollment, flight booking, exit permits, permits and so on.
Those over the age of 14 resettled through UKRS and community sponsorship will get a 3-day pre-department cultural orientation by IOM to help them acquire information needed upon arrival in the UK.
Those resettled in the UK (adults and children) will be issued a BRP (Biometric Residence Permit), which is used to confirm identity, status of immigration, right to work, and access to public funding. The BRP card will include a NI (National Insurance) number for those over 16 years of age.
Families resettled through UKRS will have their travel and accommodation arranged by IOM, who will also send an escort to accompany the family to the UK. The family will be greeted by a representative from the local authority receiving them. Those on the Mandate Resettlement Scheme will have flight costs covered by the Home Office where they cannot afford to do so, and IOM will provide an escort for the particularly vulnerable.
Those who are resettled will receive 6 months' leave outside of the rules visas before they depart the region. These are handed to IOM for the purpose of obtaining exit permits from a host country and arranging departures. Refugees being resettled then obtain ILR (Indefinite Leave to Remain) and refugee status upon their UK arrival.
Resettled Refugees In The UK: Duration Of Stay
How long a resettled refugee in the UK can stay depends on the protection scheme they are entered through.
Refugees who are resettled via the Gateway Protection Programme will arrive in the UK with ILR (Indefinite Leave to Remain). It is widely recognised that it is not safe for these individuals to keep living in refugee camps, and there is little to no chance for them to return to their original country.
Syrian refugees who arrived in the UK via the Vulnerable Persons Resettlement Scheme previously were given 5 years of humanitarian protection; however, since July 2012, they have been given 5 years of Refugee Status.
Refugees who arrive through VPRS are unlike those arriving via the Gateway Protection Programme, as they will have been displaced for a shorter period, and the UK Government is hopeful that the future will allow them to return home.
Those who are on the newer UKRS (UK Resettlement Scheme) will be granted 5 years of refugee status.
Rights & Benefit Entitlements Of Resettled Refugees In The UK
Refugees who have settled through all the available schemes in the UK are granted access to mainstream services and are allowed to work.
Refugees granted resettlement in the UK are granted the right to apply for benefits in the UK, just like nationals of the country. Refugees will also be able to work in the UK without restrictions.
To work in the UK as a refugee, be sure to keep your National Insurance Number safe. This is required as it is a unique set of numbers and letters on your BRP (Biometric Residence Permit) card that is required for employment in the UK.
Alternatively, if the individual is an asylum seeker who has a pending claim, or even if the individual is an asylum seeker who has been refused asylum in the UK, they will be eligible for asylum support.
There are 3 primary types available in the UK: sections 95, 98, and 4 support. This can enable asylum seekers to find eligibility for housing or financial assistance.
Those who have refugee leave or other applicable leave to be in the UK under the UK government's opinion that it is not safe for them to be in the country of previous residence can claim benefits.
Those who can claim benefits and tax credits who are not subject to immigration control will be those who have the following:
Refugee leave.
Humanitarian protection.
Leave via the Ukraine Family Scheme/Homes for Ukraine Scheme.
Leave via one of the Afghan resettlement or relocation schemes.
Leave outside of immigration rules, such as discretionary leave.
Additionally, those who are granted humanitarian protection or refugee leave can be joined in the UK by select family members under the family reunion scheme. Those who join you through this will not be subject to immigration control and can claim benefits that they are entitled to during their leave period.
Is There A Difference Between Resettlement And Asylum?
There is not a lot of difference between a resettled refugee and a refugee who has been granted asylum. Both could be fleeing the same persecution and conflicts; that being said, the journey is different.
Refugee resettlement and asylum systems are different processes. Refugees who are resettled are typically noted as being refugees in camps near their origin country before travelling to a country where they are resettled.
In the UK, those resettled are already recognised as refugees before they arrive; they do not go through the system for asylum. Under the law, anyone can claim asylum in the UK, yet, like in most other countries, refugees need to have already made their arrival in the UK before they can claim asylum.
The asylum system in the UK is complex, and refugee protection is only granted to those seeking asylum who can show that they have a verifiable fear of persecution in their home country. Additionally, resettled refugees and those granted asylum will receive different support. Resettled refugees are given housing and 12 months of specialist support to access jobs and services; this is not offered to those who obtain UK asylum.
Trust In Our Total Law Immigration Solicitors For Assistance
The process for acquiring refugee resettlement in the UK can be complex and drawn out. Getting settled in the UK and knowing what you need to do as a refugee can be difficult. This is why having a legal professional who is well-versed in immigration law and refugee resettlement law can be useful.
At Total Law, our legal team are experts in immigration law and helping refugees find protection and safety. Give us a call today at 0333 305 9375 and get started on your resettlement path.
Advice Package
Comprehensive immigration advice tailored to your circumstances and goals.
Application Package
Designed to make your visa application as smooth and stress-free as possible.

Fast Track Package
Premium application service that ensures your visa application is submitted to meet your deadline.
Appeal Package
Ensure you have the greatest chance of a successful appeal. We will represent you in any case.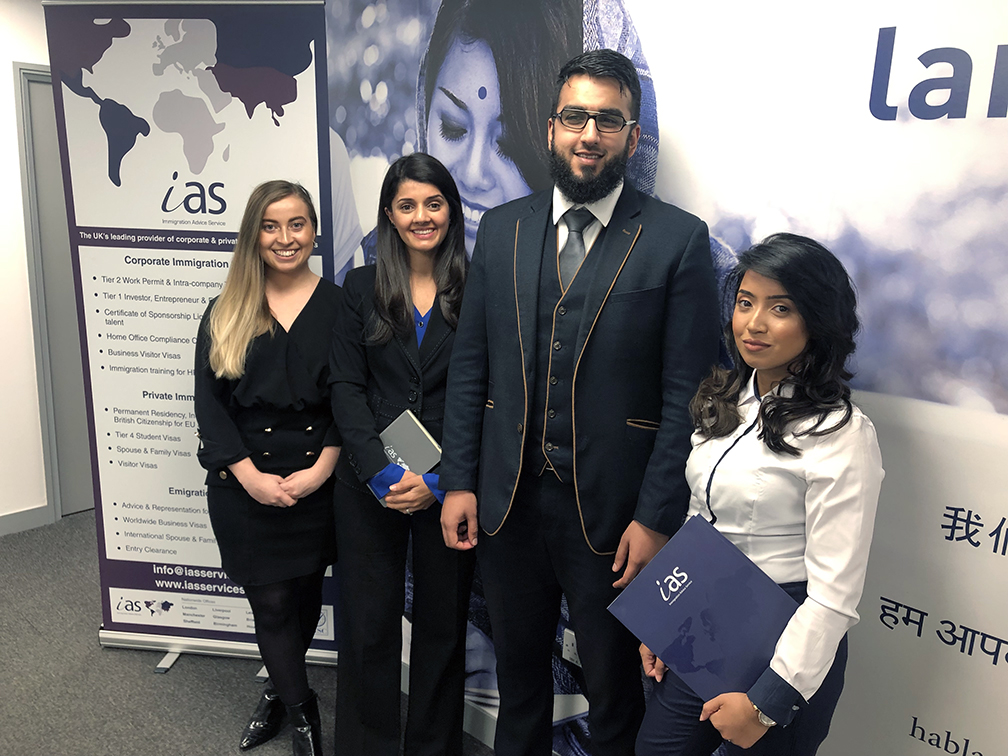 The Advice Package
During this untimed Advice Session with our professional immigration lawyers in London, you will receive our comprehensive advice, completely tailored to your needs and your situation.
Request the Advice Package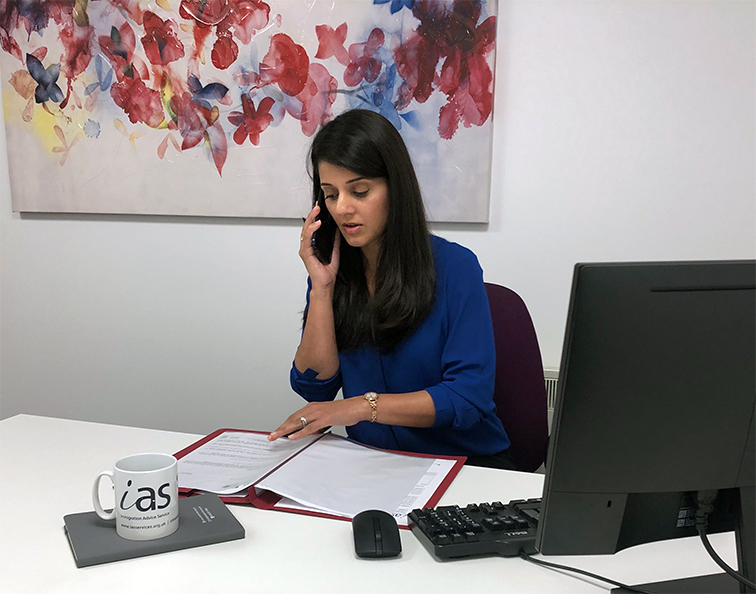 The Application Package
With our Application Package, your dedicated immigration lawyer will advise you on your application process and eligibility. Your caseworker will then complete and submit your forms to the Home Office on your behalf.
Request the Application Package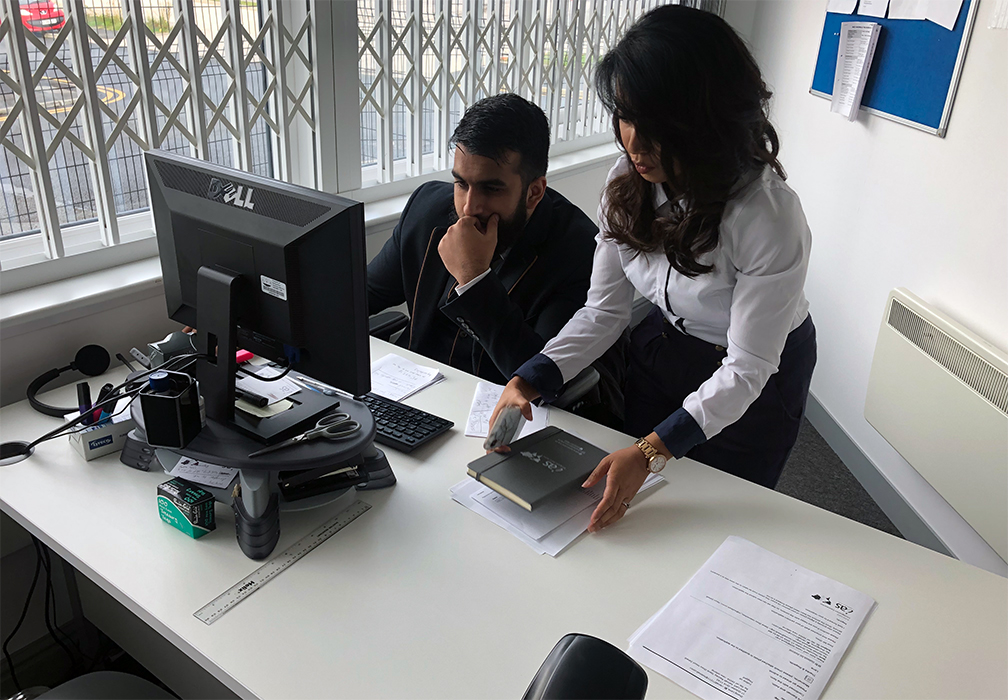 The Fast Track Package
Our Fast-Track Application Package is a premium service for those who need to submit their application in time with their deadlines. Your case will become a top priority for our lawyers and you will benefit from our highest-quality services.
Request the Fast Track Package
The Appeal Package
By choosing our Appeal Package, you can rely on our lawyers' legal knowledge and experience to ensure you have the highest chance of a successful appeal. We will also fully represent you in any hearings/tribunals.
Request the Appeal Package
Related pages for your continued reading.