Requirements for Sponsor Licence UK
An employer or education provider in the UK requires a licence if they wish to sponsor a foreign national worker or student to come and work/study in the country. This is referred to as the sponsorship licence or the sponsor licence.
If you are looking for more information about the UK sponsor licence, such as its eligibility requirements and required documents, or you wish to receive overall legal advice from a team of immigration experts regarding the licence, call us today on +44 (0)333 305 9375.
Overview of the UK Sponsor Licence
A sponsor licence, previously called a Tier 2 sponsor licence, permits UK employers to hire skilled workers who are foreign nationals, based within or outside the country at the time of recruitment.
UK companies wishing to recruit EEA (the EU countries, Iceland, Liechtenstein and Norway) and Swiss nationals will also need a licence, if the said nationals have arrived in the UK from 1 January 2021.
Irish citizens, EEA/Swiss citizens with settled or pre-settled status under the EU Settlement Scheme, and people with indefinite leave to remain in the UK are exempt from the Certificates of Sponsorship (CoS) requirement, meaning a UK employer will not need a sponsor licence to recruit them.
Educational institutions in the UK will also have to apply for a licence to sponsor international students seeking to study full-time, or part-time in certain limited scenarios, in the country.
However, do note that having a sponsorship licence does not guarantee that your foreign national recruits will get a work visa in the UK, or the international student you are sponsoring as an education provider will be eligible for a study visa in the country.
"I'm very happy with the standard of training received on the OISC Level 1 course, i passed my exam. Thank you!"
"My application was approved and a huge weight has been lifted from our shoulders this year "
"We used this service for the spouse visa extension application to assure that all the information was valid and correct."
UK Sponsor Licence Eligibility Criteria for Employers
Licensed UK companies can issue CoS to eligible foreign nationals, which, in turn, enable them to apply for a work visa in the country. All UK work visas mentioned below requires sponsorship by a licensed UK employer:
Global Business Mobility visa
The type of sponsor licence you apply for depends on whether you are hiring foreign nationals for skilled or long-term employment, or temporary workers for specific types of temporary employment. For example, if you are hiring a foreign national on a Skilled Worker visa, you will have to apply for a Skilled Worker sponsor licence.
You may apply for a licence covering both types of workers as well. Hiring foreign nationals for unpaid employment, such as working for a charity in the UK, will also require a sponsor licence.
A UK company must meet the below mentioned criteria to be eligible to apply for a sponsor licence:
They have appropriate systems in place to monitor sponsored workers, and people to manage sponsorship in your business
They do not have unspent criminal convictions for immigration offences or financial crimes like money laundering, fraud etc.
They have not had a sponsor licence revoked in the last 12 months
Have suitable HR systems, policies and processes in place to meet their sponsor duties
Furthermore, the UK company can only sponsor a foreign national worker if:
The job offer complies with the UK minimum wage and working time regulations. The company may lose their sponsor licence and the foreign national worker may be refused a UK work visa if this criterion is not met
The foreign national worker meets the other requirements for their work visa
Basically, you must prove that you are capable of carrying out your duties and meeting all regulatory requirements as a licensed employer. UK Visas and Immigration (UKVI) may visit your business premises during your application review process to establish your trustworthiness as a licensed employer.
Requirements for Sponsorship Licence for Education Providers
UK educational institutions must obtain a licence to sponsor foreign nationals seeking to come to the country via the Student or Child Student routes, which are the primary immigration routes for international students. An education provider can apply for a licence in two categories:
Student: For foreign nationals of 16 years of age or over coming to the UK for higher education
Child Student: For foreign nationals aged between four and 16 years coming to the UK for school-level education
A UK education provider must meet the below mentioned criteria to be eligible to apply for a sponsor licence:
They are a genuine education provider operating legally in the country, and have acceptable educational quality standards
They are considered eligible and suitable to hold a Student sponsor licence
Have suitable HR systems, policies and processes in place to meet their sponsor duties
UKVI will take into account factors like the education provider's institutional history and background, their proposed key personnel for sponsorship management, their policies and processes etc. to establish whether or not an education provider is eligible for a sponsor licence.
UKVI may visit an education provider before taking a decision regarding their sponsor licence application. Any history of criminal or dishonest conduct or immigration crime, either by the provider or by any of their employees, or any doubt as to whether they will be able to fulfil their duties as a licensed sponsor, may result in the refusal of their application.
Genuineness Test for a UK Sponsor Licence
To obtain a sponsor licence, UK businesses will have to pass the genuineness test for sponsorship.
To meet this requirement, you will have to prove that:
You are a genuine business/organisation operating legally in the UK
You have a genuine vacancy for the overseas worker you intent to hire, which cannot be filled with a similarly qualified or skilled worker in the country
You are able to offer genuine employment, which meets the appropriate salary and skill level for the concerned vacancy
You will not only have to meet the above criteria during the application stage, but also continue to do so throughout the validity period of your sponsor licence.
A compliance officer may visit you even after the sponsor licence has been granted, to check that you are complying with your sponsorship duties. The Home Office may revoke your valid sponsor licence at any time if they believe that you are not meeting any of the abovementioned requirements, or you represent a threat to immigration control, or you are neither committed to nor actively complying with the sponsorship responsibilities.
Appointing Key Personnel for Sponsorship Management
In addition, a UK company or education provider seeking to apply for a sponsor licence must appoint senior and competent people within the company/institution for managing the sponsorship process, using mainly the sponsor management system (SMS) tool.
You will have to appoint:
An authorising officer responsible for the actions of staff and representatives who use the SMS
A key contact who will be your main point of contact with UKVI
A level 1 user who will be responsible for the day-to-day management of your licence using the SMS
A level 2 user (optional) once you have received your sponsor licence. They are users with more restricted access than a level 1 user
You may fill these roles by the same employee or different employees, depending on the size of your organisation. However, please keep in mind that whomever you appoint in the above roles will be subject to suitability checks by UKVI.
As per the sponsor licence guidance provided by the Home Office, your key personnel must:
Be based in the UK most of the time
Usually be paid employees or office holders (e.g. partners or directors)
Not be a contractor or consultant contracted for a specific project
Not be subject to a bankruptcy restriction order or undertaking, or a debt relief restriction order or undertaking
Not have an unspent criminal conviction for an offence listed in the guidance for sponsors
Not have been fined by UKVI in the past 12 months
Not have been reported to UKVI
Not have been a key person at a sponsor that had its licence revoked in the last 12 months
Not have failed to pay VAT or other excise duty
Not have a history of non-compliance with sponsor requirements
Not have broken the law in general
You may appoint an overseas worker as your authorising officer, in case you are applying for a UK Expansion Worker sponsor licence and you do not have suitable staff based in the UK for that role.
Moreover, at least one of your level 1 users must be an employee or office holder in the company. You may have additional level 1 or level 2 users employed by third-party HR contractors.
You may allocate the key contact or level 1/level 2 user roles to a UK-based legal representative qualified to provide immigration advice or services.
UK Sponsor Licence Duties
Overview
A UK sponsor licence comes with certain responsibilities, which you would need to meet to keep your sponsor licence valid.
The sponsor licence guidance as specified by the Home Office mentions four main responsibilities, which are:
Record-keeping
Monitoring and reporting
Absence monitoring
Notifying the Home Office of changes in circumstances
Record-Keeping Requirement
A sponsor licence holder will have to maintain relevant records relating to their sponsored employees, such as their right to work in the UK documentation, their NI numbers (if applicable), and their updated contact details.
You must retain copies of their documents such as passports, immigration status documents, period of leave to remain in the country, their biometric residence permit, employment contracts etc.
Monitoring and Reporting Requirement
You must set up systems and processes within your organisation to track and monitor your sponsored employees.
You will have to report to the Home Office if your sponsored employee fails to commence working for you on their expected start date, has 10 days of consecutive unauthorised absence, has their contract terminated earlier than expected, or has moved into another immigration category, within 10 days of such occurrence.
Moreover, if you have concerns or evidence that your sponsored employee has breached the conditions of their stay in the UK, you must notify the Home Office immediately.
Absence Monitoring Requirement
Sponsor licence holders must authorise and record all absences of their sponsored employees. This includes sick leaves, annual leave, study leave and overseas travel.
Notifying the Home Office of Changes in Circumstances
Changes in certain circumstances must be immediately reported to the Home Office to maintain valid sponsor licences. These include:
Change in key personnel listed on the sponsor licence application
Change of business premises
Any changes to the company's UK network, e.g. opening or closing branches
Any change to the company's overseas branches, subsidiary companies and linked entities
Immigration Compliance Audit
If the Home Office has reasons to believe that your HR systems are not adequate to comply with any of the above sponsor duties, your sponsor licence application may be refused, or your existing sponsor licence may be revoked.
To avoid this, please ensure to conduct an internal audit of your existing HR systems periodically, to identify potential issues and breaches of the requirements.
If your internal audit findings report any such issues or gaps, please address them before making a sponsor licence application.
Even after you are granted a sponsor licence, you must keep on regularly checking whether practices and procedures at any of your offices, where sponsored employees will be working, continue to meet the Home Office standards, to ensure full compliance.
Required Documentation for UK Sponsor Licence Application
The supporting documentation required for a sponsor licence varies depending a) on the type of your organisation or company (e.g. public bodies, start-up companies, SMEs, educational institutions etc.), and b) for how long you are lawfully operating in the country.
For example, UK government departments, agencies or other public bodies listed on the GOV.UK website are not required to submit any supporting documents while applying for a sponsor licence, unless there are mandatory documents specifically required for the route(s) on which they are applying.
The supporting document may include (but are not limited to):
Latest audited or unaudited account statements. Audited accounts are mandatory if you are obliged to file audited accounts according to the law
Employer's liability insurance certificate (of at least £5 million in insurance from an authorised insurer)
Certificate of VAT registration
Latest corporate bank account statement
HMRC registration evidence, such as your PAYE and accounts office reference numbers
Proof of ownership of, or a commercial lease for, business premises
Proof of registration if you are required to be registered with and/or inspected or monitored by a regulatory body to legally operate in the UK
A minimum of four documents on the above list must be submitted along with your sponsorship licence application. However, you may consider submitting more to alleviate any concerns the Home Office may have regarding any of those documents.
There might be additional document requirements depending on the sponsorship subcategory you are applying for. Companies applying in the Senior or Specialist Worker visa (previously known as the Intra-company Transfer visa) sponsor licence subcategory, for example, must also submit proof of common ownership between the UK entity and the overseas entity.
Likewise, if you are applying for a religious worker sponsorship, you must provide the details of your parent organisation and how you are connected to them, the size of your adult congregation, the number of religious workers currently in your employment etc.
The UK sponsor licence eligibility criteria is strict, while the documentation requirement is varied and complex in nature.
Moreover, keeping a valid sponsor licence requires a rigorous compliance regime on your part. You have to ensure that you have all required HR and monitoring policies and processes in place, and they are functioning effectively and efficiently according to the standards specified by the Home Office.
Speak to Total Law.
Our team of expert immigration lawyers come with the required knowledge to assist you, regardless of the complexity of your case.
If you are seeking overall advice with your sponsorship licence application in the UK, or you would like a lawyer with required immigration expertise to complete your application on your behalf, we can help you. Our legal team also offers a document and application checking service, in case you just need a final check to confirm that your documents and application adhere to UKVI rules and regulations.
To know more about the immigration services we provide and how we can help you, please call us today on +44 (0)333 305 9375.
Advice Package
Comprehensive immigration advice tailored to your circumstances and goals.
Application Package
Designed to make your visa application as smooth and stress-free as possible.

Fast Track Package
Premium application service that ensures your visa application is submitted to meet your deadline.
Appeal Package
Ensure you have the greatest chance of a successful appeal. We will represent you in any case.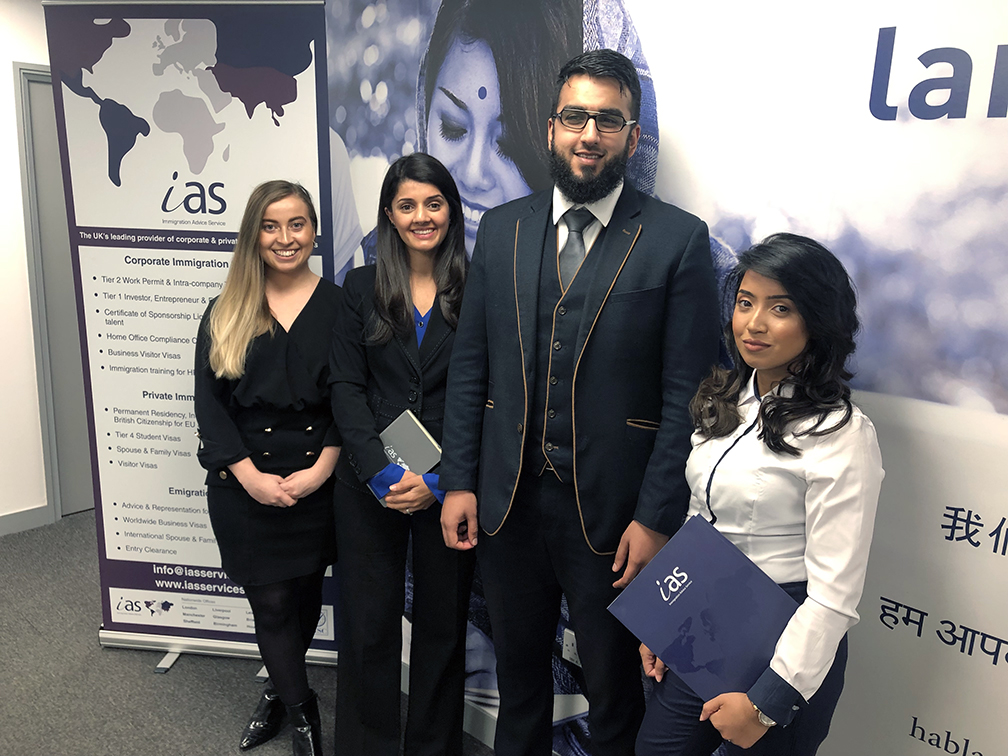 The Advice Package
During this untimed Advice Session with our professional immigration lawyers in London, you will receive our comprehensive advice, completely tailored to your needs and your situation.
Request the Advice Package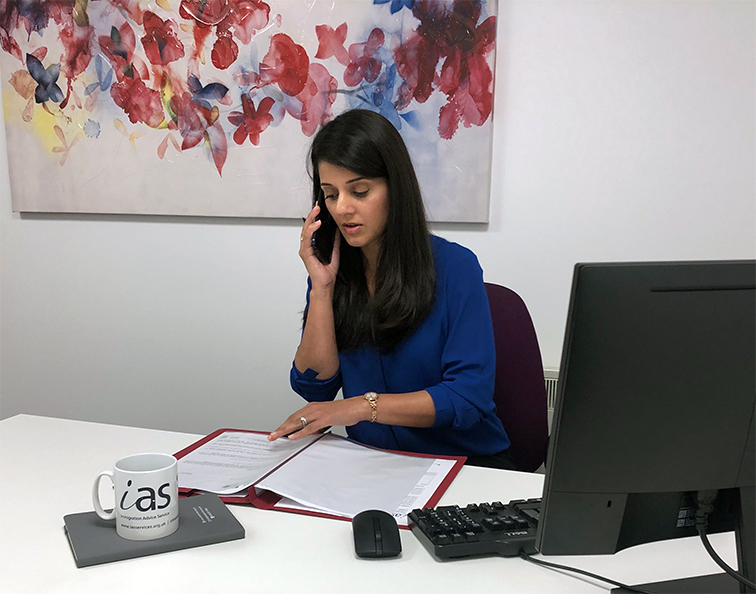 The Application Package
With our Application Package, your dedicated immigration lawyer will advise you on your application process and eligibility. Your caseworker will then complete and submit your forms to the Home Office on your behalf.
Request the Application Package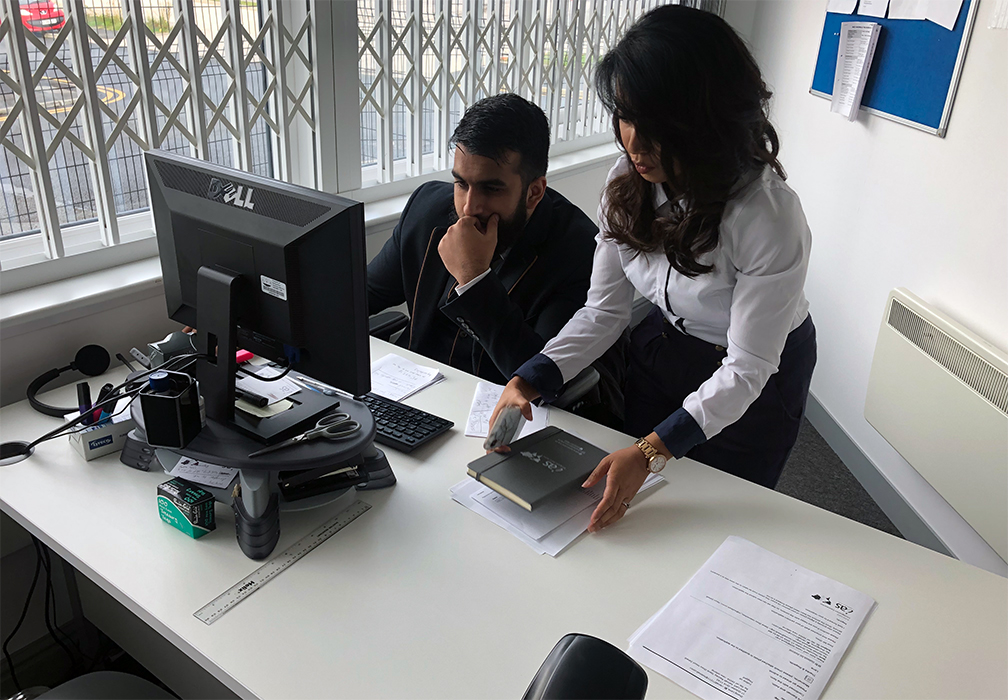 The Fast Track Package
Our Fast-Track Application Package is a premium service for those who need to submit their application in time with their deadlines. Your case will become a top priority for our lawyers and you will benefit from our highest-quality services.
Request the Fast Track Package
The Appeal Package
By choosing our Appeal Package, you can rely on our lawyers' legal knowledge and experience to ensure you have the highest chance of a successful appeal. We will also fully represent you in any hearings/tribunals.
Request the Appeal Package
Related pages for your continued reading.
Frequently Asked Questions
No. Only organisations are granted sponsor licences, which permit them to sponsor foreign national workers. Individuals cannot be licensed sponsors.
A CoS is an electronic document, issued to an overseas worker seeking a work visa in the UK, by their sponsor company in the country. It contains important information about the job offer, including the type of job and the duration of the employment, and the sponsor licence number.