UK Sponsor Licence Application
Any UK employer that would like to sponsor overseas workers to come work in the UK on a visa must hold a valid sponsor licence.
If you have any questions regarding the UK sponsor license application, you can contact our expert team of professional immigration lawyers to discuss any concerns you may have, or for some help navigating the application process. You can call us on 0333 305 9375, or contact us online seven days a week via our live chat.
What is a sponsor licence for the UK? 
UK employers will need to complete a sponsor licence application if they want to employ foreign workers.
Normally, UK sponsor licences fall under the categories of a Worker licence and Temporary Worker licence. The type of employment that the organization is hiring for will determine which sponsor licence the employer needs to apply for.
For the sponsor licence application, employers must reach the required obligations as the employer of a foreign worker, before and during employment.
If your UK sponsor license application is approved, the company/ business will be awarded an A-rated licence and will be listed in the register of sponsors.
If the company/business, however, does not meet the duties as a sponsor, the sponsor licence could be downgraded to a "B rating." If this happens, the UK visa and immigration office will provide an action plan. The business/company will need to follow the action plan to upgrade your licence back to an A-rating. An action plan costs £1,476.
"I'm very happy with the standard of training received on the OISC Level 1 course, i passed my exam. Thank you!"
"My application was approved and a huge weight has been lifted from our shoulders this year "
"We used this service for the spouse visa extension application to assure that all the information was valid and correct."
Who requires a sponsor licence?
Employers require a sponsor licence to employ skilled workers from outside the UK. This includes citizens of the EU, Iceland, Liechtenstein, Norway, Switzerland and worldwide. The sponsor licence extends to unpaid jobs, including volunteering.
The following people do not require a licence to sponsor:
People with Irish citizenship
People with settled or pre-settled status through the EU Settlement Scheme
People with Indefinite Leave to Remain in the UK
What is the sponsor licence eligibility for UK employers?
To be eligible to become a sponsor licence holder, the employer or sponsor must:
Not hold any unspent criminal convictions for immigration offences with the home office or any other crimes, such as fraud
Not have any history of failing to carry out sponsor duties
The sponsor licence application process is complex and requires the employer to provide detailed information on their organization
Sponsor licence holders are not required to conduct a Resident Labour Market Test.
However, the Home Office will require the company to provide evidence to show that the employment of migrant workers is necessary.
There are two routes for two sponsor licence applications:
to sponsor regular, skilled workers
temporary workers
Depending on which, the sponsor licence application depends on the nature of work the employee will be doing.
Should the sponsor licence application be approved, the employer will then assign a "Certificate of Sponsorship" to each foreign worker.
What is a certificate of sponsorship?
A Certificate of Sponsorship (CoS) is an electronic document from the Sponsor Management System (SMS) after a sponsorship licence is approved.
To sponsor a migrant worker, the company must first request a Certificate of sponsorship from the Home Office through the SMS.
Once this is approved, the company/business will be required to assign the number to the migrant worker to generate a unique reference number for the candidate to submit during their visa application.
What are the responsibilities of a Sponsor Licence holder?
These responsibilities include:
Confirming that any foreign workers coming to work have the necessary skills and qualifications for the role and the ability to prove it
Assign Certificate of Sponsorship to workers when the job is suitable for sponsorship
to Inform the UKVI if your employee is not complying with the conditions and terms of the visa
Which visa requires a sponsor licence?
As mentioned above, there are two types of workers that require a sponsor licence, skilled workers and temporary workers.
Skilled Worker sponsor licence
The Skilled Worker Visa is reserved for workers that are long-term skilled workers, who, with the visa, have the right to work for a minimum of three years, and usually five. Under the Skilled Worker Visa, there are subcategories of visas that require a sponsor licence, too, these include the:
Sportsperson Visa
Minister of Religion Visa (Employees can work for up to three years under this subcategory)
To be eligible for a skilled worker visa, you have to prove the following:
You will be working for a UK employer that's been approved by the Home Office
Have a 'certificate of sponsorship' (sponsor licence) from your employer with information about the role you've been offered in the UK
Will do a job that's on the list of eligible occupations
Be paid a minimum salary
You can apply for this visa up to 3 months before you are supposed to start working, and this date is listed on your certificate of sponsorship. As part of your application, you'll need to prove your identity and provide your documents.
If you are inside the UK, you should get a decision on the visa within 3 weeks or 8 weeks if you are outside the UK.
Temporary Worker Sponsor licences
The Temporary Worker Visa is reserved for skilled workers who will do temporary work in the UK. The Temporary Worker Visa is broken into the following subcategories:
Creative Worker: Permits two years for eligible creative workers
International Sportsperson: Permits up to one year for the sports person but up to two years for an entertainer or artist
Charity worker: Permits up to one-year
Religious worker: Permits up to two years
International agreement worker: For instances when work is covered by international law
Government Authorized Exchange
To be eligible for a Temporary Worker Visa, you must prove the following:
Have a certificate of a sponsorship reference number
Have sufficient finances to support yourself in the UK (At least £1,270 (unless you're exempt)
Be 18 years old or older when you apply
Your work is covered by international law
How can an organization/business apply for a sponsor licence? 
To apply for a sponsor licence, a company must submit an online sponsor licence application form, along with a minimum of at least four supporting documents as evidence of its presence in the UK, and a cover letter detailing background information about the company.
Sometimes, the Home Office may require additional documents such as evidence of the company's Human Resources processes to assess whether the compliance requirements and sponsorship duties will be met. During an assessment of the licence application, the Home Office authorizing officer may also conduct a compliance visit at the business premises.
The standard processing time for applications is 8 weeks.
What documents are required for a sponsorship licence application?
The required document list from the home office is extensive and will depend on whether the company or organization is registered as a public body, start-up, franchise or small and medium enterprise. As there are many sponsor licences, each type will require different supporting documents.
While the list will vary, some documents may be:
The most recent bank statement for the business/company
Proof of employer's liability insurance of at least £5 million from an authorized insurer.
Certificate of VAT registration.
Evidence of registration with HM Revenue and customs
Proof of ownership or lease of business premises or rental agreement papers
Latest audited or unaudited accounts
If applicable, evidence of registration from a regulatory body to operate lawfully in the UK
All sponsor licence documents need to be given within five working days of the online application. The documents should be in their original form.
What are the Sponsorship Management Roles?
As part of the sponsor licence application, company's/businesses need to appoint people within your business to manage the sponsorship process when you apply for a licence through the SMS.
The specific roles required are:
A key contact who will act as the main point of contact with UK Visas and Immigration.
An authorizing officer should be a person in a senior role. They will be responsible for the actions of the staff and representatives
A level 1 user, who will be responsible for the day-to-day management of the sponsor licence
Depending on the business, these roles may be held by just one person. At least one level 1 user has to be an employee of the company, whereas other levels 1 and level 2 users could be employed by a third-party organization.
Every person who works within the sponsorship process will need to undergo certain checks, including any unspent criminal convictions and whether the person has been reported to the UKVI.
Advice Package
Comprehensive immigration advice tailored to your circumstances and goals.
Application Package
Designed to make your visa application as smooth and stress-free as possible.

Fast Track Package
Premium application service that ensures your visa application is submitted to meet your deadline.
Appeal Package
Ensure you have the greatest chance of a successful appeal. We will represent you in any case.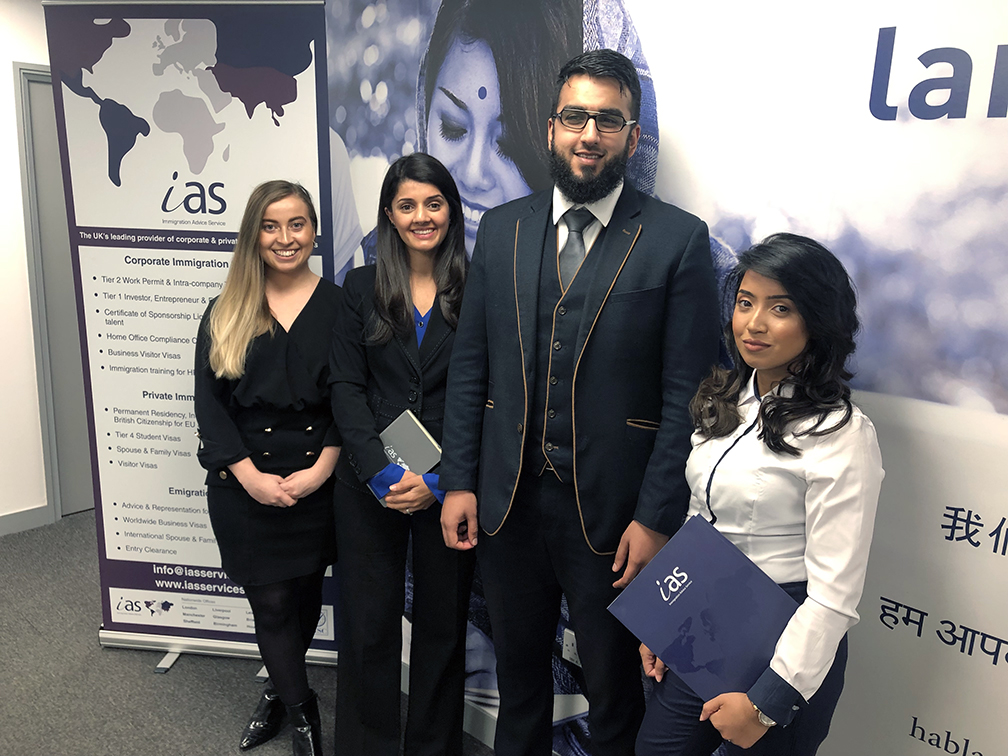 The Advice Package
During this untimed Advice Session with our professional immigration lawyers in London, you will receive our comprehensive advice, completely tailored to your needs and your situation.
Request the Advice Package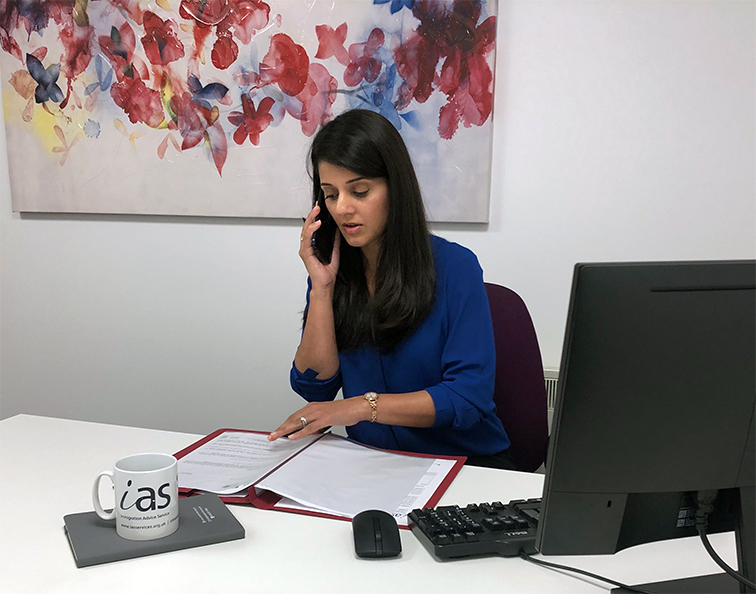 The Application Package
With our Application Package, your dedicated immigration lawyer will advise you on your application process and eligibility. Your caseworker will then complete and submit your forms to the Home Office on your behalf.
Request the Application Package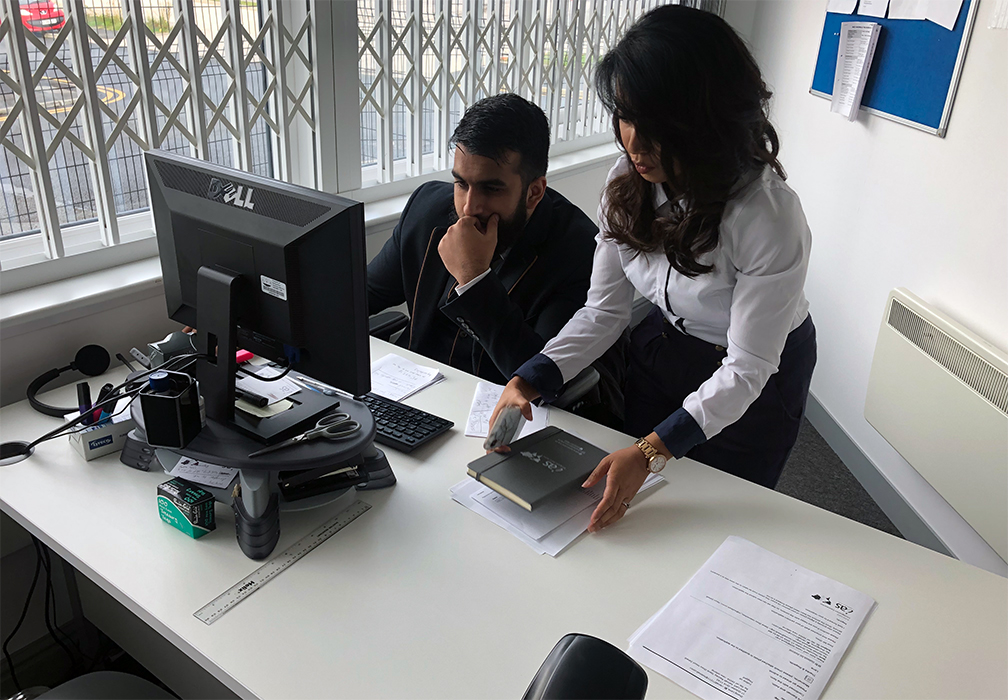 The Fast Track Package
Our Fast-Track Application Package is a premium service for those who need to submit their application in time with their deadlines. Your case will become a top priority for our lawyers and you will benefit from our highest-quality services.
Request the Fast Track Package
The Appeal Package
By choosing our Appeal Package, you can rely on our lawyers' legal knowledge and experience to ensure you have the highest chance of a successful appeal. We will also fully represent you in any hearings/tribunals.
Request the Appeal Package
Related pages for your continued reading.
Frequently Asked Questions
A Sponsor licence number is a unique number or code that is issued to Sponsor licence holders. As a Skilled Worker or Temporary Worker, the Sponsor licence number will be located on your Certificate of Sponsorship.
The Home Office may refuse the application for a variety of reasons which will be explained to you in the refusal letter.
The most common reasons include:
Business' failure to pass the Home Office's Compliance Audit
Business' failure to retain sufficient documentation
The business has not informed the Home Office of significant changes to their workforce
The business has not responded to the Home Office's enquiries
Business does not pass its 'genuineness test'
Business does not comply with the Home Office's security standards
A Sponsor licence lasts for four years. One can extend the licence if the sponsor meets the eligibility requirements.
After four years, the sponsor has to renew their licence if they wish to extend.
The Home Office does send automatic notifications to organizations when the licence needs to be renewed. The responsibility always falls on the business to ensure that they comply with deadlines.
It is best not to let the Sponsor licence expire. If it does, the immigration status of your foreign workers will be at risk, and there will be disruption to your business's operations if the licence expires and you continue to employ non-UK workers.
Should there be any changes to your business/organization, the UKVI has to be told within 20 working days.
If you do not, the sponsor licence could be affected.
Examples of Significant changes could be:
The business has gone under, stopped, or stopped trading
The type of business has changed
The business is undergoing a merger or take-over
If your business moves or allocated roles change