Ukraine Sponsorship Scheme
The Ukraine Sponsorship Scheme offers a chance of hope for those displaced by the crisis in Ukraine. This initiative represents the UK's dedication to humanitarian support, providing assistance to those in need.
Need guidance navigating the Ukraine scheme? Contact Total Law at 0333 305 9375. Our experienced team is on standby, ready to assist and ensure your seamless application process.
The (Homes for Ukraine) Ukraine Sponsorship Scheme
Considering the escalating humanitarian crisis in Ukraine, the United Kingdom took a proactive step to offer refuge and support to the affected Ukrainian nationals by initiating many schemes for Ukrainians, one of which is the "Homes for Ukraine" Sponsorship Scheme.
This innovative scheme is a tribute to the UK's commitment to solidarity and international responsibility, aiming to provide a haven for Ukrainians during difficult times.
The primary motivation behind the beginning of this scheme was the severe displacements and hardships faced by Ukrainians due to geopolitical tensions and conflicts. The scheme also has provisions for immediate family members to ensure families can stay together during these challenging times.
The UK government recognised an urgent need to assist these individuals by offering them a temporary place to stay, ensuring they have the necessities and a chance to rebuild their lives without the imminent threat of danger.
Furthermore, the scheme was also born out of the broader sentiment of unity and compassion demonstrated by the British public.
Many UK residents expressed a profound desire to help, pushing for a structured approach that would enable them to open their homes to Ukrainian families and individuals in need.
The "Homes for Ukraine" initiative is thus not just a governmental response but a reflection of the British concept of compassion, welcoming those in need and their family members with open arms.
The Ukraine Sponsorship Scheme, as well as the Ukraine extension scheme for those who have already benefited, is a remarkable blend of state facilitation and public empathy, striving to make an actual difference in the lives of Ukrainians facing unparalleled challenges.
"I'm very happy with the standard of training received on the OISC Level 1 course, i passed my exam. Thank you!"
"My application was approved and a huge weight has been lifted from our shoulders this year "
"We used this service for the spouse visa extension application to assure that all the information was valid and correct."
The Eligibility Criteria & Requirements For The Ukraine Sponsorship Scheme
Overview
Understanding the eligibility criteria is essential for those seeking refuge and support in the UK. The scheme has been designed to ensure that assistance is provided in a structured manner, and potential applicants must familiarise themselves with these requirements to navigate the application process effectively.
Qualifications and Requirements for Individual Applicants
The applicant must be a Ukrainian national or a resident of Ukraine at the time of application.
A valid Ukrainian international passport or any other proof of Ukrainian nationality is a primary requirement.
As with most visa and entry programs, applicants may undergo background checks to ensure they do not pose a security risk to the UK. This may include criminal record checks and other screening processes.
Some applicants might be asked for a health clearance, ensuring they do not carry infectious diseases that could threaten public health.
Given the scheme's purpose, applicants should demonstrate a clear need for relocation due to the prevailing conditions in Ukraine.
Required Documentation and Proof
You will need a Ukrainian passport and a birth certificate that are valid.
It is necessary to submit any document that proves the applicant is a resident of Ukraine, such as utility bills, rent agreements, etc.
Describe your urgent need to leave Ukraine due to personal risk or danger in a letter or other form of communication.
Considerations for Young Applicants
The UK government, recognising the vulnerabilities of younger applicants, has set specific considerations to protect their interests and well-being.
Age Restrictions
Applicants under 18 are considered minors and must either be accompanied by a parent or legal guardian or have the necessary arrangements in place in the UK.
Special care is taken for unaccompanied minors, ensuring that their move to the UK is in their best interest and that they have the necessary support upon arrival.
Special Provisions or Support for Applicants Under 18
If travelling without a parent, the minor must have an appointed guardian in the UK who will take responsibility for their well-being.
Once in the UK, children can access various support services local authorities provide, including counselling, educational support, and medical care.
Special considerations are taken into account regarding the accommodation of minors, ensuring they are placed in a safe and nurturing environment.
Sponsor Eligibility & Requirements
Overview
The effectiveness of the sponsorship scheme is rooted in its comprehensive guidelines for both the sponsor and the sponsored. These guidelines ensure that incoming Ukrainian nationals are welcomed into a safe environment and that sponsors are adequately equipped and committed to providing the necessary support.
Criteria for Being a Sponsor
The sponsor must be a legal resident in the UK, either as a citizen, permanent resident, or with valid leave to remain.
The Sponsors should ensure suitable accommodation for the Ukrainian national or family. This doesn't necessarily mean a separate home but adequate space within their residence.
Potential sponsors might be subjected to background checks, similar to the DBS (Disclosure and Barring Service) checks, to ensure the safety of incoming individuals or families.
Sponsors should commit to a specified sponsorship period, demonstrating their willingness to support the Ukrainian individual or family for the duration.
While the government might offer specific support, the sponsor should ideally be financially stable to support the additional individuals without resorting to public funds.
Required Documentation and Proofs from the Sponsor
To sponsor someone in the UK, an individual must provide certain documents and meet specific criteria:
Proof of the sponsor's legal status in the UK, such as a passport or birth certificate.
The sponsor's address can be verified using utility bills, council tax receipts, or a tenancy agreement.
Evidence of the sponsor's financial stability, which can include bank statements, payslips, or tax returns.
Documentation, such as photos or housing contracts, demonstrates the available accommodation space for the incoming individual or family.
If the accommodation is rented, a consent form from the landlord or housing association might be needed to grant permission for additional occupants.
Financial Obligations or Requirements
The sponsor must ensure that the Ukrainian national or family can access necessities such as food, clothing, and other essentials.
Any costs related to housing, utilities, or modifications to the home to accommodate the incoming individuals.
While Ukrainian nationals might have access to the NHS (National Health Service) and other access benefits, any additional health-related expenses should be covered by the sponsor.
This could include transportation, mobile or communication expenses, and other incidental costs that might arise during the sponsorship period.
Requirements & Application For Children
Overview
The scheme has given special consideration to children, often the most vulnerable in times of crisis. It's crucial to understand the specific processes and requirements designed to protect the interests of family members in the UK, whether you arrive with a guardian or reunite with family already here.
Travelling with a Parent or Guardian
Process and Requirements
When a child travels with a parent or guardian, they can submit a joint application, ensuring they are processed together.
The relationship between the child and the accompanying adult must be established. This is to prevent any form of child trafficking or other malicious intent.
An assessment may be done to ensure that travelling to the UK is in the child's best interest.
Required Documentation for the Child, Parent, or Guardian
A valid passport or birth certificate is required for the child.
A valid passport or another form of identity proof is necessary.
Birth certificates, guardianship documents, or any legal documentation that proves the relationship between the child and the accompanying adult.
If only one parent accompanies the child, a consent letter from the other parent might be required, stating they agree to the child's relocation.
Joining a Parent or Guardian
How this Differs from the Above Process
Children joining a parent or guardian in the UK usually apply under family reunion grounds. This is different from the joint application process and may have additional criteria. Alternatively, they might be eligible under the Ukraine family scheme.
The parent or guardian in the UK must fulfil the sponsorship obligations, ensuring they can provide for the child's needs without resorting to public funds.
Before a child can join a parent or guardian in the UK, the status of the said guardian needs to be verified. This ensures the guardian is legally residing in the UK and is in a position to take care of the child.
Necessary Documentation and Steps to Follow
As before, a valid passport or birth certificate is needed for the child.
This could be a residency card, passport, or documentation confirming the guardian's legal status.
Birth certificates, guardianship papers, or legal documents establish the relationship between the child and the guardian.
Documentation proving the guardian has adequate accommodation for the child in the UK.
Documents confirming the guardian's financial stability in the UK, ensuring they can provide for the child.
Applying For The Ukraine Sponsorship Scheme: Step-By-Step Process
Overview
Beginning on the application journey can be overwhelming, given its importance. However, with a clear step-by-step guide, applicants can navigate the process with ease, ensuring they meet all requirements and understand each stage of the application.
Preparation
Research & Understanding
Begin by researching the specifics of the scheme. This is not just about completing checklists but genuinely understanding the spirit and intent behind each criterion. The UK Government's official site and trusted informational hubs, including platforms like Total Law, can provide accurate, up-to-date insights.
Gathering Required Documents
As with any official procedure, documentation is vital. Ensure the following:
You must have a valid passport or an equivalent identification document.
Proof of your residency or residence in Ukraine. This could be utility bills, rental agreements, or other official correspondence.
Evidence highlighting the urgency or necessity of your departure from Ukraine, including threats received, proof of local unrest, or other indications of danger.
To ensure a smooth application process, applicants should provide health clearances, criminal background checks, and other assessments that attest to their character and health.
Application Submission
Where and How
Applications are typically processed at official UK visa application centres in Ukraine or neighbouring countries. It's advisable to book an appointment if required.
In today's digital age, many prefer the convenience of online submissions. If you decide to do this, ensure your documents are digitised, clear, and readable.
Organising Your Submission
When presenting your case, clarity is essential. Arrange all documents systematically, preferably in a labelled folder or envelope. Whether submitting online or in person, always maintain a personal copy of the entire set.
Key Components of Your Application
This captures crucial data – from personal identifiers to your situation in Ukraine and your intended sponsor in the UK if you have one.
Certain applicants, such as those with unique medical needs, unaccompanied minors, or individuals seeking asylum due to specific circumstances, may face unique situations that require supplemental forms.
Alongside official forms, your supporting documents, from identification to evidence from Ukraine, are essential. Ensure everything mentioned in your 'Gathering Required Documents' phase is enclosed. For non-English documents, official translations may be needed.
Payment Aspects
Application and Initial Costs
Applying for the Ukraine Sponsorship Scheme comes at no cost. Additionally, applicants are exempt from the immigration health surcharge and the biometric enrolment fee.
Local Authorities
They receive specific funding for every individual under this scheme.
Sponsor Benefits
For the initial 12 months, sponsors are granted £350 monthly for each guest they host.
After the guest completes a year in the UK, this monthly stipend rises to £500.
An additional one-time payment of £200 is provided for each guest to assist with immediate living expenses.
Between the 7th and 12th months of the guest's stay, sponsors get an added £200 monthly.
Source of Funding
The UK Government directly finances these benefits, whether the hosts sponsor Ukrainians now or through the Welsh Government's super sponsor pathway.
Potential Additional Expenses
While the sponsorship scheme covers a significant portion of the costs, sponsors might encounter other expenses. These could include:
Special medical needs or treatments not covered by the scheme.
The guest might need educational or vocational training.
Any unforeseen emergencies or situations that might arise during the guest's stay.
The "Homes for Ukraine" Sponsorship Scheme is a testament to the UK's commitment to helping those in need. But like any bureaucratic process, it demands precision, clarity, and a fair bit of patience. For personalised guidance and assistance, don't hesitate to contact Total Law at 0333 305 9375. Your successful transition is our utmost priority.
Application Processing Time And What To Expect
Overview
After applying, the waiting period can be filled with anticipation. Applicants need to know the expected timelines, what the review process entails, and how decisions are communicated, ensuring they are prepared for the next steps.
Steps Post-Application Submission
Acknowledgement and Confirmation
Post your submission, and you will typically receive an acknowledgement. For those who've chosen the online route, expect an email confirmation, while in-person submissions might furnish you with a tangible receipt. This is your first indicator that your application is now queued for processing.
Biometric Data Collection
If your application didn't involve an immediate biometric data collection, an appointment would soon follow. This is a straightforward procedure involving the collection of fingerprints, facial recognition scans, and, occasionally, iris scans. This data fortifies your application's authenticity.
Potential Interviews
Only some people are summoned for an interview. However, if there are uncertainties or if additional context could strengthen your application, expect an interview call. This is a manageable hurdle but an avenue to elucidate further, bolstering your application. Remember, clarity and honesty are essential.
Average Processing Times Based
Depending on the volume of applications, the season, or a specific geopolitical situation, the process can take a long time. However, based on historical data:
A standard application typically takes 3-6 weeks to process.
If you are eligible for expedited or priority services, this timeframe can be compressed to 1-3 weeks.
What Approvals Look Like and the Next Steps Post-Approval
Here is what happens when an application is approved:
Notification of Approval
Upon approval, you will receive an official communication, either by email or by letter, describing your visa's commencement date, expiration date, and other essential details.
Visa Collection and Activation
When applicants arrive in the UK, they may find a visa sticker embedded in their passports, or they may be advised to obtain a Biometric Residence Permit (BRP), which encapsulates their bio-data.
Validity of the Scheme Once Approved and Potential Conditions Attached
The "Homes for Ukraine" Sponsorship Scheme isn't an open-ended program. Like all visas, it has a defined lifecycle.
Duration
Visas issued under this scheme range from a year to 2-3 years in validity, depending on several factors, including your situation, the commitment of your sponsor, and more.
Associated Conditions
Each visa type comes with its own set of conditions. Here are a few examples:
Check-ins at designated immigration or police offices might be necessary to keep the authorities informed of your whereabouts.
Depending on the visa type, some visa holders may need help accessing specific public funds, benefits, or services. Understanding these details will help you avoid unintentional violations.
Sponsors play an essential role in this scheme because they may have predetermined responsibilities, both financial and supportive, that they must adhere to.
Options To Extend Stay In The UK
Overview
Refugees nearing the end of their visa period in the UK face the dilemma of what to do next. The UK provides several avenues for individuals to extend their stay, allowing them to continue building their lives with stability and security.
Options Available for Extensions
Further Leave to Remain (FLR)
Before your initial visa expires, you can apply for Further Leave to Remain. This allows you to extend your stay for a fixed period, often aligning with the duration of the original visa. It's essential to apply before your current visa runs out to maintain continuous lawful residence.
Switching Visa Categories
Depending on your circumstances, such as finding employment or pursuing education, you might qualify to switch to another visa category, such as a work or student visa.
Potential Routes to Indefinite Leave to Remain (ILR) or Other Long-term Residency Options
Continuous Residence
You might be eligible for ILR if you have lived legally and continuously in the UK for five years. This allows you to stay in the UK without any time limits.
Meeting ILR Criteria
Beyond the residence requirement, applicants for ILR must usually demonstrate proficiency in English, pass a 'Life in the UK' test, and not have broken any immigration rules.
Family or Partner Routes
If you've established close family connections in the UK, such as marriage to a British citizen, you could transition to a family or partner visa, eventually leading to ILR.
Trust In Our Total Law Immigration Solicitors To Help You
The immigration process can be complex, but with Total Law on your side, you're never left alone. Our dedicated team of immigration solicitors at Total Law has a proven track record of success, ensuring your journey is smooth and stress-free.
With in-depth knowledge of the latest immigration laws and policies, we provide personalised solutions to meet your unique needs. Our commitment to excellence and client satisfaction has made us a trusted name in the industry.
When you choose Total Law, you choose expertise, dedication, and a genuinely caring partner. Contact us at 0333 305 9375 and experience the Total Law difference.
Advice Package
Comprehensive immigration advice tailored to your circumstances and goals.
Application Package
Designed to make your visa application as smooth and stress-free as possible.

Fast Track Package
Premium application service that ensures your visa application is submitted to meet your deadline.
Appeal Package
Ensure you have the greatest chance of a successful appeal. We will represent you in any case.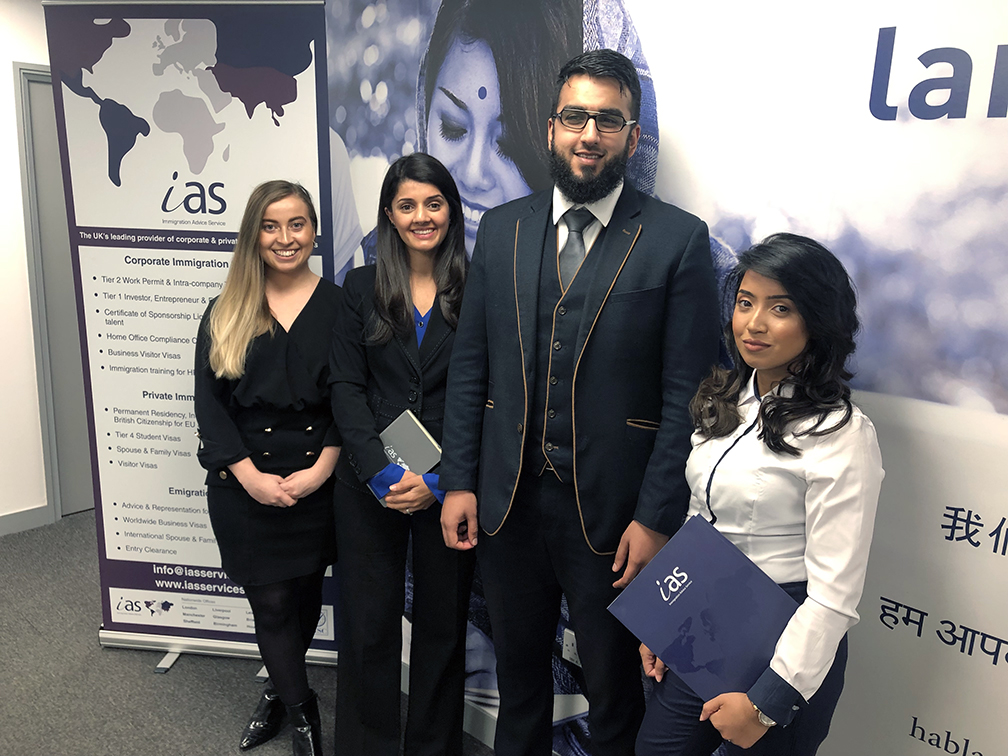 The Advice Package
During this untimed Advice Session with our professional immigration lawyers in London, you will receive our comprehensive advice, completely tailored to your needs and your situation.
Request the Advice Package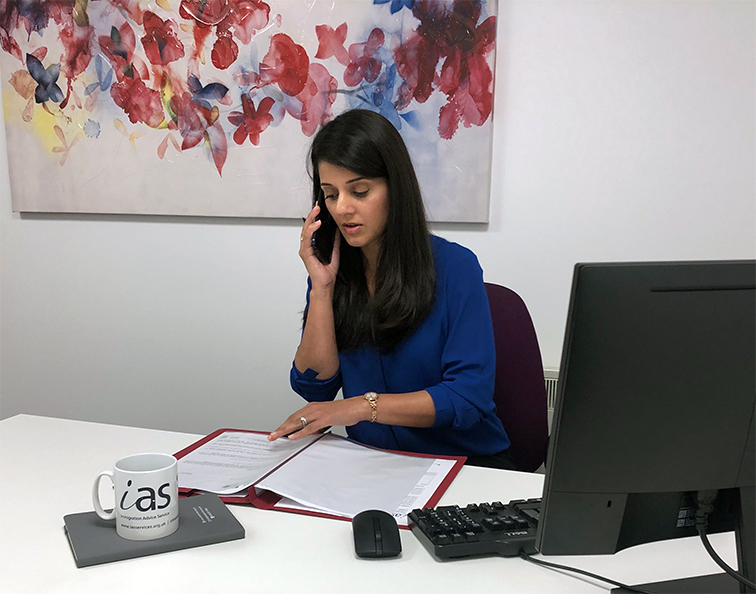 The Application Package
With our Application Package, your dedicated immigration lawyer will advise you on your application process and eligibility. Your caseworker will then complete and submit your forms to the Home Office on your behalf.
Request the Application Package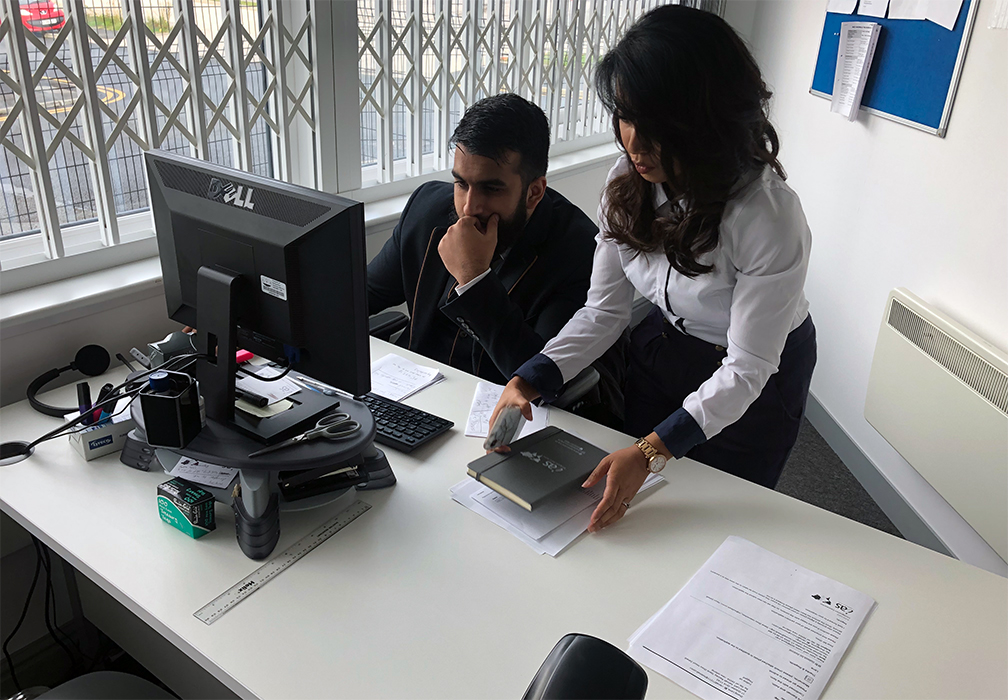 The Fast Track Package
Our Fast-Track Application Package is a premium service for those who need to submit their application in time with their deadlines. Your case will become a top priority for our lawyers and you will benefit from our highest-quality services.
Request the Fast Track Package
The Appeal Package
By choosing our Appeal Package, you can rely on our lawyers' legal knowledge and experience to ensure you have the highest chance of a successful appeal. We will also fully represent you in any hearings/tribunals.
Request the Appeal Package
Related pages for your continued reading.