Minister of Religion Visa
The T2 Minister of Religion Visa is reserved for foreign nationals who would like to come to the UK to live and work as a minister of religion, in a missionary, or part of a religious order.
If you have any questions regarding the minister of religion visa you can contact our professional immigration lawyers to discuss any concerns you may have, or for some help navigating the application process. You can call us on 0333 305 9375 or contact us online seven days a week via our live chat.
What are the Religion Visa requirements? 
Similar to other UK visas, the minister of religion visa requires religious worker applicants to score 70 points under the UK immigration system.
50 points are earned for a job offer for one of the following roles:
Minister of religion
Missionary
Religious worker
The job offer must be from a registered UK Sponsor who holds the religion visa sponsor licence to hire foreign nationals. If they are eligible, they will provide you with the important  Certificate of Sponsorship (CoS) from your employer to be able to meet this requirement.
10 more points come from the English language requirements, which can be proven by sitting an approved, accredited English language test or by having a specific academic qualification that was taught in English and is equivalent to a UK bachelor's degree, master's degree, or PhD.
Applicants will not be required to prove knowledge of English if a national of one of the following countries:
Antigua and Barbuda
Australia
the Bahamas
Barbados
Belize
Canada
Dominica
Grenada
Guyana
Jamaica
Malta
New Zealand
St Kitts and Nevis
St Lucia
St Vincent and the Grenadines
Trinidad and Tobago
USA
10 additional points come by meeting the financial requirements, which require proof that you have held a minimum of  £1270 in your bank account for at least 28 days in a row, where day 28 is within 31 days of your visa application.
"I'm very happy with the standard of training received on the OISC Level 1 course, i passed my exam. Thank you!"
"My application was approved and a huge weight has been lifted from our shoulders this year "
"We used this service for the spouse visa extension application to assure that all the information was valid and correct."
What can the religious visa workers do while on the religious worker visa? 
As per immigration rules, Religion Visa holders are permitted to live in the UK for up to 3 years and one month whilst doing the work in the job that is described on your Certificate of Sponsorship (CoS). You are permitted to volunteer, take on a second job, and study.  The Minister of Religion visa permits religion visa workers to travel abroad and return to the UK and bring dependent family members along with them.
For the second job, you are permitted to work up to 20 hours per week as long as it's a role where you would perform religious duties or if it is a job for a skilled worker shortage occupation list. If you want to get a job in a different profession, it is recommended that you seek the advice of advice sessions with Total Law to talk about a new visa to suit your specific needs.
It should be noted that religious workers are not permitted to access public funds whilst they are in the UK.
What is the application process for the religion visa? 
The religious worker visa application is completed online. 
As part of the application, it will be very important to prove your identity and provide all supporting documents, which will be discussed below. The application will require an appointment at a visa application centre, which may require travel if there is not one located nearby.  This visit will be to prove your identity and get your biometrics taken.
Upon completing your application, successfully providing your identity and all documents, you will likely receive a decision on your visa within 3 weeks.
Documents required for the application 
There are a number of documents that are required for religion visa applicants. When you apply you'll need to provide:
Your certificate of sponsorship reference number (provided by your employer)
Proof of your knowledge of English (if applicable)
Bank accounts provide evidence that you have enough personal savings to support yourself in the UK (Only if applicable if your certificate of sponsorship does not show your employer can support you)
A valid passport or another document that shows your identity and nationality (you need a blank page in your passport for your visa)
All expired passports or travel documents if you need them to show your travel history
The results of your tuberculosis test results (if applicable)
Please note that as per immigration rules, all documents are needed to be translated into English if they are not already.
What are the fees for the minister of religion visa? 
The fees for the minister of religion visa are dependent on where you are based when making the application. Should you make your minister of religion visa application from outside the UK the fee is £625, and £719 for applications inside the UK.
If you're from one of the eligible countries, your application fee will be automatically reduced by £55 if you submit your application on or before 25 February 2022 and you're from Austria, Belgium, Croatia, the Republic of Cyprus, the Czech Republic, Denmark, Finland, France, Germany, Greece, Hungary, Iceland, Ireland, Italy, Latvia, Luxembourg, Malta, Netherlands, North Macedonia, Norway, Poland, Portugal, Slovakia, Spain, Sweden or Turkey.
You'll also be required to pay the immigration healthcare surcharge as part of your application.
It is possible to get an even faster application decision if you pay an additional  £500 for the premium service for a fast track application package to get a decision within 5 working days or an extra £800 for the super-priority service to get a decision.
Extending the Minister of Religion Visa 
The minister of religion visa has the option to extend your stay in the UK, so long you apply for a religion visa extension before your current visa expires and you continue to reach the requirements and pay the fee of £704.
The minister of religion visa can be extended for up 3 years or the time given in your COS, plus an additional 14 days.
Bringing dependent family members alongside you to the UK on a minister of religion visa
A great element of the minister of religion visa is the ability to bring your family members with you to the UK.
For the purpose of the visa, a dependant is defined as a partner or child who intends to stay with you in the UK. Should their visa application be successful, their visa will end on the same date as yours.
As such, a dependent family member is a partner or child that is:
Your legally recognised husband, wife, civil partner, or unmarried partner
Your dependent child that is under 18
Your dependent child who is over 18, so long they're in the UK as your dependant
For each individual dependent, you'll need to provide evidence of your relationship. For the minister of religion partner, they must prove you're in a civil partnership or marriage that's recognised in the UK and you've been living together in a relationship for at least 2 years when you apply.
If your child is 16 or over they have to live with you unless attending school, not be married/civil partnership and must not have any children, and be financially dependent on the holder of the minister of the religion visa holder.
Dependents also require money to support themselves and their dependents. This includes £285 for your partner, £315 for one child, and £200 for each additional child.
You'll need to provide items that prove everyone lives together, such as:
A bank statement
Credit card bills
Driving licence
NHS registration document
An official letter from their university or college
Marriage certificate
Civil Partnership certificate
If you have a child while you're in the UK, they do not automatically become a British citizen. However, you can apply online for their visa as your dependant. You must do this if you want to travel in and out of the UK with your child.
Advice Package
Comprehensive immigration advice tailored to your circumstances and goals.
Application Package
Designed to make your visa application as smooth and stress-free as possible.

Fast Track Package
Premium application service that ensures your visa application is submitted to meet your deadline.
Appeal Package
Ensure you have the greatest chance of a successful appeal. We will represent you in any case.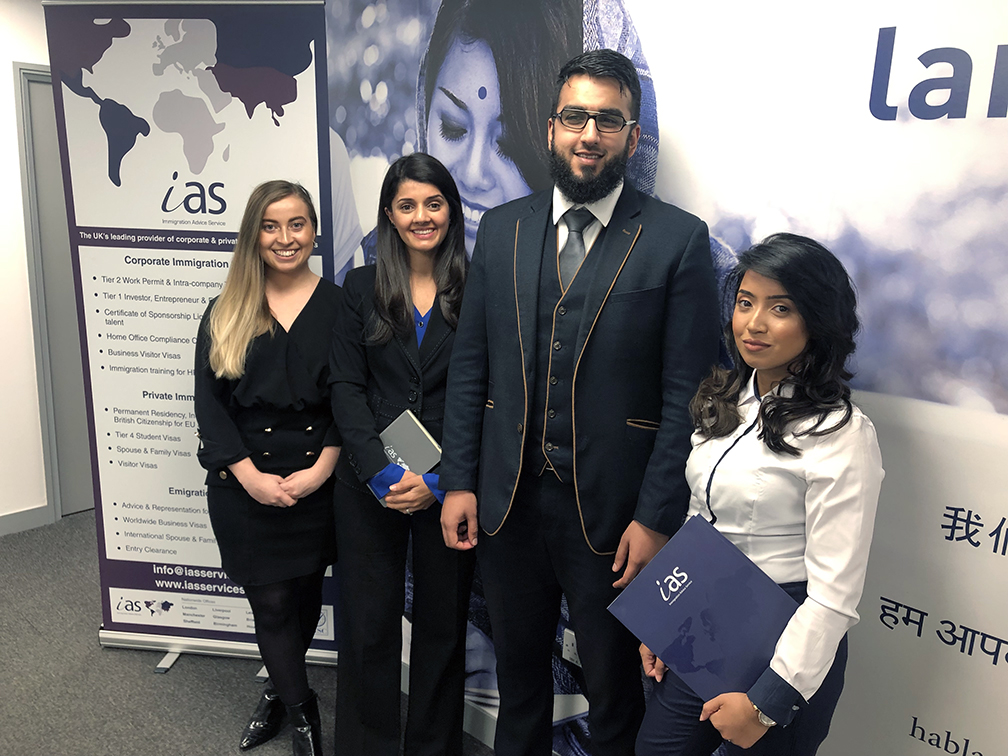 The Advice Package
During this untimed Advice Session with our professional immigration lawyers in London, you will receive our comprehensive advice, completely tailored to your needs and your situation.
Request the Advice Package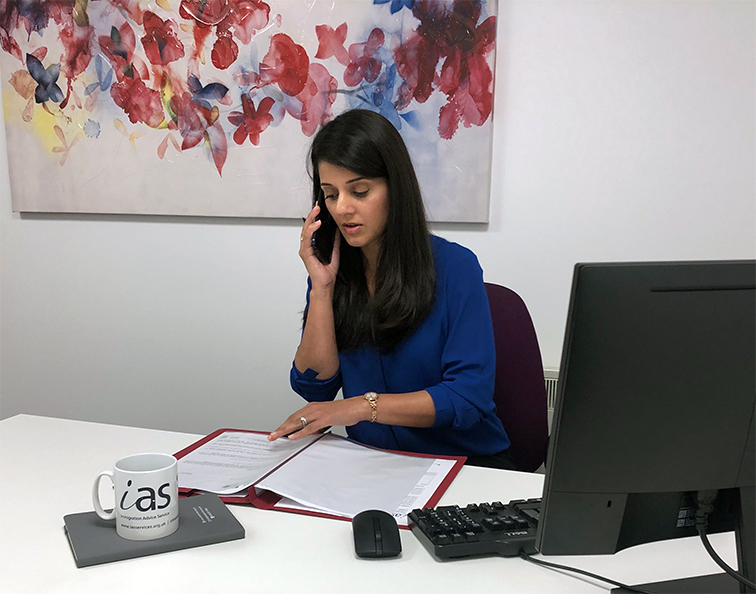 The Application Package
With our Application Package, your dedicated immigration lawyer will advise you on your application process and eligibility. Your caseworker will then complete and submit your forms to the Home Office on your behalf.
Request the Application Package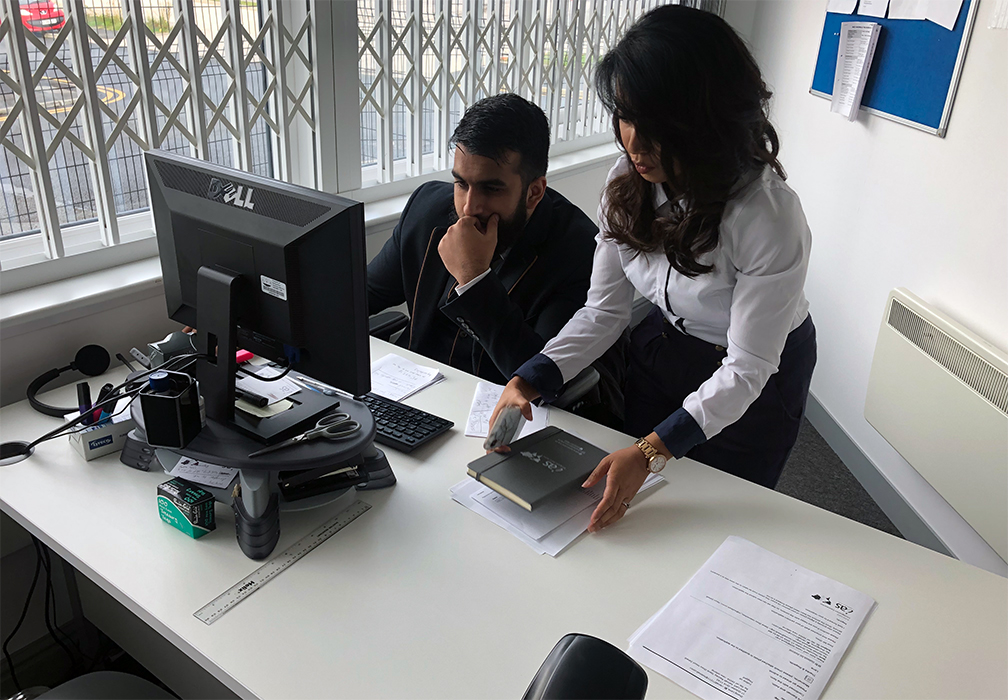 The Fast Track Package
Our Fast-Track Application Package is a premium service for those who need to submit their application in time with their deadlines. Your case will become a top priority for our lawyers and you will benefit from our highest-quality services.
Request the Fast Track Package
The Appeal Package
By choosing our Appeal Package, you can rely on our lawyers' legal knowledge and experience to ensure you have the highest chance of a successful appeal. We will also fully represent you in any hearings/tribunals.
Request the Appeal Package
Related pages for your continued reading.
Frequently Asked Questions
Yes, if you have trained for a full year with a religious ministry, you can apply for the minister of religion visa UK to work as a minister of religion. You will need to prove your training.
Yes, it's possible to apply for a Minister of Religion Visa extension which permits an additional three years to stay in the UK.
To be able to extend your visa, you will need to demonstrate that you are still needed in your minister of religion, religious order, or religious worker position and must prove that you can meet the same requirements as when you applied for your T2 Minister of Religion Visa.
After reaching 5 continuous years of residence in the UK, you can apply for indefinite leave to remain (ILR).
Yes, religious visa holder's dependents are permitted to work and study except they are not permitted to work as a doctor or sportsperson. The rule doesn't count if your dependents already hold a UK degree for medicine or dentistry (at least the Bachelor's level) from a recognized education provider. Dependents of Tier 2 Minister of Religion visa can study anything that they wish.
Yes, religious leaders are able to switch to another new religious position within the same profession. For the new position, you have to make an application for a change in the job.