UK Business Visas
The UK is a country ripe for investment, and businesses still thrive therein even in light of the global economic downfall that we've been experiencing in recent years and the geopolitical turmoil that has arisen in the wake of Brexit.
Whether you're self-employed or in the process of doing a start-up, there is an extensive number of UK Business Visas you may be able to apply for, depending on your given situation, even though the UK government has recently implemented certain restrictive reforms that affect certain categories of foreign entrepreneurs.
Contact Total Law's immigration lawyers at 0333 305 9375 if you wish to find out more about the UK visa application process, or if you seek immediate assistance.
"I'm very happy with the standard of training received on the OISC Level 1 course, i passed my exam. Thank you!"
"My application was approved and a huge weight has been lifted from our shoulders this year "
"We used this service for the spouse visa extension application to assure that all the information was valid and correct."
What are the UK Business Visas?
The UK offers lots of opportunities for employers and investors who wish to establish in the country, though they're constantly updating the conditions and types of business visas available.
Currently, these are the business visas the UK government offers:
Innovator visa
Start-up visa
Global Talent visa
In recent times, on the eve of the UK's exit from the European Union, the UK Home Office decided to stop issuing Tier 1 Entrepreneur or Investor visas, even though these are still listed on the gov.uk website. The decision was grounded on alleged "security concerns". Current holders of these scrapped visas may still be able to apply for an extension, an indefinite leave to remain, or family reunification.
The documents that are commonly required in all applications are the following:
Current passport or valid travel ID
Tuberculosis test results if you come from a country that requires it
Bank statements evidencing that you held at least £1,270 in savings in your bank account for a period of 28 consecutive days before the application
Documentary proof that you meet the English language requirement (not needed if you're from an English-speaking country)
Apart from the aforementioned documentation, you may also need to provide other documents according to the nature of the visa you're applying for.
The usual approval period is of 3 weeks if you submit your request from outside the UK and 8 weeks from inside the UK, though it's possible to abbreviate the timeframe by choosing "priority service" (wherever applicable), in which case you'll have your visa petition settled within 5 business days for a fee.
Throughout the length of this short guide, we'll also touch upon the UK visa sponsorship for employers and the prerequisites for obtaining a Certificate of Sponsorship for foreign employees.
Innovator Visa
The UK Innovator visa is granted to investors who aim to set up a business or to continue running a business in the UK. It will allow you to stay in the country for 3 years and it's subsequently extendable for further 3-year periods.
Those who initially wished to submit a Tier 1 Entrepreneur visa request will now have to opt for the Innovator or Start-up visas. This move was made in an attempt to provide an ambitious investment route and presumably improve the UK's economy in the process.
Certain requirements have to be met to be eligible for an Innovator visa, such as:
You want to run an innovative business in the UK that is entirely different from anything else on the market
The business or business idea has to be approved by an endorsing or "authorizing" body, such as those listed here
Apart from the requisites listed above, you should also be at least 18 years old, possess enough funds to sustain yourself during your stay, and have a B2 level of English. Additionally, every member of your team must have at least £50,000 in investment funds and present pertinent records to prove this.
With regards to the business idea, it must be new (you shall not join an already-existing business) innovative (different from any other available), and with a proven potential for success and growth.
The fee for applying from outside the UK is £1,036. The same amount is charged for each family member you decide to bring with you (partner and children).
Start-Up Visa
Start-up visas are very similar to Innovator visas, but there are some caveats to consider when applying for this specific visa in lieu of the other option;
You will not be eligible for an extension
Your legal stay will be shortened to 2 years maximum
Furthermore, Start-up visa applications contain other demands concerning endorsement. In that sense, the authorized body must be either:
a UK higher education institution
an organization that has a history of supporting UK entrepreneurs
Conversely, you'll not be asked to have an investment fund, and the application fees are considerably lower (£378 for your own application and for each family member you include).
Global Talent Visa
This visa is granted to certain categories of people. Specifically, those who excel and can become potential leaders in the fields of academia, research, arts, culture, or digital technology.
As in the case of the other visas described, you must meet endorsement requirements. You can alternatively be eligible without endorsement if you have won an award among those listed on this page.
In contrast to other visa applications, you'll not be asked to present bank statements when you apply for this specific visa. In case you won an eligible award, the Home Office will browse through publicly available information and will only request proof if they're not able to find it by themselves.
The fee for this visa application is £623 (the same amount is charged per family member). This fee is payable in two parts when you apply based on an endorsement (£456 for the endorsement application and £167 for the visa application proper).
A Global Talent visa allows you to work and live in the UK for a period of 5 years, with the possibility of unlimited 5-year extensions provided that you still meet the conditions.
Investor Visa (Tier 1) - Extension Only
As disclosed earlier, Investor visas are no longer issued, and there is no indication so far as to when their issuance will be resumed, if at all. Nonetheless, if you're already a Tier 1 (Investor) visa holder, you're allowed to extend it for 2 years.
These are the conditions that must be attained if you wish to opt for an extension:
You must hold at least £2 million in the UK
You must have invested those funds in share capital or loan capital in active UK companies
You ought to have invested that amount within 3 months of your "investor start date"
If you applied for your visa before November 6th, 2014:
You must have had at least a £2 million investment in government bonds, share capital, or loan capital in active UK companies starting from April 6th, 2020
You ought to have held at least £1 million in the UK before April 6th, 2020
Within the first 3 months of your "investor start date", you must have invested at least £750,000 in UK government bonds, share capital, or loan capital in active UK companies
Regulators define "investor start date" as the date you arrive in the UK or the approval date of your original Investor visa application or switch from a different visa category.
For this visa, apart from the documents outlined at the beginning of this guide, you must submit:
A criminal records certificate issued by any country you have stayed in for 12 months or more during the past 10 years
Investment portfolio reports from a UK-regulated financial institution showing you've met eligibility requirements and held your investments throughout the duration of your visa
The fee for each applicant is £1,638, plus a healthcare surcharge.
Entrepreneur Visa (Tier 1) - Extension Only
Tier 1 (Entrepreneur) visa applications have also been suspended until further notice. Just as with Investor visas, if you hold an already-issued Entrepreneur visa, you can ask for an extension if:
You registered as self-employed or as a director within 6 months after your original Tier 1 (Entrepreneur) visa was approved
You can provide evidence that you've been self-employed, enrolled in a partnership, or have been working as a business director 3 months before the application
You created at least 2 full-time jobs in existence for 12 months minimum
You prove you're still able to support yourself
You have invested an amount ranging from £50,000 to £200,000 into UK businesses, depending on the level of funds that underpinned your original application
If you submit your application inside the UK, you must pay £1,292, whereas if you apply from outside the UK, the fee is reduced to £1,036. Family members must fill out their applications separately.
UK Visa Sponsorship for Employers
If you are running a business inside the UK and need to employ someone from outside the UK to work with you, you need to obtain a sponsor license. You can bypass the license requirement if you hire:
Irish citizens
People with indefinite leave to remain in the UK
People under the EU Settlement Scheme (applicable to workers who are from the EU, Switzerland, Norway, Iceland, or Liechtenstein)
To be eligible for a sponsor license, you must not:
Have unspent criminal convictions on account of immigration infringements and relevant offenses such as money laundering or fraud
Had a sponsor license revoked in the 12 months prior to the new license petition
Moreover, you'll have to implement a system capable of monitoring sponsored employees and endow people within your organization with sponsorship management duties.
Certificate of Sponsorship
Each foreign worker must then be assigned a Certificate of Sponsorship, each carrying a specific number. After you assign the certificate, they must use it to apply for their respective Worker visas within a period of 3 months. The certificates are classified as follows:
Defined certificates: For Skilled Worker visa applicants who are submitting their request outside the UK. These must be obtained via the sponsorship management system (SMS)
Undefined certificates: For Skilled Worker visa applicants who are inside the UK, as well as applicants on all the other visas. The immigration bureau will request that you declare the estimated number of undefined certificates you'll necessitate during the first year
The costs for each certificate vary according to the type of worker you're hiring:
For workers and international sportspersons whose certificates are assigned for more than 12 months, the cost would be £199
For temporary workers and international sportspersons whose certificates are assigned for 12 months or less, you'd have to pay £21
For Skilled Worker or Senior or Specialist Worker visa applicants, apart from the costs mentioned above, you must also pay a surcharge. The amount of this additional charge depends on the size of your venture;
Small sponsors, as well as charitable organizations, must pay £364 for the first 12 months, and £182 for each additional 6-month assignment
Medium sponsors ought to pay £1,000 for the first 12 months and £500 for each additional 6-month assignment
To qualify as a small sponsor, you must meet two of the following criteria:
The total worth of your global assets must be equal to or inferior to £5.1 million
You must have 50 employees or fewer
You ought to have an annual turnover of £10.2 million or less
How can Total Law help?
British immigration laws can be difficult to navigate through. The UK is generally very welcoming to investors and business-minded foreigners, but they must first go through a thick compliance filter and choose the visa program that best fits their particular interests and those of their destination.
Total Law's immigration lawyers are qualified to handle your visa application and sift out any possible errors in your request to make the process as smooth as possible and elude any potential setbacks. They're also available to offer immediate assistance and guidance at any stage.
You can contact us by calling us at 0333 305 9375 or filling out the quick online inquiry form.
Advice Package
Comprehensive immigration advice tailored to your circumstances and goals.
Application Package
Designed to make your visa application as smooth and stress-free as possible.

Fast Track Package
Premium application service that ensures your visa application is submitted to meet your deadline.
Appeal Package
Ensure you have the greatest chance of a successful appeal. We will represent you in any case.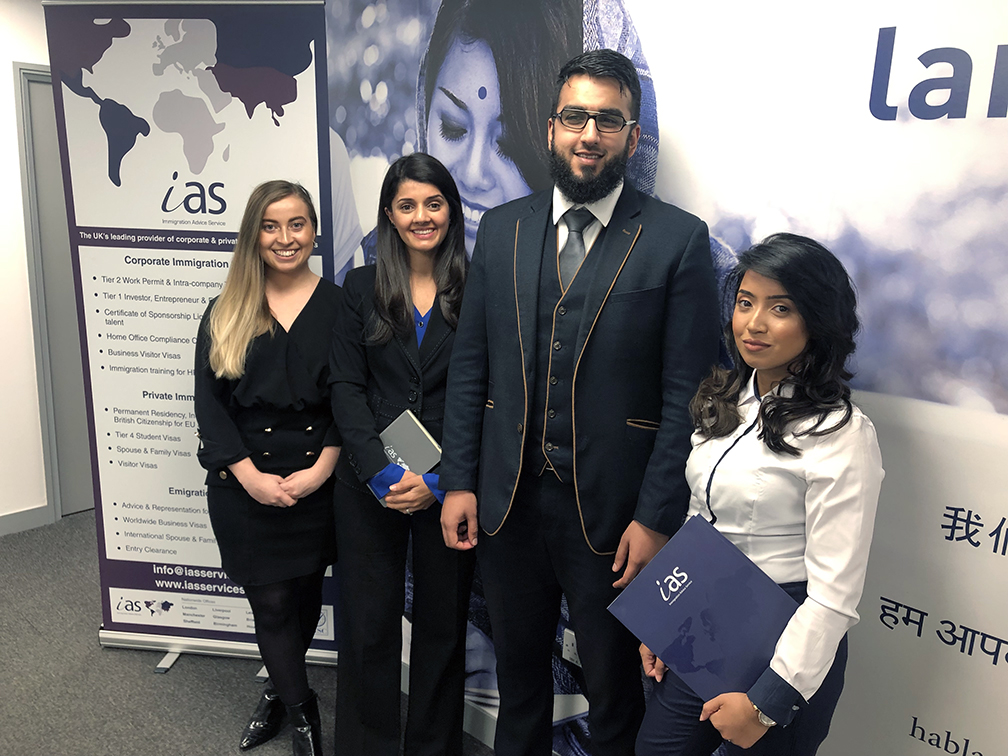 The Advice Package
During this untimed Advice Session with our professional immigration lawyers in London, you will receive our comprehensive advice, completely tailored to your needs and your situation.
Request the Advice Package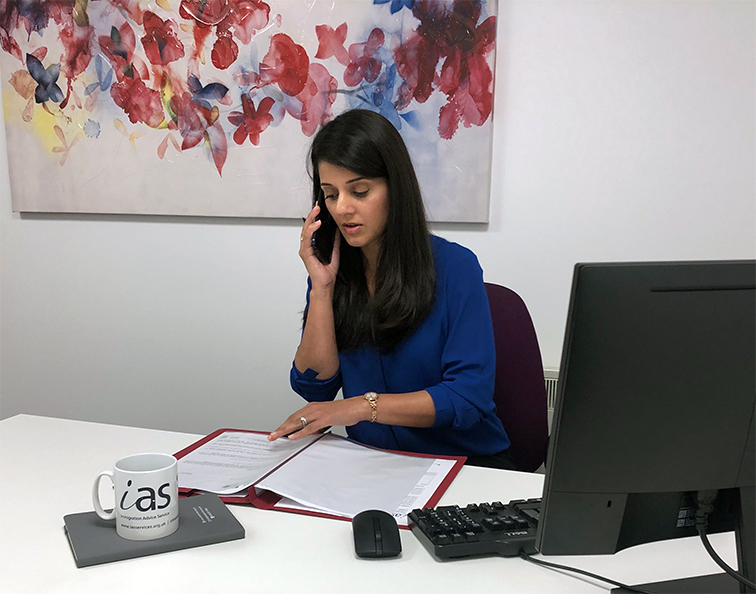 The Application Package
With our Application Package, your dedicated immigration lawyer will advise you on your application process and eligibility. Your caseworker will then complete and submit your forms to the Home Office on your behalf.
Request the Application Package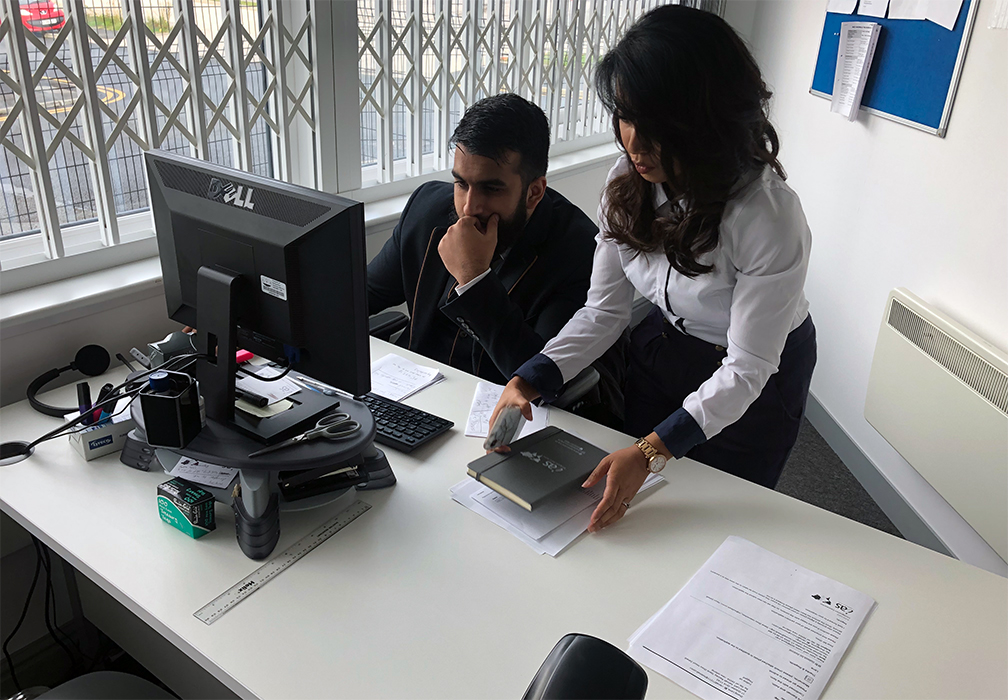 The Fast Track Package
Our Fast-Track Application Package is a premium service for those who need to submit their application in time with their deadlines. Your case will become a top priority for our lawyers and you will benefit from our highest-quality services.
Request the Fast Track Package
The Appeal Package
By choosing our Appeal Package, you can rely on our lawyers' legal knowledge and experience to ensure you have the highest chance of a successful appeal. We will also fully represent you in any hearings/tribunals.
Request the Appeal Package
Related pages for your continued reading.