Scale Up Visa UK
The UK offers a thriving business environment, particularly for fast-growing companies looking to expand. For skilled professionals who want to contribute to this dynamic landscape, the UK Scale-up visa offers an ideal entry point.
At Total Law, we have extensive experience in helping the visa application process for aspirants like you. Contact us today on +44 (0)333 305 9375 or via our online application form to begin your professional journey in the UK.
What Is A Scale Up Visa UK? An Overview
The Scale-up Worker visa, as it is officially known, is a special immigration route designed to facilitate the entry of skilled professionals hired by scale-up companies based in the UK. This visa serves as a conduit for these skilled individuals, often referred to as scale-up workers, to contribute their expertise to the burgeoning businesses that are on an accelerated growth path within the UK economic landscape.
The introduction of this visa is in line with the wider aim of meeting the demand for skilled labour for rapidly growing British businesses. This move will lay the foundations for sustained expansion and ingenuity, ensuring that these businesses maintain their prosperity and make an important contribution to the UK's economic landscape.
At the heart of this visa is a carefully structured, points-based immigration system. Potential applicants must accumulate a total of 70 points, which are awarded based on several criteria. These include proof of sponsorship, a job offer that meets set qualification and salary requirements, language skills in English, and meeting certain financial requirements. This points-based architecture reflects a balanced approach that ensures participants are able to make a positive contribution to their respective scale-up employers and the wider economic ecosystem in the UK.
"I'm very happy with the standard of training received on the OISC Level 1 course, i passed my exam. Thank you!"
"My application was approved and a huge weight has been lifted from our shoulders this year "
"We used this service for the spouse visa extension application to assure that all the information was valid and correct."
Eligibility Criteria for A Scale-Up Worker Visa
Through its clearly defined admission criteria, this scale-up route aims to streamline the influx of foreign talent and ensure a win-win scenario for both fast-growing UK businesses and aspiring professionals from abroad. To obtain this visa, you must meet certain requirements for seamless integration into the UK labour market. These eligibility requirements include the following aspects.
Home Office Approved UK Scale-Up Job Offer
A basic requirement is a job offer for at least 6 months from a UK company that has been classified as a scale-up company by the Home Office. This underlines one of the main intentions of this visa — to facilitate the inflow of external talent into rapidly expanding UK companies.
Employer Sponsorship Certificate
Another crucial requirement in the application process is to obtain a certificate of sponsorship from the prospective employer. This certificate, although electronic in nature, serves as proof of a genuine job offer and is essentially a linchpin that secures the relationship between employer and employee even before they set foot on UK soil. It's not just a procedural requirement, but a cornerstone that ensures the integrity and bona fide nature of the job offer.
Skill Level and Job Role Requirements
Equally crucial are the skill level and nature of the job on offer. The prospective post should be classified at RQF 6 or equivalent, i.e. essentially a graduate post, in line with the aim of promoting skills upgrading in the emerging sectors of the UK economy. In addition, the post must match the designated eligible occupations to ensure a seamless fit with the country's economic and employment framework.
Salary Requirement
In complying with the UK's Scale-up visa requirements, another key aspect to consider is the salary requirement. Applicants must be paid an annual salary of at least £34,600 or the going rate for the job in question, whichever is higher. This standard ensures an appropriate financial threshold for applicants in this visa category.
The 'going rate' is an established standard of remuneration for the activity in question. This rate is set out in a specific table of eligible occupations, which includes a typical salary range for each occupation. This mechanism ensures that the remuneration offered is in line with the prevailing wage standards in the UK for the job in question.
English Language Requirement
Proficiency in English is also an essential requirement for applying for the Scale-up visa. Applicants must demonstrate an acceptable level of English, specifically at level B1 or above according to the Common European Framework of Reference (CEFR).
To prove their language skills, applicants have several options. One reliable method is accredited English tests, which provide a recognised attestation of the applicant's language skills. Alternatively, academic qualifications, if obtained in English, can be used as evidence of language proficiency.
These measures ensure that applicants have a basic level of communication skills that are essential for integration into the UK work environment. Clarity in communication is vital for both the employer and the employee to perform job roles effectively and contribute positively to the UK's rapidly growing business landscape.
Additional Criteria for Applicants inside the UK
If you're in the UK with a Student visa, to qualify for the Scale-up visa, you must:
Have finished the course you came to study.
Start your job after your course ends.
Or, have been doing a PhD for at least 2 years.
If you're in the UK with any of the following visas or statuses, you can't switch to the Scale-up visa:
Visitor visa.
Short-term student visa.
Parent of a Child Student visa.
Seasonal worker visa.
Domestic worker for a private home visa.
On immigration bail.
Staying for reasons outside regular rules, such as for compassion.
If you belong to one of these groups, you'll need to leave the UK and apply for the Scale-up Worker visa from outside the UK.
Required Documents for A Scale-Up Visa Application
When applying for a Scale-up visa, several documents are essential to support your application. Firstly, you must have a valid passport or ID showing who you are and where you're from. If you're from outside Europe or have a non-biometric passport, you also need to ensure that there's a blank page in your passport for the visa.
The second indispensable document is your sponsorship certificate, which can be obtained from your sponsor licence holder employer. This document serves as digital proof from your future UK employer of the position for which you're sponsored. It's not a tangible document, but an electronic record with the following essential information for the visa application process:
Your sponsorship reference number
Your job's details, including its title, annual pay, occupation code.
Your employer's details, including the employer's name and sponsor licence number.
The next required document is proof of your English language skills. This entails evidence of  your ability to read, write, converse and understand English. Proof of your language skills is usually provided at the time of visa application.
In addition, some other documents you might need during the application process include:
Bank statements showing you have savings (unless your employer's covering your stay). If you have been legally resident in the UK for a year or more at the time of application, these documents are not required. Otherwise, you'll need to show that you have at least £1,270 in personal funds or a financial guarantee from your UK sponsor to cover your initial living costs in the country.
Proof of relationship with family members if they're joining you.
Tuberculosis test results if you're from certain countries listed by the UK government.
An ATAS certificate if your job involves specific high-level research.
A certified translation of any required document that isn't in English or Welsh
How to Apply for A Scale-Up Visa UK?
The path to obtaining a Scale-up visa in the UK must begin with a straightforward online application. This first step is completed on the official government portal, where you'll be guided through a series of prompts to enter the required information. As part of this digital submission, you'll need to provide various documents, with proof of identity playing a prominent role.
You have the following two options to prove your identity:
You give your fingerprints and a photo (biometric information) in person to obtain a biometric residence permit. If you are currently in the UK on another type of visa, you have the option to proceed with this at a service point of the UK Visa and Citizenship Application Services (UKVCAS). If, on the other hand, you are applying from outside the UK, you can complete the process at your nearest visa application centre, which may require travel and may be in a neighbouring country.
You use the app called "UK Immigration: ID Check" to scan your identity document – you also create or register your account with UK Visas and Immigration (UKVI).
But which of these two options you should take depends on where you're from and what type of passport you have. You'll learn what you need to do to prove your identity through your online application process.
An important aspect to consider is the timing of the application. It's advisable to start this process up to three months before the date you'll start working for scale-up enterprises in the UK. This will give you enough time to complete the necessary administrative procedures and ensure a smooth transition into your new role. The three-month lead time is a deliberate precaution to allow for any unforeseen delays.
Meanwhile, for those applicants who are already in the UK on a different visa, you should also start applying for this Scale-up visa online before your current visa expires. You also must not depart from the UK, Ireland, or the surrounding islands until you've obtained a response to your application. Otherwise your application will be cancelled.
After your online application begins, you can pause the ongoing process and finish it later. You can do so by simply logging in with the link from the email you received when you first registered online with UKVI.
If you have already submitted your application and need to make an amendment, you should contact UKVI to do so. You can also stop your application, but you will only receive a refund if processing has not yet started.
Fees and Processing Time
The costs of your application for the Scale-up Worker visa involve:
Application Fee: £822. This is a standard fee for everyone.
Healthcare Fee: Usually, you'll pay £624 each year for this. It's for covering your access to the UK health services.
Living Costs: Make sure you have at least £1,270 in hand to prove you are able to cover for your initial stay in the UK. You might be exempt from this if you have lived in the UK for a year or more at the time of application or if you have a financial guarantee from your UK sponsor to cover your living expenses.
You'll be informed of the exact amount to pay when you make your application.
Once you have submitted your application and provided identification and paperwork digitally, you will be notified of your visa status within 8 weeks if you live in the UK, or within 3 weeks if you are located outside the UK. If the Home Office asks for additional details, the process could take longer. And if there's a delay for your visa decision, it is unlikely for you to receive a refund.
However, if you would like a faster answer from the Home Office, there are two options available:
Priority Service: For an extra £500, you can expect a decision within 5 working days or slightly longer. The day count begins either on the day you prove your ID in person or the next business day after uploading documents using the 'UK Immigration: ID Check' app. Please remember that it might take more than 5 days if the Home Office needs more information from you.
Super Priority Service: By paying an extra £1,000, you're likely to get your answer either by the end of the next working day if your appointment is on a weekday, or within 2 working days if your appointment falls on a weekend or bank holiday. This option doesn't work with the 'UK Immigration: ID Check' app, and sometimes it might take more than 2 days in such situations as when the Home Office requires more information from you.
In the case of applying with family, every family member can also speed up their visa decision for an additional cost – with £500 for each person to get a decision in 5 working days, or adding £1,000 per person for a decision by the end of the next working day. Everyone's decision will come together, but if a family member needs to give fingerprints and a photo in person, there might be a wait.
Approved UK Employers for Sponsoring A Scale-Up Visa
To apply for this Scale-up visa, you'll need a job offer from a recognised UK company, known as an approved employer. These employers can vouch for you, which is why they're sometimes called 'sponsors'.
To find out if your employer can vouch for your visa application, check the list of approved UK employers online or get in touch with our experts at Total Law. For your specific visa, you need to look for 'Scale-up Worker' in the 'Route' column of the list. But even if your employer isn't listed for this visa, they may be able to sponsor other work visas.
To be an eligible scale-up enterprise, your employer must either:
Have a recommendation from a recognised organisation; or
Be a fast-growing company, known as a 'scale-up' company.
In order to be classified as a fast-growing business, during the three years immediately preceding the Home Office's approval of scale-up employment, the company must:
Have grown by an average of 20% per year in terms of number of employees or total turnover; and
Have started the 3-year period with at least 10 employees.
This well-structured framework ensures that the UK's rapidly evolving business landscape is seamlessly accessible to capable talent from abroad under the auspices of the Scale-up visa.
How Can Total Law Help?
The UK offers a dynamic economy, tremendous opportunities for professional growth and a prestigious work environment. The Scale-up visa is your gateway to the UK's progressive business world and can lead to an extended stay. This route is increasingly used by international talent who have their eye on the UK's thriving industries.
The complexity of the Scale-up visa application can be daunting. This complexity increases when family applications are involved, where a separate application must be made for each member. However, our experienced team at Total Law has extensive experience in facilitating such cases with flair. We will help you select the appropriate visa type, carefully compile and submit the required documents, and ensure a smooth transition for your family to the UK.
Do not let visa complications stand in the way of your UK ambitions. Contact Total Law today by calling +44 (0)333 305 9375 or using our online contact form to receive tailored immigration advice for your professional journey to the UK.
Advice Package
Comprehensive immigration advice tailored to your circumstances and goals.
Application Package
Designed to make your visa application as smooth and stress-free as possible.

Fast Track Package
Premium application service that ensures your visa application is submitted to meet your deadline.
Appeal Package
Ensure you have the greatest chance of a successful appeal. We will represent you in any case.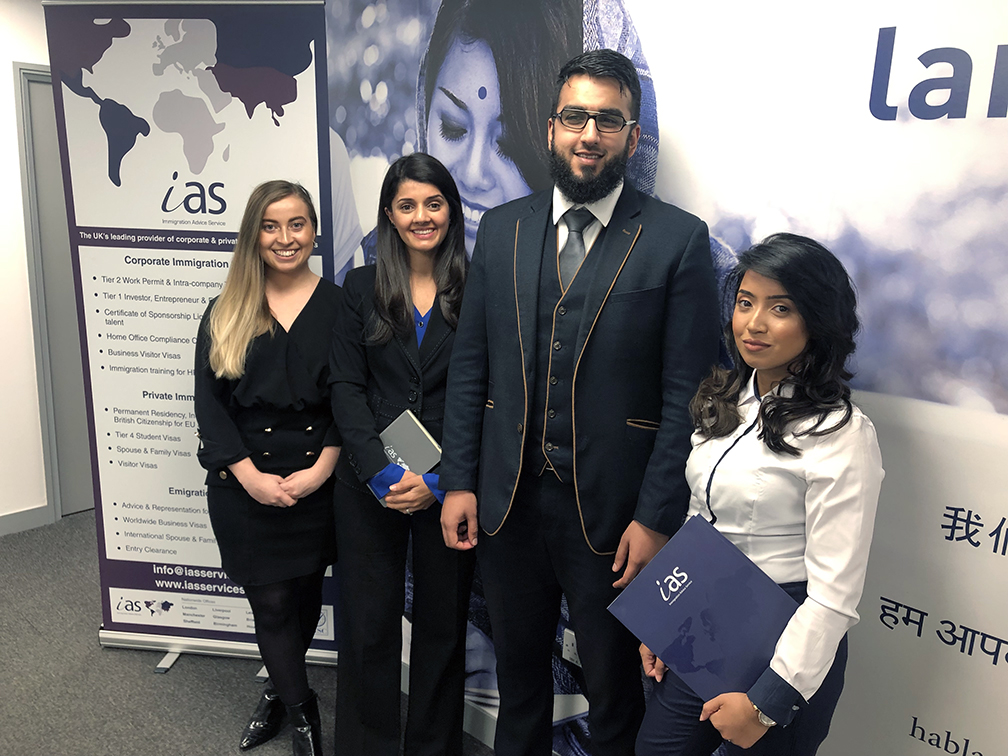 The Advice Package
During this untimed Advice Session with our professional immigration lawyers in London, you will receive our comprehensive advice, completely tailored to your needs and your situation.
Request the Advice Package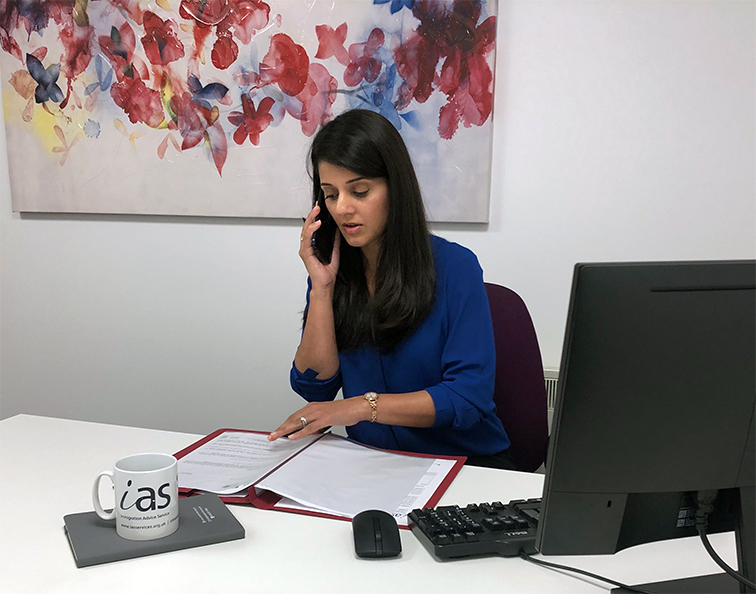 The Application Package
With our Application Package, your dedicated immigration lawyer will advise you on your application process and eligibility. Your caseworker will then complete and submit your forms to the Home Office on your behalf.
Request the Application Package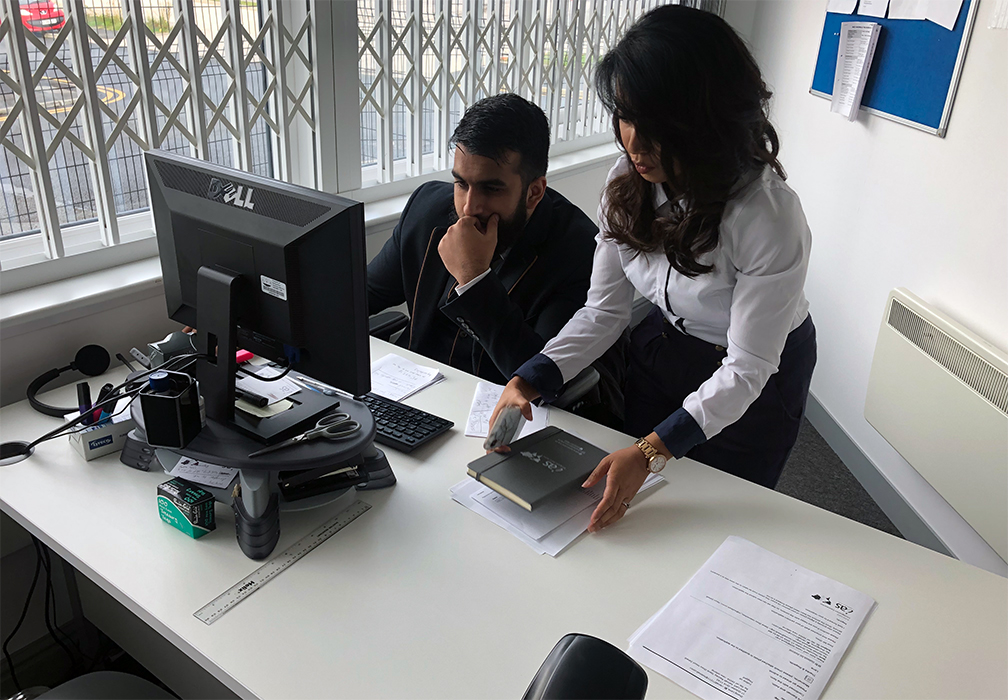 The Fast Track Package
Our Fast-Track Application Package is a premium service for those who need to submit their application in time with their deadlines. Your case will become a top priority for our lawyers and you will benefit from our highest-quality services.
Request the Fast Track Package
The Appeal Package
By choosing our Appeal Package, you can rely on our lawyers' legal knowledge and experience to ensure you have the highest chance of a successful appeal. We will also fully represent you in any hearings/tribunals.
Request the Appeal Package
Related pages for your continued reading.
Frequently Asked Questions
Scale-up Worker visa holders are permitted to stay in the UK for a period of two years. When this visa expires, you will need to renew it. If you want to stay in the UK longer, you can renew your visa every 3 years, as long as you still meet the visa criteria. If you are in the UK for 5 years, you may be able to put down roots and stay forever. This is called 'indefinite leave to remain,' which allows you to live, work and even study in the UK without restriction.
Yes, you can bring your dependents, including a dependent partner and dependent children, with you on a Scale-up visa​.
The advantages of the Scale-up visa in the UK include facilitating fast access to visas for skilled individuals required by fast-growing businesses in the UK, allowing visa holders to work full-time at any skill level after the initial six-month sponsorship period, and allowing visa holders and their skilled family members to apply for indefinite leave to remain in the UK after meeting the relevant requirements.