A Guide On How To Make a Fresh Asylum Claim
A fresh asylum claim is a new opportunity for an asylum seeker to submit new evidence for a claim. Applicants can submit new evidence to the Home Office to request a new decision be made to enable them to stay in the UK.
Through the asylum process, there are a variety of stages where an asylum seeker can submit this new evidence to be reviewed by the Home Office. When completing a fresh claim, having legal aid can enhance your chances of success. Call our legal team at Total Law today at 0333 305 9375 to get started.
What Does It Mean To Make A Fresh Asylum Claim?
A fresh claim is a reference to a situation in which an asylum seeker has had their appeal for asylum heard but dismissed, yet new evidence has come to light and is important to this specific case.
For a fresh claim to be accepted by the Home Office, the information provided in the fresh claim needs to be used to reinforce the existing argument in the case. Alternatively, the evidence may also reinforce a fresh argument and provide evidence to back up the claim of the individual.
There will also need to be evidence that this new evidence is likely to result in a realistic prospect of success. Be aware that the UK Home Office will only consider new evidence like this if it contains new and relevant information.
It is highly recommended that applicants seek legal advice from a professional immigration lawyer if they intend to submit a fresh claim, as it can boost their case.
How Does It Work?
If a person were to make an application for humanitarian protection or refugee status in the UK, or any other form of application based on their human rights, but this was refused and the rights to appeal were all exhausted, a fresh claim may be possible.
However, a fresh claim is only possible if this same individual claims to have new information and/or evidence that they can take to the Home Office.
In this scenario, the Home Office needs to strike a balance. The new evidence may be extremely significant and very genuine.
The UK government rightly needs to uphold UK immigration rules and be wary of further submissions that would be unrighteous, but at the same time, there can be new evidence to back up the genuineness and threat the individual may face that needs to be considered.
Fresh claims are very significant under UK immigration rules. Protection and human rights claims are only a few types of immigration decisions that are subjective to a right to appeal. This means that if a claim is rejected by the Home Office, applicants can appeal this decision before the first-tier tribunal.
That being said, further submissions are only likely to attract the same right of appeal if they can be considered a fresh claim. This is to prevent applicants from making the same claims over and over again.
"I'm very happy with the standard of training received on the OISC Level 1 course, i passed my exam. Thank you!"
"My application was approved and a huge weight has been lifted from our shoulders this year "
"We used this service for the spouse visa extension application to assure that all the information was valid and correct."
What Requirements And Evidence Will I Need To Make A Fresh Asylum Claim?
Overview
What evidence needs to be provided to make a fresh claim depends entirely on the specifics of the unique case. However, it is essential to submit evidence and sufficient documentation to prove that a fresh claim is valid in your case.
Some of the evidence you may need to submit includes the following:
Evidence shows that any individuals who are responsible for the individual's persecution are still actively pursuing the claimant.
Documentary evidence that has only recently come into the possession of the applicant. It is important that, in this case, the applicant keeps the evidence in the envelope it arrives in and can show a receipt or a date of delivery for this.
Any evidence that can show the applicant has involvement with UK-based groups is necessary and relevant to the applicant's asylum claim.
A good reason to have a lawyer aid in your fresh claim is that they can also provide sufficient relevant evidence that will show just why the claim being made is eligible to be reassessed.
The only essential evidence that needs to be submitted for a fresh claim is the new evidence that has come to light regarding the individual's case.
When Might You Be Able To Make A Fresh Claim?
A further submission or fresh claim is not an opportunity to repeat an argument or to make it different in some way. Some specific situations would validate a fresh claim being made. Some of these include the following situations:
A fresh claim may be valid when new evidence that can support the original claim is available. Perhaps the applicant has finally received the documents they were waiting to receive; new evidence may have been published, such as content from a journalistic course or an organisation for human rights.
A fresh claim may be valid where there has been a change in circumstances in the applicant's home country, such as a change of government or violent outbreaks.
There may be validity for a fresh claim where the applicant's circumstances have changed. This could be in the case of health changes or relationships with relatives that may have impacted rights to private life and family life.
A fresh claim may also be valid where there were previous important facts that were not fully elaborated upon at the Home Office. This could be due to discomfort disclosing this information (i.e., sexuality) or due to being forced to tell a certain story (a commonality with victims of trafficking).
There are many situations, aside from the ones previously mentioned, that would result in a fresh claim being valid. A legal advisor can inform you if your situation applies.
Making A Fresh Asylum Claim: The Step-By-Step Process
While applicants can submit a claim independently for a fresh claim, it can be difficult to do. UK asylum claims and asylum laws are extremely complex, so having legal representation can help.
Here at Total Law, one of our legal teams can help you with your fresh claim. You can discuss your new claim with one of our legal representatives, and they can provide advice on how you should submit this information.
That being said, with or without legal assistance, a fresh claim should be submitted in the following manner:
Fully analyse the documents that you possess from your previously rejected asylum case. If you have a legal representative, this is a good time to talk to them about what aspects of your documents could be improved to further aid your case. This includes documents such as:

A copy of the form that the Home Office filled out in your screening interview.
A copy of the transcript and audio recordings from the substantive interview.
Witness statements and copies of evidence that were submitted to the Home Office and courts before.
The reasons for refusal are presented in the letter from the Home Office.
A determination or judgement of an appeal at a First-Tier Tribunal as well as any other appeal determinations.
Overview these documents and look at the aspects that were disbelieved or doubted by the courts or Home Office. Look to see if you can find new evidence that will support these claims.

With new evidence, collect and prepare this evidence.
Provide the Home Office with a valid explanation for the new evidence you will be presenting to them.
Schedule an appointment at the Further Submissions Unit sector of the Home Office.
Attend your appointment unless informed that you do not need to, and take all of your supporting documentation with you as well as all of your evidence.
Make sure that at this appointment you are provided with a receipt that states you have submitted your new claim.
Await a decision from the Home Office on the fresh claim.
When an applicant submits new evidence that is being considered as a part of a fresh asylum claim or a human rights claim, the Home Office must use a legal test to make a decision. This legal test is defined in the UK immigration rules to decide whether or not it can be considered a fresh claim.
How this is decided upon matters, as it will determine what happens with additional submissions and even have an impact on your appeal rights, such as whether or not you will have the right to appeal a refusal decision if this is made or not.
It is important to consider this when gathering evidence for a fresh claim and making a new submission. As you prepare, it is key to try to ensure you meet this legal test. A legal representative at Total Law can help you with this; just give us a call at 0333 305 9375 to get legal assistance in preparing your case.
What Does The Decision Process Of My Asylum Claim Consist Of?
Once you have submitted a fresh asylum claim, the UK Home Office will examine the evidence that you have submitted, and they will present you with a decision.
The decision will be one of the following options:
They have reviewed your evidence and decided that this evidence satisfies the criteria that need to be met. The evidence shows that the applicant requires protection, or the applicant meets the requirements or needs for the human rights argument in law to be applicable. This would make leave to remain a valid option based on this claim.
The Home Office reviewed the new evidence provided and decided that while it may meet the fresh claim legal test requirements, the claim is refused because it does not qualify the applicant for protection or leave to remain. Should this be the case, the applicant may be able to appeal their claim.
The final option is that the Home Office has discovered that the new evidence provided does not satisfy the legal test for a fresh claim. This also means that the applicant will not be able to appeal this either.
An applicant who receives a response that their new evidence does not meet the legal test may be able to submit a new, fresh claim or be able to request a judicial review. That being said, doing so is extremely complex, and those who decide to do so will need legal representation.
The Asylum Claim Processing Time
Fresh claims can take less time or the same amount of time as a primary application. Due to a backlog of cases in the UK, processing times for asylum claims with the Home Office can take a few weeks to over a year.
However, those who have a pending claim in the UK cannot be removed before the Secretary of State has considered the submissions under UK law.
Yet, despite this, it doesn't mean that applicants waiting for a decision on their fresh claim cannot be removed from the UK. The Home Office may issue a letter that says the submission did not have grounds for a fresh claim. This could then lead to you being detained or informed you will be removed from the UK.
Applicants always need to ensure they obtain a receipt when they submit their claim. If an applicant is unable to present proof that they have a pending claim, this increases the risk of being removed.
How Our Total Law Immigration Team Can Help You Make A Fresh Asylum Claim
The process for making a fresh asylum claim is complex and can be challenging, whether you are making a new protection claim or reviewing new evidence after an unsuccessful asylum appeal.
Applicants need to be sure that they have no false evidence in their preparations and are making this fresh claim on valid grounds of protection or human rights grounds. A Total Law lawyer can aid in this process.
Our legal team can help with the following:
Asylum application or appeals.
Detained casework.
Bail (SoS applications, tribunals, and renewals).
Fresh claims.
Permission to work applications.
Travel documents.
BRP issues,
Family reunion applications and appeals.
Applications for permission to appeal.
Error in law preparation and hearings.
Give us a call at 0333 305 9375 today to get started with legal assistance in your case!
Advice Package
Comprehensive immigration advice tailored to your circumstances and goals.
Application Package
Designed to make your visa application as smooth and stress-free as possible.

Fast Track Package
Premium application service that ensures your visa application is submitted to meet your deadline.
Appeal Package
Ensure you have the greatest chance of a successful appeal. We will represent you in any case.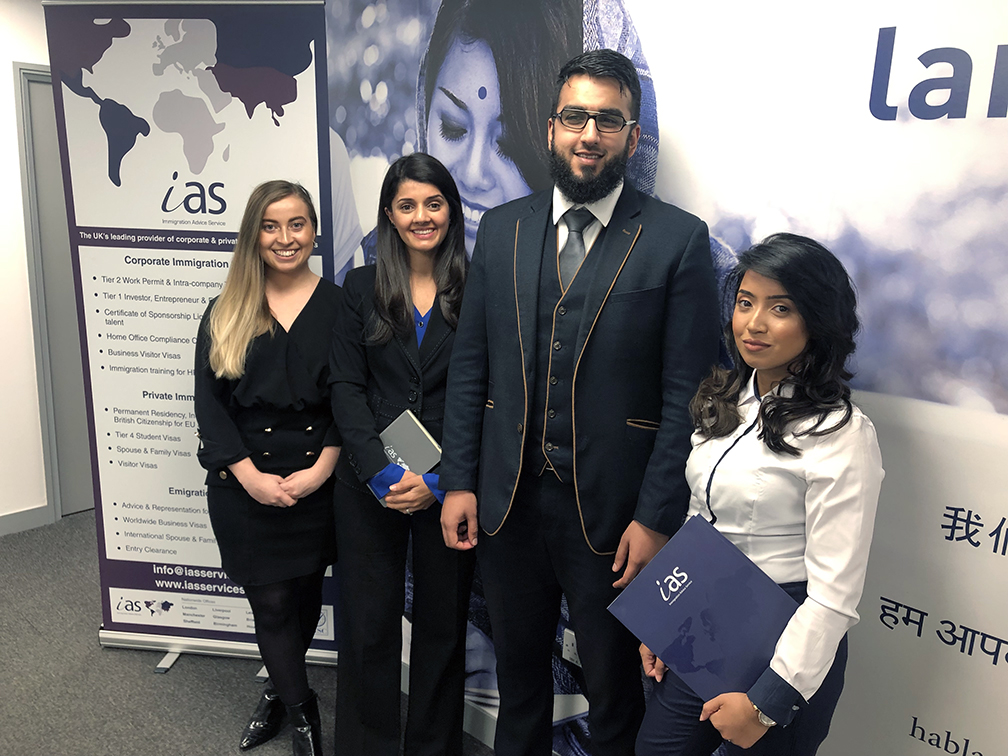 The Advice Package
During this untimed Advice Session with our professional immigration lawyers in London, you will receive our comprehensive advice, completely tailored to your needs and your situation.
Request the Advice Package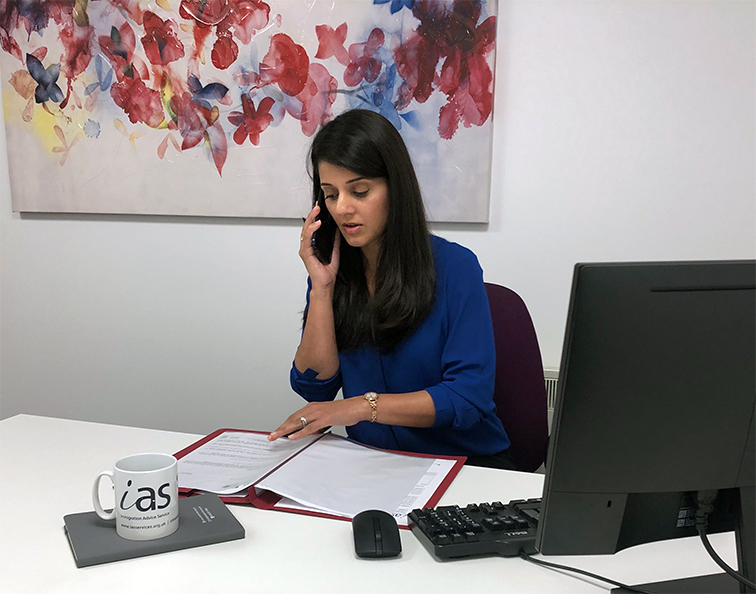 The Application Package
With our Application Package, your dedicated immigration lawyer will advise you on your application process and eligibility. Your caseworker will then complete and submit your forms to the Home Office on your behalf.
Request the Application Package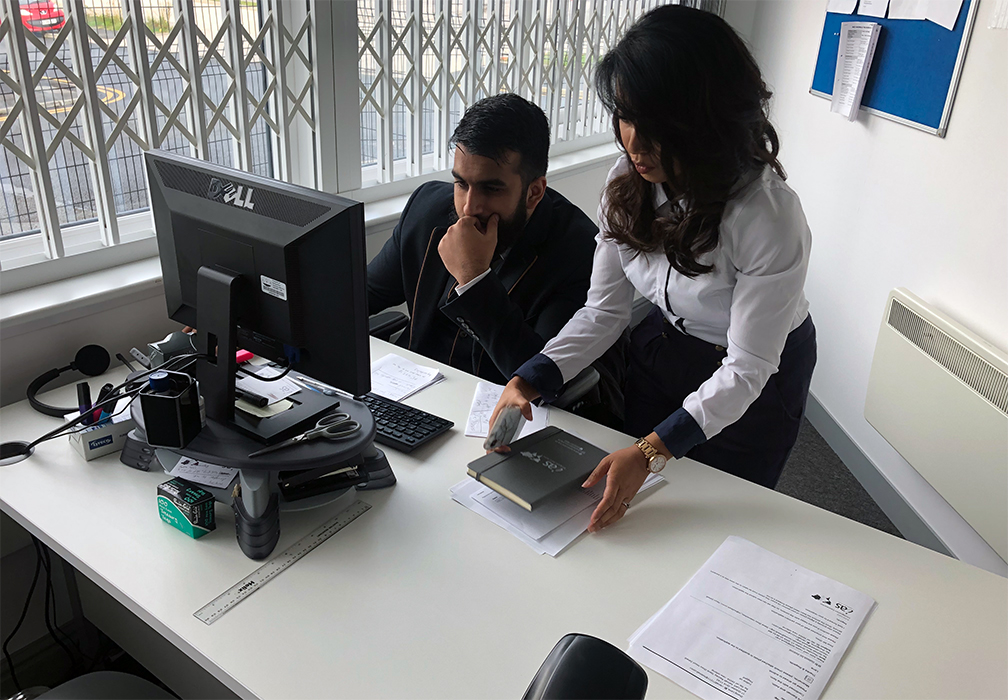 The Fast Track Package
Our Fast-Track Application Package is a premium service for those who need to submit their application in time with their deadlines. Your case will become a top priority for our lawyers and you will benefit from our highest-quality services.
Request the Fast Track Package
The Appeal Package
By choosing our Appeal Package, you can rely on our lawyers' legal knowledge and experience to ensure you have the highest chance of a successful appeal. We will also fully represent you in any hearings/tribunals.
Request the Appeal Package
Related pages for your continued reading.