Spouse Visa UK
As a foreign national married to a UK citizen or someone who is 'settled' in the UK, you would want to live with your partner and start a family somewhere as serene as the UK. You would have to go through the UK spouse Visa application process to achieve this.
The spouse visa application process is laborious, requiring that applicants get legal aid to avoid confusion and rejection. For advice and support through the entire process, contact Total Law for assistance. Speak to one of our expert immigration advisers today. Call 0333 305 9375 or use the online form to get in touch.
What is the Spouse Visa UK?
The UK spouse visa, also known as the UK marriage visa, is a UK family visa that is issued to married partners of:
UK citizens
Persons with indefinite leave to remain or right of abode in the UK
Persons with refugee status
Persons with settled status from the EU settlement scheme
Once granted, the spouse visa permits the civil partner to immigrate to the UK to live, work or study freely so long as they continue to meet the spouse visa requirements.
"I'm very happy with the standard of training received on the OISC Level 1 course, i passed my exam. Thank you!"
"My application was approved and a huge weight has been lifted from our shoulders this year "
"We used this service for the spouse visa extension application to assure that all the information was valid and correct."
UK Spouse Visa Requirements
The spouse visa is open to a civil partner of a UK citizen or someone with Indefinite Leave to Remain from any non-UK country, including Ireland. If you are applying for this visa, you (the applicant) and your spouse (the sponsor) must meet the following requirement.
You must both be over 18 years of age
Your marriage must be genuine, with proof recognized by the UK government
Your marriage must be more than two years old, and both of you must have met each other. This is to prevent arranged marriages.
You must prove that you intend to live together in the UK
You and your partner must prove that you have the financial capability to take yourselves plus any dependents without government assistance
Your partner must earn more than £18,600 per annum, which serves as proof that they can sponsor you. This financial benchmark is higher if there are any dependents involved.
Your partner must prove that they have adequate accommodation to house you and any other dependents.
You must prove your proficiency in the English language.
Once you meet these requirements, then you can start the spouse visa application. A Proposed civil partner of a British citizen is not eligible for the spouse visa. Rather they would need to apply for the unmarried partner visa known as a fiance visa.
Recognized Marriages and Proof of Marriage Genuineness
Before applying for the spouse visa UK, a person's marriage must be recognized by the UK authorities. This step is crucial during the application phase because if the proof of marriage submitted leaves room for the suspicion of illegitimacy, the applicant's visa may be automatically denied. For clarification, the following terms are used when discussing marriages regarding the UK Spouse visa.
Registered Marriages: A registered marriage entails that you and your spouse are legally married and have a marriage certificate from either the UK government or that of any recognized government
Civil Partnerships: Civil partnerships entail the union of same-sex couples. While this is not officially recognized as a marriage, couples in civil unions are afforded the same rights as married heterosexual couples.
Traditional Marriages: These types are not officially recognized even if they bear a certificate. The couples must register with UK home affairs before applying for this visa.
Proposed Partnerships: Those in proposed partnerships, including fiancés/fiancées, have to apply through another type of visa, the fiancé visa UK, after which they may then apply for the Spouse visa UK.
The spouse visa is granted to couples in genuine harmonious relationships who intend to live in the UK together. You can show this through any of the following;
Documents that prove that you have lived together for at least two years
Documents that prove that you have children together
Documents that show that you have a joint account
Pictures or documents that prove that you both have met in person previously.
Records that show that you both have been in constant contact with each other
Applying for the spouse visa
Application for family visas can either be done within or outside the UK – more commonly outside the UK. If you're within the UK, your may complete your application online or offline through postal mail. However, your application will be strictly online if you're outside the UK.
The first step is to fill out the form VAF4A (Enter as an adult-dependent family member) online. You can access this form through the UK online application system
As part of your application, you'll be required to select a visa application centre where you will provide your biometrics information.
You will be required to pay the visa application fee. If you're applying from Ireland, this fee is a non-refundable €1857 payment that must be made online.
You will also be required to pay the health surcharge. The health surcharge gives you access to NHS services when you arrive in the UK. The cost of this fee will depend on the length of your stay, and you may choose to pay in parts.
Next, you will need to make an appointment to submit your biometrics. This includes your fingerprint and photograph.
Then, you will need to provide your passport and other supporting documents to the visa application centre.
If you're resident in a country where tuberculosis is endemic, you will need to provide a tuberculosis test result to prove you're free of the disease.
Supporting Documents for the UK Spouse Visa
When applying for the UK spouse visa, you will need to submit the following documents;
Visa application form, i.e., form VAF4A
A valid passport with at least one empty page where the visa can be affixed
Previous passports (if applicable)
Two passport-sized photographs that meet the UK requirements
Proof of English proficiency
Proof of financial requirement
Proof of relationship with spouse, including government-issued marriage certificates, photographs of you and spouse together
Details of previous immigration applications (if applicable)
Certificate of criminal records from a reputable court
Your parent names, dates of birth, and nationality
Proof of accommodation in the UK – a document detailing where you will live when you arrive in the UK
Proof of paid visa application fees and health surcharge
Accepted Applications
If your visa application is accepted, you will receive a permit that allows you to enter the UK for 30 days.
Once in the UK, you will need to pick up your biometric residence permit (BRP) form a named post office branch; or from your sponsor (if you choose the option when applying). Your BRP contains your biometric information, which you provided at the visa application centre where you applied; and must be picked up within ten days of arriving in the UK or before the vignette sticker on your travel document fades (whichever comes later)
If you fail to enter the UK within the 30 days covered by the permit, you will need to reapply for a new 30-day permit, for which you will pay another fee. In addition, if you arrive in the UK and fail to pick up your BRP in the stipulated time, you might be fined, or your visa might be cancelled.
Spouse visa refusal
If your spouse's visa application is rejected, the Home Office will inform you of its decision. You can appeal this decision but only with solid proof that it makes it impossible for you and your spouse to be together.
Appeals are usually tricky and time-consuming, and it is highly recommended that you seek the help of competent immigration lawyers to guide you through the process. Total law provides immigration support and advice, and you should contact a Total law attorney for guidance on the appeal requirements and process.
Language Requirements for the Spouse Visa UK
It is necessary that you prove your proficiency in the English language when applying for the Spousal visa UK. Documents that can be used as evidence include:
An academic qualification that was taught or researched in English. The qualification must be recognized by the UK National Academic Recognition Information Centre (NARIC) and equivalent to a UK Bachelor's degree or higher.
Results that you passed an approved English Language proficiency test, with at least a CEFR level A1 in speaking and listening.
However, some nationals are exempted from providing proof of English proficiency. This includes persons from;
Antigua and Barbuda
Australia
The Bahamas
Barbados
Belize
Canada
Dominica
Grenada
Guyana
Jamaica
New Zealand
St Kitts and Nevis
St Lucia
St Vincent and the Grenadines
Trinidad and Tobago
USA
Persons from Ireland require proof of English proficiency.
UK Spouse Visa Financial Requirements
To bring your partner into the UK to live with you, you must meet specific financial requirements – this involves either earning a certain amount of money (before tax) or having a required amount in savings if your earnings do not meet the requirement.
Your earnings can be any or a combination of:
Earnings from employment or self-employment
A pension
Maternity, paternity, adoption, or sick pay
Other income such as from rent or shares
The UK spouse visa's financial requirement depends on how many persons are coming in. If you're bringing in extra dependents (such as children), you will have to meet higher requirements.
To bring in just your partner, you will need to be earning at least £18,600 per annum (before tax).
If you're bringing in children, you'll need to earn an extra £3,800 for the first child and an extra £2,400 for each child after that.
You don't have to earn these extra amounts if you're bringing children who are British or children who have indefinite leave to remain in the UK.
If your earnings are less than required, you must have savings of £16,000 plus £2.50 for every £1 your income is below the financial requirement.
So if, for example, you're bringing in just your spouse, and you earn £15,600, that means your income is £3,000 less than the requirement. Thus, you would need £16,000 + (3000 x 2.5) = £16,000 + £7,500 = £23,500. You would need £23,500 in savings to bring them in.
A savings must have been in your name for six months or more to be considered valid.
If you have one or more of the following benefits:
Disability Living Allowance
Severe Disablement Allowance
Industrial Injuries Disablement Benefit
Attendance Allowance
Career's Allowance
Personal Independence Payment
Armed Forces Independence Payment or Guaranteed Income Payment under the Armed Forces Compensation Scheme
Constant Attendance Allowance, Mobility Supplement or War Disablement Pension under the War Pensions Scheme
Police Injury Pension
You'll need to show that you receive enough money to look after your dependant – this is called 'adequate maintenance.' How much this will depend on your circumstances. You'll need at least around £120 (or more if you have children) left per week after you've paid for your housing.
Validity of the UK Spouse Visa
If you apply for the UK spouse visa from outside the UK, it will be valid for 33 months, while those who apply from within the UK will be able to stay in the UK for 30 months.
Before the expiration of your visa, you can apply for an extension of 2 years and six months. After a total of 5 years staying in the UK, you will then be able to apply to settle in the UK and eventually apply to become a UK citizen.
Processing Time for UK Spouse Visa
Processing time for the UK spouse visa may take up to 24 weeks if you're applying from outside the UK. However, applications within the UK may take 8 weeks through standard service or as little as 2 working days if you apply through the super priority service.
However, the application time may take longer if extra times are needed to review your:
Financial eligibility
English language Proficiency
Criminal records
Any or all of your supporting documents
Contact Total Law for guidance throughout the application process to avoid delays during processing.
Advice Package
Comprehensive immigration advice tailored to your circumstances and goals.
Application Package
Designed to make your visa application as smooth and stress-free as possible.

Fast Track Package
Premium application service that ensures your visa application is submitted to meet your deadline.
Appeal Package
Ensure you have the greatest chance of a successful appeal. We will represent you in any case.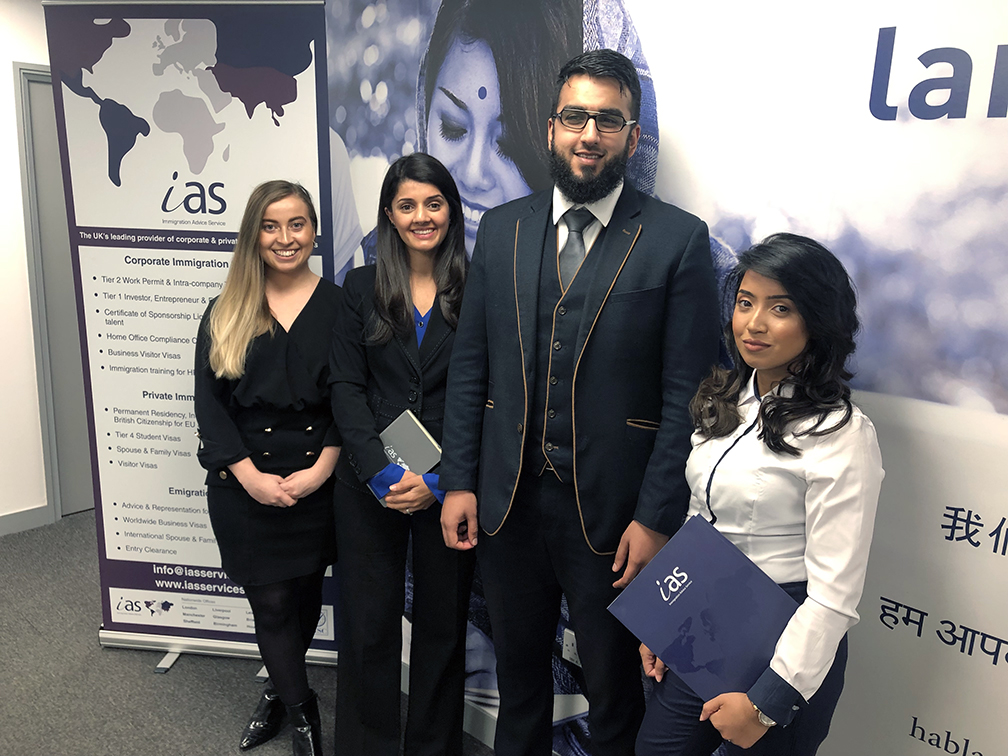 The Advice Package
During this untimed Advice Session with our professional immigration lawyers in London, you will receive our comprehensive advice, completely tailored to your needs and your situation.
Request the Advice Package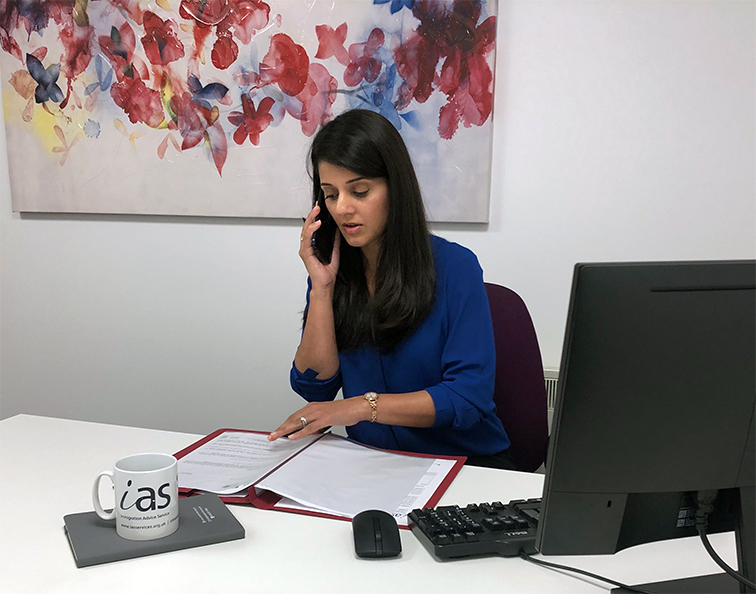 The Application Package
With our Application Package, your dedicated immigration lawyer will advise you on your application process and eligibility. Your caseworker will then complete and submit your forms to the Home Office on your behalf.
Request the Application Package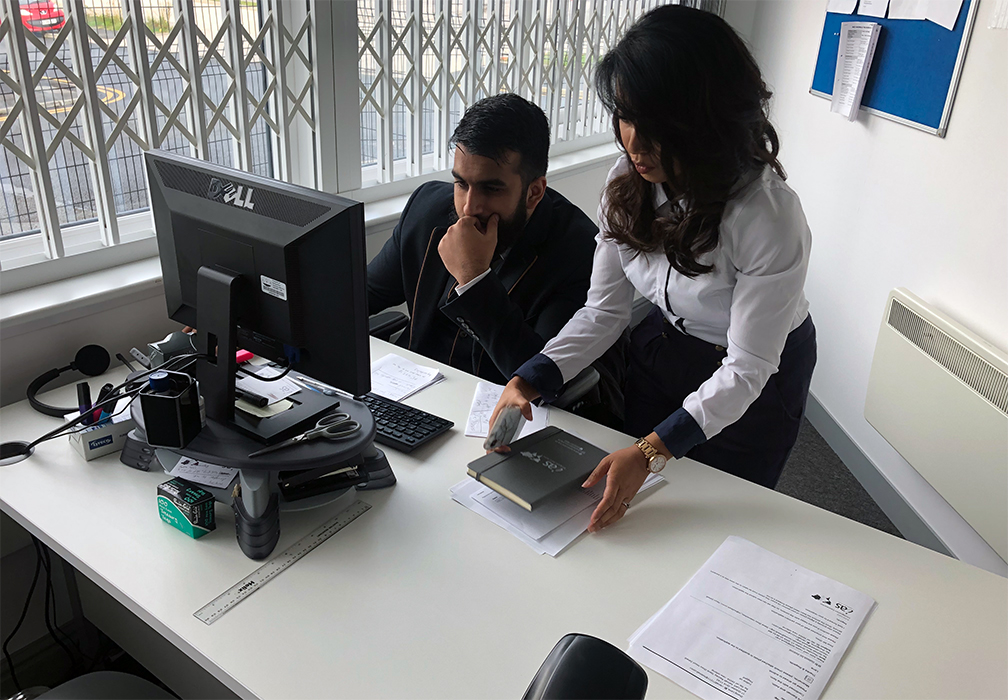 The Fast Track Package
Our Fast-Track Application Package is a premium service for those who need to submit their application in time with their deadlines. Your case will become a top priority for our lawyers and you will benefit from our highest-quality services.
Request the Fast Track Package
The Appeal Package
By choosing our Appeal Package, you can rely on our lawyers' legal knowledge and experience to ensure you have the highest chance of a successful appeal. We will also fully represent you in any hearings/tribunals.
Request the Appeal Package
Related pages for your continued reading.
Frequently Asked Questions
If you and your partner divorce before you're able to apply for permanent residency in the UK, you have to write to the Home Office immediately. Once you inform them, they will issue a spouse visa curtailment to notify the end of your relationship. If you're eligible for a different visa category, the home office may not cancel your permit and allow you to stay based on that visa or compassionate grounds.
Failing to inform the Home Office of your separation from your partner will attract severe consequences and may affect future attempts to apply for a visa.
If your BRP gets lost or stolen, you can report it to the Home Office and apply for a replacement. The Home office will contact you within a day of reporting the lost BRP.