How to Claim Asylum In UK: Legal Advice
Claiming asylum in the United Kingdom is a very complicated legal process. Those who can apply for asylum need to meet certain eligibility criteria. Every person applying must be eligible, and an interview must be attended. It is quite a gruelling process, but it can be exceptionally rewarding.
This is why it is so important that those who are seeking asylum in the UK speak to a legal advisor first. Here at Total Law, we can help you through the process and make it as stress-free as possible. Speak to one of our team members today at 0333 305 9375, and we can help you online, over the phone, or in person.
Claim Asylum In The UK: An Overview
In 1951, the United Nations Refugee Convention established the right to claim asylum in another country; this was agreed to by 146 countries. The 146 countries that agreed to this are bound by law to its regulations.
In the United Kingdom, people have the legal right to claim asylum in the UK if they are unable to return to their home country for fear of persecution.
Some eligibility criteria are attached to this process for applicants for asylum to be able to make a successful claim.
This process can be very extensive and long, however. Following the individual's arrival in the UK, an application must be made on the basis of having left their country of origin and being unable to return due to being threatened with persecution, thus endangering the life of the individual.
Following the initial asylum application at an airport or border port, the individual will then have a meeting with an immigration officer. This is typically referred to as screening.
This is an in-person meeting, and at this meeting, the individual is required to bring all relevant documents with them, on their behalf and on behalf of their case of claiming asylum.
After this, the Home Office will decide whether or not the individual's claim for asylum can be submitted. If the individual receives confirmation that they can make a claim, they will be required to attend an interview for substantive asylum with a caseworker.
This is an opportunity for the individual to explain their reasoning behind claiming asylum. The individual is allowed to take a solicitor or immigration lawyer with them to this interview. A decision will then be made on the application within 6 months of this interview.
During this time, the individual will not be allowed to work; in some cases, the individual may even be detained while waiting, and if the application is denied, there may be a right to appeal.
"I'm very happy with the standard of training received on the OISC Level 1 course, i passed my exam. Thank you!"
"My application was approved and a huge weight has been lifted from our shoulders this year "
"We used this service for the spouse visa extension application to assure that all the information was valid and correct."
Eligibility Criteria & Requirements To Claim Asylum In The UK
Overview
There are requirements that asylum seekers need to meet to be eligible for asylum in the UK. The most important factor is that the individual must be unable to live in their country of origin without any fear of being persecuted.
The British government outlined specific categories of persecution as being based on the following:
Race.
Nationality.
Religion.
Political opinion.
Gener, genre identity, sexual orientation, or other similar factors that would result in persecution due to political, social, or religious cultures in the original country
The individual must be able to show that they sought out and were denied protection from officials in their origin country, and the persecution would need to be caused by authorities or a group of individuals who are sanctioned by the authorities, be it explicitly or implicitly.
There are, however, some situations and circumstances under which asylum claims might be denied by the Home Office.
If the individual has come from an EU country or if they have travelled through another country to get to the UK, the claim might be denied. This is simply due to some rulings that have come into place since the UK left the EU during Brexit.
Documents Needed To Claim Asylum
There are some documents that individuals need to provide if they are submitting an asylum claim. Every stage of the process will require different documentation to be provided.
The initial screening interview requires the following documents:
Police registration certification.
Passports or travel documentation.
Proof of identity documents. This can include ID cards, official school records, marriage or divorce certificates, and birth certificates.
If the asylum seeker is already residing in the UK when they claim asylum, they should be prepared to be asked for proof of address. A proof of address document could be any one of the following:
Housing benefit documents.
A letter from a bank.
A lease or tenancy agreement.
A council tax letter.
A utility or household bill.
Or, proof that the individual is staying with another person.
Documents for substantive asylum interviews can be in many different forms. However, the asylum claim can be boosted if the individual can produce solid documentary evidence of their persecution in their own country. This can be very difficult to obtain, but it is very beneficial to provide the interviewer with as much evidence as possible. This could include.
Arrest warrants.
Published newspaper or media articles detailing the story of the individual or information regarding their persecution.
Political party membership card(s).
Additional evidence can support claims.
All of this evidence needs to be completely genuine and cannot be falsified in any way at all. Immigration lawyers can discuss with each individual the types of evidence that need to be submitted.
At Total Law, we can help walk you through what types of evidence you should consider submitting and can aid you in the process of submitting evidence. Call us today at 0333 305 9375
What Is The Asylum Screening And What To Expect
Overview
Asylum screening is a complex process; however, the first stage of the process to claim asylum in the UK is when the individual notifies border officials that they intend to seek asylum.
The process will be different depending on whether the individual does this at the UK border or if they look at the appointment at the asylum intake unit.
In the screening interview, the individual will be requested to provide biometric information, which means photographs and fingerprints. They will also be asked to provide background information, information regarding their immigration status, as well as any health or medical requirement information.
The individual needs to provide accurate answers to every question, and they should also request a copy of the interviewer's notes around this time.
People seeking asylum can expect to be asked questions such as the following:
Name.
Date of birth.
Ethnic background, ethnic group, or race.
Nationality and country of origin, or home country.
Religious beliefs.
Languages.
Family.
Occupation.
In this screening interview, the individual may also be requested to provide proof of their details, such as a birth certificate or passport. Border officials will ask for reasons for entry into the UK to seek asylum and for information regarding the persecution in the individual's home country.
The interviewer at this stage will not be asking in-depth questions about the individual's background, and the interview should only last between one and two hours. From this interview, the Home Office can use the information gathered from screening to grant the individual a substantive interview.
It is worth noting that since January 1st, 2021, the Home Office has reserved the right to assert that any asylum claim is inadmissible if the individual passed through another country where asylum could have been claimed after they left their home country.
After the screening interview, the case will be categorised into one of the following:
Non-detained general casework.
Detained non-suspensive appeal.
Unaccompanied minor.
How the asylum claim is categorised will impact the individual's case.
Detained non-suspensive decisions mean that claimants will be detained after the screening interview. If this is decided, there will be no right to appeal following a substantive asylum interview.
Unaccompanied minors will have a substantive interview scheduled. Should the Home Office believe that the individual is not under the age of 18, however, it is likely that there will be an order for an age assessment.
The Substantive Interview
A substantive interview is necessary for the individual to be able to provide the Home Office with evidence that relates to why they believe that they qualify to be protected internationally.
The Home Office official will now ask the individual more in-depth questions regarding their background and details of the persecution that the individual experienced in their country of origin.
The substantive interview is one of the most important stages of the process to claim asylum.
This is a very long interview and can last from four to six hours. At this point, the individual also holds the right to bring an immigration lawyer to the interview as a representative. If there is a language barrier, the individual can also bring an interpreter.
Interviews will also be recorded as standard, and it is highly recommended that individuals seek a copy of their recording as well as a written transcript following the substantive interview.
This interview is very emotionally challenging, and individuals are allowed to request a break at any point during the process.
It is understood that these interviews can contain aspects of very traumatic experiences; however, the Home Office does need to remain impartial and objective. This is why it is also not uncommon for the official to question the story of the individual and ask for clarification and such, even if this has already been provided.
Questions To Expect In A Substantive Interview
At this point in the process, the interviewer will ask for the story to be recalled chronologically and for information regarding the reasons to seek asylum. If the individual is uncertain of a date or is unable to remember specifics, this needs to be stated. Applications can be impacted if different dates are stated.
When the individual provides details regarding specific examples of their persecution, having evidence in document format is very useful; however, if this is not readily available, the individual should provide as much information as possible about the relevant incident.
If there was a situation in the individual's home country in which they were placed in danger due to religion, race, political opinion, nationality, and so forth, the individual should attempt to recall as much information regarding this incident as they can.
This information can include information regarding the people involved, the location of the incident, the time of the incident, the clothes worn by the people involved, and whether or not those involved were members of a police force.
It can also include information regarding if the individual reported the violence, if the individual was imprisoned, and whether the incident resulted in psychological or medical issues, as well as how the individual managed to leave the situation.
If choosing to work with a solicitor or immigration lawyer, the individual must work closely with them before the interview to discuss the story and prepare the most effective approach based on the individual's situation.
How To Apply For Asylum In The UK
Overview
Individuals who wish to claim asylum in the UK must register their claim as soon as they arrive in the country to make a start on the asylum application process, which is lengthy.
Not doing this immediately upon arrival at the UK border can result in the application being denied. The Home Office may even see this as the individual not being in true danger of persecution if the individual does not claim upon their arrival in the UK.
If the individual arrives in the UK and notifies the border force officials that they wish to apply for asylum protection, then they will be immediately directed to a screening interview with an immigration officer.
At this time, the officials will make a record of the individual's fingerprints and photographs, and a brief discussion will be had regarding why they are claiming asylum.
If the individual is living in the UK and becomes eligible to seek asylum, they should contact the asylum intake unit as soon as possible to make an appointment for a screening interview with an immigration official.
The screening interview will register the asylum claim, and after this, the individual will be taken under review by the Home Office. If the application is successful, the individual will be invited to a substantive interview for asylum.
How Long Does It Take To Get A Decision On Your Asylum?
Applicants who are claiming asylum in the UK will have their applications decided upon as soon as possible. However, it can take longer than expected if there are complications. Complications can include the following:
The supporting documents supplied by the applicant need verification.
The applicant is required to attend more interviews.
The personal circumstances of the applicant need to be checked. An instance of this could include if the individual has a criminal conviction or if they are being prosecuted currently.
How To Check The Status Of Your Asylum Claim?
Depending on how the individual applied for asylum, they may be able to track the status of their application online. If this is possible, they will be informed of it.
However, this is not often the case, and most will receive a decision as soon as possible. This process cannot be sped up, either.
What Happens If My Claim Is Successful?
You may be permitted to stay if you have refugee status. This means that the individual is considered to be a refugee, as defined in the Refugee Convention. Alternatively, an individual may get humanitarian protection if they do not qualify for refugee status but are unable to return to their home country.
Should the Home Office grant a positive decision on an asylum case, there will typically be three potential outcomes.
The first is the aforementioned refugee status. Alternatively, an individual may also be granted humanitarian protection, or they may be granted another form of leave to remain.
Should the individual be given refugee status, this will allow them to stay in the UK for five years, and they will be able to access work, benefits, and housing.
They will also be able to apply for a travel document and the Family Reunion Programme. After this, the individual can apply to obtain Indefinite Leave to Remain, which opens up a path for citizenship after a year.
Humanitarian protection is much like refugee status; however, its main difference is that it does not allow for the right to apply for a Refugee Convention travel document.
Alternatively, the other forms of leave to remain include unaccompanied minor leave to remain until a particular age, restricted leave, or discretionary leave.
What Happens If My Claim Is Unsuccessful?
If the applicant receives a negative decision on their asylum claim, this does not always mean deportation or detention. It does depend on the type of case and the stage of the case; however, it may be possible to appeal the decision.
However, if there is an initial refusal decision from the Home Office and it does not include a right to appeal, this can be submitted to a judicial review. If this has a positive outcome, the case is then allowed to be brought to a First-Tier Tribunal. Alternatively, if the judicial review has a negative response, then the Home Office will continue with the removal process.
However, if the initial decision on a refusal does contain the right to an appeal, it is then possible to submit it to a First-Tier Tribunal. Should this result in a positive decision, the status may be granted; however, the Home Office will also reserve the right to appeal this decision on the case further.
Alternatively, if this first-tier tribunal results in a negative decision, the individual's case may be submitted to another court altogether, even to an Upper Tribunal. If this results in a positive decision, status could be granted, or the Home Office may reconsider their decision.
However, if the Upper Tribunal results in a negative decision, the right for an appeal has now been exhausted, there is a risk of detention, and the removal process may proceed.
How Our Total Law Lawyers Can Help Your Asylum Claim
Total Law Lawyers are experts in immigration law and can assist in claiming asylum. We can help you through every stage of the process and offer aid with many different case types.
We can help you through the process of your asylum application and asylum appeal, and we can even walk you through the interview processes that are necessary to claim asylum in the UK.
If needed, the lawyers at Total Law can even help with asylum appeals and casework for detainees.
Our legal team at Total Law is also able to aid in bail, be it for bail renewal, bails for tribunals, or bail for SoS applications.
Our legal team is well-versed in helping with fresh claims and applications for permission to work, as well as travel documentation and BRP issues, whether there is an error or if the individual's BRP is stolen or lost.
Total Law lawyers can also help in the latter parts of the claim for asylum in the UK, including where an applicant may need to apply for permission to appeal in the case of a First-Tier Tribunal or an Upper Tribunal. However, our legal team can aid in error of law preparation and hearing, and for family reunification applications per applicant and appeals.
Whatever you need in your claim for asylum, Total Law is here for you. Our legal team is an expert in dealing with asylum claims in the UK and can help individuals seeking asylum make it through the process as smoothly and successfully as possible. Give us a call today at 0333 305 9375 or contact us online, and we can help get your claim moving forward faster.
Advice Package
Comprehensive immigration advice tailored to your circumstances and goals.
Application Package
Designed to make your visa application as smooth and stress-free as possible.

Fast Track Package
Premium application service that ensures your visa application is submitted to meet your deadline.
Appeal Package
Ensure you have the greatest chance of a successful appeal. We will represent you in any case.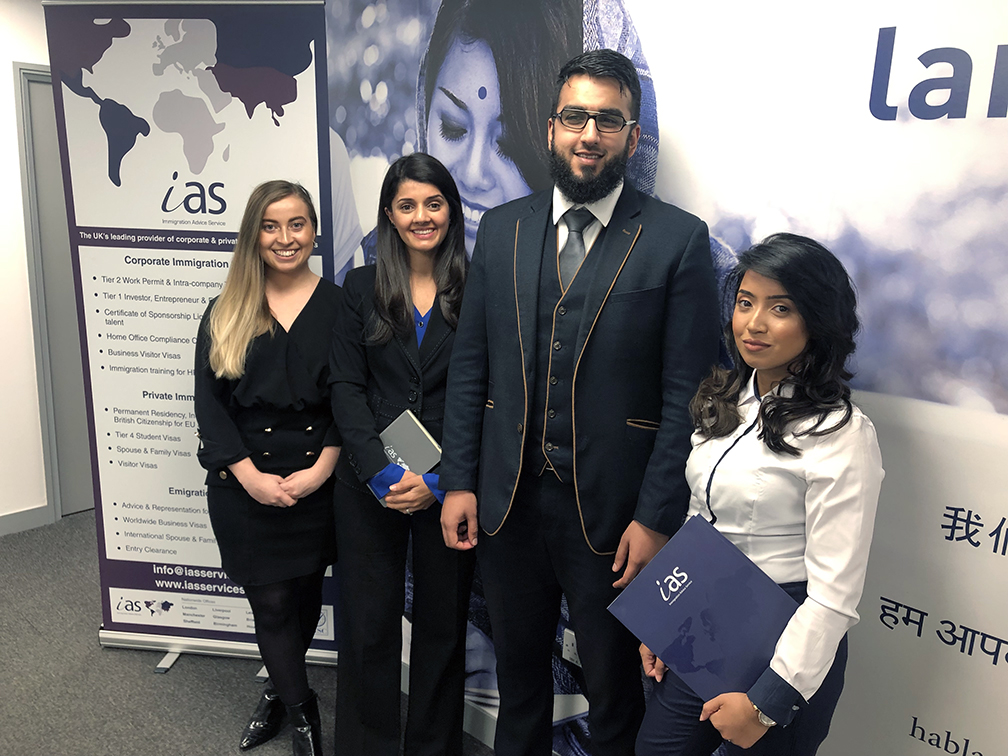 The Advice Package
During this untimed Advice Session with our professional immigration lawyers in London, you will receive our comprehensive advice, completely tailored to your needs and your situation.
Request the Advice Package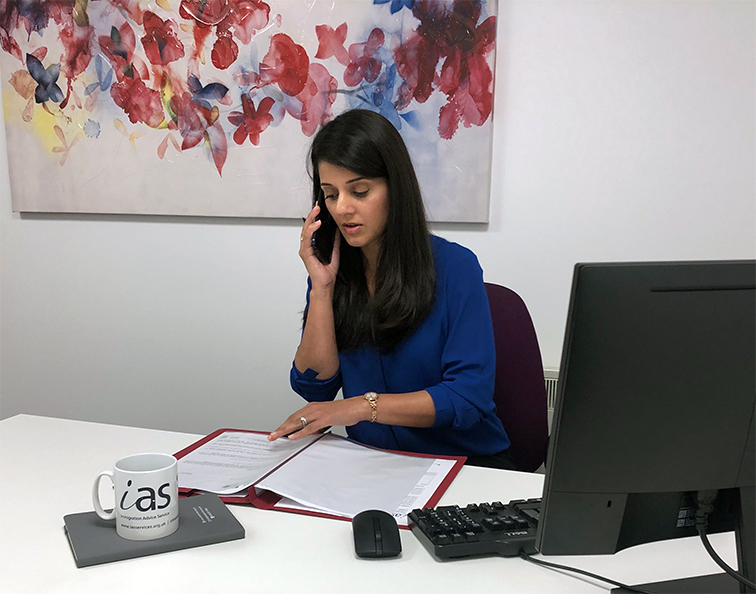 The Application Package
With our Application Package, your dedicated immigration lawyer will advise you on your application process and eligibility. Your caseworker will then complete and submit your forms to the Home Office on your behalf.
Request the Application Package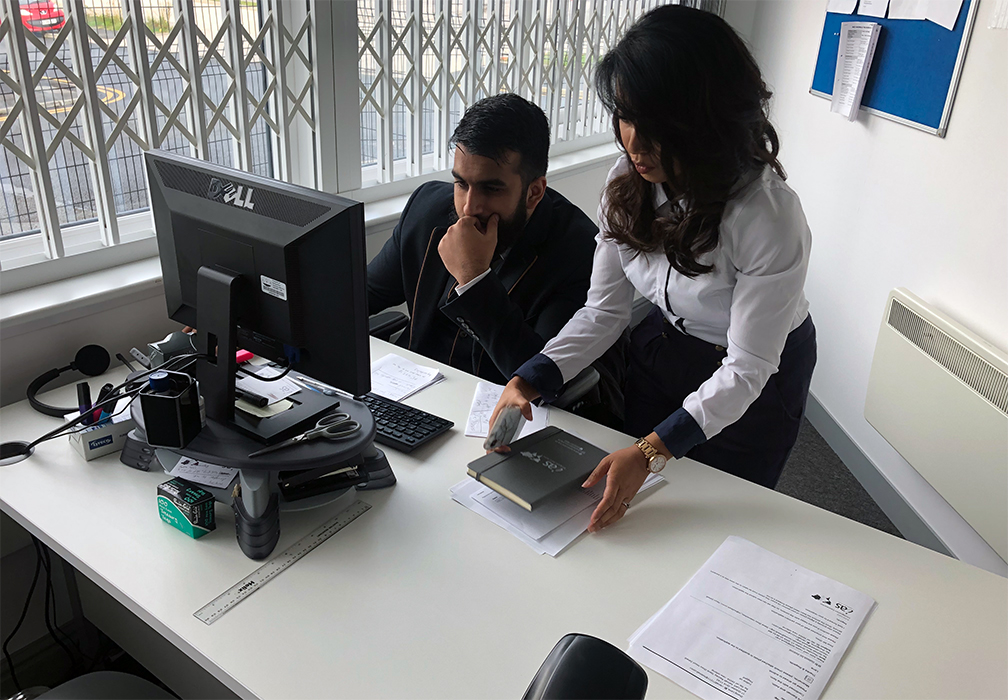 The Fast Track Package
Our Fast-Track Application Package is a premium service for those who need to submit their application in time with their deadlines. Your case will become a top priority for our lawyers and you will benefit from our highest-quality services.
Request the Fast Track Package
The Appeal Package
By choosing our Appeal Package, you can rely on our lawyers' legal knowledge and experience to ensure you have the highest chance of a successful appeal. We will also fully represent you in any hearings/tribunals.
Request the Appeal Package
Related pages for your continued reading.