Immigrating to the UK from Ireland
Relocating to the United Kingdom will depend on your nationality. For example, Irish citizens and UK Citizens benefit from very relaxed immigration rules due to agreements between the two countries that allow citizens of both countries to work, live and move freely.
However, any non-Irish citizens who are living in Ireland and wish to move to the UK will be required to apply for a UK visa.
If you have any questions regarding Immigrating to the UK, you can contact our expert immigration lawyers to discuss any concerns you may have, or for some help navigating the application process. You can call us on (+353) 061 518 025, or contact us online seven days a week via our live chat.
What are the requirements to move to the UK from Ireland
Only Irish citizens and British citizens benefit from the 'Common Travel Area' (CTA) arrangement. Irish and UK citizens have had this arrangement in place for a very long time thanks to the UK and Irish governments. This agreement permits both Irish and UK citizens to move freely and reside in either jurisdiction and can enjoy rights and privileges, such as:
The right to work in the UK
The right to study in the UK
Irish nationals are permitted to vote in certain elections of the UK government, including local and national general elections. In the UK, however, Irish citizens may not be able to participate in European union elections.
This means that Irish nationals are automatically allowed to have permanent immigration permission to remain in the UK, from the day that they move to the UK. They do not require a UK visa.
If you are planning to study at a UK university, you should research if you are indeed eligible for UK student loans and verify what type of tuition fees you may face as this can vary depending on your circumstances.
Irish citizens have no issues with traveling freely between the two countries and do not need to be subjected to passport or immigration scrutiny/control.
"I'm very happy with the standard of training received on the OISC Level 1 course, i passed my exam. Thank you!"
"My application was approved and a huge weight has been lifted from our shoulders this year "
"We used this service for the spouse visa extension application to assure that all the information was valid and correct."
Entering the UK
With Brexit now in place, the CTA arrangement has not changed and will remain in place. To have all of the bounties of the CTA arrangement, Irish citizens must enter the UK using their Irish passport at border control to get through immigration control.
If you do not hold an Irish passport, you will need to apply for one before you emigrate to the UK. It is important to note that you cannot travel freely within the CTA if you're subject to any of the below:
A deportation order
An exclusion decision
An international travel ban
If you are not an Irish citizen, then you do not qualify to immigrate to the UK through the CTA.
As such, you will be subject to standard UK immigration requirements. This is true if you are from anywhere in the world, including the European Union.
Entering under Settled Status
If you are married to an Irish or British citizen, you could potentially apply to go to the UK through the Settled Status route. Yet, this is not as straightforward, as your partner must have already been living in the UK for a specified amount of time.
Despite living permanently in Ireland, if you do not hold Irish citizenship and/or live in Ireland by way of an Employment Permit, Long Stay D Visa, Short Stay C Visa, or any additional type of Irish immigration visa, you have to apply to live in the UK.
It is important to note that if you are a long-term resident in Ireland, but are not eligible for Irish Citizenship, emigrating to the UK could negatively impact and further make you ineligible for Irish citizenship.
Points-Based System
The UK has a specific new, points-based immigration system. This means that you will need to "score" a very specific/certain amount of points to be considered for a visa to enter the UK.
Through the points system, foreign nationals (with the exception of Irish citizens) who want to work in the UK have to meet a specific set of points.
Every UK visa has a unique set of requirements and criteria that you will need to reach. For example, applicants will garner points if they have the following:
A job offer by an approved sponsor
A Salary of £20,480 to £23,039 or at least 80% of the going rate for the profession (whichever is higher)
A job in an industry that has a shortage, as deemed by the Migration Advisory Committee of the UK. If the job is in this category it has other benefits too including lower application fees and reduced salary requirements.
Have a degree/qualification: If you hold a Ph.D., this will usually generate a lot of points
English language skills: This requires you to take an English Language test to demonstrate your understanding of the language.
Options for non-Irish citizens to obtain the right to live, work, and study in the UK
Below are options for immigrating to the UK via three of the most popular or common routes:
Uniting with a UK Family Member(s) as a Non-Irish National
If you want to join your family members in the UK, you need to be family members of a settled person in the UK.
The settled person must hold either British Citizenship, Settled Status/Indefinite Leave to Remain, or have Refugee protection
If you are married to a settled person in the UK, you can apply to go to the UK with a UK Spousal Visa application
If you are engaged to a settled person in the UK and wish to marry in the UK, you can seek a Fiance Visa application
If you are in a relationship with a settled person in the UK, and this relationship is comparable to marriage, you can apply for an Unmarried Partner Visa.
What are the visa requirements?
All of these visas require, some if not all, further information and additional proof when applying:
Evidence of reasonable accommodation and housing
Making £18,600 or more to pass the financial requirement
Fulfilling the Genuine Relationship for family members criteria
Passing an English language test
If you are successful, you can live and work in the UK for a period of 30 to 33 months providing you live with your UK partner.
Going to the UK to work as a Non-Irish citizen
The standard route to do this is via the Skilled Worker Visa, which could grant you up to five years of Leave to Remain to work in the UK.
The Skilled Worker Visa requires:
70 points toward the point system of immigration
A valid job offer from a UK employer who holds a valid Sponsor Licence
Pass an English language skills test
Provide evidence of savings
Be earning an appropriate salary
Note that there are other options that you could try as a non-Irish citizen wishing to move to the UK:
Intra-Company Transfer Visa
Temporary Worker Visa
Youth Mobility Visa
Sportsperson Visa
Minister of Religion Visa
Permitted Paid Engagement Visa
Going to the UK to study as a Non-Irish National
Keen to obtain a new degree and study and learn new skills in the UK? The UK is known worldwide for its impressive and respected education system.
To study, it is likely that a Student Visa is the top option for you to get into the school of your dreams. To apply you will need to have an offer to study on an educational course or educational system in the UK and have appropriate funds to pay for your course and additional living expenses.
How can Total Law help?
Moving to another country can often be an overwhelming experience. With many aspects to consider, including sourcing the correct visa, ensuring you have enough funds and finding accommodation, hiring a trained immigration lawyer could take some of the stress away for you.
Total Law's team of highly trained immigration lawyers have the tools and expertise to see you through the immigration process.
You can call us on (+353) 061 518 025, or contact us online seven days a week via our live chat.
Advice Package
Comprehensive immigration advice tailored to your circumstances and goals.
Application Package
Designed to make your visa application as smooth and stress-free as possible.

Fast Track Package
Premium application service that ensures your visa application is submitted to meet your deadline.
Appeal Package
Ensure you have the greatest chance of a successful appeal. We will represent you in any case.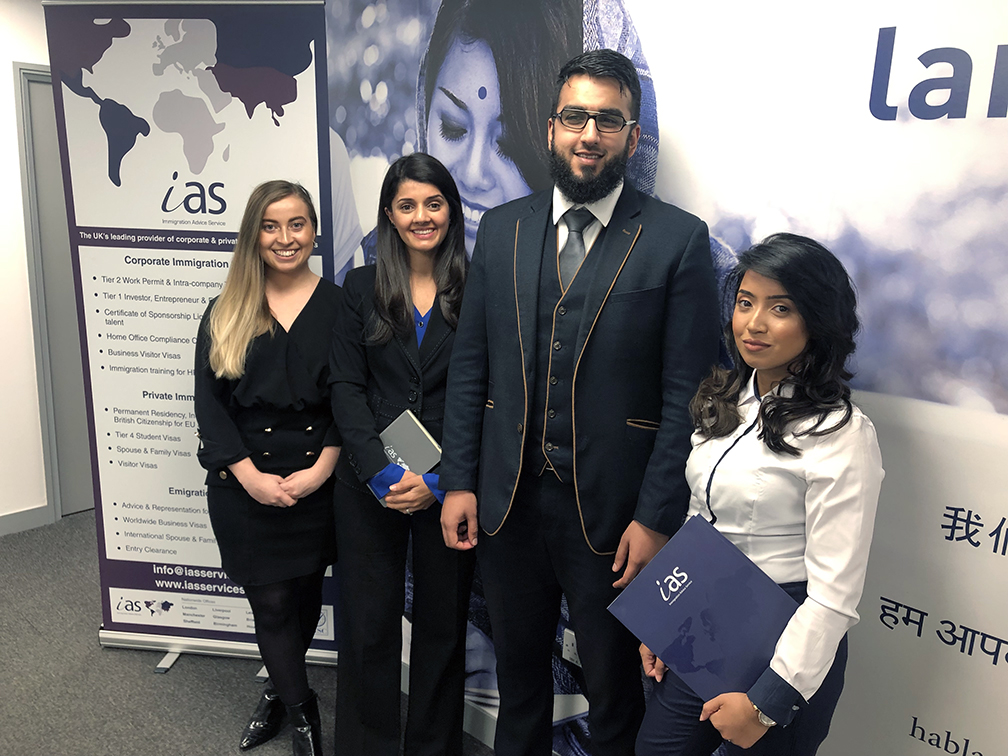 The Advice Package
During this untimed Advice Session with our professional immigration lawyers in London, you will receive our comprehensive advice, completely tailored to your needs and your situation.
Request the Advice Package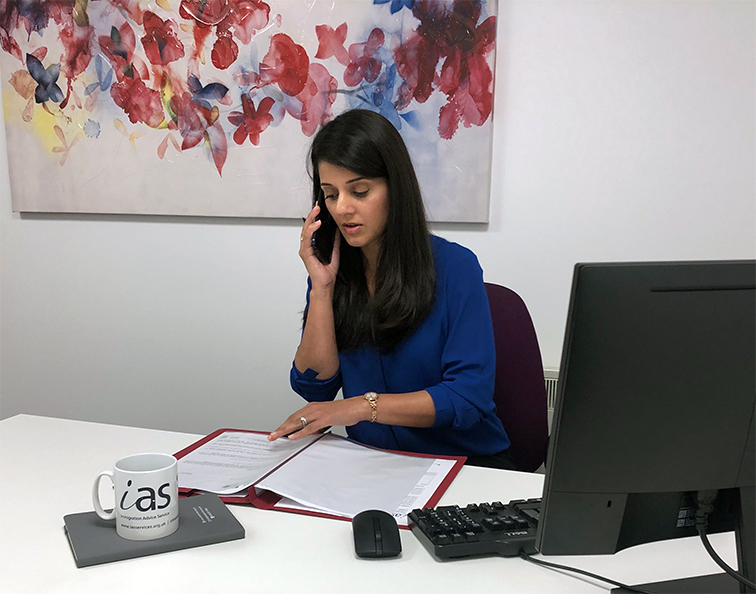 The Application Package
With our Application Package, your dedicated immigration lawyer will advise you on your application process and eligibility. Your caseworker will then complete and submit your forms to the Home Office on your behalf.
Request the Application Package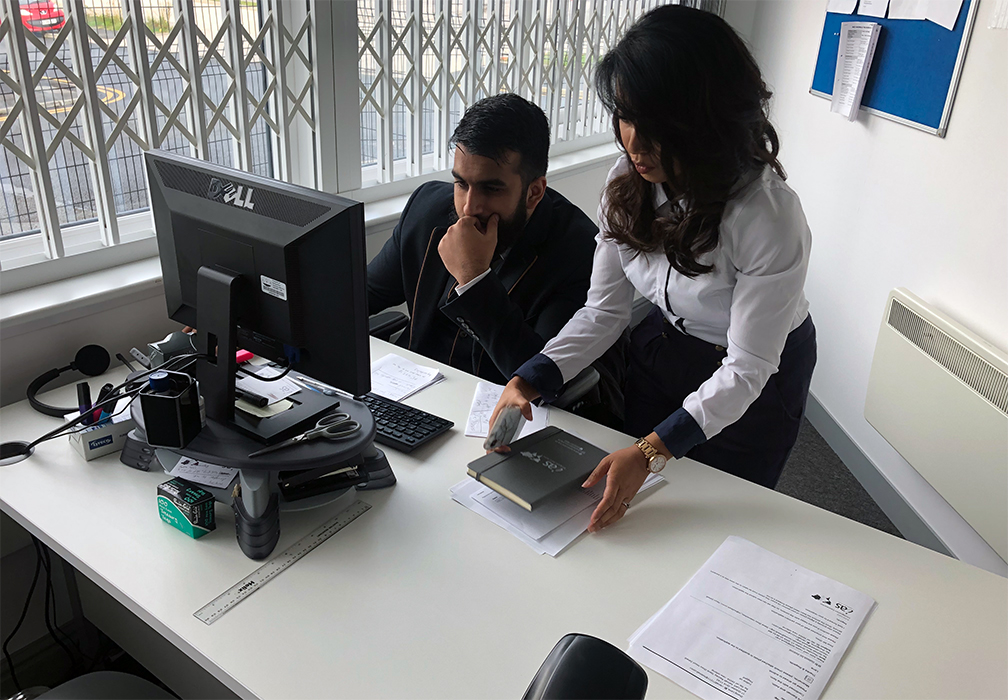 The Fast Track Package
Our Fast-Track Application Package is a premium service for those who need to submit their application in time with their deadlines. Your case will become a top priority for our lawyers and you will benefit from our highest-quality services.
Request the Fast Track Package
The Appeal Package
By choosing our Appeal Package, you can rely on our lawyers' legal knowledge and experience to ensure you have the highest chance of a successful appeal. We will also fully represent you in any hearings/tribunals.
Request the Appeal Package
Related pages for your continued reading.
Frequently Asked Questions
Brexit has resulted in EEA citizens and non-EEA family members (Austria, Belgium, Bulgaria, Croatia, Republic of Cyprus, Czech Republic, Denmark, Estonia, Finland, France, Northern Ireland, Germany, Greece, Hungary, Ireland, Italy, Latvia, Lithuania, Luxembourg, Malta, Netherlands, Poland, Portugal, Romania, Slovakia, Slovenia, Spain, and Sweden) being newly subjected to all UK immigration rules, thus losing their Freedom of Movement rights. As such, these citizens need to abide by the new immigration laws laid out by the UK government.
This would only happen if the Irish citizen did not follow UK laws and/or it is in the "public interest" to have them deported like committing an egregious crime.