Studying As an Asylum Seeker In The UK: Is It Possible?
If you are an asylum seeker in the UK, it is important that you understand the eligibility criteria involved when applying for higher education. This guide also includes how to apply for asylum in the first place, resources available for asylum seekers, financial advice, personal statement advice, and more.
Contact us today at Total Law for more information about studying in the UK as an asylum seeker or for more general queries about claiming asylum. Our team of immigration experts is on hand to provide you with assistance and answer any questions. All you need to do is call 0333 305 9375 or contact us online.
Why Is It Important to Understand the Eligibility Requirements?
When you are applying to study in the UK as an asylum seeker it is important to check the eligibility criteria for courses, grants, scholarships, and funding. This will save you the time and effort it takes to apply for courses and funding when you are ineligible.
The key exceptions to take note of are as follows:
You cannot study as an asylum seeker if you have a 'no study' condition on your Bail 201 letter
You will not be eligible for funding unless it is over 6 months since you made your asylum claim and you are still waiting for a response from the Home Office
If you are under 18 or an asylum seeker in care, you do not have to wait for six months and you can apply for education at any point
You have National Asylum Support Services Section 4 paperwork that provides accommodation and financial assistance
The government website has a useful list of eligibility requirements and other resources to help you when it comes to applying for asylum in the UK.
"I'm very happy with the standard of training received on the OISC Level 1 course, i passed my exam. Thank you!"
"My application was approved and a huge weight has been lifted from our shoulders this year "
"We used this service for the spouse visa extension application to assure that all the information was valid and correct."
Education Opportunities for Asylum Seekers in the UK
There are many ways to improve your education if you are an asylum seeker wanting to study in the UK. The following opportunities will help to improve your English in preparation for university applications. They depend on whether you live inside or outside of London.
Routes available if you live in London:
The Bay Tree Centre: Education provided for girls
DOST: This organisation runs face-to-face activities that include maths, English, and science homework as well as physical activities like football, kickboxing, volleyball, and swimming
CARAS – ESOL English language skills for young people
Springboard Youth Academy: ESOL is provided on a seasonal basis to improve English language skills
Young Roots: one-on-one mentoring online with a focus on improving English skills
Routes available if you live outside of London:
Refugee Council: Group activities that focus on ESOL and maths on a referral basis, centering on under-18s but also available to under-21s.
Hope for the Young: Provides education grants and mentoring projects
The Children's Society: An online befriending scheme for 14-21 year-olds
RefuAid: Provides access to tuition for English language skills, finance, and meaningful employment
Taking on some of these opportunities will help improve your application and improve your English skills. Not only will they help for university applications for asylum seekers but they are also a great way to make friends and lead a social life regardless of your background
Can I Study in the UK If I Cannot Afford the University Fees?
Overview
As an asylum seeker in England, Wales, or Northern Ireland, you will be charged university tuition fees according to the 'international/overseas' rate which is more expensive than the domestic rate. However, this is slightly different for Asylum Seekers in Scotland.
It is also important to note that, as an asylum seeker applying to study at a university in the UK, you will not be eligible for the standard student finance loans from the government that domestic applicants have access to. This means you will need to find other methods of paying to study in the UK.
Despite these restrictions, there are still a number of options available that can make a difference if the tuition fees are too expensive for you.
Paying to Study at University in the UK
Studying at university is expensive, especially for those paying as an 'international/overseas' student. Specific tuition fees vary depending on the university and the course so it is best to check with admissions offices at the universities you want to apply to.
The location of your university also has an impact on the living costs of studying in the UK. Studying at a London university will come with higher living costs than studying at universities in places like Birmingham or Loughborough, for example. On average, you may need to budget around £1,000 per month for your living costs so it is crucial to understand your costs and budget accordingly.
We recommend that you dedicate some time to figuring out what you will need to spend money on and to budget accordingly. Be realistic with expenses as it is better to budget too much than too little. It is best to start with 'fixed costs' like rent and food before thinking about 'luxury costs' like money for drinks and clothes.
Scholarships for Asylum Seekers in the UK
We would advise that you explore the sponsorships on offer at each of the universities you want to apply to. Most universities have various scholarships available to applicants including Sanctuary Scholarships, Equal Access Opportunities, and Article 26 Awards, to name a few. The Student Action for Refugees website is a good resource to find out what scholarships each university has available.
It is also a good idea to check charities to see if they offer scholarships or bursaries for asylum seekers who are finding it hard to pay for their courses.
Free Education for Asylum Seekers in the UK
There may also be some opportunities to study for free if you are an asylum seeker applying to study at a UK university. The Refugee Study website has a list of these courses, a directory for scholarships, and the eligibility criteria for each course. Otherwise, use the resources listed above for access to education groups and mentoring opportunities.
Other Resources and Support for Asylum Seekers Pursuing Higher Education
The government helps with funding for a lot of courses for asylum seekers. The following courses and qualifications are fully funded by the government:
English and Maths up to and including level 2
Digital Skills qualifications up to and including level 1
Level 3 legal entitlements
ESOL learning up to and including level 2
These qualifications will help with your application to study at a UK university. Some of them have clauses and individual eligibility criteria to take note of. For more information about eligibility and where you can obtain these qualifications, speak to your local council for specific locations and institutions for further support.
How to Apply to Study in the UK as an Asylum Seeker
Overview
There are four key steps when it comes to applying for asylum in the UK. Most asylum seekers must then wait for 6 months before applying to universities within the UK so it is important to carry out your asylum application as soon as possible.
The four main steps to claim asylum are as follows:
To understand your eligibility and explore visa options depending on your reasons for moving to the UK
Undergo a screening process with an immigration officer to decide whether the UK can consider your asylum claim
An interview with a caseworker where you can explain your story
Wait for your decision whilst keeping in contact with your caseworker and notifying authorities if you change any of your circumstances
The Application Process and Key Deadlines
Applications to UK universities are made on an online system called UCAS and all the key dates are tied to it. It is important to make a note of the following deadlines because if you miss them then you will have to wait another year until you can make fresh applications:
16th May: UCAS becomes available for the academic year
16th October: Early entry deadline for applicants to Oxford and Cambridge, as well as most dentistry, medicine, and veterinary science courses
31st January: Entry deadline for all applicants
28th February: UCAS Extra opens for any applicants who have not received an offer from their five chosen universities. This allows the applicants to add extra choices one by one until an offer is made
May: Deadline to choose your first and insurance offers. The exact date can vary
30th June: Final date to apply with your choices
5th July: Clearing opens and applicants can begin to search for the universities and courses they might like to have as backups before results day
Results day can vary each year but this is when places are confirmed and clearing is processed
To help alleviate stress, it is best to have researched the universities and courses you would like to apply to before UCAS opens, allowing you to put more effort into your application.
Tips on Writing Your Personal Statement and References
Your personal statement is an opportunity for you to showcase why you deserve a place on the course you are applying for. Here are some ideas to include in your personal statement:
Whilst qualifications will already be logged on your application you may want to highlight some modules you particularly succeeded in
Work experience goes a long way on a personal statement as it shows that you have gone beyond the subjects studied at school and thought about how they can be applied outside of an academic setting
Research the courses you are applying to and read some of the first-year material and say what you think of it to show that you are passionate and committed to the subject
Hobbies and interests are a good way to show some individuality but keep these brief as you will have a character limit
Remember to keep your personal statement formal and check it over multiple times for any errors. It is also best not to focus too much on particular universities as this may put other universities off so try to strike a healthy balance.
Support from University Admission Offices
Every university has a designated admissions office and their job is to assist applicants with the process of applying to university. Simply go to the university site and navigate to the admissions page to find out how you can get in touch. They will be able to answer any queries you might have when it comes to applying for their courses.
How Total Law Can Help
Claiming asylum can be a long and stressful process and this is especially true if you do not have any legal support to assist you throughout the process. Here at Total Law, we understand how overwhelming it can get when claiming asylum or trying to figure out what you can and cannot do.
We aim to help with all aspects of immigration, whether it is about asylum claims and appeals, applications for permission to work in the UK, or detainment casework. We are proud to have a global reach and extensive experience in a broad set of fields.
If you have any questions about applications, grants, and scholarships for asylum seekers wanting to study in the UK then simply call 0333 305 9375 or get in touch online to speak to one of our experienced immigration lawyers today.
Advice Package
Comprehensive immigration advice tailored to your circumstances and goals.
Application Package
Designed to make your visa application as smooth and stress-free as possible.

Fast Track Package
Premium application service that ensures your visa application is submitted to meet your deadline.
Appeal Package
Ensure you have the greatest chance of a successful appeal. We will represent you in any case.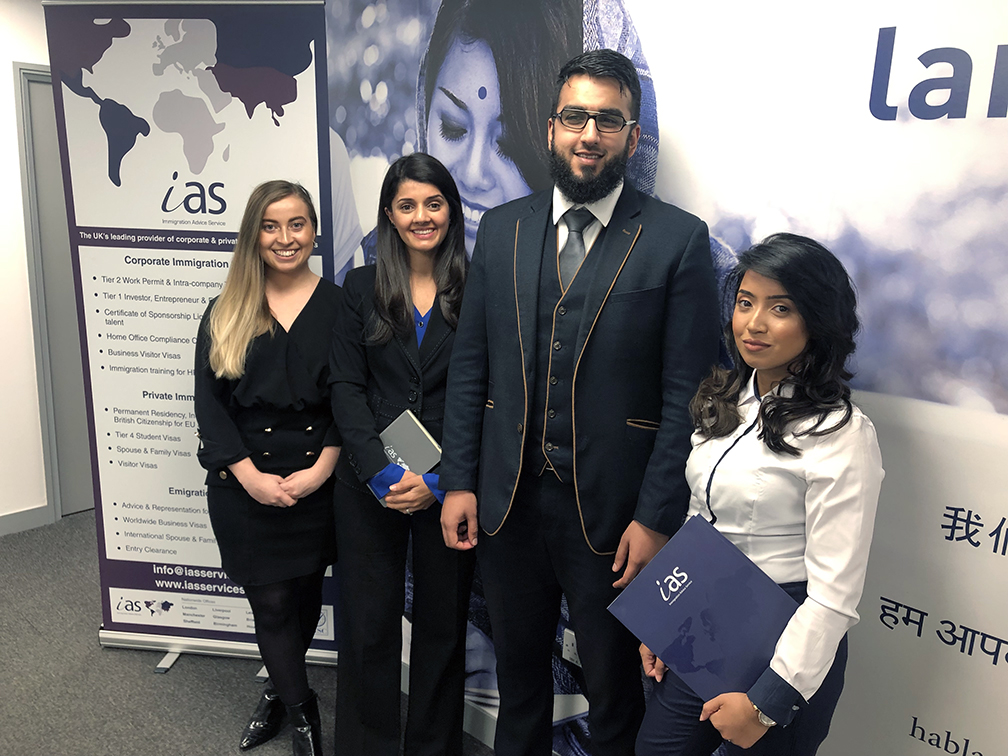 The Advice Package
During this untimed Advice Session with our professional immigration lawyers in London, you will receive our comprehensive advice, completely tailored to your needs and your situation.
Request the Advice Package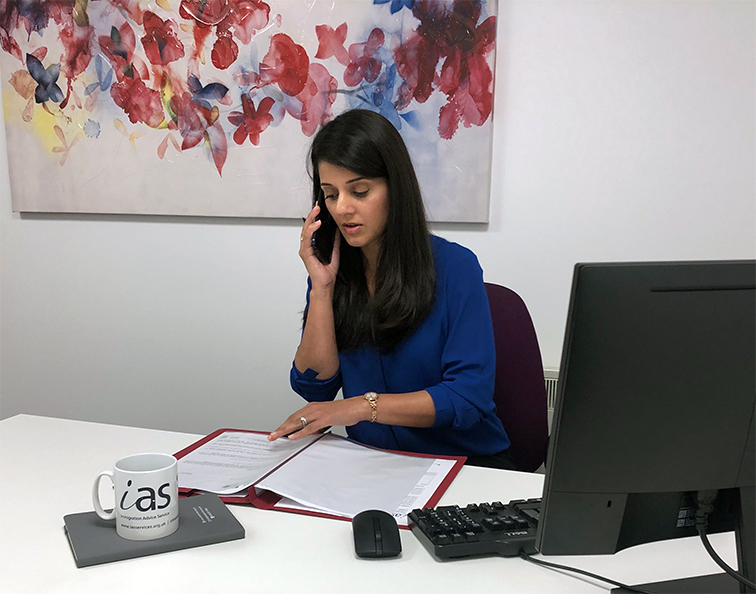 The Application Package
With our Application Package, your dedicated immigration lawyer will advise you on your application process and eligibility. Your caseworker will then complete and submit your forms to the Home Office on your behalf.
Request the Application Package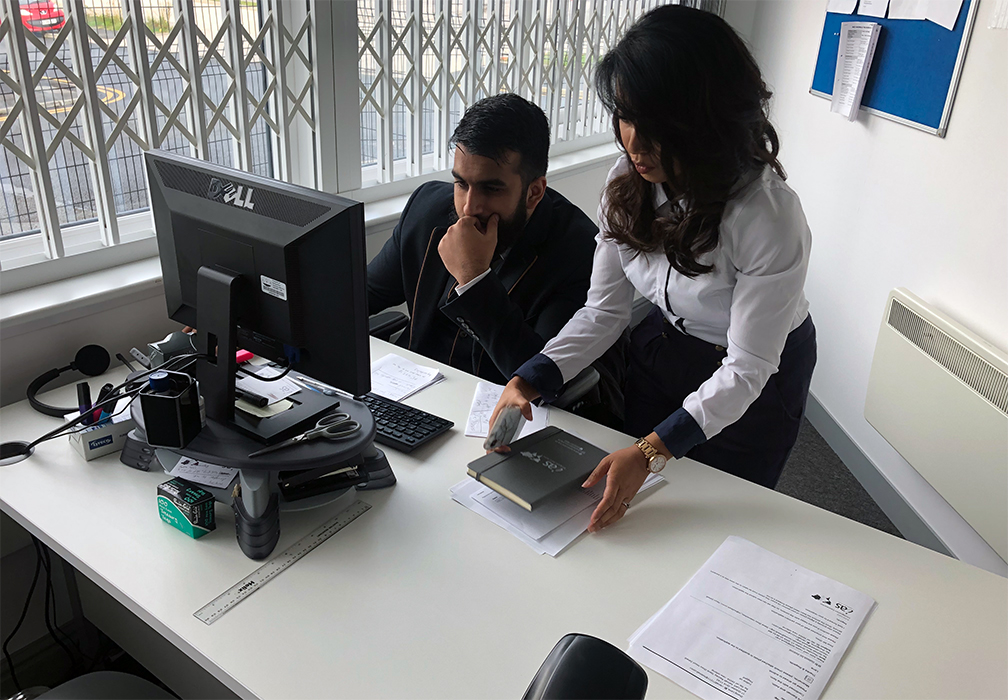 The Fast Track Package
Our Fast-Track Application Package is a premium service for those who need to submit their application in time with their deadlines. Your case will become a top priority for our lawyers and you will benefit from our highest-quality services.
Request the Fast Track Package
The Appeal Package
By choosing our Appeal Package, you can rely on our lawyers' legal knowledge and experience to ensure you have the highest chance of a successful appeal. We will also fully represent you in any hearings/tribunals.
Request the Appeal Package
Related pages for your continued reading.
Frequently Asked Questions
Asylum seekers are not eligible for student finance unless they have been waiting for a response from the Home Office for over 6 months.
There are no restrictions on asylum seekers going to university as long as they don't have a 'no study' condition on their bail 201 letter.
In most cases, refugees can study in the UK whilst awaiting a decision from the Home Office on their asylum application. The only exception is if an asylum seeker has a 'no study' condition on their bail 201 letter.
Asylum seekers cannot undertake any work with an employee or worker, whether paid or voluntary, unless they have been granted specific permissions to do so under the immigration rules.