Immigrating to Canada from Ireland
Canada is a popular destination for Irish immigrants and expatriates to immigrate to. Aside from its natural beauty, Canada boasts of a high standard of living, lucrative job markets, a universal healthcare system (Medicare), and an excellent education system. The Irish are also the fourth largest ethnic group in the country.
Call (+353) 061 518 025 for immediate advice and support with your immigration case. We are on hand to assist you with all aspects of your case.
What do I need when moving from Ireland to Canada?
When moving from Ireland to Canada, you may need to obtain one of the Irish visas, whether that is a work, visit, or family visa. Alternatively, you can apply for permanent resident status before even leaving Ireland.
Unlike most other countries, Canada provides permanent resident status to immigrants without needing to have lived there for any time period.
With systems like the Express Entry and programs like Federal Skilled Worker Program, you can move from Ireland to Canada as a permanent resident and not have to deal with your visa expiring while enjoying the rights that other permanent residents enjoy.
"We used this service for the spouse visa extension application to assure that all the information was valid and correct."
"Thanking you so much for helping me and my wife live together for now and the distant future. We are grateful for your help and patience. "
"Spouse visa uk application was successful after working with your staff. I recommend this company the IAS for immigration services. "
Working in Canada
The Canada Work Visa or Work Permit is issued to eligible persons from overseas to work in the country for a specific period. The maximum duration a work visa stays valid is 4 years. Every year, Canada grants over 300,000 work permits to foreign nationals. With a work permit, you can apply for permanent residency at a later date and apply for Dependent Visas to bring your dependents in Ireland to Canada.
If you seek to live and work in Canada, you must first get an employment contract or valid job offer from a Canadian employer. The employer must obtain a Labor Market Impact Assessment (LMIA) from Employment and Social Development (ESDC). The permit allows the employer to hire skilled foreign workers for positions that citizens or permanent residents of Canada are unable to fill.
A work permit allows permanent workers, temporary workers, business persons, and students to work in the country. The Canadian government offers 2 types of work permits: employee-specific work permits and open work permits.
An open work visa or permit is not job-specific and you can work for any employer. As such, you will not be required to provide an LMIA number or employment offer letter from a Canadian employer. An employer-specific work permit enables you to work for a specific Canadian employer.
Below are the general eligibility requirements for a Canadian work permit:
You must not have a criminal record
You must show that you don't plan to stay in the country past the expiry of the work permit.
You must be in good health
You must prove that you can financially support yourself during your stay in Canada.
You must not be a danger to the security of Canada.
To apply for the Canadian work permit visa, you need the following documents:
A valid passport
Education qualification certificates
Proof of professional qualifications
Proof of financial adequacy
Medical examination documentation
Recent passport-sized photographs
Studying in Canada
Canada is one of the favourite student destinations for Irish students. Sprawling campuses, cutting-edge curriculum, and strong infrastructure are hallmarks of Canadian educational institutions. If you want to study in Canada for a period exceeding 6 months, you must apply for the Canadian Study Permit.
The Canadian government grants study permits to enable Irish citizens and other foreigners to study at designated learning institutions (DLIs) in the country. With the Canadian Student Permit, you can also bring your dependent relatives in Ireland to Canada with you.
The Canadian Student Permit is valid for the duration of the course you study plus an extra 90 days. The additional 90 days allow you to prepare to leave the country or apply for an extended stay. Below are the eligibility requirements for the Canadian Study Permit:
You must be enrolled at a designated learning institution.
You must prove you have the financial capability to pay for tuition, living expenses, and return transportation.
You must have no criminal records (obtain a police certificate if required).
You must be in good health (take a medical examination if required).
You must prove that you intend to leave Canada after the expiry of your study permit.
To apply for the Canadian Study Permit, you will need the following documentation:
Proof of acceptance from the educational institution
Proof of identity – a valid passport or travel document
Proof of financial support
Letter of explanation – helps visa offers understand your goals
Applying for Canadian Permanent Residence
The Canadian government has several programs that enable Irish citizens to become permanent residents of Canada.
As a permanent resident, you can study, work, or live anywhere in Canada, apply for Canadian citizenship, access most social benefits that Canadian citizens receive, such as health care coverage, and have the right to protection under the Canadian Charter of Rights and Freedoms and Canadian law.
However, you are not allowed to vote, run for a political office or hold jobs that require a high-level security clearance. If you want to immigrate from Ireland to Canada permanently, you have three main permanent residency routes that you can follow. These include the Express Entry system, Family Sponsorship, and Canada Business Immigration.
Permanent Residency Through Express Entry
The Canada Express Entry immigration route utilizes a point-based system referred to as a Comprehensive Ranking System (CRS). Applicants are given points based on skill sets, employment history, experience, and territorial/provincial nomination. There are a total of 1200 points.
The Immigration Refugees and Citizenship Canada (IRCC) developed the Express Entry regulatory system in 2015. Through this system, the Canadian government can handle the applications of skilled workers seeking to move to Canada as permanent residents. The applicants with the highest points get an Invitation to Apply (ITA) for permanent residency in Canada.
Express Entry comprises three major immigration programs. The programs include The Federal Skilled Trades Program, The Federal Skilled Worker Program, and The Canadian Experience Class. The eligibility criteria for Canadian Express Entry include:
You must have adequate knowledge of English or French.
You must be in good health.
You must have a positive report on the Educational Credential Assessment (ECA).
You must have a CSR score of at least 67 out of 100 to qualify for the Federal Skilled Worker Program. No minimum points are required to qualify for the Federal Skilled Trades Program and Canadian
Experience Class
To apply for permanent residency through Express Entry you need to have the following documentation. Note that the documentation requirement is dependent on the two application stages. The first stage is the Express Entry profile submission stage. The documentation required during this stage includes:
A valid passport
Language test results
Educational Credential Assessment report
Provincial nomination (if accepted)
Employment offer (if received)
The second stage is the permanent resident applications submission stage. The documentation required during this stage includes:
Proof of funds
Medical exam report
Police clearance certification
Permanent Residency Through Family Sponsorship
If you have a family member who is a Canadian citizen or Canadian permanent resident, they can help you become a permanent resident. Among the pillars of the Canadian immigration system is family reunification.
The Family Class Sponsorship Program allows adult citizens or permanent residents to sponsor relatives for immigration to the country. To be eligible for this program, you must be a:
Spouse, conjugal or common-law partner
Parent
Grand Parent
Sibling
You must reside outside Canada or live legally in the country with a study or work permit. Note that your sponsor must meet certain requirements to be eligible. Your sponsor must:
Prove that they can support you and any dependents financially if necessary.
Enter an agreement with you and the Canadian government agreeing to support you for a certain period.
Reside in Canada or plan to reside in Canada once you enter the country.
Be at least 18 years old
Not be bankrupt
Not be charged with a serious offence or incarcerated
Your sponsor in Canada initiates the family sponsorship process. They will submit a permanent residency immigration application to the IRCC and receive an Acknowledgment of Receipt (AOR). The AOR serves as confirmation that IRCC has created your application file.
Canadian Business Immigration
Immigration to Canada from Ireland is also possible through the business immigration routes. There are two types of business immigration programs that you can be eligible for if you seek to start or invest in a business in Canada.
The Start-up Visa Program is suitable for you if you are an entrepreneur with the resources and skills to develop businesses in Canada that are innovative, can provide employment prospects for Canadians, and can compete on an international level. You can immigrate to Canada from Ireland if designated organizations support your business idea.
The designated organizations are groups approved to support or invest in possible start-ups through this visa program. They include Venture capital funds, Angel investor groups, and business incubators. You must also meet the language requirements, which means you communicate in English or French.
This business program is intended for foreign nationals seeking to be self-employed in Canada. To be eligible for the program, you must have at least two years of relevant business experience. You must also prove that you can make an economic contribution to the country.
Becoming a Canadian Citizen
If you achieve permanent resident status in Canada, you can apply to become a Canadian citizen. As a citizen, you can vote and run for political office, move in and out of the country using a Canadian passport, and access more employment opportunities. As an Irish citizen, you can be eligible for citizenship if:
You are a permanent resident
You have resided in Canada for three out of the past five years.
You pass a citizenship test
You have filed your taxes in Canada for at least three years.
You demonstrate proficiency in English or French.
To become a citizen, you can apply online or on paper. If you apply on paper, you obtain an application package containing instructions and all the forms you have to fill. You can submit your application once you pay the application fees.
If your application is approved, you will take the citizenship test and interview. The final step to becoming a citizen involves taking the Oath of Citizenship at the citizenship ceremony.
How can your immigration lawyers help me?
Our team of qualified immigration lawyers are ready to assist you with any visa, program or immigration matter.
Whether you require advice, application support, or assistance with an appeal, we can custom-make a specialist package to meet all your needs.
We provide support and advice on the following topics:
Immigrating to Canda
Emigrating from Ireland
Work Programs
Working Holiday Visa
Family and partner sponsorship
Permanent residency and citizenship
Student Programs
Corporate immigration law
Deportation and removal defence
One of our lawyers will work with you on your case to understand your situation and help you through the immigration process, listen to your needs, analyse your eligibility, and give an insight into the likelihood of a successful application.
While no law firm can guarantee the success of an application, we can ensure that all the advice we provide is fully accurate and in line with U.S. immigration law.
We can also help you to submit an application that is tailored to your chosen immigration route and is completed to the highest standard.
We advise on the supporting documents needed, and can assist in providing you with a document checklist.
Why should I choose Total Law to help me immigrate to Canada?
All of our lawyers are fully accredited with the appropriate legal bodies and you may be confident that the information we provide is fully accurate.
No matter how complex your case is, we can provide a tailored plan to help you achieve your goals. We work tirelessly on your behalf, attempting all legal options to assist you in immigrating to the U.S. with your loved ones and do our best to ensure that your petition is approved.
We recognize that immigration and visa applications are major decisions in a person's life and that they can impact many lives.
That is why we provide the highest care and attention to all of our clients and ensure that they are given all their legal options so that they may make an informed decision about their future and the future of their families.
Your dedicated immigration lawyer will work with you throughout the entire process, communicating with you regularly to answer your questions and advise on the next steps.
At the beginning of the process, you can expect us to give you clear and accurate information about how much the process will cost and an anticipated timeline.
If you have any questions at any stage, our friendly and professional client care teams can work directly with you so that you feel confident in the process.
Call us on (+353) 061 518 025 for a confidential discussion about how we can assist you with your immigration case. We look forward to assisting you over the phone or by online call.
Advice Package
Comprehensive immigration advice tailored to your circumstances and goals.
Application Package
Designed to make your visa application as smooth and stress-free as possible.

Fast Track Package
Premium application service that ensures your visa application is submitted to meet your deadline.
Appeal Package
Ensure you have the greatest chance of a successful appeal. We will represent you in any case.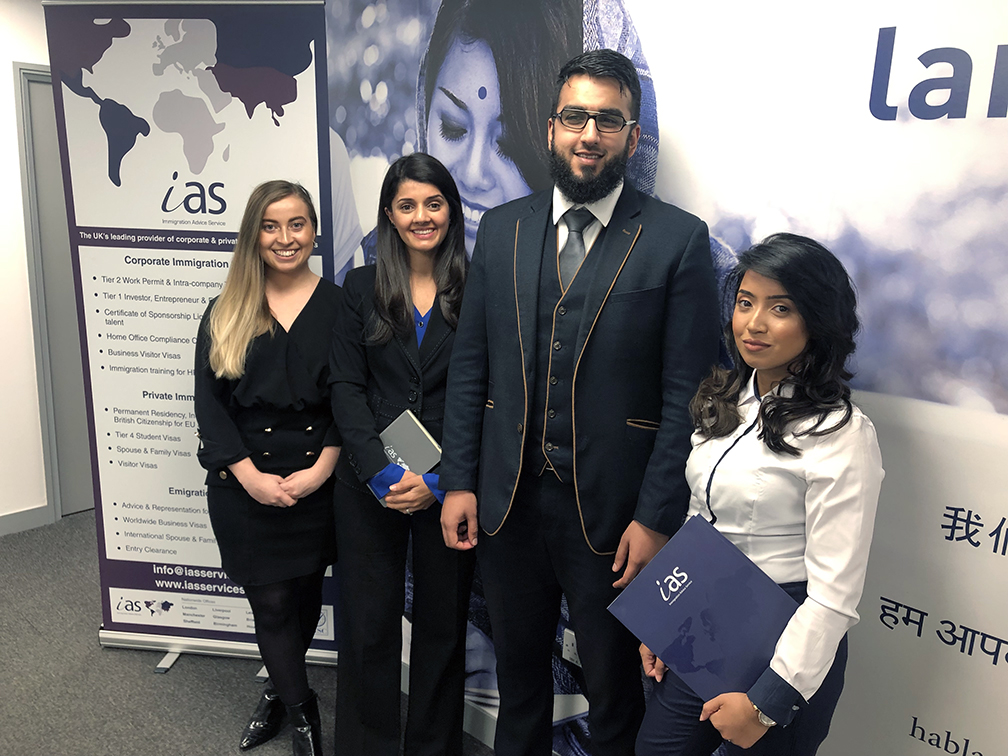 The Advice Package
During this untimed Advice Session with our professional immigration lawyers in London, you will receive our comprehensive advice, completely tailored to your needs and your situation.
Request the Advice Package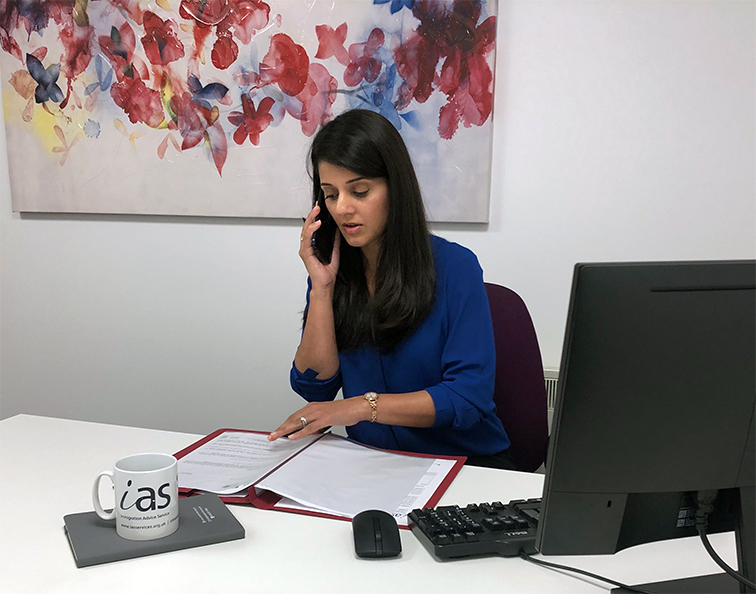 The Application Package
With our Application Package, your dedicated immigration lawyer will advise you on your application process and eligibility. Your caseworker will then complete and submit your forms to the Home Office on your behalf.
Request the Application Package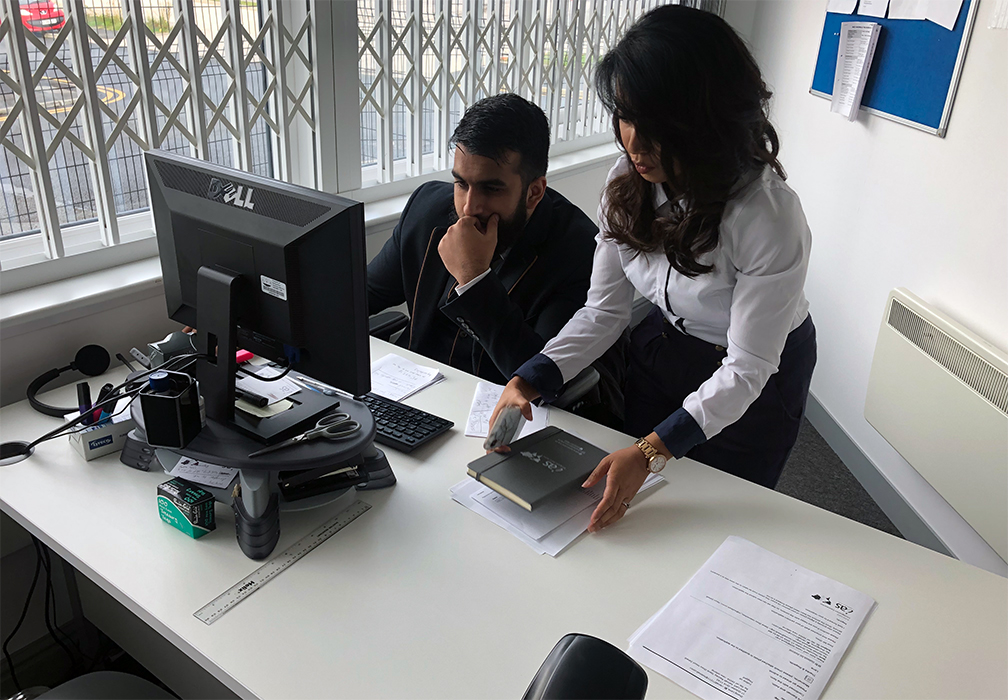 The Fast Track Package
Our Fast-Track Application Package is a premium service for those who need to submit their application in time with their deadlines. Your case will become a top priority for our lawyers and you will benefit from our highest-quality services.
Request the Fast Track Package
The Appeal Package
By choosing our Appeal Package, you can rely on our lawyers' legal knowledge and experience to ensure you have the highest chance of a successful appeal. We will also fully represent you in any hearings/tribunals.
Request the Appeal Package
Related pages for your continued reading.
Frequently Asked Questions
It is relatively easy for Irish people to move to Canada. As a country with a pro-immigration policy, Irish people with the right mixture of skills, work experience, immigration records, and financial resources can move to Canada.
Immigration applications are rarely easy. To be successful, it is important to submit as complete an application as possible and to ensure that you meet all the requirements of your chosen route.
Ultimately, there are many immigration routes available to Irish people who want to work and live in Canada.
Depending on your personal and family circumstances, the cost of moving to Canada will vary depending on some of the following:
Proof of funds (see below) ranging from between $13,213 up to and beyond $34,967
Canadian visa application fees
Language tests
Educational Credential Evaluation
Biometrics
Other fees (e.g., police certificates, translations, notaries, etc.)
A single person travelling to Canada would likely need to have access to at least $15,000 while a family of four may need access to a minimum of $30,000.