Legal Routes To UK Asylum: All Options
Entering the UK as an asylum seeker can be a tricky and trying process; however, it is not impossible and can be done as long as you are aware of the legal and safe routes.
There are many safe and legal routes to seeking asylum in the UK. Being aware of what is safe and legal is the first step. Next, you need to know how the process works. For help getting through the process, please speak to one of our legal team members at Total Law at 0333 305 9375. Our team can help you start your journey to safe and legal asylum in the UK.
Legal Routes To UK Asylum
Safe and legal routes to the UK mean that the journey is formally approved by the UK government, meaning that the Home Office immigration sector approves of and permits the journey with no visa or that the journey is allowed to be made with a visa that has been granted with the purpose of the journey being made.
The safe and legal routes offered by the UK government are the only ones considered by UK authorities to be safe and legal. These journeys can still have risks, but they have much less risk than the alternatives. These routes were introduced to offer asylum seekers into the UK while reducing illegal migration.
UK Government on Legal Routes
These safe and legal routes are considered to be sanctioned immigration provisions, which can provide access to the UK for humanitarian purposes. These are the routes noted in discussions regarding routes for asylum seekers to enter the UK.
A safe and legal route can take various forms. Recent UK government schemes have expanded the UK refugee resettlement scheme and also created additional immigration routes as a response to the deteriorating human and security rights in Ukraine, Hong Kong, and Afghanistan.
During Boris Johnson's residency as PM, the government committed to giving safe and legal routes for entry as part of a broad programme of asylum reforms in 2021, wanting fewer people to enter the UK as asylum seekers and more to enter through safe and legal routes.
In 2022, this went further as Rishi Sunak explained that the government wanted to make more changes so that the only way to obtain asylum in the UK would be through safe and legal routes.
"I'm very happy with the standard of training received on the OISC Level 1 course, i passed my exam. Thank you!"
"My application was approved and a huge weight has been lifted from our shoulders this year "
"We used this service for the spouse visa extension application to assure that all the information was valid and correct."
Can I Apply For A UK Visa To Remain In The UK As An Asylum Seeker?
Overview
It is possible that an asylum seeker can apply for a UK visa for leave to remain. Those who are eligible to apply are those who have:
Protection status, allowing them to stay in the UK as a refugee or a person who has humanitarian protections.
A person who has discretionary leave.
ILR (UK Indefinite Leave to Remain) is how an individual settles in the UK. This is also known as 'settlement', giving the individual the right to work, live, and study in the UK for as long as they wish. It also enables the individual to apply for benefits if they are eligible, and they can also use it to apply for British citizenship as well.
Those who are eligible to apply may also find that their family members could also apply. If the applicant already has partners or children in the UK as dependents, they will also be able to apply to stay in the UK if they are eligible. This also includes children who were born in the UK.
Should the applicant apply, family members will typically have the same duration of time to stay in the UK as the applicant.
If the applicant has family outside of the UK, they may be eligible to apply for family reunification if the family was formed before fleeing their home country. However, if the family was formed after the applicant left, the family members must first apply for a visa to be able to join the applicant in the UK.
If the applicant has an adult dependent relative, they will be able to apply for ILR if they meet the following criteria:
The adult dependent is over 18.
The adult-dependent has a family visa as an adult-dependent relative.
The applicant has protection status.
However, be aware that the dependent must apply separately, but they must apply at the same time as you.
Asylum Seekers Applying For ILR Fees
There is no fee to apply for ILR if the applicant has a protection status that allows them to stay in the UK as a refugee or a person who has humanitarian protection. This is also the case for the applicant's partner or children.
However, if the individual has discretionary leave, there will be a fee of £2,885 for the applicant and each other individual included in the application. Additionally, each individual will need to have their biometric information taken, including fingerprints and photos, but there is no fee associated with this.
Applicants applying for discretionary leave who wish to use the super-priority service will need to pay an additional £1,000 on top of the application fee. This is available only for discretionary leave and not other types of ILR for asylum. If you have protection status, you will not be eligible for the super-priority service.
Obtaining A Decision As An Asylum Seeker For ILR
A decision will usually be made within six months. If the applicant has discretionary leave and they paid extra to make use of the super-priority service, then they will obtain their decision in as little as two working days from Monday to Friday (excluding bank holidays).
However, if the individual has protection status, they will not be able to use this super-priority service.
Applicants mustn't travel outside of the UK territories from the time of application until they receive a decision, as their application will be withdrawn if they do.
In some cases, an application may be complex, and therefore it will take longer. This can be the case if the following applies to you:
There are supporting documents that need to be verified.
The applicant needs to attend an interview.
There are personal circumstances that apply, such as having a criminal conviction.
Approved ILR Application
If the application for ILR is approved, then the applicant will be able to do the following:
Work in the UK.
Run a business in the UK.
Study in the UK.
Use public services such as schools and the NHS.
Apply for benefits (public funding) and pensions.
Apply to obtain British citizenship after 12 months.
The individual will also be able to travel outside of the UK; they can do this using a Home Office-issued travel document. However, it is good to be aware that an individual with ILR can lose their indefinite leave to remain if they travel back to the country from which they sought asylum or if they stay outside of the UK for over two years.
Should the individual stay out of the UK for over two years, they may need to reapply before they can return to the country.
Refused ILR Application
Should the application be refused and the individual still needs protection status to stay in the UK as a refugee, an individual with humanitarian protection, or otherwise on discretionary leave, then it is possible the individual can stay in the UK. The decision letter the individual will receive will state what they have been offered in exchange for ILR
Who Is Eligible For Asylum ILR In The UK?
It is necessary for those who have protection status to have a residence card to seek Indefinite Leave to Remain. Alternatively, if you have discretionary leave then you need to meet the eligibility criteria for a residence card. It is best to check over your documentation to see what your criteria are.
Asylum seekers applying for Indefinite Leave To Remain can apply after they have spent 5 years in the UK with protection status. However, those who have discretionary leave will be able to apply after certain periods.
6 years if the individual was first given discretionary leave before July 8th 2012.
10 years if the individual was first granted discretionary leave on July 9th 2012.
Legal Routes To UK Asylum: All Options Available
Overview
The boundaries that were in place between the UK resettlement scheme for refugees and other lawful routes have become blurred in recent years. Calculations of the number of individuals who are offered 'refuge' in the UK do seem to include people who come into the UK via routes that do not necessarily assess the need for protection of the individual.
The UK, at the time of writing, operates multiple safe and legal routes to immigrate for asylum seekers:
The UK Resettlement Scheme, Mandate Scheme, and Community Sponsorship are all refugee resettlement programmes.
Refugee family reunion visas are available to those who are considered to be immediate relatives of individuals who have been granted refuge in the UK before having left their origin country. These relatives are also known as 'ore-fight relatives'.
Nationality-specific bespoke immigration routes are also available to Ukrainians, Afghans, and those from Hong Kong as well.
Every route will have specific eligibility criteria and certain conditions attached to the permission to stay. Be aware that not every route will give beneficiaries refugee status or the associated rights and entitlements that are specified in the Refugee Convention of 1951.
The three primary resettlement schemes that are operated by the UK government and the UN refugee agency are the UK resettlement scheme, the mandate resettlement scheme, and the community sponsorship scheme. All of these depend on UNHCR (the UN Refugee Agency) to identify those who are eligible.
UK Resettlement Scheme
No application can be made for resettlement under the UK resettlement scheme or the community sponsorship scheme. Individuals have to simply wait and hope that they will be picked. However, even those who are picked have no say in the country in which they will be offered resettlement.
Applications are not required for the UK resettlement scheme or community sponsorship scheme. These schemes are managed via waiting lists, and the locations in which refugees are offered resettlement are also dictated by the schemes and countries involved.
Under the UK resettlement scheme, UNHCR will identify and interview those who have possible needs for resettlement, decide if they are refugees, and then refer them to the UK, where they meet the criteria for resettlement. This scheme can include unaccompanied children.
Community Sponsorship Scheme
Community sponsorship operates alongside the UK resettlement schemes, providing for families that arrive in the UK with support from community groups. This includes the provision of housing for two years, support in accessing services, including English language lessons, social services, the NHS, cultural orientation, and employment support, as well as self-sufficiency support.
Consent does need to be obtained from local authorities, however, before applications can be sent to the Home Office.
After this, once a community sponsor is ready and has been matched with a family, they will need to agree on the family's arrival with the local authorities. After this point, the family will typically arrive in the UK 6 to 12 weeks later. The family will be identified via the UNHCR scheme, which will follow the same processes as the UK resettlement scheme.
The Home Office will also provide funds to 'Reset', which is an organisation that helps community groups participate in this scheme. To become a community sponsor, some requirements need to be met, such as being a registered charity or a community interest company. Church groups also fall into this eligible category.
Mandate Scheme
This scheme is only for those whom UNHCR has recognised as refugees and identified as those who need resettlement. This scheme is for those who have a close or immediate relative in the UK. This relative has to be settled in the UK or at least have limited leave to remain on a route that will lead to settlement in the future.
The family member must also be willing to support and accommodate the refugee. In this case, the refugee needs to be the parent, minor child, spouse, or grandparent aged over 65 concerning the UK relative.
There must be exceptional circumstances that would allow a different family member to benefit from this scheme.
Grants under this scheme are negligible; there have only been four in 2022, two in 2021, and five in 2020. A majority of grants are for the UK Resettlement Scheme.
Once the individual is accepted, they will get six months of leave outside of the rule to enable them to enter the UK. They will then be granted indefinite leave to remain and will get refugee status upon arrival.
Refugee family reunion is also available to this group; it allows them to bring eligible family members to the UK to join them under family reunion protection.
Family Reunion Route
When an individual has refugee status but has not naturalised to be a British citizen, they can bring their partner and children to the country should they meet the requirements. Family reunion applications can be made via the family reunion (protection) section of the immigration rules. There are also no provisions in the rules for children to be able to apply to bring family members to the UK.
Those who enter the UK via the refugee family reunion rules will not be considered refugees formally. Should the rules not be met, an application can also be made on the grounds of exceptional circumstances; these applications are seen as being more difficult and, in some cases, even dangerous for the concerned individual.
Hong Kong Route
In 2020, China's parliament passed draconian National Security Laws for Hong Kong, which bypassed Hong Kong's legislation. The UK government announced the Hong Kong British National Overseas Visa soon after. There are two routes for this visa. The BN(O) status holder and BN(O) household member; the latter option is for adult children and their dependents forming part of the same household as the BN(O) status holder.
The former option can bring dependent partners, children, or other family members who may have a high level of dependency.
This route does have an application fee of £180 to apply for 2.5 years, or £250 if applying for five years. The applicant also needs to pay the fee for the immigration health surcharge, which is £1,560 for 2.5 years for adults and £3,120 for five years for adults.
Afghanistan Route
In 2021, the Taliban took back control of Afghanistan, and 15,000 people were evacuated by the UK. Two routes are available to aid Afghan refugees. The ACRS (Afghan citizen resettlement scheme) and ARAP (Afghan relocation and assistance policy).
ACRS is not possible to apply for; it is split into three sub-routes: the first was filled before its opening, the second is for those who have been referred by UNHCR, and the third has 1,500 places available, including family members.
ARAP can be applied for, but first requires an eligibility assessment. This is not an application for leave.
Ukraine Route
The first scheme to aid Ukrainians displaced by the Russian invasion came into place in March 2022. The Ukraine Sponsorship Scheme came in later.
Those who are successful in their applications for the Ukraine schemes get three years of leave to remain, but there is no path to settlement. While the scheme is successful, after the third year, Ukrainians will become more urgent, and the government has yet to disclose its plans for this large group.
Safe And Legal Routes: The Limitations
The current safe and legal routes to seeking asylum in the UK are very limited in their eligibility criteria as well as the countries to which they apply.
People who enter the UK for humanitarian reasons would need to be an immediate family member of a person already seen as a refugee in the country.
Currently, these routes are very different from claiming asylum; many of those who obtain asylum in the country do not qualify for any of the above safe and legal routes.
The UK government's push to reduce unlawful migration without making an expansion of the safe and legal routes available to those seeking asylum has been criticised for being restrictive.
Our Total Law Immigration Lawyers Can Help You
Those who are seeking asylum in the UK may find the process hard and restrictive; this is why having a lawyer to help can make all the difference.
At Total Law, our lawyers can help you with your application, appeals, and even more:
Help with detained casework.
Bail and bail renewals.
Fresh claims.
Permission to work applications.
Travel documentation.
BRP issues.
Family reunion applications and reunions.
Applications for permission to appeal.
Errors in law preparation and hearings.
Our legal team is well-versed in immigration law and helping asylum seekers find a haven in the UK. While the UK resettlement schemes are not outstandingly clear and can be restrictive, here at Total Law, we can help.
No one should be forced to stay somewhere they are not safe, and at Total Law, we understand this. This is why our legal team is ready to help you through every part of the process of acquiring asylum in the UK.
If you are someone who wants to come to the UK to seek asylum, our team can help you get granted asylum or get granted refugee status. We can help you bring your immediate family members to the UK as well. Our legal team is well versed in all the relevant immigration rules, so give us a call today.
Call us at 0333 305 9375 or send us a message to get started on your path to asylum in the UK.
Advice Package
Comprehensive immigration advice tailored to your circumstances and goals.
Application Package
Designed to make your visa application as smooth and stress-free as possible.

Fast Track Package
Premium application service that ensures your visa application is submitted to meet your deadline.
Appeal Package
Ensure you have the greatest chance of a successful appeal. We will represent you in any case.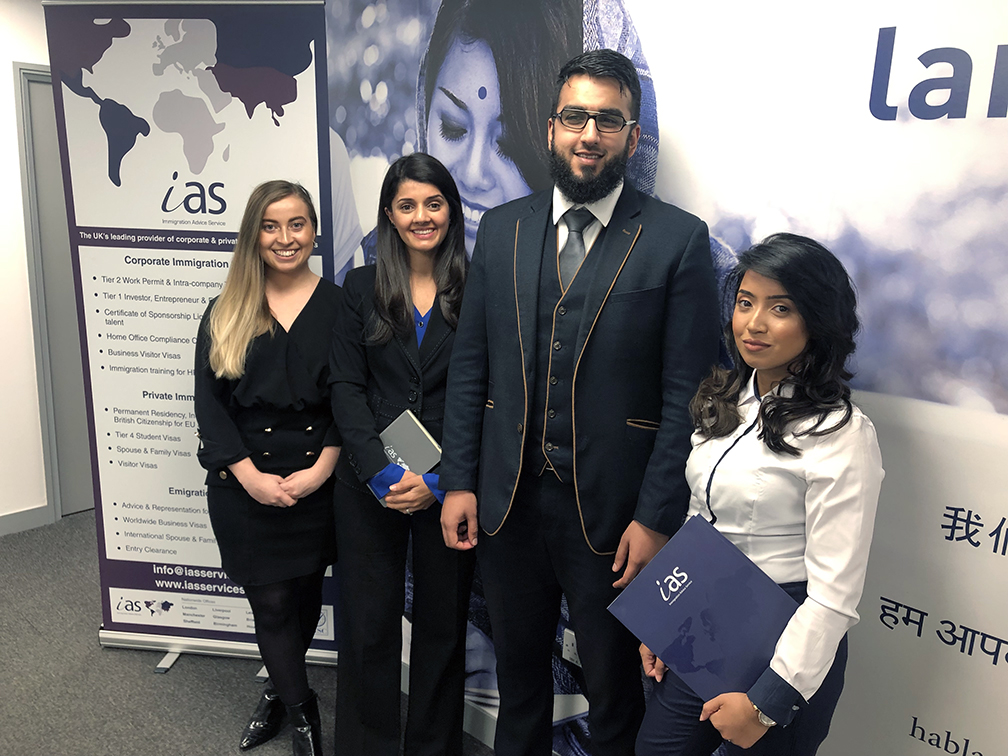 The Advice Package
During this untimed Advice Session with our professional immigration lawyers in London, you will receive our comprehensive advice, completely tailored to your needs and your situation.
Request the Advice Package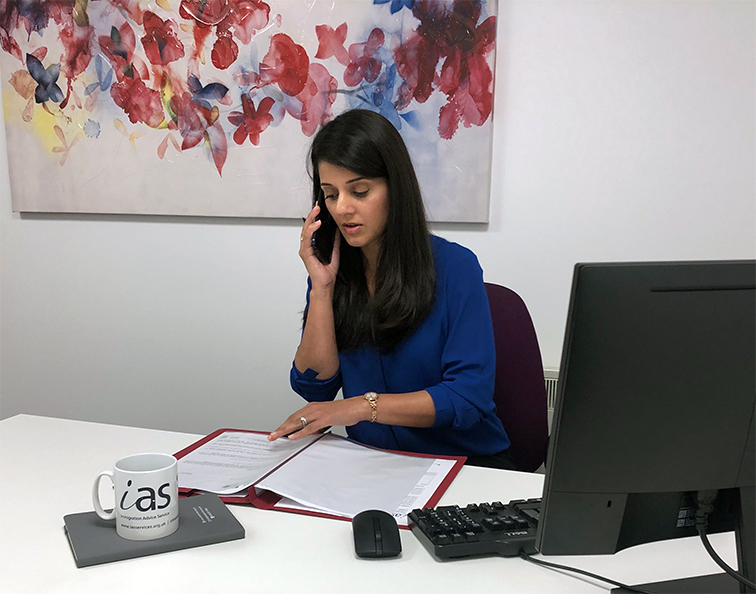 The Application Package
With our Application Package, your dedicated immigration lawyer will advise you on your application process and eligibility. Your caseworker will then complete and submit your forms to the Home Office on your behalf.
Request the Application Package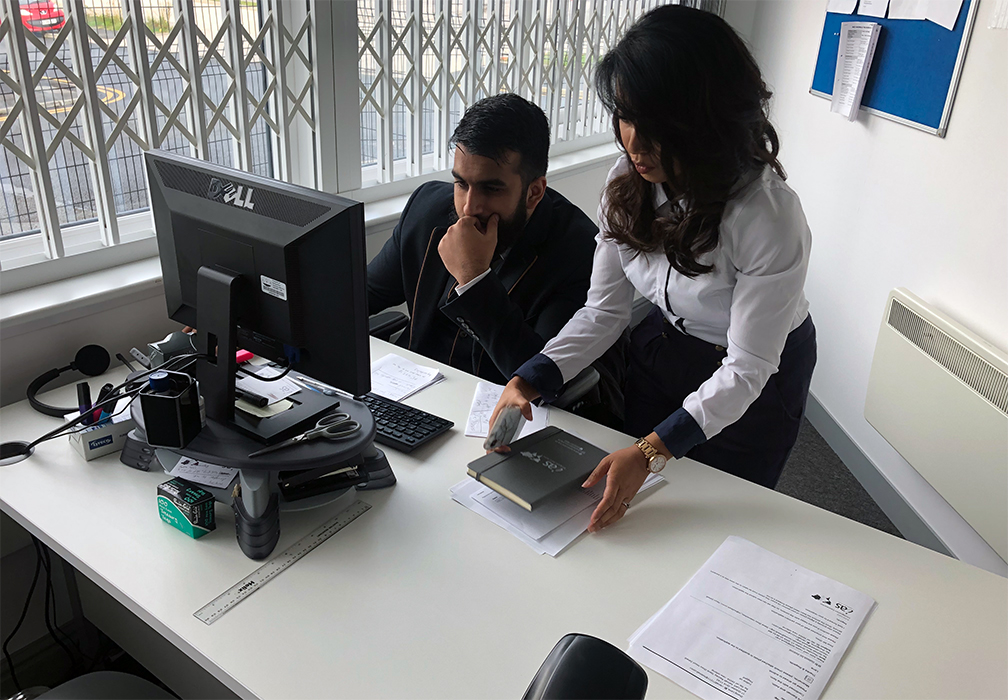 The Fast Track Package
Our Fast-Track Application Package is a premium service for those who need to submit their application in time with their deadlines. Your case will become a top priority for our lawyers and you will benefit from our highest-quality services.
Request the Fast Track Package
The Appeal Package
By choosing our Appeal Package, you can rely on our lawyers' legal knowledge and experience to ensure you have the highest chance of a successful appeal. We will also fully represent you in any hearings/tribunals.
Request the Appeal Package
Related pages for your continued reading.