Certificate of Sponsorship UK
Many UK businesses are looking to the rest of the world to assist with filling vacancies due to gaps in the current labour market. In most cases, this will require your business to obtain a sponsor licence and give prospective hires a certificate of sponsorship (CoS).
There is a difficult process to follow while you are giving your prospective hires certificates of sponsorship. You can increase your chances of success and make the process of hiring migrant workers easier if you read this article to understand the process and contact our immigration team at Total Law at +1 844 290 6312 or visit us online.
What is a Certificate of Sponsorship?
Many UK visas require a valid certificate of sponsorship because they require a CoS reference number within the application. The certificate is valid for three months after it is assigned to the foreign worker, giving them time to properly complete their application. The purpose of the certificate is to confirm that your business has agreed to sponsor the worker to come to the UK to join your company.
There are two types of CoS to be aware of, and you will need to assign the correct one to your prospective migrant workers for them to have their visa application accepted. These are defined certificates of sponsorship and undefined certificates of sponsorship. These two documents have different requirements and will give the migrant worker access to different visas.
Not all UK businesses have the right to assign certificates of sponsorship, as they require a sponsor licence to assign either type of CoS. There are also two types of certificates to hire, either temporary or permanent workers. You can have one or both of these licences, and you can get a licence for the entire business or for each branch independently.
Whatever sponsor licence you use, any type of CoS you decide to make use of, you have to conduct all of these activities online through the sponsor management system (SMS).
To learn more about certificates of sponsorship, how to be assigned them, and the CoS management procedures on SMS, read this article.
"I'm very happy with the standard of training received on the OISC Level 1 course, i passed my exam. Thank you!"
"My application was approved and a huge weight has been lifted from our shoulders this year "
"We used this service for the spouse visa extension application to assure that all the information was valid and correct."
Sponsoring Workers Under 18
Most visa types requiring a CoS are only valid for adults, and applications for minor workers will be automatically refused.
Three notable exceptions break this rule. The three visas requiring a certificate of sponsorship that are applicable for under-18s include, firstly, the International Sportsperson visa, which has a minimum age of 16. Meanwhile, the Creative Worker visa and the Government Authorised Exchange visa have no minimum age.
However, note that the UK has a great deal of legislation surrounding the hiring of under-18s, which you will need to ensure your business is in line with. This includes legislation on working conditions, pay, breaks, and hours.
While you must have a "level 1" user-appointed in-house, you can hire HR contractors and agency staff for further "level 1" and "level 2" users. Furthermore, you can hire UK-based legal teams to manage your sponsorship management system account. However, they must be fully qualified for immigration services.
Types of Certificate of Sponsorship
Holders of a valid sponsor licence are able to assign two types of certificates: defined CoS and undefined CoS. The application process will vary depending on the type of certificate that you have given to the worker.
The first type of certificate is Defined CoS. This type is limited to Skilled Worker visa applicants who are applying from abroad and aren't yet in the UK.
Meanwhile, Undefined CoS is for all other visa applicants whether they are applying inside or outside of the UK.
Defined CoS Application Process
Defined CoS always has the same application process. You must do the following:
Offer your prospective migrant worker a job and issue them a contract for full employment.
Sign the contract and receive the signed contract from the migrant worker.
Use your SMS account to apply for the Defined CoS. Include information on the migrant worker and ensure that their credentials will be worth a minimum of 70 points according to the points-based system.
Submit the application and give the UKVI time to assess your application and return the result to you.
Receive the certificate and reference number by paying the CoS fee in full.
Pass the reference number onto the foreign worker.
Follow up with the foreign worker over the next three months to ensure they properly complete the CoS application.
Undefined CoS
If your prospective hire is applying for a visa other than the Skilled Worker visa or is applying for the Skilled Worker visa from inside the UK, you will need to assign them an undefined CoS from your CoS allocation. The application process is as follows.
Apply for your annual CoS allocation on SMS.
Once you have received your CoS allocation, you can assign one of your undefined certificates to the migrant worker. They will receive the reference number once you pay the fee.
Keep track of the migrant worker to make sure that they complete the application within three months.
Certificate of Sponsorship Allocations
You receive your CoS allocation when you apply for a sponsor licence. The number you are allocated is based on your business circumstances and the estimate for how many you require that you make when applying for the sponsor licence.
Note that you can't make up a number from thin air when you estimate the number of undefined certificates that your business will require. You will need to provide evidence that you will be expanding your business to include roles suitable for a work visa and show that you actually require the number of defined certificates you have highlighted.
Adjusting My CoS Allocation
You have no automatic right to break the limit of your CoS allocation when you are assigning undefined certificates. However, if you realise you underestimated the number of certificates that your business requires, then you may be able to request additional undefined certificates.
Once again, you can ask to extend your CoS allocation on the sponsorship management system. This can be done at any time of year, but you must provide justification for why additional undefined certificates are required for your business.
One commonly accepted reason to give is that a sponsored worker that is already in your employment needs to change the visa category into another visa type that requires sponsorship. Alternatively, you can get another undefined CoS if a sponsored worker decides to extend their UK visa.
Finally, expanding your CoS allocation is acceptable if your business is undergoing a period of growth and needs new hires that cannot be obtained in the domestic market.
Applying for CoS and Assigning CoS on SMS
Overview
Both "level 1" and "level 2" within your organisation will be able to apply for and assign CoS on the sponsor management system. The permissions that your staff have on the sponsorship management system are based entirely on which one of these levels that they have been assigned.
Your SMS account will be managed by a "level 1" user who leads the everyday management of the account. However, the responsibilities of running SMS are often too much for a single individual, especially if they already have expansive alternative responsibilities. You can appoint additional "level 2" users who have more limited access.
The "level 1" and "level 2" permissions for SMS apply in the same way to defined and undefined CoS, although the process of applying for and assigning CoS is different, and is covered in the section below.
Defined Certificates
Defined certificates are not taken from your annual CoS allocation, and therefore, you will need to apply for each one individually before they can be assigned.
To make your application, you must navigate to the applications section of SMS and submit relevant information with evidence surrounding the role, why a migrant worker is required, and the specific migrant worker that you have chosen for the position. Having submitted the information, you will only need to wait for one working day before UKVI informs you if the application has been successful. In some cases, UKVI will want to conduct further checks, and it will take longer for your application to be processed.
Once your application is successful, you will receive the CoS number for your prospective hire to use. Pass it on to them and make sure that they complete their application before three months have passed. If they fail to do so, then the CoS will be lost.
Undefined Certificates
Due to the CoS allocation system, you won't have to apply for undefined CoS individually. Instead, you will assign the ones included in your CoS allocation as required. Assigning an undefined certificate requires you to go through the following process on SMS:
Go to the "Workers" screen on SMS and click on "create and assign."
Choose the visa category that your foreign hire will be applying for. Make sure that you are both aligned on which visa will be best.
Enter full details about the role you are assigning a CoS for.
Select "save", then "assign", and finally, "confirm CoS details before assigning." This allows you to make sure that all of the given details are correct and accurate.
Consent to the terms given and click "assign" CoS.
Navigate to the "online payment screen" and pay the CoS fee in full.
Once you complete this process, you will receive a CoS reference number. Again, this must be used to apply for the visa within three months, or it will expire, and you will need to obtain another CoS.
Overview
Registered users on the SMS can manage your assigned CoS in two ways:
Note that a certificate of sponsorship cannot be renewed or extended. It is a single-use document that is no longer valid once it has been used during a visa application. Therefore, the two types of CoS management must occur before it can be used for a visa application.
Similarly, if you need a migrant worker to remain in your employment after their visa expires, you will need to assign them a new CoS. The original certificate will no longer be valid.
Cancellations
In some cases, a migrant worker may decide that they don't want to come to the UK to work in the role that you have offered them. This will mean the CoS will remain unused, and your business will have paid the fee without getting the benefit of a foreign worker. Luckily, you will be able to cancel CoS so long as it hasn't been used to apply for a visa. Head over to the SMS system and find the specific certificate, and you will be able to complete the cancellation.
However, if you decide that you don't want to hire another foreign worker for the role, you can simply let the CoS expire. You will need to wait three months after you first assigned it.
Transfers
A similar process to cancellation is transfers which will allow you to give the certificate to another prospective foreign worker if the original migrant worker decides they don't want to come to the UK. Like cancellations, this procedure also happens through the SMS system.
To transfer a certificate of sponsorship, follow the procedure described below:
Enter the SMS system and navigate to the "view CoS" screen.
Select "transfer" followed by "transfer a single CoS."
A menu will appear listing all of the migrant workers that your SMS account is linked to. Select the desired migrant worker.
Your account will be notified after the CoS has successfully been transferred to the new migrant worker. Then, the migrant worker will be able to apply for the required work visa within a three-month period.
How Can Total Law Help?
Bringing migrant workers to the UK to add to your business' human capital is a difficult process. It usually requires you to obtain a unique certificate of sponsorship, which in turn requires your business to have the right kind of sponsor licence. After a CoS has been given to a worker, they have just three months to successfully apply for the relevant type of visa.
Due to the complex nature of bringing migrant workers into the UK legally, many firms choose to get help from lawyers and immigration advisers to ensure the process is as smooth as possible. Total Law is currently working with several businesses across a range of industries to help them to get certificates of sponsorship and sponsor licences. We can also help your migrant workers with their visa application. To learn about the diverse range of services we offer, please visit us online.
Having decided which services you need, please call us at +44 (0)333 305 9375 or leave a message online to start working with us today.
Advice Package
Comprehensive immigration advice tailored to your circumstances and goals.
Application Package
Designed to make your visa application as smooth and stress-free as possible.

Fast Track Package
Premium application service that ensures your visa application is submitted to meet your deadline.
Appeal Package
Ensure you have the greatest chance of a successful appeal. We will represent you in any case.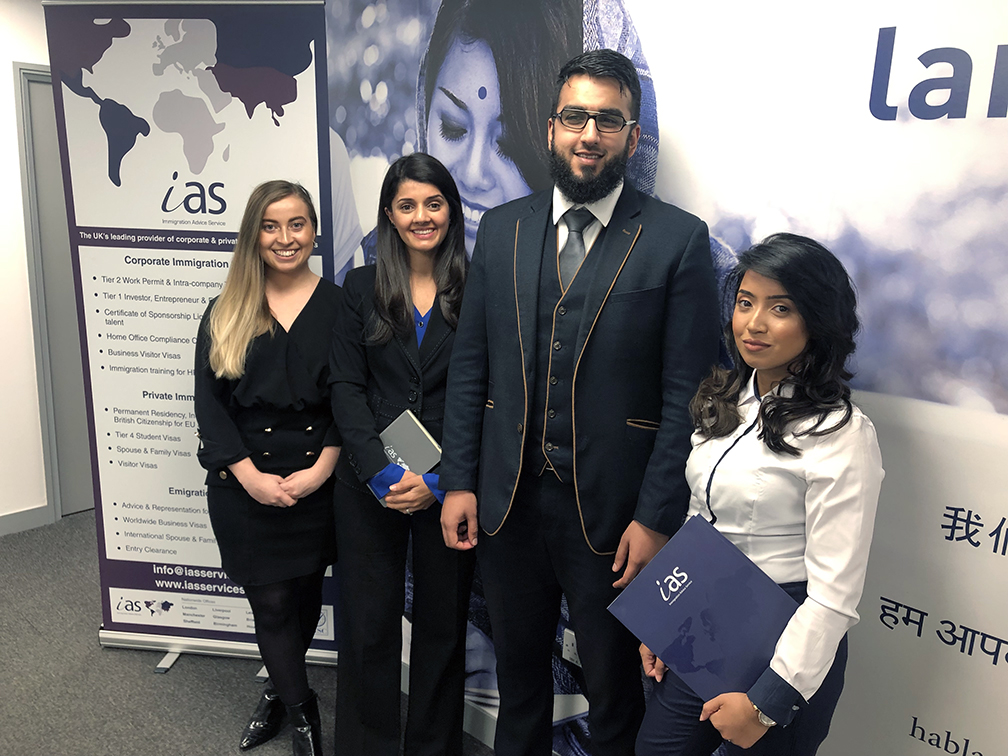 The Advice Package
During this untimed Advice Session with our professional immigration lawyers in London, you will receive our comprehensive advice, completely tailored to your needs and your situation.
Request the Advice Package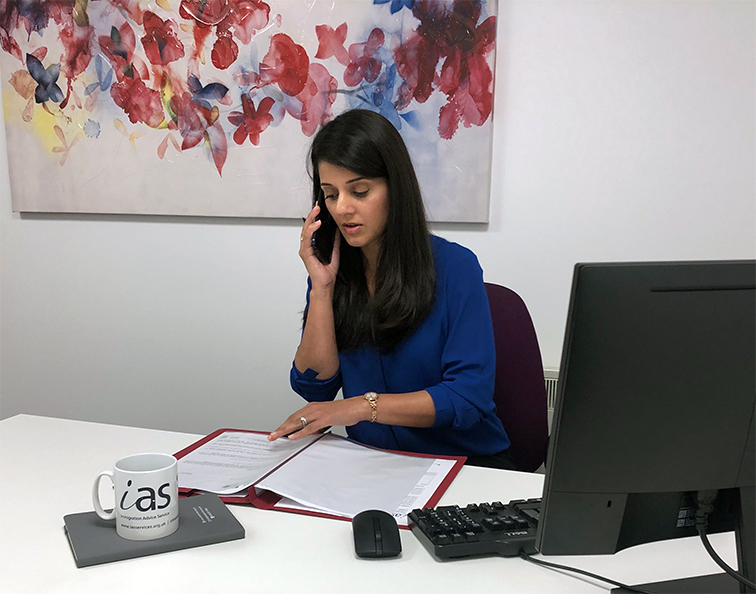 The Application Package
With our Application Package, your dedicated immigration lawyer will advise you on your application process and eligibility. Your caseworker will then complete and submit your forms to the Home Office on your behalf.
Request the Application Package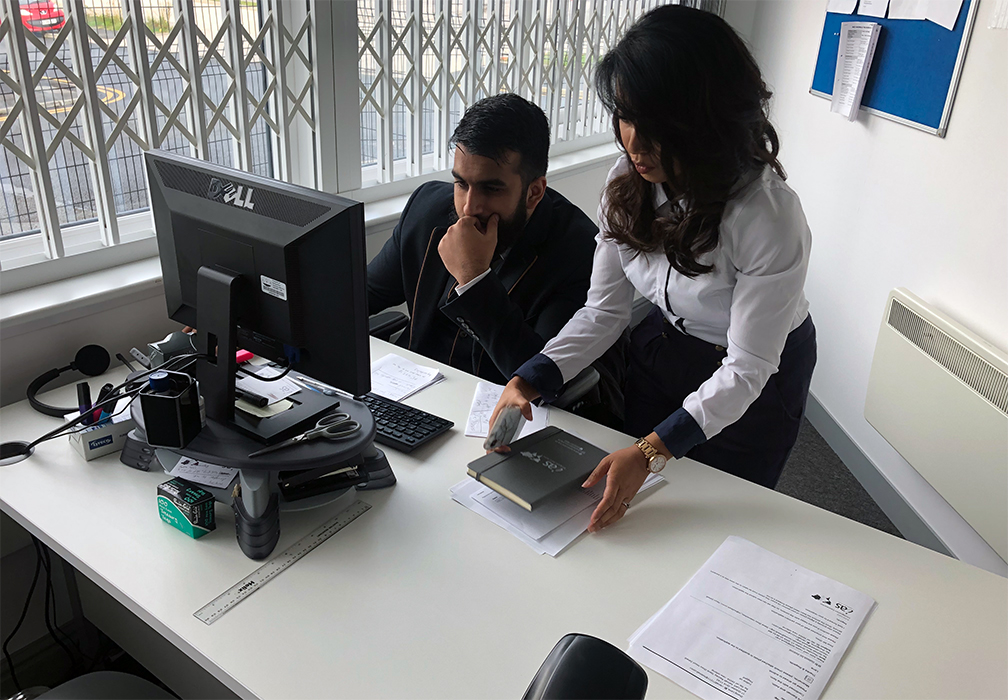 The Fast Track Package
Our Fast-Track Application Package is a premium service for those who need to submit their application in time with their deadlines. Your case will become a top priority for our lawyers and you will benefit from our highest-quality services.
Request the Fast Track Package
The Appeal Package
By choosing our Appeal Package, you can rely on our lawyers' legal knowledge and experience to ensure you have the highest chance of a successful appeal. We will also fully represent you in any hearings/tribunals.
Request the Appeal Package
Related pages for your continued reading.
Frequently Asked Questions
Certificates of sponsorship are now a highly widely required part of the UK immigration system. In most cases, you will need one for your foreign hires.
Make sure to properly check the visa requirements before you assign a CoS, as you will not get the certificate back if the visa is denied because it was the wrong type for the role.
Each visa has complex requirements, and it can be challenging to work out which visa is correct for your employee. If you want help to work this out, please contact the lawyers at Total Law at +1 844 290 6312 or visit us online.
There is not the same limit on defined certificates of sponsorship. Defined certificates do not require you to take a certificate from your application, although you will still need a valid sponsor licence.
Instead, a fresh CoS application is needed for every defined CoS you want to give to a foreign worker. In the application, you must give information on the specific role as well as the migrant worker you have offered the role to.