Immigrating to the US
Are you interested in immigrating to the United States and need help with your application? Many people worldwide apply to immigrate to the U.S. every year but not all applications are accepted.
Working with a specialist immigration lawyer can help maximize your chances of a successful application. Call Total Law on +1 844 290 6312 for a confidential discussion about how we can help you and your loved ones settle in the United States.
How to immigrate to the US
Every year, many people apply to immigrate to the United States, but unfortunately, many applications are rejected. If you want to move to the US, you should apply based on the most appropriate route for your circumstances.
Because it can be very difficult to make the United States your permanent residence, it is recommended to work with an experienced immigration lawyer to increase your chances of being accepted.
Many visas or immigration routes have quotas meaning that individuals can be waiting for many years before their application is accepted, depending on their circumstances.
Some individuals will qualify for permanent residency based on their relationship with US citizens or US green card holders (family-based green card).
For immediate family relatives, there are no limits on the visas available, meaning this can be a faster route towards settling in the U.S.
Other family routes include the parents and children of US citizens and the family preference categories.
If this is not the appropriate option for you, it may be possible to move to the US on the basis of your job.
There are employment-based preference visas (outlined below) which may be relevant to you based on your circumstances and career history.
An individual may also be able to come to the US if they 'win' a green card in the diversity visa lottery program.
There are other ways to make the US your permanent residence, including if an individual is seeking asylum or has been granted refugee status.
You should always seek legal advice from a qualified immigration lawyer to ensure that you have the information needed to make an immigration application.
Call +1 844 290 6312 for an immediate discussion about your case. We are available to speak over the phone or via online call.
"We used this service for the spouse visa extension application to assure that all the information was valid and correct."
"Thanking you so much for helping me and my wife live together for now and the distant future. We are grateful for your help and patience. "
"Spouse visa uk application was successful after working with your staff. I recommend this company the IAS for immigration services. "
Immigrant visas
If you intend to immigrate to the U.S. on the basis of an immigrant visa, one of the below routes may be relevant to your case to become a permanent resident.
The following visa categories are listed on the U.S. Department of State website.
Immigrant visa categories
Please click on the individual visa category to learn more about each visa.
Immediate Relative/ Family Sponsored Visas
Visa Category
Spouse of U.S. citizens
IR1, CR1
Spouse of U.S. citizens waiting for approval of their I-130 immigrant petition.
K3
Fiancé(e) Visa
K1
Intercountry adoption of an orphan child by a U.S. citizen
IR3, IH3, IR4, IH4
Certain family members of U.S. citizens
IR2, CR2, IR5, F1, F3, F4
Certain family members of lawful permanent residents (green card holders)
F2A, F2B
Employer Sponsored/ Employment Visas
Employment based immigrants including the following:

      First preference: Priority workers
Second preference: Professionals holding advanced degrees and persons of exceptional ability
Third preference: Professionals and other workers
Fourth preference: Certain special immigrant workers
Fifth preference: Employment creation/ investors

E1, E2, E3, EW3, C5, T5, R5, I5, S (multiple types)
Religious workers
SD, SR
Iraqi and Afghan translators/ interpreters
SI
Iraqis or Afghans who worked on behalf of the US government
SQ
Other immigrant visas
Diversity immigrant visa
DV
Returning resident
SB
Nonimmigrant visas
If a nonimmigrant visa is an appropriate route for you, there are a number of options to choose from. It is important to note that if you qualify for a nonimmigrant visa, you will likely need to prove to immigration officials that you do not intend to move to an immigrant category.
However, some nonimmigrant visas can grant you permission to stay legally for a number of years. During this time, you may become eligible to apply for a partner or spouse visa, or alternatively, an immigrant employment visa.
However, it is crucial that this is not your intended purpose when travelling to the U.S on some nonimmigrant visas.
Nonimmigrant visa categories
| | |
| --- | --- |
| Purpose of Travel | Visa Category |
| Athlete, amateur or professional (competing for prize money). | B1 |
| Au pair (exchange visitor) | J |
| Australian professional speciality | E3 |
| Border crossing card (Mexico) | BCC |
| Business visitor | B1 |
| CNMI-only transitional worker | CW1 |
| Crewmember | D |
| Diplomat or foreign government official | A |
| Domestic employee or nanny accompanying a foreign national employer | B1 |
| Employee of a designated international organization or NATO | G1-G5, NATO |
| Exchange visitor | J |
| Foreign military personnel stationed in the United States | A-2, NATO1-6 |
| Foreign national with extraordinary ability in sciences, arts, education, business, or athletics. | O |
| Free trade agreement (FTA) professional: Chile, Singapore | H1, B1 |
| International cultural exchange visitor | Q |
| Intra-company transferee | L |
| Medical treatment, visitor | B2 |
| Media, journalist | I |
| NAFTA professional worker (Mexico, Canada) | TN/TD |
| Performing athlete, artist, entertainer | P |
| Physician | J, H1B |
| Professor, scholar, teacher (exchange visitor) | J |
| Religious worker | R |
| Speciality occupations in fields requiring highly specialized knowledge | H1B |
| Student (academic, vocational) | F, M |
| Temporary agricultural worker | H2A |
| Temporary worker performing other services or labour of a temporary or seasonal nature. | H2B |
| Tourism, vacation, pleasure visitor | B2 |
| Training in a program not primarily for work | H3 |
| Treaty trader/ treaty investor | E |
| Transiting the United States | C |
| Victim of criminal activity | U |
| Victim of human trafficking | T |
| Nonimmigrant visa for spouse and children of a lawful permanent resident. | V |
What are the requirements for immigrating to the U.S.?
The requirements for immigrating to the U.S. depend on the specific visa category that you are applying for.
Each application is complex and requires a significant amount of information and documentation.
In general, some of the requirements for immigration include:
Meet the age requirements of your chosen route.
Meet the financial requirements of the immigration route.

Provide evidence of your finances in your bank account.

Demonstrate your relationship with your family relatives (where relevant).

Provide birth certificates or other documents that show the relationship.
Provide marriage or civil partnership certificate to show a relationship with a spouse.

An approved petition from a family relative who is sponsoring you to come to the United States (where relevant).
What documents do you need?
Copy of a medical certificate showing proof of health status, and any required vaccinations
Documents related to the individual's criminal history or previous immigration status (where relevant).
The applicant's passport or valid travel document
Certified translations of official documents not in English
Proof of a formal job offer (if applying via the employment route).
Letter from your sponsor organization outlining the nature of your employment
The United States allows many foreign nationals to immigrate every year.
The largest category is family-based immigration, meaning that your opportunities are increased if you can demonstrate that you have an eligible family relationship with a U.S. citizen.
There are many types of work visas that allow immigration to the United States.
Each route has its own requirements and it is advisable to fully understand the requirements of your chosen route before submitting an application.
Who cannot immigrate to the U.S.?
As well as meeting the eligibility requirements, you should demonstrate that you are not 'inadmissible.'
You may be prevented from immigrating to the U.S. if one of the following situations applies to your situation:
You have a communicable disease
A physical or mental disorder that could threaten public health
A history of drug abuse or addiction
A record of drug trafficking
Conviction of a crime involving moral turpitude
A history of criminal convictions
Intentions or history of committing espionage or terrorism
Participation in Nazi persecution, genocide, torture, or extrajudicial killings
Violation of U.S. immigration law
However, one of the above does not necessarily mean that you will be prevented from moving to the U.S., and you may have the opportunity to demonstrate your eligibility.
Speak to an immigration lawyer at Total Law if you need further advice about your individual case. You can phone us or use the online chat function to speak with one of our client care agents.
Who can apply for a green card?
There are several ways that you can apply for a green card in the United States. The 'green card' is also known as holding lawful permanent residence (LPR) in the U.S.
This is not the same as U.S. citizenship, but it gives the cardholder more rights than if they were on a visa.
To apply for a green card, you should be able to show your suitability under one of the following routes:
Green card through family
You may be able to apply for a green card if you fulfil the eligibility criteria. You should be one of the following:
The immediate relative of a U.S. citizen
Other relative of a U.S. citizen or LPR (family-based categories).
Fiancé(e) of a U.S. citizen or the dependent child of the fiancé(e)
Widow(er) of a U.S. citizen
Victim of abuse from a spouse, child, or parent of a U.S. citizen.
Green card through employment
Below are some of the primary routes for employment-based green cards:
Immigrant worker (preference system)
Physician national interest waiver (for physicians agreeing to work-time in a designated underprivileged area).
Immigrant investor (for eligible individuals intending to invest at least $1 million in a new commercial enterprise (or $500,000 in an area of targeted employment)
Green card as a special immigrant
You may be eligible to apply as a special immigrant if the following apply to your case:
Religious worker
Special immigrant juvenile
Eligible Afghanistan or Iraq nationals
International broadcasters
Employee of an international organization or family member or NATO-6 employee or family member
Green card through refugee or asylee status
There are routes available to individuals seeking international protection (or who have been granted the same) including:
Asylee (persons granted asylum status at least one year ago)
Refugee
Green card for human trafficking and crime victims
Individuals may apply under the following categories:
Victim of human trafficking (holding a T visa).
Crime victim (holding a U visa)
Green card through other categories
Some of the following routes are categories of green cards:
Liberian Refugee Immigration Fairness (LRIF, for eligible Liberian nationals)
Diversity immigrant visa program (those selected randomly in the green card lottery).
Cuban Adjustment Act (for eligible Cuban natives)
A victim of abuse under the Cuban Adjustment Act (spouses or children).
Dependents of LPRs granted a green card on the basis of the Haitian Refugee Immigration Fairness Act (HRIFA).
A victim of abuse under the HRIFA
Green card through registry
Individuals who have resided in the United States continuously since 1972 may be able to apply for a green card
How does the US immigration system work?
The U.S. immigration system is complex and it can be confusing to understand the requirements of different visas or immigration routes.
According to the American Immigration Council, the system is built on the following principles:
Reunification of families
Attracting immigrants with valuable skills to contribute to the U.S. economy
Protection of refugees
Promotion of diversity
The law governing modern immigration policy is referred to as The Immigration and Nationality Act.
This law enables the United States to issue approximately 675,000 permanent immigrant visas annually. As well as this, there are no limits placed on the admission of the immediate family relatives of US citizens.
There is also a set number of refugees admitted to the country every year through the U.S. Refugee Resettlement Process.
If a person applies for and obtains the appropriate visa, they become lawful permanent residents (LPR). This means that they can live and work in the country without many restrictions.
After five years (or three in some cases), an LPR may apply for U.S. citizenship. It is not possible to apply for citizenship without first becoming an LPR in most cases.
As well as permanent visas, the United States also issues nonimmigrant visas to tourists, international students (including the J1, M1, and F1 student visas), and temporary workers.
There are no limits on how many of these visas are issued annually, but there are time limits on how long an individual may spend in the country.
Applying for US naturalization
Naturalization is the process by which an individual becomes a citizen of another country due to meeting the eligibility criteria.
To become a naturalized U.S. citizen, an individual must have held LPR status (or green card) for at least five years.
This could be reduced to three years if the individual is the spouse of a U.S. citizen and this is how they obtained their visa, as well as some other methods of obtaining the visa.
Applicants must be aged at least 18 years old, have evidence of continuous residency, demonstrate 'good moral character,' pass the English language requirement and the U.S. history and civics exam.
Steps to becoming a naturalized US citizen
The below is the typical process in applying for U.S. citizenship through naturalization:
Determine if you are already a citizen of the United States (This could be the case if you received citizenship by birth, acquired or derived it from your parents).
Determine if you are eligible to become a citizen (The naturalization eligibility worksheet

can outline if you may be eligible. It is recommended to consult with an immigration lawyer if you are unsure).
Prepare Form N-400, Application for Naturalization (It is recommended to carefully study the requirements, document checklist, and application instructions).
Submit Form N-400 and pay the application fee (It is possible to do both online. You can then check the progress of your case status online).
Attend your biometrics appointment (where relevant) (Provide your biometric information (usually a photograph and fingerprints) if required).
Attend your naturalization interview (You must attend your interview with a United States Citizenship and Immigration Services official (USCIS)).
Await a decision on your application (Your application will be decided by USCIS and you will be sent official notice of whether it was granted, continued, or denied).
Receive an appointment time to take the Oath of Allegiance (You will be notified of the date and time of your ceremony).
Take an Oath of Allegiance to the United States (You will not officially become a citizen until you take the oath at a naturalization ceremony and complete the questionnaire on Form N-445, Notice of Naturalization Oath ceremony. You will be required to hand in your permanent resident card and then receive your certificate of naturalization).
How can your immigration lawyers help me?
Our team of qualified immigration lawyers are ready to assist you with any visa or immigration matter.
Whether you require advice, application support, or assistance with an appeal, we can custom-make a specialist package to meet all your needs.
We provide support and advice on the following topics:
Immigrating to the United States
Emigrating from the United States
Work visas
Family and partner visas
Permanent residency and citizenship
Student visas
Corporate immigration law
Deportation and removal defence
One of our lawyers will work with you on your case to understand your situation, listen to your needs, analyse your eligibility, and give an insight into the likelihood of a successful application.
While no law firm can guarantee the success of an application, we can ensure that all the advice we provide is fully accurate and in line with U.S. immigration law.
We can also help you to submit an application that is tailored to your chosen immigration route and is completed to the highest standard.
We advise on the supporting documents needed, and can assist in providing you with a document checklist.
Why should I choose Total Law to help me immigrate to the U.S.?
All of our lawyers are fully accredited with the appropriate legal bodies and you may be confident that the information we provide is fully accurate.
No matter how complex your case is, we can provide a tailored plan to help you achieve your goals. We work tirelessly on your behalf, attempting all legal options to assist you in immigrating to the U.S. with your loved ones and do our best to ensure that your petition is approved.
We recognize that immigration and visa applications are major decisions in a person's life and that they can impact many lives.
That is why we provide the highest care and attention to all of our clients and ensure that they are given all their legal options so that they may make an informed decision about their future and the future of their families.
Your dedicated immigration lawyer will work with you throughout the entire process, communicating with you regularly to answer your questions and advise on the next steps.
At the beginning of the process, you can expect us to give you clear and accurate information about how much the process will cost and an anticipated timeline.
If you have any questions at any stage, our friendly and professional client care teams can work directly with you so that you feel confident in the process.
Call us on +1 844 290 6312 for a confidential discussion about how we can assist you with your immigration case. We look forward to assisting you over the phone or by online call.
Advice Package
Comprehensive immigration advice tailored to your circumstances and goals.
Application Package
Designed to make your visa application as smooth and stress-free as possible.

Fast Track Package
Premium application service that ensures your visa application is submitted to meet your deadline.
Appeal Package
Ensure you have the greatest chance of a successful appeal. We will represent you in any case.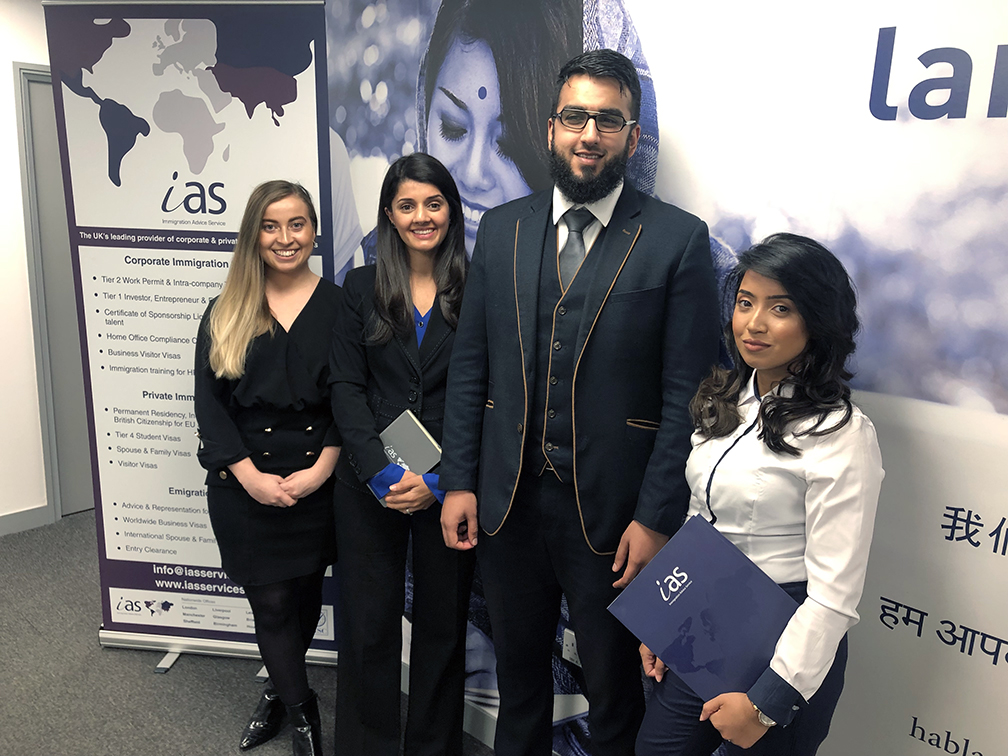 The Advice Package
During this untimed Advice Session with our professional immigration lawyers in London, you will receive our comprehensive advice, completely tailored to your needs and your situation.
Request the Advice Package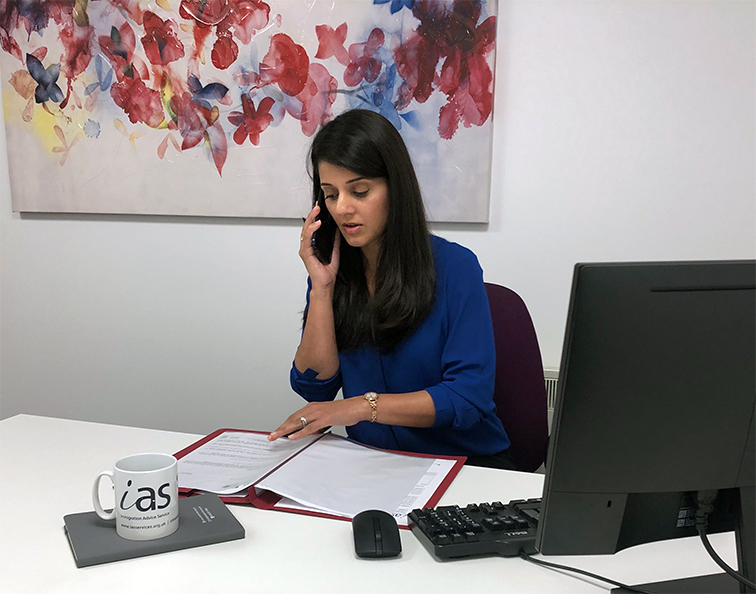 The Application Package
With our Application Package, your dedicated immigration lawyer will advise you on your application process and eligibility. Your caseworker will then complete and submit your forms to the Home Office on your behalf.
Request the Application Package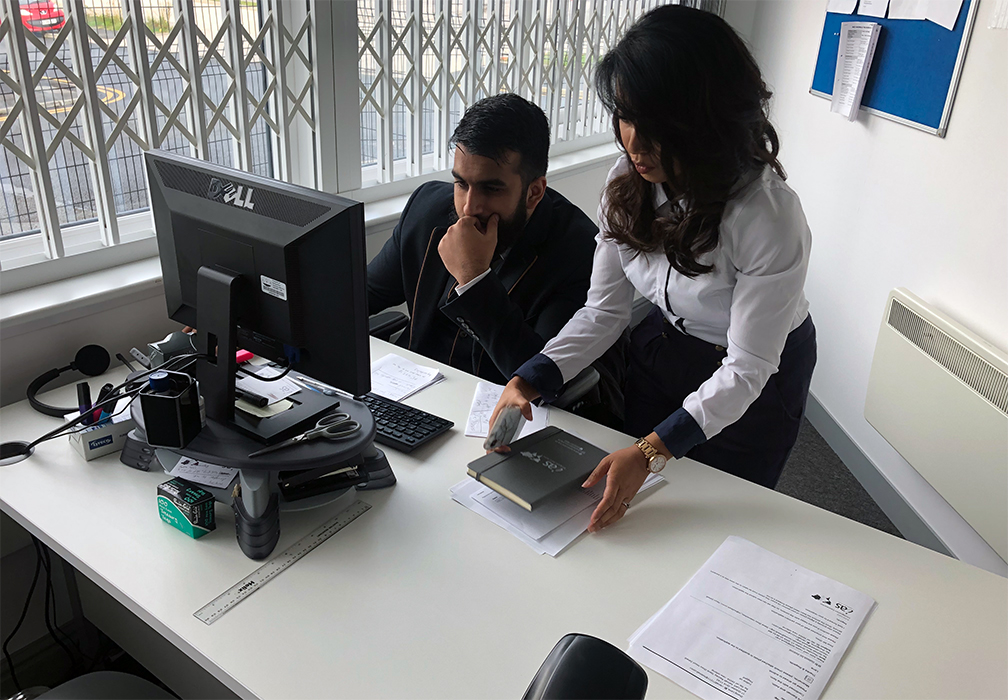 The Fast Track Package
Our Fast-Track Application Package is a premium service for those who need to submit their application in time with their deadlines. Your case will become a top priority for our lawyers and you will benefit from our highest-quality services.
Request the Fast Track Package
The Appeal Package
By choosing our Appeal Package, you can rely on our lawyers' legal knowledge and experience to ensure you have the highest chance of a successful appeal. We will also fully represent you in any hearings/tribunals.
Request the Appeal Package
Related pages for your continued reading.
Frequently Asked Questions
It is possible to apply for a U.S. visa without the assistance of an immigration lawyer. However, as immigration law is extremely complex, with many rules that are updated regularly and which must be followed precisely, it can be difficult for a person without legal expertise to fully understand how to navigate the system.
As well as this, immigration applications can impact families lives and some people choose to rely on the expertise of an immigration lawyer to maximize their chances of a successful application.
If your application contains errors or inaccurate information (no matter how small), your entire application may be refused on this basis.
A qualified immigration lawyer will work with you to ensure that your application is submitted to the highest standard and contains no errors that could result in lost time or further expense.
Our lawyers can help you with any aspect of immigration law, including family visa applications (and green cards). We can assess your eligibility for your chosen category and make recommendations if we believe there is a better option available for you to immigrate to the United States.
We provide all of the following services to help you apply for a family visa:
Check that you have the required information and documents to submit with your application
Complete all application forms on your behalf
Monitor the family visa bulletins to check whether your visa application is current
Liaise with you and your family members to keep you informed about your status
Liaise with the visa application center and your U.S. embassy or consulate
Contact you if your petition is approved or refused and outline the next steps
It can cost a lot of money to immigrate to the U.S. You can expect to pay the following costs if you are applying to immigrate to the US:
USCIS form filing fees (depending on your application, ranging from $10 to $1,000)
Family sponsor petition fees (ranging from $535 to $3,675)
Medical and vaccination fees (ranging from $200 to $1,000)
Naturalization fee ($725)
Premium processing services (ranging from $1,500 to $3,000)
Depending on your circumstances, there may be additional fees required to become a permanent resident (green cards) or apply for permanent residence.