Business Immigration Services UK
If your business or organisation is looking to recruit overseas workers or you're an entrepreneur looking to move to the UK, Total Law can help. As corporate immigration lawyers, we offer a complete service in all aspects of business immigration law.
As professional business immigration lawyers, we provide tailored advice and a full range of practical support to help you with matters related to business immigration. Contact Total Law today at 0333 305 9375 for up-to-date, clear advice or contact us online.
We Are Business Immigration Lawyers
Total Law is a well-established, experienced law firm that operates globally. Our team of expert business immigration lawyers provide cost-effective immigration advice to UK businesses and international businesses looking to secure overseas workers. We can also aid individual business owners and entrepreneurs looking to start a business from inside or outside the UK.
"I'm very happy with the standard of training received on the OISC Level 1 course, i passed my exam. Thank you!"
"My application was approved and a huge weight has been lifted from our shoulders this year "
"We used this service for the spouse visa extension application to assure that all the information was valid and correct."
Why Choose Total Law for Your Corporate Immigration Needs?
Armed with extensive experience and up-to-date training on the constantly changing UK immigration work policies and procedures, the specialist immigration team at Total Law can provide practical advice and guidance. We offer a range of business immigration services including:
UK Work visa options and applications for employees
Document checking
Auditing
Resolving immigration issues
Employing Overseas Workers in the UK
If you're a UK business or organisation that wants to employ foreign workers in the UK, including unpaid charity workers, you will usually need to apply for a sponsorship licence. However, there are some exceptions to this rule and you will not need a sponsor licence to employ:
Irish citizens
Those with settled or pre-settled status under the EU settlement scheme
Those with indefinite leave to remain in the UK
It is worth noting that although obtaining a sponsor licence will allow you to sponsor overseas workers to work for your business in the UK, it will not guarantee they will receive a Work visa to enable them to do so. Employees must apply for a UK Work visa before gaining entry to the country by meeting all of the specific Work visa application requirements.
Sponsorship Licence Applications for UK Businesses
Overview
To sponsor overseas workers in the UK, you will need a sponsor licence. There are two types of sponsor licence available to apply for and the one you need will depend on the type of workers you want to employ.
To sponsor workers on a temporary basis, including volunteers, you should apply for a temporary worker licence. To sponsor employees long-term you should apply for a worker licence. It is possible, however, to apply for a licence that covers both types of workers.
Eligibility Requirements
Firstly, to obtain a sponsorship licence you and your business must meet the sponsor licence requirements. To be eligible you cannot:
Have any unspent criminal convictions for crimes relating to immigration, fraud, money laundering etc..
Had a sponsor licence revoked in the last 12 months
UKVI (UK Visas and Immigration) may visit your business to complete work checks to see that it is adequate and that you are responsible and fit to carry out your duties.
In addition, you can only sponsor a worker if they intend to do a job that:
Is compliant with the UK's minimum wage and working time regulations
Meets the criteria needed for their Work visa.
The specific Work visa that the sponsored worker should apply for will depend on the type of job role they intend to undertake. Some visas have extra criteria that the candidate will have to meet in order to be successful.
Required Documents
You will usually need to supply at least 4 supporting documents as part of your sponsor licence application. The documents required will depend on the type of business or organisation. For example, if you are a start-up company that has been operating or trading for less than 18 months you will have to supply information that proves you have a valid corporate bank account and so on.
Total Law can advise you on all of the documents you may need to support your application and check them prior to submitting. For help gathering your documents call Total Law today at 0333 305 9375 or contact us online.
The Application Process
All new applications for sponsorship licences should be completed online. Once you have submitted your application, you must then print off the submission sheet at the end of the application and email it, along with your supporting documents, to the UKVI.
You will also need to pay a fee as part of your application. Fees differ depending on the type of sponsor licence you are applying for but range from £0 to £1476.
Most applications take up to 8 weeks or less to process but you can apply for a faster decision (within 10 working days) by paying an extra fee of £500.
Sponsorship Management
If you successfully obtain a sponsor licence, there are rules you must comply with by law to remain eligible. For example, your business will need to show that it has appropriate systems and people to manage them in place to monitor sponsored workers.
The main tool they will use to do so is called the Sponsorship Management System (SMS) and there are 3 roles that someone in your business must take up. They are as follows:
Authorising officer – takes responsibility for the actions of representatives and staff that use the SMS.
Key contact – the main point of contact for UKVI.
Level 1 User – responsible for the day-to-day management of your licence (using the SMS).
The roles can be filled by different or the same people but there are some rules based around who can be allocated a role and all those involved with the sponsorship licence will be suitability checked.
Services For Sponsors
As corporate immigration lawyers, Total Law offers a full range of business immigration services. For sponsors, we can provide ongoing advice, guidance and support and help manage your ongoing immigration needs. We can keep you updated with any changes to immigration law that may affect your eligibility and help you fully understand your compliance commitments when in possession of your licence.
UK Work Visa Applications
Overview
Once you are in possession of your sponsorship licence, you can start applying to transfer employees to the UK. In most cases, to gain entry into the UK with the right to live and work in the country, overseas employees must apply for and be granted a UK Work visa.
There are numerous UK Work visas available and the one your employee will need to apply for will depend on the nature of your business.
Eligibility Requirements
All applicants must meet certain criteria in order to be successful with their visa application. To be eligible for a Work visa, applicants must:
Work for an employer that is approved by the UK's home office.
Have a certificate of sponsorship from said employer.
Do a job that is present in the Home Office's list of eligible occupations.
Be paid a minimum salary (the amount differs depending on the type of job).
Meet all specific criteria related to the job role.
Be able to speak, read, write and understand the English language. (Applicants will usually have to prove this by completing a test as part of their application).
How To Apply
All new UK visa applicants should apply online and provide evidence of their identity and that they meet all of the eligibility requirements. They must also pay an application fee (the amount differs depending on the visa they are applying for) and a healthcare surcharge that enables them to use the UK's NHS should they need medical treatment whilst resident in the country.
Applicants can apply for a visa up to 3 months prior to the day they are due to start work in the UK. If they are applying from outside the UK, they should expect to receive a decision on their application within 3 weeks.
There are rules and regulations that visa holders must follow when resident in the UK to remain eligible. If successful, the applicant will receive a letter that states what they can and can't do whilst resident in the country.
Services For UK Work Visa Applicants
Total Law is made up of a team of experienced immigration lawyers specialising in all aspects of business immigration. We can help your overseas employees discover which Work visa they may be eligible for and help them complete the application process from start to finish. We offer services such as document checking and are able to keep applicants up-to-date regarding UK work visa approval rules and regulations.
Advice For Visa and Sponsor Licence Refusals
If you have been refused a visa or sponsorship licence, Total Law can help. As professional business immigration lawyers specialising in corporate immigration and immigration law, we can advise you on the appeals process should you wish to appeal a refusal decision.
To help you with the appeal process, we can explore the reasons behind your refusal and help you correct any errors within your application. We offer one-to-one support and guidance and can provide advice where needed to ensure your appeal hearing is successful.
Immigration Advice For Investors and Entrepreneurs
If you're an investor or entrepreneur and want to migrate to the UK, Total Law can help. There are various visa options in the UK designed for business purposes, including those designed for start-up businesses.
Visa Options For New Businesses
Business visas in the UK allow you the right to live and work or visit the UK without restriction for a limited period of time, provided you and your business meet all of the eligibility criteria. For example, start-up business owners may be able to apply for an Innovator Founder visa. To be eligible for this visa your business must:
Be new (you cannot join a business that is already trading).
Be innovative (different from anything else on the market).
Be viable and with the potential for growth.
Be scalable (you must provide evidence of planning to create jobs and grow into national and international markets).
Your business must also be endorsed by an endorsing body that is approved by the UK's Home Office and you must be able to prove your ability to speak, read, write and understand the English language before being granted a visa.
Visa Options For Business Visitors
If you want to visit the UK for business purposes such as to attend training, seminars or conferences or to sign or negotiate contract deals, depending on the country you are applying from, you may also need a visa. To be eligible for a UK Business Visitor visa you must:
Have a passport or travel document valid for the duration of your trip.
Provide proof you are travelling for business.
Provide evidence that you intend to leave the UK once your trip has ended (such as a return ticket).
Show that you have the funds to support yourself or that someone is supporting you financially for the duration of your trip.
How Total Law Can Help
Total Law can help your business establish an international workforce in the UK by providing information on its immigration rules or schemes, such as the EU settlement scheme, and by supporting you in completing legal processes such as visa application or sponsorship licence forms and compliance.
Our immigration team can advise you on UK work visas that may be available for your employees, and guide you through the legal process to help you obtain your sponsorship licence.
Total Law offers bespoke corporate immigration law services thereby adapting our methods and approach to best suit your business needs. As trusted business immigration lawyers, we can explore your options, advise you on the best course of action and help you implement it.
Using our extensive experience, we work closely with our business immigration clients to ensure they receive a smooth and accurate service, helping secure the best possible outcome for their business.
To access our tailored support package, get help with an application or appeal process, or for all other corporate immigration needs call us today at 0333 305 9375 or contact us online.
Advice Package
Comprehensive immigration advice tailored to your circumstances and goals.
Application Package
Designed to make your visa application as smooth and stress-free as possible.

Fast Track Package
Premium application service that ensures your visa application is submitted to meet your deadline.
Appeal Package
Ensure you have the greatest chance of a successful appeal. We will represent you in any case.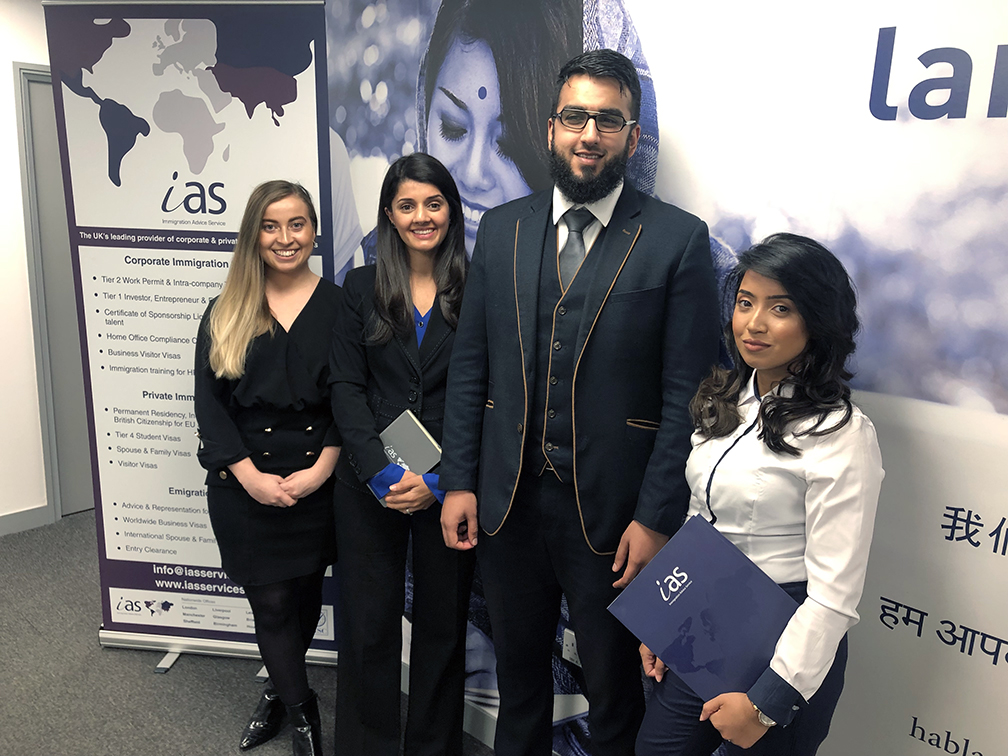 The Advice Package
During this untimed Advice Session with our professional immigration lawyers in London, you will receive our comprehensive advice, completely tailored to your needs and your situation.
Request the Advice Package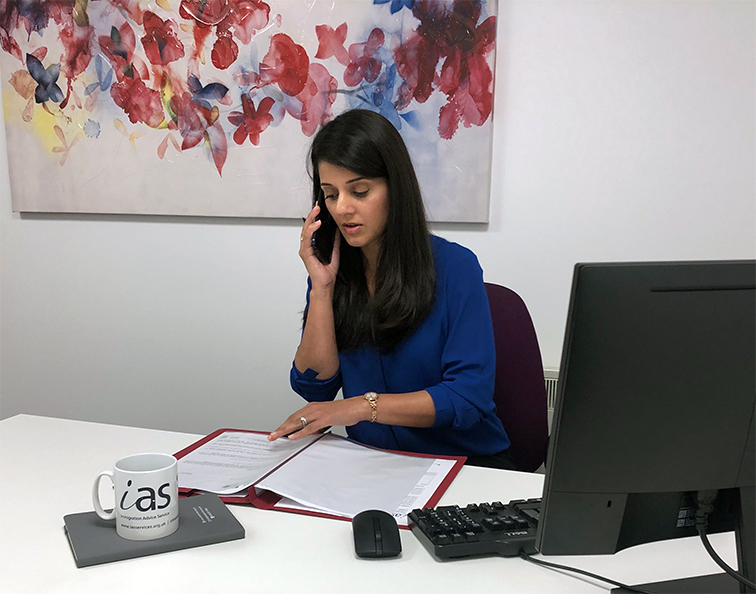 The Application Package
With our Application Package, your dedicated immigration lawyer will advise you on your application process and eligibility. Your caseworker will then complete and submit your forms to the Home Office on your behalf.
Request the Application Package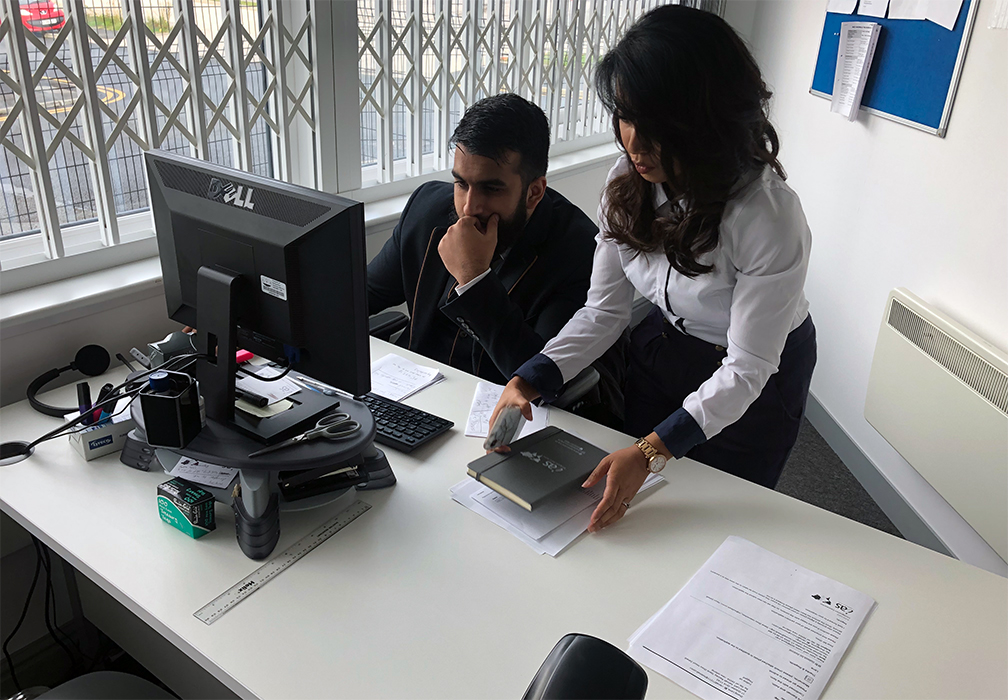 The Fast Track Package
Our Fast-Track Application Package is a premium service for those who need to submit their application in time with their deadlines. Your case will become a top priority for our lawyers and you will benefit from our highest-quality services.
Request the Fast Track Package
The Appeal Package
By choosing our Appeal Package, you can rely on our lawyers' legal knowledge and experience to ensure you have the highest chance of a successful appeal. We will also fully represent you in any hearings/tribunals.
Request the Appeal Package
Related pages for your continued reading.
Frequently Asked Questions
It may be possible to apply to bring your family with you to the UK as dependents on your Work visa application. A dependent is classed by the Home Office as a close family relative (such as your children).
Total Law offers all corporate immigration services and the applicable fees will depend on your level of need. Whether you just want some simple advice or if you want to access our tailored support package, we guarantee that all of our high-quality business immigration services are provided in the most cost-effective way for your business.