Immigrating to Ireland from the UK
Immigrating to Ireland depends on your nationality. Irish citizens and UK Citizens benefit from very relaxed immigration rules due to agreements between the two countries that allow you to work, live and move freely. However, any non-UK citizens who are living in Great Britain and wish to move to Ireland, the emerald isle, will be required to apply for an Irish visa.
If you have any questions regarding Immigrating to the UK, you can contact our expert immigration lawyers to discuss any concerns you may have, or for some help navigating the application process.
You can call us on 0333 305 9375, or contact us online seven days a week via our live chat.
Requirements to move to Ireland from the UK
Only Irish and UK citizens benefit from the 'Common Travel Area' (CTA) arrangement. This arrangement has been in place for decades and permits both UK citizens to move freely and reside in either jurisdiction and can enjoy rights and privileges, such as:
The right to work in Ireland
The right to study in Ireland
The right to access social welfare benefits and social housing
The right to access health services
The right to access public funds including pensions.
This means that UK citizens who want to move to Ireland are automatically allowed to have permanent immigration permission to remain in Ireland, from the day that they enter Ireland and they do not require a visa or residency permit.
If you are planning to study, you should research if you are indeed eligible for student loans in Ireland and verify what type of tuition fees you may face as this can vary depending on your circumstances.
UK citizens should have had no issues with traveling freely between the two countries and do not need to be subjected to passport or immigration scrutiny/control. Do note that as Northern Ireland is in the UK, Northern Ireland does not count.
Despite the withdrawal agreement of the UK leaving Europe, (Brexit), the CTA arrangement has not changed and will remain in place. To have all of the bounties of the CTA arrangement, all UK nationals must enter the UK using their valid passport at border control. If you do not hold a passport, you will need to apply for one before you emigrate.
Because you do not need permission as such do the CTA, even if you attempted to apply for a visa, you would not be able to move forward with it, once the system recognizes you're a UK citizen. It is important to note that you cannot travel freely within the CTA if you're subject to any of the below:
A deportation order
An exclusion decision
An international travel ban
"I'm very happy with the standard of training received on the OISC Level 1 course, i passed my exam. Thank you!"
"My application was approved and a huge weight has been lifted from our shoulders this year "
"We used this service for the spouse visa extension application to assure that all the information was valid and correct."
If you are not a UK national, what should you do?
If you are not a UK citizen, you do not qualify to immigrate to Ireland through the CTA. As such, you will be subject to standard Irish immigration governments per the Irish government. This is true if you are from anywhere in the world, including the European Union.
Despite living permanently in the UK, if you do not hold citizenship and/or live in the UK by way of an Employment Permit, study visa, or any other additional type of UK immigration visa, you have to apply to live in Ireland. Non-EEA family members despite having the UK or Irish family members may need a specific visa to move to Ireland.
As it can be a complicated process, it is essential to understand your best option, which Total Law can support you with, as you will need to select the correct visa for your situation.
What documents do UK citizens require to move to Ireland?
Even though Ireland is not a far distance to move, it is still a massive life decision and considered a big move to cross the Irish sea. The below list will help you to prepare for the big move as a British expat:
Valid passport with at least six months of validity left on it
Details of travel arrangements
Birth certificates
Marriage certificates
UK Driving license
Proof of address and identity
Bank account statements
Details on your a moving company
Give notice for your current home's lease or sell or rent your house
Give notice at your workplace (if applicable)
Tell HMRC that you're leaving the UK. If you're at retirement age, apply to receive your UK state pension over in Ireland
Contact all relevant companies to close your account or notify them of your new address
If you have any pets, ensure they have all the shots they need as well as a pet passport
Identify whether you can bring your car to Ireland duty-free or whether you need to pay a customs charge
You may require UK criminal record from the UK criminal records check
When you arrive in Ireland, you will want to go ahead and open an Irish bank account, use a good currency transfer service to convert your British currency, find a private healthcare insurance plan for you and your family (if relevant) and apply for an Irish driving license (as your UK licence/Northern Ireland licence will not be valid in Ireland).
It is worthwhile noting that the cost of living in Ireland is widely accepted as significantly higher than in the UK. For example, consumer prices, including rent, are 18.4% higher in Ireland than in the UK. Before making the decision to move, it is important to research jobs, housing, healthcare, taxes, and quality of life to help you make the best decision for you and your family.
What is working and living like in Ireland?
When you leave the UK permanently, it is important to be aware of the difference between the countries. Naturally, the systems governing the two countries are different and British nationals moving to Ireland should be aware of their rights and obligations under Irish law.
Due to the common travel area, UK nationals do not need an employment permit and are allowed to undertake any form of legal employment, including starting a business. Most professional qualifications in the UK are accepted in Ireland so job hunting should be straightforward.
Housing is a challenging aspect within Ireland this is because housing in Ireland is in short supply, and can be extremely pricey. Some websites to find accommodation to rent or to buy include Daft.ie, Rent.ie, and MyHome.ie.
How much money is required to immigrate to Ireland?
Moving can be very expensive as there will be costs involved in transporting yourself, your family, and any pets to Ireland.
As a general rule, the cost of hiring a removal van to transport your belongings to Ireland will cost at least £1,000, and likely more, depending on how much you want to transport.
If you are selling your home or property in the UK, you may have the expense of legal fees involved with this process.
By some estimates, the cost of living is between 5% and 20% more expensive in Ireland than in the UK. In general, you can expect the following differences in living costs:
Consumer prices are almost 12% higher in Ireland
Rent prices are almost 37% higher in Ireland
Restaurant prices are almost 7% higher than in the UK
Groceries cost almost 14% more in Ireland
Transportation costs are almost 14% higher than in the UK
Clothing costs are almost 7% higher in Ireland
What are taxes and healthcare systems in Ireland?
As a UK resident, you should have a National Insurance number (NI) assigned to you. In Ireland, this is called the Personal Public Service (PPS) number. The PPS number is required for the Irish Tax and Customs Revenue service (equivalent to HMRC) to determine your appropriate tax band.
The tax rate in Ireland on taxable earned income is as follows:
People without dependent children pay tax at a rate of 20% on the first €33,800 you earn
Single or widowed people, 20% on the first €37,800 you earn
Married couples, 20% on the first €42,800 you earn
For all people, 40% of the remainder of the earned income
Corporation tax in Ireland is low at 12.5%
The Value Added Tax rate in Ireland is relatively high at 23%, (compared to the UK's 20%) and applies to most goods and services.
To access healthcare, UK citizens can access health in Ireland. The Irish healthcare sector has a two-tier public and private system. The public system is government-funded, while the private system is paid for by patients. If you qualify for a medical card, you will be able to access some healthcare services for free or at a reduced cost. Private health insurance can be expensive, with an average annual cost of €2,059. As well as this, dental care and the cost of medicines and prescriptions can be costly with or without private insurance.
What is it like to retire in Ireland?
As a retiree that is a UK citizen, you don't need to worry about getting a visa for Ireland, but there are a couple of other things for UK retirees to consider before moving there.
One of the main considerations is pensions. The best practice is to apply for the International Pensions Centre to have your UK state pension paid to you in Ireland. It is also possible to take all of your pension incomes into one place, you can transfer personal pensions from the UK to Ireland.
If you plan to do this though, make sure you choose an Irish pension scheme that is on the HMRC's Qualifying Recognised Overseas Pension Scheme (QROPS) list. If it is not on this list, you could face a very large tax bill. It could also be a good idea to seek expert pensions advice to help you find the most tax-efficient way of transferring your pension.
As a pensioner in Ireland, you may also be able to access free healthcare services with a medical card, which is means-tested.
These are some of the requirements: your weekly income must be below a certain figure. Pensions, earnings, interest from the capital and all other sources of income are included. The weekly gross income limit for the over-70s medical card is €550 for a single person and €1,050 for couples who are married, cohabiting or in a civil partnership.
If your income is higher than the allowed, you will automatically be assessed for the GP visit card, which has higher income limits. Ther is also an option to apply for the Drugs Payment Scheme.
How can Total Law Help?
Total Law is recognized as an excellent service for people undergoing immigration. Total Law is an accomplished team of immigration lawyers that can support you in your application and immigration processes. If you are not a UK citizen, our team can determine what Irish visa best suits your circumstances, can support the entire application process, and ease all of your stresses by answering all of your questions. With the help of our team, your chances of success are increased!
We are available seven days a week and can be reached either by phone on 0333 305 9375 or by our easy to use online chat function. We look forward to hearing from you soon.
Advice Package
Comprehensive immigration advice tailored to your circumstances and goals.
Application Package
Designed to make your visa application as smooth and stress-free as possible.

Fast Track Package
Premium application service that ensures your visa application is submitted to meet your deadline.
Appeal Package
Ensure you have the greatest chance of a successful appeal. We will represent you in any case.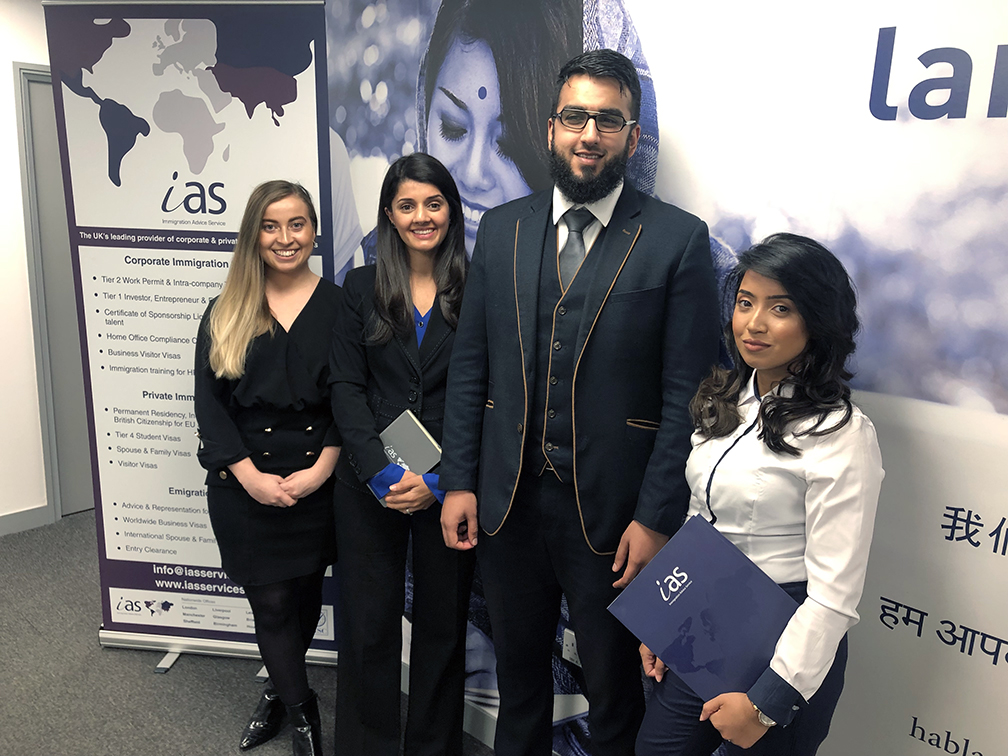 The Advice Package
During this untimed Advice Session with our professional immigration lawyers in London, you will receive our comprehensive advice, completely tailored to your needs and your situation.
Request the Advice Package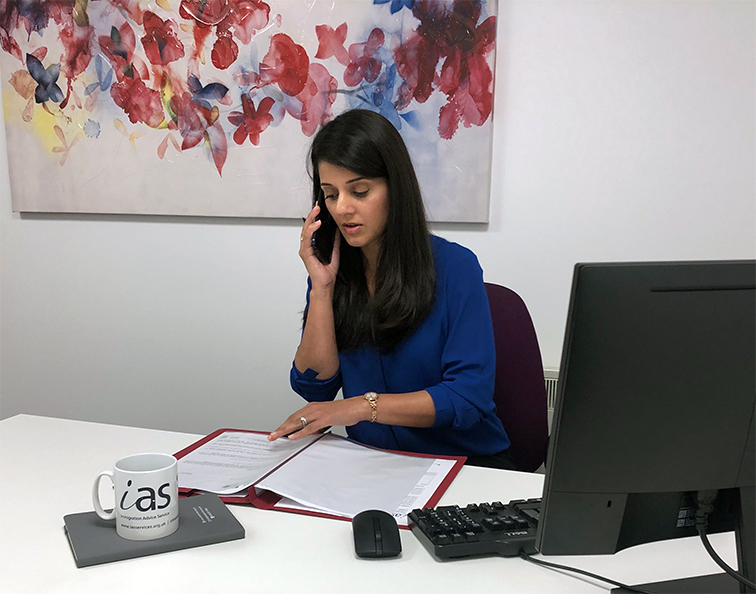 The Application Package
With our Application Package, your dedicated immigration lawyer will advise you on your application process and eligibility. Your caseworker will then complete and submit your forms to the Home Office on your behalf.
Request the Application Package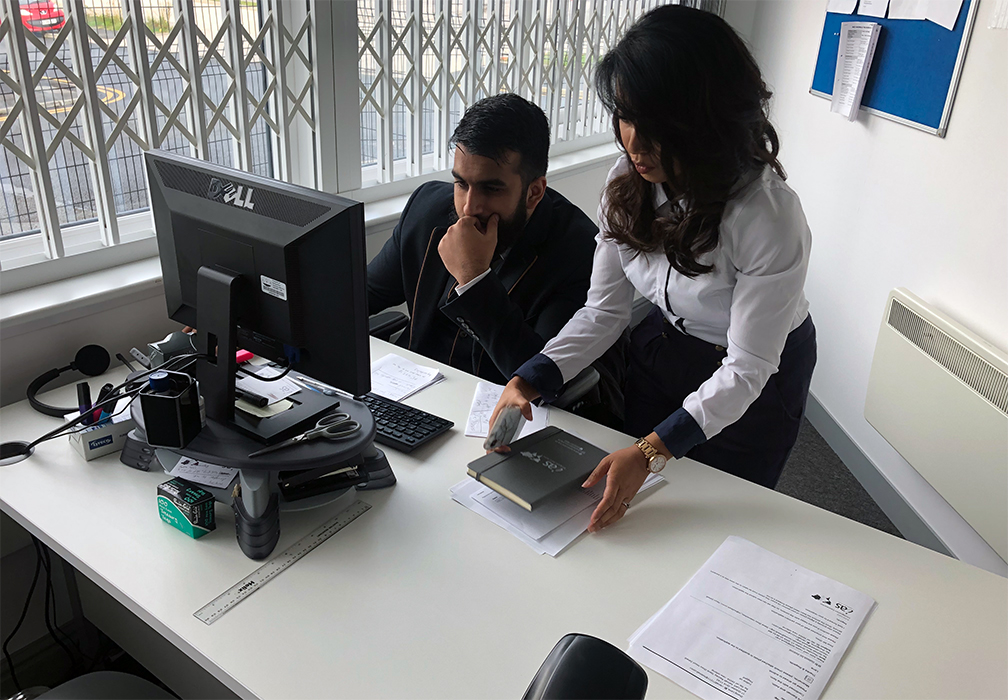 The Fast Track Package
Our Fast-Track Application Package is a premium service for those who need to submit their application in time with their deadlines. Your case will become a top priority for our lawyers and you will benefit from our highest-quality services.
Request the Fast Track Package
The Appeal Package
By choosing our Appeal Package, you can rely on our lawyers' legal knowledge and experience to ensure you have the highest chance of a successful appeal. We will also fully represent you in any hearings/tribunals.
Request the Appeal Package
Related pages for your continued reading.
Frequently Asked Questions
Despite Brexit, the agreement is staying in place and will not be going anywhere! This means that both Irish citizens and UK citizens will still continue to benefit from the freedom of movement.
UK citizens can work in Ireland without needing an employment permit. There is no extra paperwork and you can start searching for a job and apply for suitable roles. However, just like in the UK, some employers may still need a UK criminal record to check or be vetted by the National Vetting Bureau of the Garda Síochána. It can also be worth checking to see if your UK professional qualifications will be recognised in Ireland and if you need to do anything.