UK Visa Sponsorship For Employers Guide
The Government regulates the number of people legally entitled to enter and work in the United Kingdom by issuing visas, and laying down a list of criteria under which people can qualify for one.
Find out more about how to sponsor a visa for skilled workers or other employees, how to apply, and get tailored advice for your immigration situation from one of our legal advisers today.
Call us at Total Law on 0333 305 9375, or contact us online.[1]
Overview of UK Visa Sponsorship for Employers
The official route to allow companies to bring foreign workers into the country as a sponsor is open to anyone who employs staff in the UK, as long as they have no unspent criminal convictions for immigration-related offences, or certain other crimes, mostly involving any kind of deception. These include money laundering and fraud.
Through every stage of any sponsor licence application, you must provide the right information, as and when requested.
This article will take you through the process, one step at a time, using information from trusted and reliable sources, so that you can rely on it to be accurate at the time of publication (September 2023), and to detail each of the steps required towards obtaining your sponsor licence.
"I'm very happy with the standard of training received on the OISC Level 1 course, i passed my exam. Thank you!"
"My application was approved and a huge weight has been lifted from our shoulders this year "
"We used this service for the spouse visa extension application to assure that all the information was valid and correct."
UK Sponsorship Visa Guide
A sponsorship visa UK is a document showing that you, as a UK-based employer, or the UK arm of multinational companies, are willing to endorse the credentials of the person/people who make a visa application as a skilled worker, so that they can enter and work in any part of the UK under the Skilled Worker visa route.
There are strict rules governing the types of work that someone who enters the UK under a visa sponsorship can do. As their employer, you must also make sure that they are paid the legal minimum wage, and do not work more hours than those laid down in the working time regulations, unless for voluntary overtime.
UK sponsor visas are available for people in a wide variety of skilled trades or professions, and the list of these jobs varies from time to time, according to variations in specific needs.
As an employer, you can obtain a licence which allows you to sponsor employees with skilled or long-term jobs, or temporary workers, carrying out specific temporary or seasonal occupations. You can also have a UK visa sponsorship for employers licence allowing you to sponsor both temporary and permanent workers at the same time.
Types of Sponsor Licence
The first is known as a Worker Licence, and sponsorships are available for these under four categories:
Skilled worker: someone who is entering the UK to fill a specific skilled role which is allocated an occupation code by the Office for National Statistics (ONS).
Senior/Specialist worker: the current name for the scheme under which companies can bring existing staff to work in the UK.
Minister of Religion: a licence granted for someone who will be working for a designated religious organisation, and;
International sportsperson: the permission given to allow elite sportspeople to be based in, train and compete in the UK.
As an employer, the UK sponsor visa requirements for a Temporary Worker licence mean that you will only be able to bring someone to the UK if they are:
A 'scale-up worker': working for a fast-growing UK-based company;
A creative worker, for example an entertainer or artist, and will only be in the UK for a maximum of two years;
An unpaid charity worker (maximum licence duration of one year);
A worker for a religious order or organisation (permitted for up to two years);
Taking part in a Government-authorised exchange – for a maximum of one year to gain work experience, or for two years if undertaking practical medical or scientific training;
A worker whose job is covered by international law, such as an employee of an overseas government;
Under Global Business Mobility provisions, a graduate trainee, service supplier with a 6-12-month contract to provide services to a UK company, setting up a new branch or subsidiary of an overseas business, or is transferring to work for a different UK-based business under the terms of a high-value contract, or;
A seasonal horticulture worker (e.g. fruit-picker) coming to work for up to six months, or a worker in poultry processing, working between 18 October and 31 December.
UK Sponsorship Visa Routes
There are currently five main ways to sponsor a visa for employee recruitment.
A visa-holder must fall into one of the following categories:
Skilled Worker
Health and Care Worker
Temporary Worker
Eligible under Global Business Mobility provisions
A 'Scale-up' or 'Expansion' Worker, that is, with skills essential to help a non-UK business become established here
A person who has been granted a Graduate visa for the UK must either re-apply for a new visa under one of the above criteria after two years. This mostly involves them applying via the Skilled Worker route.
Any of the 'worker' licence types on the above list allow a business to sponsor workers in a number of different skilled occupations, paying a minimum of the highest of £26,200 per year, £10.75 per hour, or the current 'going rate' for the work you want to be done.
A senior or specialist worker licence covers any foreign employee transferring from an established business to the UK under Global Business Mobility rules.
Individual categories also cover Ministers of Religion, for people entering the UK to work for a religious organisation, and international sports competitors wishing to be based in the UK.
The temporary worker licence has 11 separate sub-categories, covering the likes of seasonal workers and several specific categories covered by the Global Business Mobility programme.
UK Sponsorship Visa Requirements
Your business will need to prove that it operates legitimately in the UK, and can offer genuine employment to those you sponsor.
You will also need to prove that you are approved by an appropriate regulator, for example the General Medical Council for medical practices, and to prove that you have the necessary planning permission or consent to run your class of business at your trading address.
You must also undertake to satisfy all requirements placed on the holder of a UK sponsor licence.
As an individual, rather than a business, your eligibility criteria for a sponsorship licence are if you are registered as a sole trader, and wish to sponsor someone to come and help with your business.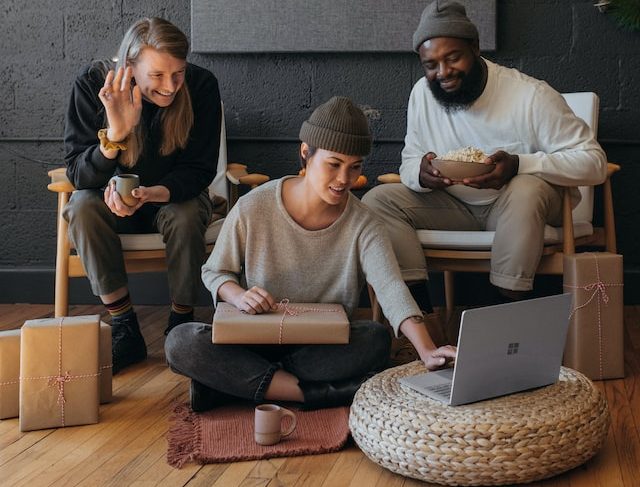 UK Sponsor Licence Application Fee
The visa sponsorship cost to an employer depends on whether your business is classified as either a small, medium or large sponsor, based on the total size of your business or organisation – but not on the number of people whose applications you sponsor.
A small sponsor is a business which meets two of these three criteria:
Has an annual turnover of £10.2million or lower
Has assets of £5.1million or under, or
Has 50 or fewer employees
As of September 2023, the visa sponsorship cost to an employer is £536 per licence for a small company under the above criteria, and £1,476 otherwise.
An enhanced service, granting the employer greater support and access to a dedicated account manager, is also available, fees for which are between £2,000 and £25,000, charges again being made according to the business's size.
If you are sponsoring someone applying for a Skilled Worker or Senior Specialist Worker visa, an extra fee, the Immigration skills charge, applies, if the person concerned is applying from outside the UK for a job lasting for six months or longer, or is applying from inside the UK. No minimum contract length applies in this latter case.
Upgrading a temporary worker licence to one allowing UK visa sponsorship for permanent workers costs an extra £940.
Certain jobs are exempt from the immigration skills charge.
Applying For A UK Sponsorship Visa Licence
You will need to apply online, and register on the sponsor management system.
here are five basic steps to obtaining a sponsor licence:
Check whether your business has the right to offer sponsored visas
Find out whether the job(s) you are recruiting qualify for a sponsorship visa
Decide which type of sponsor licence will be right for your business, using the criteria we listed above
Appoint suitable compliance officers to oversee and manage your sponsorship programme
Apply online for your licence and pay the appropriate fee
You should send your completed sponsor licence applications, together with the appropriate fees and any supporting evidence or documents required using the form at this portal. Your application should take 20 to 30 minutes.
After You Apply
You will hear back from UK Visas and Immigration whether your sponsorship visa UK application has been approved, but a UKVI official might visit your business to help make their decision. Their licence decision will include whether you are classed as a small, medium or large sponsor.
Collection
Certificates of UK visa sponsorship for employers are issued electronically, so once your allocation of the number of certificates has been determined, you will receive these via your Gov.uk sponsor portal.
Applying to Renew an Existing Sponsor Licence
A current UKVI sponsor licence can be renewed up to three months before the end of its four-year validity period. You should log into your existing sponsorship management system account, enter the details requested, and pay the appropriate fee shown.
Can You Work in the UK Without Visa Sponsorship?
There are only a limited number of exceptions to the UK sponsor visa requirements. The main ones are the Graduate Visa scheme and the Global Talent Visa programme. However, there are still separate requirements which must be met for each of these routes.
What Are the Eligibility Requirements for a Sponsor Licence?
You will need proof that your business operates legitimately in the UK, and to prove that you fall into either the small or charitable sponsors, or medium/large sponsors category, according to the criteria outlined earlier.
A small sponsor is one which meets  at least two of the three criteria listed earlier under 'UK Sponsorship Licence Application Fee'.
How Long Will My Sponsor Licence Be Valid?
Each Sponsor Licence is valid for four years from its date of issue.
What Is the Processing Time for a Sponsor Licence Application?
Official Government guidance says that the application process usually takes about eight weeks, so you should factor this into any migrant worker recruitment process. However, a priority service is sometimes available, costing £500 for a fast-track decision within 10 working days. The number of these applications available is limited.
How Can We Help?
Our team of experienced immigration lawyers has expertise in UK and international immigration, and can help your business with every step of the process for getting your Employer's Visa Sponsorship Licence.
There's no need for you to get stuck with any part of the sponsor licence application system – our immigration experts are on hand to talk to you about how to have the best chance of success, and to help with any specific queries.
You can also call on us to help with practical help and advice on applying for any other kind of permission to visit or reside in the UK, such as a UK Spouse visa, or help with applications for other members of your family.
Contact our team today on 0333 4149244 to get more information, or find out how we can help your case. If you prefer, you can also contact us online.
Advice Package
Comprehensive immigration advice tailored to your circumstances and goals.
Application Package
Designed to make your visa application as smooth and stress-free as possible.

Fast Track Package
Premium application service that ensures your visa application is submitted to meet your deadline.
Appeal Package
Ensure you have the greatest chance of a successful appeal. We will represent you in any case.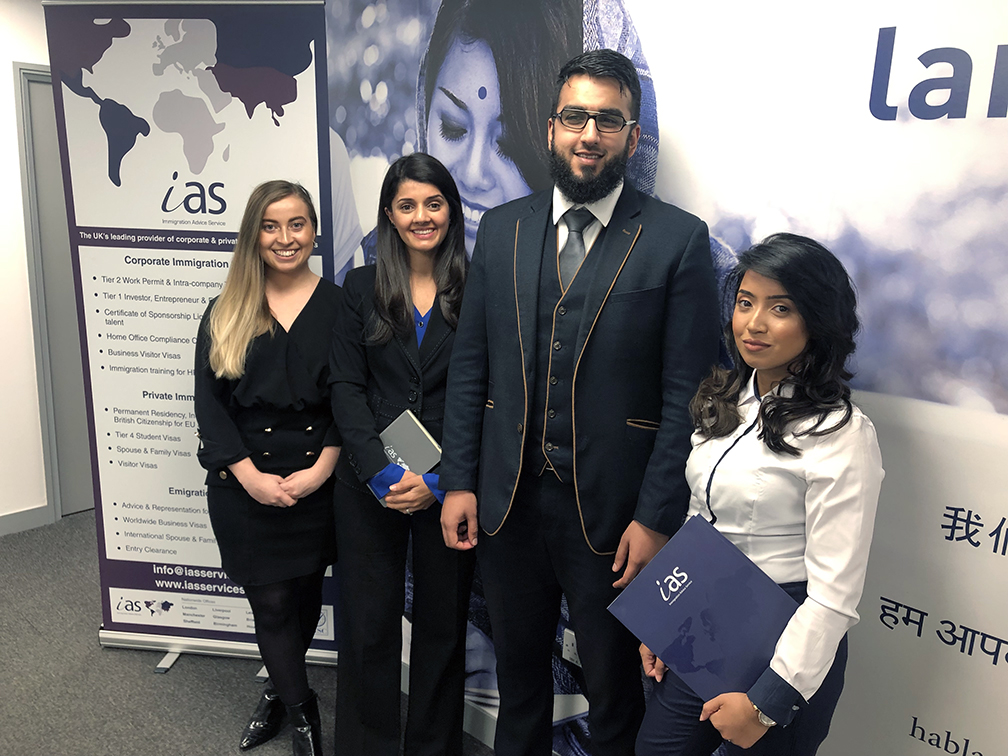 The Advice Package
During this untimed Advice Session with our professional immigration lawyers in London, you will receive our comprehensive advice, completely tailored to your needs and your situation.
Request the Advice Package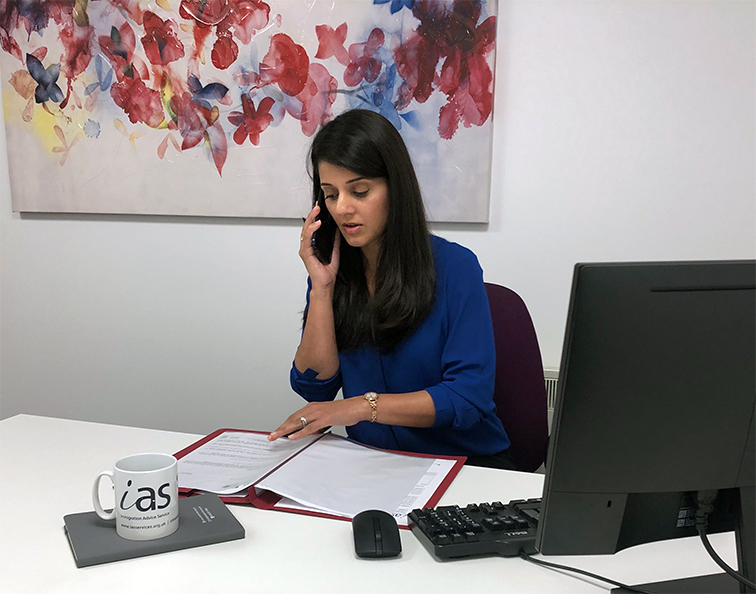 The Application Package
With our Application Package, your dedicated immigration lawyer will advise you on your application process and eligibility. Your caseworker will then complete and submit your forms to the Home Office on your behalf.
Request the Application Package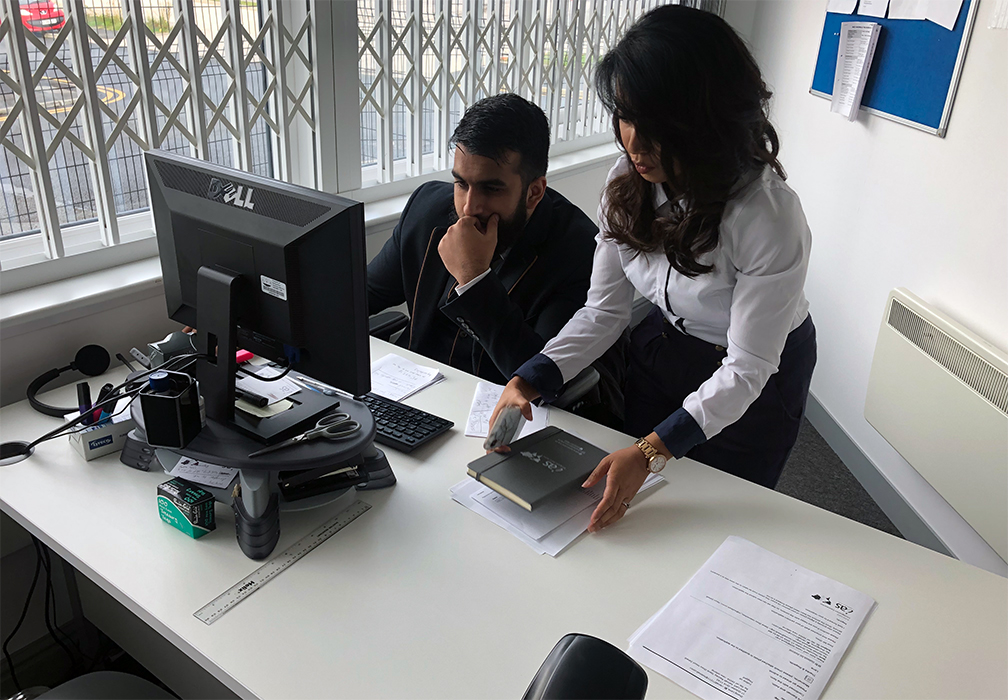 The Fast Track Package
Our Fast-Track Application Package is a premium service for those who need to submit their application in time with their deadlines. Your case will become a top priority for our lawyers and you will benefit from our highest-quality services.
Request the Fast Track Package
The Appeal Package
By choosing our Appeal Package, you can rely on our lawyers' legal knowledge and experience to ensure you have the highest chance of a successful appeal. We will also fully represent you in any hearings/tribunals.
Request the Appeal Package
Related pages for your continued reading.
Frequently Asked Questions[1]
Your business will have to submit to a series of announced site visits by Home Office officials to verify that you are meeting your obligations under the sponsorship rules.
Your company's Sponsorship Management System (SMS) must also be overseen by at least one employee, who will be responsible for accessing and using the Home Office's online licensing system, act as the main contact with the Visas and Immigration Service, and be the designated Level 1 user for the SMS.
Since 1 January 2021, UK employers now need a sponsor licence to employ citizens from Switzerland or any country in the European Economic Area, in the same way as from any other country. The procedure is the same as for obtaining any other sponsor licence.
Once your initial Expansion Worker has obtained their visa, you can apply to upgrade your A-rated licence, so you can issue multiple sponsorship certificates.
You will then need to use the sponsorship management system to request further certificates of sponsorship.
If you are suspected to have employed someone without the legal right to work in the UK, and you have either not checked fully or at all their eligibility, the Government can issue a 'referral notice', telling you it is investigating your case.
If you are found to have done this, you could be fined up to £20,000 for each illegally-employed worker. Immigration officers can also publish details of your business, to warn others of the consequences of employing workers illegally.
For more information about UK Visa Sponsorship for Employers, including details about what your business needs to be a sponsor licence holder, how to apply, and to receive individual advice for your immigration requirements, reach out to one of Total Law's legal advisers today. Call us on 0333 4149244, or contact us online.