Refugee Family Reunion Application Process
Refugees fleeing conflict and persecution in their home countries may find refuge in the United Kingdom; however, reuniting with family is often a priority, and thankfully, the UK offers support for this. Refugee families can reunite through the Refugee Family Reunion Visa.
This process can be complex and difficult, which is why it is good to speak to an immigration lawyer to get assistance as you go through the process. Total Law lawyers are experts in immigration law and can help you reunite with your family today. Just call us at 0333 305 9375.
What Is The Refugee Family Reunion And Who Is Eligible For It?
Family reunion and unity are pivotal human rights. Those who have been separated from their family during or before their flight to refuge may be able to apply to have their family join them in the UK. However, there are specific conditions for this.
Whether or not your family will be able to join you depends on the type of legal status that the individual is granted and the nature of the familial relationship.
The requirements for refugee family reunions are rather straightforward for partners and children of individuals who existed at the time that the refugee fled their origin country. These types of applications have no fees, and there is no requirement for the refugee to be based in the UK to show any specific income level or meet English language requirements.
However, new family members that the refugee may have married after they left their origin country, or newly born children over the age of 18 at the time of application, and other relatives will find it harder to meet the requirements. This is because the rules will be harder to meet.
"I'm very happy with the standard of training received on the OISC Level 1 course, i passed my exam. Thank you!"
"My application was approved and a huge weight has been lifted from our shoulders this year "
"We used this service for the spouse visa extension application to assure that all the information was valid and correct."
Eligibility
The partner or child of a refugee may be able to join the refugee in the UK and stay with them if they meet certain criteria, as follows:
The family member was a relative before they were forced to leave their origin country.
The family member has protection status, such as permission to stay in the country as a refugee or someone who has humanitarian protection.
If the family was formed after leaving the country, then the partner or child will first be required to apply for a visa to join their family member in the UK. The same rules apply if they cannot apply as a partner or child.
There are some instances where a partner or child will not be able to join their UK-based family member. These situations include:
Instances where the original applicant has not yet received a decision on their claim for asylum in the UK.
When the original applicant is under the age of 18.
Requirements For A Partner
The partner of a refugee in the UK needs to be a person who has a genuine relationship with the refugee. They must also be able to prove that one of the following is true:
They are a married couple.
They are in a civil partnership.
In some instances, the partner may be allowed entry into the UK if they have lived with the UK-based refugee for two years in a relationship like a marriage or civil partnership before they had to flee their country of origin.
Requirements For A Child
The child of a refugee in the UK needs to fit the following criteria:
Be under the age of 18.
Not be married or in a civil partnership.
However, if the child is over the age of 18, they can apply as a child if all of the following criteria apply to them:
The child is dependent on the refugee for emotional and financial support.
The parent of the child is in the UK, or they are considered eligible to come to the UK for a family reunion and plan to travel to the UK.
The child has no independent life and is unable to afford essential living costs.
The child has no other relatives for support and is unable to get work or support in the country where they currently reside.
Refugee Family Reunion Application Process
Applicants for the refugee family reunion visa can apply from inside or outside of the UK.
Applying From Outside The UK
Family members applying for family reunion visas can apply from outside of the UK by applying online. This can be completed via the UK government website via UKVI (UK Visas and Immigration). As well as this, they will have to complete the VAF4A application form in Appendix 4.
The Appendix 4 form is essential when applying to travel to the UK to reunite with immediate family as a refugee. However, this form is exclusively for partners and children of refugees already in the UK.
Upon completion of the application, the UK government will also need to take the applicant's photograph and fingerprints; this is known as biometric information. This is essential to obtaining a BRP (biometric residence permit). Fingerprints and photographs will be taken at a visa application centre as an aspect of the application's completion.
Obtaining A Decision
Those who have applied for the refugee family reunion visa should receive a decision within 9 months. However, if the applicant has not received a decision in this time frame, they can contact UKVI (UK Visas and Immigration) for assistance.
Applying From Inside The UK
A partner or child in the UK can apply to stay with their UK-based relative if all of the following apply to them:
The UK-based individual has protection status, which could be permission to stay in the UK as a refugee or a person who has humanitarian protection in the country.
The applicant is making the first application to stay with a UK-based relative, and they are already inside the UK.
The applicant can prove that they have had a relationship with the UK-based relative before fleeing their origin country to seek protection.
Once the family member has applied for this type of visa in the UK, they will have to make an appointment at a Service and Support Centre in the country to provide their biometric information, including their photograph and fingerprints. Additionally, they will have their application supporting documentation checked over at this point as well.
Note that there is no fee necessary to apply for a family reunion visa for eligible family members.
All Application Criteria
There are relevant rules set out in the Appendix Family Reunion (Protection) section. In this regard, there are particular general criteria that every person who applies for a family reunion visa has to meet. These rules are set out in Appendix paragraphs FRP 1.1 to FRP 3.1 and include the following rules:
Valid applications must be made and set out as required, as stated above.
The applicant has to establish their identity and nationality through valid means. To do this, they will need to present identity documents, including options such as travel documents, passports, national ID cards, and birth certificates.
Family members with whom the applicant is applying to reunite have to meet all of the suitability requirements. Thus, the family members must not have committed any acts that fall under the exclusion clauses of the Refugee Convention. These are considered to be serious criminal offences, including serious non-political crimes or war crimes.
There is a list of grounds for refusal in the above-listed Appendix; these grounds for refusal are based on applicant suitability as contained in Part 9 of the immigration rules. This is an extensive list that relates to past immigration and criminal history. Should the applicant have committed an act on this list, it can lead to the application being refused.
How Can I Sponsor A Partner For A Family Reunion?
Certain refugees can sponsor their family members for a family reunion visa application. This includes refugees who fit into the following groups:
Refugees That Successfully Claimed Asylum In The UK
A majority of refugees in the UK will have made an asylum claim once they reach UK territories. Those who successfully claimed asylum in the UK can sponsor family members to enter the UK to be with them.
However, do note that if a refugee ends up becoming a British citizen, they will lose the right to sponsor a refugee family reunion and would instead have to apply to reunite with family using a different route under UK immigration law.
Refugees Who Have Resettled
The UK Home Office has guidance that confirms that refugees who have resettled will be eligible for family reunions as long as they are recognised by the UK government as refugees.
This does not apply to those who are granted indefinite leave to remain under an Afghan route. Therefore, if an individual is granted leave to remain through a route such as ARAP (Afghan Relocation and Assistance Policy), they won't be considered an eligible sponsor for refugee family reunion purposes. In this case, individuals should seek out legal assistance.
Those With Humanitarian Protection
Although those with humanitarian protection are not necessarily considered refugees, what is said regarding family reunions also applies to individuals who have been granted humanitarian protection in the UK.
Appendix Family Reunion and Appendix CNP both refer to sponsors as having protection status; this includes those who have refugee and humanitarian protection leave, regardless of other specifics of an individual situation.
Children Under The Age Of 18 In The Family Reunion Application
There are certain requirements that children of refugees need to meet. The key requirements that a child must meet as per Appendix Family Reunion of Immigration Rules FRP 5.1–6.2 are as follows:
The child must be the child of the person in the UK (sponsor) who has left as a refugee or has humanitarian protection. This also includes stepchildren and adopted children from a country that has an adoption procedure that is recognised in the UK. However, this does not cover 'de-facto' adoptions or customary forms of adoption where a child may live with another family member, but there has been no 'official' legal adoption.
The child must be under 18 years old at the application date, or if they are ages 18 or over, there must be exceptional circumstances in effect
The child must not be leading an independent life. Nor can they be married or in a civil partnership. The child can also not have an independent family unit.
The child must have been a part of the family unit of the refugee at the time when the refugee left their origin country. Meaning conception or birth before the refugee flees their origin country.
There are no requirements to show any adequate accommodation or maintenance without recourse to public funding for this. Sponsors can receive benefits and still sponsor their children to enter the UK if the other requirements are met.
With these rules in place, it is also important to note that refugees in the UK can sponsor children who are not their own but are family members, such as grandchildren, nieces, or nephews. Through this route, you can also bring children being raised via a family 'de-facto' adoption. The requirements in this case for the applicant are as follows:
The child is a relative of the UK-based refugee who has refugee or humanitarian protection leave.
The child is under the age of 18 at the application date and has established their identity or nationality.
The child can show that there are compelling or serious family (or alternative) considerations that make the child's exclusion undesirable.
The child must not be leading an independent life, be in a civil partnership, be married, or have a family unit.
The child can or will be maintained and accommodated adequately in the UK without additional recourse to public funding or the accommodation that the sponsor currently occupies.
Suitable arrangements are in place for the care and accommodation of the applicant.
Adequate accommodation and maintenance without recourse to benefits does apply here, but the UK minimum income threshold of £18,600 is not applicable.
When Should I Get Results From The Family Reunion Visa Application?
It typically takes a minimum of three months for a family reunion visa to be processed. But be aware that it can take longer for the Home Office to make a decision based on the collection of evidence.
It can also take longer for the whole process to be completed, depending on the evidence prepared and collected and how much supporting documentation is provided.
What Happens After I Receive The Outcome Of The Application
If the application is refused, applicants have a right to appeal, even if this right is not mentioned in the letter of refusal. Applicants will have 28 days after receiving the decision to appeal.
However, if the application is accepted, the family member will be given a visa that will last 90 days. The family will have a three-month period during which they need to travel to the UK. However, if this is not achievable due to circumstances outside of their control, then their visa will expire, but they can renew it. If the family member needs to renew their visa, then they must contact the Home Office.
Once the family member is in the UK, they will be provided with a BRP (Biometric Residence Permit) that will last as long as the refugee status.
Note that once the refugee family member in the UK applies for ILR (Indefinite Leave to Remain) after their refugee status or humanitarian protection, it is best to seek legal advice as to the family member's UK leave.
This is because the family members' right to be in the UK depends on the relationship they have with the refugee. If this relationship should change or break down, or once the individual's status changes, there may be implications for the family members.
How Our Total Law Immigration Lawyers Can Help You
Making an application for a refugee family reunion in the UK can be tricky. Understanding eligibility and what needs to be provided can be a challenge; this is why having expert legal aid can help.
Here at Total Law, we can help you prepare your application and more. Our services include:
Asylum applications and appeals.
Detained casework.
Bail (SoS applications, tribunals, and renewals).
Fresh claims.
Permission to work applications.
Travel documentation.
BRP issues.
Family reunion applications and appeals.
Applications for permission to appeal.
Errors in law preparation and hearings.
Give us a call today at 0333 305 9375 and let us help you work towards our family reunion!
Advice Package
Comprehensive immigration advice tailored to your circumstances and goals.
Application Package
Designed to make your visa application as smooth and stress-free as possible.

Fast Track Package
Premium application service that ensures your visa application is submitted to meet your deadline.
Appeal Package
Ensure you have the greatest chance of a successful appeal. We will represent you in any case.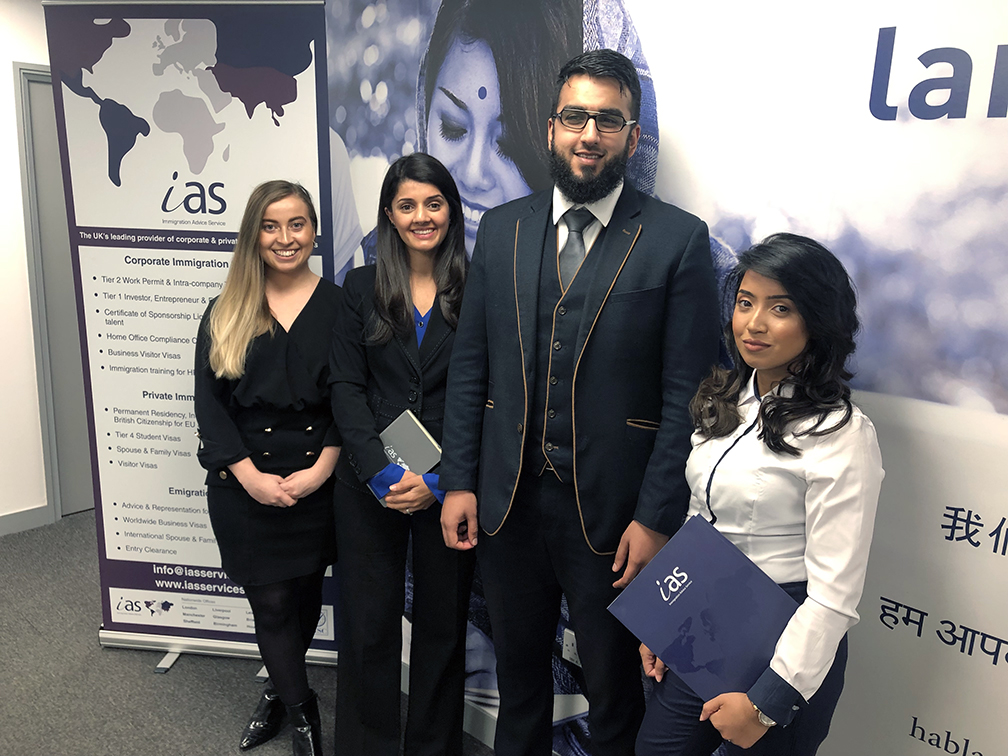 The Advice Package
During this untimed Advice Session with our professional immigration lawyers in London, you will receive our comprehensive advice, completely tailored to your needs and your situation.
Request the Advice Package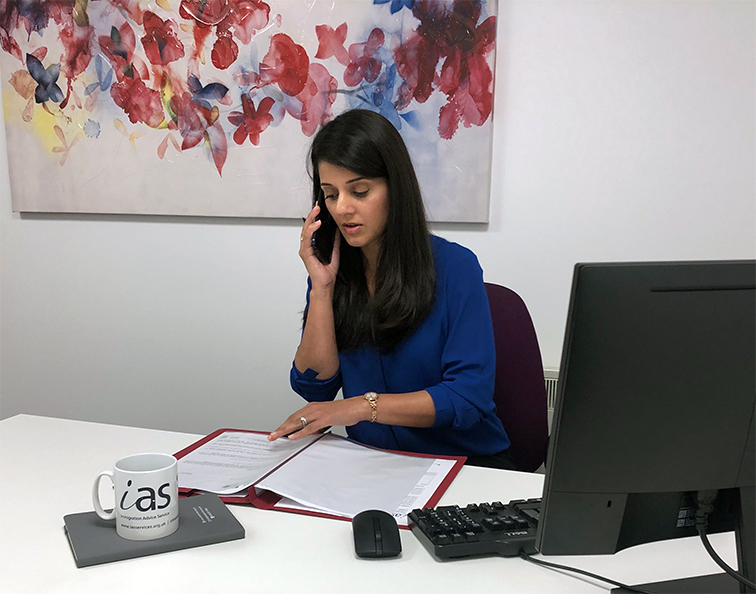 The Application Package
With our Application Package, your dedicated immigration lawyer will advise you on your application process and eligibility. Your caseworker will then complete and submit your forms to the Home Office on your behalf.
Request the Application Package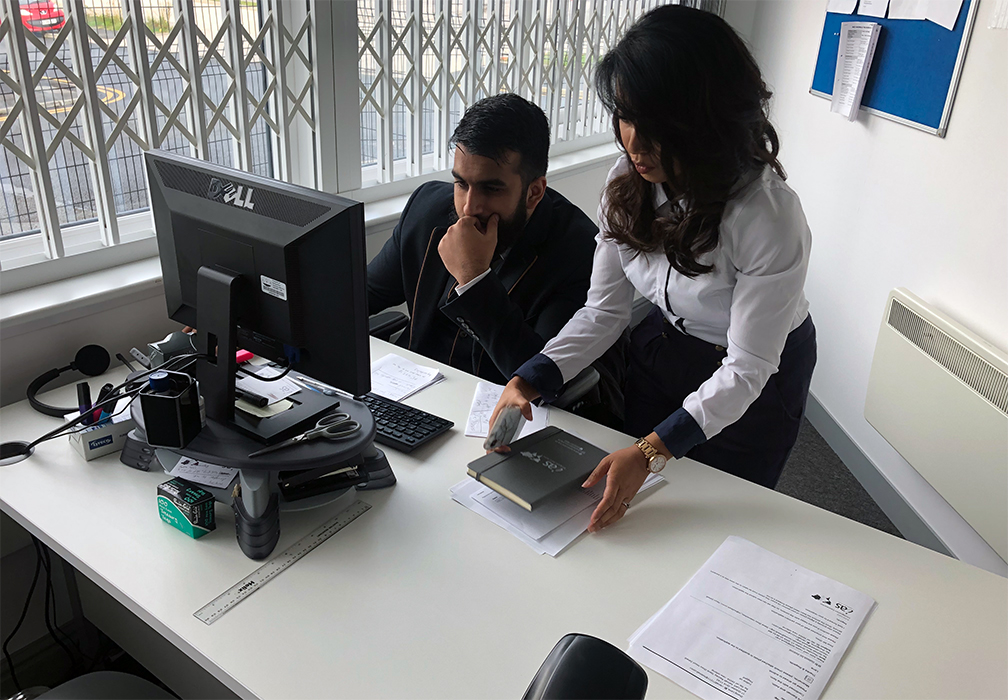 The Fast Track Package
Our Fast-Track Application Package is a premium service for those who need to submit their application in time with their deadlines. Your case will become a top priority for our lawyers and you will benefit from our highest-quality services.
Request the Fast Track Package
The Appeal Package
By choosing our Appeal Package, you can rely on our lawyers' legal knowledge and experience to ensure you have the highest chance of a successful appeal. We will also fully represent you in any hearings/tribunals.
Request the Appeal Package
Related pages for your continued reading.