UK Family Visas
The UK offers a myriad of options for people wishing to remain in the UK on the grounds of certifiable familial bonds with UK citizens or foreign citizens who legally dwell in the country under different circumstances.
For more information related to UK Family visas, don't hesitate to call us at +1 844 290 6312, fill out our online contact form or use our live chat feature.
What is a UK Family Visa?
UK Family visas are authorizations issued by the UK's Home Office to individuals who ask to remain on UK soil in order to reunite with a family member who is either a British citizen or is settled in the country under specific statuses. In comparison to a family/dependent temporary visa, this type of UK visa allows for longer stays in the UK.
The relationship in these cases has to be clearly established. Furthermore, not every family member is eligible for a UK Family visa, but only those within the closest circles or with a particular commitment.
For more information, visit the gov.uk website.
"I'm very happy with the standard of training received on the OISC Level 1 course, i passed my exam. Thank you!"
"My application was approved and a huge weight has been lifted from our shoulders this year "
"We used this service for the spouse visa extension application to assure that all the information was valid and correct."
What are the eligibility criteria for a UK Family Visa?
You'll require a UK Family visa if you wish to join and live with family members established in the UK within a timeframe exceeding 6 months.
These are the family members you'll be able to join when filing a UK Family Visa request:
Your spouse/civil partner
Your fiancé/fiancée or proposed civil partner
Your child
Your parent
A relative who will care for you in the long term
UK Spouse Visa
The UK Spouse visa is granted to civil partners, spouses, or fiancés/fiancées (for the purposes of this guide, we'll refer to them simply as partners) who are 18 years old or over. Both partners must fulfill this age requirement.
If you want to be an applicant for this type of UK visa, your partner must likewise fill either one of these criteria:
Have British or Irish citizenship
Have settled status or Indefinite Leave to Remain in the UK
Be a citizen of the EU, Switzerland, Iceland, Norway, or Liechtenstein and in possession of a pre-settled status, as well as living in the UK before January 1st, 2021)
Hold a Turkish Businessperson or Turkish Worker visa
Have humanitarian protection or refugee status in the UK
You'd also have to prove that:
You're in a marriage or civil partnership legally recognized inside the UK
You've been living together as a couple for 2 years minimum at the time of application
You're a fiancé/fiancée or proposed civil partner with the prospect of entering into a legal marriage or civil partnership within 6 months of arriving in the UK (provided there are no previous unended marriages)
You have sufficient knowledge of English (you won't need to provide documentary evidence if you're from an English-speaking country such as the US or Canada)
You and your partner have a joint yearly income of £18,600 minimum, with extra surcharges if you have children who are not British nor Irish or who are not permanently settled inside the UK (amounting to £3,800 for your first child and£2,400 for each subsequent child)
Extensions may be requested if the ceremony suffered delays for reasons related to COVID-19.
Dependent Child Visa
Children may apply for a visa to join a parent who resides legally in the UK. A "child", in the context of the UK's immigration rules, is defined as a person under 18 years of age at the moment of becoming a Child Visa applicant. However, in certain exceptional situations, offspring over the age of 18 can correspondingly apply as dependents.
Children do not have to be applicants if one of their parents has been granted an Indefinite Leave to Remain or is settled under the EU Settlement Scheme.
Children Born Inside the UK
Children born in the UK are entitled to the same authorization as their parent/parents.
Children under 18 can either:
Be included in their parent's next UK visa application as dependents
Apply separately (in which case, the kind of permission granted to the parent or parents must be specified)
People over 18 can exceptionally be included in a UK visa application as dependents if the following conditions are met:
They got permission to visit or stay in the country on a family visa when they were under 18
They don't live independently
They apply from inside the destination country
Children Born Abroad
In the case of children abroad, their eligibility hinges on their age and their parent's specific visa type.
Children under 18 must meet the following criteria:
They must be unmarried and not living independently from their parent/parents
They ought to be economically reliant on their parents and not receive public funds or benefits
One of their parents must apply or have applied for a visa or visa extension as a partner (joining the other parent) or as their sole parent with parental responsibility
People over 18 years old can be included as dependents in their parent's visa application or apply separately, but only if:
They were permitted to remain in the UK with a family visa when they were under 18
They're not independent
UK Ancestry Visa
You'll be capable of applying for an Ancestry visa if you are:
A Commonwealth citizen (as in, from the countries listed here)
A British overseas citizen
A British overseas territories citizen
A British national (overseas)
A Zimbabwe citizen
To opt for an Ancestry visa, apart from the criteria laid out above, you must:
Prove that one of your grandparents was born in the United Kingdom, the Channel Islands, the Isle of Man, Ireland (before March 31st, 1922), or on a ship or aircraft registered in the United Kingdom or belonging to the UK government
Be 17 or older
Prove that you have enough money to sustain yourself and your dependents and don't need to receive public funds or benefits
Be capable of working and plan to work in the UK
There are certain impediments to claiming ancestry. You could claim ancestry if you or your parents were adopted by UK citizens. However, you'll not be entitled to the claim through step-parents.
Parent Visa
Parents can apply for a visa in the UK in order to care for their children. Nevertheless, if you're eligible for a Spouse/Partner visa, you should opt for that one instead.
Not all parents are suitable candidates for a Parent visa, but only those with parental responsibility provided that the responsibility is not shared with a current partner.
In cases of shared parental responsibility, the other parent (non-partner) must have British or Irish citizenship or be legally permitted to remain in the country via Indefinite Leave to Remain, or pre-settled/settled status. If the child cohabitates with the other parent/caretaker, you must provide evidence that you can legally access the child physically via an agreement with the other party or by virtue of a court order.
To proceed with this petition:
Your children must live in the United Kingdom at the time of application
They should be under 18 when the application was submitted or when you were issued your first leave, in which case they must not live independently as they cross the age threshold
Also, one of these conditions must be met:
They're British or Irish citizens
They have an Indefinite Leave to Remain or Settled Status
They're citizens of the EU, Switzerland, Iceland, Norway, or Liechtenstein with a pre-settled status (provided also that they resided in the UK before January 1st, 2021)
They have been living in the UK continuously for 7 years and present circumstances prevent them from leaving (only acceptable if you apply from inside the United Kingdom)
Dependent Adult Visa
The Dependent Adult Visa is a very specific type of visa that is issued in cases of foreign citizens who are unable to care for themselves due to disability, illness, or age. If you're in one of these situations, you're entitled to apply for a Dependent Adult visa, provided that you do so from outside the country and have a relative who lives permanently in the UK.
In that sense, you must provide proof that:
You are in need of long-term care in order to perform everyday chores and tasks because of age, illness, or disability
There is no way to get the care you require in the country you're currently in because there are no available options or they're not affordable
The person you'll join is capable of supporting you without needing public funds or benefits for 5 years minimum
You're over 18 years of age
On the other hand, your caregiver must:
Have British or Irish citizenship
Be in possession of Indefinite Leave to Remain or Settled Status
Have pre-settled status as a citizen of the EU, Switzerland, Iceland, Norway, or Liechtenstein and began living in the UK before January 1st, 2021
Have humanitarian protection or refugee status inside the UK
What are the documents needed for the family visa application?
For each type of visa, the immigration bureau may require additional documentation in order to establish or verify certain information, such as proof of relationship, or details of previous marriages.
However, in essentially all cases, the following information is demanded:
Full name
Date of birth
Current passport or valid travel ID
Copies of your photo page and visa or entry stamps in previous passports
A copy of your biometric residence permit whenever available
Details of criminal convictions
Information on previous applications submitted to immigration authorities
National insurance number, when applicable
Your parent's birthdate and nationality (if applying from outside the country)
Certified translations of documents that are not in English or Welsh
Document proving your knowledge of English (not applicable to citizens of several English-speaking countries, including the US and Canada)
Tuberculosis test results (only if you apply from countries where the test is mandatory)
What are the fees for the different types of family visas?
The fees for UK family visa applications are very standard in comparison to other visa categories. These are, in summary, the amounts you ought to pay:
If joining your partner, parent, or child, you'd have to pay £1,538 for applications outside the UK or £1,048 inside the UK. The same costs would be charged for each dependent added to your request
For an adult in need of care by a relative, the fee for applying from outside the country ascends to £3,250, while the fee for applying inside the UK remains at £1,048
Advice Package
Comprehensive immigration advice tailored to your circumstances and goals.
Application Package
Designed to make your visa application as smooth and stress-free as possible.

Fast Track Package
Premium application service that ensures your visa application is submitted to meet your deadline.
Appeal Package
Ensure you have the greatest chance of a successful appeal. We will represent you in any case.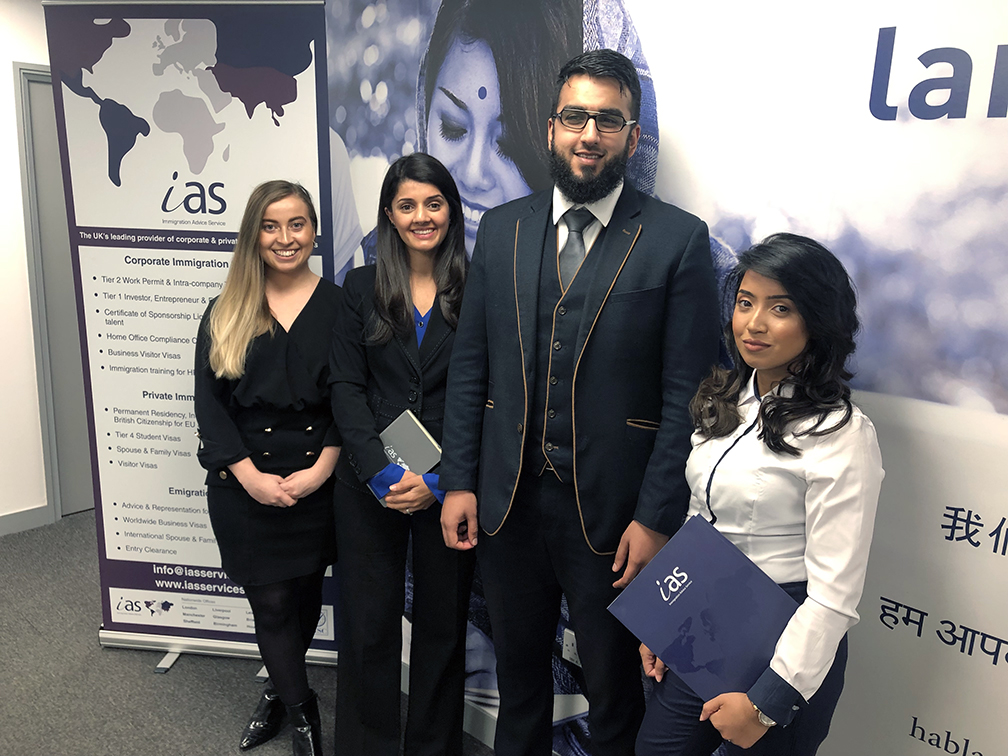 The Advice Package
During this untimed Advice Session with our professional immigration lawyers in London, you will receive our comprehensive advice, completely tailored to your needs and your situation.
Request the Advice Package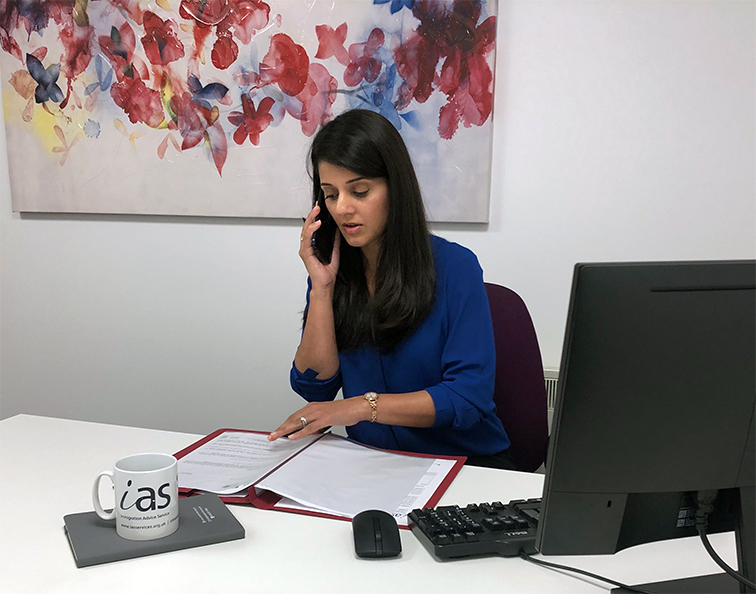 The Application Package
With our Application Package, your dedicated immigration lawyer will advise you on your application process and eligibility. Your caseworker will then complete and submit your forms to the Home Office on your behalf.
Request the Application Package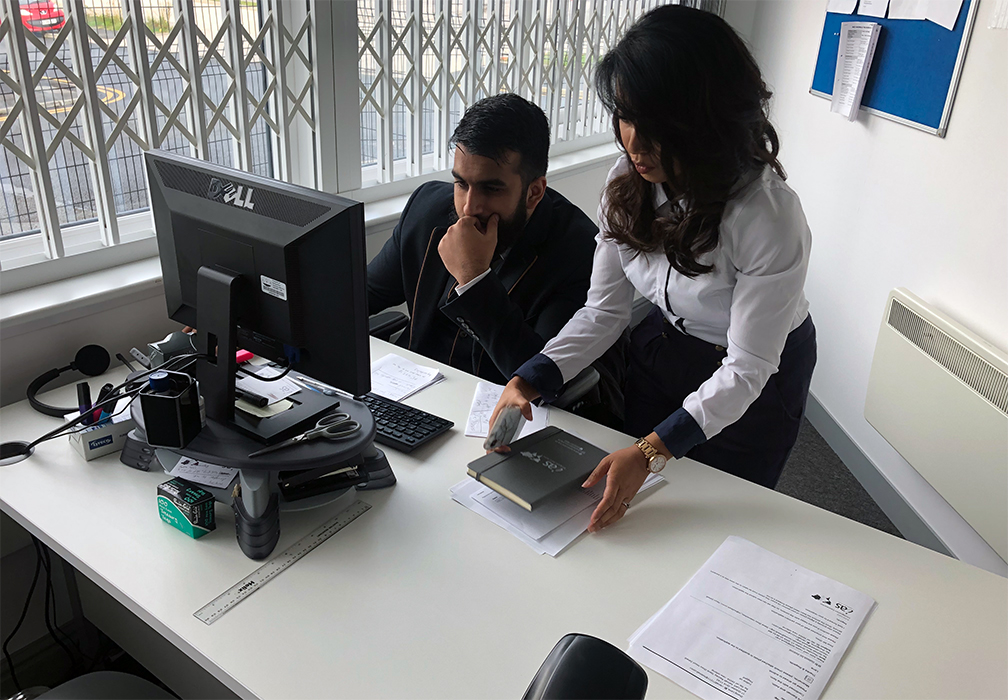 The Fast Track Package
Our Fast-Track Application Package is a premium service for those who need to submit their application in time with their deadlines. Your case will become a top priority for our lawyers and you will benefit from our highest-quality services.
Request the Fast Track Package
The Appeal Package
By choosing our Appeal Package, you can rely on our lawyers' legal knowledge and experience to ensure you have the highest chance of a successful appeal. We will also fully represent you in any hearings/tribunals.
Request the Appeal Package
Related pages for your continued reading.
Frequently Asked Questions
You may be able to appeal the decision if your UK Family Visa petition is declined, in which case the decision might get reconsidered and overturned whenever the requisites are fulfilled. Appeals are more useful than many people realize, as, statistically speaking, the chances of a good outcome are considerably high.
Spouse visa holders have clearance to work in the UK, while dependents would be enabled to work while their caretaker/parent is legally residing in the UK, albeit with certain restrictions.