Sponsor Licence for Care Workers
A UK organisation providing medical services must obtain a sponsor licence if they seek to hire overseas health and care workers.
If you are looking for more information and/or advice regarding your eligibility to apply for a health and care worker sponsor licence, the application process, or supporting documentation, dial +44 (0)333 305 9375 today to speak with our legal team.
Purpose of a Health and Care Worker Sponsor Licence
To address skill gaps in the healthcare sector, the UK government launched the Health and Care visa on 4 August 2020 for hiring overseas health workers who meet the Home Office-specified eligibility criteria. The role of care workers and home carers have been included on the Home Office's Shortage Occupation List since 16 February 2022.
Overseas doctors, nurses and other allied health professionals such as senior care workers, who have been trained to a standard recognised in the UK and have good English language skills, are eligible to apply for a Health and Care visa, which is part of the Skilled Worker route to immigrate to the UK.
However, to be able to apply for a Health and Care worker visa, the eligible overseas medical and care workers will have to be sponsored by a UK employer. This prospective UK employer, in turn, must possess a valid 'Worker' sponsor licence to assign certificates of sponsorship (CoS) for the health and care worker subcategory under the Skilled Worker category.
In general, the eligibility criteria and supporting documentation for sponsoring a health and care worker are similar to that of the Skilled Worker sponsor licence. However, there is certain additional information that the UK employer must provide on the CoS, to be able to sponsor an overseas health and care worker. We will discuss this in detail later in this article.
"I'm very happy with the standard of training received on the OISC Level 1 course, i passed my exam. Thank you!"
"My application was approved and a huge weight has been lifted from our shoulders this year "
"We used this service for the spouse visa extension application to assure that all the information was valid and correct."
Eligibility Criteria for a Health and Care Worker Sponsor Licence
Overview
To sponsor medical professionals from overseas on a Health and Care visa, the UK companies and organisations will need to prove that they are eligible to apply for a 'Worker' sponsor licence.
They will have to assure the Home Office of the genuineness of their organisation, their capability to undertake sponsorship responsibilities once the licence is granted, and the genuineness of the job offer. Additionally, they will have to demonstrate that they have full control over the job being offered to the prospective overseas workers.
Genuineness of Your Organisation
You will have to satisfy the Home Office that you are:
A genuine organisation operating legally and actively in the UK
An honest, dependable, and reliable company, who has never been a part of any criminal activities, such as immigration fraud or financial crimes
Ability to Perform Your Sponsorship Duties
To demonstrate that you intend to, and are capable of, conducting your sponsorship duties to the satisfaction of the Home Office, you must:
Have an appropriate sponsor management system in place to meet your sponsor licence duties, including (but not limited to) your HR systems, policies and processes
Have appointed your Key Personnel, namely:

An authorising officer who will be responsible for the actions of your staff and representatives using the sponsorship management system (SMS) tool
A key contact who will be your main point of contact for the Home Office
At least one level 1 user who will oversee the day-to-day management of your sponsor licence using the SMS
Genuine Vacancy Requirement Meeting Skills and Salary Requirements
You have to satisfy the Home Office that the job you will be offering to your prospective overseas health and care worker is a genuine job.
That is, it is a position that actually exists within your company, the successful overseas candidate will be hired to perform the duties associated with that specific job, and you have not created the position just to enable the candidate to apply for a work visa in the UK.
Moreover, the job you are offering must meet the skill level as specified by the Home Office in its eligible occupations list or shortage occupations list, and matches description of one of the standard occupation codes (SOC).
Additionally, you must be able to pay your overseas worker a compensation package that at least meets the minimum salary threshold for the job's respective SOC code.
Control of the Work Requirement
Sponsorship is always awarded to the actual employer only. Recruitment agencies of professionals in the UK who are hiring healthcare workers for a third party will not be able to obtain a sponsor licence.
This is so because the Home Office considers sponsorship a privilege, and as such this privilege is only accorded to a genuine UK business who has the intention as well as the capability of undertaking full responsibility for the duties, functions and outcomes of the job offered.
UK Visas and Immigration (UKVI) will go through your company background as well as its operating history in the UK to ensure you meet all the above criteria. Furthermore, they will conduct a background check of your Key Personnel to determine if they are fit to manage your sponsorship responsibilities.
During or after the licence application process, the UKVI officials may visit, announced or unannounced, your business premises, where your prospective sponsor workers will be working from, to examine your eligibility as a licensed sponsor and ensure that you are performing your sponsor duties as expected.
Documents Required for a Health and Care Worker Sponsor Licence
For sponsoring overseas workers on the Health and Care route to the UK, you will need to submit certain supporting documents along with your sponsor licence application.
If your company/organisation is not exempted by the Home Office from submitting business-related supporting documents, you will have to submit at least four documents from the below list along with your sponsor licence application:
Your latest audited or unaudited account statements. Audited accounts are mandatory if you are obliged to file audited accounts according to the law
Your liability insurance certificate (of at least £5 million in insurance from an authorised insurer)
Your Certificate of VAT registration
Your latest corporate bank account statement
Evidence of your registration with HMRC, such as your PAYE and accounts office reference numbers
Proof of ownership (or a commercial rental agreement) for your business premises
Proof of registration where the company is required to be registered with and/or inspected or monitored by a regulatory body to operate lawfully in the UK
Additionally, you must provide the following information:
Why you are applying for a sponsor licence
What are your operating hours
A hierarchy chart of your company including the owner (if any), director and board members, and the total number of your current employees
For each job role for which you seek to assign a CoS, please provide the job title and its related occupation code, job responsibilities, where the job sits on your company's hierarchy chart, the minimum salary you would guarantee to your prospective overseas employee, and the skill, experience and qualifications required for that job
A list of vacancies in your organisation, for which you seek to assign a CoS
If you have selected the overseas health professional already whom you wish to hire, please provide proof of how you have identified them
If you have not advertised the job yet, you will have to confirm how you will identify the most suitable candidate for the job
If you have already identified a suitable candidate for the job and seek to assign a CoS to them, please provide their full name, date of birth, nationality, current immigration status, current job title and duties, and three months' payslips, if applicable
Please note that, even if an exemption applies in your case, the Home Office may ask you for further information and additional supporting documents.
Additional Information to be Provided in the Certificate of Sponsorship for Health and Care Workers
UK organisations holding a valid licence to sponsor overseas health and care workers will need to provide additional information on the CoS they are assigning to such workers, or while applying for a Defined CoS that they intend to assign to their sponsored overseas staff.
In the 'Summary of job description' field of the CoS, they must provide a brief explanation of how the worker meets the Health and Care visa criteria.
Additionally, private organisations providing health and care services on behalf of the NHS, will also have to include brief information about their contract or agreement with NHS trusts or bodies.
If you have forgotten to include the above information in the 'Summary of job description' while assigning a CoS, you must add a 'sponsor note' with this information (as applicable) after you have assigned the CoS.
Please note that UKVI may ask private organisations to submit documentary evidence of their arrangements with the NHS.
Moreover, you will have to inform your sponsored workers that they are eligible for the Health and Care visa, to ensure that they are filling up their visa application form correctly.
Health and Care Worker Sponsor Licence Application Process
The application process for a Health and Care worker sponsor licence begins with registering your details online by completing the UKVI Online sponsor application registration. After that, please go to the UKVI 'Sponsor application log in' page and start filling up the relevant online application form.
Please arrange for the soft copies of your relevant supporting documents before you start with your application. This is important since you will have to email the soft copies to the Home Office, along with the scanned copies of the submission sheet as received upon the completion of your online application, within five working days of your application. The relevant email ID is provided on the submission sheet.
The soft copies of your supporting documents must be in .pdf, .jpeg or .png format, with descriptive titles of 25 or fewer characters, and must have a good enough resolution so that they are legible.
In case you are required to submit any affidavits or statutory declarations, they must be witnessed by a qualified, independent person, e.g. a solicitor, Notary Public, Justice of the Peace, Commissioner for Oaths, etc.
If you have all your supporting documents and any other necessary information ready with you before starting with the online application process, it will not take more than 30 minutes of your time.
Processing Time for Licence Application
It may take UKVI up to eight weeks to reach a decision on your sponsor licence application for health and care workers.
However, a few sponsor licence applications every day are eligible to be fast-tracked, to get a decision within 10 working days. Please check with the Home Office after the submission of your application if you can fast-track yours. If eligible, you will need to pay an additional fee of £500 to avail this service.

Fees for Sponsor Licence
Health and care worker sponsor licence falls under the Worker sponsor licence route. A small or charitable organisation will have to pay £536 while a medium or large sponsor will need to pay £1,476 for a licence to sponsor overseas health and care professionals.
However, if you are a small sponsor with an existing Temporary Worker licence, you can add a Worker licence to the same for no additional charges. A medium or large sponsor will have to pay £940 to add a Worker licence to their existing Temporary Worker licence.
How Can Total Law Help?
Domestic shortage of skilled health and care workers are making the NHS, its allied bodies as well as private healthcare providers in the UK rely more and more on overseas doctors, nurses, and other allied healthcare professionals as well as care workers. The need to apply for a licence to sponsor overseas health and care workers is thus increasing every day.
The Home Office offers the support of a dedicated team within UKVI in processing health and care worker visas, to enable their fast-track processing. However, applying for a licence to sponsor health and care workers in the UK is a complex process, one that involves passing the Home Office's rigorous scrutiny successfully.
UKVI will refuse your sponsor licence application if you fail to meet the eligibility requirements. In certain circumstances, you may also be prohibited from reapplying for a sponsor licence for a period of at least six months.
It is, therefore, advisable that you speak with an expert immigration lawyer before you file your sponsorship application.
Speak to Total Law.
If you are seeking expert advice for your health and care worker sponsor licence application, including eligibility, application process, and supporting documents, our team can guide you, even if your circumstances are complicated.
Our document and application checking service package offers a thorough assessment to confirm that your documents and application are in line with UKVI specifications. Call us today on +44 (0)333 305 9375 to speak with one of our expert immigration advisers.
Advice Package
Comprehensive immigration advice tailored to your circumstances and goals.
Application Package
Designed to make your visa application as smooth and stress-free as possible.

Fast Track Package
Premium application service that ensures your visa application is submitted to meet your deadline.
Appeal Package
Ensure you have the greatest chance of a successful appeal. We will represent you in any case.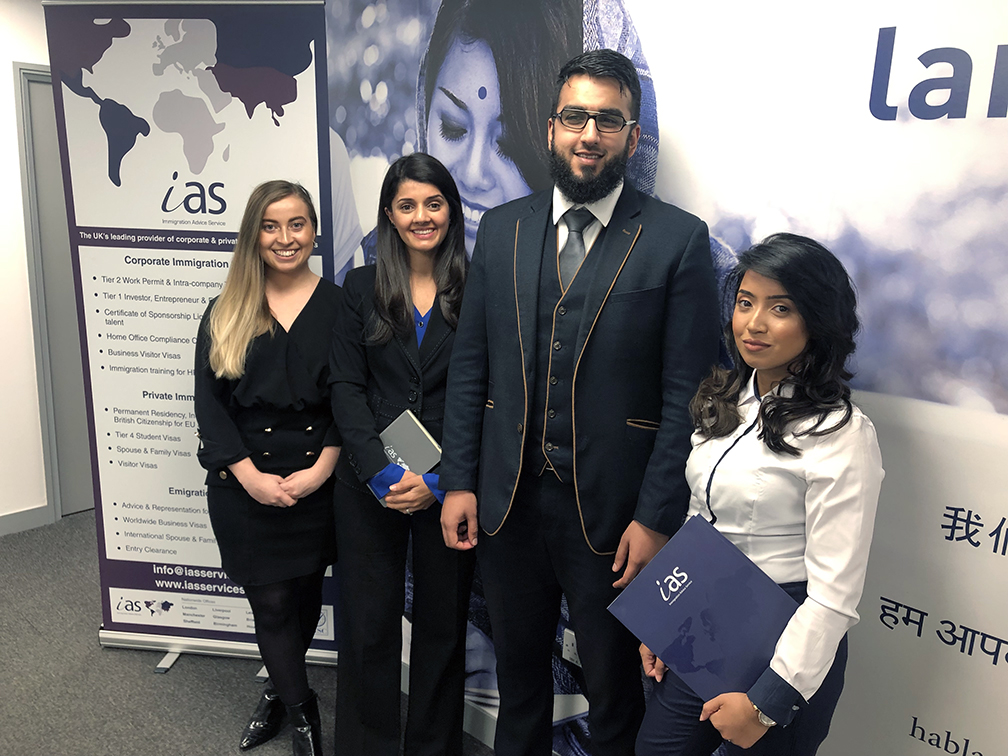 The Advice Package
During this untimed Advice Session with our professional immigration lawyers in London, you will receive our comprehensive advice, completely tailored to your needs and your situation.
Request the Advice Package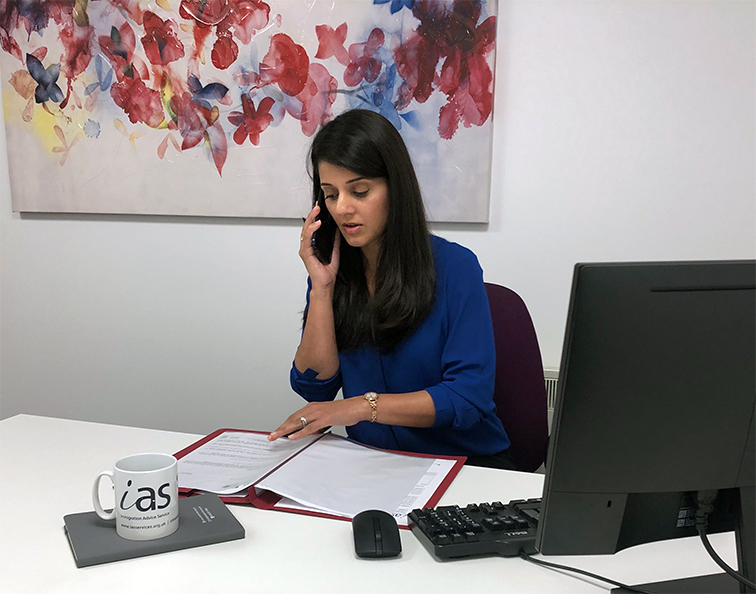 The Application Package
With our Application Package, your dedicated immigration lawyer will advise you on your application process and eligibility. Your caseworker will then complete and submit your forms to the Home Office on your behalf.
Request the Application Package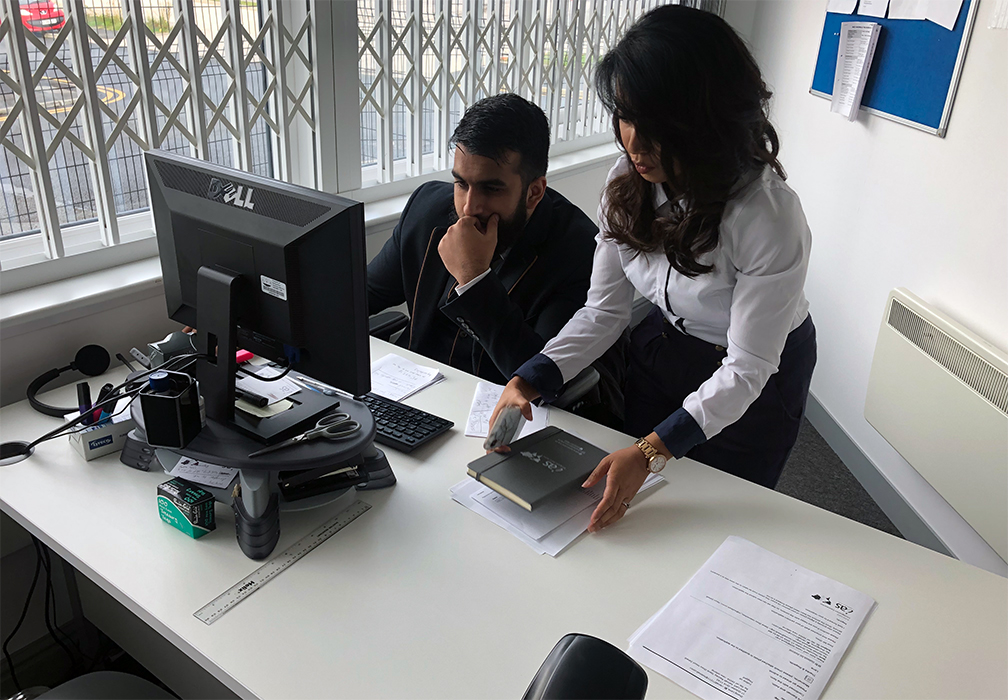 The Fast Track Package
Our Fast-Track Application Package is a premium service for those who need to submit their application in time with their deadlines. Your case will become a top priority for our lawyers and you will benefit from our highest-quality services.
Request the Fast Track Package
The Appeal Package
By choosing our Appeal Package, you can rely on our lawyers' legal knowledge and experience to ensure you have the highest chance of a successful appeal. We will also fully represent you in any hearings/tribunals.
Request the Appeal Package
Related pages for your continued reading.
Frequently Asked Questions
Yes, provided such workers are working for the company holding the sponsor licence in the UK, and not for a third party.
There is no limit on how many health and care workers you can sponsor at a given point of time. However, you can sponsor an overseas worker only for a senior role, since the role of a non-senior care worker is not considered to be a role that requires a 'skilled' worker.
Please also note that you have to, in any case, justify the number of overseas staff you wish to sponsor. So, please consider your business needs carefully to ensure that the number of CoS you request reflects your actual requirements.