Work Permit For Asylum Seekers in France
Thanks to a change in law in 2016, restrictions on work permits for asylum seekers have been eased slightly. However, there are still some restrictions, requirements, and obligations in place, so if you are looking to employ an asylum seeker, these will need to be fully understood before beginning the work permit application process.
We have expertise in a range of areas here at Total Law and we are proud of our global reach. If you need assistance with visas, citizenship issues, asylum claims, or appeals then you only need to contact us online or give us a call at +44 (0)333 305 9375 and one of our experts will be able to help.
Can An Asylum Seeker Work In France?
In September 2018, a new law came into place that changed the circumstances under which an asylum seeker could undertake work in France. Before this date,  an asylum seeker would have to wait a minimum of 9 months before applying for a work permit to work for a French employer.
The change in law, however, meant that if an asylum seeker had not received a decision on their asylum claim from OFPRA (Office Française de Protection des Réfugiés et Apatrides – French Office for the Protection of Refugees and Stateless Persons) after 6 months, and if this wait is not the fault of the individual, then they would be able to apply for a French work permit.
Whilst this law relaxed the restrictions in place surrounding work or asylum seekers, the application must be made by the prospective employer. Additionally, several criteria would need to be met by both the individual and the prospective employer before the individual could take up any work.
Whilst they wait for this six-month period to expire, the asylum seeker will have the same obligations and rights as any other asylum seeker. They will:
Need to respect and uphold French law
Be entitled to assistance with accommodation, food, medical needs, and psychological help, amongst other things
Need to cooperate with the authorities in every aspect
Have the right to receive their rights in the language they understand rather than French.
"I'm very happy with the standard of training received on the OISC Level 1 course, i passed my exam. Thank you!"
"My application was approved and a huge weight has been lifted from our shoulders this year "
"We used this service for the spouse visa extension application to assure that all the information was valid and correct."
Requirements for Hiring An Asylum Seeker For Work
For an asylum seeker to be granted a work permit, some documents will be first required as part of the application process, and these include:
An employment contract with a minimum of 3 months of employment
Documents that outline the company's history
Documents showing the individual's employment history
There are also some limits on the type of work an asylum seeker can undertake whilst they await a decision on their refugee status, and these are:
Employment can only be taken up in a field with a shortage of available workers, or in a profession with a high-level skills like doctors, engineers, scientists, dancers, and architects, for example
Work cannot be of a self-employed nature
They cannot engage with an employer to set up a business. The contract must be employer-employee only
How To Hire Asylum Seekers: Step By Step
Several steps must be followed before an asylum seeker can apply for a work permit to work in France whilst awaiting a decision on their asylum application.
First and foremost, the individual must have made an asylum claim and this must currently be getting processed by OFPRA. If this is denied then the asylum seeker will likely need to leave the country unless they appeal the decision.
Once the applicant has found a prospective employer then the application for a work permit should be made in tandem with an application for a renewal of their asylum application certificate. If the work permit is accepted and given to the asylum seeker then its duration will equal that of their asylum application certificate, which is a maximum of 9 months.
The French authorities will have a two-month processing period from the date they receive the work permit application. If the employer or individual is yet to hear back from the authorities then employment can be assumed as being granted, and the individual can continue their residence.
A work permit can be in three different forms: a visa, a residence permit, or a dedicated authorisation. That being said, there are some ways for asylum seekers to obtain work without requiring one of these documents, such as through the multi-year 'talent passport'. This is a residence permit allowing the individual to take up salaried work without the need for a work permit.
It is also worth noting that the asylum seeker will still be able to study or train whilst they wait for a decision to be made.
Employing Asylum Seekers: General Guidance For Employers
If you are looking to employ an asylum seeker then you will need to make sure that the role either has a shortage of workers available or it must be of a skilled nature. You also need to ensure that your employment contract lasts for a minimum of 3 months to be considered.
The asylum seeker work permit should only be a short-term one because your prospective employee will hopefully have a decision on their asylum application soon. It is worth noting that, if an asylum seeker is granted refugee status in France, they will be granted a range of rights and obligations and the right to work is only one of them. The others are:
Entitled to the same security rights as any other French national
To respect French law because committing criminal acts can result in the removal of their status
The right for a family reunion
The right to stay in France for 10 years, after which permanent residence can be applied for
Ability to apply for French nationality via the naturalisation process
Entitled to travel documents for other countries
The ability to travel abroad without the ability to return to their country of origin
You should also know that if you decide to end an asylum seeker's employment then they will be able to register with Pôle Emploi to receive unemployment benefits to support them whilst they try to find other work. However, to be eligible, the dismissal must be no fault of their own.
The work permit itself will cost €99 and in some cases, you may need to pay to obtain any additional documents that are required for the application.
Appealing Work Permit Refusals For Asylum Seekers in France
If you are unhappy about the application being refused then it is possible to appeal the decision. In this instance, the appeal must be submitted no later than 1 month after being notified of the decision.
The appeal itself must be written in French and it must begin with the individual's surname, date, place of birth, nationality, and the address where they live in France. In this letter, they must explain the reasons you are appealing the decision. This is their chance to make their case to OFPRA so they will need to think carefully about why they disagree with the points they have made.
An asylum seeker seeking an appeal will likely be asked to submit supporting documents from their original country that support their objections. These could be anything from evidence of religious practice, homosexual relations, and harmful political activity to medical evidence of wounds and scarring as a result of prejudices.
An appeal must be done by either an association for the defence of foreigners or a lawyer. Our team of expert immigration lawyers have helped many asylum seekers with their permission to work. Once an appeal has been made, the National Court of Asylum has 5 months to respond unless the asylum seeker is placed on the Fastrack scheme whereby their case will be heard in 5 weeks.
How Total Law Can Help
As long as the position is in a shortage area or is highly skilled, hiring an asylum seeker is a great option and helps somebody who is undergoing a difficult transition. Here at Total Law, we can help make sure you meet all the requirements and obligations and we can help the individual make their application.
Our services include asylum and appeals but they also involve family reunions, residency issues and citizenship problems. If you have any questions about work permits for asylum seekers or any of our other services then all you need to do is call us at +44 (0)333 305 9375 or get in touch online and one of our immigration experts will be on hand to help.
Advice Package
Comprehensive immigration advice tailored to your circumstances and goals.
Application Package
Designed to make your visa application as smooth and stress-free as possible.

Fast Track Package
Premium application service that ensures your visa application is submitted to meet your deadline.
Appeal Package
Ensure you have the greatest chance of a successful appeal. We will represent you in any case.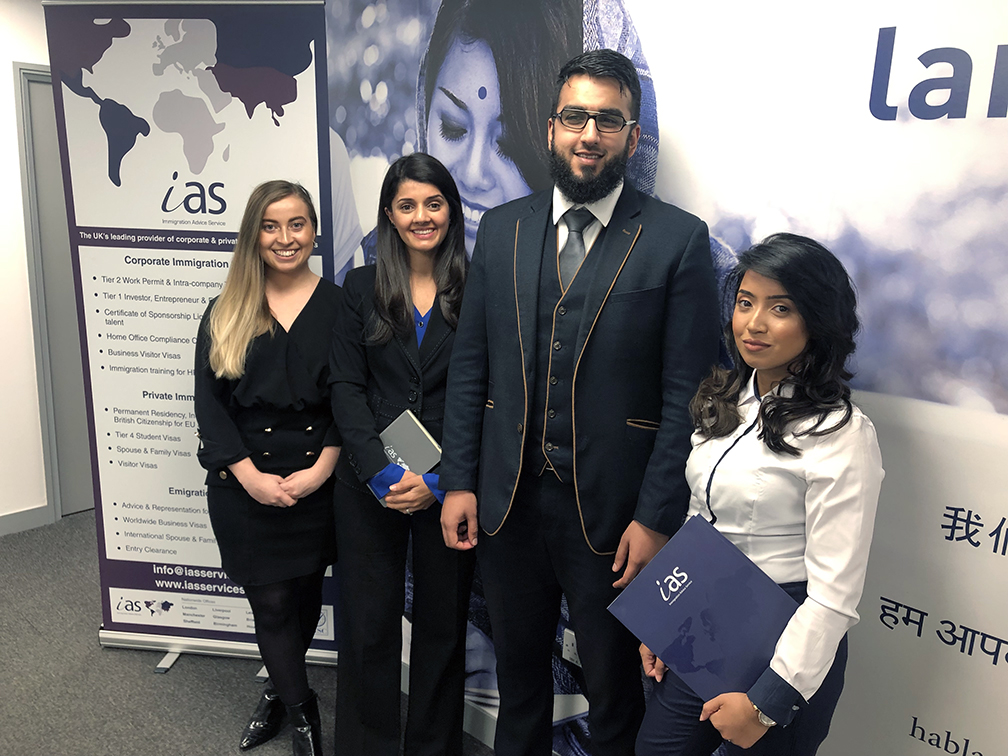 The Advice Package
During this untimed Advice Session with our professional immigration lawyers in London, you will receive our comprehensive advice, completely tailored to your needs and your situation.
Request the Advice Package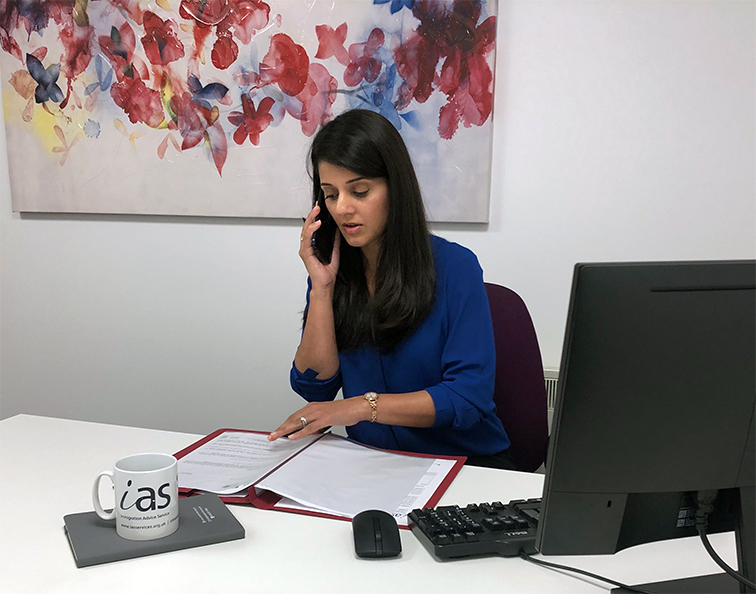 The Application Package
With our Application Package, your dedicated immigration lawyer will advise you on your application process and eligibility. Your caseworker will then complete and submit your forms to the Home Office on your behalf.
Request the Application Package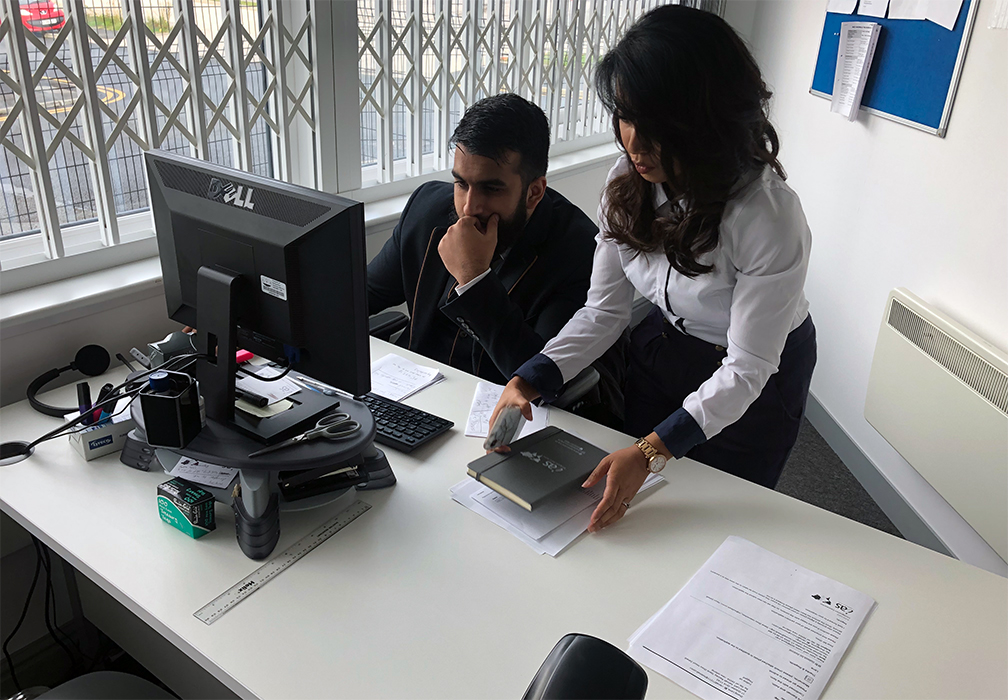 The Fast Track Package
Our Fast-Track Application Package is a premium service for those who need to submit their application in time with their deadlines. Your case will become a top priority for our lawyers and you will benefit from our highest-quality services.
Request the Fast Track Package
The Appeal Package
By choosing our Appeal Package, you can rely on our lawyers' legal knowledge and experience to ensure you have the highest chance of a successful appeal. We will also fully represent you in any hearings/tribunals.
Request the Appeal Package
Related pages for your continued reading.
Frequently Asked Questions
As a result of a change in law in 2018, an asylum seeker can apply for a work permit as long as their asylum request has been with OFPRA for no less than six months.
There is no definitive timeline for work permit decisions. However, if an asylum seeker has been waiting to hear back about their permit for two months then they are allowed to undertake work and assume that it has been approved.
The only main limitation regarding the work permit is that the asylum seeker must be employed in an area with a shortage of work, or in a highly skilled area.
The work permit is not transferable so an asylum seeker who has been granted one for a particular position would need to apply for a new one if they wish to start a new role somewhere else.
An asylum seeker who has just arrived in France and submitted their asylum claim will have to wait until their application has been under review for 6 months before they can apply for a work permit.