Obtaining Permission To Work As an Asylum Seeker In The UK
Those who seek asylum in the UK may wonder whether or not they will be able to work in the UK while they wait for a decision to be made on their claim. However, the asylum permission-to-work rules are quite complex, and understanding whether or not you are eligible to obtain permission to work can be difficult to understand.
This is why it can be helpful to have an immigration lawyer help you through the process of applying and help you understand what to expect. Here at Total Law, we can help. Give us a call at 0333 305 9375 to speak to one of our expert immigration legal advisors.
The Requirements & Eligibility To Work In The UK As An Asylum Seeker
A majority of people who claim asylum in the UK are not able to work at first, and this can be trying, as it has brought about the notion that these people are not able to move on with their lives yet. Being unable to earn your own money while awaiting a decision on the asylum claim from the Home Office can be frustrating.
Thankfully, the Home Office does have a contingency, and with delays in asylum claim decisions being more common, those who wait over a year can get help.
Immigration rules in the UK now make it possible for an applicant to request permission to work if they have been waiting for over a year for a decision on their asylum claim. This is dependent on the claim being delayed due to "no fault of your own".
This 12-month period could be 12 months after having initially claimed asylum, or it could be 12 months after further submissions, such as those to be considered as a 'fresh claim'.
Yet, those who do obtain permission to work as asylum seekers, still awaiting a decision on their claim, are only able to work jobs on the Home Office's shortage occupation list.
"I'm very happy with the standard of training received on the OISC Level 1 course, i passed my exam. Thank you!"
"My application was approved and a huge weight has been lifted from our shoulders this year "
"We used this service for the spouse visa extension application to assure that all the information was valid and correct."
Are There Requirements?
For any permission to work application to be considered, there has to be an asylum claim or a further submission on the grounds of protection, which is yet to be decided by UKVI (UK Visas and Immigration) and has been outstanding for at least 12 months from the date the asylum claim was made.
This ruling is only applicable to UKVI decisions. If a decision has been made within 12 months and an appeal against this decision is still pending, then the applicant will not be eligible for permission to work.
Caseworkers who deal with these permission-to-work applications also need to first review the asylum claim to assess why the claim decision is delayed and ensure that the case does not see any further delay.
The applicant will not be considered eligible if, in the Secretary of State's opinion, the deal is the applicant's fault. Caseworkers who assess these applications will also take into consideration how much of the time the application was delayed was due to the applicant.
If the delay was at the fault of the applicant, then permission to work will be refused. In instances where an applicant does provide reasoning for failures to comply with the asylum process, this does need to be considered.
A period of serious illness is seen as a valid reason for non-compliance, for example. However, those who have been convicted of a criminal offence will not be granted permission to work, especially if the decision on their claim is delayed to await the outcome of prosecution, as this is considered to be attributed to the applicant.
Permission to work is not available for the dependents of an asylum seeker, even if a claim decision has been outstanding for over 12 months. Even in cases where permission to work is granted to an applicant, this does not extend to their dependents.
Requirements For Asylum Seekers With Existing Leave
Asylum seekers who have existing leave in the UK at the time they make their asylum claim should ensure that they apply for asylum before their leave expires.
If the applicant had leave in the UK that enabled them to work, and they then become eligible for asylum, applying for asylum before their leave expires will enable them to continue their work until their asylum claim obtains a decision.
However, if the applicant makes their asylum claim after their current leave expires, they cannot benefit from this.
What Work Can I Do As An Asylum Seeker
Asylum seekers who obtain permission to work in the UK are only able to do work that is listed on the Home Office's shortage occupation list. This list is a published list by the Home Office that shows the jobs that have a shortage of people working in them in the UK.
A majority of jobs on the shortage occupation list are specialised jobs, including architects, ballet dancers, civil engineers, and so on. This does mean that there are limited roles available to those who obtain permission to work, as they are not able to do any job.
Yet, this list was expanded upon in 2021 and 2022. It saw positions such as nursing and care work added to the list, and then in 2023, roles such as those in the programming industry and building industries were added.
This does mean there are more possibilities for employment for those who seek asylum.
The primary types of work that are on the shortage occupation list include:
Scientists.
Veterinarians.
Programming jobs.
Architects.
Engineers.
Artists.
Arts officers, producers, and directors.
Graphic designers.
Agriculture and fishing trades.
Bricklayers and masons.
Roofers, roof tilers, and slaters.
Carpenters and joiners.
Construction.
Plasterers.
Senior care workers.
Medical practitioners, psychologists, and pharmacists.
Occupational therapists and nurses.
Social workers.
Paramedics.
Care workers and home carers.
How Do I Apply For Permission To Work As An Asylum Seeker In The UK
Overview
Only some asylum seekers can start work, as generally asylum seekers are not allowed to work, but those who are must fit the following criteria:
The individual must have been waiting over 12 months for a decision on their asylum claim.
They must find a job on the Shortage Occupation List.
The individual must be over 18 years of age.
A majority of jobs on the shortage occupation list are very specialised; however, there are more that have been added that do open up more options to those applying.
Permission to work is not issued right away; those who wish to apply need to do so at the Home Office. It is advised by the Home Office that applicants get their immigration lawyer to do this for them. An immigration lawyer can inform the applicant if they qualify to apply for permission to work and if there is any reason why they should not apply.
At Total Law, our advisors can help you with this. As specialists in immigration law, we can let you know if you qualify to apply for permission to work in the UK and can inform you of any reasons why you shouldn't.
Additionally, we can make your application for you following Home Office guidance. Give us a call today at 0333 305 9375.
Those who successfully obtain permission to work will be granted an updated Asylum Registration Card that states work is permitted, but you can only do jobs on the shortage occupation list and are not eligible for public funds.
After Being Granted Permission To Work
Once the individual has received their updated Asylum Registration Card they need to apply for a National Insurance Number.
A new employer may request the applicant do an Access NI check. This is a simple criminal history record check that informs the employer if the employee has been convicted of a criminal offence or if they are not allowed to work with vulnerable persons or children.
This is standard procedure.
Those who obtain permission to work can only do so in jobs that are on the shortage occupation list. If an applicant gets a job that is not on this list, the employer is risking committing a criminal offence. Additionally, this can have negative implications for the individual's asylum claim.
Those who obtain permission to work should be aware that this will come to an end if the asylum claim or fresh claim is refused and any appeal rights are exhausted.
Additionally, those who get permission to work are not required to find a job; however, should an applicant start working, they will likely lose some or all of their entitlement to NASS asylum support.
Possibilities To Do Volunteer Work
While not all asylum seekers can apply for permission to work, all asylum seekers can do volunteer work. Volunteers give their time for free to charitable organisations with no entitlement or obligation. These are not workers or employees.
Volunteering can be done at any stage of the asylum process; however, be aware that volunteer activities cannot interfere with any scheduled events associated with the asylum process, such as the substantive asylum interview or re-documentation interviews.
Events such as these will not be rescheduled to accommodate volunteer work, and therefore, organisations that offer these opportunities to asylum seekers need to be flexible so volunteers can attend appointments and interviews.
Asylum seekers can volunteer while they are waiting for a decision on their claim without needing permission to work. Yet, the work conducted must not amount to engagement as a worker or employee. It is the responsibility of the organisation and individual to ensure that the activity does not work in breach of these conditions.
The principle difference between work and volunteering is that the work should not amount to job substitution or unpaid work. Consider the following:
There should be no payment for the volunteer work other than for reasonable meal and travel expenses that are incurred. This does not amount to an allowance for those.
There should be no obligations on a contract for the volunteer. Likewise, the individual should not enjoy any contractual entitlement to any work or benefits either.
The volunteer is noted as helping a registered charitable or voluntary organisation. An organisation that raises funds for registered charitable or voluntary organisations or a public sector organisation is also considered eligible.
Volunteering is not considered a substitute for employment, and it is not fulfilling a role that a salaried worker would typically fulfil.
Organisations must be clear regarding the status of volunteer roles on a legal basis before they recruit individuals into these roles.
If an individual or an organisation is not clear on the distinction, or if a specific opportunity is considered working, being an employee, or volunteering, seeking legal advice is recommended. This is especially true for permission-to-work asylum seekers cases.
Can My Work Permission Be Revoked?
If asylum seekers or failed asylum seekers get granted permission to work due to an undecided claim, this permission will end when the claim or submission is refused and appeal rights against refusal are exhausted.
Caseworkers are always reminded to monitor their caseload, and once a claim is determined or further submissions have been concluded, they must update the Home Office records to reflect that the permission to work for the individual has ceased.
Then ARC cards will need amendments as soon as possible to reflect this factor
There is no reason to take any action to revoke permission to work where an asylum seeker obtains refugee status, however.
The same stands for those who obtain humanitarian protection, discretionary leave, or leave under family rules. After they are granted this title, this is because the individual will obtain full access to the labour market anyway when they are granted this status.
Our Total Law Immigration Solicitors Can Help You
Asylum seekers can rarely obtain permission to work due to the exceptional circumstances that must be present for a delayed asylum claim or outstanding further submissions. This permission to work is only granted to those who have had outstanding asylum claims for more than a year. And, should the Home Office grant permission, they must work a job from the shortage occupation list published.
Asylum seekers do not obtain unrestricted access to the labour market unless they are granted refugee, protection status, or other protected leave to remain. This part of the asylum process can be very complex, and therefore having support from a legal representative can help people seeking asylum with the asylum system in the UK.
Here at Total Law, we can help a person seeking asylum in the following ways:
Asylum application or appeal rights.
Detained casework.
Bail (SoS applications, tribunals, and renewals).
Fresh claims.
Permission to work application process.
Travel documents.
BP issues.
Family reunion application process and appeals.
Applications for permission to appeal.
Errors of law preparation and hearings.
At Total Law, we can help you understand your eligibility based on the shortage occupations if you have an unnecessarily delayed claim. Those still waiting for an initial decision on their claim can contact Total Law today at 0333 305 9375 and find out if they are eligible!
Advice Package
Comprehensive immigration advice tailored to your circumstances and goals.
Application Package
Designed to make your visa application as smooth and stress-free as possible.

Fast Track Package
Premium application service that ensures your visa application is submitted to meet your deadline.
Appeal Package
Ensure you have the greatest chance of a successful appeal. We will represent you in any case.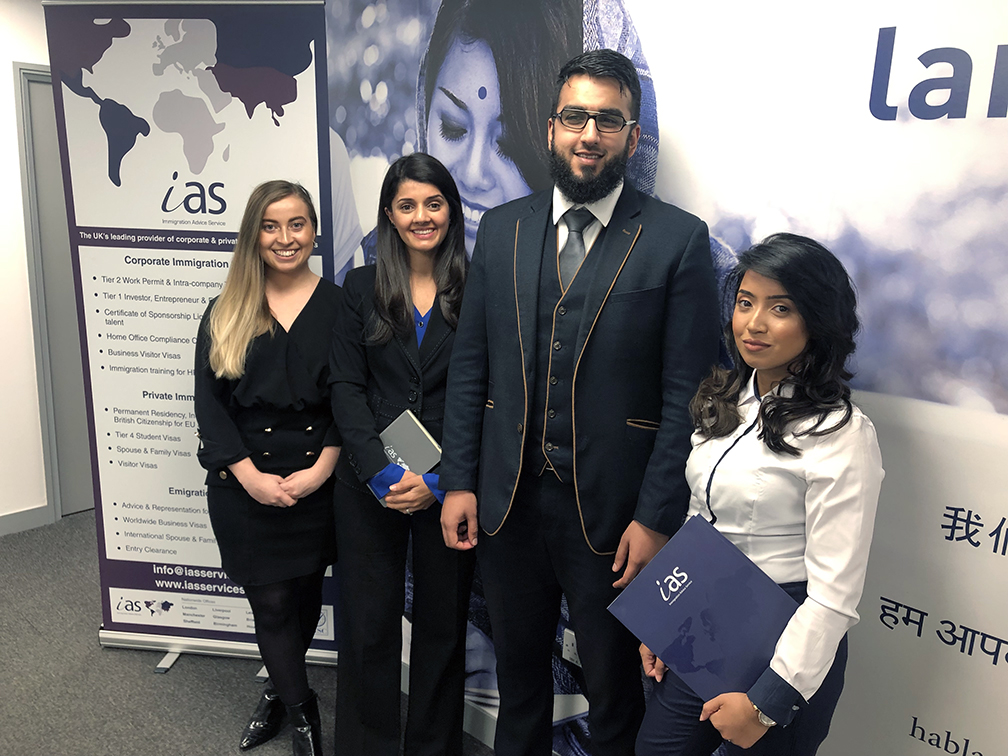 The Advice Package
During this untimed Advice Session with our professional immigration lawyers in London, you will receive our comprehensive advice, completely tailored to your needs and your situation.
Request the Advice Package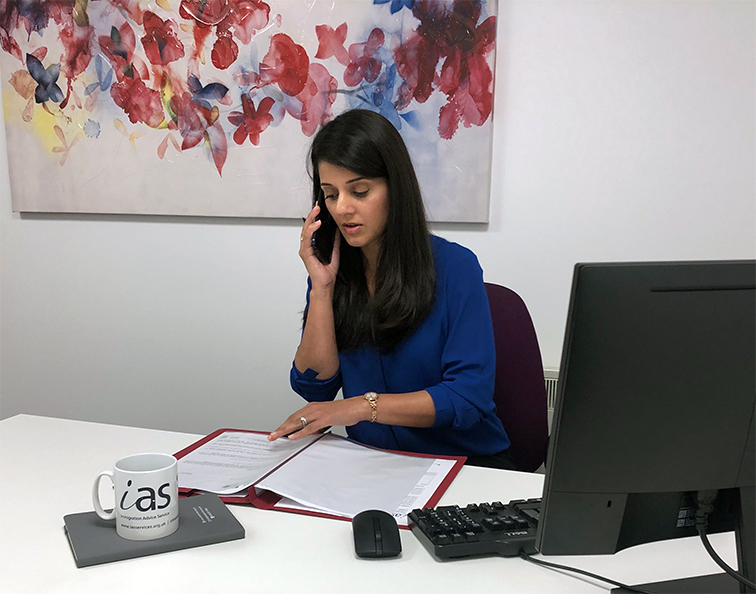 The Application Package
With our Application Package, your dedicated immigration lawyer will advise you on your application process and eligibility. Your caseworker will then complete and submit your forms to the Home Office on your behalf.
Request the Application Package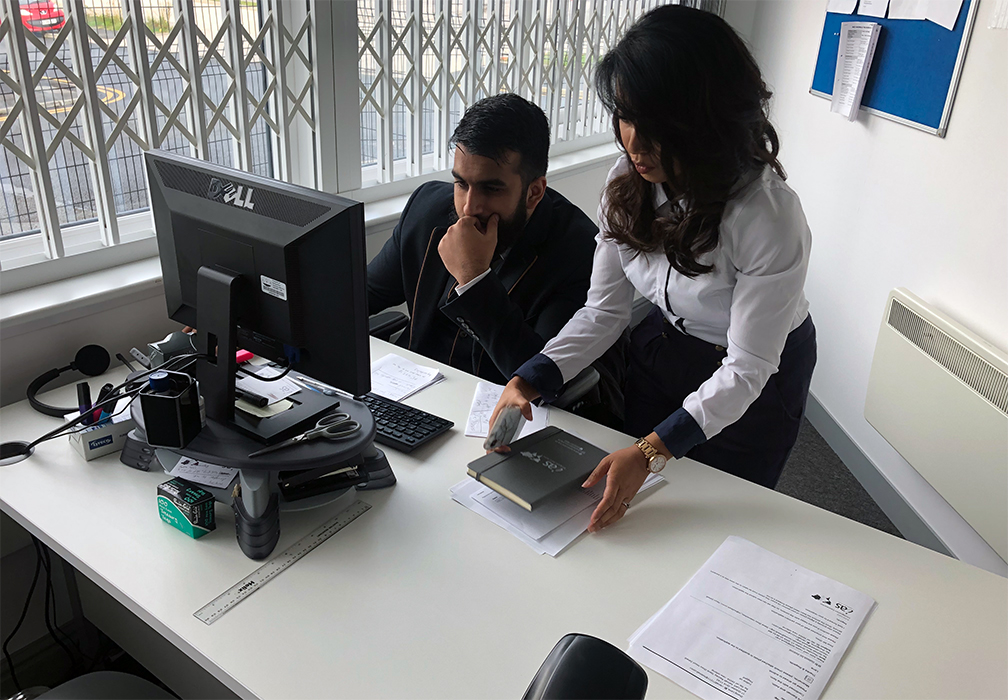 The Fast Track Package
Our Fast-Track Application Package is a premium service for those who need to submit their application in time with their deadlines. Your case will become a top priority for our lawyers and you will benefit from our highest-quality services.
Request the Fast Track Package
The Appeal Package
By choosing our Appeal Package, you can rely on our lawyers' legal knowledge and experience to ensure you have the highest chance of a successful appeal. We will also fully represent you in any hearings/tribunals.
Request the Appeal Package
Related pages for your continued reading.
Employers who hire asylum seekers who do not have permission to work can expect an unlimited fine and can even serve jail time for up to five years. The government states that if an employer had any reasonable cause to believe the employee did not have the right to work in the UK, they could suffer these consequences.
This means that if an employer has any reason to believe the individual did not have leave to enter or remain in the UK, had expired leave, was not allowed to do certain types of work, or had incorrect or false papers, the employer is considered to have broken the law.
The asylum seeker could have their application rejected, and it will affect their claim.