Documents Required for Certificate of Sponsorship UK
UK employers looking to hire migrant workers must apply for a Certificate of Sponsorship (CoS) from the Home Office on behalf of their foreign employees. You'll need to provide certain documents when applying for a CoS for your employee.
For immediate assistance with obtaining a Certificate of Sponsorship and the document required for CoS, Total Law immigration lawyers are here to help. Call us at 0333 305 9375 or contact us online to speak to one of our lawyers today.
Certificate of Sponsorship - Overview
A Certificate of Sponsorship (CoS) is a reference number allocated to an overseas worker by their UK employer for a Skilled Worker visa application. UK employers must apply to the Home Office for a CoS for each foreign employee via the Sponsor Management System. The CoS is an electronic document, not a physical document, and you must be a sponsor licence holder to obtain and issue a Certificate of Sponsorship.
Applying for a Certificate of Sponsorship is the next step once you've offered a job to a foreign worker. The CoS application must include personal details of the employee and details of the job they'll be doing in the UK, including their role, job title, start date, work address, and annual salary.
The Home Office typically responds to a CoS application within 48 hours, providing you with a reference number you'll assign to your prospective employee. The sponsored worker will submit their UK visa application using the sponsorship reference number. A CoS must be used within three months of assignment, or it will become invalid.
"I'm very happy with the standard of training received on the OISC Level 1 course, i passed my exam. Thank you!"
"My application was approved and a huge weight has been lifted from our shoulders this year "
"We used this service for the spouse visa extension application to assure that all the information was valid and correct."
What are the Required Documents for a Certificate of Sponsorship?
UK employers must apply for a Certificate of Sponsorship for each foreign employee they want to sponsor to the UK. You must hold a valid Sponsor Licence to be able to do this. The application is made to the Home Office via the Sponsorship Management System.
Employers in the UK must provide the following documents when applying for a Certificate of Sponsorship.
Certificate of Sponsorship (CoS) application form.
Foreign employee's personal and ID details.
Copy of National Insurance Number.
Copy of employee's CV.
Copies of employee's professional accreditation/essential qualifications. If in other languages, it must be translated into English as required, dated and signed to confirm that the original has been seen.
The terms & conditions which should contain the details of the recruitment and selection process.
The employment contract which should include proof of employment and the salary offered to the foreign worker. It should also contain information about the role the foreign worker will be filling in the company, an overview of tasks they will be carrying out, the total expected work hours per week, and the start and end date of the employment.
Contact details of the employer.
Proof of payment of the Certificate of Sponsorship application fee by the sponsor.
Employee's criminal record certificate (depending on the job code). If the employee has lived in more than one country, they may have to provide a criminal background record for each country they've lived in, depending on their age and duration of stay there.
Once you submit the application and the required documents, you should get a decision from the Home Office within 48 hours. You'll receive a response via the Sponsor Management System (SMS). You can then assign the CoS to your international worker.
The Home Office may request additional documents if they see the need to. However, this may delay the approval of the CoS application.
It's essential to get help from expert immigration lawyers to help gather all the relevant documents for CoS and ensure a hassle-free sponsorship process. Total Law immigration solicitors are always available to help. Contact us online or call us at 0333 305 9375.
Information You Must Provide on the Certificate of Sponsorship Application Form
When applying for a CoS, you must complete an application form and attach the required Certificate of Sponsorship documents. Filling in all the details on the form is essential to avoid the Home Office rejecting your application. You must provide the following information about your prospective international worker:
Personal details: full name, gender, date of birth, nationality, and country of residence (if residing in a country other than their home country).
Passport or travel document information: passport number, date of issue, expiry date, place of issue, and, where applicable, information on previous UK visas held (type and date).
Identification numbers: National Insurance Number (for employees switching visa routes from within the UK)
Home address information: current home address, zip/postcode, and country of residence
Work dates: proposed start and end dates of employment; total hours of work per week
Work address details: Full UK work address(es), including postcode.
Employment details: Job title, job type, SOC code, line manager, a summary of the job description, annual salary, details of any allowances, essential qualifications for the job, and highest qualification of the employee.
Cost of Applying for A Certificate of Sponsorship
Aside from the fee paid for obtaining a Sponsorship Licence, UK employers must also pay a CoS application fee for each foreign worker they want to sponsor. The Certificate of Sponsorship cost depends on the visa category for which you're sponsoring the international worker. The Home Office recently reviewed CoS application fees. Here is the updated Cos fees for different categories of workers:
CoS for Skilled Worker visa, Global Business Mobility (Senior or Specialist Worker), and T2 Minister of Religion – £239.
CoS for Temporary Worker visas, including UK Expansion Workers, Service Suppliers, Secondment Workers, Global Business Mobility (Graduate Trainees), and Scale-up Workers – £25.
CoS for International Sportsmen visa (over 12 months) – £239.
CoS for International Sportsperson visa (12 months or less) – £25.
You're required to pay this fee when applying for CoS for each of your migrant employees. You'll also have to pay an Immigration Skills Charge within ten days of obtaining the CoS. The charge depends on the size of your organisation and how long the employee would be working for you. Small companies and charitable sponsors are charged £364 for the first 12 months and £182 for each additional six months. For large organisations, you will be required to pay £1,000 for the first 12 months and £500 for each additional six months.
Types of Certificates of Sponsorship
There are two types of certificates of sponsorship. They are:
Defined Certificate of Sponsorship: issued to overseas employees intending to come to the UK via the Skilled Worker visa route.
Undefined Certificate of Sponsorship: issued to prospective foreign workers already living in the UK looking to extend their stay via the Skilled Worker visa or those entering the UK via temporary worker immigration routes. You'll also assign an undefined CoS to already sponsored workers for their visa renewal application.
Who Needs a Certificate of Sponsorship?
The following work visa routes require sponsorship:
Skilled Worker visa
Scale Up visa
Government Authorised Exchanges
Global Business Mobility visas
International Agreement
Religious Worker
Creative Worker
Minister of Religion
International Sportsperson
Seasonal worker.
How Can Total Law Help?
Applying for a Certificate of Sponsorship requires utmost attention to detail, as a minor omission can cause the Home Office to reject your application. Therefore, seeking professional assistance is essential to ensure timely processing of your CoS application.
Total Law's business immigration experts are always available to help you handle your Certificate of Sponsorship application. We'll guide you through the application process and help you gather the required CoS documents to avoid delays in processing your request.
Call us today for immediate assistance. You can reach us at 0333 305 9375 or contact us online.
Advice Package
Comprehensive immigration advice tailored to your circumstances and goals.
Application Package
Designed to make your visa application as smooth and stress-free as possible.

Fast Track Package
Premium application service that ensures your visa application is submitted to meet your deadline.
Appeal Package
Ensure you have the greatest chance of a successful appeal. We will represent you in any case.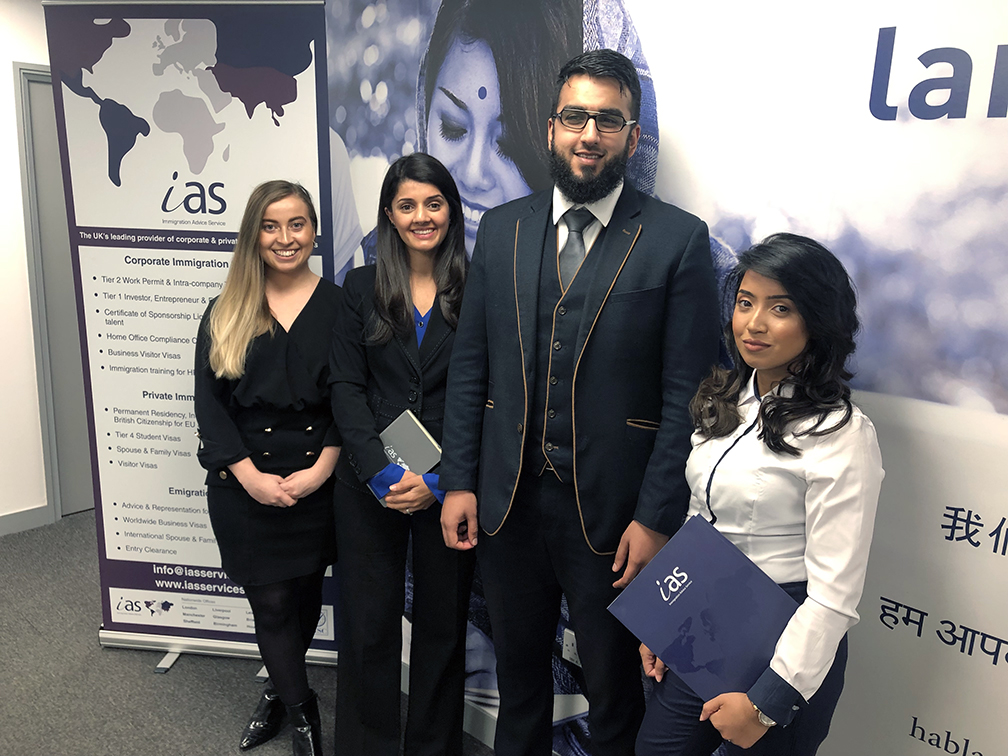 The Advice Package
During this untimed Advice Session with our professional immigration lawyers in London, you will receive our comprehensive advice, completely tailored to your needs and your situation.
Request the Advice Package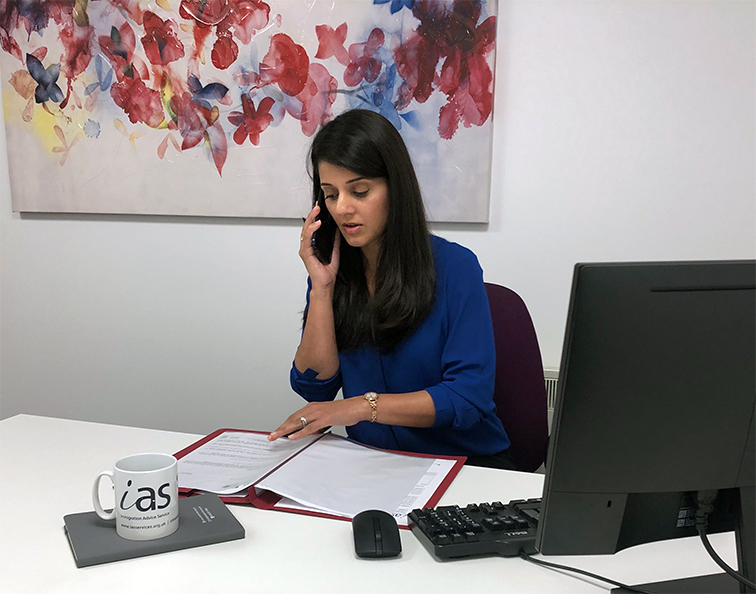 The Application Package
With our Application Package, your dedicated immigration lawyer will advise you on your application process and eligibility. Your caseworker will then complete and submit your forms to the Home Office on your behalf.
Request the Application Package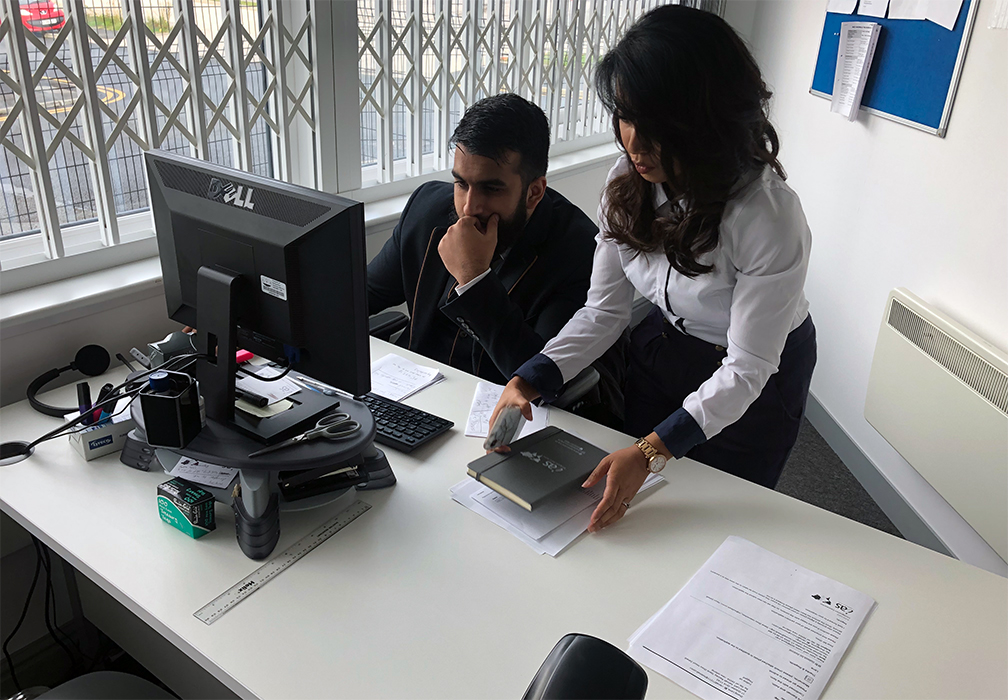 The Fast Track Package
Our Fast-Track Application Package is a premium service for those who need to submit their application in time with their deadlines. Your case will become a top priority for our lawyers and you will benefit from our highest-quality services.
Request the Fast Track Package
The Appeal Package
By choosing our Appeal Package, you can rely on our lawyers' legal knowledge and experience to ensure you have the highest chance of a successful appeal. We will also fully represent you in any hearings/tribunals.
Request the Appeal Package
Related pages for your continued reading.
Frequently Asked Questions
If you are looking to hire a skilled worker from overseas, you will need to issue them a Certificate of Sponsorship, which they will need to apply for a visa. According to the UK immigration rules, skilled migrant workers must obtain a CoS from a sponsor licence holder to submit their UK visa applications.
You can issue the Certificate of Sponsorship via the online Sponsor Management System (SMS).
The Certificate of Sponsorship fee and the Immigration Skills Charge are paid to the Home Office by the UK employer.
You can cancel a Certificate of Sponsorship if your foreign employee decides not to go on with the job offer and UK visa application or if they accept an offer from another employer.
Once you submit a Certificate of Sponsorship application, the Home Office will respond to your request within 24 to 48 hours.