Digital Nomad Visa
A digital nomad visa allows foreign nationals who are remote workers to travel and work in different countries.
For advice and assistance with your visa application, contact Total Law today at +1 844 290 6312 or use the online contact form to get in touch.
Digital Nomad Visa
A Digital Nomad visa is a temporary visa that allows remote workers to travel and work in a foreign country. Digital nomads frequently lead mobile lives and rely on technology to perform their duties at work. Digital nomads can conduct their business from the convenience of their homes or bars and cafes using their gadgets, such as computers and cellphones. As you have the chance to go to many different locations, remote work and self-employment are becoming more and more widespread.
To avoid illegal migration through tourist visas to other countries, numerous nations now grant digital nomad visas to give foreigners a legal justification for working while travelling. For instance, the Thai government introduced in October 2020 the Special Tourist Visa (STV), which is a 90-day tourism visa that can be extended twice for a total of 270 days for remote workers. These visas are a great option for nomads and independent contractors who desire to travel and work remotely, even though they are often short-term and do not provide a route to citizenship.
Visas for digital nomads are permissions that allow you do remote work in another nation. To be eligible for this visa, you often need to work for an employer or corporation outside of your country of residence or have a business you can run from anywhere in the world.
"I'm very happy with the standard of training received on the OISC Level 1 course, i passed my exam. Thank you!"
"My application was approved and a huge weight has been lifted from our shoulders this year "
"We used this service for the spouse visa extension application to assure that all the information was valid and correct."
Work You Can Do Under a Digital Nomad Visa
With a digital nomad visa, you can work in any industry as long as you can remotely via the internet. The most common occupations for digital nomads include:
Content creators.
Website developer.
Social media marketer.
Digital entrepreneur.
Eligibility Criteria for a Digital Nomad Visa
To be eligible for an official digital nomad visa, there are eligibility criteria you must meet. Here are some eligibility criteria you have to meet for the digital nomad visa:
You must be 18 years and above.
You must have a specific monthly income which varies from country to country.
You must have a job you can do from anywhere in the world.
Getting a Digital Nomad Visa
There are different countries that offer digital nomad visas.
However, the countries that offer digital nomad visas include Grenada, Serbia, Andorra, Dominica, Mexico, Anguilla, Dubai, Portugal, Montenegro, Antigua and Barbuda, Ecuador, Montserrat, Argentina, Estonia, North Macedonia, Bahamas, Aruba, Georgia, Norway, Germany, Panama, Barbados, Greece, Romania, Belize, Hungary, Saint Lucia, Bermuda, Iceland, Seychelles, Costa Rica, Cayman Islands, Italy, Spain, Cabo Verde, Indonesia, South Africa, Croatia, Latvia, Sri Lanka, Curacao, Malta, Taiwan, Cyprus, Mauritius, Czech Republic, Columbia, Thailand, Mauritius, and Brazil.
Best Countries to Get a Visa as a Digital Nomad
Germany: The German freelancing visa is available to anyone who wants to work there as a digital nomad. Germany is among the countries looking to attract digital nomads as guests. Due to its flexibility and ability to work on a need-basis and part-time contracts, the freelance visa for Germany is particularly well-liked.
Costa Rica: The Rentista visa in Costa Rica allows its holder to stay in the country for up to two years with the option of an extension. It is intended for small investors that want to provide their services in Costa Rica. However, you will need to prove that you have a steady income of $2,500 per month.
Norway: To live and work in Svalbard, Norway grants visas to digital nomads. A visa has an unlimited period of validity. However, you have to prove your eligibility through your income. Due to its extreme cold and three months of nonstop darkness from November to February each year, Svalbard may be rather difficult to live in.
Mexico: The Mexico temporary resident visa is the best option if you want to live there while working remotely from Mexico. The visa may be extended up to three times after one full year in Mexico. The maximum time you may stay on this visa is four years.
Portugal: You can apply for a D7 Passive Income visa if you want to reside in Portugal as a digital nomad. Your ability to demonstrate sufficient income and the source of that revenue is the primary criteria. This visa entitles you to a one-year stay in Portugal, followed by two-year extensions. If you have been in Portugal for five years on a D7 Passive Income visa, you can apply for a residence permit after demonstrating your proficiency in Portuguese through a test.
The Czech Republic: If you want to work independently in the Czech Republic, you can apply for a freelancing visa. This visa's one-year validity period, followed by a two-year extension, makes it the ideal option. Although the visa costs $217, you must demonstrate that you earn $5,600 per year to qualify for it.
Required Documentation for a Digital Nomad Visa
When applying for the digital nomad visa, there are some documents you must provide to prove your eligibility. You need the following documents for your digital nomad visa application:
Valid passport. Your passport must be valid for at least six months before your application.
Identity pictures must be taken with a plain, neutral facial expression white background with no editing.
Proof of health insurance.
Proof of financial income, its source, the amount, etc.
Evidence of remote work, clients, work contract, a business license.
Civil documents, such as birth certificate, CV, qualifications, etc. These documents must be translated, if required, and certified with an apostille stamp.
Digital Nomad Visa Application Process
When applying for a digital nomad visa, there are steps and procedures you must follow. You must ensure you follow all instructions to avoid errors that could result in a visa being refused. You must follow these actions to apply for this visa.
Step 1: Fill Out the Application Form
The digital nomad visa application must be completed in accordance with the guidelines. In some nations, you must complete the application online before printing it out and signing it; in others, you must physically fill it out at the embassy or consulate. Please remember that you must provide complete, accurate, and current information.
Step 2: Set an Appointment with an Embassy or Consulate
Setting an appointment at a visa office is another requirement. This office may be an embassy or a consulate. You might have to submit your application at a nearby embassy, depending on where you live. You must make an appointment to submit your application and appear at the visa interview when you've found your local visa office.
Step 3: Prepare Your Documents  
After completing your application, you must gather the remaining necessary paperwork. Some of your documents may require translation or apostille certification.
Step 4: Submit Your Application 
Prepare your supporting documentation, then deliver it to the embassy along with your completed visa application. You must also pay the visa fee, attend the visa interview, and some countries demand that you provide the receipt with your application materials.
Digital Nomad Visa Processing Time
The processing of your digital nomad visa typically takes one month. However, you must remember that each country has its processing times for visa applications.
Digital Nomad Visa Validity
The duration of a digital nomad visa is one to two years. If you meet the requirements, certain countries can allow you to extend your digital nomad visa for up to five years.
Digital Nomad Visa Cost
A digital nomad visa may cost between $200 and $2,000. The most expensive visa application fees for digital nomads can reach $3,000 for family applications in several Caribbean countries like Barbados, Antigua, and Barbuda. To encourage more applicants, some nations, like Georgia, provide free visas for digital nomads.
Digital Nomad Visa Denial
Your digital nomad visa can be denied under certain circumstances. Some of these conditions are:
You were convicted of a serious crime.
You do not have a job you can do remotely.
You filled out the application form with false information.
You do not meet the annual income requirement.
How can Total Law help?
Total Law's excellent immigration lawyers are vastly experienced in dealing with digital nomad visa applications and provide advice and support to make your application process smooth.
Our professional immigration lawyers will help you determine that you meet the eligibility criteria for a digital nomad visa. They will advise you detailedly on which supporting documentation you should have. In addition, years of experience with this process have made us aware of the common mistakes that applicant make that causes application refusal. Therefore, we will help you avoid these errors to ensure that your application is consistent and readily accepted.
If you've had a previous refusal, Total Law can help you file an appeal or walk you through the re-application process to ensure you get accepted. So contact us today at +1 844 290 6312 to start your journey towards a successful visa application.
Advice Package
Comprehensive immigration advice tailored to your circumstances and goals.
Application Package
Designed to make your visa application as smooth and stress-free as possible.

Fast Track Package
Premium application service that ensures your visa application is submitted to meet your deadline.
Appeal Package
Ensure you have the greatest chance of a successful appeal. We will represent you in any case.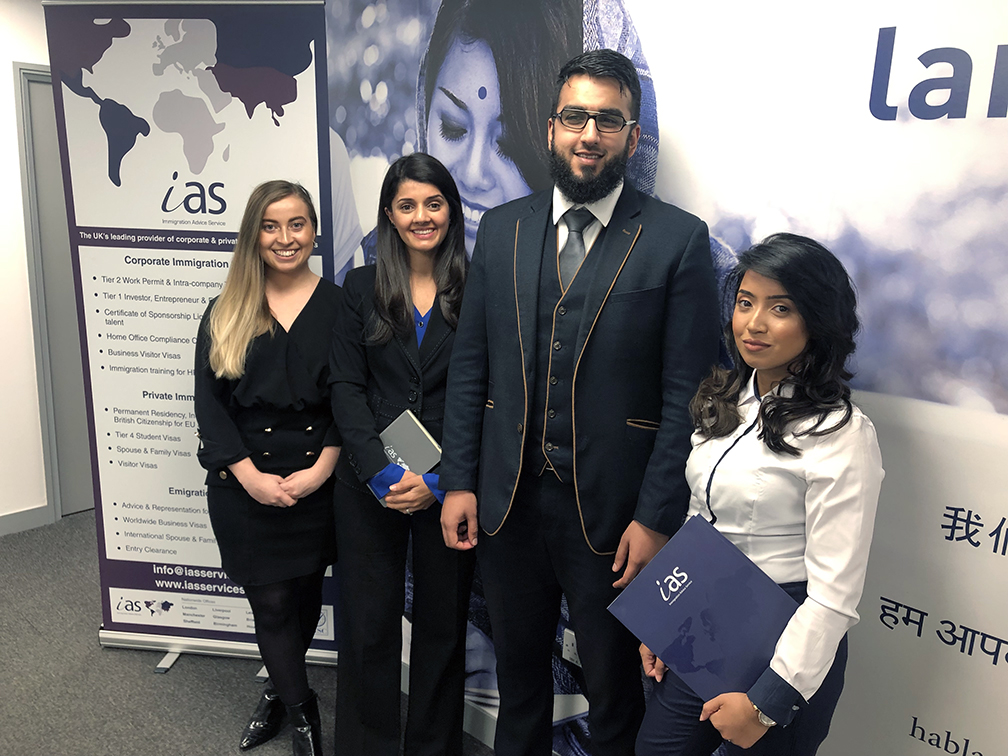 The Advice Package
During this untimed Advice Session with our professional immigration lawyers in London, you will receive our comprehensive advice, completely tailored to your needs and your situation.
Request the Advice Package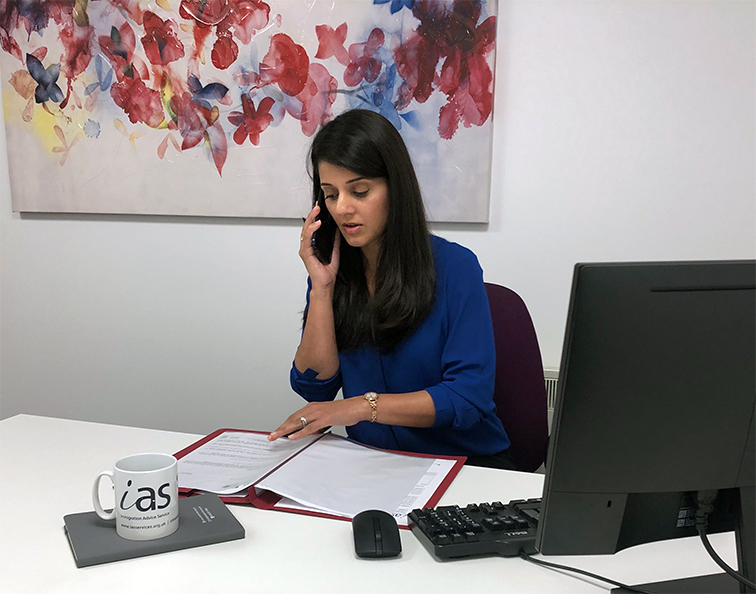 The Application Package
With our Application Package, your dedicated immigration lawyer will advise you on your application process and eligibility. Your caseworker will then complete and submit your forms to the Home Office on your behalf.
Request the Application Package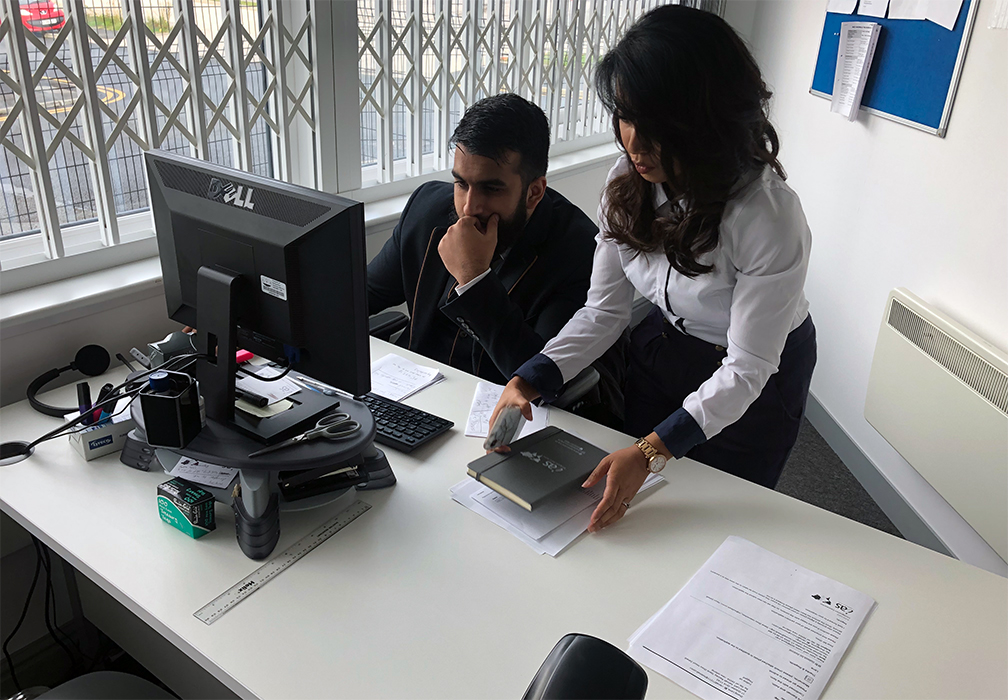 The Fast Track Package
Our Fast-Track Application Package is a premium service for those who need to submit their application in time with their deadlines. Your case will become a top priority for our lawyers and you will benefit from our highest-quality services.
Request the Fast Track Package
The Appeal Package
By choosing our Appeal Package, you can rely on our lawyers' legal knowledge and experience to ensure you have the highest chance of a successful appeal. We will also fully represent you in any hearings/tribunals.
Request the Appeal Package
Related pages for your continued reading.
Frequently Asked Questions
Yes, you can apply with family members. However, some countries may restrict your ability to travel with anybody other than your spouse or legally recognized partner, your children, and your immediate relatives.
When travelling as a digital nomad, you typically need to file a tax return in your country. Nevertheless, this varies based on the country in which you are employed. For instance, you are regarded as a taxable resident in Estonia if you have a digital nomad visa and stay for more than 183 days. However, some nations exempt digital nomads from paying taxes for a year; be sure to confirm this with your host country before travelling.