Ireland Long Stay 'D' Visa
If you plan on travelling to Ireland and staying for longer than 90 days, you may need to apply for an Ireland Long Stay visa. The Long Stay visas or "D" visas are issued to foreign nationals for the purpose of studying, joining a family member, or working in Ireland.
Call us on (+353) 061 518 025 for advice or immediate assistance securing a Long Stay Visa today.
What is the Long Stay visa?
The Long Stay Visa, also known as the D visa or Long Stay 'D' visa, comprises different Ireland visas that allow successful applicants to remain in Ireland to work, study, or settle with family members in the country.
This visa allows you to seek entry at the Irish border. When in Ireland, you can seek permission to stay longer than 90 days by applying for residence. The opposite is the Short stay visas (Short Stay 'C' visa) that only allow you to stay for about 90 days, at most.
Ireland's immigration law is quite complex when it comes to the requirements for residing in the country legally in the long term. Also, there are several visas under the Long Stay visa category, and each has its own requirements.
It's advisable to seek assistance from an Irish immigration law professional. Total Law can help. Call us (+353) 061 518 025 for immediate guidance today.
"I'm very happy with the standard of training received on the OISC Level 1 course, i passed my exam. Thank you!"
"My application was approved and a huge weight has been lifted from our shoulders this year "
"We used this service for the spouse visa extension application to assure that all the information was valid and correct."
Who needs a Long Stay Visa?
Foreign nationals who are not citizens of the UK or countries in the European Economic Area (EEA) need to apply for an Irish visa to enter Ireland.
If you are a citizen of an EEA country, you don't have to request permission to stay in Ireland after you pass through border control. You can stay for up to 90 days and if you wish to stay for longer, provide proof that you can financially support yourself and any dependents with you.
Some non-EEA nationals do not need a Long Stay 'D' visa. Citizens of those countries enjoy visa-free travel to Ireland, including the Long Stay visas. However, they need to request permission to stay in Ireland from an immigration officer at Border Control and must present documents to prove their purpose in Ireland. These countries include:
Andorra
Antigua and Barbuda
Argentina
Australia
Bahamas
Barbados
Belize
Bolivia
Botswana
Brazil
Brunei
Canada
Chile
Costa Rica
Dominica
El Salvador
Fiji
Guyana
Honduras
Hong Kong (Special Administrative Region)
Israel
Japan
Kiribati
Lesotho
Macau (Special Administrative Region)
Malaysia
Maldives
Mexico
Monaco
Nauru
New Zealand
Nicaragua
Vanuatu
Panama
Paraguay
Saint Kitts and Nevis
Saint Lucia
Saint Vincent and the Grenadines
Samoa
San Marino
Seychelles
Singapore
Solomon Islands
South Africa
South Korea
Swaziland
Switzerland
Taiwan
Tonga
Trinidad and Tobago
Tuvalu
United Arab Emirates
United States of America
Uruguay
Vatican City
Please note that some countries need a visa due to coronavirus restrictions. If you are a citizen of a country not on the list, you will need a visa to enter Ireland. Also, if you are travelling for a short time or through Ireland, you shouldn't get a long-stay visa; a transit visa or single journey visa (single entry/short stay) would work.
Types of Long Stay D Visas
As mentioned above, there are several visas under the Long Stay visa Ireland category, and you will have to apply for the specific Long Stay 'D' visa that suits your purpose in Ireland. The visas are:
Study Visa
The Ireland Study Visa applies to those travelling to Ireland to study in a higher education institution or a program listed on the Interim List of Eligible Programmes (ILEP).
If you are coming to study for more than three months, you should apply for the Long Stay Study visa at most three months before your proposed travel date. During the online application process, you will be required to provide documents, including an application letter and proof that you are enrolled in a privately funded course.
Employment Visa
There are four Ireland Long D Employment visas: the General Employment visa, Scientific Researcher visa, Van der Elst visa, and Atypical Working Scheme. They cover employment in Ireland, work done for your current EU employer in Ireland, research, some internships, and more. In addition to the employment visas are employment permits that include the critical skills employment permit, internship employment permit, and so on.
Family Reunification Visa
The Family Reunification or Family Member visa allows foreign nationals to join their family member living in Ireland. The requirements depend on if your family member is an Irish citizen, EEA citizen, or non-EEA national. Also, your relationship with the sponsor will determine the criteria you must meet. A spouse/partner, de facto partner, child, and some other family members are allowed.
Minister of Religion Visa
This visa permits qualifying religious personnel to remain in Ireland for up to three years to work with an eligible religious body or faith community if they can prove there is a need for their services and comply with the requirements for their circumstances.
Holders of this long stay d visa can stay for an initial period of one year and then up to three years. After that, they can apply for three further extensions of one year period each.
Volunteer Visa
The Long Stay Volunteer visa works for individuals who want to go to Ireland for volunteer work purposes, such as working in a non-profit organisation or a charity. With this D visa, you can volunteer in Ireland for two years with the possibility of extending the visa for the third year.
To qualify for the Irish Volunteer visa, you must prove that you are coming to work as a volunteer by providing supporting evidence and documents, including a Letter of Sponsorship from the organisation you are working with.
As you can see from the above, every D visa has its own unique requirements and purpose. You must satisfy the criteria from the Department of Justice and Equality to be able to get an entry permit into Ireland. For assistance, call us on (+353) 061 518 025 today.
What are the Long Stay D Visa requirements?
Each Long Stay visa has its peculiar requirements.
Requirements for the Long Stay Study Visa
To qualify for the Long Stay D Study visa, you must:
Be entering Ireland to engage in full-time study
Be enrolled for a privately-funded course, leading to a major award or equivalent to Degree Programme level 7 or above.
Have a letter of acceptance from the institution confirming that you have been accepted and enrolled in your course of study
Have paid the tuition fees, or at least €6,000 if the fees are above €6,000
Have enough funds to support yourself, live in the state and pay for your course
Have private medical insurance at the time of registration
Minister of Religion Visa Requirements
To obtain a Minister of Religion Long Stay 'D' visa, you must:
Work with a religious body or faith community as an ordained or professed member
Have at least three years of previous service as a Minister of Religion
Be from outside the EEA and Switzerland
Be sponsored by a religious body or faith community in Ireland. The religious body must:

Be established
Have active membership and congregation in Ireland
Have other serving full-time Ministers of Religion
Have dedicated premises

Have been vetted by An Garda Síochána to work with children and vulnerable adults in Ireland
Volunteer Visa Requirements
Volunteer visa applicants must meet the following requirements:
Have been offered volunteering work in an eligible organisation
Be qualified to work in the role
Not plan to rely on state funds or resources and be supported financially by the organisation.
Have plans to cover accommodation, either by themselves or by the organisation
Not have a criminal record
Be 18 years or older
Not be EU/EEA or Swiss citizens
Have medical insurance
Be cleared to work with children and vulnerable adults if necessary for their role.
Ireland Long-Stay D Employment Visa Requirements
There are four employment visas, and each has its eligibility requirements.
To qualify for the General Ireland Work visa, you must already have an employment permit from the Department of Enterprise, Trade and Employment (DETE).
In addition, you must have received an employment contract from an employer in Ireland, must qualify for that role and may be required to present evidence of medical insurance.
The Van der Elst visa is specifically for those currently working for an employer in another EU member state and reside in that state legally but need to work temporarily in Ireland to provide services on behalf of that employer. Also, there must be an Irish host company.
Researchers must prove that they have an arrangement with an accredited hosting organisation, enough funds to cover the cost of their stay in Ireland, and should present an employment contract if they are employed by the research organisation.
Family Reunification Irish Visa Requirements
The requirements for the Family reunification visas depend on various factors, including the relationship between the immigrant and the family member already living in Ireland and where the person living in Ireland is from.
There are different stipulations for sponsors who are UK nationals, Irish nationals, EEA or Swiss Nationals, and non-EEA or Swiss nationals.
Each category has different requirements for the sponsor and immigrant for an Irish family visa.
Generally, though, the immigrant must meet these Ireland visa requirements:
Be the spouse, dependent child, or de facto partner of the sponsor

In some cases, the parent or other family member of the sponsor is allowed

Be of good character and standing and must provide a police clearance certificate to prove this
Intend to live permanently with the sponsor in Ireland
Have medical insurance from an authorised company in Ireland
The sponsor also has requirements that mostly revolve around their finances, length of stay and status in Ireland, and conduct.
How to apply for a Long Stay 'D' Visa?
You can submit an application for a Long Stay 'D' visa to the Immigration Service Delivery via the AVATS Online Irish Visa Application Facility. The first step is to fill the application form for the visa you are applying for on AVATs. After filling the form, the system will create a summary application form. The summary will contain some instructions on how to submit your supporting documents. You should print, sign and date the summary and submit the complete summary form with your supporting documents.
You may also be required to submit a physical Long Stay visa application. Where you submit that differs by the country you apply from; it could be the Dublin visa office or an Irish Embassy.
Also, you may be required to give your biometrics. That means giving your fingerprints and photograph at an Irish Visa Application Center (VAC). China, Hong Kong, India, Nigeria, and Pakistan are some countries whose residents must provide their biometrics as part of the visa application process.
Children under five from the countries required to give biometrics are not required to provide their biometrics during their visa application process. Those aged 5 to 17 must be accompanied by their parent/guardian while giving their biometrics.
We can help you with your Long Stay visa application. Call us on (+353) 061 518 025 or contact us online for assistance or advice.
Supporting documents
Before you start your application, you should compile your supporting documents. They differ depending on the visa for which you are applying and your circumstances.
In general, they include:
The signed summary of the application form
Two passport-sized photographs
A valid passport or travel document
Copies of any previous passports
A letter of application you wrote stating your reason for travelling to Ireland, any family member you have in the State, and other visa-specific details
Details of previously refused visas
Proof that you have sufficient funds to support yourself during your stay
Proof of medical insurance (though not necessary at the time of visa application, but you must have this when travelling to Ireland)
Other relevant documentary evidence specific to the type of Long Stay visa you are applying for, such as:

Marriage certificate, if you are applying for a Family visa as a spouse of an Irish resident
Birth certificate for children of Irish residents when applying for a Family visa
Employment contract, if applying for an employment visa
Letter of Sponsorship, if it applies
Long Stay 'D' visa fee
The cost of your visa depends on if it's a single-entry or multiple-entry visas. The single entry visa is €60, and the multi journey visa is €100.
It's important to note here that some countries are exempt from the visa fees, including:
Bosnia
Côte d'Ivoire
Ecuador
Indonesia
Jamaica
Kosovo
Kyrgyzstan
Montenegro
Morocco
North Macedonia
Peru
Serbia
Sri Lanka
Tunisia
Uganda
Zambia
Also, the spouse, widow/widower, and child (under 18) of family members of Irish citizens are exempt from visa fees. Qualifying family members of beneficiaries of the Free Movement Directive are exempt from the visa fee as well. Those family members are spouse, children (under 21), dependent parent, dependent parent of spouse, other dependent family members in the direct ascending line or descending line.
An applicant may be required to pay other fees, including the Irish Residence Permit of €300 and private medical insurance premium. Students must have €7,000 in savings, and generally, if you are bringing dependents with you  – regardless of visa – you must have enough money to support not only yourself but also your dependents. Your dependents should apply for their separate Irish visa.
How long is the Long Stay 'D' visa processing time?
For most Long Stay 'D' visas, the processing time is 8 weeks on average from when a foreign national submit their application. If you do not provide enough supporting documents or there are other issues, such as a criminal record, your application may be delayed.
In addition, your application may take longer or shorter depending on the country you apply from and the workload of the VAC or embassy in that country, as well as the other bodies and offices where your application will be sent.
Some of the Long Stay visas take longer, generally. Family Visas are one of those, and that is due to the complexity of each circumstance. Your relationship with the sponsor needs to be verified; the sponsor's status in Ireland needs to be verified as well. Some Family Reunification visa applications take as long as six or even 12 months to process.
At the end of that time, you should receive a visa decision of visa refusal or approval. If approved, you can travel to Ireland but if denied, you can write an appeal to the Visa Appeals Officer or re-apply.
It is necessary that you seek assistance and support for your Long Stay visa application from experienced Irish immigration lawyers who can help ensure that your application is prepared to the highest standards and all supporting documentation is provided from the start to prevent delays caused by badly prepared applications or missing documents.
For information on how we can help you, please call us on (+353) 061 518 025 or contact us online.
How can Total Law help with a Long Stay 'D' visa?
At Total Law, we offer visa and immigration packages to help you obtain a Long Stay 'D' visa and move to Ireland.
If you entrust us with your visa application, our immigration team will assess your eligibility for the Long Stay visas. We would advise you on your options and prepare a quality application on your behalf. Also, we will liaise with the Irish immigration authorities to ensure your process goes smoothly.
Whether you want only advice, a document check, or top-quality comprehensive application support, we can help you.
Call us today on (+353) 061 518 025 to get matched with an accredited Ireland immigration professional based on your circumstances.
Advice Package
Comprehensive immigration advice tailored to your circumstances and goals.
Application Package
Designed to make your visa application as smooth and stress-free as possible.

Fast Track Package
Premium application service that ensures your visa application is submitted to meet your deadline.
Appeal Package
Ensure you have the greatest chance of a successful appeal. We will represent you in any case.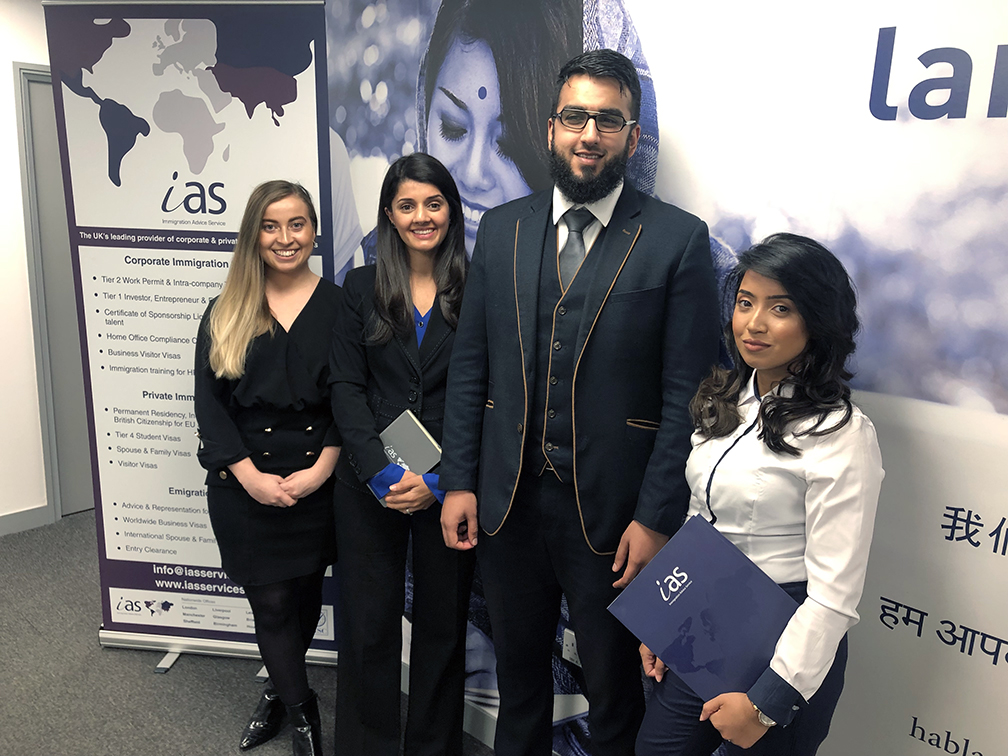 The Advice Package
During this untimed Advice Session with our professional immigration lawyers in London, you will receive our comprehensive advice, completely tailored to your needs and your situation.
Request the Advice Package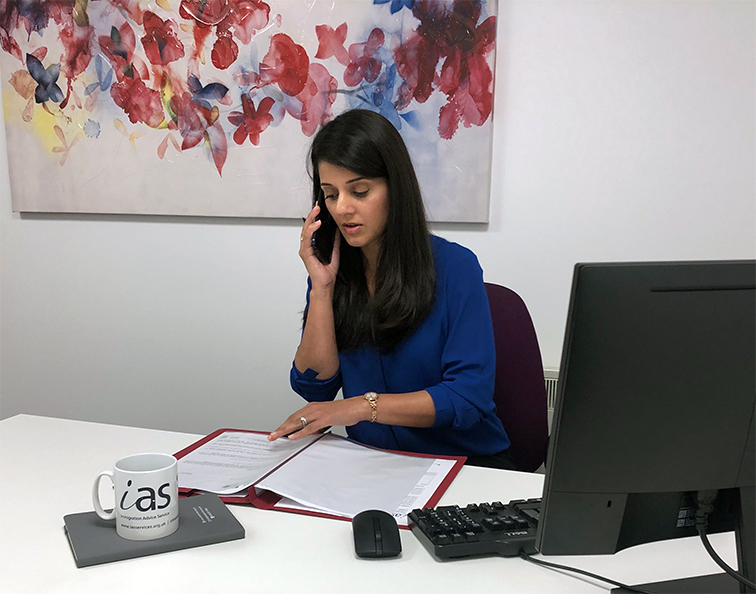 The Application Package
With our Application Package, your dedicated immigration lawyer will advise you on your application process and eligibility. Your caseworker will then complete and submit your forms to the Home Office on your behalf.
Request the Application Package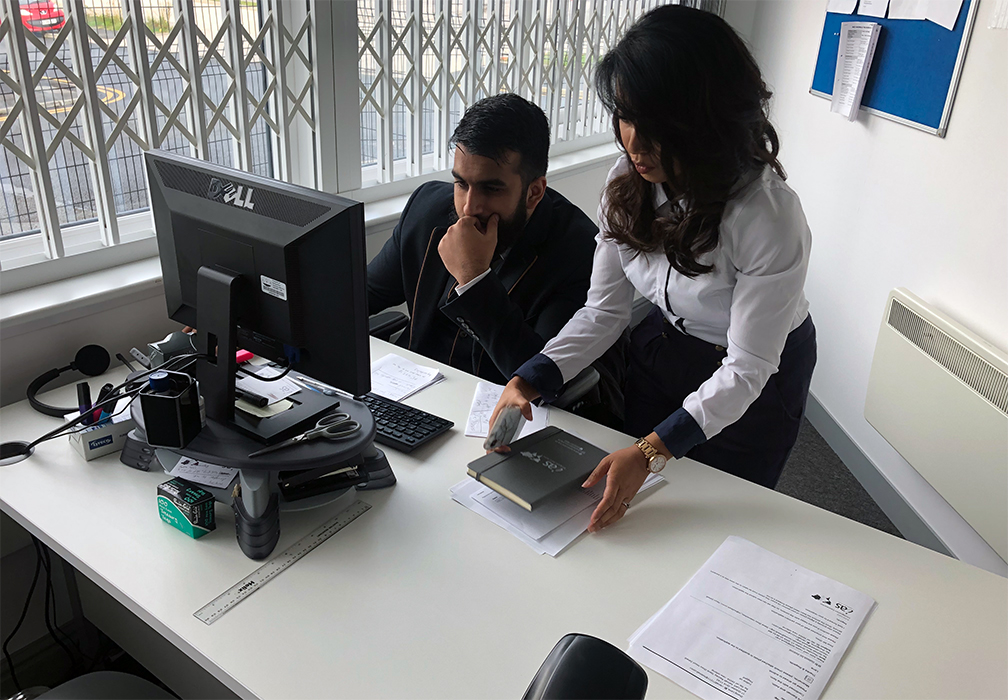 The Fast Track Package
Our Fast-Track Application Package is a premium service for those who need to submit their application in time with their deadlines. Your case will become a top priority for our lawyers and you will benefit from our highest-quality services.
Request the Fast Track Package
The Appeal Package
By choosing our Appeal Package, you can rely on our lawyers' legal knowledge and experience to ensure you have the highest chance of a successful appeal. We will also fully represent you in any hearings/tribunals.
Request the Appeal Package
Related pages for your continued reading.
Frequently Asked Questions
You can work with a D visa if you take the appropriate one. The Employment D visas allow you to work, the Minister of Religion visa also allows you to work, but it must be as a minister of religion in the approved organisation. If you are given a Long Stay study visa, you may be able to work, depending on your circumstances. Contact us for more information.
You can travel to Ireland after your Long Stay D visa is approved. When you arrive, a Border Control officer will ask you a few questions and may ask you to provide your passport and documents related to your reason for seeking entry into Ireland.
It's up to the Border Control officer to allow you to enter Ireland or not; having a visa does not mean you will be allowed to enter the state automatically. If you are approved to enter Ireland, the immigration officer will stamp your passport, and that will include the number of days you are allowed to stay in the country.
A Long Stay D visa may be issued for an initial period of one year. Depending on the visa and individual circumstances, some visa applications are granted for two or more years. For most of the visas, one or two years is provided, and then you can extend it in one-year duration until the limit, which is three years for some of the visas.
During the validity period, you may be able to enter the country once or multiple times, depending on the type of entry you apply for. Single entry visas allow you to enter Ireland just once within the validity period. In contrast, multi-entry visas allow you to enter Ireland multiple times if your visa is valid.
Your first Irish visa would be a single entry visa. If you wish to leave Ireland for a short time, you may need to apply for a re-entry visa. Those who have a valid Irish Residence Permit (IRP) do not need a re-entry visa. Foreign nationals under 16 aren't allowed to register for an Irish Residence Permit as so have to apply for a re-entry visa.