Ireland Child Dependent Visa
Ireland's Child Dependent visa is for dependent children of those living in Ireland legally. This immediate family reunification route lets you live with your dependent child in Ireland.
Call us on (+353) 061 518 025 for immediate assistance or advice with bringing the child to Ireland using the Child Dependent visa.
What is the Child Dependent visa?
The Child Dependent visa enables the dependent children of residents and citizens of Ireland to move to the State to join their family members. This is a Long Stay 'D' visa, so it only applies to those who plan to reside in the country for longer than three months.
You can obtain a child dependent visa if the child is dependent on an Irish or foreign national legally living in Ireland. In some cases, you will be able to obtain a dependent visa for the child if you are an international protection beneficiary. Each category has its own requirements.
A Child Dependent visa will enable the child to travel to Ireland to live, which can contribute to their eligibility for permanent residency. If the child is granted a Stamp 4 immigration permission to enter Ireland, they can later work in the State without securing an employment or work permit. The Child Dependent visa also eases the Student visa application process if they need to study at an Irish university.
"I'm very happy with the standard of training received on the OISC Level 1 course, i passed my exam. Thank you!"
"My application was approved and a huge weight has been lifted from our shoulders this year "
"We used this service for the spouse visa extension application to assure that all the information was valid and correct."
Eligibility requirements for the Child Dependent visa
The requirements for a Child Dependent visa depend on who the child is joining in Ireland.
Eligibility criteria for the dependent children
To join a family member in Ireland for more than three months, the child must be:
A dependent biological or fully adopted child of the sponsor
A step-child of the sponsor if the child is a full-time member of the sponsor's household or the sponsor has shared custody
Under 18

They may be aged 18-23 if they are still in full-time education or financially dependent on the sponsor.

A non-EEA/non-Swiss national
Ordinarily resident outside of Ireland
Requirements for a UK national
If you are a UK national, you can sponsor the child if you:
Intend to be resident in Ireland or already in the country
Are self-sufficient, that is, not on social welfare benefits and haven't relied on benefits for two years or more before the application.
Can support the child financially without relying on public funds
When sponsoring a child above 18, the child must intend to live together with the UK national in Ireland, be of good character, and have medical insurance from a company authorised by the Health Insurance Authority of Ireland.
Requirements for an EEA or Swiss national
If the child is coming to join an EEA or Swiss national in Ireland, they must obtain a Residence Card of a Family Member of a Union Citizen. That is also referred to as an EU Treaty Rights application.
To sponsor the child, you must be employed, self-employed or living in Ireland with sufficient resources. Also, the child must be below 21 years of age and can only apply to stay with you for longer than 90 days after they have arrived in the country in the regular short stay routes, such as a short Stay 'C' visa if they are from a visa required country. They would then apply using the Form EU1 for permission to stay longer than 90 days.
During the application for a long stay, the child may be given temporary immigration permission to remain in Ireland while the application is being processed.
Requirements for Irish citizens
An Irish national looking to sponsor their dependent child must be an Irish national residing in Ireland with an Irish passport or another document attesting to your citizenship. If the Irish citizen is living in another country, they must have a valid Irish passport showing evidence of their residency in the foreign country in which they are residing.
Requirements for a non-EEA or non-Swiss national
For non-EEA family reunification, the child can join their non-EEA or non-Swiss parent(s) in Ireland if their employment falls under certain categories and times.
A non-EEA/non-Swiss resident can sponsor their child to join them immediately they get their own visa if they are one of the following:
Entrepreneurs
Business Permission Holder
Researchers Approved Scholarship programme students
Intra Corporate Transferees
PhD Students

This is subject to some conditions, including that they haven't taken social welfare payments.

Full-time non-locum doctors in employment
Minister of Religion

The Minister of Religion must be maintained by the church; else, they fall under the category below.
The above is called Category A.
A few other categories can bring their child under the Child Dependent visa if they have been legally working in the State for a year as one of the following:
Non Critical Skills Employment Permit holders (Work Permit holders from visa-required countries)
All Stamp 4 holders that are not covered by other more favourable arrangements
These are referred to as Category B.
Financial requirements for the sponsor
If you want to sponsor the child to obtain the Child Dependent visa, you must meet the minimum financial requirements. For the Irish citizen, that is cumulative gross earnings of €40k over three years or higher if the sponsor is a non-EEA national. If you have received social welfare payments, those will not count as earnings for this requirement.
Also, an Irish citizen who wants to sponsor their child must not have been totally or primarily reliant on state benefits for two years or more before the application.
Non-EEA nationals that can sponsor their children usually have a work permit which may have an income requirement. Such a sponsor must continue to meet that and other terms of their permission (such as study progress for PhD students and levels of projected earnings for researchers). This is required to maintain their own and their child's entitlement to reside in Ireland. Also, they must not take social benefits.
Non-EEA nationals in category B must have a gross income received two years before the application over the amount applied by the Department of Social Protection in assessing eligibility for Family Income Supplement. For sponsors who do not meet this, Irish immigration may consider income spread over a 5-10 year period, and they must have earned at least €30,000.
Furthermore, there is a net income per week requirement. The numbers are based on FIS and are as follows:
| | |
| --- | --- |
| Number of Children | The required minimum income per week |
| One | €511 |
| Two | €612 |
| Three | €713 |
| Four | €834 |
| Five | €960 |
For more information or assistance with obtaining this visa, call Total Law on (+353) 061 518 025 or contact us online.
Required documents for the Irish Child Dependent visa
You are required to provide evidence of your relationship with the child and prove your eligibility to sponsor them with supporting documentation that includes:
Complete application form
Proof of application fee payment, if it applies
Two colour passport-sized photographs not more than six months old of the child
A valid passport and previous passports of the child
A signed letter of application
Proof of sponsor's status and eligibility to sponsor such as a copy of their:

Irish passport or another identity document
Foreign passport with Irish visa
Residence permit
Certificate of registration
Current employment permit/researcher (scientific) hosting agreement

Evidence of a parent-child relationship such as:

Child's birth certificate or adoption order
Court order or other evidence you have full custody and access rights, if the child is from a previous marriage, civil partnership or relationship,
An affidavit from the parent with some custody rights consenting you to take the child to Ireland if you don't have full custody
If the parent of the child is deceased, include the original death certificate of the deceased parent

Evidence of sponsor's finances, including:

Detailed bank statements and recent payslips or notices of Assessment of income from self-employment
Contract of employment

Evidence of the child's current location, such as the school attendance record from a school in the child's home country
Evidence of sustained support for a child over 18 years such as a bank statement showing transfers from your account to the child's account as well as the statement of the child's bank account showing a receipt of those amounts
Proof of the child's status if they are over 18, such as details of the child' other income if they have any and evidence of full-time education. If they are not in full-time education, then evidence of why they cannot work or take state benefits and their living costs.
Child Dependent visa application process
When applying for a Child Dependent visa, the sponsor must apply for the child if the child is below 18. If they are above 18, then they should apply themselves.
You can apply online on AVATS, the online application system of the Irish immigration department. If the child is joining a non-Irish national and is from a visa-required country, they will need a Long Stay (D) visa of Single or Multiple entry. Non-visa required nationals will need a Long Stay 'D' Preclearance of Single' entry.
After completing the online application, the system will generate a summary application form which will contain information on where to submit all the documents.
Also, the child may be required to provide their biometrics at a visa application centre, embassy, or the Dublin visa office. This is only needed if they are above five years old and live in China, Hong Kong, India, Nigeria or Pakistan. If they are between the ages of 5 and 17, they must be accompanied by their parent or guardian or another responsible adult when giving their biometric information.
Cost for this Ireland dependent visa application
During the application process, you may be required to pay fees for processing the Child Dependent visa. The visa fees are €60 for a single entry Child Dependent visa and €100 for a multi-entry Child Dependent visa.
You may not be required to pay visa fees for this visa. If the child is under 18 and sponsored by an Irish citizen, they are exempt from visa fees.
If the child is under 21 years and is being sponsored by an EU/EEA /Swiss Citizen, they are exempt from the Child Dependent visa fees.
Finally, citizens of the countries below are exempt from paying Irish visa fees.
| | | |
| --- | --- | --- |
| Bosnia | Côte d'Ivoire | Ecuador |
| Indonesia | Jamaica | Kosovo |
| Kyrgyzstan | Montenegro | Morocco |
| North Macedonia | Peru | Serbia |
| Sri Lanka | Tunisia | Uganda |
| Zambia | | |
Processing time for the Child Dependent visa
Applications for the Child Dependent visa typically take about six months or twelve months, depending on the category the sponsor falls into. If the sponsor is in Category A of the non-EEA/non-Swiss nationals as explained above or an Irish citizen, expect a decision within six months. Otherwise, expect a 12-month processing time for your Child Dependent visa application.
Child Dependent visa applications are usually processed faster than visas to sponsor non-nuclear permitted family members. Nevertheless, understand that all applications for the Child Dependent visa are processed in date order, so if there are so many applications before yours, it may take longer.
Furthermore, if you do not submit a complete application or need to provide additional documents, your processing time will take longer. This is why we recommend you use the services of an immigration specialist such as Total Law immigration consultants to ensure you have a high-standard application with no unnecessary delays.
Immigration Permission and Travelling to Ireland
There are specific considerations for children below 18 years when travelling to Ireland. If they travel to Ireland alone or with an adult who is not their parent or legal guardian, they must carry a written consent letter from the parents or legal guardians and copies of their passport or national identity cards showing their signature. If travelling with one parent or legal guardian, the same documents should be provided by the other guardian.
When permitted to enter the State at the port of entry, they may or may not be able to work. If the child is sponsored by an Irish citizen and is at the legal age to work, they can work without an employment permit. They will get a Stamp 4 permission.
Children of non-EEA sponsors or those who aren't directly a child of the Irish sponsor will be subject to the employment permit requirements of the Department of Jobs, Enterprise and Innovation. They can apply for a student, work, or business permit in their own right.
How Total Law can help with a Child Dependent Visa
The Child Dependent visa application process often requires so much paperwork, supporting documents, and scrutiny, so it can be challenging to handle it without specialist help. Not only that, appeal processes can take a long time and are often stressful to go through, which is why it is best to submit a high-quality application to prevent that.
Total Law can help you streamline the process of applying for a Child Dependent visa. We are Irish immigration specialists well-versed in immigration law and processes of the Republic of Ireland. Our immigration experts can ensure you have the best possible chance of obtaining a Child Dependent visa without any stress on your part.
We provide immigration support from the consideration stage to advise you on your options and ensure we have all the correct information that will put your case in the best light so that you can live with your child in Ireland. If you go with our immigration service, we will prepare a quality application that maximises your chances, provide a complete document check, and liaise with the Irish immigration authorities on your behalf.
We will work to reunite you with your loved one in the most efficient way possible. To begin, call us today on (+353) 061 518 025. You can also request a call back using our contact form or live chat.
Advice Package
Comprehensive immigration advice tailored to your circumstances and goals.
Application Package
Designed to make your visa application as smooth and stress-free as possible.

Fast Track Package
Premium application service that ensures your visa application is submitted to meet your deadline.
Appeal Package
Ensure you have the greatest chance of a successful appeal. We will represent you in any case.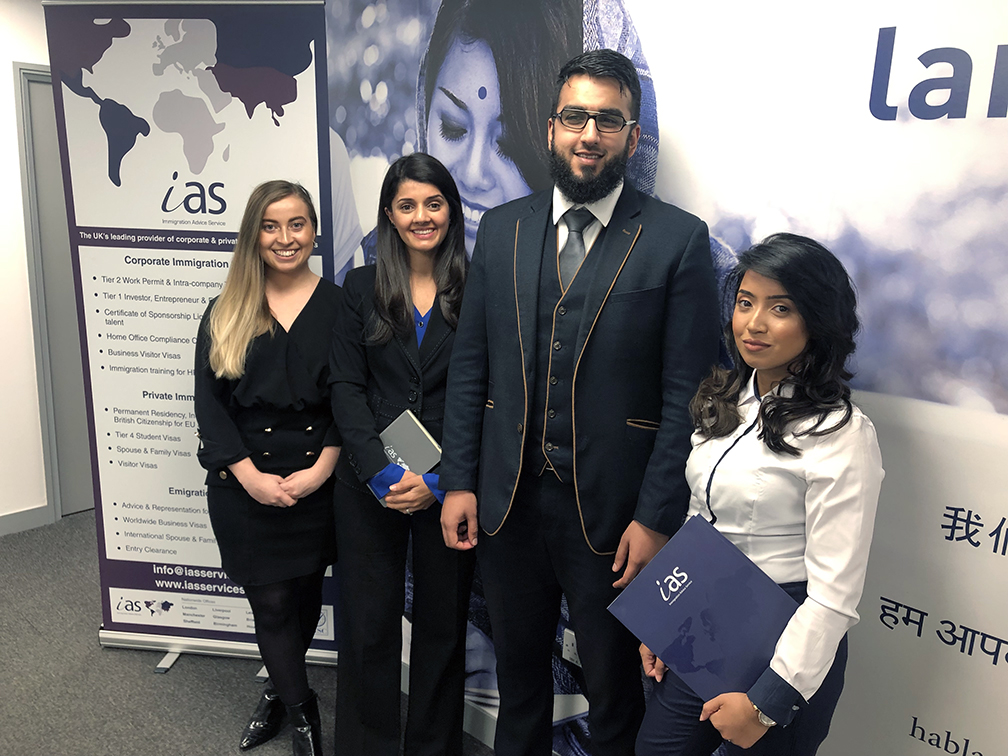 The Advice Package
During this untimed Advice Session with our professional immigration lawyers in London, you will receive our comprehensive advice, completely tailored to your needs and your situation.
Request the Advice Package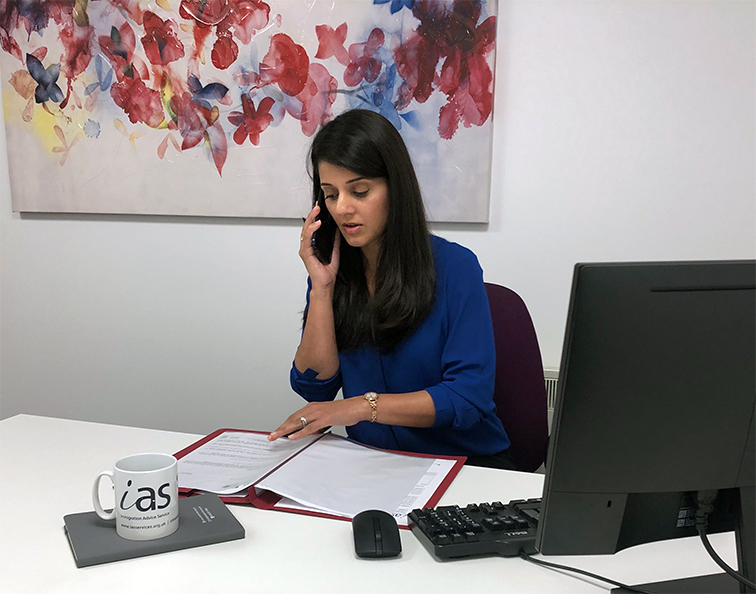 The Application Package
With our Application Package, your dedicated immigration lawyer will advise you on your application process and eligibility. Your caseworker will then complete and submit your forms to the Home Office on your behalf.
Request the Application Package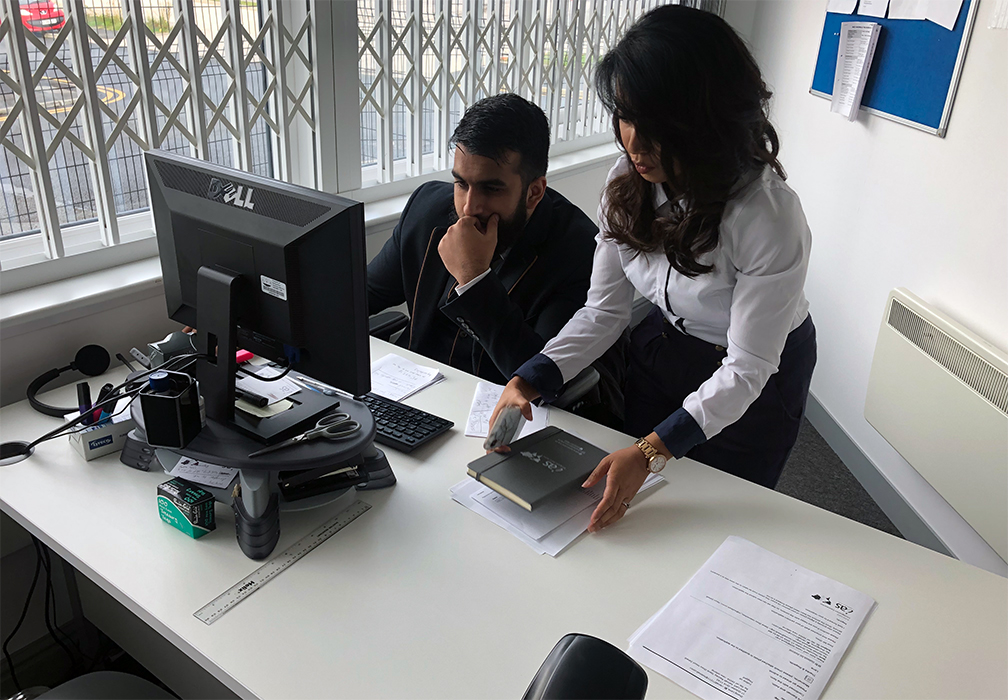 The Fast Track Package
Our Fast-Track Application Package is a premium service for those who need to submit their application in time with their deadlines. Your case will become a top priority for our lawyers and you will benefit from our highest-quality services.
Request the Fast Track Package
The Appeal Package
By choosing our Appeal Package, you can rely on our lawyers' legal knowledge and experience to ensure you have the highest chance of a successful appeal. We will also fully represent you in any hearings/tribunals.
Request the Appeal Package
Related pages for your continued reading.
Frequently Asked Questions
The processing time for a dependent visa depends on the relationship between the sponsor and the dependent. Applications for qualifying family members (spouse, civil partner, de-facto partner, dependent child) of an Irish or foreign national in Category A employment (discussed above) usually take six months.
In comparison, applications for other permitted family members and sponsors who are foreign nationals in other approved jobs can take up to 12 months.
Also, applications for other family members take longer than applications for qualifying family members and are processed at a less accelerated rate.
You can apply for an Irish child visa by filling out the online application form on AVATS, paying the visa fees if it applies, submitting the proper documents, and providing biometric information if it applies. Someone in Ireland or holding an Irish visa must act as the sponsor for immigration purposes. When submitting the documents, you must prove the family relationship with documents like a marriage certificate, civil partnership certificate, etc.
For a better chance of submitting a quality application that cuts out delays from the application creation and document submission process, please call us on (+353) 061 518 025.
It depends on the sponsor and if the dependant visa holder has a work permit. If your sponsor is an Irish citizen, the dependent visa holder can work or start a business in Ireland without a work or employment permit. However, if the sponsor is a non-EEA or non-Swiss national, the dependent visa holder must apply for an employment permit in their own right to work in the country.