EU Treaty Rights in Ireland
EU Treaty Rights are afforded to citizens of EU/EEA member states and their families. Thanks to them, EEA citizens can move to Ireland freely and have the right to take their family members with them.
To receive legal advice on how you can exercise your EU Treaty Rights in Ireland, call us today on +353 061 518 025.
What are EU Treaty Rights?
EU Treaty Rights are used to describe the right of citizens of EU member states to exercise free movement within the organisation's territory. They allow EU/EEA citizens, as well as citizens of Switzerland, to move from one EU country to another without having to apply for a visa. They also grant them the right to work in EU member states without needing a work permit.
As Ireland belongs to the European Union, if you are a citizen of an EU/EEA country, or a citizen of Switzerland, you can come to Ireland without a visa and look for employment there after you arrive. You can also study or be self-employed there.
Under EU Treaty Rights, certain family members can join the person exercising their treaty rights in Ireland.
"I'm very happy with the standard of training received on the OISC Level 1 course, i passed my exam. Thank you!"
"My application was approved and a huge weight has been lifted from our shoulders this year "
"We used this service for the spouse visa extension application to assure that all the information was valid and correct."
Can non-EEA citizens join their family members in Ireland through EU Treaty Rights?
EU Treaty Rights allow certain family members of EU/EEA nationals living in Ireland to join them there. There are two categories of family members who might be able to come to Ireland with you. These are:
Qualifying members, which are spouses or civil partners, children or grandchildren younger than 21 years of age, parents or grandparents
Permitted family members, which are dependents who require long-term personal care because of illness or disability, a partner with whom you have been in a relationship for at least two years.
For your family to be able to join you in Ireland, you have to be exercising your EU Treaty Rights there and you have to be employed, self-employed, or living in Ireland with enough money to support yourself and your family after they come to Ireland.
If the family member you want to bring to Ireland is a non-EEA national, they need to apply for a residence card after they arrive in the country. They might also have to obtain a visa enabling them to enter Ireland. If they come from a visa-required country, they need to submit their visa application prior to embarking on their journey.
How can non-EEA citizens apply for residency permission in Ireland through EU Treaty Rights?
To be able to join their family members in Ireland, non-EEA citizens have to submit a number of documents confirming their relationship with the person exercising their treaty rights in Ireland.
After a non-EEA family member comes to Ireland to join the person exercising their EU Treaty Rights there, they need to register at an immigration office. It is essential for them to receive their Irish Residence Permit, allowing them to remain in Ireland for longer than 3 months. The price for the Irish Residence Permit is €300.
Typically, they will have 90 days from arrival to complete the registration.
If they are granted residency permission, they will receive a stamp in their passport, indicating how long they can live and work in Ireland. They will also be given a plastic card confirming their rights in Ireland.
Can de facto partners come to Ireland through EU Treaty Rights?
For the purpose of Irish immigration, a de facto relationship is a relationship that meets the following requirements:
It is genuine and ongoing
Partners have lived together for at least 2 years
Partners are not related by blood
Partners intend to stay and live together long-term in a way similar to marriage or civil partnership in practice although not in law
Any previous marriages or civil partnerships of either of the partners have been officially terminated.
De facto partners of individuals exercising their EU Treaty Rights in Ireland can join them provided that their relationship meets the criteria mentioned above. To apply for residency in Ireland through EU Treaty Rights, the foreign de facto partner has to submit Form EU1A for permitted family members of EEA nationals residing in Ireland.
Do EU Treaty Rights in Ireland apply to students?
International students who are citizens of any of the EU/EEA member states have the right to enter Ireland and study there without having to apply for a visa. All they need to do is show their national id or passport upon arriving in Ireland to prove their EU citizenship. EU/EEA students do not have to be enrolled in a study course prior to arriving in Ireland. They can come to the country first and begin studying after a while.
Initially, EU students are allowed to stay in Ireland for up to three months without a visa. However, if after this period they can show that they are studying in Ireland, they can stay longer.
Moreover, all EU/EEA students are entitled to work full-time or part-time in Ireland alongside their studies. They can do so without having to obtain a work permit.
Can I lose my EU Treaty Rights?
EU Treaty Rights are automatically awarded to individuals who hold citizenship of one of the EU member states. EU citizens can decide to exercise their EU Treaty Rights in an EU country different to their country of origin at any point in their lives.
Generally, if you abide by the rules of the country where you are exercising your EU Treaty Rights, you will not have them revoked. Nevertheless, in certain exceptional circumstances, you can lose your EU Treaty Rights. That can happen, for example, if you are deemed a threat to public safety or public health.
If you are facing deportation and you believe that it is not justified, you have the right to appeal. Then, if your appeal is successful, your EU Treaty Rights will be restored. Make sure to consult a Total Law immigration advisor before undertaking any action, however. They can help you make sure that your case is as strong as possible.
How can Total Law help?
Our immigration team have a thorough understanding of what EU Treaty Rights entail and they can tell you how you can exercise them in Ireland. They can also help you bring your non-EEA family members to Ireland if you wish to do so.
Thanks to the help of our immigration experts you will be able to avoid separation from your loved ones and you will be able to make your dream of living and working in Ireland come true.
Our highly-qualified advisors can answer all your questions and clear any doubts you might have. They can also help you and your foreign family members complete all the required application forms and gather all the necessary supporting documents.
Call us today on +353 061 518 025 to find out more about how our consultants can help.
Advice Package
Comprehensive immigration advice tailored to your circumstances and goals.
Application Package
Designed to make your visa application as smooth and stress-free as possible.

Fast Track Package
Premium application service that ensures your visa application is submitted to meet your deadline.
Appeal Package
Ensure you have the greatest chance of a successful appeal. We will represent you in any case.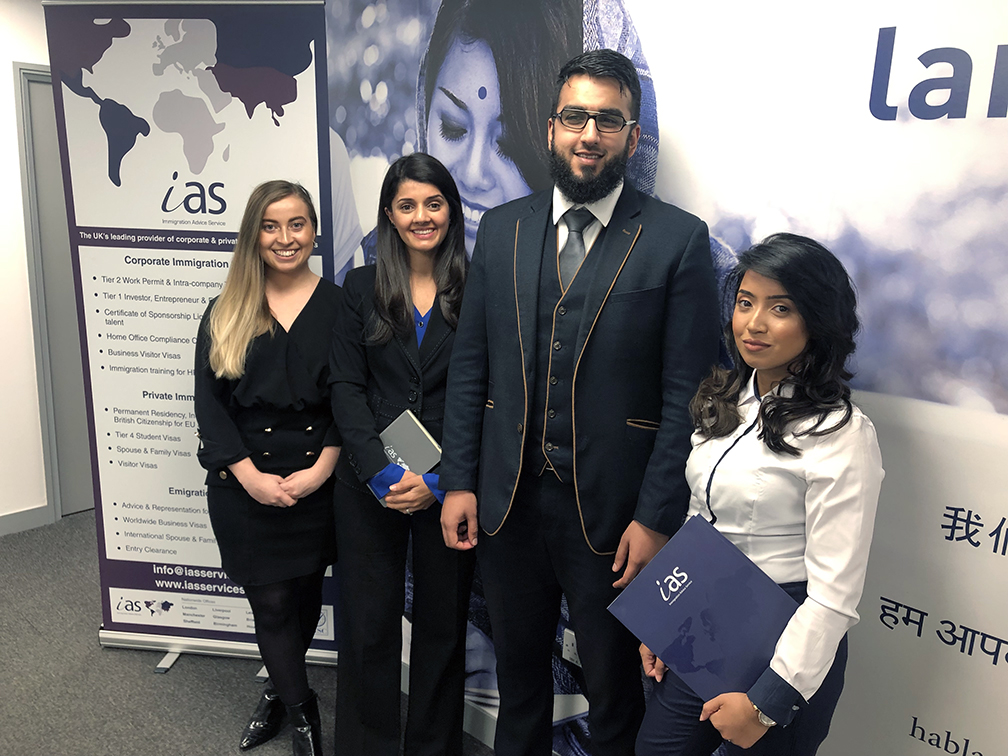 The Advice Package
During this untimed Advice Session with our professional immigration lawyers in London, you will receive our comprehensive advice, completely tailored to your needs and your situation.
Request the Advice Package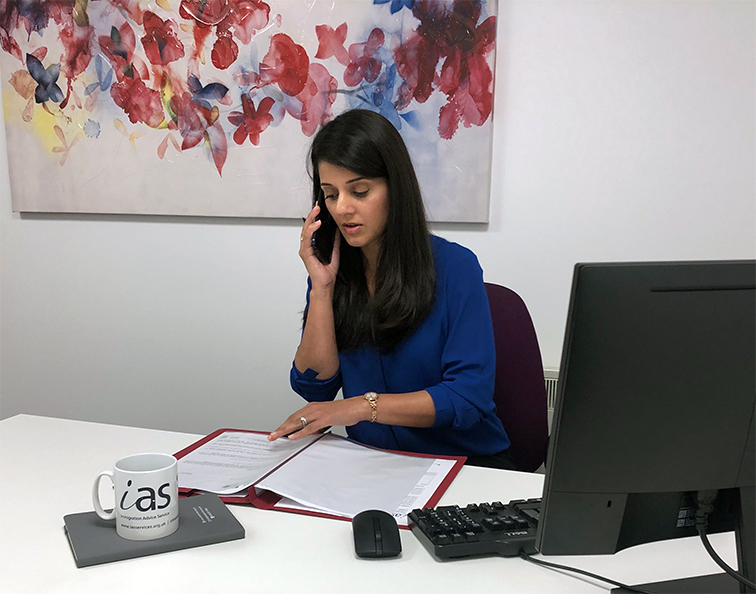 The Application Package
With our Application Package, your dedicated immigration lawyer will advise you on your application process and eligibility. Your caseworker will then complete and submit your forms to the Home Office on your behalf.
Request the Application Package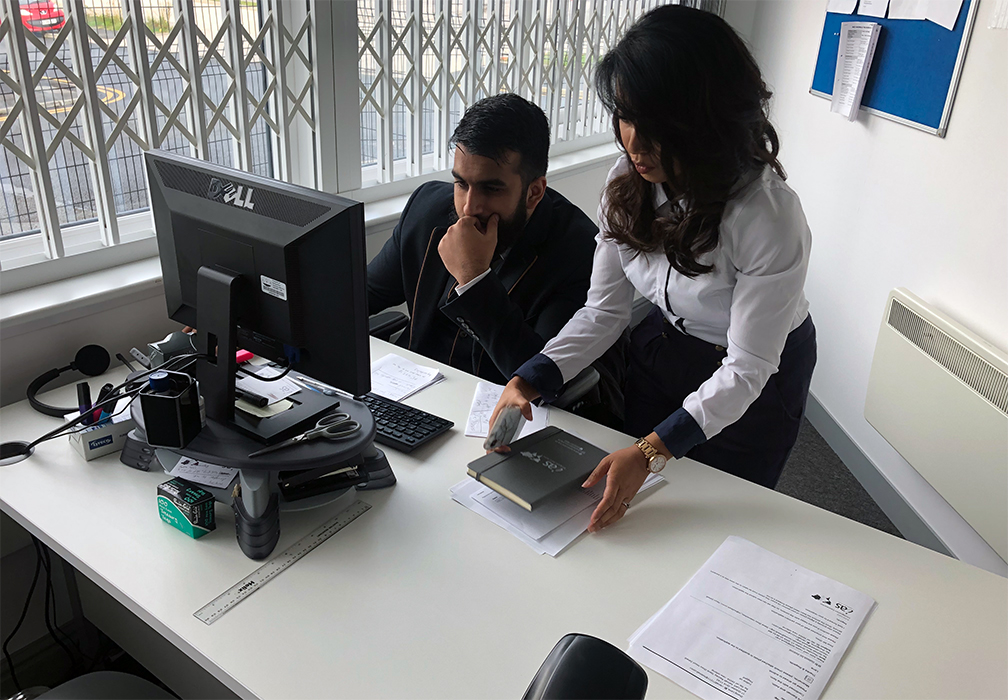 The Fast Track Package
Our Fast-Track Application Package is a premium service for those who need to submit their application in time with their deadlines. Your case will become a top priority for our lawyers and you will benefit from our highest-quality services.
Request the Fast Track Package
The Appeal Package
By choosing our Appeal Package, you can rely on our lawyers' legal knowledge and experience to ensure you have the highest chance of a successful appeal. We will also fully represent you in any hearings/tribunals.
Request the Appeal Package
Related pages for your continued reading.
Frequently Asked Questions
The UK has left the EU so EU Treaty Rights no longer cover British citizens. Nevertheless, British citizens still enjoy almost the same rights as Irish citizens. They can come to Ireland without a visa, work there without having to obtain a work permit, access state funds and services, and even move there permanently without having to meet any specific requirements. That is because British citizens are protected by the Common Travel Area agreement.
The Irish Residence Permit (IRP) is a plastic card that confirms the status of foreign citizens who reside in Ireland. It includes personal details of the holder such as name, photo, birth date, registration number, information regarding the type of immigration permission in Ireland, stamps, microchip with personal information and fingerprints. In the event where they request it, IRP needs to be shown to authorities.
EEA citizens have the right to travel to Ireland and enter the country without a visa. Generally, as long as they can show a national id or passport confirming that they are citizens of an EU/EEA country, they will be allowed in.
There are, however, limited circumstances where EEA citizens can be denied entry into Ireland. That can happen when:
The EEA citizen trying to enter Ireland is carrying a severe contagious disease
The EEA citizen has previously committed serious crimes and is found to be posing a threat to public security.
If none of those applies to your circumstances, you do not have to worry and you will almost certainly be allowed to enter Ireland.
No. Citizens of EU/EEA countries, as well as citizens of Switzerland, can travel to Ireland without having to obtain a visa. You can come visit Ireland for the purpose of tourism visa-free, but you can also decide to undertake employment or begin a study course there and you still do not need a visa.