Ireland Dependent Visa
When moving to Ireland, it is essential to understand the steps to bring your dependents. Knowing the eligibility requirements for a Dependent Visa can help you to apply successfully. This guide will discuss the eligibility requirements, application process, and necessary information regarding the Dependent Visa.
The visa application process can be stressful and intimidating. To strengthen your case and gain assistance throughout the process, you can rely on our team of immigration experts here at Total Law. Call us today at +353 061 518 025 for more information.
Overview of the Dependent Visa
The Dependent Visa allows dependent children and family members to join you when living in Ireland. Understanding the visa application process, eligibility requirements, and what is allowed under the Dependent Visa will help you during the application process.
65,200 immigrants move to Ireland each year, including family members and dependents. The Irish Dependent Visa allows non-EEA (those living outside of EU countries and also Iceland, Liechtenstein and Norway) nationals to move to Ireland as dependent children or family members.
"I'm very happy with the standard of training received on the OISC Level 1 course, i passed my exam. Thank you!"
"My application was approved and a huge weight has been lifted from our shoulders this year "
"We used this service for the spouse visa extension application to assure that all the information was valid and correct."
Eligibility Requirements for the Dependent Visa
To be classed as a dependent and move to Ireland, you must meet the following criteria:
You must be aged between 16 and 18.
If you are aged under 23, you must be partaking in full-time education.
Your sponsor is an Irish national.
Or, your sponsor is the spouse of an Irish national.
Or, your sponsor holds Stamp 1, Stamp 4, or Stamp 5 permission.
You must live with your sponsor full-time.
Your sponsor is part of your family unit, and you do not typically spend time living apart.
If the above conditions apply, you will be classed as a dependent by the Irish immigration authorities. However, there are some other conditions you must meet to be eligible for the Dependent Visa:
The applicant must possess a D-Join Family Visa before joining a family member in Ireland.
Applicants must be dependent family members of their sponsors, who should be permanent residents or citizens of Ireland.
Your family member must be able to support you financially without government aid.
You must have entered Ireland legally.
You cannot have received a notification to deport.
You must have a clean criminal record.
If you are sponsoring a dependent, you must provide proof of funds. Sponsors must meet one of  the following criteria if they are studying while supporting a dependent:
You are a researcher under a hosting agreement.
You are a PhD student studying for an accredited doctorate in Ireland.
You are under a scholarship program in Ireland.
You have a Level 8 or higher Honours Degree and can provide evidence for future advancement.
Required Documents for the Dependent Visa
When applying for the Dependent Visa for yourself or your family member, you must provide evidence that you meet the criteria. Here are the required documents accompanying your application:
Proof of identity:

Passport of the applicant.
Passport of the sponsor.
D-Join Family Visa of the applicant.

Proof of the relationship history:

Child's birth certificate/dependent's birth certificate.
Adoption or legal guardians certificate (if applicable).
Marriage certificate or civil partnership certificate (to prove the sponsor is married to an Irish citizen).
Utility bills are in the names of both the applicant and the sponsor.
Evidence of your last shared address (this can be your Irish residence).
Evidence of the sponsor's bank accounts covering your expenses.
Bank accounts from the last 6 months to show financial and social dependency.

Proof of residence in Ireland:

Landlord letter, rental agreement, rent book, or tenancy agreement.
Residential Tenancies Board letter.
Proof of rent paid.
Letter from County Council, mortgage lender, or local authority.
Title or deeds of the property.
Utility bills, including the sponsor's name.
Bank statements showing receipt of mortgage payments.

Evidencing the sponsor's current activity in the state:

When the sponsor is employed:

Supporting documents for the sponsor's current employment.
Signed contract of employment/letter of confirmation from employer.
Two recent payslips and Summary of Employment details from the last 3 years.
6 months' bank statements.

When the sponsor is self-employed:

Revenue Commissioners Tax Statement from the previous year/letter of registration for self-assessment from the Revenue Commissioners.
Business account bank statements for the last 6 months.
Bank statements and evidence of financial support were provided.

When the sponsor is a student:

Letter from course provider confirming enrollment, start date, and completion date.
Evidence of private medical insurance covering both the sponsor and the applicant.
Bank statements evidencing financial support.

When the sponsor is involuntarily unemployed:

Evidence of benefits claims from the Department of Social Protection.
Evidence of jobseeker's status from the Employment Services Office.
Evidence stating the reason for termination from the previous role.
P45 from previous employment and 2 years' employment history summary.

Evidence that both the sponsor and the applicant have private medical insurance coverage.
Creating a strong applicant or sponsor portfolio can be challenging. A legal professional's assistance can help you ensure you do not miss any vital supporting documents. Contact our team at Total Law to access expert legal assistance throughout the application process.
What Are the Financial Requirements for the Dependent Visa?
The family income settlement dictates that you must have an income of at least €551 per week to support the dependent financially. However, this figure can vary depending on the number of dependents you wish to bring to Ireland. For example, you must make at least €652 per week to bring two dependents to live in Ireland.
How To Apply for an Irish Dependent Visa
Before you begin your application for the Dependent Visa in Ireland, you must ensure you have all of the required documents to provide your eligibility. Preparing these documents beforehand will hasten the application process and ensure there is nothing missing from your application.
By applying for this visa, you are assuming financial and social responsibility for your dependents while they are living in Ireland.
You must also ensure that your dependent has full medical and travel insurance, and they must already be in Ireland under a D-Join Family Visa.
You can apply for the visa online or visit a visa application centre. It is important to note that your visa application may be more challenging if the sponsor is not an Irish citizen.
If this is the case, it could be helpful to reach out to an immigration lawyer to assist in the process. Our team at Total Law can help you to access the resources and information you need to support your application.
What Is the Processing Time for the Dependent Visa?
The average processing time for the Dependent Visa is 20 days. Once you have completed the online application process or submitted your application to the visa application centre, you should expect to hear back between 18 and 35 days. Sometimes, your application may take longer to process, depending on the demands placed upon the immigration office at the time.
If you have a medical condition, you might be able to access priority processing to hasten the visa application process. You will need to provide evidence of your medical condition to your visa officer, which should be a medical letter from an Irish medical authority.
How Much Does the Dependent Visa Cost?
To prepare for your visa application, you must be prepared to pay both the visa processing fee and the certification fee. Here are the fees you can expect to pay:
Ireland Citizenship visa processing fee – €175
Ireland Citizenship certification fee (adults) – €950
Ireland Citizenship certification fee (minors) – €200
If your dependents intend to apply for an employment permit in Ireland, they do not need to pay a processing fee.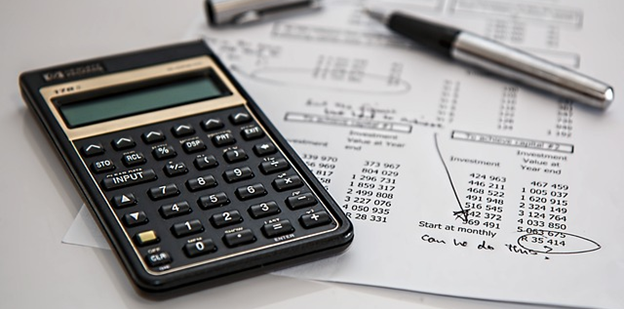 What Can You Do under an Irish Dependent Visa?
If you are over 16, you can work under an Irish Dependent Visa – as long as you apply for an employment permit. You are also permitted to study in full-time education or enter into an apprenticeship – which is conditional upon a successful study permit or employment permit application.
If you are a non-EEA national, you must apply for an employment permit to adhere to national immigration policy. A critical skills employment permit may be prioritised, as you will be bringing valuable skills to the Irish economy.
An employment permit holder can live and work in Ireland so long as the job provides above the national minimum wage.
You can only apply for a job in Ireland once you have received immigration permission and received your immigration certificate.
Visa Refusal and Appeal Process for the Dependent Visa
Sometimes, your visa application could be refused. You will receive a letter of refusal to notify you of your application status. Should you receive a visa refusal letter, it will tell you the reason why your visa is being refused.
You can appeal the decision made by your visa officer if you submit your appeal within 2 months of receiving notification. You should submit your appeal to the Irish Immigration Service with evidence and supporting documents denoting why you think the decision is invalid. Here are some of the reasons why your Irish dependent visa might be refused:
You did not provide documentary evidence.
You have a criminal record.
You do not have sufficient proof of funds.
You or your dependent do not meet the eligibility criteria.
If you believe that your dependent visa was refused without just cause, you can rely on the services of an immigration lawyer to help you and your other family members strengthen your case. Legal advice can improve your chances of a successful appeal and allows you to leverage in-depth knowledge of Irish immigration laws.
Whether you are a sponsor or a dependent, applying for the Dependent Visa can be a challenging process. If you fail to provide supporting documentation or sufficient proof of funds, this could result in a visa refusal.
Understanding the best supporting documentation to provide and reviewing your application portfolio is easier with legal advice. At Total Law, our immigration experts can help you to fulfil your legal obligation during the application or appeal process.
We can provide you with a letter of recommendation to strengthen your case and reduce your workload in the visa process.
If you plan on bringing a family member to Ireland or joining your family members, why not contact us at +353 061 518 025? We have extensive experience with Irish immigration authorities to aid in your application.
Advice Package
Comprehensive immigration advice tailored to your circumstances and goals.
Application Package
Designed to make your visa application as smooth and stress-free as possible.

Fast Track Package
Premium application service that ensures your visa application is submitted to meet your deadline.
Appeal Package
Ensure you have the greatest chance of a successful appeal. We will represent you in any case.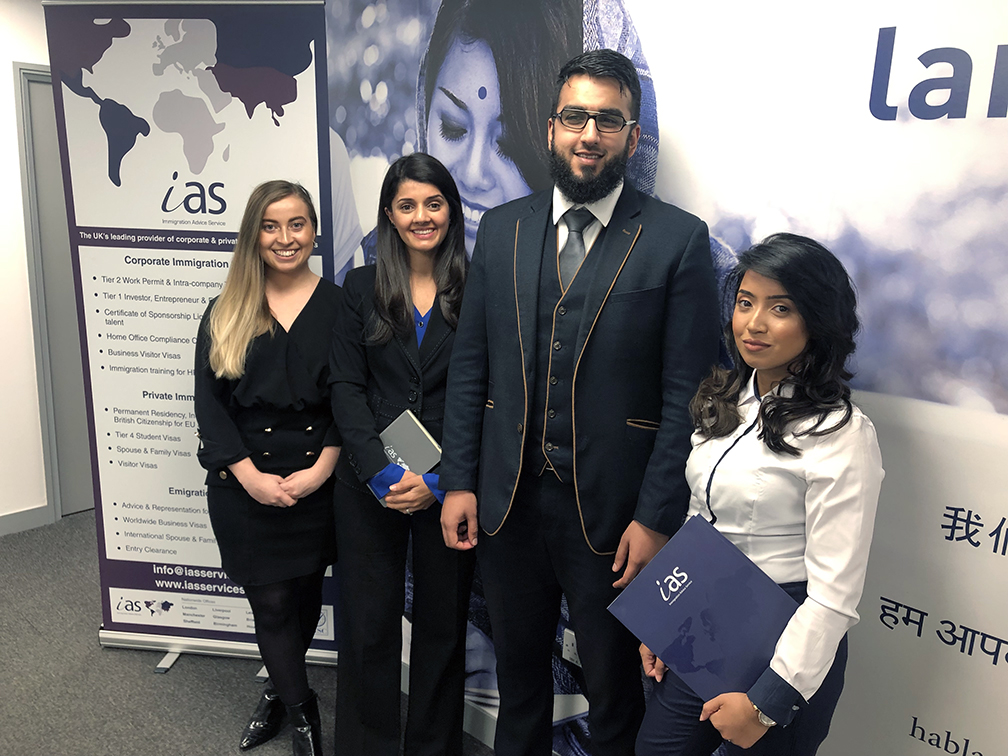 The Advice Package
During this untimed Advice Session with our professional immigration lawyers in London, you will receive our comprehensive advice, completely tailored to your needs and your situation.
Request the Advice Package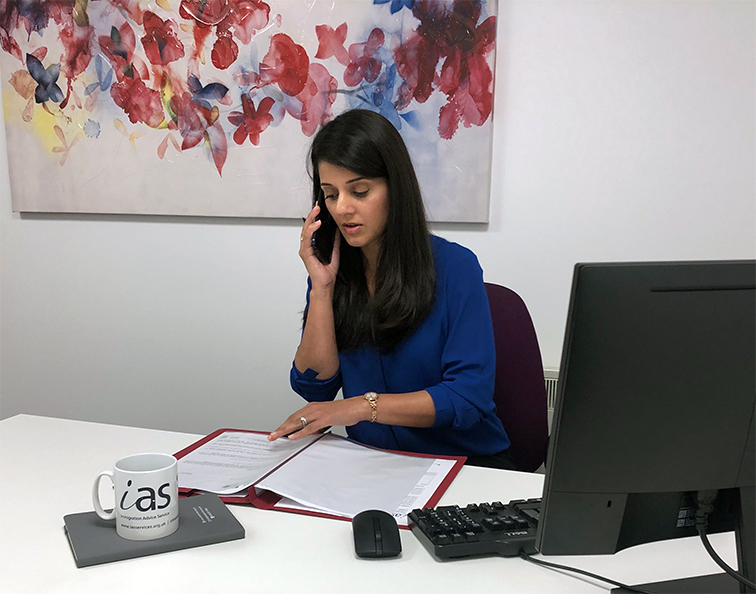 The Application Package
With our Application Package, your dedicated immigration lawyer will advise you on your application process and eligibility. Your caseworker will then complete and submit your forms to the Home Office on your behalf.
Request the Application Package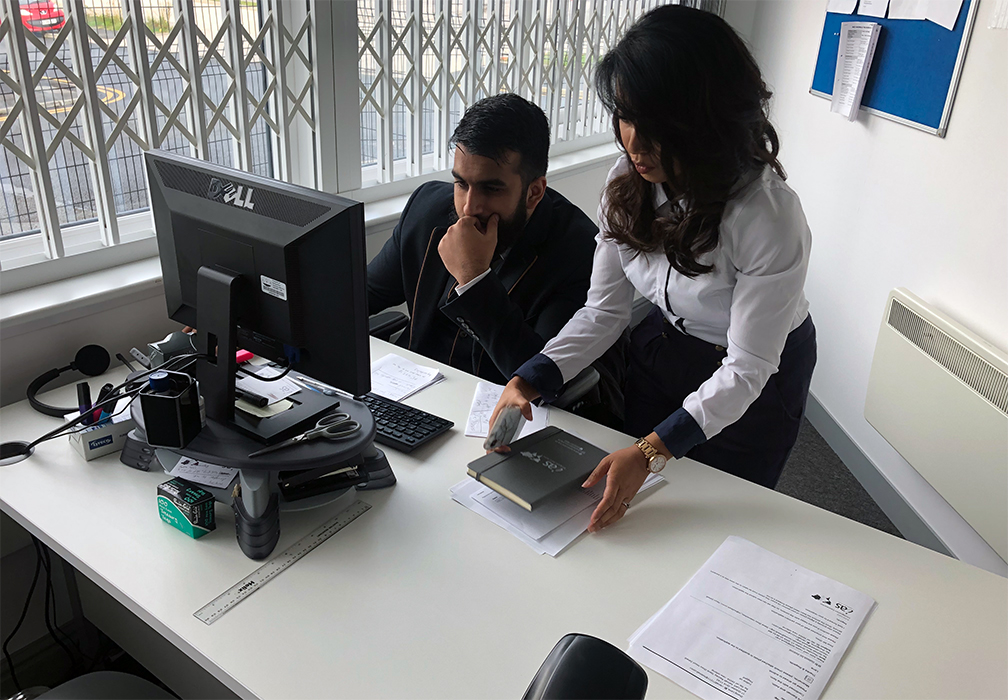 The Fast Track Package
Our Fast-Track Application Package is a premium service for those who need to submit their application in time with their deadlines. Your case will become a top priority for our lawyers and you will benefit from our highest-quality services.
Request the Fast Track Package
The Appeal Package
By choosing our Appeal Package, you can rely on our lawyers' legal knowledge and experience to ensure you have the highest chance of a successful appeal. We will also fully represent you in any hearings/tribunals.
Request the Appeal Package
Related pages for your continued reading.
Frequently Asked Questions
A Dependent Visa could be revoked if you engage in the following activities:
Disobeying the laws of the state.
Becoming involved in criminal activity.
Failing to gain employment and becoming a burden of the state.
Not living continuously in Ireland.
Your dependent visa will last as long as your sponsor's visa, or until you reach the age of 23. If you do not plan to remain in education once you turn 18, you may need to apply for permanent residency to remain in Ireland.
If you plan on visiting your family in Ireland for under 3 months, you do not need to apply for a dependent visa. You are legally permitted to stay with your family in Ireland for up to 3 months.