Irish Business Visas
Ireland is a common destination for foreign nationals and international companies to conduct business activities. Non-EEA citizens who plan to travel to Ireland to conduct business will need immigration permission to do so.
If you would like further advice on visa options for business in Ireland, contact Total Law for assistance. Speak to one of our expert immigration advisers today. Call (+353) 061 518 025 or use the online contact form to get in touch.
What are the Irish Business Visas?
The Irish Business Visas are the Irish visas that allow foreign nationals to come to Ireland for the sake of doing business.
One is the Ireland Business visa which is a Short Stay 'C' Visa that allows visa holders to stay in Ireland for a short amount of time, up to 90 days.
Another is the Start-up Entrepreneur Programme (STEP). This allows foreign nationals to come to Ireland to start and run a business if they have an innovative idea.
Some other Irish visas also allow some business activities. But not to the full extent of the above two visas. One is the Irish immigrant investor program and another is the Conference/Event visa.
For more information or assistance with obtaining an Ireland business visa, please get in touch with us today. Call (+353) 061 518 025 or contact us online.
"I'm very happy with the standard of training received on the OISC Level 1 course, i passed my exam. Thank you!"
"My application was approved and a huge weight has been lifted from our shoulders this year "
"We used this service for the spouse visa extension application to assure that all the information was valid and correct."
Overview of the Short Stay Irish Business visa?
This type of Short Stay 'C' Visa is designed for citizens of non-EEA countries to travel to Ireland to conduct business activities such as negotiating or signing agreements and contracts, attending business meetings, or participating in business or professional conferences and conventions. If you are self-employed or work at a start-up, you may still be eligible for a business visa.
A business visa is not a path to Irish residency or Irish naturalisation. If you are planning to seek Irish citizenship, contact Total Law for advice on the best path to take.
In Ireland, a business visa will permit you to work for up to 14 days. If you plan to work for longer than 14 days, you will need a different type of visa, such as an employment visa.
Irish visas are typically not required by citizens of EU/ EEA countries or Switzerland.
Irish Business Visa vs. Immigrant Investor Programme
The Immigrant Investor Programme is meant for non-EEA citizens who want to invest large amounts of money in an existing business or other avenues in Ireland. Qualifying immigrant investors will be able to reside in Ireland through four different routes.
Enterprise Investment: an Irish enterprise investment of €1 million or more
Investment Fund: a minimum of €1 million invested in an investment fund that is regulated by the central bank
Real Estate Investment Trust (Irish REIT that is listed on the Irish stock exchange)
Endowments: financial institution regulated philanthropic donations
To apply for the Ireland Investor Visa, you must be determined to be of good moral character and be able to show proof of sufficient funds for the type of investment you are applying under.
Immigrant investors holding an investor visa can work in Ireland and access state services, as well as remain in Ireland for an initial period of two years. In some cases, you can be granted residence permission. For this reason, the investor visa can be preferred over the Business Visa if you are eligible.
Overview of the Start-up Entrepreneur Program
The Start-up Entrepreneur Program is a long-stay route that allows entrepreneurs to start and run businesses in Ireland. If you plan to start a business in the State, you must have an innovative idea that is new or in certain industries approved by the Irish authorities.
Your innovative business must contribute to Ireland's economy. To prove it will, you are to submit a business proposal as part of the application process to show it will make at least €1 million in sales within 3-4 years of launch. Also, your proposed business must be able to create jobs for Irish citizens.
It is important to the Irish government that your business is headquartered and controlled in Ireland and that you, as the business owner, intend to work on the business full-time.
Applicants of STEP are to be of good character, not convicted of any crime and have at least €50,000 in business funding.
Eligibility For Irish Business Visas
Each business visa has its specific requirements. However, some go across the board. To be approved for an Irish Business Visa, applicants must meet the following eligibility requirements:
Applicant must have a current and valid passport with an expiration at least six months after the intended date of departure from Ireland
Applicant must intend to come to Ireland for business purposes, such as to attend a business meeting or consult with an Irish company.
Applicant must not intend to come to Ireland to seek paid employment
Applicant must have the intention to leave Ireland at the end of the visa
Applicant must be able to submit evidence of sufficient funds/ financial stability to support self, any dependent family members such as a spouse or civil partner, and any dependent children and will not need to rely on public funds while in Ireland
Required Documents For an Irish Business Visa
When you apply for an Irish business visa you will be required to submit proof of evidence that you meet the eligibility criteria as a part of your visa application package. Required supporting documents can include the following:
A current and valid passport
Previous visas and passports
Two standard size passport photographs
Your application letter including a written explanation regarding the reason for your travel to Ireland
Your itinerary including accommodation details in Ireland
Detailed information about your business trip including a signed letter of invitation from a company you will be doing business within Ireland. The invitation letter must be on official letterhead.
Proof of financial stability, such as a bank statement, that shows you will be able to sufficiently support yourself and any dependent family members for the duration of your visa and will not need to rely on public funds
Other information that supports your business idea or reason for travel such as a business plan.
Proof of travel insurance
Documents from a business, academic, or financial institution, such as bank statements, must be on official letterhead.
All the documents which are not originally in the English language must have certified translated copies made and submitted as part of your documentation package.
To be accepted for the Irish Business Visa, state-issued official documents, including birth certificates, marriage certificates, divorce certificates, and others must be attested to be genuine by the Ministry of Foreign Affairs in the state that issued the document.
How To Apply For An Irish Business Visa
You must apply for a visa from your home country or a country where you are a legal resident. It is advised not to purchase your travel tickets until your visa application is approved as they may not be refundable.
When applying for a short stay business visa, the application process has three parts.
Create an Irish Business Visa application online
Pay the visa application fee
Submit your passport and supporting documents to the Irish embassy
The application will ask you for your details including contact details and the reason for your travel to Ireland. In some cases, you may also need to provide biometric information at an Irish Embassy or Consulate, the Dublin Visa Office, or an International Visa Office.
However, when applying for the start-up Entrepreneur Program, it is different. You have to submit a business proposal and apply through email or mail to the Minister of Justice.
Note: successful applicants may receive visa permission to travel to Ireland, but once you are at border control, the immigration officer will review your documents and decide if you can enter the country. To enter Ireland your documents will need to be ultimately approved by immigration officials at the border.
Processing Times
It typically takes about eight weeks to receive a decision on your Short-stay Irish Business Visa after submitting your application and all supporting documents. Reasons for delay can include incomplete or inaccurate information or missing documents. The best way to ensure an efficient processing time is to complete your application form thoroughly and follow all instructions as written.
The other business visas differ. For example, with STEP, an independent committee has to first assess your business proposal before the Minister of Justice processes your application. That may take more weeks than the short-stay business visa.
Costs and Fees
There are several costs involved in the process of applying for an Irish Business Visa. Application fees vary depending on the visa and if you are applying for a single entry visa or multiple entry visa. For the Short-stay visa, these are the fees:
€60: Single entry visas
€100: Multiple entry visas
The STEP fee is €350 which is to be sent along with your application.
Application fees are nonrefundable. You may incur additional costs for services such as translation of documents or consular fees.
Can the Irish Business Visa be extended?
It depends on the visa. The Short-stay Irish Business Visa only allows holders to stay in Ireland for only up to 90 days. It cannot be extended, so you should schedule your business activities to take place before the end of your visa. To stay in Ireland, you will need to leave the country and apply for a new visa. You mustn't overstay your visa as this will affect your chances of being approved for future visas both in Ireland and elsewhere.
Where required the applicant will be granted a multiple entry visa for Ireland for the same duration. This will allow successful candidates to reside in Ireland and to travel freely to Ireland for the duration of the permission. The conditions of residence and the conditions for renewal are detailed below.
If you get your immigration permission through the Startup Entrepreneur Program, you will get permission to stay for two years initially and can renew that for another three years before the 2-year stay expires. After living in Ireland for five years, you will be eligible for long term residence in the State.
What if my visa is rejected?
If your visa is denied, you will be sent a letter of refusal stating the reasons for the denial. Your passport and original documents including your birth certificate, marriage certificate, and other documents will be returned to you.
You can appeal a negative visa application decision if it is a Short-Stay visa. You must submit the appeal within two months of receiving your decision. A qualified immigration lawyer can assist you with the appeal process. Contact Total Law today at (+353) 061 518 025 or use our online contact form to get in touch with our team of qualified immigration lawyers.
If it is the Start-up Entrepreneur Program, you cannot apply for an appeal or administrative review, but you can re-apply at a later time.
With Total Law, your Irish business visa application will be completed by one of our professional immigration lawyers, ensuring you have the best chances of obtaining a business visa to visit Ireland.
Your Total Law advisor will provide you with all the advice you need to proceed with your Irish business visa application. Contact us today at (+353) 061 518 025 or use our online contact form to get in touch with our team of qualified immigration lawyers.
Advice Package
Comprehensive immigration advice tailored to your circumstances and goals.
Application Package
Designed to make your visa application as smooth and stress-free as possible.

Fast Track Package
Premium application service that ensures your visa application is submitted to meet your deadline.
Appeal Package
Ensure you have the greatest chance of a successful appeal. We will represent you in any case.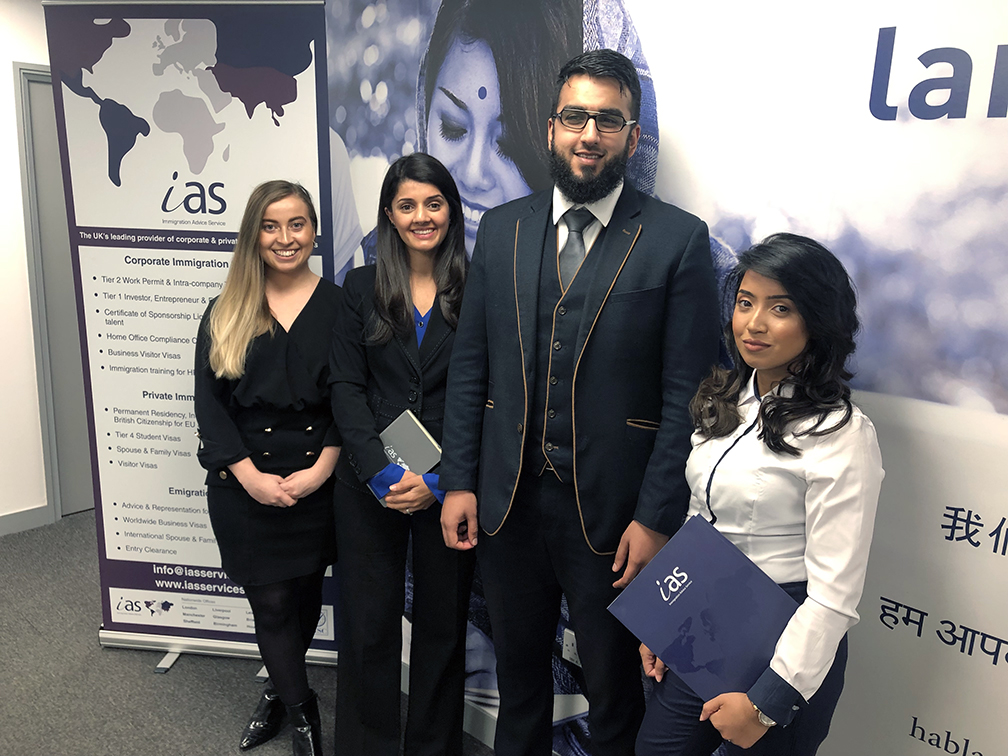 The Advice Package
During this untimed Advice Session with our professional immigration lawyers in London, you will receive our comprehensive advice, completely tailored to your needs and your situation.
Request the Advice Package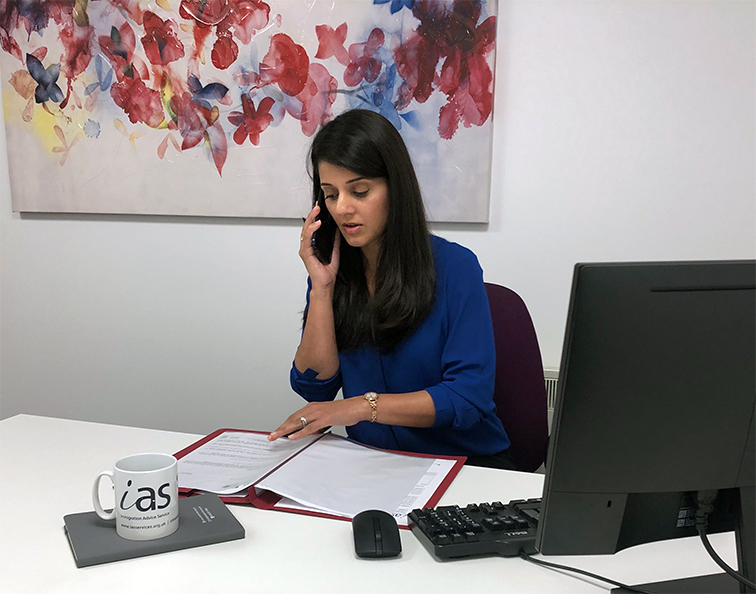 The Application Package
With our Application Package, your dedicated immigration lawyer will advise you on your application process and eligibility. Your caseworker will then complete and submit your forms to the Home Office on your behalf.
Request the Application Package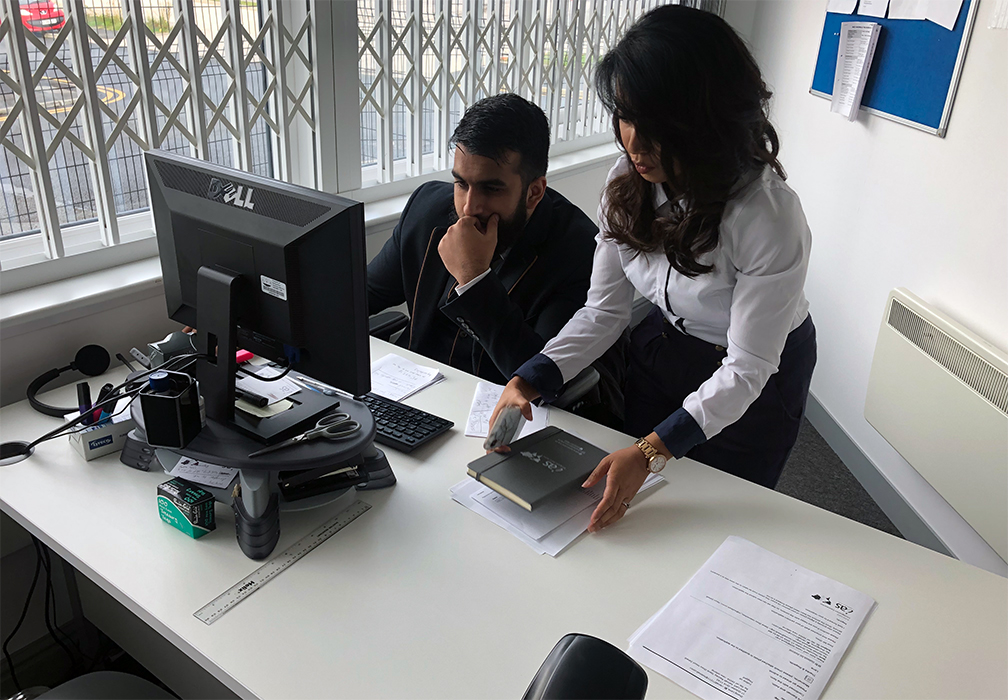 The Fast Track Package
Our Fast-Track Application Package is a premium service for those who need to submit their application in time with their deadlines. Your case will become a top priority for our lawyers and you will benefit from our highest-quality services.
Request the Fast Track Package
The Appeal Package
By choosing our Appeal Package, you can rely on our lawyers' legal knowledge and experience to ensure you have the highest chance of a successful appeal. We will also fully represent you in any hearings/tribunals.
Request the Appeal Package
Related pages for your continued reading.
Frequently Asked Questions
Holders of the Short-stay Irish Business Visa will be permitted to work for 14 days during the duration of their visa stay. However, they will not be permitted to take on work for which they would need a work permit. If you plan to travel to Ireland to seek paid employment, you will need to apply for a different type of visa if you are a citizen of a non-EEA country.
If you have the Start-up Entrepreneur Program permission, you can work in Ireland but only on the business that was approved.
Yes, a minor can be eligible for an Irish Business Visa, if it is a Short-stay business visa. A business visa application for a person under the age of 18 should be submitted by their parent or legal guardian. The application process will be the same as for an adult.
There is no official time given for all the business visas. Still, typically it takes about eight weeks for the Short-stay visa from the time you submit your application and supporting documents to receive a short-term stay visa, including the Irish business visa. Processing times can be delayed depending on how many visas are being processed.