Ireland Short Stay Family Visa - How to Apply from the UK
You can travel to Ireland to see your family or friends and stay there for up to 90 days if you have a Short Stay "C" Family Visa.
The immigration process of obtaining a visa can be stressful and mentally tasking, but Total Law has you covered. For immigration advice and support, contact Total Law for assistance with your application process. Please speak to one of our expert immigration advisers today.
What is a Short Stay Family Visa?
The Short Stay Family Visa, also known as a family visitor visa, allows you to visit Ireland to see family and friends in Ireland. If you are an EEA citizen or are from one of the non-visa-required countries for Ireland that is under the INIS (Irish Naturalisation and Immigration Service), you are not required to apply for this visa.
Similarly, UK citizens do not have to apply for this visa, due to the agreements under the Common Travel Area.
However, regardless of whether your country requires a visit visa or not, you must report to an immigration border official when you arrive in Ireland and present the necessary documents to prove your reason for entering the country.
To ensure that you'll return, you must be able to show on your visa application that you have solid social, professional or family ties to your home country. The short stay C visa allows you to stay in Ireland for 90 days. While on this visa, you are not permitted to perform any paid or unpaid work or use any public-funded services.
There are no group or family visas, so if you're travelling as a family, each member must apply for their own visa. However, the parent or legal guardian of an applicant under 18 must apply on their behalf.
"I'm very happy with the standard of training received on the OISC Level 1 course, i passed my exam. Thank you!"
"My application was approved and a huge weight has been lifted from our shoulders this year "
"We used this service for the spouse visa extension application to assure that all the information was valid and correct."
Eligibility Criteria for the Short Stay Family Visa
The eligibility criteria are the same for all short-stay visas issued to non-EEA citizens. Your eligibility to enter the state is assessed based on several criteria. The visa officer will consider the following when reviewing your application:
You must be willing to leave Ireland before your visa expires
You (or your family/friends in Ireland who are sponsoring your visit) must be able to support yourself financially during your visit without access to public funds or employment
You must have proof of return/further travel arrangements
You must not breach the Common Travel Area by attempting to enter the UK via Ireland without holding a valid UK visa
You must provide your immigration history
You must be of good character
Your application must be genuine and truthful.
Financial Requirements for a Short Stay 'C' Family Visa
While in Ireland, you are not allowed to work or rely on the government if you have a short-stay visa. Therefore, it is imperative that you can show that you have the means to sustain yourself during your visit.
You must present adequate evidence to prove that you can sustain yourself during your travel to Ireland or that the family or friend you are visiting will help you out financially.
You must detail the following in your visa application if you plan to sustain yourself financially during your stay in Ireland:
A recent bank statement that includes your name, address, bank account number, account type, and a breakdown of all deposits and withdrawals made within the previous six months
You must provide the following information in your visa application if a friend or family member in Ireland is helping to support you while you are in Ireland financially:
A breakdown of the costs and services they will be paying for.
Current bank statements, their three most recent paystubs (if they are working), their most recent P60, and a letter from their employer attesting to their employment are acceptable proof that your friend or relative can afford these expenses (if applicable).
If they are self-employed, you must provide a letter with a description of their business and documents demonstrating that it is operating (such as their most recent financial accounts, tax return etc.)
You must submit the following information in your visa application if someone else will be paying for your expenses while you are visiting Ireland:
Full details of the third party
A description of how and why this third party will be funding your visit
Evidence of your relationship with this third party (photographs of you, emails, letters, etc.)
The third party must demonstrate that they can support you, providing evidence as explained above financially (whether employed or self-employed)
How can I demonstrate that I will return home when my visa expires?
You must prove that you have a compelling responsibility to return to your home country for economic, social, or family reasons to prove that you will need to leave Ireland when your visit is over. This can be demonstrated through the following:
Employment
If you work from home, you can demonstrate that you must return to your position by presenting recent paystubs and a letter from your employer outlining your length of employment, the date you are expected to return, and your vacation entitlement.
Education/Study
Students can demonstrate their duty to return home and continue their education. This can be proven by presenting a letter from their school or institution outlining the course they are enrolled in, how long they have already spent there, and how much time is left.
Family
If you have relatives in your country of residence or your "home," you can submit a letter outlining your family situation, any children or dependents you may have, and any supporting documentation demonstrating your relationship with them and their residence.
Property
If you own or rent property in your home country, this might be used as proof that you must return to your home country. You should attach proof of this, such as your original lease, rental agreement, or property deed. Also, you must offer evidence that you still reside in the house, which can be done by showing recent utility bills.
Which supporting documents do I need for my Short Stay (Family/Friend) Visa application?
When applying for family visitor visas, you must be able to provide the following documents:
Two passport-sized, colour photographs of you.
Application summary form.
A signed and dated letter of application detailing: the reason(s) behind your intention to visit Ireland, the dates and location(s) of your intended stay, and any financial support you will get for your visit. This letter must state who you are visiting and their relationship to you and include supporting documentation.
Proof of travel and medical insurance.
A clear colour photocopy of the friend or relative whose home you are visiting, along with a signed and dated invitation letter explaining why they are inviting you to Ireland, how they know you, and the dates you intend to visit them.
Your current, valid passport and a photocopy of all previous passports
The invitation letter from your friend or relative who is a non-EU/EEA citizen and lives in Ireland must also include a clear colour photocopy of their current Irish residence permit or GNIB card and their current immigration approval stamp.
If a friend or relative is sponsoring your visit to Ireland, they must also provide an estimate of the cost and documentation proving their financial capacity to do so.
A description of your accommodation plan
Proof of obligations to show that you will return home and comply with the conditions of your visa
Application Procedure
You should start your application at least three months before your travel to Ireland. Follow the processes below to apply:
Create an online visa application via AVATS
Pay your application fee
Submit your documents for processing
You can apply for a Single entry or Multi-entry Short Stay 'C' visa on the AVATS portal. With a single entry visa, you can only visit Ireland once. You must reapply for a visa to enter Ireland if you leave before the allotted 90 days have passed.
If you have a multi-entry visa, you can enter and leave Ireland several times as long as it's still in effect. A single-entry visa is simpler to get than a multiple-entry visa. Only a few situations allow for the approval of multiple entry visas.
You must print your application summary once your AVATS application is completed. This application summary will include the application office where you should send your documentation for processing and the visa application transaction number. The application summary pages you will submit must bear your signature and date.
Visa Application Fee
All Short Stay "C" visa applications are subject to a fixed amount from Irish immigration. The application fees include the following:
Single entry – Short stay 'C' visa: €60
Multi-entry – Short stay 'C' visa: €100
You will get payment instructions from your application office. Depending on your situation, additional fees, such as those for consular services, biometrics, and document translation, may apply. Also, you might not be required to pay any application fees based on your country.
Application Processing Time for a Short-Stay Visa
Given how uniquely varied each situation is, there is no conclusive response to this. Also, applicant offices' processing schedules vary, and delays may occur while processing applications over holidays.
You can expect a decision on your application from the Department for Justice & Equality within eight weeks after submission. If your application is accepted, an Irish visa will be stamped in your passport, permitting you to visit Ireland.
However, if your visa is denied, you will receive a "letter of refusal" explaining the reasons for rejection.
How Can Total Law Help?
Total Law is the best choice for you if you need expert immigration lawyers to guide you throughout this process. We work closely with our clients to provide top-notch services. We understand how the process of applying for a short-stay family visa works, and we have experienced, qualified and professional immigration lawyers that have knowledge about the whole process at their fingertips and are ready to help.
Total Law can help make your application process more seamless, and we can prepare you for what to expect every step of the way, significantly increasing your chances of getting your visa. You need an experienced lawyer's legal knowledge if you want to connect with your family members.
Call our professional client care team today to get started, or if you have further inquiries, at +1 844 290 6312.
Advice Package
Comprehensive immigration advice tailored to your circumstances and goals.
Application Package
Designed to make your visa application as smooth and stress-free as possible.

Fast Track Package
Premium application service that ensures your visa application is submitted to meet your deadline.
Appeal Package
Ensure you have the greatest chance of a successful appeal. We will represent you in any case.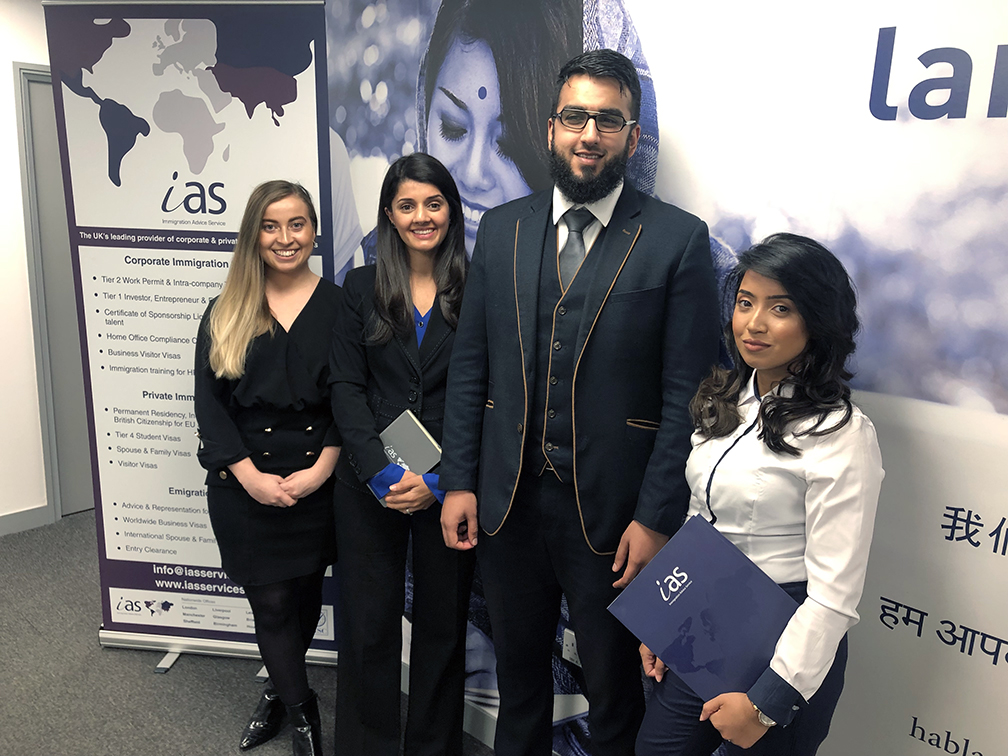 The Advice Package
During this untimed Advice Session with our professional immigration lawyers in London, you will receive our comprehensive advice, completely tailored to your needs and your situation.
Request the Advice Package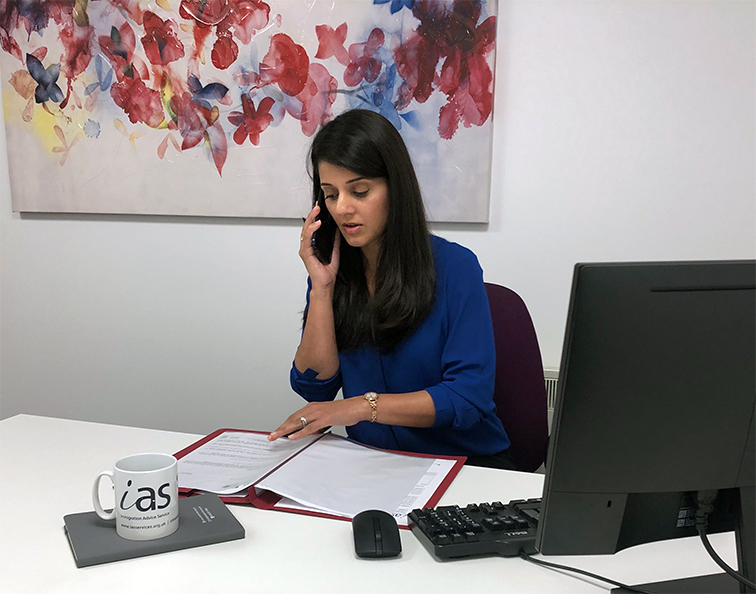 The Application Package
With our Application Package, your dedicated immigration lawyer will advise you on your application process and eligibility. Your caseworker will then complete and submit your forms to the Home Office on your behalf.
Request the Application Package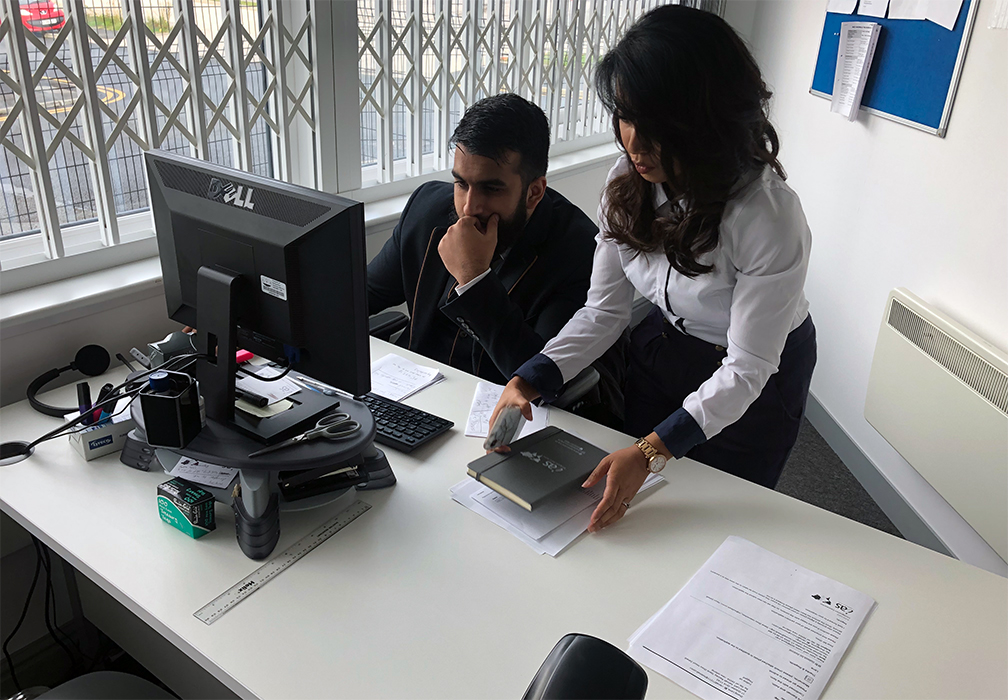 The Fast Track Package
Our Fast-Track Application Package is a premium service for those who need to submit their application in time with their deadlines. Your case will become a top priority for our lawyers and you will benefit from our highest-quality services.
Request the Fast Track Package
The Appeal Package
By choosing our Appeal Package, you can rely on our lawyers' legal knowledge and experience to ensure you have the highest chance of a successful appeal. We will also fully represent you in any hearings/tribunals.
Request the Appeal Package
Related pages for your continued reading.
Frequently Asked Questions
The maximum duration of all Irish Short Stay "C" visas is 90 days. You must leave the country when your time is over because your immigration permission cannot be extended. Uk visa holders must submit a new visa application to enter Ireland again. Applying for the Long Stay "D" Join Family visa is better if you plan to stay in Ireland for longer than 90 days.
A British citizen does not require a visa to enter Ireland. You can travel to Ireland, but you must have all the relevant documents because you will have to go through a border check when you enter the country. As a visa applicant from a nation where a visa is required, you must present all documentation at border control except a visa.
Yes, you can get a short stay family visa that will enable you to visit your UK visa holders in the United Kingdom.