Stamp 0 Ireland
There are multiple stamp categories for travelling to Ireland from outside of the EEA, each of which gives you different immigration permission to remain in the country. In this post, we cover Stamp 0, and assist you in understanding the various requirements and application procedures that you need to fulfil to gain this visa.
If you need further assistance after reading this article, make sure to consult Total Law, who are experts in helping clients with their Irish Stamp applications. You can call us at 0333 305 9374 or visit us online.
Overview of Stamp 0
Stamp 0 Ireland is most closely aligned with a conventional residence permission or permit, giving you the right to stay in the country temporarily. It is perfect for Irish citizens living with Ireland's elderly dependent relatives who are living in a different country, people with independent income, and visiting academics and researchers.
The Stamp 0 visa is often referred to as a retirement visa. This is because it is popular amongst retired people who are able to sustain themselves on a private pension and their savings alone.
Having a Stamp 0 permission is fairly basic, only giving you rights to live in Ireland. There is no right to work or establish a business in Ireland, although you can use this immigration permission while conducting remote work based outside of Ireland. You also cannot use publicly funded services.
"I'm very happy with the standard of training received on the OISC Level 1 course, i passed my exam. Thank you!"
"My application was approved and a huge weight has been lifted from our shoulders this year "
"We used this service for the spouse visa extension application to assure that all the information was valid and correct."
Stamp 0 Eligibility Categories and Requirements
Overview
The Stamp 0 visa has fairly limited eligibility. The main groups that may be able to use Stamp 0 permission include the following:
Retirees.
Academic visitors to Irish institutions.
People with independent means.
An elderly dependent relative of an Irish citizen.
People are extending short-term visas due to humanitarian circumstances.
People working for an overseas company are coming to Ireland to conduct a short task.
The most common recipients of Stamp 0 permissions are elderly dependent relatives, people of independent means, and visiting academics. Each of these groups has differing requirements, as outlined in the sections below:
Person with Independent Means
The main requirements for people with independent means are annual financial requirements as well as a lump sum. This guaranteed income ensures that you will not require any state assistance while you are residing in Ireland. The requirements include:
50,000 euros of income per annum.
A lump sum for unforeseen expenses equal to the price of a house.
The lump sum requirement can be complicated because the average house price varies greatly depending on where you want to reside in Ireland. However, you can generally expect around 100,000 euros to be required.
This income and lump sum cannot come from work conducted in Ireland. It must be from remote work or pension payments made from a foreign country.
There are also some types of specific documentation that you will need to come to Ireland on a Stamp 0 as a person with independent means, which include the following:
A copy of your marriage certificate.
The reason for your Stamp 0 application.
The details of any Irish associates.
Financial liabilities.
Dependent Relative of a Sponsor with Irish Citizenship
The primary requirement for this pathway to an Irish residence permit is to be a genuine elderly dependent relative of an Irish citizen. They must show that they are currently financially supported by an Irish citizen or permanent resident, and there must be evidence of social dependency. This pathway is most common for the parents of an Irish citizen.
There are also some financial criteria that the Irish sponsor of the elderly dependent relative must fulfil. They require a net income of 60,000 euros if they are sponsoring one parent and 75,000 euros if they are sponsoring both parents. This money must have been earned for three years or more consecutively before the application is made.
Furthermore, any financial contributions the applicant can make to their own maintenance will also be beneficial. Make sure to include the following in your application:
Evidence of guaranteed future income, such as a pension.
Access to savings or other financial resources.
Similarly, displaying that the sponsor has access to savings can also benefit the application.
Finally, some additional documentation may be required for this pathway to Stamp 0 permission, including the following:
Proof of relationship to your sponsor.
Details of the accommodation your sponsor will provide for you.
Your future intentions in Ireland.
Visiting Academics and Researchers
The final common type of Stamp 0 applicant is academics who are visiting a research institution, college, or university in Ireland.
This category has the most simple requirements. You only need to be visiting for work for 12 months or less in a registered Irish university. However, you cannot be paid by that university and must be paid for your work from abroad.
To fulfil the requirements of this pathway to a Stamp 0 permission, you may need to provide the following specific documents and information:
Details of family members residing in Ireland and their legal status.
A letter from an Irish educational institution explaining the working arrangement and its length.
A letter from your home institution that displays your position and confirms they will continue to pay you.
Excluded Categories for Stamp 0 ireland
On top of the categories of individuals whose Stamp 0 applications are welcomed, there are a range of categories where Stamp 0 applications will never be accepted. These are covered in the section below:
Unlawfully Present Individuals
The INIS does not accept applications from anyone that is in the State illegally. This includes people who are in the asylum system or are refugees.
Individuals with Deportation Orders
If you break Ireland's immigration rules, you will be subject to a Deportation Order (Notification of Intention to Deport) via section 3 of the 1999 Immigration Act.
Upon receiving such an order, you will be excluded from applying for this immigration permission. This applies even if you are in the process of appealing the deportation order.
Individuals in Ireland on Specific Visas
There are certain categories of visa that will exclude you from applying for Stamp 0 while you are in Ireland.
Primarily, you cannot apply for Stamp 0 while you are in the country on a "C" visa. This is the visa used to travel to Ireland for 90 days or less for short-term tourism or study.
Similarly, there is no option to apply for Stamp 0 if you are currently in Ireland on the visa waiver program. This program allows certain nationals from countries with close ties to Ireland to visit the country for a short time period without having to go through a strict application process.
The main aspect that these excluded visa categories have in common is that they are short-term options. Therefore, transferring onto a Stamp 0 permission would drastically increase the amount of time that you have immigration permission to remain in Ireland to explain why it is not allowed.
Required Documentation for Stamp 0
Despite the variation between requirements for each of the eligibility categories, the required documentation is fairly consistent to show you are fully financially self-sufficient and meet the requirements. Common documentation includes the following:
Biometric passport for a non-UK or EEA country.
Copy of your birth certificate.
Financial documents in a tabular format showing current and projected monthly income and expenditure.
Bank statements.
Police clearance certificates and criminal records.
A clean health declaration.
Evidence of private medical insurance giving full coverage at a VHI Plan D level or higher.
Please note that with financial documents, all figures must be converted into Euros for financial documents to be accepted. This must be certified by an Irish-based and licensed accountant.
Furthermore, your private medical insurance must be valid at all private hospitals.
Application Process for Stamp 0
Overview
Once you have gathered any necessary documentation and information, you are ready to begin your application for Stamp 0 and beyond.
Despite the differences in reasons for getting a Stamp 0 visa and the documentation needed, the application process is usually fairly similar. The only difference to note is that some applications will have a visa requirement, meaning that you can only submit your application from abroad. Meanwhile, citizens of nations with no visa requirement can choose to submit their application from abroad or inside Ireland. Note that Stamp 0 applications for elderly dependents can only be submitted abroad.
There are multiple steps you will need to follow when you submit your application, which include the following:
Apply for immigration preclearance.
Arrival in Ireland
Apply for a visa (if relevant).
Apply for permission to remain.
This application process is detailed below:
Apply for Immigration Preclearance
To begin, you will need to send your application and supporting documents to the Irish Naturalisation and Immigration Service (INIS) to an immigration office in Ireland or to an Irish consulate if you are applying abroad.
From the time your application is received, you will need to wait while they are processed. Currently, the average processing time is two to three months.
Once your application has been processed, you will be sent a conditional letter of offer and an agreement form if you have been successful. From this position, you may travel to Ireland, and you can use the letter of offer to help with any ongoing visa application.
Applying for a Relevant Visa
If you are from a visa-required nation, including Afghanistan, Cuba, Nigeria, and many more, or are a visa-required person, you must apply for a visa. It can also be beneficial to have a visa if you intend to remain in Ireland for an extended time period. When submitting your application for a visa, make sure to include a copy of your conditional letter of offer.
The exact visa required will depend on the type of Stamp 0 visa applicant that you are. Common examples are listed below:
Elderly dependent relatives will need a D-Join visa.
People of independent means need a D-Reside visa.
Visiting academics may need to consult with a local office to learn what visa is required in their specific circumstances.
Please note that in many cases, you will need to arrange your visa before you travel to Ireland.
Arrival in Ireland
When you arrive in Ireland, send your passport and the signed agreement form to Unit 2, Domestic Residence and Permissions Division, Irish Naturalisation and Immigration Service, Department of Justice and Equality, 13/14 Burgh Quay, Dublin 2, D02 XK70. This department will stamp your passport and return it to you, giving you the right to remain in Ireland for a year.
Apply for Permission to Remain
Once you have arrived in Ireland and have the Stamp 0 in your passport, you can finally apply for permission to remain at your local visa office. This requires you to register with your local immigration office and the Garda National Immigration Bureau in Dublin. You will also receive an Irish Residence Permit (IRP) card.
Remember that immigration permission to remain is essential regardless of whether you are a visa or a non-visa-required national.
Additional Requirements for Stamp 0
In some cases, Stamp 0 holders will need to make a formal declaration that they will abide by all of the restrictions and rules associated with Stamp 0. The general points included in this declaration, which applicants may need to sign, include that you must:
Not work in Ireland but still be fully financially self-sufficient.
Not establish or operate a business in the State.
Not use publicly funded services
Not receive any Irish benefits.
Have private medical insurance to cover the duration of your stay.
Abide by the laws of the State.
You might also need to sign for points that are specific to your circumstances when applying for Stamp 0. As an elderly dependent relative, your declaration may include an agreement that the sponsor will remain responsible for your upkeep throughout the time that you are in Ireland.
Meanwhile, if you are in Ireland as a person with independent means or you are a visiting academic, you might need to agree that you won't gain Irish employment or start a business in Ireland and that you will not attempt to bring a family member with you on the Stamp 0 as another visa will be required for them individually.
Reasons for Refusal of your Stamp 0 Visa
The Irish government processes thousands of Stamp 0 immigration applications each year, but many are refused. The most common reasons for refusal that you need to look out for include the following:
Failure to submit all required documents.
Issues verifying documents and inaccuracies within the document.
Failure to meet the eligibility requirements for the type of Stamp 0 application that has been made.
A criminal record. The Irish government denies applications from people who have been convicted of violent crimes or serious drug offenses.
A background of terrorism or extremist views that could mean you are a danger to society.
Some of these application issues can be dealt with by ensuring you complete your application to a high standard. However, if you are ineligible for Stamp 0 permission to remain, you may need to seek an alternative pathway to staying in Ireland.
How Can Total Law Help?
In this post, you will have seen that applying for Stamp 0 can be complicated and will vary greatly depending on the exact circumstances of your application. For this reason, it can be confusing to work out what is required to complete your application to the high standard required for approval.
Total Law is an expert immigration law firm who have helped many applicants to succeed in obtaining the Irish Stamp 0. We can help you to complete and submit your application, and we can leverage our connections within INIS to keep you up to date on the progress of your application.
If you want our help to live your dream of staying in Ireland with family, as a researcher, or are able to take on personal complete financial responsibility, then contact us to learn more about the support we can give you. You can phone us at 0333 305 9375 or contact us online.
Advice Package
Comprehensive immigration advice tailored to your circumstances and goals.
Application Package
Designed to make your visa application as smooth and stress-free as possible.

Fast Track Package
Premium application service that ensures your visa application is submitted to meet your deadline.
Appeal Package
Ensure you have the greatest chance of a successful appeal. We will represent you in any case.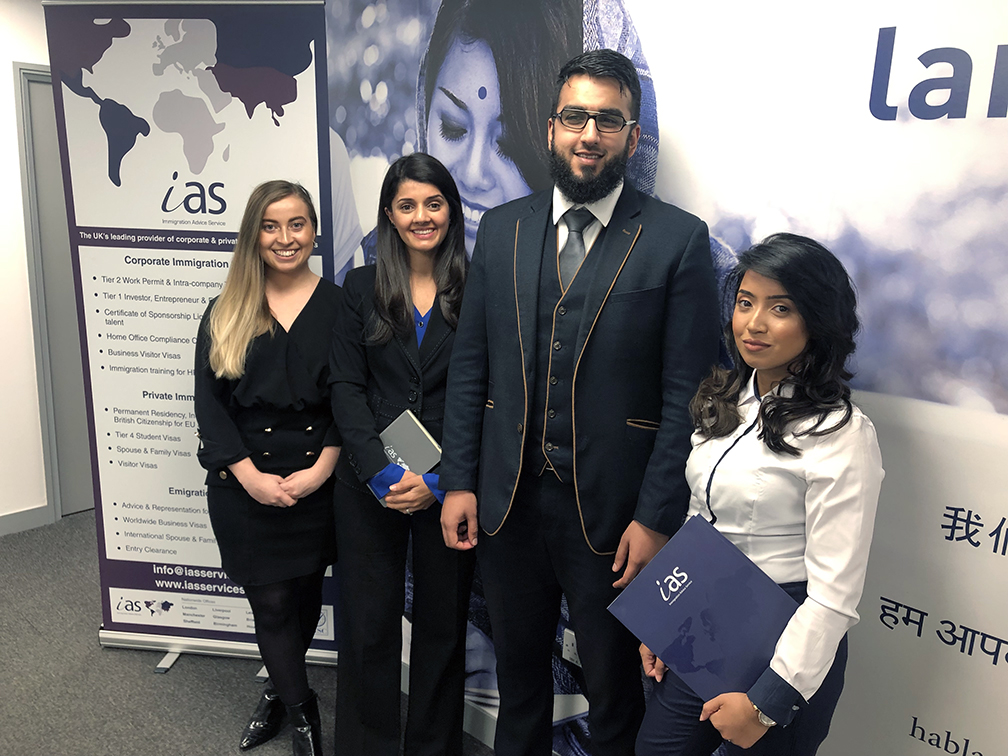 The Advice Package
During this untimed Advice Session with our professional immigration lawyers in London, you will receive our comprehensive advice, completely tailored to your needs and your situation.
Request the Advice Package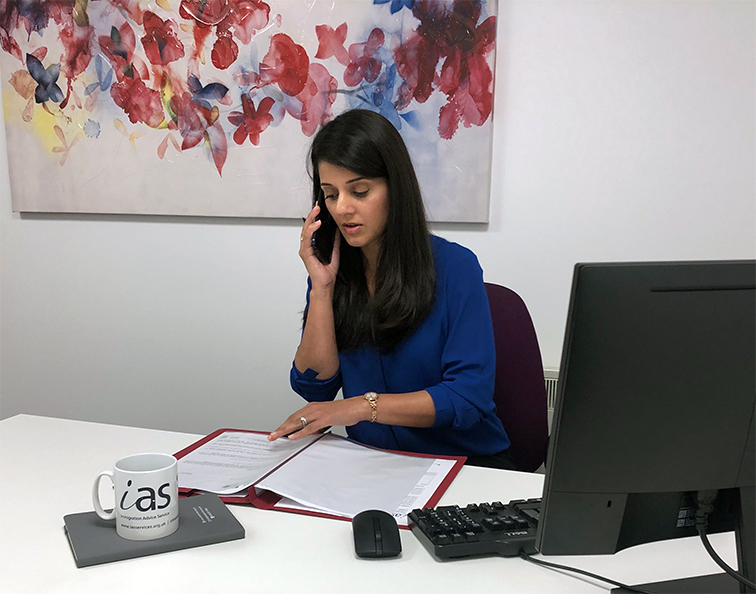 The Application Package
With our Application Package, your dedicated immigration lawyer will advise you on your application process and eligibility. Your caseworker will then complete and submit your forms to the Home Office on your behalf.
Request the Application Package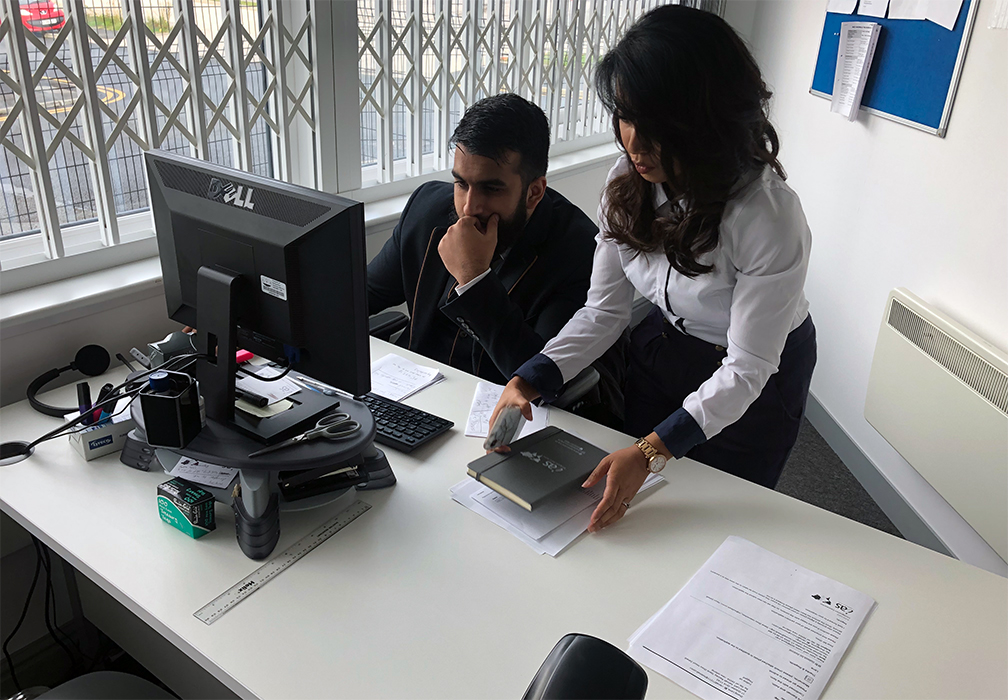 The Fast Track Package
Our Fast-Track Application Package is a premium service for those who need to submit their application in time with their deadlines. Your case will become a top priority for our lawyers and you will benefit from our highest-quality services.
Request the Fast Track Package
The Appeal Package
By choosing our Appeal Package, you can rely on our lawyers' legal knowledge and experience to ensure you have the highest chance of a successful appeal. We will also fully represent you in any hearings/tribunals.
Request the Appeal Package
Related pages for your continued reading.
Permission to remain on Stamp 0 is granted in one-year blocks. At the end of your one-year period, you will need to renew your Stamp 0 at a local immigration office. However, most applicants find this is a simple procedure so long as their circumstances have not changed and they still fit the eligibility criteria for their initial application.
When you renew your permission to remain, make sure that you leave time for a two to three-month processing time. You may have to temporarily leave Ireland if your permission to remain expires before your renewal is completed.
Not all funds can contribute to the requirements for the type of Stamp 0 you are applying for. Only readily accessible funds are allowed, including pay cheques and pension payments.
Funds that are not immediately accessible cannot count towards the financial requirements. Most notably, you cannot include investments.
The residency requirement for citizenship via naturalisation in Ireland is five years. Because you can renew your permission to remain annually, it is possible to remain in Ireland for this long on Stamp 0.
However, you cannot use this time in Ireland on Stamp 0 to count towards your citizenship because it is not considered a "reckonable residence." The Stamps that can count toward your residence period include the following:
Stamp 1
Stamp 1G
Stamp 3
Stamp 4
Stamp 5
This leaves Stamp 0, Stamp 2, and Stamp 2A as the forms of permission to remain, which cannot help you on your path to Irish citizenship. You also won't be able to use the time you were in Ireland on international protection or undocumented towards your naturalisation.
If you cannot make a successful application to Stamp 0 and still want to come to Ireland, you may need to investigate the other Stamp permission options. Alternative Stamps which you may be eligible for include the following:
Stamp 1: permission to work in an Irish business. There are multiple forms of Stamp 1, depending on the work you will be undertaking.
Stamp 2: permission to study a full-time course.
Stamp 3: general permission to remain given to long-term volunteers, ministers of religion, and spouses of a family member on a Stamp 1.
Stamp 4: permission to come to Ireland to start a business.
Stamp 5: permission to stay in Ireland without time conditions.
Stamp 6: given to Irish citizens with dual citizenship.