Ireland Student Visa: Apply from the UK
Residents of the United Kingdom may need an Ireland Student visa if they are from visa-required countries. If you fall in that category and want to come from the UK to study in Ireland, you should also have a valid UK visa.
For more information, advice, or assistance with the Ireland Student visa, please call us on 0333 305 9375 or contact us online via live chat.
Overview of the Ireland Student visa
There are several student visas for Ireland. The Long Stay 'D' Study visa or Ireland Student visa, allows foreign nationals to study in degree programmes in Ireland for more than three months.
UK citizens don't need an Ireland Student visa to study in Ireland because of the Common Travel Agreement between Ireland and the United Kingdom. However, if you are legally resident in the UK, you may need to obtain an Irish Student visa to study long-term in Ireland. Legally resident means you have a valid UK resident visa
Not every foreign national needs to obtain this Ireland visa either. The citizens of most non-EEA countries will need a student visa if they want to study in Ireland. For advice on if you need to apply for this visa and assistance with getting it done, contact our immigration lawyers on 0333 305 9375 or contact us online via live chat.
"I'm very happy with the standard of training received on the OISC Level 1 course, i passed my exam. Thank you!"
"My application was approved and a huge weight has been lifted from our shoulders this year "
"We used this service for the spouse visa extension application to assure that all the information was valid and correct."
Student visa requirements
To qualify for the Irish Student visa, you must meet the following requirements:
You intend to enter Ireland to partake in full-time study.
You are already enrolled on a course that results in a major award or degree equivalent to Level 7 or above of the National Framework of Qualifications.
You are paying for your course with your own funds or a private/institution offered a scholarship and not funds from the Irish government.
You have a Letter of Acceptance from the Irish college, confirming you have been accepted and enrolled on the full-time course.
You have paid the entire fees if they are below €6,000 or at least €6,000 if the fees are more than that amount.
You must be able to pay for your course and support yourself while in Ireland without having to get a job, do business, or use state-funded benefits.
You must have access to €3,000 at first registration apart from your course fees.
You must have private medical insurance.
Your course must be eligible.
You must meet the financial and language requirements.
What courses are eligible for the Ireland Student visa?
Eligible courses are full-time, daytime academic courses in Ireland. If you plan to do a distance learning or part-time course, this visa is not for you.
Alongside the full-time requirement, the applicant's course must also lead to a major award or equivalent at or above Level 7 of the National Framework of Qualifications (NFQ). When it comes to major awards, there are six types in Ireland with these levels:
Ordinary Bachelor Degree (3 years course) – NFQ Level 7
Honours Bachelor Degree (3-4 years course) – NFQ Level 8
Higher Diploma (1 year) –  NFQ Level 8
Postgraduate Diploma (1 year) – NFQ Level 9
Masters Degree (1-2 years) – NFQ Level 9
Doctoral Degree (about 4 years) – NFQ Level 10
In addition to being at the minimum approved level of the NFQ, your course must be in the Internationalisation Register of the National Qualifications Authority of Ireland (NQAI).
Conditions of the Ireland Student Visa
Holders of the Ireland Student visa must abide by certain conditions when in Ireland on this visa.
One is the maximum time you can stay in Ireland. A student on the Long Stay Study visa can live in Ireland for a maximum of seven years to attend a course at their degree level. That is not to say everyone gets seven years; most applicants get the same duration as their course.
You may be allowed to stay longer than seven years if you are enrolled in a course with a long duration or were ill, and that prevented you from completing your course on time.
Applicants should not intend to come to Ireland on a Degree Programme course and then enrol in a non-degree or language course. Students may be able to take a foundation language course while taking their degree course if arranged in advance and stated in their application for the Student visa.
With a Student visa, your primary purpose is to study in Ireland full-time. However, students can work only part-time – up to 20 hours per week during school sessions and up to 40 hours a week during regular college holiday periods.
Conditions for maintaining an Ireland Student visa
When you obtain a student visa, there are certain conditions you must meet to maintain your immigration permission. They include:
You must demonstrate that you are progressing academically each year
You must provide proof that your course fees have been paid in full
You must not avail of state benefits
You must plan your educational programme to fit into the allowable seven-year timeframe.
You must have maintained private medical insurance for the previous registration period.
You must not have moved to a language and non-degree programme course.
Now that you know the conditions for obtaining this visa and maintaining it if you get it, let's look into how to apply and the documents you need. For more information or assistance, call us on 0333 305 9375 today.
English and Irish Language requirements
International students in Ireland must show they have the capacity to take their course in English. The Ireland authorities have some minimum standards already set, but that for your course as set down by your Irish university may be different.
There are a few accepted tests, each with a minimum score you should get before applying for your student visa. Regardless of the test you take, your certificate must not have been issued for longer than two years before the expected start date of your course. The Irish authority accepts three years in a few cases.
Please note that those coming to take an English language course are not required to provide evidence of their level of English from a test provider when applying. Still, they may be asked by a visa officer to provide alternative proof of a basic level of English before travelling to the State.
If you are doing a course taught in Irish and not English, you are to prove you can take the course in Irish. To do this, you are to include a written statement from the school or college that details how they assessed your ability to speak and write in Irish.
Financial requirements for international students
To obtain the Irish Student visa, you must prove you have enough money to support your stay in the country without relying on public funds or salary from your casual employment.
The minimum required funds are €7,000 to cover the cost of living for one academic year. So, you must show evidence that you have immediate access to at least €7,000 and ready access (you or your sponsor) to at least €7,000 and course fees for each subsequent year of your study in Ireland.
To prove you meet these requirements, you must provide certain documents, such as an up-to-date bank statement showing transactions over the last six months. If you have a sponsor (family member/friend), you must provide information about them, including:
How they are related to you with evidence
Details of the financial support they are providing to you during your state in Ireland
How much they intend to give you that is available
Proof they have enough funds to maintain themselves and dependents, apart from what they give to you, such as a letter from their employer confirming employment details and recent payslips.
Required documents for the long stay study visa
The required and supporting documents for the Irish student visa application include:
Application Summary document
Application letter
Two colour passport-sized photographs that are not more than 6 months old
Current passport and copies of all previous passports
Proof that you have enrolled on a privately funded course
Evidence accounting for any gaps in your educational history
Proof of payment of tuition fees and other fees
Evidence that you have the academic ability to follow your chosen course
Proof of your level of English or Irish
Proof you meet the financial requirements
Evidence of your Private Medical Insurance
Previous Visa Refusals, if you have any
Ireland Student visa application process
The Ireland Student visa application process is pretty straightforward. To start, applicants are to complete the online application form. Submitting that will result in a summary application form which will contain instructions on how to submit your supporting documentation.
You are to print, sign and date the summary application form and submit that with your supporting documents. Your summary may include the address of the visa office, embassy or consulate that you will submit the documents.
Also, you may be required to pay the visa fee, which may be €60 or €100, depending on if you want a single entry or multiple entry visa. Also, some visa offices, embassies and consulates have extra charges related to submitting your documents.
Finally, some foreign nationals may be asked to provide their biometrics as part of the application process. If you are requested to do so, you will likely be able to do so at the Irish embassy or visa application centre in the UK.
How long is the processing time for the Ireland Student visa?
Most Ireland Student visa applications take around 8 weeks to be processed from when the application and documents are submitted.
Some applications may take longer due to incorrect or incomplete documentation or a need to verify your documents, or personal circumstances such as criminal convictions.
Applications are processed in date order, so if there are so many applications before yours, you may get a decision later than eight weeks. Also, processing times may be longer at the Irish embassy or visa application centre in the UK. It is recommended that you apply at least three months before your intended travel date to give enough time for delays in processing.
Whether you need your Ireland Student visa within a few weeks or months, you can reach out to us. Our immigration lawyers will access your eligibility, provide advice on the documents that will help prepare the best application. If there are opportunities to fast-track your application, we will do that as well, so you get your visa as soon as possible.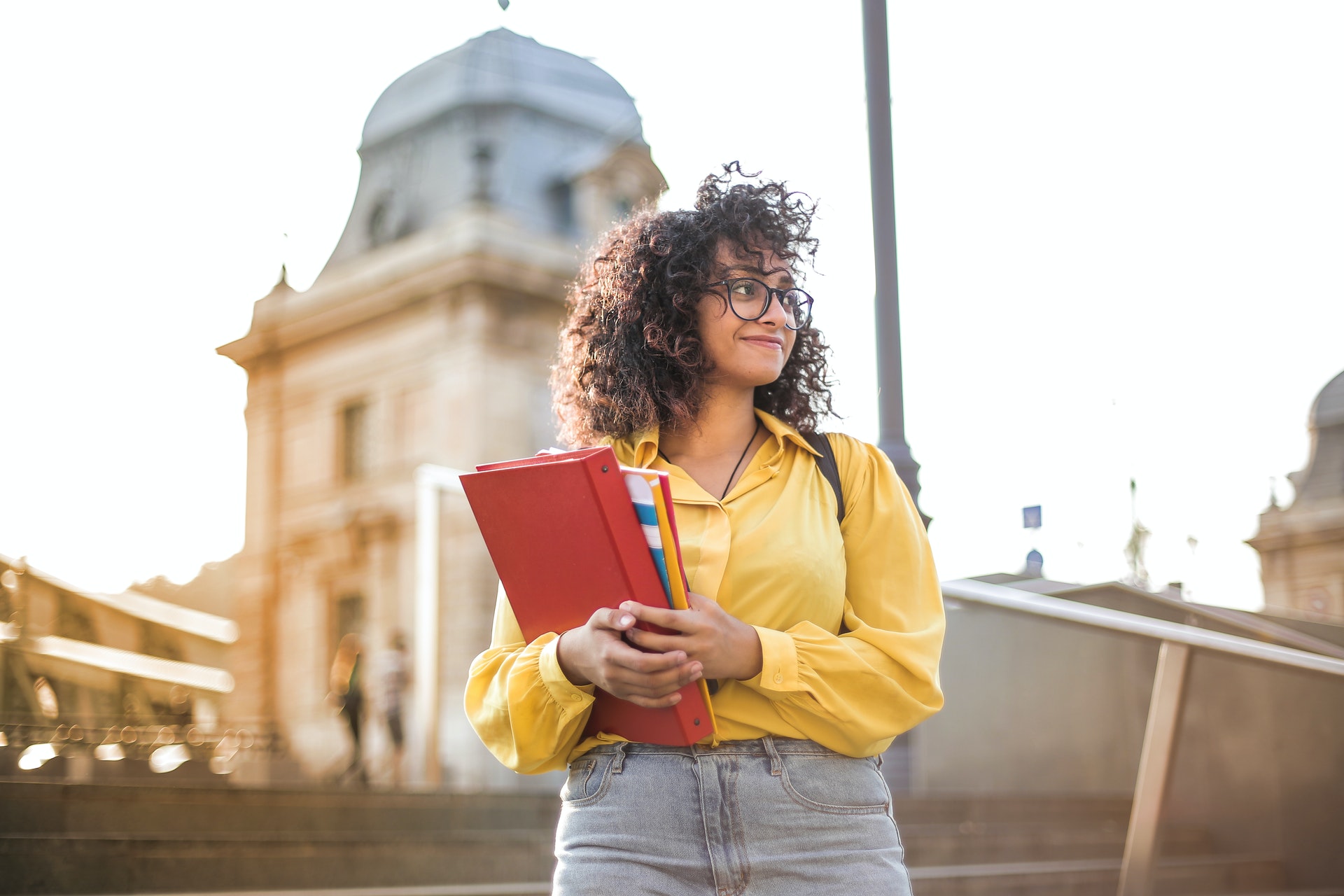 Filling out the Ireland Long Stay D Study visa application as an international student for the first time can appear daunting. Fortunately, our Irish immigration lawyers can ease the process, ensuring your application is of high standards and that you tick all the boxes before even applying.
Our immigration lawyers are experts in Irish and UK immigration law and can help you navigate immigrating from the UK to Ireland for long-term study. We help students living in the UK who are citizens of various visa-required countries to obtain the Ireland Student visa if they meet the requirements by highlighting their eligibility and qualities in a well-prepared application.
We have different packages to suit your needs. If you only need advice, you can provide that. If you only need document checking, we can provide that as well. If you want the entire package, which includes advice, document checking, applying on your behalf, and liaising with INIS (Irish Naturalisation and Immigration Service) when necessary, we provide that as well. For more information or immediate assistance, get in touch with us by calling our UK office on 0333 305 9375 today. You can also reach out to us online through live chat.
Advice Package
Comprehensive immigration advice tailored to your circumstances and goals.
Application Package
Designed to make your visa application as smooth and stress-free as possible.

Fast Track Package
Premium application service that ensures your visa application is submitted to meet your deadline.
Appeal Package
Ensure you have the greatest chance of a successful appeal. We will represent you in any case.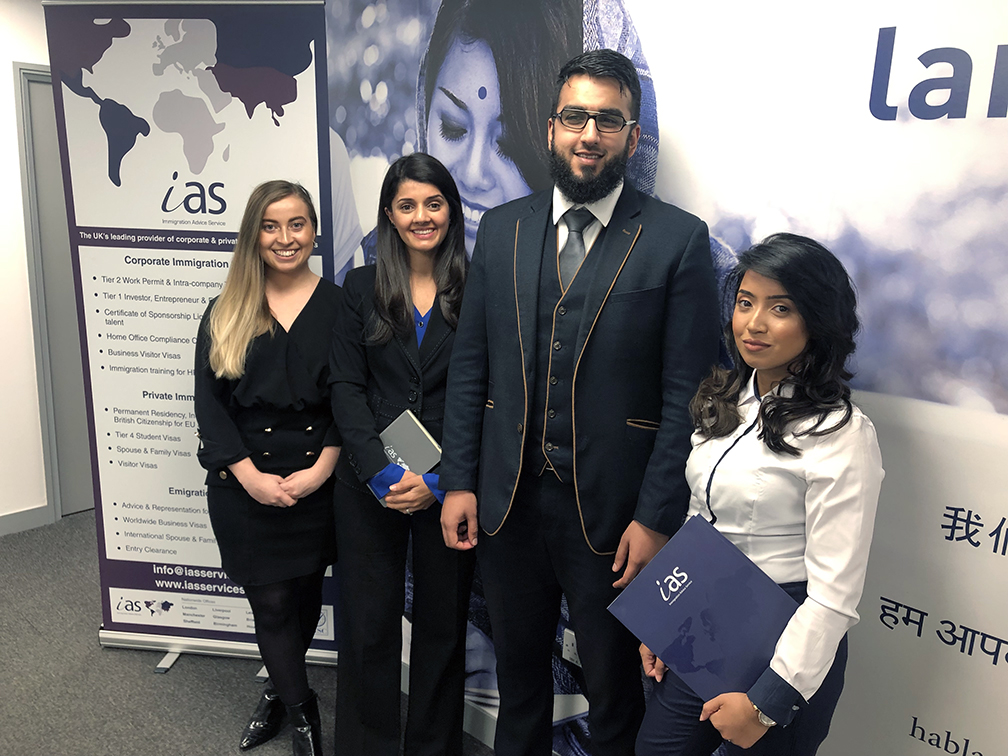 The Advice Package
During this untimed Advice Session with our professional immigration lawyers in London, you will receive our comprehensive advice, completely tailored to your needs and your situation.
Request the Advice Package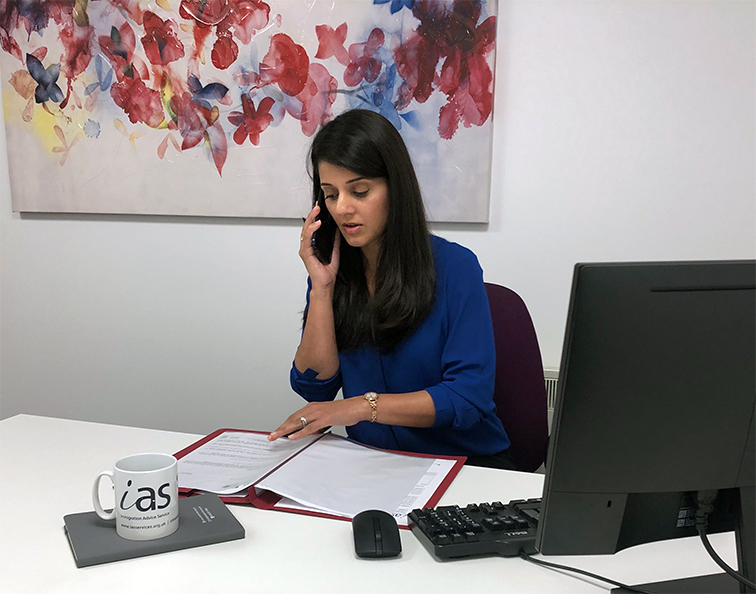 The Application Package
With our Application Package, your dedicated immigration lawyer will advise you on your application process and eligibility. Your caseworker will then complete and submit your forms to the Home Office on your behalf.
Request the Application Package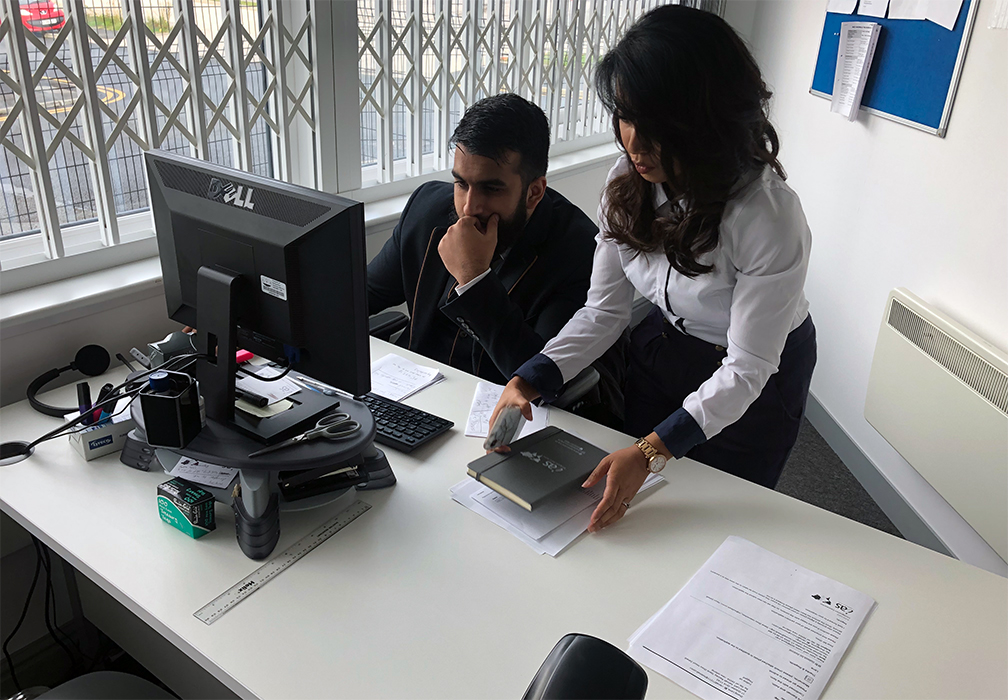 The Fast Track Package
Our Fast-Track Application Package is a premium service for those who need to submit their application in time with their deadlines. Your case will become a top priority for our lawyers and you will benefit from our highest-quality services.
Request the Fast Track Package
The Appeal Package
By choosing our Appeal Package, you can rely on our lawyers' legal knowledge and experience to ensure you have the highest chance of a successful appeal. We will also fully represent you in any hearings/tribunals.
Request the Appeal Package
Related pages for your continued reading.
Frequently Asked Questions
Ireland immigration authorities permit student visa holders to work part-time if they meet specific requirements, including that they are:
Registered with Stamp 2 permission
Enrolled on a course listed on the Internationalisation Register
In full-time education on a course at NFQ Level 7 or above
Taking a full-time course for at least 25 weeks per annum
Enrolled in a course for at least one year
Enrolled in a course that leads to qualifications recognised by the Minister for Education and Skills
If you were to work, you could only do that for up to 20 hours per week during regular study periods and 40 hours per week during school holidays. If you work for more than the work-time limits, you have breached the conditions attached to your Student visa permission. The immigration authorities will likely withdraw your permission to remain in Ireland as a student.
Also, you must be compliant with the Universal Social Contribution and pay any related social insurance and taxes as required by Irish employment laws.
A student usually is approved to stay for up to 12 months. This immigration permission is renewable for up to a maximum of 7 years.
After completing your studies, you are expected to leave Ireland. If you wish to stay to seek employment, you may be able to do so under the Irish Third Level Graduate Scheme.
This allows non-EEA third-level graduates to remain in Ireland to seek employment and apply for a work permit or green card if they have studied in Ireland and have a valid Irish Residence Permit. If you get this permission, you can work full time though your permission will remain that of a student for up to a year or six months. This permission is not renewable, and you can only get it once. Once you have availed of the Third Level Graduate Scheme, you cannot re-enter full-time education.
To be eligible for the Third Level Graduate Scheme Permission for one year, you must have studied in Ireland and gotten a qualification at NFQ Level 8-10 or received an award granted by a recognised Irish awarding body such as the Dublin Institute of Technology, Higher Education Training and Awards Council, Institutes of Technology with delegated authority, Royal College of Surgeons in Ireland, or other bodies that have statutory award-making powers in Irish law.
To be eligible for the Third Level Graduate Scheme Permission for six months, you must have graduated from a course at NFQ Level 7.
You can change your course, but only if you and the course meet certain conditions, including:
You are not allowed to change course during your first year of study
You can only change a course to one that leads to a major award or equivalent on the same level of NFQ as your current course or a higher NFQ level.
The new course is still a degree programme and not a non-degree or language course.
Before you can change your course, you must obtain written consent from the Minister.
The Ireland Student visa is not intended for family reunification. So, your dependents (spouse, civil partner and children) cannot join you in Ireland on this visa. If you and your dependent are visa required, they can make their own visa application which will be judged on its own merit and not based on their connection with you. Although you cannot bring your children from the UK to live with you, if you give birth to a child in Ireland, they can stay with you during the duration of your visa.
There are some exceptions, though. They include:
Students at PhD level (NFQ 10) – the student is required to progress academically with proof and complete their program within 4 years
Participants in an academic programme agreed between Ireland and another country in which the students and their dependents are well funded in terms of all expenses in Ireland, or if the agreement provides an exemption.
Students that can prove they have private means every year at a level that shows they can support themselves and family members without using public funds and engaging in employment.

If they are bringing a child, they must pay the immigration levy for the child.

Students who are bringing a child on a short visit can show special circumstances and guarantee the child will return home at the end of their visit