Ireland Volunteer Visa: Apply from the US
The Ireland volunteer visa is a long-stay visa. If you are applying for a volunteer visa as a US citizen, you should apply for a Long Stay 'D' visa. If you are considering a short-stay volunteer visa under 90 days, you will need to apply for the short-stay 'C' visa.
For advice and assistance with your application, contact us today at +1 844 290 6312 or use the online contact form to get in touch.
What is the Irish Volunteer Visa?
Irish volunteer visa is for those who wish to work as a volunteer in Ireland for over 90 days. This visa or immigration permission enables you to reside and volunteer in Ireland for 2 years. You can get an extension for a third year based on certain conditions.
A volunteer visa is a form of preclearance or like a pre-authorization to have non visa required nationals enter Ireland.
This means that you need to apply for the volunteer visa application before traveling, and you will not be granted access to enter Ireland to volunteer unless you have the Preclearance Approval Letter, which will be tendered to the immigration officer upon your arrival to Ireland.
However, this visa allows you to stay in Ireland under the following conditions:
Work in a volunteering role with an eligible organization
Live in the State for 1 year initially and up to 2 years (you have the possibility of extending to 3 years, depending on some factors)
Change the volunteering organization once in any 12 months
Travel outside Ireland for short periods
Your volunteering role must match the criteria for the volunteering position
The sponsoring organization must match the eligibility criteria; it must be a non-governmental, voluntary, not-for-profit, or charitable organization that is established, active, and registered under the Charities Regulator's Public Register of Charities in Ireland or a sports organization recognized by Sport Ireland
However, you are not allowed to do the following with the visa:
Take paid work of any kind
Bring your family members along with you to Ireland
Apply to change your immigration status while in the State
Claim any state benefits like health services, education, etc.
Change sponsors more than once in any 12-month permission period
Spend more than two years volunteering in the State.
"I'm very happy with the standard of training received on the OISC Level 1 course, i passed my exam. Thank you!"
"My application was approved and a huge weight has been lifted from our shoulders this year "
"We used this service for the spouse visa extension application to assure that all the information was valid and correct."
Eligibility Criteria for Irish Volunteer Visa for US Citizens
The eligibility criteria explain the specific conditions and requirements to volunteer in Ireland. The eligibility criteria are:
You must be of age, that is 18 or above
You must not be from any EU/EEA and non-Swiss country
You must have medical/health insurance with a company authorized by the Health Insurance Authority of Ireland for the period of your volunteer service in Ireland
An eligible organization must have offered you a volunteering role
You must have proof of financial ability; you are financially supported by the organization you are volunteering for during your entire stay
You must be qualified for the volunteering role
You must be responsible and be of good character
You must be cleared to work with children and vulnerable adults if it is relevant to your role
To be eligible for a volunteer role in Ireland, you must be accepted in eligible organisation in the following sector:
Religious and faith-based support activities
Sport and physical recreation
Welfare and work for the community
Health support services
Arts, heritage, and cultural activities
Education and youth services outside of school
Other areas with no financial gain can also benefit the community
Required Documents to Apply for Volunteer Visa in Ireland
When applying for a volunteer visa, there are some documents you must provide to make you eligible for the immigration permit. They are:
A copy of your current passport and all previous passports
2 passport-sized photos of you
Application summary form
Visa application letter
Sponsorship letter from the organization sponsoring you
Evidence of preclearance fee
Evidence of accommodation plan
Information about your family if you are married or have children
Full six months bank statement from yourself and the sponsoring organization
Evidence of your qualifications and any work/volunteer experience
Police Clearance Certificate of fewer than 3 months old from your country of residence or any country you reside in 3 years before the application
Evidence of Garda Síochána vetting for you from your sponsor if your volunteering role involves children and/or vulnerable adults
Evidence of your medical insurance
Visa Refusals documents before your application like overstaying, deporting, or visa refusals
Official document of any Criminal Convictions or any pending criminal charges
Other documents, if required
Application Process
To apply for a volunteer visa to Ireland, you must apply for a long stay (D) visa for about 3 months before your travel date to the State, and this application must be made from your home country or a country where you have a legal resident permit.
Application Steps
Step 1: Fill out the online application form
This application form will create an empty summary application form and summary sheet with which you will sign a declaration at the end; this must be printed and dated.
For US citizens, you will select visa/preclearance type as 'Long Stay (D),' Journey Type as 'multiple', and 'Visa –Volunteer' as your reason for travel at the link above.
Step 2: Pay the visa fee and organize your documents
Pay the required visa application fee and organize all your supporting documents.
Step 3: Submit your application form
Before you submit the application form, you need to submit all your supporting documents and passport, and the submission depends on where you live.
It is important that you submit it to the right office within 30 days of the online application form completion.
However, these documents must be authentic, original, and not fake; you can be denied your visa application for 5 years to Ireland if caught with fake documents.
Documents must be translated into Irish or English and certified by the Ministry of Foreign Affairs in the State that issued the document for acceptance.
To avoid stress and confusion during your application, you can contact us today at +1 844 290 6312 or use the online contact form to get in touch.
Visa Appeal Decisions
If your appeal is unsuccessful, you will be sent a 'letter of refusal' stating that the original visa decision remains in place, your appeal has been refused, and all documents will be returned to you.
It will also state the reason for refusal, and you cannot appeal again for the refusal, but you can pay again for a new visa application.
If your appeal is successful, you will be sent a notification stating that the original visa decision has been reversed; the next step to take is getting your visa, and all your documents will then be returned to you.
You will also be given the Preclearance Letter of Approval which will be needed by the local immigration office, authorities at the border control and also for access into Ireland for Immigration Registration to extend your permission to remain. However, this is only valid for 6 months, and if it is not used at the border control, you would have to restart the application process and submit a new application.
How can I extend my volunteer stay?
After staying up to a maximum of two years, you may be eligible for an additional 1-year extension of your volunteer immigration permission, and your request for an extension must be to continue with your current sponsor.
This request may only be considered if your sponsor gave a genuine need for your service to be continued. Your sponsor will write a new sponsorship letter explaining why they want you to stay and include evidence of an application fee payment of €50.
This should be submitted with your full copy of your passport, proof of address, evidence of finances, and your private medical insurance or health insurance.
Can I appeal after my application has been refused?
The refusal letter will state if you are permitted to appeal, and the appeal process is without cost. You can respond to the appeal by submitting other supporting documents, which should be done within 8 weeks of the refusal letter date. The appeal must be written while also addressing all of the stated reasons for the refusal, and it is to be submitted physically.
However, if you provide false or misleading information in your application, you may not be permitted to appeal and be prevented from applying for an Irish visa for 5 years.
Can I change my volunteer sponsorship?
To change to volunteer sponsorship, you must ask your new sponsor to write a new sponsorship letter stating that your service is needed and proof of application fee payment of €50.
Then attach your full copy of your passport, proof of address, evidence of finances, and private health insurance and send it to the required address.
However, you will no longer be allowed to change the sponsorship letter accompanying your sponsors after this.
How Can Total Law Help?
Total Law's excellent immigration lawyers are highly knowledgeable about the intricacies of Irish visa processes. We provide immigration services, advice, and support to make your application process seamless.
Total Law's expert immigration lawyers will help you determine if you meet the eligibility criteria, help you gather the supporting documents, guide you through the interview process and likely questions you may face so that you are confident during the process, and will help you file an appeal should your visa be denied.
Total Law is on hand 24/7 to help you out. You can contact us today at +1 844 290 6312 or use the online contact form to get in touch.
Advice Package
Comprehensive immigration advice tailored to your circumstances and goals.
Application Package
Designed to make your visa application as smooth and stress-free as possible.

Fast Track Package
Premium application service that ensures your visa application is submitted to meet your deadline.
Appeal Package
Ensure you have the greatest chance of a successful appeal. We will represent you in any case.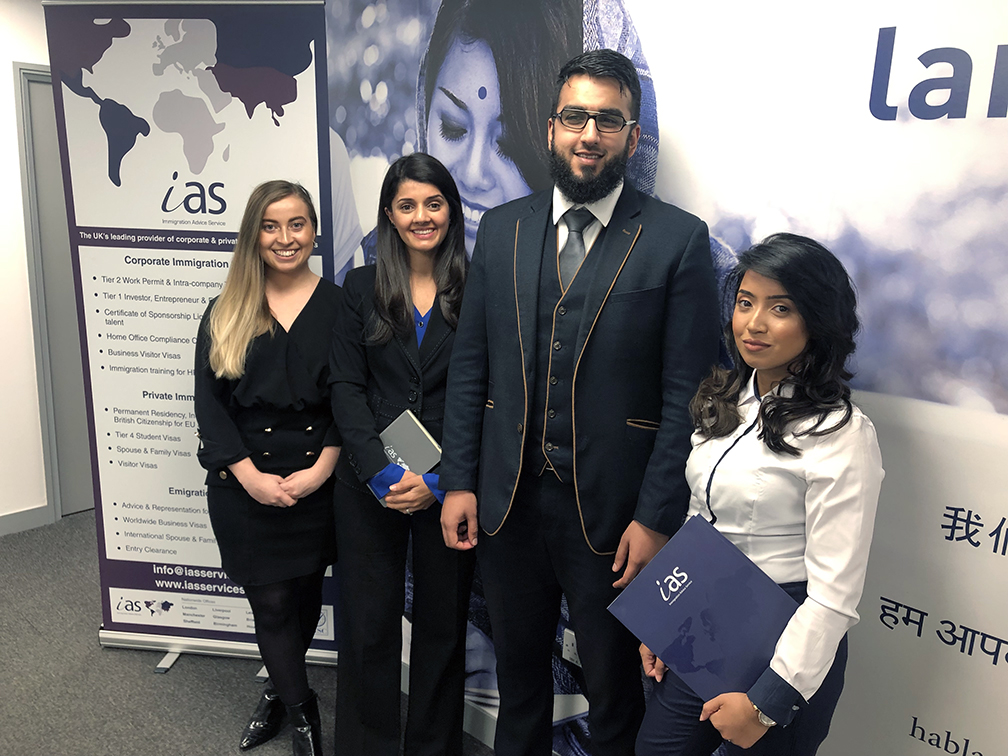 The Advice Package
During this untimed Advice Session with our professional immigration lawyers in London, you will receive our comprehensive advice, completely tailored to your needs and your situation.
Request the Advice Package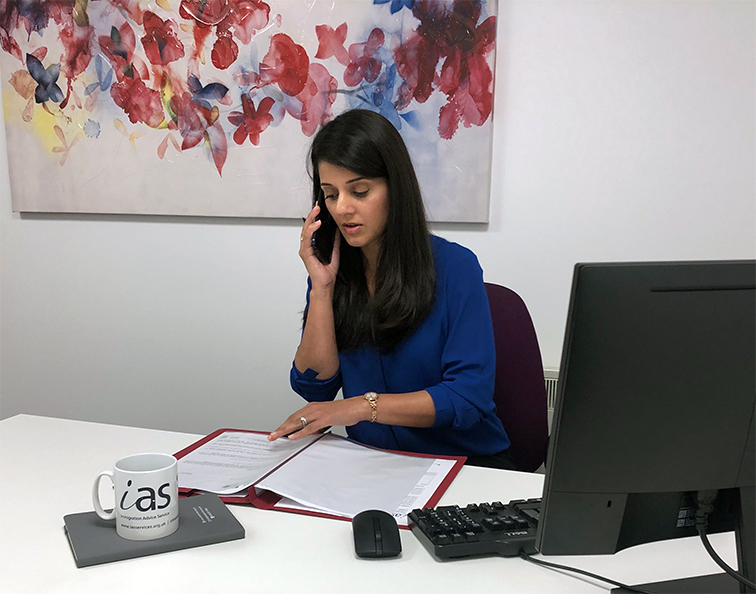 The Application Package
With our Application Package, your dedicated immigration lawyer will advise you on your application process and eligibility. Your caseworker will then complete and submit your forms to the Home Office on your behalf.
Request the Application Package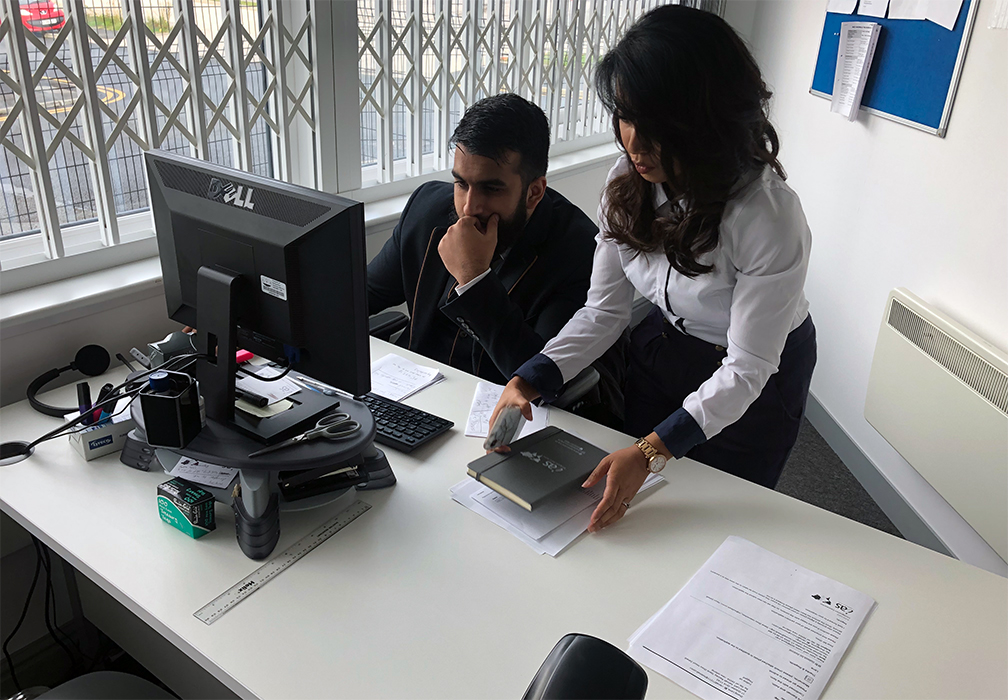 The Fast Track Package
Our Fast-Track Application Package is a premium service for those who need to submit their application in time with their deadlines. Your case will become a top priority for our lawyers and you will benefit from our highest-quality services.
Request the Fast Track Package
The Appeal Package
By choosing our Appeal Package, you can rely on our lawyers' legal knowledge and experience to ensure you have the highest chance of a successful appeal. We will also fully represent you in any hearings/tribunals.
Request the Appeal Package
Related pages for your continued reading.