Business Visa Application: Apply from the USA
The Business Visa is a type of Short Stay 'C' visa that allows you to stay in Ireland for 90 days. It is for foreign citizens who wish to travel and stay in Ireland for short-term business engagements or work.
For advice and assistance with your application, contact us today at +1 844 290 6312 or use the online contact form to get in touch.
What is the Ireland Business Visa?
This refers to the short-stay 'C' visa that allows you to travel and stay in Ireland for business and work-related purposes for up to 90 days. An Irish business visa allows you to attend business meetings, negotiate or sign agreements and contracts, and work for 14 days in Ireland. However, if you are a citizen of a country in the EU/EEA and Switzerland, or if you are from a non-visa-required country, you do not need to apply for a visa to go to Ireland on business.
Business visas cannot be extended, which means that you must leave Ireland and go back to your home country within 90 days of entering the country.
If you are granted a multiple entry visa, you can work in Ireland for 14 consecutive days, then leave Ireland for a month and return to work for another 14 days. However, you must apply for permission to work through the Atypical Working Scheme.
It is important to note that this visa only permits you to travel to Ireland, and you are not permitted to enter the country. An immigration officer at border control determines if your permission to enter Ireland will be granted or not.
"I'm very happy with the standard of training received on the OISC Level 1 course, i passed my exam. Thank you!"
"My application was approved and a huge weight has been lifted from our shoulders this year "
"We used this service for the spouse visa extension application to assure that all the information was valid and correct."
Requirements for Irish Business Visa
When applying for a Business visa, there are some documents you need to provide to be eligible. Firstly, you must have a valid passport for a minimum of six months after your proposed leave date from Ireland. Your Business visa application might be rejected if you fail to provide the necessary information and meet the fundamental requirements.
The following information and documentation will be needed to apply for your business visa application:
Your passport
Two passport-sized photographs with your signature and Visa Application Tracking Number written on the back of each
Your application summary sheet
When you apply for a Business visa, the Department of Justice and  Equality will consider your full immigration history; any criminal record will be noted.
Documents Needed to Apply for a Business Visa Application in Ireland
You need to provide specific documents when applying for a Business visa.
These documents are peculiar to each Business visa application. However, if you wish to travel to Ireland, you will need to include the following documents in your application:
An application letter stating reasons for your intention to travel to Ireland and your commitment to the conditions of the business visa
Travel/medical insurance
Accommodation confirmation and full details of the accommodation
Letter of invitation from an Irish company, stating details of what your activities will be during your visit to Ireland and the length of your stay
Information confirming your finances, costs, and expenses while you are in Ireland. You need to show that you can support yourself financially or through a sponsor during your stay in Ireland. If you are paying for your trip, you must provide an up-to-date bank statement
Evidence that shows that you will return to your home country. To prove this, you can provide a letter from your employer that states the dates of your business trip and the date you are expected back in your home country to work
It is important to note that all the documents provided must be in their original form, written in Irish or English.
If not, they must be translated by an official, accredited translator and vetted by the Ministry of Foreign Affairs.
All letters or information from companies and educational establishments must be on a headed paper.
How to Apply for an Irish Business Visa
There are some steps you need to take when applying for an Irish Business visa. They are:
Step 1: Create and complete the visa application form online.
Step 2: Pay the application fee.
Step 3: print the summary application form after completing the application.
This summary sheet must be included in the visa application, and then gather all the required documents to support your application. Arrange together all the documentation with the application summary sheet and send it to the visa application office as stated on the application summary sheet. However, the application office could be the Dublin Visa Office, an international visa office, or an Irish embassy or consulate.
Irish Business Visa Fee
The fees for a Business visa application differ depending on if it's a single-entry or multiple entry visa.
€60 for a single-journey visa
€100 for a multiple-journey visa
However, there might be other costs involved with Business visa applications, like the cost of the professional translation of your documents.
Visa Decisions
The Department of Justice and Equality will assess your application and will determine if you qualify for the Business visa. If there are any issues regarding your application, the immigration authorities may contact government and international agencies and departments regarding your case.
However, once your application has been accepted, your passport will be stamped with the Business visa.
If your application is refused, you will be sent a letter of refusal stating reasons with details as to why your application was rejected. You are allowed to appeal and this must be done within 2 months of the date stated on the refusal letter. If your appeal is late or denied, the original visa decision cannot be changed.
Once a decision has been made on your application, your documents will be returned to you which you submitted during the application process.
Irish Business Visa Application Processing Time
On average, the Department of Justice and Equality should process your business visa application within eight weeks of your application being received.
However, the processing time for Irish business visa applications can vary. It is important to note that during busy periods and holidays, it may take longer for your visa to be processed.
How can Total Law help?
Total Law's excellent immigration lawyers are highly knowledgeable on the intricacies of Ireland visa processes. They will provide advice and support to make your application process seamless.
Total Law's expert immigration lawyers will help you determine whether you meet the eligibility criteria, gather the supporting documents, guide you through the interview process and likely questions you may face so that you are confident during the process, and will help you file an appeal should your visa be denied.
Total Law is on hand 24/7 to help you out. So do reach out to us, and let's make your visa application journey stress-free. Call us on +1 844 290 6312 or use the online contact form to get in touch.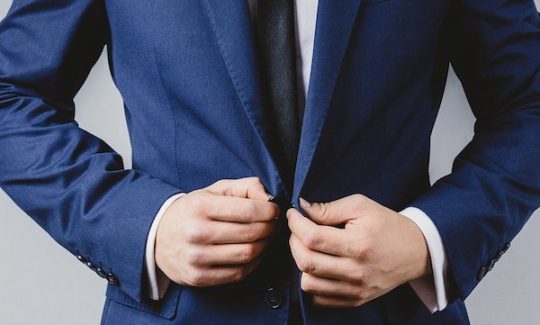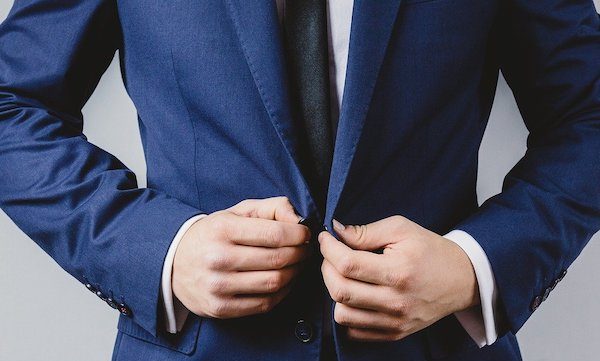 Advice Package
Comprehensive immigration advice tailored to your circumstances and goals.
Application Package
Designed to make your visa application as smooth and stress-free as possible.

Fast Track Package
Premium application service that ensures your visa application is submitted to meet your deadline.
Appeal Package
Ensure you have the greatest chance of a successful appeal. We will represent you in any case.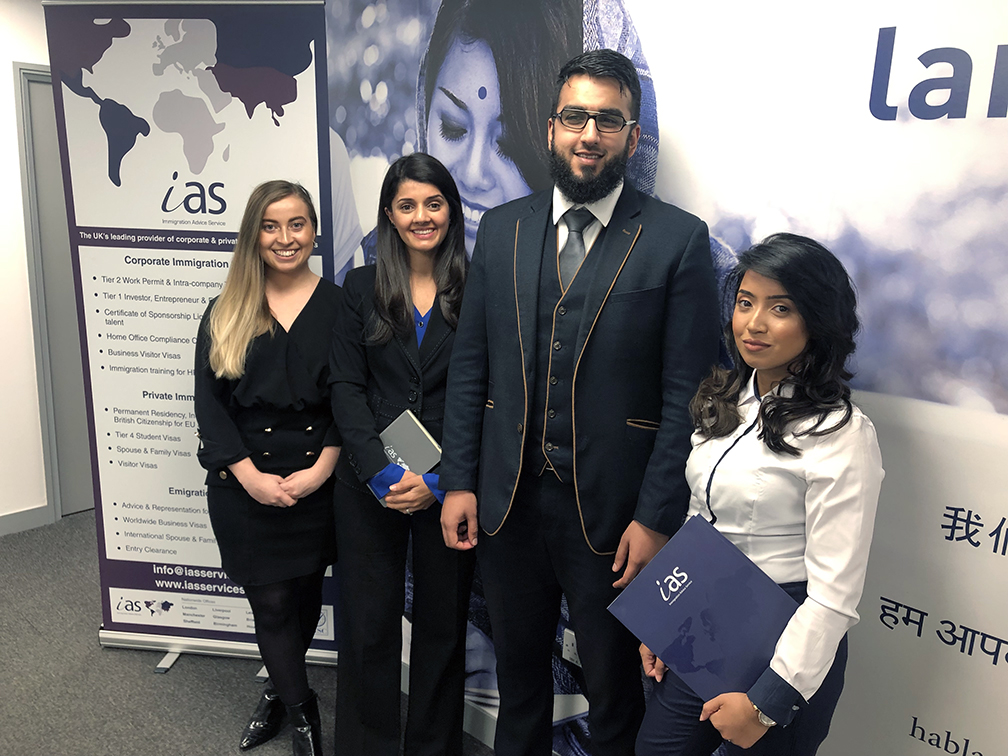 The Advice Package
During this untimed Advice Session with our professional immigration lawyers in London, you will receive our comprehensive advice, completely tailored to your needs and your situation.
Request the Advice Package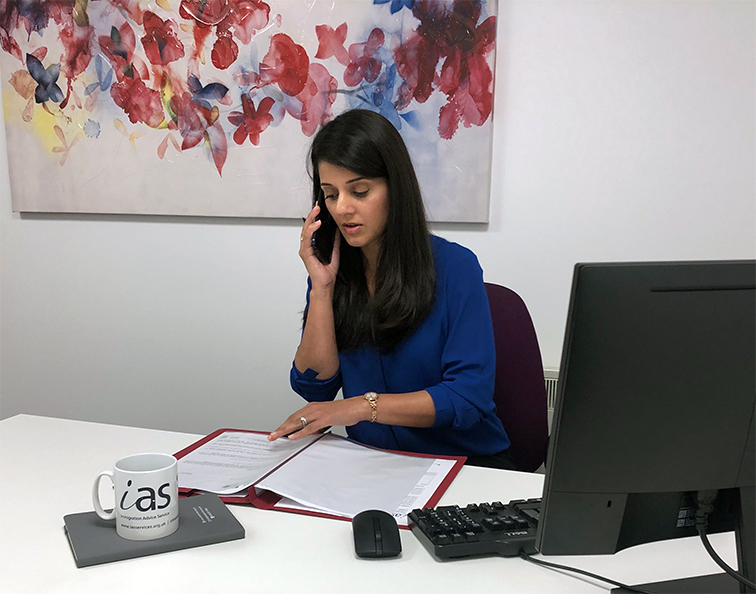 The Application Package
With our Application Package, your dedicated immigration lawyer will advise you on your application process and eligibility. Your caseworker will then complete and submit your forms to the Home Office on your behalf.
Request the Application Package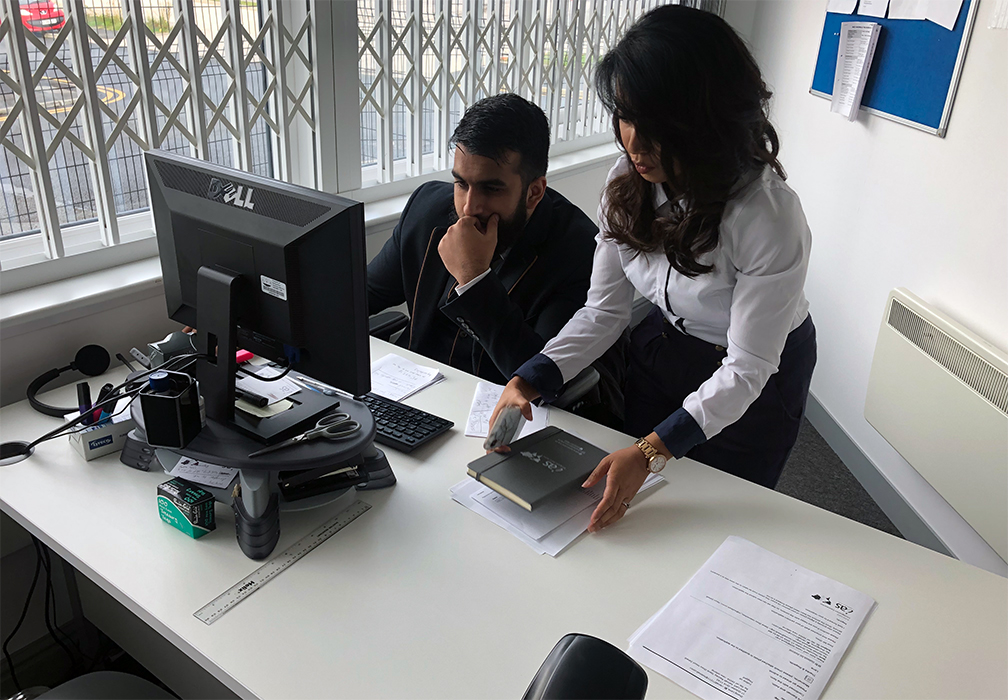 The Fast Track Package
Our Fast-Track Application Package is a premium service for those who need to submit their application in time with their deadlines. Your case will become a top priority for our lawyers and you will benefit from our highest-quality services.
Request the Fast Track Package
The Appeal Package
By choosing our Appeal Package, you can rely on our lawyers' legal knowledge and experience to ensure you have the highest chance of a successful appeal. We will also fully represent you in any hearings/tribunals.
Request the Appeal Package
Related pages for your continued reading.
Frequently Asked Questions
You can apply for a multi-entry visa to Ireland. The multi-entry visa allows you to travel to Ireland on different occasions during the dates stated on your visa. Multi entry visas are rarely granted and are approved depending on the individual circumstances. You can apply for a multi-entry visa if you have constant businesses to do in Ireland and it is at the discretion of the visa officer to grant it.
You are not permitted to extend your Business visa in Ireland, except in some exceptional cases where there are unforeseen circumstances that may occur.
By Irish immigration law, you must leave Ireland within 90 days of entry. However, if you wish to stay in Ireland longer, you will need to go back to your home country and then apply for a long stay 'D' visa. Once it is approved, you can then travel back to Ireland and, with the permission of the immigration officer, you will be allowed to stay in Ireland for more than 90 days.
No, you do not need a business visa to attend a conference in Ireland.
If you wish to visit Ireland to attend a conference or business event, you will have to apply for a Conference/Event visa. Both Business visas and Conference visas have similar requirements, but the major difference between the Conference/Event visa and the Business visa is that you are not permitted to do any kind of work in Ireland under the conference/event visa, whether paid or unpaid.