Spouse Visa Canada - Apply From the Philippines
If you are interested in securing a Spouse Visa Canada from the Philippines for yourself or your partner, Total Law immigration lawyers are here to help.
We are established in the field of immigration, meaning we can answer any questions you have about leaving the Philippines and moving to Canada to live with your loved ones.
Call us on +1 844 290 6312 for more information about the Spouse Visa Canada.
What are the Different Types of Spouse Visa Canada?
The Spouse or Common-Law Partner in Canada Class is for people whose spouse cohabits with them in Canada, has valid temporary resident status in Canada, or is eligible for an Open Work Permit.
Common law partners must have lived together for 12 consecutive months at any one time. There is no such rule for married couples, but the marriage must be legally recognised in Canada.
If the couple does not live together, or the sponsored partner will not be in Canada during the application process, the Family Class is the appropriate Spouse Visa to apply for.
There is also a conjugal partner sponsorship route when there is a valid reason that the couple has not been living together. There must also be proof of a genuine romantic relationship that has lasted at least one year.
"I'm very happy with the standard of training received on the OISC Level 1 course, i passed my exam. Thank you!"
"My application was approved and a huge weight has been lifted from our shoulders this year "
"We used this service for the spouse visa extension application to assure that all the information was valid and correct."
How has the Spouse Visa Process Changed in 2023?
The Spouse Visa process is changing over time, so it is important to check up on the recent rules when you are ready to apply. To get updated on important changes, contact us on +1 844 290 6312.
In 2023, it was annonced that medical exams would no longer be a standard requirement of this type of visa. IRCC can still request a medical exam, but they will only do this if they have a specific reason to do so.
Police certificates are still required, but many applicants do not have to submit quite as many certificates. This is because IRCC now only asks for certificates from the current country of residence and the country in which the principal applicant spent most of their time in adulthood.
Applicants can also now check the status of their application online, so there are no delays in discovering that the application has been rejected or accepted. This has also helped to improve processing times.
In addition, parts of the application process have been condensed, which may be one of the reasons for faster processing times. Everyone submits the same application for spousal sponsorship, whether the sponsor is inland or outland, which makes for a smoother application. The relationship questionnaire has been shortened, which means it is much quicker to complete.
Although the application process is easier than before, if you attempt to apply without professional guidance, you could still run into many problems which could lead to lengthy delays and potential refusal.
Who is Eligible For Spousal Sponsorship Canada?
The basic eligibility requirements for being a Spouse Visa Canada sponsor are:
Immigration status: Sponsors must be Canadian citizens, permanent residents, or individuals registered in Canada as part of the Canadian Indian Act
Finances: Applicants must prove that they can provide financially for their spouse and any dependants for at least three years
Residency: It is obligatory to be a current resident of Canada, or to have plans to move to Canada upon receipt of the Spouse Visa Canada
Age: Sponsors must be at least 18 years old
As well as meeting the requirements for age, finances, immigration status and residency, there are further considerations to be made before Immigration Refugees and Citizenship Canada (IRCC) will approve an application.
If the applicant is in receipt of any form of social assistance that is not linked to a disability, they will not be able to become a Spouse Visa Canada sponsor.
In terms of finances, applicants must demonstrate that they can provide for themselves, their partner, and any dependants involved. In the event that there is another generation of dependant children (i.e., the dependant child has their own children), the sponsor must meet a minimum low-income-cut-off (LICO) score.
Some potential reasons for ineligibility are:
Ongoing bankruptcy
History of missed social assistance repayments during the visa sponsorship process
Being a previous Sponsor Visa Canada recipient within the past five years
Criminal convictions involving violence or violent threats
Being an inmate in prison
Missed child support or court-ordered alimony payments
Being under a removal order
Being a sponsor for a previous spouse within the past three years
Myths About the Eligibility Criteria For Spouse Visa Canada Sponsors
Myth 1: Sponsors must not be legally married to someone else at the time of the application
You do not have to be divorced in order to sponsor a new partner. However, there must be sufficient evidence that the relationship has broken down and that cohabitation has not occurred for at least 12 months.
Documents required as proof of marriage breakdown include:
Court orders for the custody of children
Official separation agreements
Formal declarations of the end of the marriage
Evidence of spousal removal from wills or insurance policies
Myth 2: Same-sex couples cannot obtain a Spouse Visa Canada From the Philippines
Same-sex couples have the same rights as heterosexual couples when it comes to qualifying for a Spouse Visa in Canada.
The illegal nature of same-sex marriage in the Philippines is not relevant in the eyes of Canadian immigration. All that is required is proof of a legally-recognised marriage under Candian Law.
Myth 3: You Cannot Sponsor Your Common Law Partner If They Have a Medical Condition
There is no blanket rule against sponsoring a spouse or partner with a medical condition. In most cases, this will be allowed. However, in the unlikely event that the condition puts the public in danger, IRCC may refuse the visa application.
Myth 4: Sponsorship is Not Available For the Spouse's Adopted Child
Adopted children are classed as dependants, so you could sponsor your spouse's adopted child just as easily as you could sponsor their biological child.
Myth 5: Sponsors are Required to Be Employed
One of the most common myths is that Spouse Visa sponsors must be employed. This is only true for family sponsorship involving a second generation of dependants, as a minimum income is required.
IRCC will not refuse a Spouse Visa application due to the sponsor being unemployed. However, they will assume that the sponsor has other sources of income (e.g., savings) that they can rely on in order to provide for their spouse for three years.
Which Documents Does the Sponsor Need to Provide?
In order to make an application for a Spouse Visa Canada from the Philippines, the sponsor must obtain the required documents.
Married sponsors who have lived with their spouse for less than five years will need a marriage licence from the Philippines. If this is not already in possession, it can be obtained by the Local Civil Registry Office (LCRO) at the sponsored person's hometown in the Philippines. Most licences take up to 10 days to be processed, and they are valid for 120 days.
The LCRO will need to know the date and place of the wedding, the full names of the married couple, the purpose of the certification and the address of the individual requesting the licence. Sometimes, additional documents are requested, such as:
2 valid forms of identification
Photocopy of Canadian passport
Community tax clearance
Moral character reference
Certificate of pre-marital counselling or family planning centre attendance
Sponsors who are unmarried must provide proof of single status to the Philippines in the form of a Statutory Declaration. The Canadian Embassy in Cebu or Manila can help with this.
The required documents include:
Full name
Residential address
Canadian passport or citizenship certificate
Spouse's personal details
Which Documents Does the Sponsored Person Need to Provide?
In order to be approved as a Canadian resident via the Spouse Visa, the sponsored individual must have a valid passport. The passport must be private, which disqualifies public affairs, official, or service passports.
If the passport expiry date is in the near future, it is the sponsored person's responsibility to inform IRCC and renew the passport as soon as possible. Upon renewal, new copies of the passport must be sent to the relevant office.
People over the age of 18 who are not permanent residents or citizens of Canada are asked to supply a valid police certificate from another country. This must be a country in which the individual has spent more than six consecutive months, and it must not be Canada.
Certified true copies of documents
Photocopies of documents must be judged to be certified true copies by a notary public, a commissioner of taking affidavits or a commissioner of oaths. Again, if the process takes place outside of Canada, a notary public must be present.
The member of authority must state that they have not found any differences between the original document and the photocopy.
On the photocopy, they must print their name, their job title, the name of the document, the date of the certification, and their signature. They must also print the statement "I certify that this is a true copy of the original document".
Translations of Documents
All documents submitted with the Spouse Visa Canada application must be translated into English or French, if they are not already written in these languages.
Translators must either be a certified member of a translation or interpreting organisation in Canada, or fluent in both the source language and the target language (the language of the sponsored person, and English or French, respectively).
If a non-certified translator is selected, they are required to give an affidavit with an appropriate witness present. The witness can be a commissioner of oaths, a commissioner of taking affidavits or a notary public. If the affidavit is sworn in a country other than Canada, a notary public must be present.
The affidavit proves that the translator has professed to providing an accurate translation of the documents. It must be provided as part of the Spouse Visa application, along with the translations of the original documents.
What Happens if Documents are Missing From the Spouse Visa Canada Application?
It is strongly advised to try to find all of the requested documents, otherwise the risk of rejection will increase. Similar documents are sometimes accepted, but it is much safer to provide exactly what IRCC are asking for.
If this isn't possible, a thorough explanation of the reason for the missing document must be provided. Please get in touch with Total Law on +1 844 290 6312 if you are struggling with this, as we may be able to help you locate the necessary documents.
Photographic Identification of the Sponsored Person
Sponsored people must provide a form of photo identification in their application. This photo will be displayed on the Permanent Residence Card.
The photo must be:
Recent (no more than six months old)
Original (unedited)
Taken by a commercial photographer
The sponsored person must be central to the photograph, and they must adopt a neutral expression. Smiling, closing one's eyes, and opening one's mouth can result in a photograph being deemed unsuitable.
There are also regulations for the photographer to follow, which involves taking a clear photo in uniform lighting, and placing the subject of the photo in front of a white background.
Application Forms For the Principal Applicant
Generic Application Form for Canada (IMM 0008)
This form requires the sponsored person to have approved sponsorship from their Canadian relative.
They must provide their personal details, such as their name, physical characteristics, date of birth, place of birth, citizenship status, countries of residence, marital status and contact details.
At this point, the preferred language of correspondence must be stated. Applicants must also state their native language and the place that they are planning on living in Canada. Questions will then move to the education and employment of the applicant.
The next stage of the application only applies to people with dependants. They must explain which type of dependant they have, before answering the same questions about the dependant that they have answered for themselves.
Finally, the applicant must provide a national identity document, a valid passport, and an electronic signature.
Schedule A – Background/Declaration (IMM 5669)
The background application asks for the sponsored individual's personal details, education, employment, membership with organisations and military service history.
A declaration must be signed by the applicant and any dependants.
Additional Family Information (IMM 5406)
In this form, the sponsored person must provide information about their mother, father, spouse, children and siblings. Non-biological relations, such as stepchildren and half-siblings, must be included.
As always, an electronic signature must be provided once the application has been completed.
Relationship Information and Sponsorship Evaluation Form (IMM 5532)
In this form, sponsors of romantic partners must provide details about their background. This includes providing education history, employment history and residence status in Canada. They must also state any other people they have sponsored or are sponsoring, as well as any financial dependants they have.
The sponsored person must declare links to Canada, including any family members who are residents. They must also state whether they knew their sponsor prior to their romantic relationship.
The form then focuses on the relationship between the sponsor and the person they are sponsoring. Some important topics include: the length of the relationship, the start of the relationship, cohabitation, languages used to communicate and weddings.
The sponsored individual must also answer whether the marriage was arranged (which requires further information if the answer is yes) and whether their loved ones are aware of the relationship.
Both the sponsor and the sponsored person must sign this form to confirm they have provided truthful, accurate information.
Supplementary Information – Your Travels (IMM 5562)
A complete history of the sponsored person's travel within the past 10 years, or before the age of 18 (whichever is more recent) must be provided here. There must also be a description of the travel history of any spouses and/or dependants.
This includes stating dates of travel, lengths of travel, destinations, and the purpose of the trip.
Use of a Representative (IMM 5476)
Anyone who is using a representative at any stage of the Spouse Visa Canada process must submit an IMM 5476 form.
Individuals who are living outside of Canada, and who have included their sponsor's home address as part of their application, must complete this form. This is because their sponsor is classed as their representative.
In this context, representatives are people who offer guidance for the Spouse Visa Canada application process from the Philippines. They must be named so that they can correspond with the IRCC on your behalf.
Document Checklist for Spouse Visa Applications
Sponsored spouses must complete Checklist – Spouse (IMM 5533 E). This form lists all of the required documents, making it the final opportunity for the principal applicant to check that they have completed the application.
As well as providing the obligatory forms for Canada, applicants should check the specific requirements of their home country. If an application is missing a vital form that is requested by the home country, the applicant could be rejected by IRCC.
Please keep in mind that the documents checklists are different for each type of sponsorship, so people who are not sponsored by their spouse should see the relevant checklist. For example, the checklist for dependant children is form IMM 5534 E. Parents and grandparents should see form IMM 5771 E.
Application Forms for the Spouse Visa Sponsor
All Spouse Visa sponsors will fill out the Application to Sponsor, Sponsorship Agreement and Undertaking (IMM 1344).
This form begins by asking the applicant which route they would prefer if they are deemed ineligible as a sponsor. The options are to stop the processing of the application and receive a refund (minus the $75 non-refundable sponsorship fee), or to have the application refused with no refund.
There are then further questions and suggestions. For example, the applicant is asked whether they would prefer to receive correspondence in English or French, and they are reminded that they cannot have a co-signer as a Spouse Visa sponsor.
Next, the applicant must state which type of relationship they are in, which includes having a conjugal partner (the start date of the relationship must be provided), a common-law partner, or a spouse.
Personal information is then collected in the form of questions about the sponsor's date of birth, mail address, email address, marital history and marital status.
Next is the eligibility assessment. At this point, it will become clear to the applicant if they are not eligible for the visa. If there is something they can do to change this, such as moving from another country to Canada, it will be stated in the application.
The next two sections involve an explanation of what is expected of a Spouse Visa sponsor and the person they are sponsoring. The applicant must be prepared to follow these obligations if the application is approved.
Finally, the declaration statement must be signed electronically. The application can then be passed on to the sponsored person to provide their own electronic signature, before submitting the form to IRCC.
Are there Language Requirements for the Spouse Visa?
Sponsored individuals do not need to prove that they have a knowledge of French or English. As the documents can be translated by a professional translator, they do not need to speak these languages in order to pursue a visa application.
Later down the line, if they wish to become a Canadian citizen, there will be language assessments.
Spouse Visa Canada Application Cost & Processing Time
The average time for a Spouse Visa to be obtained via sponsorship is 12 months. Updates will be published on the IRCC online portal, so it is recommended to check regularly in case the processing time is faster than average.
There is no minimum length of marriage for the Spouse Visa Canada route, so you can make an application as soon as you are married. As a marriage licence is requested by IRCC, this is the only thing that could stop newly-weds from making an application.
If the marriage took place in the Philippines, the process is likely to be longer. Country-specific requirements may apply, and this could mean the sponsored person has to wait to submit their application until they have all of the obligatory documents.
The fee for sponsoring a spouse from the Philippines is $1135. This includes:
Sponsorship fee ($75)
Right of permanent residence fee ($500)
Principal applicant processing fee ($475)
Biometrics ($85)
Additional fees apply for:
Residents of Québec or people who plan on living in Québec after getting the Spouse Visa ($289)
People who are sponsoring someone with dependant children ($150)
Interviews For the Spouse Visa Canada
Most applicants will not have to have an interview. However, interviews can occur for this type of visa. Officers may ask questions relating to the principal applicant's family, finances, criminal history, health, and anything else that may affect their application.
It is common for questions to be based on the genuineness of the relationship between the interviewee and their sponsor. The questions are not fixed, as the intention of IRCC is to learn about the relationship in more depth through a discussion, as opposed to ticking boxes.
The immigration officer could ask yes/no questions such as:
Was your marriage arranged by another party?
Do you live with your spouse currently?
Do you share the same religion as your partner?
Objective questions may include:
What is your spouse's salary?
What is the age difference between you and your spouse?
When/where was your spouse born?
Subjective questions that allow the interviewee to express themselves are very common, as it helps the officer to discover how much they know about their partner and their relationship together. The officer could ask:
When did you meet your spouse?
What was your wedding like?
What are your plans for the future?
What does your spouse do in their spare time?
Why did you choose to marry someone from Canada?
Can you describe the cultural differences between you and your partner?
It is recommended to prepare before the interview, as nerves can cause some interviewees to appear to be fabricating information. That said, if the applicant's relationship is genuine, there is no need for significant concern, as they will be able to answer all questions with an honest, detailed response.
As well as being mentally prepared, applicants should be physically prepared by bringing all of the requested documents. This list will be in the letter sent by IRCC.
Finally, it is advised to make a good impression by dressing well. Though this is not a reason for refusal on its own, it could negatively affect applications that have already been flagged as requiring further investigation.
What Happens if a Spouse Visa is Refused?
Applicants will be informed of the reason for refusal by IRCC, which can help to determine their next steps.
If the application was for outland sponsorship, there is an appeals process to follow. Applicants must make an appeal within the 30 days following the rejection announcement. If they miss this deadline, they will not be permitted to appeal the decision.
Inland sponsors cannot pursue the appeals process, which means they must check that their letter indicates they are permitted to make a re-application for the visa. If there is no information stating otherwise, this can be assumed.
Re-application is not recommended if the reason for refusal still applies. For example, if there is a missing document that cannot be found. This route is only advised when there is a higher chance of acceptance after the first application.
Inland applicants who are not permitted to re-apply can file a judicial review. This is a last-resort option for most people, as there is no guarantee of success, and there is a waiting time of 3-4 months.
In this time, the non-Canadian citizen may be forced to live apart from their spouse, as they will no longer have immigration status in Canada. Furthermore, even travel to Canada will be forbidden at this time. This is challenging for any couple, but it is particularly difficult when dependants are involved.
The only exception to this is sponsored people in possession of a Temporary Resident Visa. They may travel to Canada temporarily while the final decision is being made on the judicial review. The TRV cannot be obtained at this point by individuals who did not already have one, so they will have to stay in their home country for several months without visiting.
Reasons for Refusal of Spousal Sponsorship Application From the Philippines
The Spouse Visa application can be rejected if any fault is found in the information provided. This includes inaccurate or missing information or documents about the sponsor, the person they are sponsoring, or their relationship.
Another common reason for rejection is ineligibility. We recommend speaking to an immigration lawyer about the Spouse Visa to ensure you are eligible before making an application. Call us on +1 844 290 6312 to find out your eligibility status.
Some of the most common causes of ineligibility are:
Having a criminal record
Being a previous sponsor who did not maintain financial assistance to the sponsored person
Being a social assistance beneficiary
Challenges and Limitations of Becoming a Sponsor in Canada
As the sponsor must prove that they can financially support their spouse, they are under pressure to be financially responsible for another adult for at least three years. Not only could this lead to stress, but if the relationship breaks down, the sponsor has to invest in their ex-partner until the three years is over.
While the application is being processed, the sponsor is sometimes required to stay in Canada. A common-law sponsor who is not a permanent resident of the country is not obligated to leave the country, even for short periods. This could impact work obligations, family commitments, and planned holidays.
If the Spouse Visa application is denied, it could have negative effects on the relationship. Re-applying is often stressful, given that it is costly, and a positive outcome is not guaranteed. However, some refusals do not allow for re-application, which could mean that the couple has to live apart for a certain period of time. If the IRCC judges that the marriage is not genuine, the spouse from the Philippines could be banned from entering Canada for five years.
What is the Difference Between Inland Sponsorship and Outland Sponsorship?
Inland Sponsorship
This type of sponsorship is suitable for couples who live together in Canada, with the non-Canadian citizen possessing temporary residence in Canada.
With inland sponsorship, the principal applicant is permitted to work in Canada if they obtain an Open Work Permit (OWP).
Outland Sponsorship
Outland sponsorship is the most common type of sponsorship application. This is when the sponsored person is not living in Canada (though they must plan to move when they get their visa).
While the sponsor has to stay in Canada during the application process, the sponsored person may be able to visit Canada (though it is not always recommended).
Is the Sponsored Spouse Obligated to Work in Canada During the Application Process?
No, there is no requirement for sponsored people from the Philippines to work while they wait for their application to be processed. There is also no requirement to demonstrate financial security, as this is the responsibility of the Spouse Visa sponsor.
Some sponsored people choose to work to improve their financial situation until they are able to work in the country permanently. They do this by applying for an Open Work Visa (OPW). There is no need for a job offer to be in place, or for the applicant to work in a particular field, for this visa to be approved.
Other Family Sponsorship Options for Canada Immigration
Family sponsorship does not only apply to people in relationships. Other relatives, including children and other dependants, can be sponsored in this way.
Dependant Child Sponsorship
The eligibility criteria for a sponsor of a dependant child is the same as spousal sponsorship eligibility. Instead of testing the genuineness of the relationship, IRCC is concerned with the definition of a dependant child.
In order for a child to be deemed a dependant, they must be single (without a spouse or common-law partner) and under 22 years old. Adult children over the age of 22 are classed as dependants if they have a mental or physical disability that causes them to be financially dependant on their parent(s).
If the dependant child is over 22 years old, the sponsor is expected to support them financially for three years. Dependants under this age must be supported for 10 years from the first day of permanent residency, or until they turn 25 years old (whichever option applies first).
There are specific additional forms for people who are sponsoring a dependant child. These are:
Sponsorship Evaluation (IMM 5481)
This form is for people sponsoring a dependant child only, meaning the sponsored person cannot have a dependant child of their own.
The sponsor must state what type of employment they are in, before listing all the undertakings they have been involved with (people they have sponsored). It is also a requirement to name all financial dependants.
Financial Evaluation (IMM 1283)
Sponsors of dependant children who have dependant children themselves must submit this form. It serves to assess the income of the sponsor. The minimum salary that is acceptable starts at $25,921 (when responsible for one dependant), rising to a maximum of $68,598 (7 dependants) plus a fee of $6,985 for each additional person.
In this form, all sources of income will be considered, so it is not simply a case of inputting one's annual salary from employment. Subjects that are covered include social assistance, employment benefits and pension income.
Separation Declaration for Minors Travelling to Canada (IMM 5604)
If a dependant child is going to be travelling to Canada without both of their parents, the parent who will not be in attendance must complete the IMM 5604 form, in which a form of photo identification must be included.
Parent or Grandparent Sponsorship
A Canadian citizen or permanent resident can sponsor their parents or grandparents to become permanent residents. Applications can be made for multiple family members to live in Canada permanently, provided that they all meet the eligibility criteria, and they are related to the sponsor (including relation by adoption).
As well as providing all of the standard forms for sponsoring a family member, sponsors of parents or grandparents must also submit:
Form IMM 5768: Financial Evaluation for Parents and Grandparents Sponsorship
This form asks the sponsor to outline their financial situation, to prove that they will be able to support the person they are sponsoring, as well as any dependants they have.
Income Sources for the Sponsorship of Parents and Grandparents (IMM 5748)
Sponsors who have not granted IRCC direct permission to their tax information are required to complete this form. It is a detailed questionnaire designed to obtain further information about the sponsor's finances.
Can I Move to the Philippines to Be With My Partner Instead?
There is an option for Canadian citizens to move to the Philippines with their spouse, as opposed to sponsoring their spouse to live in Canada. At Total Law, we have plenty of immigration lawyers who specialise in immigration to the Philippines, so you can organise this with us.
A general overview is that your Filipino partner can sponsor you as their spouse with the 13A spousal visa. This starts as a probationary visa by marriage, but it can be converted into a permanent visa by marriage after one year.
Depending on your situation, it may be more complicated for you to move to the Philippines than for your spouse to move to Canada. Get in touch with us for expert advice on the best immigration route for you and your partner.
How Can Total Law Help?
It is permissible to apply for a Spouse Visa without contacting an immigration lawyer. However, we would not recommend this, as you could miss out on valuable information that would improve your application.
Whether you are sponsoring your spouse from the Philippines, or you are a Filipino citizen applying for sponsorship, Total Law can help with the application process.
When you contact us, we will cover Spouse Visa Canada requirements and common reasons for rejection. This could save you from making avoidable errors in your application. If you do not fit the IRCC criteria for family sponsorship, we will advise you on your next steps.
Speak to a Canadian immigration expert on +1 844 290 6312 if you are ready to begin the process of obtaining permanent residence in Canada for yourself or your spouse.
Advice Package
Comprehensive immigration advice tailored to your circumstances and goals.
Application Package
Designed to make your visa application as smooth and stress-free as possible.

Fast Track Package
Premium application service that ensures your visa application is submitted to meet your deadline.
Appeal Package
Ensure you have the greatest chance of a successful appeal. We will represent you in any case.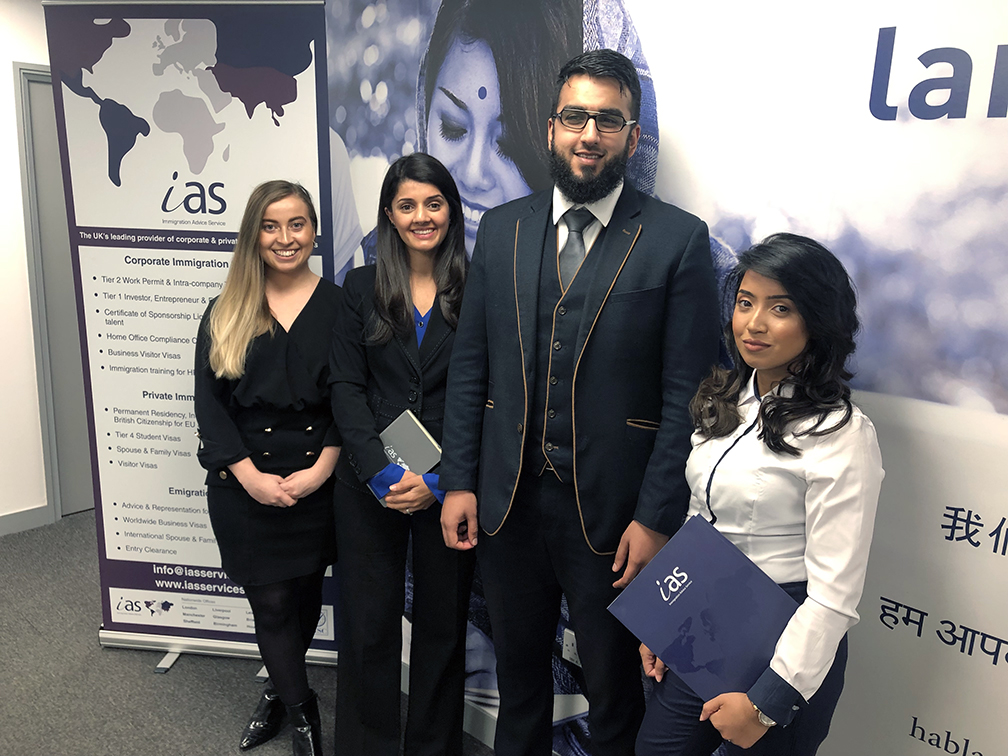 The Advice Package
During this untimed Advice Session with our professional immigration lawyers in London, you will receive our comprehensive advice, completely tailored to your needs and your situation.
Request the Advice Package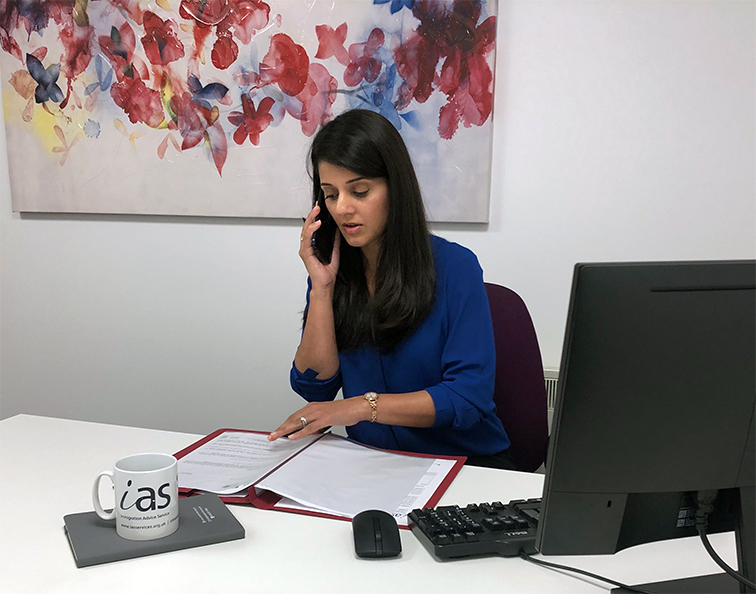 The Application Package
With our Application Package, your dedicated immigration lawyer will advise you on your application process and eligibility. Your caseworker will then complete and submit your forms to the Home Office on your behalf.
Request the Application Package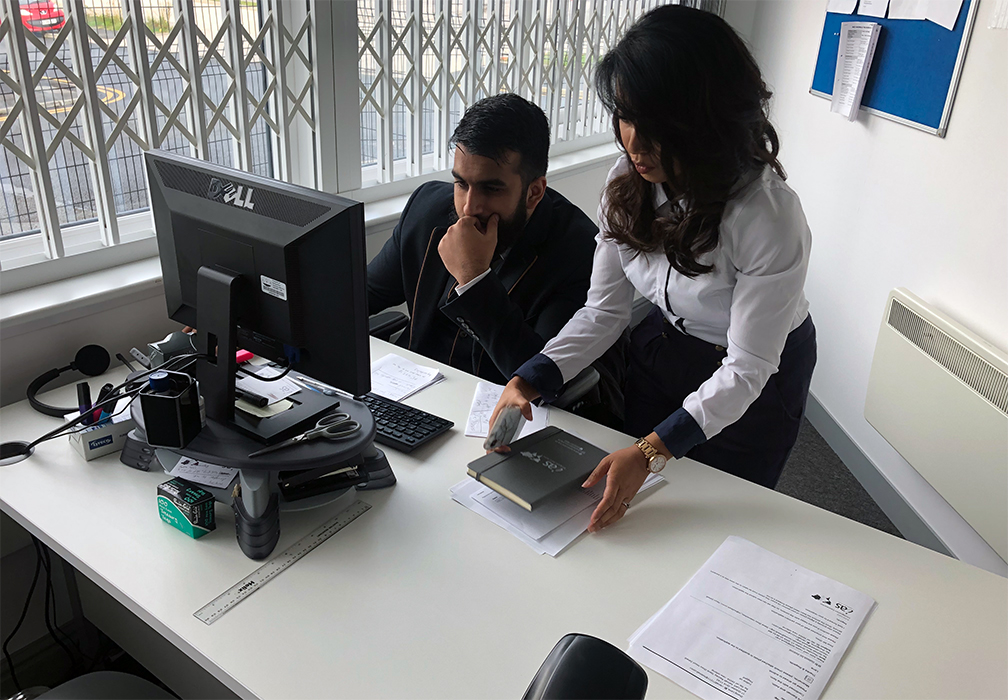 The Fast Track Package
Our Fast-Track Application Package is a premium service for those who need to submit their application in time with their deadlines. Your case will become a top priority for our lawyers and you will benefit from our highest-quality services.
Request the Fast Track Package
The Appeal Package
By choosing our Appeal Package, you can rely on our lawyers' legal knowledge and experience to ensure you have the highest chance of a successful appeal. We will also fully represent you in any hearings/tribunals.
Request the Appeal Package
Related pages for your continued reading.
Frequently Asked Questions
Canadian permanent residents can live, work and study in Canada, access the majority of Canadian social benefits, and apply for Canadian citizenship. They are also protected under Canadian Law and the Canadian Charter of Rights and Freedoms.
Just like Canadian citizens, permanent residents are legally obliged to pay taxes to the Canadian government, and to obey Canadian law.
The difference between the rights of citizens and permanent residents is that the latter cannot leave Canada for more than two years in any five-year period (without losing their status), vote or run for political office or work in a job that requires high-level security clearance.
Yes, you can apply for the visa by mail. It tends to be much faster to make an online application, but applicants are welcome to apply by mail if this is more convenient.
Depending on whether the sponsored person is residing in Canada or elsewhere, the mailing address will be different.
Spouse Visa applications for people within Canada should be sent to:
CPC Mississauga
P.O. Box 5040, Station B
Mississauga, ON
L5A 3A4
Applications for spouses who are not in Canada must go to:
CPC Sydney
P.O. Box 9500
Sydney, NS
B1P 0H5
If you live in Canada, your spouse can visit you if they are from a visa-free country such as Japan, Mexico or Sweden. If not, they can acquire a Visitor Visa (also known as a Temporary Resident Visa). They will need to meet the same eligibility requirements as all other applicants, which includes:
Having enough funds for the trip
Being in good health
Having no criminal convictions
Demonstrating that the trip is only temporary
Possessing a passport (or another valid travel document)
If your spouse wants to visit you while the Spouse Visa application is being processed, they still need to obtain a Visitor Visa. However, this is often more difficult after the sponsorship application has been made, so it is safer to avoid this.
Sponsors and sponsored individuals who are guilty of misrepresenting their relationship will not be able to obtain a Spouse Visa.
It is highly likely that the non-Canadian citizen and any dependants will be refused entry into Canada for five years following the incident. The incident will remain on the individual's immigration record for the rest of their life, which means it could potentially affect immigration to other countries.