F1 Student Visa
If you are an overseas national who would like to study in the United States, you could be eligible for the F-1 Student Visa.
For more information about the F-1 Visa speak with our expert immigration attorneys today on +1 844 290 6312.
What is the F1 Visa?
The B2 Visitor Visa does not allow you to undergo a course of study whilst in the US. International students who wish to study in the United States must obtain a student visa to do so.
The F1 Visa is a permit that allows international students to enter the United States to attend a US based educational institution. The F1 Visa is for academic students, it can be used to study at a university or college, high school, private elementary school, seminary, conservatory or another type of academic institution. International students planning to study at a vocational or other recognized non-academic institution are not eligible for the F1 Visa but could instead be eligible for the M1 Visa for vocational students.
With an F-1 Visa, you will be able to remain in the US for the duration of your studies and a further 60 days after the completion of your course of study.
"We used this service for the spouse visa extension application to assure that all the information was valid and correct."
"Thanking you so much for helping me and my wife live together for now and the distant future. We are grateful for your help and patience. "
"Spouse visa uk application was successful after working with your staff. I recommend this company the IAS for immigration services. "
Who is eligible for the F1 Visa?
To be eligible for the F-1 Visa you must be enrolled in a program or course of study that results in you obtaining a degree, diploma or certificate and your educational institution must have authorization from the US government to host international students.
As well as this you must:
Be enrolled as a full-time student at your chosen educational institution
Be able to demonstrate your proficiency in the English language, unless you are enrolled in a course of study that will lead to English proficiency
Be able to support yourself financially during your stay in the US, this includes being able to pay for your course of study as well as for living and travel costs
Have strong ties to your home country to prove that you intend to return, this could include familial ties as well as job offers, bank accounts and other assets.
F-1 Visa application process
Before beginning the F-1 Visa application process you will need to apply to study at a US educational facility that has been approved by the Student and Exchange Visitor Program (SEVP), if your application is successful the school will provide you with a Form I-20, this is a Certificate of Eligibility for Nonimmigrant Student Status. Your Form I-20 must be signed by yourself and your designated educational institution. Once you have obtained the form you must pay the I-901 Student and Exchange Visitor Information System (SEVIS) Fee, this is a mandatory fee.
Once you have obtained a Form I-20 and payed the SEVIS fee, you can begin the F-1 Visa application process. You will usually need to apply at a US embassy or consulate in your home country. There are several steps to the application process and the order of these steps may vary depending on the embassy or consulate you are applying at.
You will need to first submit an online nonimmigrant visa application, also known as Form DS-160. Once you have completed this you will need to print the confirmation page, you will need this later. When submitting Form DS-160 you will also be required to upload a photo.
Once you have completed the online visa application you will need to schedule your visa interview at your local US embassy of consulate. If your visa is approved you will be allowed to travel to a U.S port of entry. The visa does not guarantee you entry into the United States. Once you are at the port of entry you will need to show your passport, visa and Form I-20, following this a U.S. Customs and Border Protection official will decide whether to grant you entry. Once you have been granted entry you will receive an admission stamp or Form I-94( an Arrival/Departure Record).
Required documents
When applying for the F-1 Student Visa, there are a number of documents that you will need to take with you to the visa interview, they include:
A valid passport – the passport must be valid for at least 6 months beyond the the date you intend to leave the United States
The confirmation page from your Form DS-160, Nonimmigrant Visa application submission
A receipt to show that you have paid the application fee before your interview
A photo of yourself – you will need to submit this at the time of completing your visa application but if the upload fails you may need to bring a printed photograph to the interview with you
After your visa interview, the consular office may request additional documents from you which could include evidence of your academic preparation, proof that you intent to leave the US once you have finished studying and evidence of how you will financially support yourself whilst in the US.
The student visa interview
The visa interview is a key part of the F-1 student visa application process, this is where a decision will be made about whether you will be granted the F-1 visa. Most F-1 Visa applicants are required to attend a visa interview, although there is exceptions for those under the age of 13 or over the age of 80.
You will need to schedule your visa interview appointment after completing Form DS-160, you interview will be held at your local US embassy or consulate. Before your interview you must pay the visa application fee, if your visa is approved you may also need to pay a visa issuance fee.
Your F-1 Visa interview will be conducted by a consular officer who will seek to determine whether you are eligible for the F-1 student visa. You will need to bring your supporting documents with you to prove that you can meet the requirements. During the interview you will also usually have digital scans of your fingerprints taken.
After the interview the consular officer will decide whether to approve your visa, they may decide that your application needs further administrative processing, they will inform you if this is the case.
How can Total Law help?
If you're an international student who wishes to study in the United States, our immigration lawyers are here for you. Applying for a US student visa can be a complex process, but our immigration attorneys are knowledgeable about the student visa process and can assist you with your application.
Whether you require professional legal advice about your student visa options, or require assistance with every step of the application process, our lawyers are here for you. The services we offer include:
Immigration advice sessions with highly trained and experienced lawyers
Assistance with filling in application forms, other paperwork and with gathering a portfolio of evidence
Professional document and application checks prior to submission
For more information about how our immigration lawyers can help you to apply for your student visa get in touch today by calling +1 844 290 6312.
Advice Package
Comprehensive immigration advice tailored to your circumstances and goals.
Application Package
Designed to make your visa application as smooth and stress-free as possible.

Fast Track Package
Premium application service that ensures your visa application is submitted to meet your deadline.
Appeal Package
Ensure you have the greatest chance of a successful appeal. We will represent you in any case.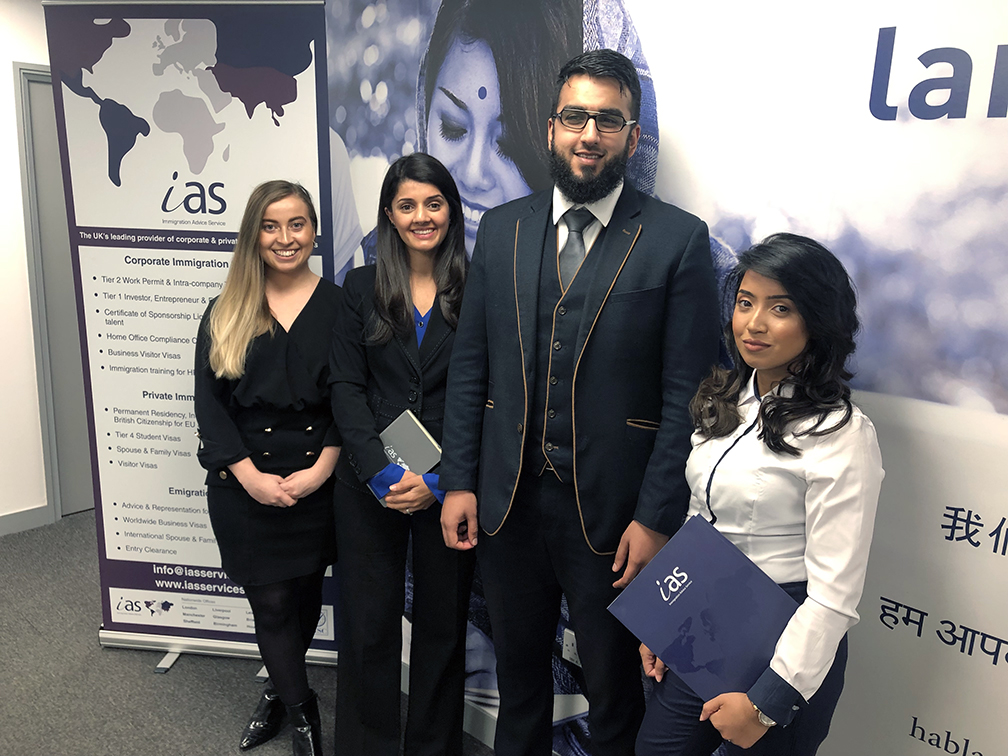 The Advice Package
During this untimed Advice Session with our professional immigration lawyers in London, you will receive our comprehensive advice, completely tailored to your needs and your situation.
Request the Advice Package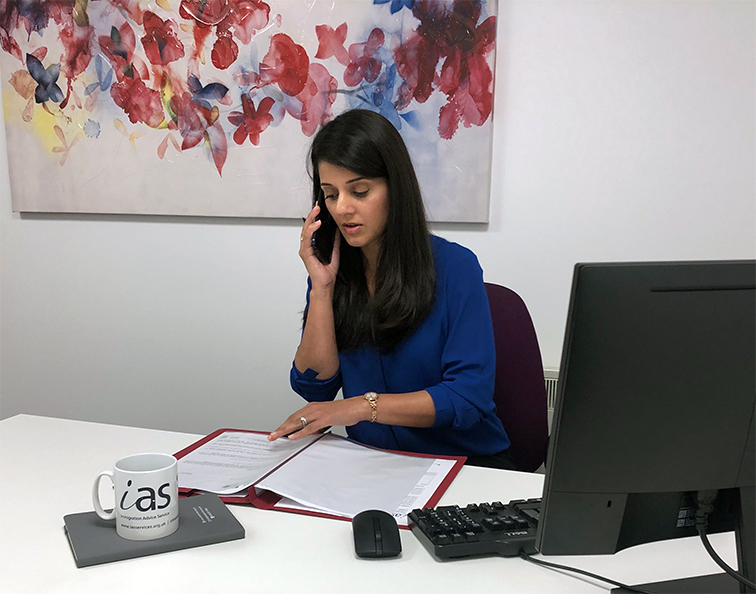 The Application Package
With our Application Package, your dedicated immigration lawyer will advise you on your application process and eligibility. Your caseworker will then complete and submit your forms to the Home Office on your behalf.
Request the Application Package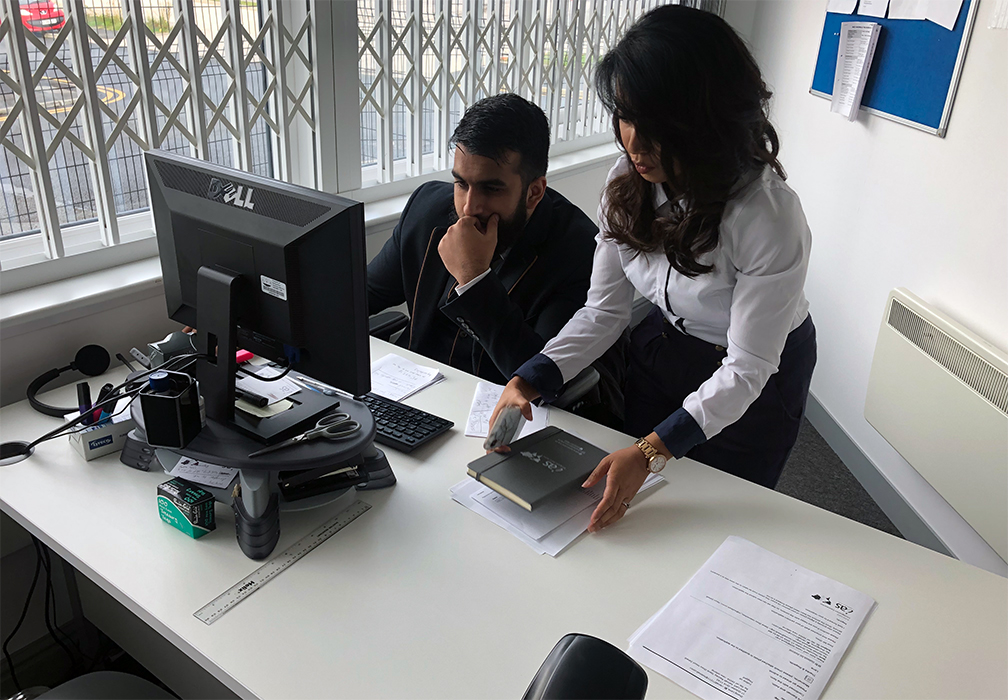 The Fast Track Package
Our Fast-Track Application Package is a premium service for those who need to submit their application in time with their deadlines. Your case will become a top priority for our lawyers and you will benefit from our highest-quality services.
Request the Fast Track Package
The Appeal Package
By choosing our Appeal Package, you can rely on our lawyers' legal knowledge and experience to ensure you have the highest chance of a successful appeal. We will also fully represent you in any hearings/tribunals.
Request the Appeal Package
Related pages for your continued reading.
Frequently Asked Questions
The F-1 Visa is not a work visa but it does allow you to work on campus. You can work for up to 20 hours per week during term time and more than 20 hours per week during school breaks. During your first academic year you may only work on campus, but following this you can work in 3 types of off-campus employment, these include:
Curricular Practical Training (CPT)
Optional Practical Training (OPT)
Science, Technology, Engineering, and Mathematics (STEM) Optional Practical Training Extension (OPT)
You may be able to get an exception to work off campus in other roles for specific reasons such as economic hardship. Any off campus employment must be related to your academic program and authorized by your Designated School Official before you start.
Your F-1 Visa will allow you to stay in the United Stated for the duration of your academic program as well as 60 days after your graduation date. If you wish to stay in the US beyond the expiration date of your F-1 Visa there may be several options available to you, including:
Optional practical training (OPT) – this is a program for both undergraduate and graduate students in the US on an F-1 Visa. It allows you to stay in the US to work for 12 months, to be eligible the role must be related to your field of study.
Optional Practical Training Extension for STEM Students – you could get a 24 month OPT extension if you have been granted OPT and have a degree in a STEM subject.
H-1B Visa – an international student could stay in the US by transferring their F-1 Visa status to H-1B Visa status. This is a nonimmigrant visa for skilled workers, to change your visa status to this you would need a sponsoring employer in the US.
The F-1 Visa application fee is $160, this must be paid before your visa interview. As well as the application fee you will also be required to pay to have full registration on the Student and Exchange Visitor Information System (SEVIS). The SEVIS fee for an F-1 Visa is $200.