H-2B Visa
The H-2B Visa is a non-immigrant visa that allows some types of workers to come to the US for specific employment purposes.
If you are looking to come to the United States on a H-2B Visa, contact Total Law for immediate assistance. We are available to speak over the phone on +1 844 290 6312 and by online video call.
What is the H-2B Visa?
The H-2B Visa category is designed for employers and authorized agents to bring some categories of foreign workers to the United States to undertake temporary, non-agricultural jobs.
The employer or agent must file an immigrant petition on behalf of the worker in order for them to be allowed to apply for the visa.
This is an employer-controlled visa, with the employee unable to come to the US on the visa without holding employment with an approved organization.
The US-based employer must demonstrate that there is a genuine need for the worker to come to the United States to complete the work.
To hire workers on a H-2B Visa, petitioners must also provide evidence of the following:
There is a shortage of available American workers who can fill temporary nonagricultural jobs
Employing the foreign worker(s) will not adversely affect the working conditions of U.S. employers in similar roles
The role is temporary in nature and fulfils one of the following conditions:

Non-recurring employment situation (where there is normally a permanent need, but a temporary event has resulted in the need to employ a temporary worker – or alternatively, where an organization has not needed to employ workers to do this service in the past, and will not need them in the future)
Seasonal need for workers (where the worker must undertake work that is usually tied to a season of the year because of some event or pattern and it recurs regularly)
Peak load need (where the business normally employs permanent workers, but is required to employ additional staff because of a temporary demand in workload)
Intermittent need (where the organization has not employed permanent workers to complete the labor but has intermittent needs for temporary labor sources)
There is a cap on the number of H-2B Visas issued every year (66,000), with half issued in the first six months of the year, and half issued in the last six months.
Once the quota has been reached, no further petitions will be accepted until the following eligible time period (unless a petition is exempt).
"We used this service for the spouse visa extension application to assure that all the information was valid and correct."
"Thanking you so much for helping me and my wife live together for now and the distant future. We are grateful for your help and patience. "
"Spouse visa uk application was successful after working with your staff. I recommend this company the IAS for immigration services. "
H-2B Visa requirements
Some of the primary requirements of the H-2B Visa include the need for employers to demonstrate that the work is temporary and will not negatively affect U.S. workers.
To successfully apply for a H-2B Visa, you should ensure that you meet the following criteria:
You have an official job offer from a U.S. organization
You have the appropriate skills, qualifications, and experience for the job
You can demonstrate that you will return home before the expiry date of the visa
As well as this, there is a set number of countries whose citizens are eligible to apply under the H-2B Visa.
These countries include: Andorra, Argentina, Australia, Austria, Barbados, Belgium, Brazil, Brunei, Bulgaria, Canada, Chile, Colombia, Costa Rica, Croatia, Czech Republic, Denmark, Ecuador, El Salvador, Estonia, Fiji, Finland, France, Germany, Greece, Grenada, Guatemala, Honduras, Hungary, Iceland, Ireland, Israel, Italy, Jamaica, Japan, Kiribati, Latvia, Liechtenstein, Lithuania, Luxembourg, North Macedonia, Madagascar, Malta, Mexico, Monaco, Mongolia, Montenegro, Mozambique, Nauru, The Netherlands, Nicaragua, New Zealand, Norway, Panama, Papua New Guinea, Peru, The Philippines, Poland, Portugal, Romania, San Marino, Serbia, Singapore, Slovakia, Slovenia, Solomon Islands, South Africa, South Korea, Spain, St. Vincent and the Grenadines, Sweden, Switzerland, Taiwan, Thailand, Timor-Leste, Turkey, Tuvalu, Ukraine, United Kingdom, Uruguay, and Vanuatu.
The full list of the terms of specific countries can be viewed on the United States Citizenship and Immigration Services (USCIS) H-2B Visa page.
Apply for the H-2B Visa
There are three primary steps involved in the H-2B Visa. These include the following stages:
Petitioner applies for a temporary labor certification
The first stage involves applying for a temporary labor certification from the U.S. Department of Labor.
This must be completed before the organization requests H-2B certification from USCIS.
Petitioners submits a Form I-129 application to USCIS
If the Department of Labor grants the application for temporary labor certification, then the petitioner may file Form I-129 with USCIS.
The employer should submit the original labor certificate with Form I-129 (except in some limited circumstances).
Eligible foreign workers apply for the H-2B Visa
Following the approval of Form I-129 by USCIS, the workers should apply for the visa at a Department of State office at a U.S. embassy or consulate and seek admission on entry to the country.
Alternatively, they may seek admission to the U.S. under the H-2B classification without having to apply for the visa (where the applicant is exempt from having to apply for a visa).
What jobs can you do on a H-2B Visa?
H-2B Visa applicants are not permitted to undertake agricultural work. If you want to come to the U.S. for the purposes of farm work, you should apply for the H-2A Visa.
According to data from a 2014 study by the Economic Policy Institute, some of the most popular jobs on the H-2B Visa include the following sectors:
Landscaping and groundskeeping workers (40.7%)
Forest and conservation workers (8%)
Maids and housekeeping cleaners (6%)
Cleaners and amusement and recreation attendants (6%)
Meat, poultry, and fish cutters and trimmers (3.5%)
Construction laborers (1.9%)
Coaches and scouts
Waiters and waitresses
Nonfarm animal caretakers
Fishers and related fishing workers
Other categories in which H-2B Visa applicants may work include production workers, cooks and restaurant staff, packers and packagers, food preparation workers, and dining room and cafeteria attendants and bartenders.
If you have questions about your intended employment, discuss your queries with a qualified immigration lawyer.
Changes to the H-2B Visa program
There have been some recent changes to the H-2B Visa that affects how employers hire staff.
The previous cap on the program was 66,000 visas per year. However, the Department of Homeland Security recently announced that it intended to issue an additional 22,000 visas for 2021.
16,000 of these are intended for returning workers who were previously issued a H-2B Visa between 2018 – 2020.
The other 6,000 visas have been reserved for citizens of El Salvador, Guatemala, and Honduras.
Employers will still be required to demonstrate that without these workers, their business would be at serious risk of being irrevocably damaged.
There are also the usual requirements to show that there are not enough U.S.-based workers to take up the roles and that employing foreign workers will not adversely affect U.S. workers.
With the increase in available visas, businesses will now be required to engage in additional recruitment efforts to demonstrate that they have first searched for U.S.-based workers.
What documents do you need?
The employer must submit Form I-129 and the associated documents required by USCIS. Employers should also show the following:
The employer has obtained temporary labor certification for the intended employment
If Form I-129 is filed more than 45 days after the start date on the certification, the employer must show evidence of having first led recruitment efforts for U.S. workers
A certified attestation confirming that the employer will suffer irreparable harm if they are not allowed to hire the foreign workers
Confirmation of acceptance of abiding by all labor employment laws and health and safety laws
If this is subsequently approved, the employer will then be provided with a notice of approval (or Form I-797).
For H-2B workers living outside the U.S., they are required to submit the following:
Form DS-160 (online non-immigrant visa application)
Form DS-157 (if the applicant is a male aged between 16 and 45)
Copy of notice of approval of the H-2B petition
Applicant's passport
A passport photo (adhering to U.S. regulations)
Proof that the applicant intends to return to their home country when the visa expires (e.g., ties to home, family commitments, other work activities, etc.)
Depending on your circumstances, you may be required to submit further documents.
How long can you stay on a H-2B Visa?
The period of stay allowed on a H-2B Visa depends on the time specified on the temporary labor certification.
It may be possible to extend the qualifying employment period by up to one year at a time (however, a new TLC must be issued each time).
The maximum length of stay allowed under the H-2B classification is three years.
If an individual holds H-2B status for three years, they are required to leave the U.S. and remain outside for three consecutive months before applying for re-entry.
There may be exceptions to this rule based on your circumstances and visa conditions. If you have any doubts about your eligibility, it is recommended that you consult with an immigration lawyer.
Processing time of H-2B Visa
The average length of time it takes to process the H-2B Visa depends on where you apply.
Most applications will be processed between 60 and 120 days. It is important for employers to ensure that they apply in advance of the time they will need to hire employees.
Check the Department of State's website for updates on temporary worker visa processing times.
Dealing with different departments (the Departments of Labor and Homeland Security) can be complex. If you want to discuss the process with an experienced immigration lawyer, contact Total Law for an initial discussion.
How much does the visa cost?
There are a number of fees associated with applying for this visa. The employer is required to pay for filing Form I-129 and the cost of this depends on the type of organization applying for the petition.
The United States Citizenship and Immigration Services will determine whether the organization needs to pay a fee of either $1,500 or $750 based on the American Competitiveness and Workforce Improvement Act. This information can be found in further detail in Form I—129.
There is also a requirement to pay the visa application fee which is currently set at $190.

Advice Package
Comprehensive immigration advice tailored to your circumstances and goals.

Application Package
Designed to make your visa application as smooth and stress-free as possible.

Fast Track Package
Premium application service that ensures your visa application is submitted to meet your deadline.

Appeal Package
Ensure you have the greatest chance of a successful appeal. We will represent you in any case.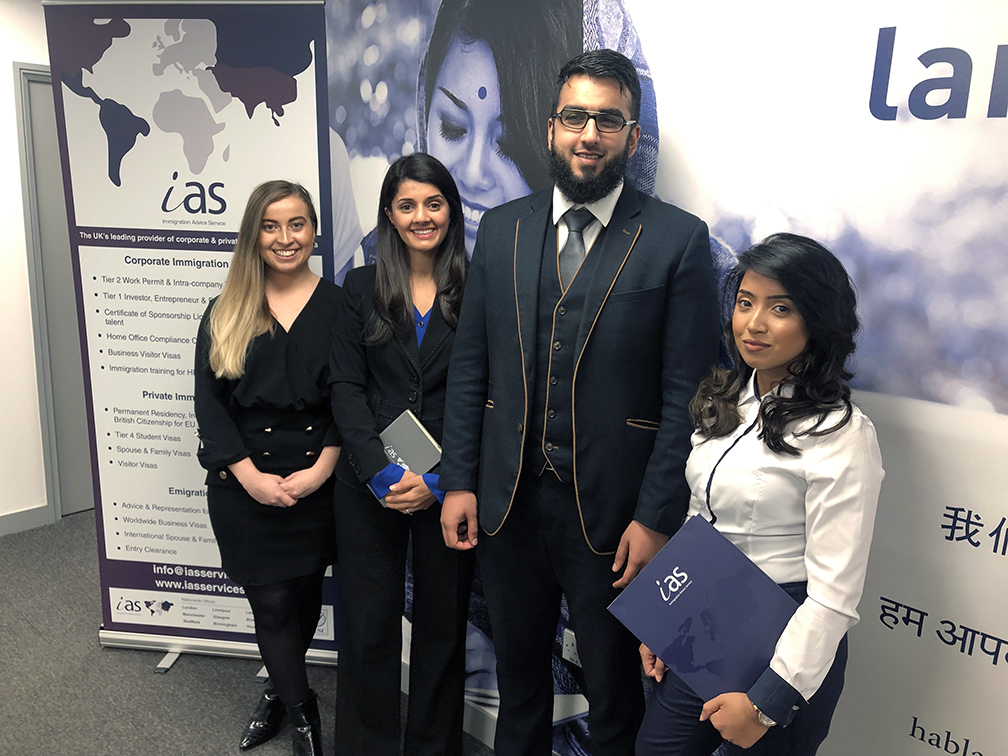 The Advice Package
During this untimed Advice Session with our professional immigration lawyers in London, you will receive our comprehensive advice, completely tailored to your needs and your situation.
Request the Advice Package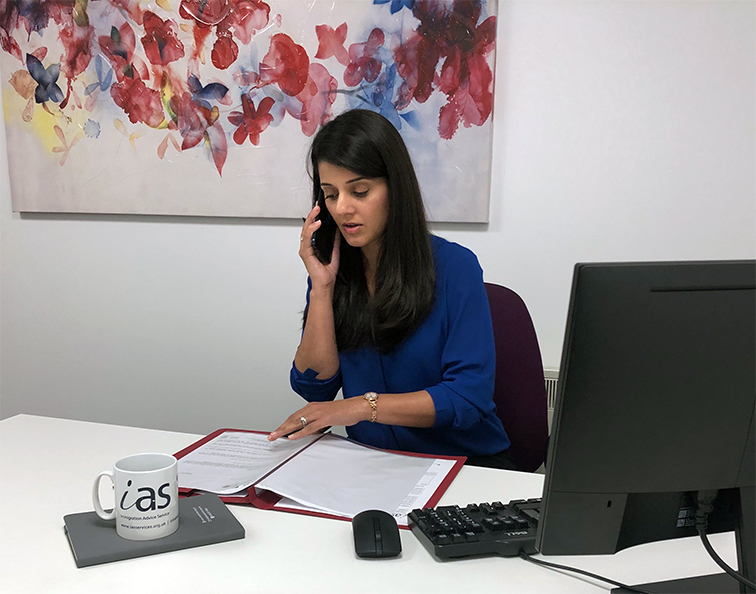 The Application Package
With our Application Package, your dedicated immigration lawyer will advise you on your application process and eligibility. Your caseworker will then complete and submit your forms to the Home Office on your behalf.
Request the Application Package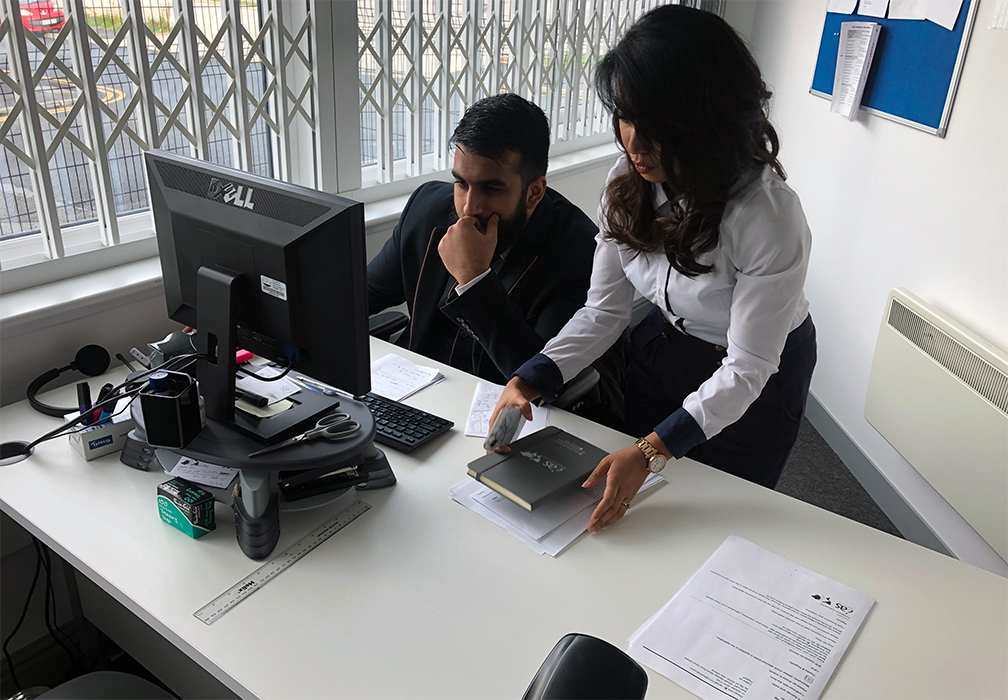 The Fast Track Package
Our Fast-Track Application Package is a premium service for those who need to submit their application in time with their deadlines. Your case will become a top priority for our lawyers and you will benefit from our highest-quality services.
Request the Fast Track Package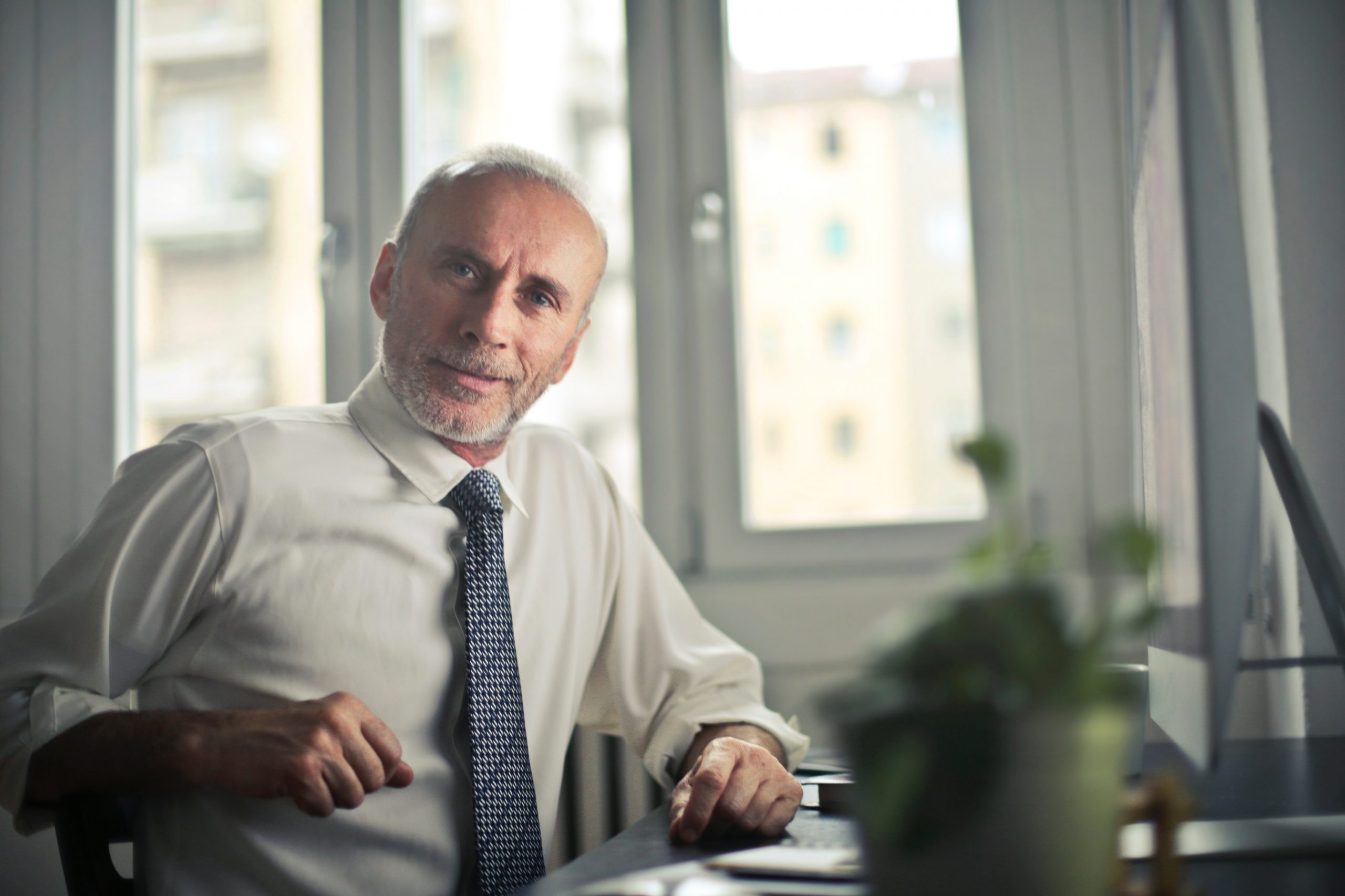 The Appeal Package
By choosing our Appeal Package, you can rely on our lawyers' legal knowledge and experience to ensure you have the highest chance of a successful appeal. We will also fully represent you in any hearings/tribunals.
Request the Appeal Package
Related pages for your continued reading.
Frequently Asked Questions
There are strict requirements about the types of organization that may hire H2B Visa workers. Organizations are required to show that there is a genuine and temporary need for the workers, as well as demonstrate that no U.S. workers will be materially impacted by doing so.
To be eligible to hire workers on this visa, employers must obtain an approved temporary labor certification.
For the worker, they must hold an official job offer from an approved organization, have the appropriate skills and qualifications to complete the role, and have sufficient ties to their home country in order to be accepted.
It is legally possible to marry in the U.S. while holding a H2B visa, however, it is not possible to change immigrant categories from a nonimmigrant to an immigrant category. In order to do this, the individual is required to leave the U.S. and apply under the appropriate visa category.
If you wish to apply for a fiance visa, an immigrant visa for the spouse of a U.S. citizen (IR1 or CR1), or a nonimmigrant visa for a spouse (K-3 Visa), speak to our immigration lawyers for advice on your situation.
At Total Law, our immigration lawyers are experienced in all forms of U.S. visas and immigration routes.
We can assess your eligibility for your chosen visa category and assist you in completing the application form and gathering the required documents.
We can also analyze your job offer to ensure that it is an eligible role and liaise with your sponsor on your behalf while your application is pending.
To speak to us about how we can help you, call us today or use the online contact form to get in touch.