E3 Visa (Australian Professional Specialty Visas)
If you are an Australian citizen with a highly specialized profession, you may be eligible to work in the United States in a specific specialty occupation.
For further information on the E3 visa, visit our website or call us at +1 844 290 6312 for immediate help and assistance with your situation. We're here to help you in person, via the phone, or online.
About the E-3 Visa?
The E3 visa is a country-specific work visa program for Australian citizens to work in the United States under a specialty occupation. With an E3 visa, you can only provide professional services recognized as specialty occupations.
The E-3 visa is a multiple-entry visa that enables you to travel abroad during your stay in the United States. You can visit other countries as often as you want so long as you do not breach the terms of your employment in the United States.
The E3 visa is valid for two years. You can renew your visa as often as possible. You must convince the immigration officer that you have no intention to stay in the United States indefinitely.
"I'm very happy with the standard of training received on the OISC Level 1 course, i passed my exam. Thank you!"
"My application was approved and a huge weight has been lifted from our shoulders this year "
"We used this service for the spouse visa extension application to assure that all the information was valid and correct."
What Is Specialty Occupation?
A specialty occupation means mastery in any profession attained through a bachelor's or higher degree in a specific field. Thus, enabling you to skillfully employ a theoretical and practical application of a body of highly specialized knowledge in offering services or solving real-world problems.
Numerous professions qualify as specialty occupations. You can consult the occupational information network website – O*NET OnLine to check if your profession is eligible.
If you do not have a university degree, you can use your work experience as an equivalent. According to the provisions of the U.S. Code of Federal Regulations, each year of a university-level education is equivalent to three years of work experience. Thus, as a substitute for a university degree, you must have 12 years of work experience in the field you seek employment.
What Are the Required Documents for E-3 Visa?
The following documents are necessary for the E-3 visa application:
An approved Labor Condition Application (LCA).
Australian passport or other travel documents.
Academic certificates as proof of foreign degree.
Certified copy of your professional license or other official permission to practice (if applicable).
Electronic Visa Application Form DS-160.
Evidence of work experience that is equivalent to the required U.S. degree.
Job offer letter.
Proof of academic or other qualifying credentials such as a bachelor's degree.
Transcripts.
E-3 Visa Requirements
The following are the requirements for eligibility:
You must be a citizen of Australia.
You must have at least a bachelor's degree related to your profession.
You must have proof of work experience equivalent to the U.S. higher degree in the absence of the required academic qualification (if applicable).
You must have a job offer from an employer in the United States before applying.
Your job offer must be in a specialty occupation.
You must have the license required to perform in your field (if applicable).
You must obtain an authorized Labor Condition Application (LCA) from your prospective employer.
Who Can Apply for an E-3 Visa?
Only Australian citizens can apply for an E-3 visa. You must intend to offer services in the capacity of a graduate specialty profession only.
E-3 is also open to dependent families – spouses and children. Your dependent family does not necessarily need to be citizens of Australia.
De-facto relationships do not qualify as dependents, as the U.S. immigration services do not recognize them under dependent immigration. If you wish to have your de-facto partner with you, they can apply to the Citizenship and Immigration Services (USCIS) for a tourist, work, study, or exchange visa.
When Can I Apply for an E-3 Visa?
You can apply for an E-3 visa between October to September. The E-3 visa application is open from October to September every year. The U.S. embassy issues 10,500 E-3 visas each fiscal year. The 10,500 E-3 visa application limit does not include spouses and children applications and visa extensions.
How to Apply for an E-3 Visa
Take the following steps to apply:
Get All Required Documents Ready
Ensure you meet the academic and occupational requirements. Have all the credentials proving your academic and occupation eligibility ready for submission. You must have your offer letter and a copy of your LCA.
Complete the DS-160 Application Form
You must complete the DS-160 application form. The application form is online. You can have someone assist you in filling out the form, but you must provide your e-signature before submitting it.
The only acceptable language is English. All the answers and information you provide must be in English except names in native native language.
You will be required to choose an interview post in the DS-160 form. It must be the same Post for your interview appointment. Ensure to select the Post nearest to you in your consular district.
Filling out the application form requires about 90 minutes of your time. You must save your progress if you need to take a break or delay the application. The application system is programmed to time out after 20 minutes of inactivity.
Ensure to record the Application ID Number on your form to access your application whenever you are ready to resume. It will appear in the top right corner of your form.
After you submit your application, print the confirmation page and take it along with you to your interview.
Pay Your Visa Application Fee
After you submit your application, the next step is to pay your MRV fee. The MRV fee for an E-3 visa is USD 205, an equivalent of 348.50 AUD. The fee is non-refundable and non-transferable. Your payment is only valid for one application.
If your application is unsuccessful, you must pay another fee for a new application. If your application is successful, your fee payment is only valid for a year, counting from your date of purchase. After a year, you cannot use it to apply for a visa.
Book an Interview Appointment
You must schedule an appointment for a visa interview at the U.S. embassy or consulate. You can book an appointment online or through the visa appointment call center. It is advisable to book your appointment three months before your intended travel date.
The following is the list of U.S. consulates according to the State or Territory they serve:
U.S. Consulate Sydney – Australian Capital Territory, New South Wales, Norfolk Island, and Queensland.
U.S. Consulate Melbourne – Northern Territory, South Australia, Tasmania, and Victoria.
U.S. Consulate Perth – Western Australia.
You must provide the following documents and details to schedule your visa appointment.
Valid passport. The validity period of your passport should cover your stay in the United States. If your passport expires during your stay, as an Australian citizen, you get an additional six months of validity on your passport.
Proof of MRV fee payment. If you paid through Australia Post, you must provide the Unique Seq No on your receipt. If you paid through your credit card, you must provide Receipt No.
DS-160 application confirmation page.
Valid email address.
Approved Labor Condition Application (LCA).
Other supporting documents.
There are exceptions for persons under age 14 or age 80 and over. Such applicants do not need to attend a visa interview. They are required to use the Visa Waiver Program route.
Attend Your Visa Interview
Attend your interview at the appointed date and time. Your interview venue is the U.S. consulate you booked your appointment.
Ensure to go along with documentation outlining your professional history, academic qualifications, and training. The consular officer will decide if your educational and employment information satisfies the eligibility requirements for the E-3 visa.
If the Consular Officer requests additional documents or information to process your application, you can send them through the Australian Post.
Retrieve Your Documents
After processing your application, the consulate will return your documents through a courier service or pick-up location.
What Happens After I Apply
The interview is the last stage of application. If your application is approved, your visa will be processed. Your visa will be attached to your passport and delivered to you.
Once you have been issued an E-3 visa, you can make your travel to the United States within ten days before your employment contract start date.
Can I Apply for an E-3 Visa in the United States?
You cannot apply for E-3 in the United States. E-3 application must take place overseas.
You can apply at any U.S. Embassy or Consulate in Australia. If you reside outside Australia, you can apply for any U.S. Embassy or Consulate near you as long as it offers nonimmigrant visa services.
What Is the Interview Waiting and Visa Processing Time?
The interview waiting time differs from one consulate to the other. You will have to verify the waiting time for the U.S. consulate you want to book your appointment.
In most cases, visa processing is within thirty 30 working days. However, depending on your circumstances and other special requirements you may need to fulfill, it may be lesser or more.
Note that calendar days mean every day of the week, including weekends and public holidays. While working days are those days, the embassy is open, excluding weekends and holidays.
E-3 allows you to travel with your spouse and children. Your spouse must present a marriage certificate to prove their relationship with you. If you are traveling with your dependent children, they must present a birth certificate.
Dependents Application Process
Dependents will have to apply separately. The application process is similar to that of an E-3 visa. The dependent must complete the DS-160 application form. They can select the E-3 option on the application and appointment forms to identify their visa type. They will be allotted the appropriate visa type (E-3D) when they submit their application at the interview.
Dependents must pay the application fee of USD 205, an equivalent of 348.50 AUD. Then fix an appointment. If your dependent children are under 14 years old, they do not need a visa interview.
When to Apply
Your dependents can apply at the same time as you. They can also apply after you get your E-3 visa.
If they are applying after you have been issued your visa, you do not need to be present with them at the interview. They must present a copy of your Labor Condition Application (LCA), pages 1-5, and (if applicable) visa or I-797 Approval Notice.
Can E-3 Dependents Work During Their Stay?
Only E-3 spouses can work in the United States during their stay. They must first get approval to work.
Your spouse must complete the Employment Authorization Document (Form I-765) via U.S. Citizenship and Immigration Service (USCIS). The form does not have the E-3 visa type option; selecting the E1 or E2 is acceptable.
E-3 spouses do not necessarily need to work in a specialty occupation. They can take up casual work, whether part-time or full-time.
Dependent children are not qualified to work.
How Can Total Law Help?
Total Law is a team of immigration lawyers with knowledge and expertise in the United States citizenship application process for Immigrant and Nonimmigrant visa routes.
Visit our website or call us at +1 844 290 6312 for immediate help and assistance with your situation. We're here to help you in person, via the phone, or online.
Advice Package
Comprehensive immigration advice tailored to your circumstances and goals.
Application Package
Designed to make your visa application as smooth and stress-free as possible.

Fast Track Package
Premium application service that ensures your visa application is submitted to meet your deadline.
Appeal Package
Ensure you have the greatest chance of a successful appeal. We will represent you in any case.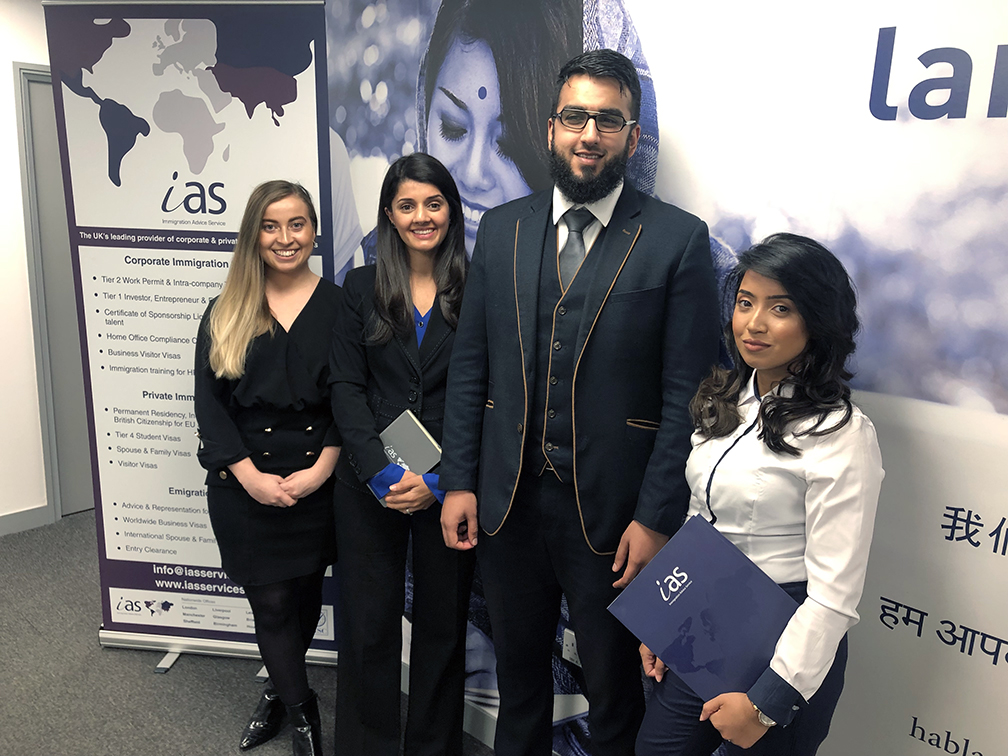 The Advice Package
During this untimed Advice Session with our professional immigration lawyers in London, you will receive our comprehensive advice, completely tailored to your needs and your situation.
Request the Advice Package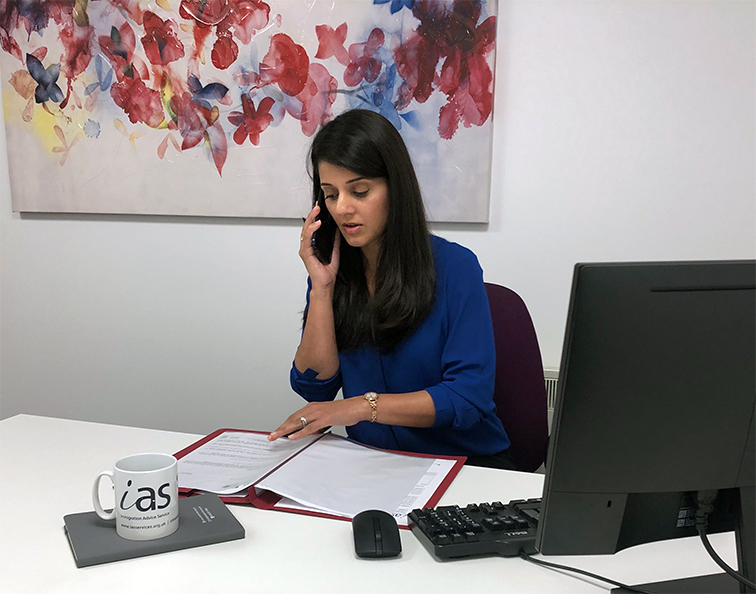 The Application Package
With our Application Package, your dedicated immigration lawyer will advise you on your application process and eligibility. Your caseworker will then complete and submit your forms to the Home Office on your behalf.
Request the Application Package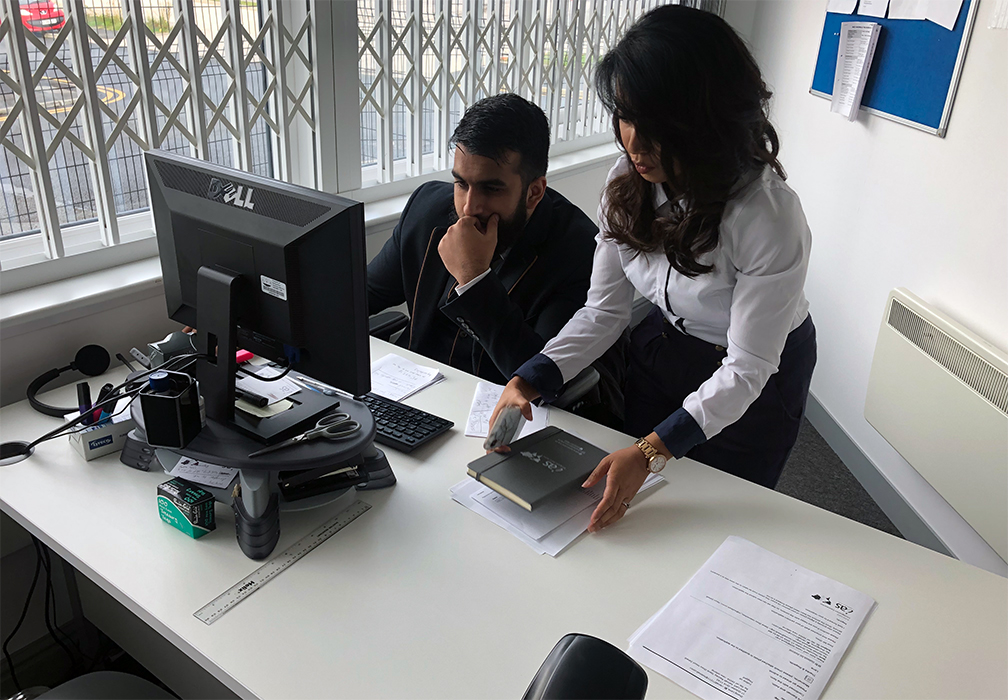 The Fast Track Package
Our Fast-Track Application Package is a premium service for those who need to submit their application in time with their deadlines. Your case will become a top priority for our lawyers and you will benefit from our highest-quality services.
Request the Fast Track Package
The Appeal Package
By choosing our Appeal Package, you can rely on our lawyers' legal knowledge and experience to ensure you have the highest chance of a successful appeal. We will also fully represent you in any hearings/tribunals.
Request the Appeal Package
Related pages for your continued reading.
Frequently Asked Questions
No. The e-3 visa is a temporary work visa, but you can renew it indefinitely.
No. You only need to pay the MRV fee of $205.