H-1B Visa (Specialty Workers)
You may qualify to live and work in the U.S. under the H1B status if you have the required job experience, skills, and education.
Contact us today via +1 844 290 6312 for immediate help and guidance with your application. Our attorneys are highly experienced in U.S. citizenship and immigration law and will help you through the whole process.
What is a H1B Visa?
The H1B is a non-immigrant visa that allows U.S. employers to hire graduate-level workers in specialty occupations that require technical and theoretical expertise. It is open to professionals in various fields, such as finance I.T., engineering, mathematics, science, medicine, and accounting.
Most professional-level jobs that require a minimum of a bachelor's degree can qualify under the H1B classification. It is also open to non-degree holders that have a certain level of work experience and other qualifications.
H1B is a visa cap-based classification, meaning there is a numeric limit on the number of visas that can be issued in a year. The U.S. immigration law allows for a total of 85,000 new H1B visas every year. This is shared among two major categories of applicants.
65,000 visas for foreign workers in a specialty occupation with at least a bachelor's degree. The remaining 20,000 visas go to the master's degree cap – applicants with an advanced degree from a U.S. academic institution.
The H1B classification is oversubscribed every year, with far higher applications than the allowed 85,000 visas. For this reason, the U.S. Citizenship and Immigration Services (USCIS) uses a lottery system to pick candidates randomly from the applications pool. The selected candidates and their employers will also undergo the necessary immigration processes to ensure they are eligible to sponsor and obtain the visa, respectively.
"We used this service for the spouse visa extension application to assure that all the information was valid and correct."
"Thanking you so much for helping me and my wife live together for now and the distant future. We are grateful for your help and patience. "
"Spouse visa uk application was successful after working with your staff. I recommend this company the IAS for immigration services. "
What are the H1B Visa Requirements?
The H1B is a work visa. As such, it requires an applicant and the specific position they are applying for to meet certain criteria.  As an applicant, you are required to have certain academic qualifications and demonstrate the requisite skills to work in a specialty role. You must meet one of the following conditions to demonstrate eligibility:
Have a bachelor's degree or higher degree required to practice the specialty occupation from a U.S. university or college
Have a foreign degree required by the specialty occupation from a foreign college or university
Have an unrestricted certification or license that authorizes you to practice the job
Have training, education, or progressively relevant experience in the specialty equivalent to completing such a degree, and have recognition of expertise through progressively relevant positions related to the specialty. Generally, having 3 years of training or work experience in the field may count as equivalent to one year of college
Requirements for H1B Job Position
For a job position to be regarded as a speciality occupation, it must meet one of the following descriptions:
Its entry requirement is a minimum of bachelor's or higher degree (or equivalent)
The role is complex or unique in that it can only be performed by a degree holder.
The nature of the duties is so specialized that the expertise or skills required to practice it is associated with the attainment of at least a bachelor's degree
The employer typically requires a degree for the position
LCA Process
The H1B visa application involves various documentation and steps that both employers and prospective employees must complete. The steps are as follows:
LCA Certification
Annual H1B Lottery Registration
Petition Filing
Visa Application
The Labor Condition Application is a major requirement in the H1B process. Every employer must complete this requirement before they can submit an H1B petition for their prospective employees. To do this, they must submit Form ETA-9035 to the Department of Labor (DOL).
The purpose of LCA is to ascertain those employers and their prospective employees comply with the hiring and immigration requirements of the H1B visa.
They must submit the application electronically, but the submission must not be more than 6 months before the employment start date.
DOL reviews LCA applications within 7 days for completeness and accuracy. Employers may check the status of their applications and access their certified LCAs. Those with certified LCAs can proceed to the next step.
Annual H1B Lottery Registration
Employers may choose to complete this process before or after filing their LCAs. Annual H1B registration is a relatively new requirement that started in 2020. In the past, employers were allowed to file H1B petitions for their prospective employees after obtaining LCAs. But now, they must submit an electronic registration in March if they wish to be entered into the annual H1B lottery, which happens in April.
In order to submit a registration, employers must first create an online account. From the account, they can register one or more beneficiaries (prospective employees). The registration costs $10 per beneficiary. They will need to provide the following information in their registration:
The legal name of the petitioning organization
Employer Identification Number
Authorized signatory's name, title, and contact details
Employer address
Beneficiary's name, date of birth, gender, country of birth, and citizenship
Beneficiary's academic qualification
Employers whose registrations are selected will be notified via their online accounts. Their registration status will show "Selected," which means they can proceed to file an H1B petition for the selected beneficiary for that fiscal year.
H1B Visa Petition
As a petition-based visa, only employers can submit the H1B petition on behalf of their employees. In other words, you cannot self-file the H1B visa as an employee.
Employers with selected beneficiaries must complete their H1B petition within 90 days, starting from April 1 each year. They will file Form I-129, Petition for a Nonimmigrant Worker, with USCIS. The certified LCA from DOL and the Notice of Selection from the earlier registration must be submitted with Form I-129.
Visa Application Process
Employers whose Form I-129 petitions have been approved will receive a Form I-797 Notice of Action (approval) from USCIS. They can then send a copy of the notice to the prospective employee to apply for a visa.
If the employee is outside the U.S., they will have to undergo consular processing at a U.S. embassy or consulate abroad. If their application is approved, the embassy will issue them a visa to travel to the U.S. Upon arrival at the U.S. port of entry, they will apply for admission through the U.S. Customs and Border Protection (CBP). If they pass the entry requirements, they will be admitted to the U.S. as an H1B non-immigrant holder.
If the employee is in the U.S., they will take the approved petition to CBP at a U.S. port of entry. They will then fill out Form I-94 Arrival/Departure Record and enter the U.S. as an H1B holder.
What are the application fees for an H1B Visa, and who must pay what?
According to the U.S. immigration law, employers must pay each USCIS fee associated with an H1B petition filing and cannot be borne by employees. However, there are some optional fees that can be paid by either the employer or employees. These may include a premium processing service fee and immigration attorney fee. The employees will also be responsible for their visa application fee during consular processing at the U.S. embassy. The following are the H1B associated fees and who pays what.
Fees that are paid for by the employer: 
Registration Fee: $10
Public Law 114-113 Fee: $4,000
Basic Filing Fee: $460
ACWIA Education and Training Fee: $750 or $1,500
Anti-Fraud Fee: $500
Fees that are paid for by the employee:
Consular Processing (Form DS-160): $190
Premium Processing Fee (Optional):$2,500 (Can also be paid for by the Employer).
Immigration Attorney Fee (Optional): Cost will vary (Can also be paid for by the Employer).
American Competitiveness and Workforce Improvement Act (ACWIA) fee varies depending on the number of employees under an employer. For employers with 1 to 25 full-time workers, the required fee is $750. For employers with 26 or more full-time employees, the required fee is $1,500.
Some organizations are exempt from this fee. Examples are nonprofit organizations that have affiliations to government educational institutions and research organizations.
Premium Processing Service
This is an optional service offered to those who wish to expedite their H1B petition process. Employers who wish to use the service will have to submit Form I-907 with the Form I-129 petition. The service requires an additional $2,500. With premium processing, employers will receive a decision on their H1B petition within 15 days. This means USCIS will process their Form I-129 quickly and will let them know if their petition has been approved or denied.
Consular Visa Application Fee
Successful H1B application beneficiaries outside the U.S. will undergo consular processing to request a visa to travel to the United States. They will file the Form DS-160 nonimmigrant application online, which costs $190. Though this fee is the responsibility of the employee, some employers also assist in paying it for their employees.
How long does the H1B visa last?
Typically, the H1B visa is initially granted for 3 years period of stay. You can extend the visa to allow you to stay longer in the U.S. Generally, it cannot be extended beyond the maximum period of 6 years, except in some situations.
Green Card Application for H1B Visa Holder
Though the H1B is a non-immigrant (temporary) visa, you can leverage it to obtain permanent residence in the United States. To do this, you will have to apply for a green card while your H1B status is still valid.
There are various ways through which an H1B holder can obtain the U.S. lawful permanent resident status.
The most common way is by applying for one of the employment-based green card categories. These include:
Alternatively, if you have a qualifying family relationship with either a U.S. citizen or lawful permanent resident, you may also obtain a green card through a family-based green card application.
What are the other alternative non-immigrant visas?
O1 Visa for Professionals with Extraordinary Achievement or Ability
NAFTA TN Visa for Canadian and Mexican citizens as per the North American Free Trade Agreement.
L1 Intracompany Transferee Visa: For foreign professionals transferred from overseas to the U.S. It is a visa classification that allows foreign organizations to transfer their staff to their U.S. branches or offices.
E3 Specialty Occupation: For Australian citizens
E1 Visa: For foreign traders whose countries have a treaty of commerce and navigation with the United States.
E2 Visa: For foreign investors also from treaty countries.
Advice Package
Comprehensive immigration advice tailored to your circumstances and goals.
Application Package
Designed to make your visa application as smooth and stress-free as possible.

Fast Track Package
Premium application service that ensures your visa application is submitted to meet your deadline.
Appeal Package
Ensure you have the greatest chance of a successful appeal. We will represent you in any case.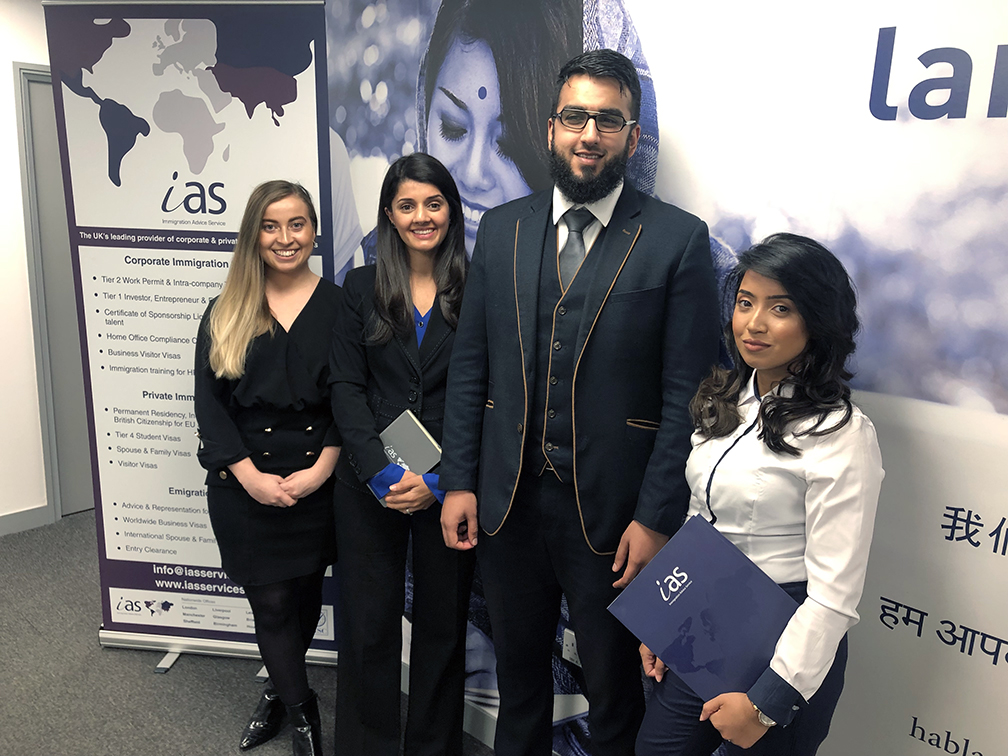 The Advice Package
During this untimed Advice Session with our professional immigration lawyers in London, you will receive our comprehensive advice, completely tailored to your needs and your situation.
Request the Advice Package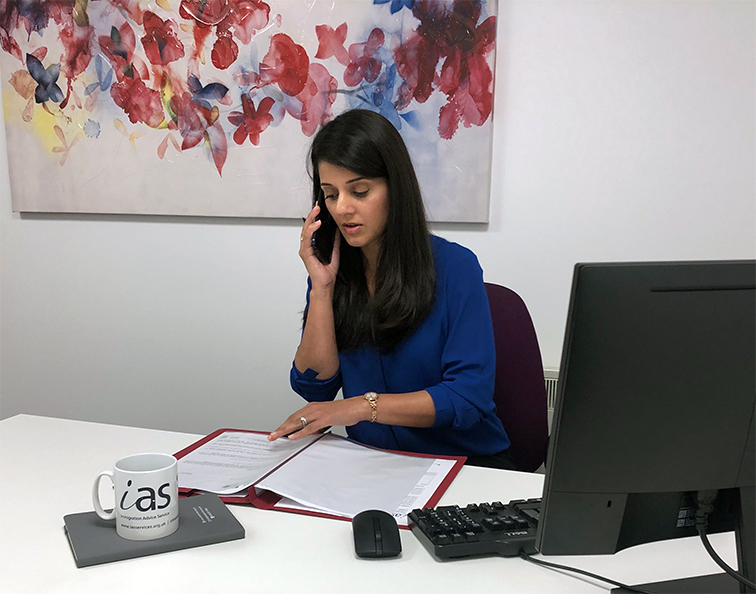 The Application Package
With our Application Package, your dedicated immigration lawyer will advise you on your application process and eligibility. Your caseworker will then complete and submit your forms to the Home Office on your behalf.
Request the Application Package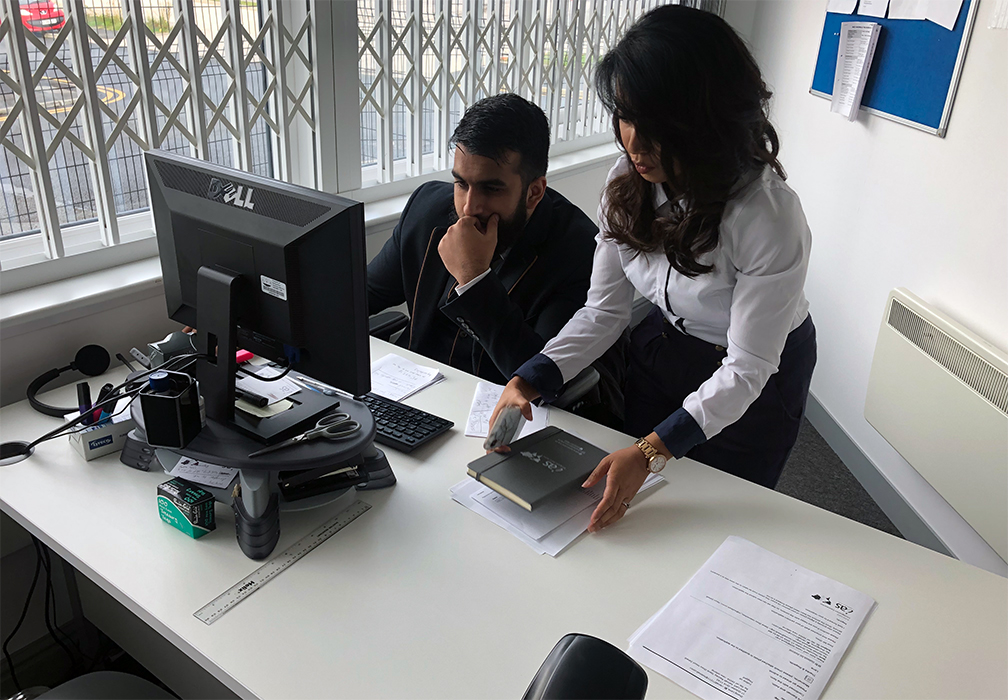 The Fast Track Package
Our Fast-Track Application Package is a premium service for those who need to submit their application in time with their deadlines. Your case will become a top priority for our lawyers and you will benefit from our highest-quality services.
Request the Fast Track Package
The Appeal Package
By choosing our Appeal Package, you can rely on our lawyers' legal knowledge and experience to ensure you have the highest chance of a successful appeal. We will also fully represent you in any hearings/tribunals.
Request the Appeal Package
Related pages for your continued reading.
Frequently Asked Questions
No, it is not possible to apply for an H1B visa without a job offer from a U.S.-based company. It is a petition-based visa that must be sponsored by an employer with evidence of employment offer.
Successful H1B applicants can travel to the U.S. with their immediate family members (spouse and children). The family members will also have to complete the visa application process. If approved, they will be admitted to the U.S. as H-4 nonimmigrant visa holders. Their status will have the same length of validity as the principal H1B holder. Spouse of H1B worker may apply for a work permit by filing I-765, Application for Employment Authorization. This will allow them to work in the U.S.
Yes, you may get an H1B visa without a degree if you demonstrate that you have the required years of training, education, and/or experience for the specialty job you are applying for. You may also need to present proof of certification or registration from a recognized professional organization in your field.