EB1 Visa
An EB1 Visa refers to an employment-based Green Card. It is a U.S. immigrant visa to grant you citizenship under the employment-based visa category.
For assistance with your EB1 Visa application, get in touch with our immigration lawyers on +1 844 290 6312.
What is an EB1 Visa?
Technically, it is the first preference type of visa open to citizens from overseas nations such as outstanding researchers and professors, multinational managers, and people with unique abilities.
To acquire this visa, one must show international acclaim or be a sustained national in the specific field they work in. This could be education, athletics, business, or sciences. This visa is also called a Green Card, and it grants the holder permanent residency in the United States. Once you have acquired your visa, you can stay in the States under the green card status. However, if you wish to apply for U.S. citizenship, you must remain in the U.S. for five years as a green cardholder.
Many people prefer the EB1 Visa since the acceptance time is shorter than other routes to get into the United States. Other immigrant entry channels could take years to get accepted. The additional advantage is that you are not required to have labor certification.
"I'm very happy with the standard of training received on the OISC Level 1 course, i passed my exam. Thank you!"
"My application was approved and a huge weight has been lifted from our shoulders this year "
"We used this service for the spouse visa extension application to assure that all the information was valid and correct."
What are the requirements of an EB1 Visa?
For you to apply for the EB1 Visa, you must fall under any of these three categories:
An outstanding researcher or professor
An alien with extraordinary ability
A multinational manager or executive
How can you apply for the EB1 Visa?
The application depends on the specific category one falls under. The immigrants with extraordinary ability, are free to self-petition. Such immigrants can fill out Form I-140 and apply. For the researchers or impeccable professors, your employer should file Form I-140 for you. The same case goes for the multinational manager or executive.
In the application process, the U.S. employer has to prove that they can pay the same wage you received. They can verify this by showing their federal income tax return, annual report, or audited financial statements. This type of visa is faster than other Green Cards since no labor certification is required. Many employment-based immigration visas will require this certification, increasing the processing time to months, if not years.
How long will the EB1 Visa take?
The processing time is dependent on the USCIS time to process your Form I-140. The process is trackable, and you can see where it is at the moment by checking. Depending on the number of visas applied, the processing time could be around 4 to 15 months, although most of the applicants are processed in 6 months.
Applicants for the EB1-A do not have to wait for employer sponsorship to be approved. However, EB1-B and EB1-C might have to wait even for several years to have employer sponsorship. Once your application is approved, one can go to the United States and then apply for Form I-485, which is an Adjustment of Status to be given permanent residence. This application will take around 6 months, and if it fails to go through, you will have your green card in the next 6 months. If you do not have time to wait for the application, you can always ask for premium processing which means the Form I-140 will be processed in 15 days. However, for these premium services, you have to pay $2,500 and file Form I-907.
What are the costs of the EB1 visa?
There are some mandatory fees you will need to pay for the processing of the EB1 Visa. Below is a breakdown of the filing fees:
I-140 Basic filing fee – amounts to $700 to be covered by your employer.
The I-485 filing fee depends on refugee status and age.
Filing with a parent below 14 years, $750
Filing without a parent below 14 years, $1,140
Between 14 years and 78 years, $1,225 and biometric fee
Older than 78 immigrants will pay $1,140 and no mandatory biometric fee.
I-485 is not charged on refugees. It is given free of charge
The biometrics fee is $85.
What if you are outside the United States?
If you are not based in the U.S., you must undergo consular processing to acquire a green card.
Your Form I-140 has to be accepted, after which you have to schedule an appointment with the U.S. embassy in the country you currently live in.
You will have an interview with the officer at the consulate.
Bring with you the printed confirmation of the DS-260 online immigrant application. That will cost around $230 and an additional $88 fee to cover the Affidavit of Support.
If the consulate officer finds you eligible for a U.S. visa, they will give you a visa packet bearing information. The package should not be opened.
The packet should be used at the entry point of the United States. The border officer will inspect you, after which you will be a U.S. resident.
What documents do you need for an EB1 visa?
That will mainly apply to outstanding researchers and professors. You must have evidence of any of the following listed things:
Evidence of membership in organizations and associations that require their members to have outstanding achievement
Evidence of receipt after receiving significant awards or prizes for impressive achievement.
Evidence of published material that showcases your prowess
Evidence of scholarly research or original scientific contributions in the particular field of study.
Evidence of authorship of articles and academic books
How long does the EB1 visa last?
It is crucial to note that this visa is an employment-based permanent residency. The visa focuses on priority workers for the United States. Technically the permit allows the applicants to remain in the U.S. permanently. These people with extraordinary abilities in diverse fields such as business, education, athletics, arts, or sciences do not need permanent employment offers to live in the United States. However, these individuals must demonstrate that they will work in the States without switching allegiance.
How do I apply for an EB1 visa?
The process of obtaining this visa has multiple steps that involve the foreign employee and the employer, including the following:
U.S. employer obtaining the necessary files and labour certification and files the petition
If the petitions are approved, the foreign employee will apply for the EB1 Visa in their country.
What is the application process?
File the Online Immigrant Visa Application
The applicant should complete the DS-260 form, which is the application form for the visa. It will be processed by the U.S. Consulate or Embassy in their country.
Complete Vaccination and Medical Examination
The applicant will be required to complete vaccination and medical examinations from a licensed doctor.
Compile All Supporting Document
After the Form DS-260 is approved, the applicant must send all the supporting documents required. They include the:
Employment offers from the employer
Passport – should not be more than 6 months old
Approved petition
Approved labour certification
Signed vaccine and medical documents
Form DS-260 confirmation page
Criminal and court records
Previous employers' letters
Two photographs that meet the requirements
Attend the Visa Interview
After everything, including all the supporting documents, is okay, the NVC – National Visa Centre – will schedule an interview for you. You should attend the interview and answer all the questions correctly.
Receive the NVC Package
Once the EB1 Visa has been approved, the NVC will send you a package that should remain sealed. Bring the package with you as you travel to the United States and give it to the officer at your entry point to the States. These immigration officers are the only people allowed to open that package.
How can Total Law help?
Here at Total Law we offer a range of immigration services to support you with your EB1 Visa application. Our immigration lawyers are trained in all areas of US immigration law and can assist you with every aspect of your application, this includes:
Assessing your eligibility for the EB1 visa and offering legal advice about your immigration options.
Helping you to fill in the visa application form
Assisting you with gathering a substantial portfolio of supporting evidence
Answering any questions that you may have about the application process
Communicating with the USCIS on your behalf
Our lawyers will ensure that your EB1 Visa application is completed to the highest standard. For further information about our services, get in touch today on +1 844 290 6312.
Advice Package
Comprehensive immigration advice tailored to your circumstances and goals.
Application Package
Designed to make your visa application as smooth and stress-free as possible.

Fast Track Package
Premium application service that ensures your visa application is submitted to meet your deadline.
Appeal Package
Ensure you have the greatest chance of a successful appeal. We will represent you in any case.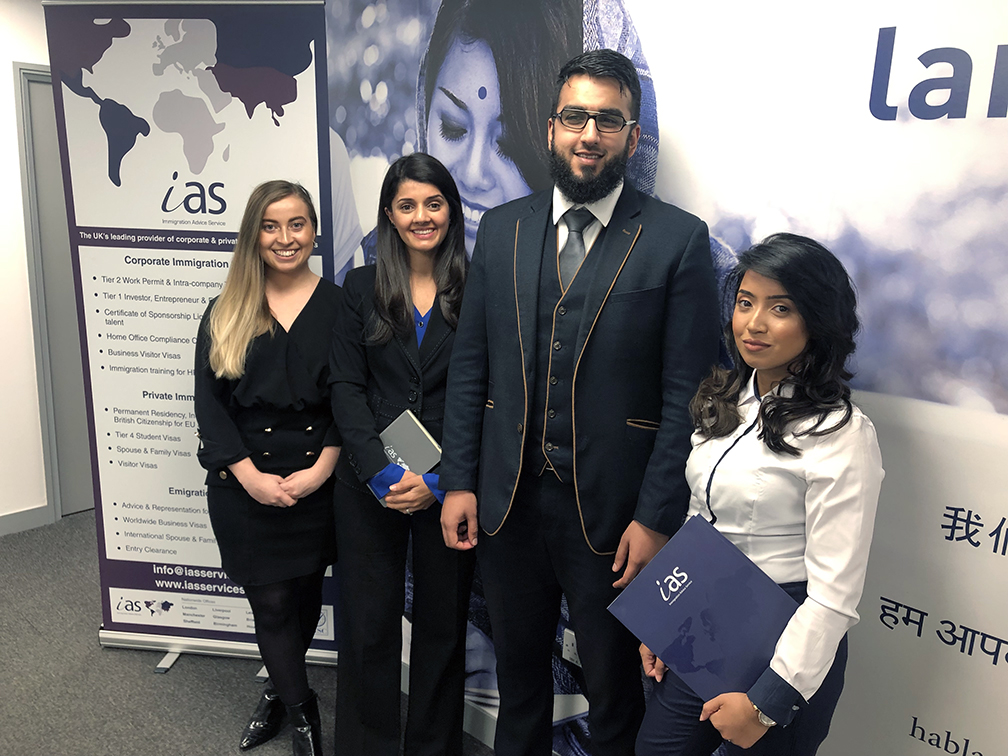 The Advice Package
During this untimed Advice Session with our professional immigration lawyers in London, you will receive our comprehensive advice, completely tailored to your needs and your situation.
Request the Advice Package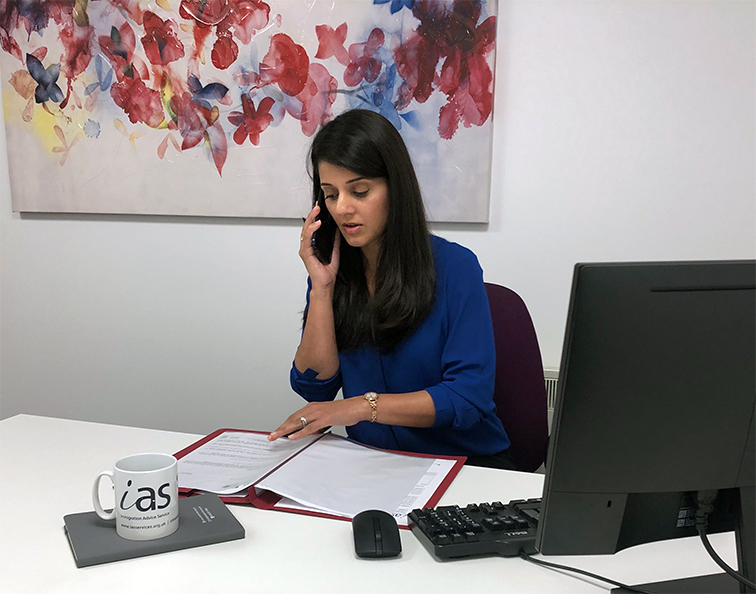 The Application Package
With our Application Package, your dedicated immigration lawyer will advise you on your application process and eligibility. Your caseworker will then complete and submit your forms to the Home Office on your behalf.
Request the Application Package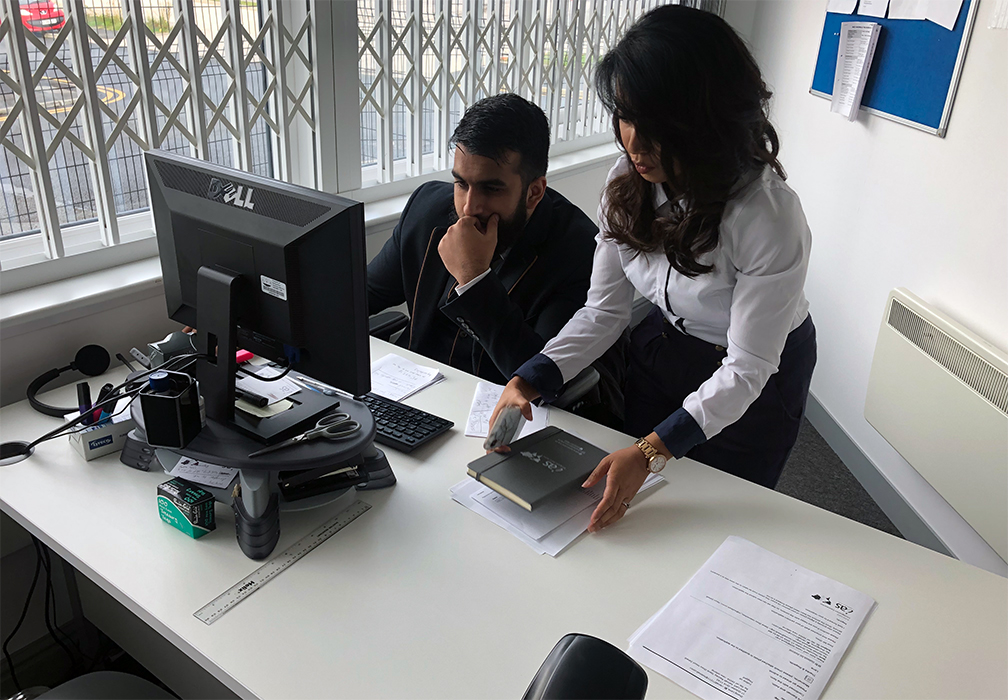 The Fast Track Package
Our Fast-Track Application Package is a premium service for those who need to submit their application in time with their deadlines. Your case will become a top priority for our lawyers and you will benefit from our highest-quality services.
Request the Fast Track Package
The Appeal Package
By choosing our Appeal Package, you can rely on our lawyers' legal knowledge and experience to ensure you have the highest chance of a successful appeal. We will also fully represent you in any hearings/tribunals.
Request the Appeal Package
Related pages for your continued reading.
Frequently Asked Questions
The EB1 Visa is subject to close scrutiny because there is no enforced wait time, which means the wait for this type of green card is a lot shorter. Applicants must also undergo the PERM process which can take between 4 and 6 months. This makes the EB1 visa one of the harder immigration options as there is always a high number of backlogs to get through.
Each year a number of EB1 visa applications are denied, there are many reasons as to why, but if yours is denied, do not be discouraged as there are many other immigration options.