EB1-2 Visa for Outstanding Professors and Researchers
The EB1-2 Visa is an employment based Green Card for outstanding professors and researchers, find out more about the eligibility requirements and application process.
Do you need assistance with your EB1-2 Visa application? Our lawyers are here to help, get in touch today on +1 844 290 6312 to find out more.
What is the EB1-2 Visa?
The EB1-2 Visa is the second category included in the first preference employment based green card (EB-1). The EB1-2 Visa is for outstanding professors and researchers. The EB1-2 Visa is an immigrant visa, this means that it grants you the ability to live and work in the USA permanently.
The EB1-2 Visa is one of the most popular types of green cards because it does not require labour certification. This means that unlike other type of employment visas a foreign national is not required to go through the PERM process for an EB1-2 Visa, this is where the Department of State carries out checks that there are no U.S workers who qualify for the position. Because the EB1-2 Visa is exempt from this requirement is can be much quicker to obtain than other types of employment based visas.
"We used this service for the spouse visa extension application to assure that all the information was valid and correct."
"Thanking you so much for helping me and my wife live together for now and the distant future. We are grateful for your help and patience. "
"Spouse visa uk application was successful after working with your staff. I recommend this company the IAS for immigration services. "
Who is eligible?
To be eligible for the EB1-2 Visa Category you must be recognized internationally as an outstanding professor or researcher. This means that you will need to demonstrate international recognition for achievements in your academic area, you will also need to have at least 3 years experience of teaching or researching in your academic field. As well as being classed as an outstanding professor or researcher, there are other requirements that you will need to meet to be eligible for the EB1-2 Visa, you must:
Be entering the US to pursue tenure, tenure track teaching or a comparable research position
Have an offer of employment from an eligible U.S employer
To prove that you can be classed as outstanding, the USCIS requires that you provide evidence of at least 2 of the following:
That you have won major prizes or awards for outstanding achievement.
That you have membership in an association that requires members to demonstrate outstanding achievement.
That material has been written about your academic achievements and published in professional publications.
That you have made original scientific or scholarly research contributions in your field.
That you have judged the work of others in your academic field or a similar field.
That you have written scholarly books or articles in your academic field.
How to apply?
Unlike the EB-1 category for immigrants with extraordinary ability, EB1-2 Visa applicants can not self petition for this visa. If you wish to apply for an EB1-2 Visa then your sponsor in the US must launch the application on your behalf.
To do this they will need to file Form I-140, Petition for Alien Worker, with the USCIS. As part of the application your sponsor employer will need to prove that they will be able to continue paying you the salary offered, to do this they may need to submit documents such as annual report, federal income tax return, or audited financial statements. When filing Form 1-140 your US sponsor will also need to submit all of your supporting documents that prove you are able to meet the eligibility requirements, including evidence that you are recognized internationally as an outstanding professor or researcher.
Once your Form I-140 has been approved you can then travel to the United States where you will need to apply for an Adjustment of Status to become a lawful permanent resident. You can apply for this adjustment using Form I-485. When filing Form I-485 you will need the following documents:
Two passport-style photos
A copy of an eligible form of ID
A copy of your birth certificate
Your approved Form I-140
Evidence that you have maintained a lawful status since arriving in the United States
Confirmation of your job offer
If your Form I-485 is approved then you will be granted a green card so that you can make the US your permanent home.
US sponsor requirements
Your US sponsor for an EB1-2 Visa will also need to meet certain requirements in order to be eligible to sponsor your application. Your sponsor must:
Show documented accomplishments
Prove that they employ at least 3 full-time researchers
Prove that they can pay you the wage offered to you
Unlike with other types of employment-based visas, your sponsor for an EB1-2 Visa is not required to go through the PERM process to get labor certification to be able to employ a foreign national.
Bringing family members to the US
Once your I-140 Form has been approved your immediate family members may be able to join you in the United States using derivative benefits. Eligible immediate family members include spouses and unmarried children under the age of 21 who are not living independent lives.
To join you your family members will need to apply for either E14 or E15 immigration status. They can apply for this either through applying for an Adjustment of Status whilst in the US or applying at a U.S Embassy or Consulate in their home country. Your family members will also be granted immigrant visas that allow them to live in the United States on a permanent basis.
What are the other EB1 Visa categories?
As well as outstanding professors and researchers, there are several other categories that fall within the first preference employment-based visa category. The EB1 Visa categories include:
Immigrants with extraordinary ability – this category is for applicants who can show exceptional ability in the sciences, arts, education, business, or athletics and who have national or international acclaim.
International managers and executives – this category is for foreign nationals who have been employed outside of the states in a managerial or executive capacity for at least one year during the past three years by the same company who plans to employ them in the US.
Each EB1 Visa category comes with its own set of unique requirements that you will need to meet to be eligible. The application process also differs depending on the category that you choose. Professors and researchers and managers and executives must have their applications filed by a U.S sponsor but immigrants with extraordinary ability can self-petition and do not need a sponsor.
How can Total Law help?
The EB-12 Visa comes with a very strict set of eligibility requirements, because of this the USCIS carefully scrutinizes each application. Our immigration lawyers are experienced in all areas of US immigration law and know exactly what it takes for a successful EB-12 Visa application. If you choose to hire at Total Law immigration lawyer to assist you with your application they will ensure that it is completed to the highest standard.
We can guide you through every step of the application process, our immigration services include:
Assessing your eligibility for the EB-12 visa and providing reliable legal advice about your immigration options.
Working with both you and your US sponsor throughout the application process
Filling in paperwork on your behalf
Helping you to gather your supporting documents
Thoroughly checking your paperwork and documents to ensure they are accurate
Communicating with the USCIS on your behalf in regards to your applications progress
Our immigration attorneys will also be there to answer any questions you may have about the application process. For more information about we can help you with your application, get in touch with our team today on +1 844 290 6312.
Advice Package
Comprehensive immigration advice tailored to your circumstances and goals.
Application Package
Designed to make your visa application as smooth and stress-free as possible.

Fast Track Package
Premium application service that ensures your visa application is submitted to meet your deadline.
Appeal Package
Ensure you have the greatest chance of a successful appeal. We will represent you in any case.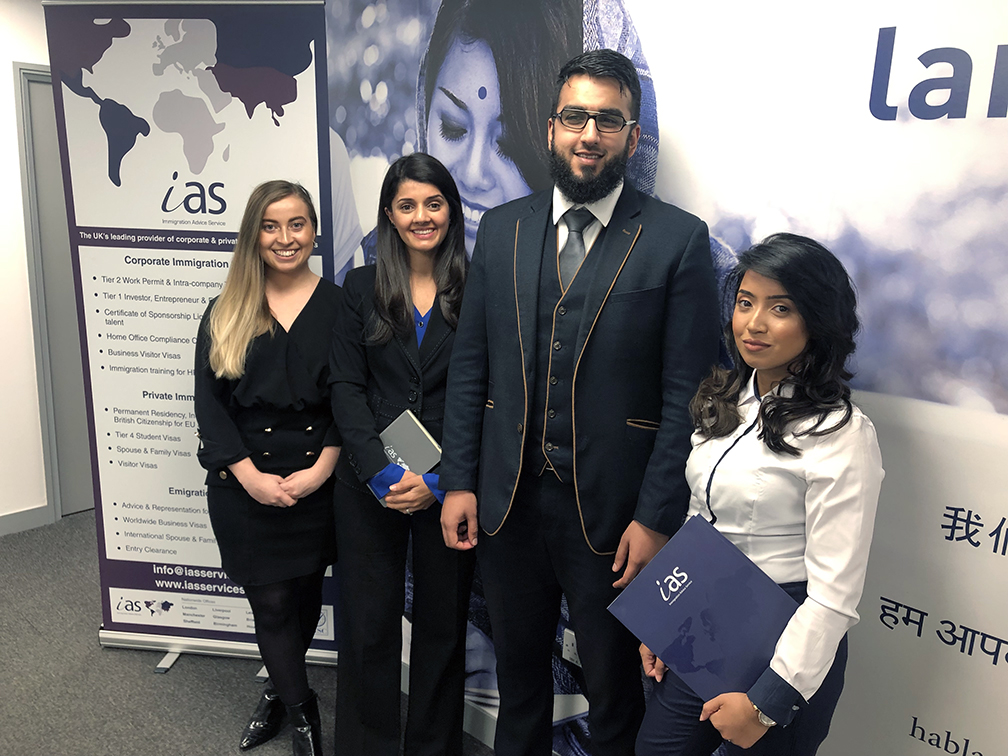 The Advice Package
During this untimed Advice Session with our professional immigration lawyers in London, you will receive our comprehensive advice, completely tailored to your needs and your situation.
Request the Advice Package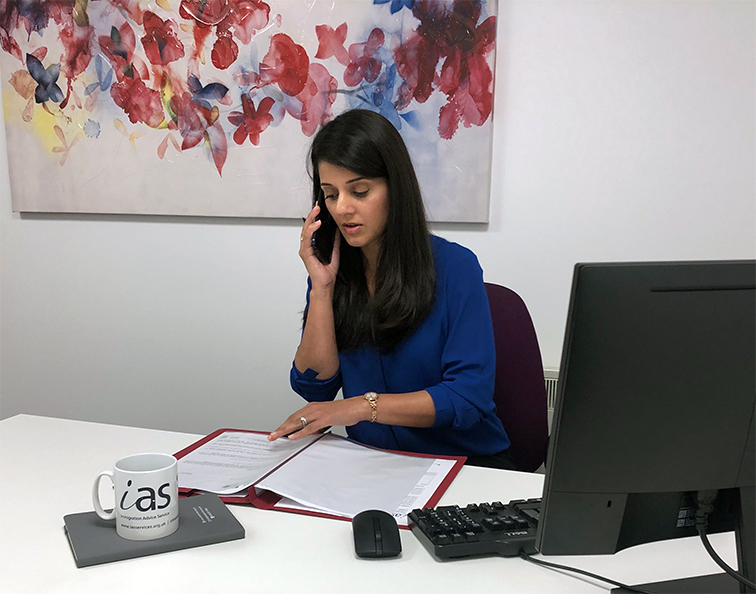 The Application Package
With our Application Package, your dedicated immigration lawyer will advise you on your application process and eligibility. Your caseworker will then complete and submit your forms to the Home Office on your behalf.
Request the Application Package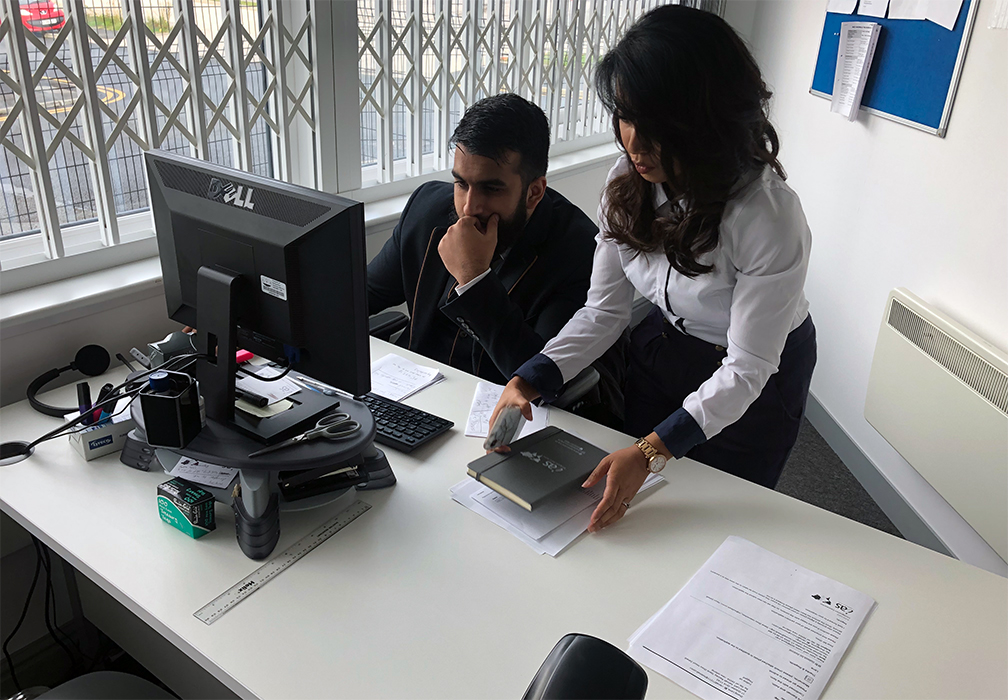 The Fast Track Package
Our Fast-Track Application Package is a premium service for those who need to submit their application in time with their deadlines. Your case will become a top priority for our lawyers and you will benefit from our highest-quality services.
Request the Fast Track Package
The Appeal Package
By choosing our Appeal Package, you can rely on our lawyers' legal knowledge and experience to ensure you have the highest chance of a successful appeal. We will also fully represent you in any hearings/tribunals.
Request the Appeal Package
Related pages for your continued reading.
Frequently Asked Questions
The processing time for an EB-12 visa can vary significantly. It can take between 4-15 months for the USCIS to process and approve Form I-140 and then it normally takes around 6 months for an adjustment of status to be processed. This means that the processing time can range anywhere from a year to around 21 months.
There are two fees associated with the cost of an EB-12 Visa application. You will first need to pay the filing fee for Form I-140, this is currently set at $700. You will also need to pay the visa processing fee which is $345. In total it costs $1045 to apply for the EB-12 Visa.
The EB-12 Visa is an immigrant visa, also known as a green card, this means that once you have obtained this visa you have the right to live and work in the US permanently and you will not have to adhere to time restrictions.