Express Entry Canada from Nigeria
Express Entry is the most efficient and well-liked route for Nigerian immigrants to Canada who are looking to start a new life there. Express Entry is a program that helps persons who want to come to Canada and get permanent residency in Canada
Total law can help you to immigrate to Canada from Nigeria. Call us on +44 (0)333 305 9375.
Why immigrate from Nigeria to Canada?
Each year, Canada welcomes immigrants from 175 countries, making it arguably the most receptive nation in the world. This is partially due to the hospitable approach of the Canadian people.
Canada is a popular destination for Nigerians due to the economic opportunities it provides in sectors typically sought after by Nigerian professionals, such as the oil and gas industry, information and communication technology (ICT), health, and other scientific and engineering-related disciplines.
Additionally, Canada offers numerous benefits, including political stability, a highly developed healthcare system, a prospering economy, and an internationally renowned education system.
How can you immigrate from Nigeria to Canada?
For many Nigerians, emigrating to Canada offers an abundance of opportunities that are unavailable in their native country. Canada is a leading destination for Nigerian immigrants due to its political stability, flourishing economy, and internationally acclaimed educational institutions.
There are several ways to immigrate from Nigeria to Canada:
Express Entry
Other Federal Economic Programs
Express Entry
Express Entry is the quickest and most popular entry point for newcomers to Canada. Express Entry arranges and processes applications from individuals seeking permanent residence in Canada.
Ideal candidates have a university or college degree, specialised work experience, and a moderate command of English and/or French. Therefore, Nigerian professionals typically perform well in the Express Entry category.
Candidates who meet the requirements of the following programs are also qualified to submit an application for consideration under the Express Entry program are the federal skilled worker, federal skilled trader, and Canadian experience class.
The Federal Skilled Worker (FSW)
Overview
One of the three programs that are part of Canada's Express Entry approach to process immigration applications is called the Federal Skilled Worker (FSW) program. Candidates who do not have any links to Canada but have worked in a foreign country are eligible to apply for Canadian permanent residence under the FSW program.
Requirements for FSW Program
To be eligible for the FSWP, candidates must meet the following minimum requirements involving years of experience, education level, age, and English or French language proficiency:
Work Background with a minimum of 12 months of constant, full-time, competent work experience gained within the past ten years (or an equivalent quantity of part-time experience).
Skilled employment experience is classified as NOC Skill Level 0, A, or B.
Pass an authorised English or French language test with a minimum score of 7 on the Canadian Language Benchmark (CLB) scale.
Education: A Canadian high school diploma or its international equivalent is required.
Sufficient funds to support themselves, their spouse, and/or their offspring during their settlement in Canada.
Residence in Canada: The applicant must intend to reside outside of Quebec.
How Can I Apply for FSWP?
Immigration, Refugees, and Citizenship Canada (IRCC) requires candidates to submit an Express Entry profile. A candidate's submission of an Express Entry profile does not guarantee permanent residence in Canada. A candidate will be assigned a CRS score and be eligible for future Express Entry drawings for Invitations to Apply (ITAs) for permanent residency only after submitting an Express Entry profile.
A FSW candidate must submit the following documents when submitting their Express Entry profile:
Educational Credentials Assessment (ECA)
To claim credit for education, an FSW candidate must submit a valid ECA report confirming the value of foreign education according to Canadian standards. Five organisations have been given permission to issue ECA reports in Canada. This is not required for credentials obtained from an educational institution in Canada.
Results of the Language Proficiency Test
All Express Entry candidates are required to submit results from a certified language test completed within the previous two years. Acceptable English examinations include IELTS and CELPIP (only available in Canada). Accepted exams for French include the Test d'Évaluation de Francais (TEF) and the Test de connaissance du francais pour le Canada (TCF Canada).
Identification Documents
Applicants will be required to provide identification document information. The applicant and all accompanied family members should ideally possess genuine passports.
Overview
One of the three government immigration programs administered by the Express Entry system is the Federal Skilled Trades (FST) program. FST employs the Comprehensive Ranking System (CRS) to rank prospective candidates against one another; only the most qualified applicants are invited to apply for permanent residence in Canada.
FST Program Requirements
A candidate needs to have at least two years of full-time or equivalent part-time experience in a specialised trade in order to qualify for FST. This experience must have been acquired within the previous five years, and only work experience obtained after certification for practising the trade in the country of residence has been granted will be considered.
The National Occupational Classification (NOC) code of Canada identifies the following occupation categories as skilled trades:
Major Group 72 industrial, electrical, and building industries
Major Group 73 occupations in maintenance and equipment operation
Group 82 supervisory and technical positions in natural resources, agriculture, and related industries.
Major Group 92 administrators of processing, manufacturing, and utilities, and central control operators
Minor Group 632 chefs and caterers
Minor Group 633 butchers and bakers
If a candidate has the required work experience, they must also meet the following FST program eligibility requirements:
Canada Employment Connection: Obtain a genuine offer of permanent employment for a position that lasts at least 12 months or a certificate of qualification given by a Canadian province or territorial authority in their skilled trade.
Language: Attain at least level 4 of the Canadian Language Benchmark (CLB) on an authorised English or French language test.
The applicant must intend to reside outside of Quebec.
A candidate will be qualified to submit an Express Entry profile to join the Federal Skilled Trades program if they meet these requirements. Candidates should be aware, however, that they must satisfy Canada's fundamental admissibility requirements. Certain crimes and medical conditions can render an individual inadmissible to Canada.
Canadian Experience Class (CEC)
The Canadian Experience Class (CEC) program is appropriate for candidates seeking permanent immigration to Canada who have recent Canadian work experience. CEC is also one of the quickest routes to Canadian permanent residence, with processing times as short as three to four months.
Canadian Experience Class requirements
In order for your 12-months of Canadian work experience to count towards your CEC application, the following conditions must be met:
Be obtained in Canada within the 36 months preceding the date the electronic Application for Permanent Residence (eAPR) is submitted.
Your job duties in Canada correspond to NOC Code Skill Levels 0 through 3.
Be legally acquired, paid employment experience in Canada.
A candidate cannot count employment experience acquired while studying full-time in Canada.
In addition to the requirement for Canadian experience, CEC has several other eligibility requirements that must be met in order to submit:
Language: Obtain a CLB level 7 on a certified English or French language exam for positions requiring NOC skill level 0 or A.
Obtain a CLB 5 for NOC B positions.
Intent to reside outside of the province of Quebec.
Provincial Nominee Program (PNP)
Provincial Nominee Programs, or PNPs, are the immigration programs administered by each of Canada's thirteen provinces and territories. As the provinces have varying populations and economic growth, their immigration programs are different and tailored to meet their economic and demographic requirements.
PNPs are popular choices because they can be the quickest route to permanent residence in Canada.
You will receive an extra 600 Comprehensive Ranking System (CRS) points if you are nominated through a PNP that is aligned with Express Entry. This essentially guarantees that you will receive an invitation to register (ITA) for permanent residence in the subsequent Express Entry draw.
How to apply for a Provincial Nominee Program in Canada
Find the PNP that best suits you: Determine where you wish to immigrate by consulting the list of provinces and territories Check the eligibility requirements for each PNP to determine if you qualify.
Apply for your preferred PNP: Apply directly to the province or territory of your choice.
Earn a Provincial Nomination certificate: If your application is approved, the province or territory will recommend you for permanent residence in Canada.
Submit your permanent residency application: Apply to the federal government of Canada for permanent residency. If your selected PNP is compatible with Express Entry, you can complete the process online. If not, you are required to submit a paper application.
Canada's Start-Up Visa Program
If you are a businessperson with an innovative business concept, you may qualify to immigrate to Canada from Nigeria under the start-up visa program.
Canada seeks creative entrepreneurs who are interested in launching businesses that will boost the economy and create employment opportunities for Canadians.
After establishing their business, Canadian permanent residence will be granted to qualified candidates who have entered the country on a work permit.
Other Federal Economic Programs
You may be qualified to apply for permanent residence via another federal economic program if you have an employment offer in a high-demand occupation or in the rural or Atlantic region of Canada. The Canadian government offers a variety of economic pilot programs to address labour or demographic disparities in specific regions or industries across the country.
If you have an offer of employment in Canada, please contact us to discuss your immigration options. Call us on +44 (0)333 305 9375.
Student Immigration Form
Applicants have the option of submitting their study permit application for Canada either online or in person at a visa application center located in Nigeria.
Students need to submit an application for a study visa as soon as they have received notification of acceptance from a college or university in Canada. It is possible that obtaining a study visa may take as long as three months.
Before traveling to Canada, it is usually necessary to submit an application for a study authorization. In some circumstances, an application for a study visa may be submitted from inside Canada. You may be allowed to submit an application at the Canadian border crossing if certain conditions are met.
Family Sponsorship
Family reunification is the top priority for Canadian immigration. Canada provides a variety of immigration programs that permit Canadians to sponsor their family members for immigration.
To sponsor a family member as a legal resident under the family class, the sponsor must meet the following requirements.
Be a Canadian citizen or permanent resident at least 18 years old.
Permanently reside in Canada, if they are Canadian residents. Citizens of Canada are able to sponsor a family member even if they reside abroad. However, when the sponsored family member turns into a permanent resident of Canada, he or she must reside in Canada.
Have sufficient financial resources to sustain the sponsored individual for the required duration.
In addition, the sponsor must meet additional requirements, such as not receiving social security benefits (except for disability-related assistance), meeting financial obligations, including timely support for sponsored family members, having a clear criminal record, etc.
How much does it cost to immigrate to Canada from Nigeria?
Costs associated with immigration to Canada from Nigeria are approximately $2,300 CAD for one applicant and $4,500 CAD for a couple. This quantity will also vary based on the program for which you enrol.
This total doesn't include the settlement funds that the majority of candidates must demonstrate in order to qualify for Canadian immigration; this quantity varies based on family size and begins at approximately $13,000 CAD for a single applicant.
Do I need the IELTS to immigrate to Canada from Nigeria?
You can work or study in Canada without completing the IELTS if you're holding a work visa or have been sponsored by your family or employer. Language proficiency is a requirement for permanent residency applications.
All potential Express Entry immigrants must demonstrate proficiency in English or French (or both for bonus points). This includes fluent English and French speakers regardless of their origin or educational background. Express Entry is a level competitive field, and every point counts as candidates compete for the all-important Invitation to Apply (ITA).
In order to have a possibility of being accepted into the Express Entry pool of candidates, Federal Skilled Worker candidates must submit language test results equivalent to or higher than Canadian Language Benchmark (CLB) 7. IELTS scores of 6.0 in speaking, writing, reading, and listening equal to a CLB score of 7.
If you are applying under the Canadian Experience Class for a NOC 0 or A occupation, you will need a minimum IELTS score of 6.0. If your occupation lies under NOC B, you can enter the pool with a score of 5.0 in speaking, writing, and hearing, and a score of 4.0 in reading.
Federal Skilled Trades candidates may enter the applicant pool with IELTS scores of 4.0 in speaking and writing, 4.5 in listening, and 3.5 in reading, which are all equivalent to a CLB level 4.
Quebec Immigrant Investor Program
The passive nature of the Quebec Immigrant Investor Program means that participants do not need to establish or actively control a business in the province.
Rather, the program requires a $1.2 million investment in a specified (government-backed) investment. Applicants must intend to settle in the French-speaking Canadian province of Quebec.
Successful applicants receive a certificate of selection from Quebec for immigration to Canada, which allows them to obtain permanent residence in Canada following health and criminality screenings by federal immigration authorities.
Candidates must have the following qualifications:
$2 Million in personal net worth legally acquired;
Two years of applicable management or business expertise within the previous five years;
Investments of $1.2 million in a passive government-guaranteed investment with no interest for a period of five years.
Intention to relocate in the Canadian province of Quebec.
Can I Transition From Temporary To Permanent Residence?
In most instances, it will not be possible to transition directly from a visitor visa to permanent resident status. Generally, the only method to convert a visitor visa to permanent residency in Canada is to qualify as a refugee or have a partner/spouse with Canadian citizenship.
It is however possible to convert a visitor visa into a work visa. If you obtained a position in Canada and fulfilled the procedures for obtaining a work permit, this would be feasible.
The Temporary Resident to Permanent Resident road, also known as the TR to PR Pathway, is a road to permanent residency that is only available for a short period and is open to qualified temporary residents and members of their families.
You could be eligible to submit an application for permanent residence in Canada if you have previous work experience in Canada in an important profession, the health or health services industry, or if you just graduated from a post-secondary institution in Canada.
To be eligible, graduates and employees must be physically present in Canada at the time of their application, be proficient in one of Canada's official languages, and fulfil the basic standards for admittance to the country. In accordance with this Public Policy, there are a total of six distinct streams, each of which has its own set of prerequisites.
Workers in Canada: Stream A (healthcare) [Workers in Canada]
Employees Currently Working in Canada: Stream B (Non-Healthcare Essential Positions)
International Graduates
French-speaking Workers in Canada: Stream A (healthcare) [Workers in Canada]
French-speaking Workers in Canada: Stream B (non-healthcare essential, essential workers)
French-speaking Graduates from Other Countries
Immigration to Canada is complicated. There are many measures that must be taken in order to successfully register for Canadian immigration and receive approval.
Additionally, the procedure can take a number of months and, in some instances, several years. But if you are aware of the available alternatives, you can increase your chances of success and prevent "pitfalls", frustrations, and delays.
Total Law can help you to immigrate to Canada through permanent residence, employment, travel, and even education. Call us on +44 (0)333 305 9375.
You may be interested in reading about.
Advice Package
Comprehensive immigration advice tailored to your circumstances and goals.
Application Package
Designed to make your visa application as smooth and stress-free as possible.
Appeal Package
Ensure you have the greatest chance of a successful appeal. We will represent you in any case.

Fast Track Package
Premium application service that ensures your visa application is submitted to meet your deadline.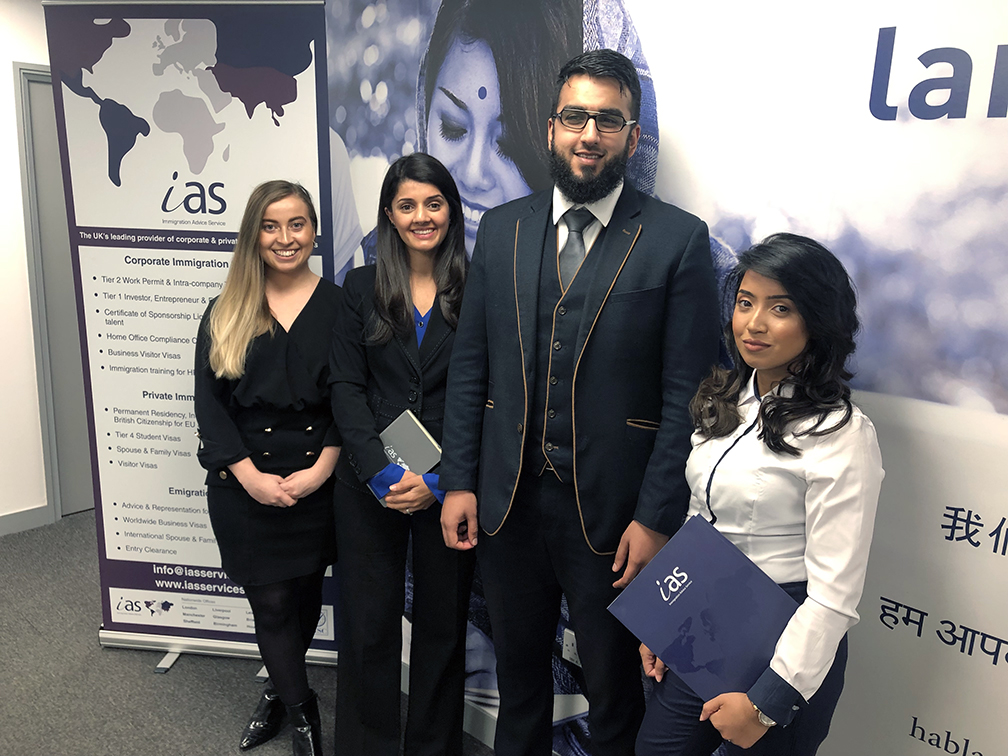 The Advice Package
During this untimed Advice Session with our professional immigration lawyers in London, you will receive our comprehensive advice, completely tailored to your needs and your situation.
Request the Advice Package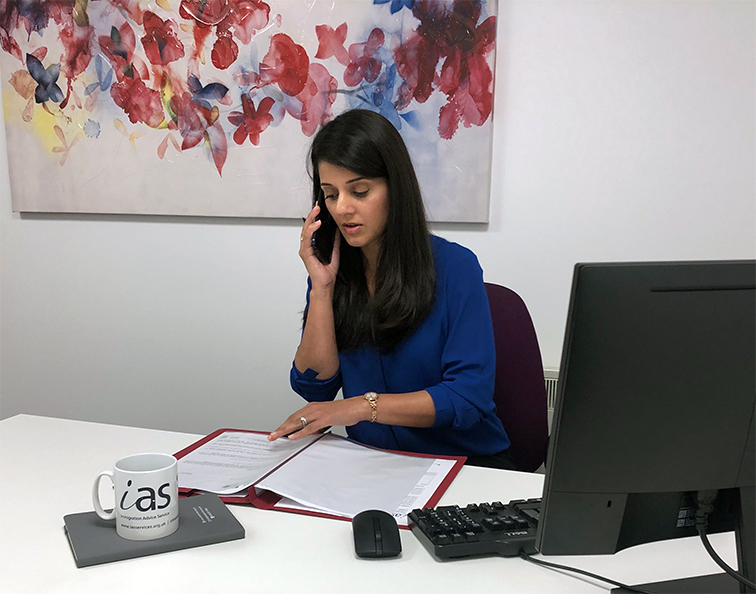 The Application Package
With our Application Package, your dedicated immigration lawyer will advise you on your application process and eligibility. Your caseworker will then complete and submit your forms to the Home Office on your behalf.
Request the Application Package
The Appeal Package
By choosing our Appeal Package, you can rely on our lawyers' legal knowledge and experience to ensure you have the highest chance of a successful appeal. We will also fully represent you in any hearings/tribunals.
Request the Appeal Package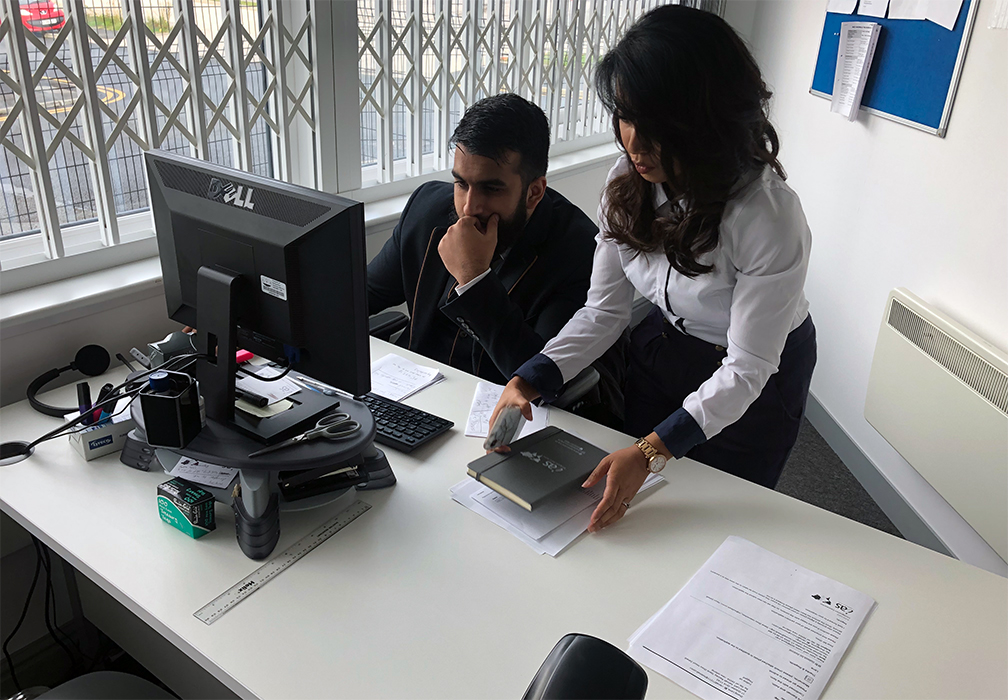 The Fast Track Package
Our Fast-Track Application Package is a premium service for those who need to submit their application in time with their deadlines. Your case will become a top priority for our lawyers and you will benefit from our highest-quality services.
Request the Fast Track Package
Frequently Asked Questions
You must have a point of 67 out of 100 to obtain a PR visa through the Express Entry system. Once your eligibility has been established, you must also have a high CRS score.
The utmost number of marks in the CRS is 1200. Every Express Entry draw has a minimum score requirement. The Canadian government extends an invitation to apply (ITA) for a PR visa to those with a CRS score above the cut-off. Applications scoring less than 450 on the CRS may be at risk. You may require a PNP nomination to proceed. The estimated minimum CRS score points may decrease even further if the demand for qualified employees continues to rise and the number of permanent resident applications declines.
Misrepresentation.
Documents that are missing, incomplete, or expired.
Taking too long to submit.
Unable to Provide Proof of Funds.
Inadmissibility for Criminal Offences.
Health-Issues.
Not Having a Qualified Immigration Representative.
There are two main methods to boost your CRS score in order to increase your chances of Canadian immigration. First, you must complete your Express Entry profile. The second step is to prepare yourself proactively for an Invitation to Apply (ITA) or PNP. When weighed against other factors (such as higher education), language proficiency can earn up to 310 CRS points. This number can increase to 320 if the applicant is in a marriage or common-law relationship.
Education can be worth up to 200 CRS points if it was completed entirely outside of Canada, and up to 250 points if it was completed in Canada. You can increase your initial education score by earning additional credentials, such as a second degree, or by earning additional Educational Credential Assessments (ECAs) for current degrees.