O-3 Visa
The O-3 Visa is designed for dependents of O-1 and O-2 Visa holders to allow them to accompany their O-Visa spouse or parent to the United States.
Applying for dependent visas can be complex and involve presenting extensive supporting documents. If you need the support of a specialist immigration lawyer, contact Total Law today for immediate support and advice on +1 844 290 6312.
What is an O-3 Visa?
The O-3 Visa is for the husbands, wives, and unmarried children under 21 of a nonimmigrant O-1 or O-2 visa holder.
According to the United States Citizenship and Immigration Service (USCIS), the O Visa category has been designed for individuals with extraordinary ability and their support personnel.
The O-1 Visa is for a person of extraordinary ability, while the O-2 Visa is for support personnel to an O-1 nonimmigrant worker.
If an O-1 Visa applicant is permitted entry to the United States, they may apply to bring their eligible dependents with them. This includes husbands, wives, or unmarried children aged under 21 years.
If a dependent marries or reaches age 21, they must file for a change of status or leave the United States as it is not possible for them to continue to stay as an O-3 dependent visa holder.
Dependents are not permitted to work in the United States, but they may study without applying for a change of status. It is also permissible for O-3 Visa holders to extend their stay (as long as the principal O Visa holder is eligible).
The O-3 Visa does not lead to a green card (also known as permanent residence). However, if you wish to apply for permanent residence or U.S. citizenship, it may be possible to apply to change your status to another eligible route.
"We used this service for the spouse visa extension application to assure that all the information was valid and correct."
"Thanking you so much for helping me and my wife live together for now and the distant future. We are grateful for your help and patience. "
"Spouse visa uk application was successful after working with your staff. I recommend this company the IAS for immigration services. "
Who can apply for the O-3 Visa?
As outlined, the O-3 Visa is suitable for an immediate family member (spouses or unmarried children under age 21) of an O1 or O-2 principal visa holder.
Extended family members of the principal visa holder (such as parents, grandparents, siblings, or cousins) are not eligible for the O-3 Visa.
In order to be issued with this dependent nonimmigrant visa, applicants must demonstrate that they have a genuine relationship with the primary applicant.
This means that you must provide proof of the relationship, as well as proof that the primary O visa holder has the appropriate visa status.
As well as this, the O3 Visa applicant is required to meet the eligibility criteria for application. This may include a clear criminal history, and a good record of any past US visa permissions.
Some of the grounds for an inadmissible visa application may include the following:
Documented history of criminal activity
Previous periods of breaching US immigration law or receiving a penalty for overstaying a visa
If you have any concerns about your eligibility for the O-3 Visa, it is recommended to contact a specialist immigration lawyer to discuss your individual case.
How to apply
To apply for the O3 Visa, eligible applicants should complete online Form DS-160. This is the first step for all individuals applying to come to the US on a nonimmigrant visa.
It takes approximately 90 minutes to complete this part of the visa application process and following the completion of this form, you may be able to schedule your visa interview at an embassy or consulate.
It is strongly recommended to write down your application ID which will be displayed at the top of your page during your application. It is also advisable to save your progress during the application process as you are completing it.
Ensure that you print out the confirmation page from your Form DS-160 as it will be required to submit with your application.
You will be requested to pay the fee for the application at this stage of the visa application process and to arrange your visa interview.
The O-3 Visa can be applied for at the same time as the principal visa holder applies (O-1 Visa), or alternatively, can be done after the O-1 Visa has been approved and issued.
It may be possible for O-1/ O-2 and O-3 Visa applicants to attend their visa interviews together.
O3 Visa document checklist
Applicants must submit the required supporting documents as part of the application process for the O-3 Visa.
The following documents are required for the O-3 Visa application:
Valid passport or travel document
The confirmation page from Form DS-160
Passport-style photo according to the specified style
Copy of principal visa holder Form I-797 Notice of Approval
Signed Form I-129 Petition for a Nonimmigrant Worker
Birth certificate or marriage/ civil partnership certificate to provide evidence of the relationship with the visa holder
Evidence that you can financially support yourself in the United States
Other documents that may be relevant to your case and which may help with your application
A certified translation of any official documents in a language other than English
Interview confirmation letter
If you fail to submit one of the documents in the appropriate format, your application may be delayed or rejected. If you have any doubts about the information required, it is recommended to discuss this with an immigration lawyer.
What can you do on the O3 Visa?
There are strict limits on what O3 Visa holders can do in the United States. The visa allows eligible individuals to enter the United States and live with their families but not to work.
There are no limits on the amount of travel to and from the U.S. that an individual can do as an O-3 Visa holder.
Some of the permitted activities include the following:
Obtain a driver's license
Open a bank or savings account
Undertake a part- or full-time course of study
Some of the prohibited activities include:
Work or hold employment
Apply for or get a Social Security Number
Stay in the U.S. for longer than the principal visa holder (without applying for an extension of the visa or a change of status)
Can O-3 Visa holders get EAD?
O-3 Visa holders are not eligible to work in the U.S. and are therefore not permitted to get an Employment Authorization Document (EAD).
There are strict consequences for individuals who violate the terms of their visa.
To ensure that you do not breach the terms of your visa, you should be fully aware of permitted and prohibited activities.
How long does it take to get O3 Visa?
The average time it takes to get the O-3 Visa is approximately six weeks, however, some applicants may have to wait up to three months or longer.
The wait time varies depending on the complexity of your individual case as well as the available resources of the consulate processing your application.
There may be an opportunity for you to pay a fee for a faster processing time, but you will be given this information at the time of your application if this applies to your case.
Advice Package
Comprehensive immigration advice tailored to your circumstances and goals.
Application Package
Designed to make your visa application as smooth and stress-free as possible.

Fast Track Package
Premium application service that ensures your visa application is submitted to meet your deadline.
Appeal Package
Ensure you have the greatest chance of a successful appeal. We will represent you in any case.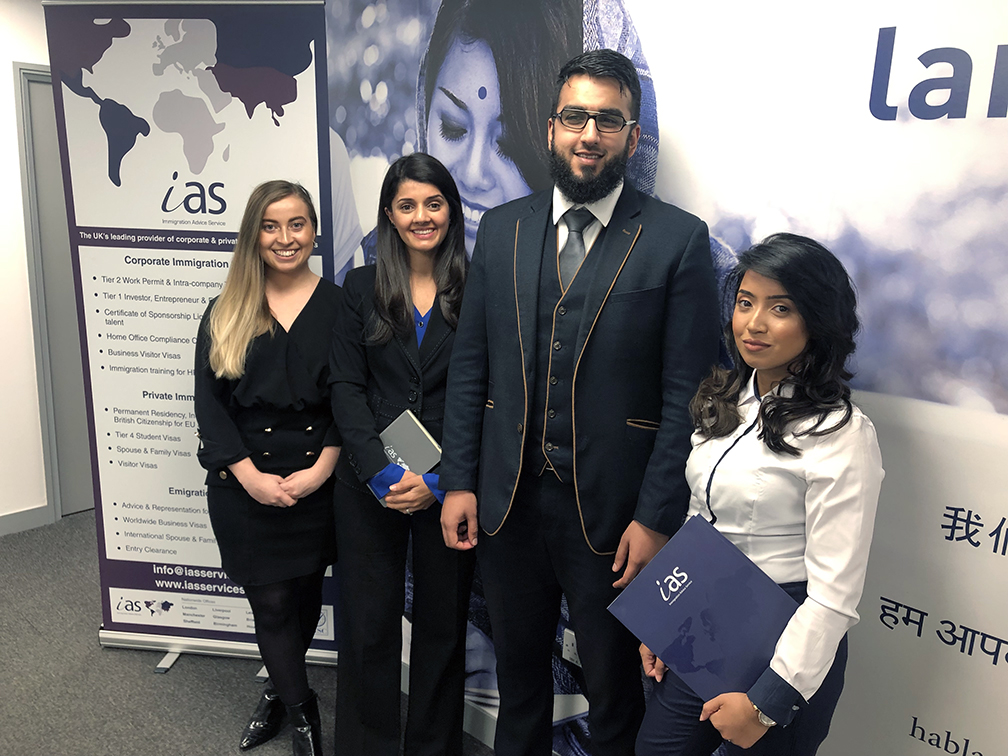 The Advice Package
During this untimed Advice Session with our professional immigration lawyers in London, you will receive our comprehensive advice, completely tailored to your needs and your situation.
Request the Advice Package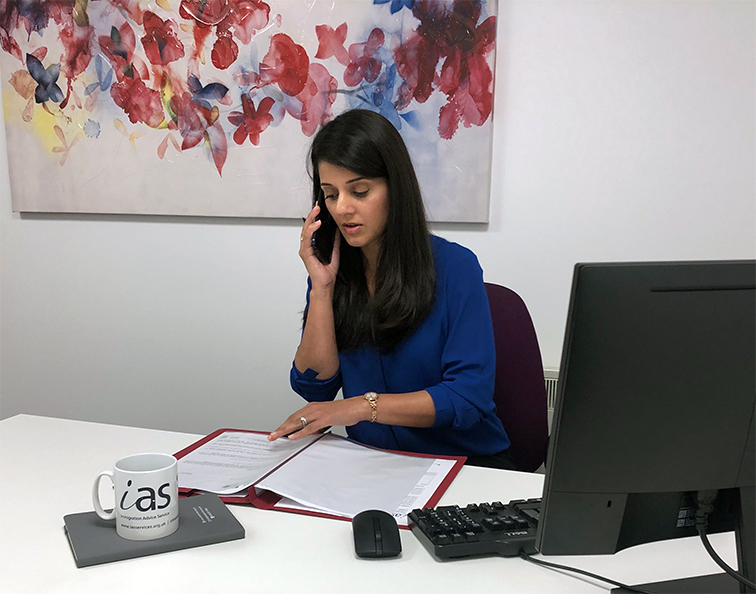 The Application Package
With our Application Package, your dedicated immigration lawyer will advise you on your application process and eligibility. Your caseworker will then complete and submit your forms to the Home Office on your behalf.
Request the Application Package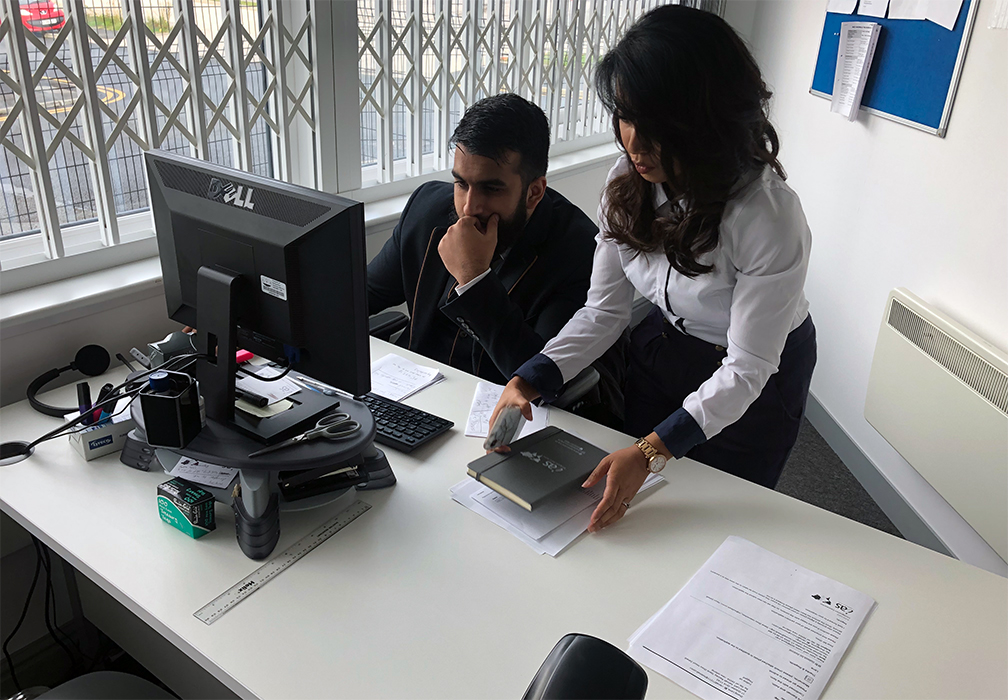 The Fast Track Package
Our Fast-Track Application Package is a premium service for those who need to submit their application in time with their deadlines. Your case will become a top priority for our lawyers and you will benefit from our highest-quality services.
Request the Fast Track Package
The Appeal Package
By choosing our Appeal Package, you can rely on our lawyers' legal knowledge and experience to ensure you have the highest chance of a successful appeal. We will also fully represent you in any hearings/tribunals.
Request the Appeal Package
Related pages for your continued reading.
Frequently Asked Questions
O-3 Visa holders are not allowed to get a Social Security Number (SSN) or work in paid employment.
O-3 Visa holders are permitted to do the following:
Attend school, college and other courses of study
Apply for a driver's license
Open a bank account
Receive a taxpayer identification number (ITIN)
If your O-3 Visa is granted, you will receive initial permission to stay for up to three years. If the primary O-1 or O-2 applicant is eligible to renew their visa, and the O-3 Visa holder meets the eligibility requirements, it may be possible to renew it before the visa expires.
In most cases, the extension will be granted for another year. To apply for an extension of the O-3 Visa, it is necessary to complete and submit Form I-539 to apply for an extension of stay.
Applying for any U.S. visa is complex and can involve extensive document gathering and the submission of complex immigration forms.
While working with an immigration lawyer cannot guarantee that you will be issued your chosen visa, the likelihood of a successful application may be increased by working with an experienced immigration specialist.
We offer bespoke support packages based on your needs and your individual circumstances. Some of the services we offer include the following:
An initial consultation and assessment of eligibility for your chosen immigration route with a dedicated lawyer where we will listen to the circumstances of your case and advise you accordingly
Offer ongoing support as you gather the required documents for your chosen visa category
Communicate with you and your dependent family members regularly while your application is processing
Provide certified translations of any official documents not in English
Liaise on your behalf with United States Citizenship and Immigration Services (USCIS) while your application is pending
To find out more about the bespoke services and packages we offer, contact our immigration advisers for immediate advice and support.
We are available to speak over the phone and via the online contact form. We look forward to assisting you with your case.