EB-3 Visa
International skilled workers and professionals may be eligible for an EB-3 Visa.
If you need the support of a specialist immigration lawyer, contact Total Law today for immediate support and advice on +1 844 290 6312.
What is an EB-3 Visa?
The EB-3 Visa works as a Third Priority Worker visa. It is available for those classed as skilled workers, professionals who hold a bachelor's degree and eventually other workers classed as unskilled.
In order to be eligible for the visa, the applicant must hold a baccalaureate degree or a minimum of 2 years training or work experience.
For this visa type, a quota system is applied. Every year, the USCIS will allocate around 40,040 EB-3 visas every year. Once this number is reached, all further applications for an EB-3 visa that are submitted will be put on hold until the following year.
At Total Law, we have professionals that are experts at guiding clients through the often complicated application processes for visas such as the EB-3 visa. We are always here to offer such guidance and support, and you can reach us at
"We used this service for the spouse visa extension application to assure that all the information was valid and correct."
"Thanking you so much for helping me and my wife live together for now and the distant future. We are grateful for your help and patience. "
"Spouse visa uk application was successful after working with your staff. I recommend this company the IAS for immigration services. "
What is an EB-3 Green Card?
The EB-3 Green Card works as a skilled worker visa that is available to overseas nationals that have received an employment offer form a sponsor within the United States. It is mainly intended to help those that have not qualified for other forms of employment-based visas.
There are 3 subcategories included in the EB-3 Visa;
Skilled workers who have at least 2 years work experience or training
Professionals whose employments requires a higher education degree and a professional license
Other workers, who are working in a job in which qualified workers are not available in the United States at the time of the petition
Which People are Eligible for an EB-3 Visa Green card?
Skilled Workers
You must have 2 years of work experience or training
You must be working in an employment sector in which qualified workers are not available in the US workforce at the time of submitting your application
Professionals
You must hold a United States baccalaureate degree or an overseas equivalent
No skilled workers must be currently available to perform the role in the United States
You must have sufficient job experience (which cannot be substituted by your educational background)
Unskilled Workers
You must have the ability to perform a form of unskilled labour that is not of a seasonal or temporary nature
There must be no domestic workers in the US that are available to perform the job role at the time of your application
What are the Requirements to Hold an EB-3 Visa?
To be eligible for this visa, an applicant must;
Hold a labor certification
Have a full time, permanent job
Be able to demonstrate that there are no domestic US workers in the US workforce available to perform your job role
Have received an employment offer from an employer based within the United States
Based on your subcategory for the EB-3 Visa, there may be other requirements;
Skilled workers must have a minimum of at least 2 years training or work experience
Professionals must prove they hold a position in which a higher education degree is required
Unskilled workers must prove they are performing in a job role in which there are no US domestic workers in the workforce available to perform that role. They are allowed to have less than 2 years work experience.
What is the Processing Time for an EB-3 Visa?
It is possible for the whole process of applying for an EB-3 visa to take any time between 1 and 3 years. However, applicants from certain countries could face a wait of up to 6 years because of the annual visa cap set by the USCIS.
Your sponsor could pay an additional fee of $1,410 to shorten the processing time of your EB-3 visa. However, this may not help if your permit priority date is still not current. Employers that are qualified for speciality roles from Australia may meet the requirements to apply for an E3 visa. Since this permit is solely targeted at Australian nationals, the processing time may be significantly shorter.
Before sponsoring your application, it is necessary that your employer be able to prove that there are no available United States domestic workers that could perform the job role. This can be done by getting a labor certification from the Department of Labor (DoL) and filing the ETA Form 9089.
What is the Process of the PERM Labor Certification?
To receive an EB-3 visa, it is necessary to get a PERM labor certification from the United States Department of Labor.
Your US employer that is sponsoring you is not allowed to hire overseas workers directly. They first need to establish that there are no available United States domestic workers who could fill the work position.
To complete approval, the PERM certification must also pass a Prevailing Wage Determination. Therefore, your US based sponsor will need to prove that the job vacancy has also been advertised in relevant agencies and major local newspapers.
The Department of Labour may also ask to be given access to a detailed record of the recruitment process that the US based sponsor has conducted to fill the advertised position.
Will the EB-3 Visa Benefit my Family?
If you hold an EB-3 visa then your immediate relatives can join you within the United States.
For those included in the skilled worker and professional subcategories, spouses can apply for an E-34 visa. Eligible unmarried children can also apply for an E-35 permit.
For unskilled workers, your spouse may be eligible for an EW-4 visa. Eligible unmarried children could apply for an EW-5 visa.
For those in all subcategories, eligible spouses of EB-3 visa holders can apply for an Employment Authorization Document (EAD) which could grant them the right to work within the United States.
Advice Package
Comprehensive immigration advice tailored to your circumstances and goals.
Application Package
Designed to make your visa application as smooth and stress-free as possible.

Fast Track Package
Premium application service that ensures your visa application is submitted to meet your deadline.
Appeal Package
Ensure you have the greatest chance of a successful appeal. We will represent you in any case.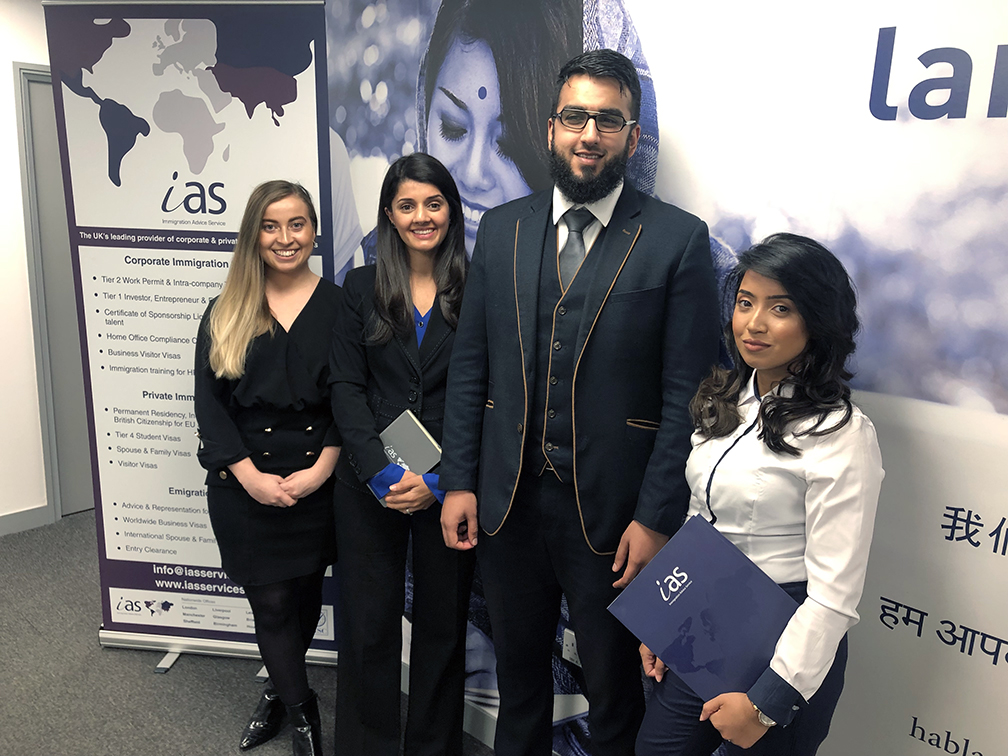 The Advice Package
During this untimed Advice Session with our professional immigration lawyers in London, you will receive our comprehensive advice, completely tailored to your needs and your situation.
Request the Advice Package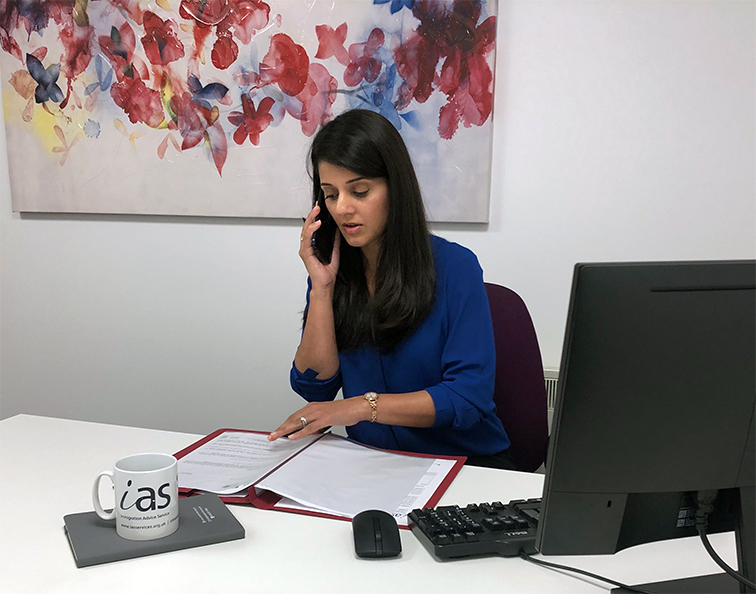 The Application Package
With our Application Package, your dedicated immigration lawyer will advise you on your application process and eligibility. Your caseworker will then complete and submit your forms to the Home Office on your behalf.
Request the Application Package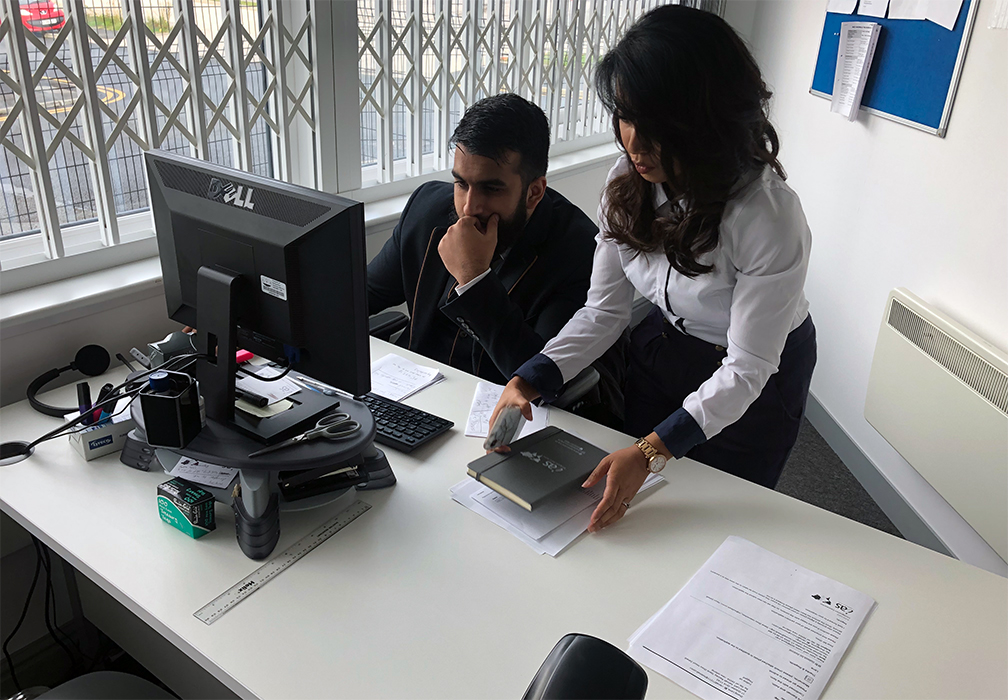 The Fast Track Package
Our Fast-Track Application Package is a premium service for those who need to submit their application in time with their deadlines. Your case will become a top priority for our lawyers and you will benefit from our highest-quality services.
Request the Fast Track Package
The Appeal Package
By choosing our Appeal Package, you can rely on our lawyers' legal knowledge and experience to ensure you have the highest chance of a successful appeal. We will also fully represent you in any hearings/tribunals.
Request the Appeal Package
Related pages for your continued reading.
Frequently Asked Questions
If your labor certification is approved, your US based sponsor can then petition for your EB-3 visa by filing the Form I-140. The USCIS may ask for access to your US based sponsor's statements and tax returns as proof of supporting financial documents.
You can then fill out your Form DS-261 which is from your country of residence. At some point, the USCIS will ask you, the applicant, to undergo a medical examination. You will then also have to attend an interview to present your supporting documents.
It is necessary for all EB-3 applicants to ensure that they have a US based employer sponsoring them, it is not possible to self-petition for this visa.
The EB-3 visa has several fees, with some being paid by you and some by your US based employer. These include;
The Labor certification by the department of Labor fees (paid by your employer)
Application processing fees ($345)
Fees for filing the Immigration Petition for Alien Worker ($700)
Biometric fees for your medical examinations
Any further costs for translating your documents, if applicable
Premium processing fees if needed ($1,410)
The EB-3 visa is a popular visa and in high demand. Considering there is a quota attached to this visa type too, it is recommended that you have an expert by your side throughout the application to prevent mistakes and delays.
Our immigration lawyers here at Total Law are always here to provide you advice and support.
If you are a US based employer, we can aid you in the application for the PERM Labor Certification. In addition to this, we can help with filing your application forms to the best standard possible, checking if you and your employer meet the requirements for the visa and following you and your relatives through the whole application process.
You can schedule your first consultation with us by calling us on