US Work Visas for Irish Citizens
If you are a foreign national who would like to come to the United States for work, you may need to apply for a U.S. work visa. Learn more about the visas available here.
If you have any questions regarding your eligibility or need help with the visa application process, contact one of our expert immigration professionals today at +353 (0) 61 518 025 or leave us a message in the chat.
What do you need to work in the United States?
Whether you are chasing a career opportunity, or simply the American dream, the United States remains arguably the most popular destination for Irish citizens abroad. Many Irish citizens go and experience a fulfilling way of life they could never have anywhere else, and decide to live and work there, joining hundreds of thousands of Irish immigrants living in the United States.
The notion that a better life is possible in the U.S has resulted in millions of people across the globe moving there over the years, and continues to motivate people to this day! If you are contemplating working somewhere abroad, the United States should ultimately be one of the most exciting places to consider.
However, before moving to America, you first need to know and understand your immigration options. To work in America, you must first acquire the appropriate permit that grants you to live and work in the United States. To be more precise, you must have the right visa, and in this case, a visa that gives you the right to not only live but work in the US as well. It is worth noting that Irish citizens can only work in America if they are in possession of any of the following key documents:
A Green Card (A Permanent Residence Card)
A nonimmigrant work visa
A Work Permit
An employment-based immigrant visa.
With any of these documents at your disposal, the doors of the American job market are open to you! However, keep in mind that the most appropriate visa for you largely depends on the type of job you wish to do while in the U.S. as well as how long you are looking to live there.
"I'm very happy with the standard of training received on the OISC Level 1 course, i passed my exam. Thank you!"
"My application was approved and a huge weight has been lifted from our shoulders this year "
"We used this service for the spouse visa extension application to assure that all the information was valid and correct."
What is the US Visa Waiver Program?
Irish citizens are allowed to travel to America without any visa for three months (90 days) through the Visa Waiver Program, commonly referred to as VWP. However, you are only eligible for VWP if you are traveling to the United States as a temporary visitor for tourism purposes.
Even though you can't move to the U.S. without a valid visa if you are looking to work while staying there, you can use the VWP for some business-related activities, such as attending business meetings, conventions, consultations, conferences, or discussing business contracts. However, be informed that for you to travel to America without a visa through the Visa Waiver Program, you must first seek authorization from the Electronic System for Travel Authorization (ESTA) before you can travel.
What are the available Green Cards?
Also referred to as an immigrant work visa, a green card allows you to become a permanent American resident. Irish citizens can access a green card through several ways, such as employment. The job-based green card categorization is further divided into numerous sub-classes organized by preference. The work-based preference categories include:
EB1: First preference job-based visa for Irish citizens who boast some extraordinary ability, exceptional researchers, professors, or global managers and executives.
EB2: Second-preference job-based visa for Irish citizens with a high-level degree, have an extraordinary ability, or whose employment in the U.S. would be in the interest of the state.
EB3: The third preference employment-based for skilled Irish employees and experts with a bachelor's degree as well as unskilled workers.
EB4: Fourth preference job-based visa for special Irish citizens, including religious employees, selected broadcasters, and members of the American Armed Forces, among others.
EB5: Fifth preference work-based visa for Irish investors with the financial ability to invest anywhere between $500,000 and $1 million in American businesses.
Furthermore, there are other types of green cards that allow Irish citizens to lawfully live permanently in the United States. Bearing in mind that all nationals from a foreign country who possess immigrant visas can reside and work in America on a permanent basis. They don't require an employment-based green card for work.
How can you apply for a work-based green card?
The application procedure usually varies based on the category you are applying for. In this respect, if you are making an application for an EB1 visa as an Irish immigrant with some unique ability, you are allowed to self-petition for your visa by filing the Petition for Alien Worker (Form I-140).
On the other hand, for the remaining employment-based green categories, you need to have an American sponsor who can fill the petition for you. What's more, your prospective employer must be able to show that they are in a position to pay you the agreed wages.
After your Petition for Alien Worker form has been approved, you must thereafter file Form I-485 (Application to Register Permanent Residence). Once this particular form has been approved, you will become a valid green cardholder with the absolute right to permanently reside and work in the United States.
What are the available nonimmigrant work visas?
This particular visa allows you to enter the United States for temporary employment. Numerous types of nonimmigrant visas grant the freedom to live and also work in the United States, whose validity period varies from months to years. Below are a few nonimmigrant temporary work visas that are available to Irish citizens:
H1B Visa for multi-national employees in specialty occupations or for those participating in government to government research
H2B Visa for temporary workers
H3 for exchange visitors
E1 Visa for Treaty traders
E2 Visa for treaty businessmen
01 Visa for persons with unique abilities
I Visa for journalists and other media workers
P1 Visa for multinational athletes
P2 Visa for a performer or group entering the United States to perform under a reciprocal exchange program
P3 Visa for athletes as well as artists
R1 Visa for religious employees
L1 Visa for the transfer of foreign employees who will be working at their company's US branch. This temporary work visa is available to employees who work in either a managerial or executive capacity or those who work in a position requiring specialized knowledge and have worked for the same employer abroad continuously for at least 1 year.
B1 Visa business visitor visa for people entering the United States to conduct certain business-related activities
How do you make an application for a nonimmigrant visa?
The application method for this type of visa varies depending on the type of visa category you are applying for. And this simply implies that each visa work category has different eligibility criteria that Irish citizens must fulfill.
Generally, Irish citizens will need to have a U.S. employer sponsoring their application process to apply for a US work visa. Your potential employer will begin this process by first filing Form I-129 (Petition for a Nonimmigrant Employee) with the USCIS (U.S Citizenship and Immigration Services). After receiving an approved petition, the foreign national can then apply for a work visa.
On the other hand, if you are applying for a nonimmigrant visa under the specialty occupation category, your potential employer must first submit a Labor Condition Application to the Department of Labor before they can fill the petition. After securing the labor certification, you may then submit the petition. After approval, you can now apply for your visa either at the local U.S. embassy or consulate in your country or residence.
Before you can attend the visa application appointment, you'll first be required to complete and subsequently submit the DS-160 (Online Nonimmigrant Visa Application). This is an online application form for nonimmigrant visas.
After this, you will bring proof of completion of this particular form with you to the consulate or embassy for your visa interview together with your other required documents a valid passport, and receipt of the paid visa issuance fee. After thorough scrutiny, a consular will decide whether to reject or validate your application.
How can Total Law help me?
There are nearly endless reasons why Irish citizens would want to move to the US.
However, it is imperative to note that the American job market is arguably the most competitive, and the prospect of getting a work visa can be a daunting and intimidating task. And this is why it is highly advisable that you seek the assistance of an experienced immigration attorney whenever you are applying for a U.S. work visa.
Our firm boasts highly experienced U.S immigration professionals who have helped major companies as well as millions of individuals across the globe secure various US work visas.
We would be very happy and motivated to assist either you or your company by offering advice and handling application procedures to ensure you achieve your US immigration goals.
For more information, call us today on +353 (0) 61 518 025, or contact us online.
Advice Package
Comprehensive immigration advice tailored to your circumstances and goals.
Application Package
Designed to make your visa application as smooth and stress-free as possible.

Fast Track Package
Premium application service that ensures your visa application is submitted to meet your deadline.
Appeal Package
Ensure you have the greatest chance of a successful appeal. We will represent you in any case.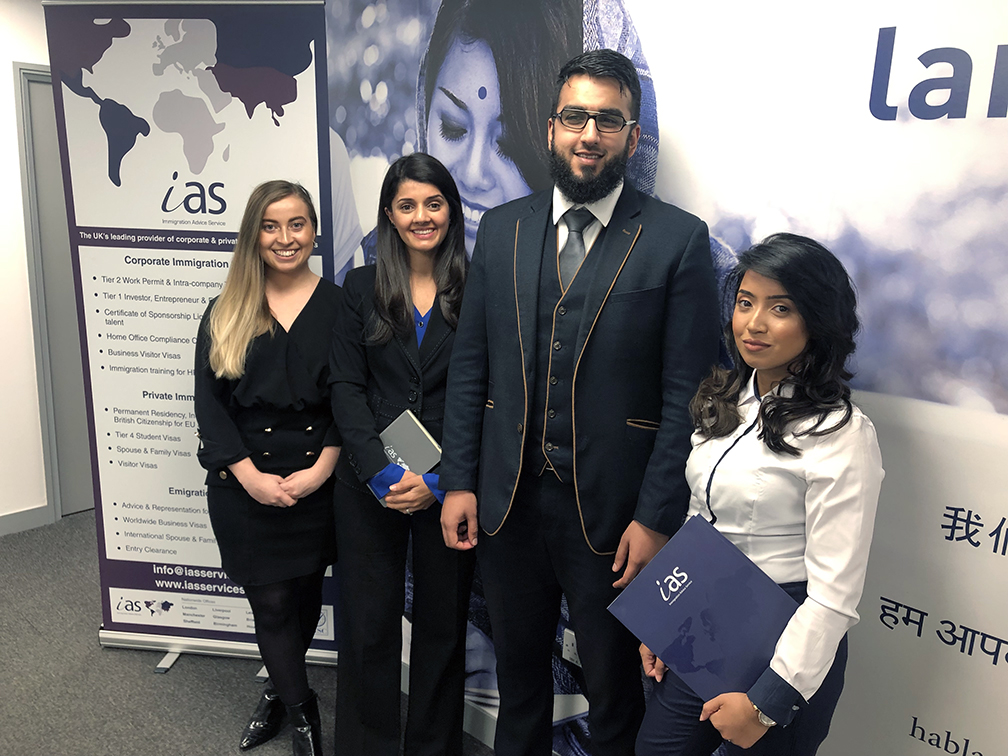 The Advice Package
During this untimed Advice Session with our professional immigration lawyers in London, you will receive our comprehensive advice, completely tailored to your needs and your situation.
Request the Advice Package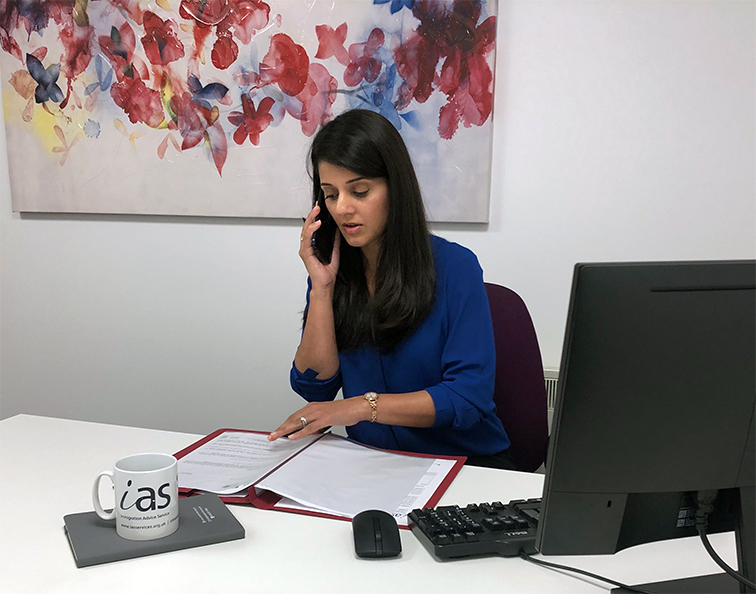 The Application Package
With our Application Package, your dedicated immigration lawyer will advise you on your application process and eligibility. Your caseworker will then complete and submit your forms to the Home Office on your behalf.
Request the Application Package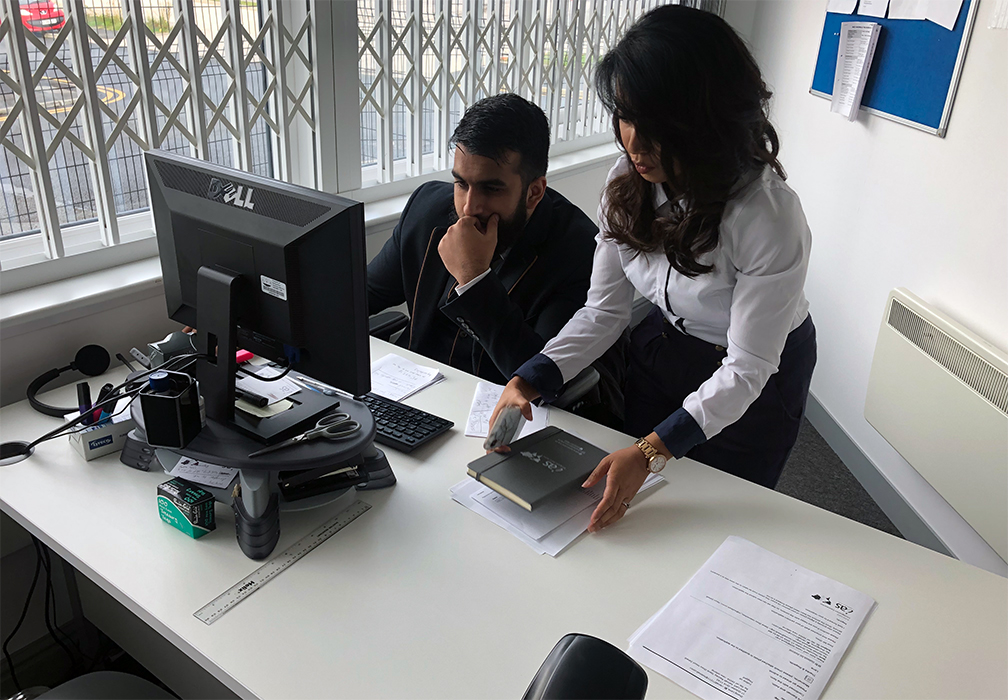 The Fast Track Package
Our Fast-Track Application Package is a premium service for those who need to submit their application in time with their deadlines. Your case will become a top priority for our lawyers and you will benefit from our highest-quality services.
Request the Fast Track Package
The Appeal Package
By choosing our Appeal Package, you can rely on our lawyers' legal knowledge and experience to ensure you have the highest chance of a successful appeal. We will also fully represent you in any hearings/tribunals.
Request the Appeal Package
Related pages for your continued reading.
Frequently Asked Questions
Foreign nationals in the United States on employment-based visas may apply for United States citizenship after 5 years of continuous residence in the United States.
Certain U.S. work visas allow visa holders to sponsor family members under the same visa category. For more information, if your family members can join you in the United States, contact an immigration professional today.