L2 Visa
L2 visas are non-immigrant visas reserved for Irish citizens who are the dependents of L1 holders, designed to keep families together in the United States.
If you have any questions or require further information about the L2 application, you can contact our expert immigration lawyers to discuss any concerns you may have, or for some help navigating the application process. You can call us on 0333 305 9375, or contact us online seven days a week via our live chat.
What are the requirements for L2 non-immigrant visas?
The L2 is for the dependents of an L1 holder. In this context, 'dependents' are the legal partner and children that are unmarried and under the age of 21. This does not extend to siblings, grandparents, or family members.
You may still be granted entrance to the US to visit your family through a different route, like the B2 Tourist Visa.
As the L2 is linked to the L1, it is important to better understand the L-1.
"I'm very happy with the standard of training received on the OISC Level 1 course, i passed my exam. Thank you!"
"My application was approved and a huge weight has been lifted from our shoulders this year "
"We used this service for the spouse visa extension application to assure that all the information was valid and correct."
The L-1 visa category
There are two types of L-1:
The L-1A is specifically for citizens of Ireland that hold an approved executive and/or management role. The exact nature of the business is defined in the immigration rules and applicants have to demonstrate how they meet the requirements with the right documents required. The L-1A is for a period of up to three years and can be extended for up to seven years. There are no yearly caps on the number of L-1A visas issued per year for Ireland.
The L-2B is for 'specialized knowledge staff,' a person with very specific knowledge of a business's products, systems, details, proprietary techniques, management, or procedures. It's issued for up to three years and can be extended for up to five years.
To qualify for the L1, the applicant must demonstrate that there is a genuine need for them to undertake the role in the US and leave Ireland. This means that the application form has to be accompanied by a significant amount of relevant forms and documents as supporting evidence and documentation to prove their case. Both the employer and the employee must meet the L1 eligibility criteria. Both L-1A and B nonimmigrant visas are permitted to bring their eligible dependents with them to the US.
L2 visa application process
It is recommended the L2 be submitted alongside the L1 application. However, it is possible to apply for an L2 at a later date. The application requires the following information:
A completed DS-160 form (Nonimmigrant Visa Application form)
A travel document/valid Irish passports for all family members applying. If you don't have a valid passport you'll have to apply for a new passport.
One photograph per applicant, which must adhere to the guidelines of the US consulate in Ireland
An original birth certificate documents for dependents
An original marriage certificate and/or other documents as other proof of relationship such as wedding photos, wedding invites, etc
A copy of the L1 application form
A letter from the L1 Visa holders employer
Depending upon your circumstances, you may be asked by the United States Citizen and Immigration Services (USCIS) to submit additional documentation or information, which they will ask you for at the time. A common reason that US visa applications are rejected is due to missing documents, so it is important to be organized and prompt.
The L2 visa application fee is USD 190 or about 170 Euro per L2 application.
How long is the L2 nonimmigrant visa valid?
The L2 visa is linked to the L1 visa so the L2 visa is valid for the length of the L1 visa. Normally, the L1 visas are given for 3 years before an extension is permitted. This means that the L2 visa validity will also be 3 years.
The L1-A is allowed to be extended a further seven years, and the L1-B is permitted to be extended for a further five years. If/when the extension for an L1A or LIB is permitted, so is the L2 visa extended. After the extension limit is met, the L1 visa is required to spend a minimum of one year outside of the US before applying for a new visa, and this condition extends to the L2 visa.
What can citizens of Ireland do with an L2 visa in America?
Citizens of Ireland with an L-2 visa can live with family members and spouses in the US and attend and study at school in the U.S.
The spouse of the L1 holder, an L2 can gain either part or full-time job at any company. (After the process of obtaining an L-2 Visa work permit called the Employment Authorization Document or EAD)
Open an American bank account in your name
Apply for other nonimmigrant visas
Seek an adjustment of visa
Travel freely within and outside the U.S, including back to Ireland
Getting a job
The L2 Visa permits the spouse of the L1 applicant to lawfully get a job, but children(s) are not permitted worker status.
If your spouse wishes to work, they must first obtain an Employment Authorization Document (EAD). The EAD is an L2 Visa work permit that is valid for a period of two years but is allowed to be extended as many times as you wish, so long the L2 Visa is still valid.
Once the EAD is authorized, the next step is to apply for a Social Security Number (SSN), which is required for getting a job from any valid US employer. With both an EAD and an SSN, it is possible for applicants to legally obtain a part-time or full-time job at any US company.
It is important to note that an EAD pursued under an L2 Visa status will cease to be valid if you switch to a different visa, and it will be necessary to apply for a new EAD under your new status. Your SSN will not change regardless of the type of visa that you hold.
How to apply for a new visa
Should you wish to change your visa, you may be eligible. Depending on your circumstances and goals, you may be able to switch from an L2 visa to an F1 Student Visa to study, the H4 Work Visa for employment, or the L1 Visa.
Another route is if you are permitted to obtain an EAD, and are currently employed by a US company, it is possible to request with your employer to sponsor you for an H1B Visa. This process is done at your employer's discretion.
Similarly, the L1 holder on which you are dependent may also wish to change their visa category based on eligibility. In this circumstance, the immigration status of L2 visa holders will also change. For example, if the L1 Visa changes from an L1 Visa to an H1 visa, the L2 will change to an H2 Visa.
Advice Package
Comprehensive immigration advice tailored to your circumstances and goals.
Application Package
Designed to make your visa application as smooth and stress-free as possible.

Fast Track Package
Premium application service that ensures your visa application is submitted to meet your deadline.
Appeal Package
Ensure you have the greatest chance of a successful appeal. We will represent you in any case.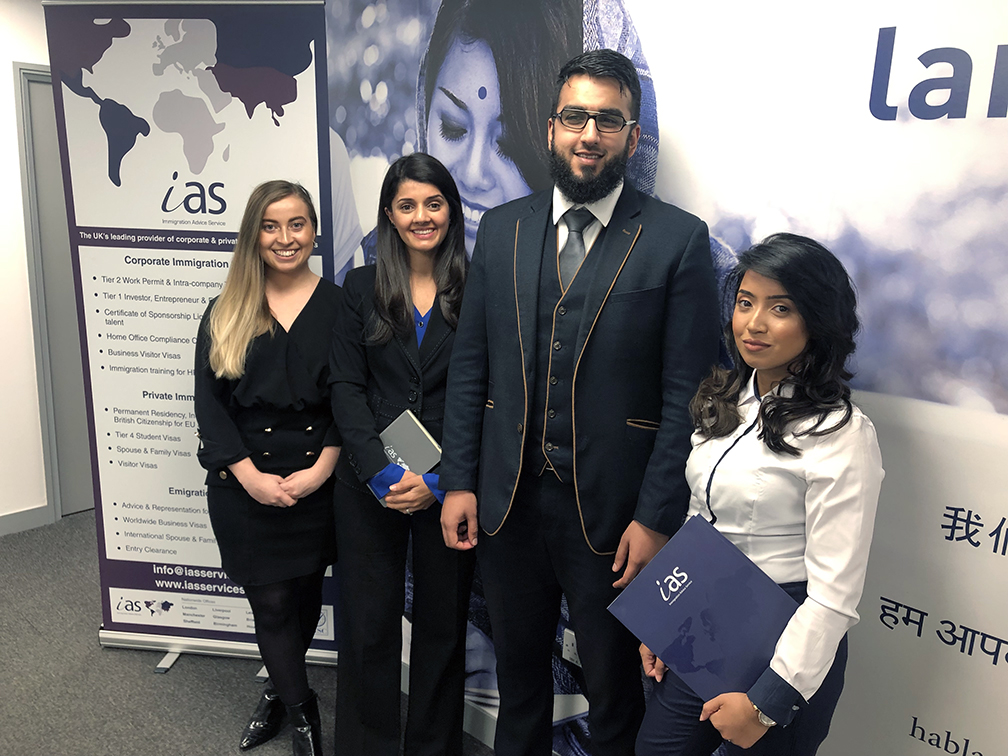 The Advice Package
During this untimed Advice Session with our professional immigration lawyers in London, you will receive our comprehensive advice, completely tailored to your needs and your situation.
Request the Advice Package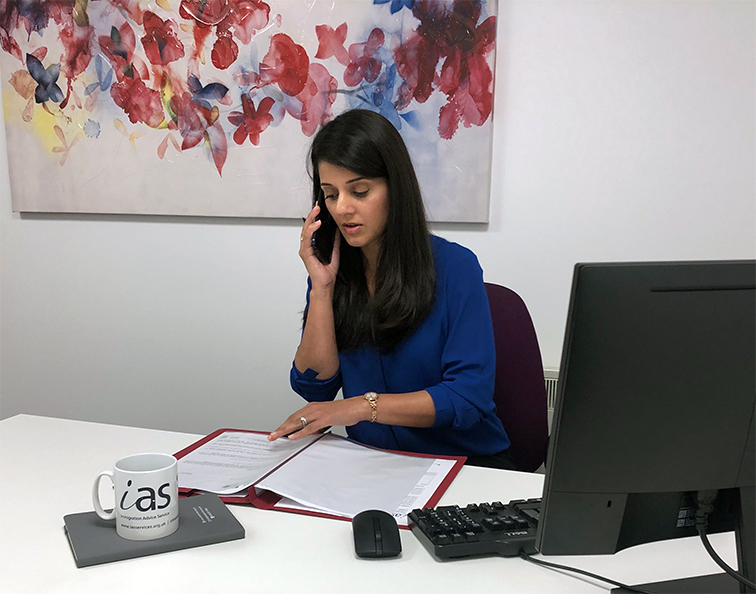 The Application Package
With our Application Package, your dedicated immigration lawyer will advise you on your application process and eligibility. Your caseworker will then complete and submit your forms to the Home Office on your behalf.
Request the Application Package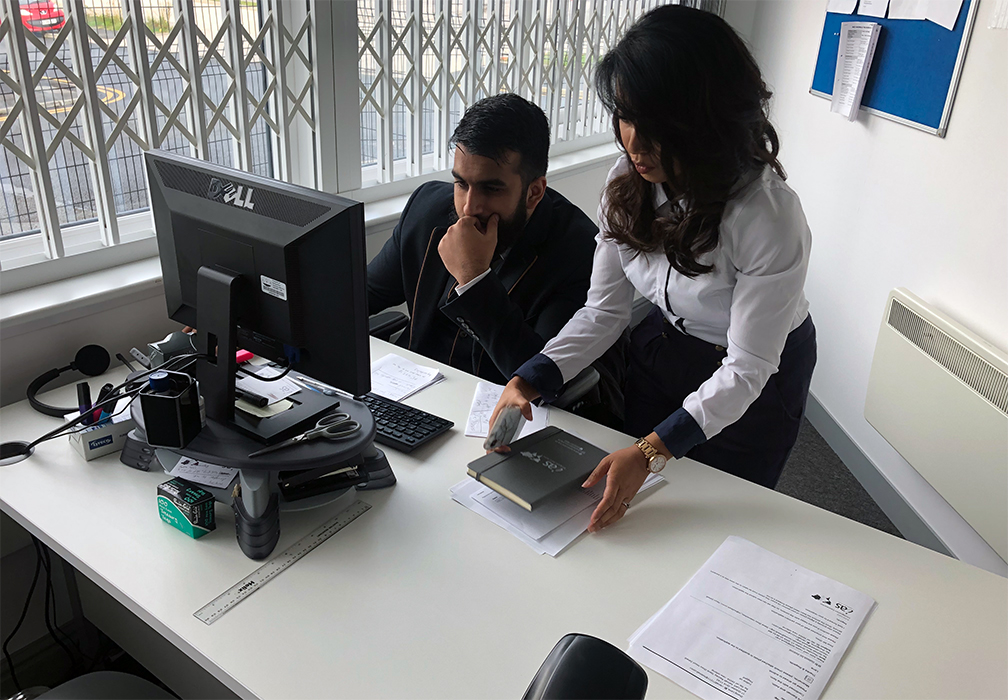 The Fast Track Package
Our Fast-Track Application Package is a premium service for those who need to submit their application in time with their deadlines. Your case will become a top priority for our lawyers and you will benefit from our highest-quality services.
Request the Fast Track Package
The Appeal Package
By choosing our Appeal Package, you can rely on our lawyers' legal knowledge and experience to ensure you have the highest chance of a successful appeal. We will also fully represent you in any hearings/tribunals.
Request the Appeal Package
How can I extend an L2 Visa?
Any extension on the L2 visa is dependent on the L1 visa. As such, if the L1 successfully extends, so does the L2.
The length of the extension is determined by the amount of time that the L1 Visa can be extended for, which depends on the type of L Visa that the primary holder is on.
If/when an L1 Visa expires, the L2 Visa Holder's status will expire too and subsequently, will have to return to Ireland.
How can I prove my relationship to an L1 visa holder?
You can prove the relationship by way of official marriage certificates and birth certificates or proof of civil partnership. You may also submit the wedding's photo album and/or other photographs of time spent together as a couple over the years.
A letter from the L1 visa's sponsor that describes/confirms the relationship between the principal applicant and their dependent(s). A copy of your tax return to disclose your financial situation and prove that you can support yourself financially such as utility bills, tenancy agreements, valid passports, and other official documents with family names.
How Can Total Law Help
Our Total Law lawyers are on hand to assist you and your family in visa applications when relocating to a different country.
Visa applications can be tricky to collate without the help of a legal professional to advise you on the best route. Our team of highly experienced lawyers are qualified to provide consul for your immigration plans.
If you have any questions or require further information about the L2 application, you can contact our expert immigration lawyers to discuss any concerns you may have, or for some help navigating the application process. You can call us on 0333 305 9375, or contact us online seven days a week via our live chat.
Related pages for your continued reading.
Frequently Asked Questions
The EAD typically takes 90 days.
The L2 visa application fee is USD 190 or about 170 Euro per L2 application.
Valid dependents on L1 visas can apply for L2 visas. Dependents are defined as the spouse, or dependents under 21 years old that are not married and do not extend to any other family members.