EB3 Visa for Irish Citizens
The EB3 Visa is the third-priority worker immigration visa offered to foreigners wishing to move permanently to the US. It is available for Irish citizens who are classed as skilled workers, professionals who hold a baccalaureate degree, and other workers that are classed as unskilled.
If you need assistance with your visa application, feel free to call us on(+353) 061 518 025 , or you can request a call back through our live chat feature.
What is the EB3 visa?
The EB3 Visa is a third-priority worker immigrant visa available to Irish nationals who wish to move permanently to the United States. The EB3 immigrant visa requires a company to sponsor the Irish citizen as a foreign worker and doubles as a green card.
Green cards permit Irish nationals to live and work legally in the US. For this visa, it is not possible to self-petition. To be eligible for an EB3 visa, Irish nationals must be deemed as skilled workers, professionals who hold a baccalaureate degree, or other workers that are classed as unskilled.
It is important to note that EB3 visa/green cards do have a yearly quota system determined by the United States Citizen and Immigration Services (USCIS).
USCIS allocates 40,000 EB3 visas annually. Once this quota is reached, all other applications, even those already submitted, will be put on hold and pushed to the following year. Due to this quota system, it is common for there to be a backlog of applications.
If you have any questions regarding the EB3 immigrant visas, or citizenship and immigration services generally, you can contact our expert immigration lawyers to discuss any concerns you may have, or for some help navigating the process.
You can call us on (+353) 061 518 025, or contact us online seven days a week via our live chat.
"I'm very happy with the standard of training received on the OISC Level 1 course, i passed my exam. Thank you!"
"My application was approved and a huge weight has been lifted from our shoulders this year "
"We used this service for the spouse visa extension application to assure that all the information was valid and correct."
What are the requirements to obtain an EB3 Visa/Green card?
To be eligible for an EB3 immigrant Visas, you must meet the following requirements:
Be a skilled Worker: You must demonstrate that you have a minimum of two years of professional experience or training (some post-secondary education may qualify as training) and be doing a job that no American citizen or lawful permanent resident can do.
Be a Professional: You must demonstrate that you hold a bachelor's degree or an equivalent degree in the related field. If you have professional work experience and a degree, but it is not a bachelor's degree, you will not be eligible.
Be an Unskilled Worker. Working in "unskilled" labour is defined as roles that require less than two years of training or experience. ​​
Possess a labour certification, which permits American companies to hire Irish nationals (or other foreigners) to work permanently in the United States. This requires the company to prove that no American citizens can do the job. The company must apply for this certificate.
Have an employment offer from a company that is based within the US, where the employment is not temporary or seasonal.
Jobs in the EB3 visa categories
Examples of employment for each EB3 category include:
Skilled workers: skilled workers could include anyone that requires a specific set of skills such as computer scientists, financial technicians, administrative assistants, law enforcement officers, electricians, graphic designers, supervisors and journalists.
Professionals: professionals could include anyone that requires a bachelor's degree, such as lawyers, architects, engineers, architects, authors, chemists, scientists, doctors, nurses, surgeons, editors, engineers, accountants, and teachers.
Unskilled/other workers: unskilled also called "other workers" are workers who do not require extensive experience or training. While they are considered unskilled, each job does require specific skills to perform tasks, of course. Jobs in this set include caretakers, grocery clerks, farm labourers, hotel housekeepers, general cleaners, sweepers, housekeepers, nannies and janitors.
What are the benefits of EB3 immigrant visas?
Irish nationals who successfully obtain an EB3 may go to the US to live there permanently.
As they have a green card, they may work, can freely change employers, can travel within across states and internationally freely, and may live in the state of their choice.
They can obtain a driver's licence, access health care, social insurance number and attend school. They must pay all applicable taxes required of them.
What is the visa application process for an EB3 visa?
The process of getting an EB-3 Green Card requires sponsorship, also known as a petition, from a U.S. company. As such, you as an Irish citizen, need to obtain a job offer for a permanent, full-time position that no other qualified workers that are American or US permanent residents, already based in the US can do. The EB-3 process involves these steps:
1. The perm labour certification process:
The Program Electronic Review Management (perm) aka the perm labor certification process, is the system used for obtaining a Labour Certification. The process requires the sponsoring or petitioning employer, in America, to complete adequate recruitment processes to test the labour market.
This needs to be documented and proven to the DOL through interviews, advertisements and internal/external job postings.
If it is determined that there are no US citizens or lawful permanent residents for the position(s) after the recruitment process, the employer can submit a PERM labour certification application to the Department of Labour (DOL), with ETA Form 9089.
After reviewing the documents, the DOL can proceed with certifying the PERM, deny the PERM or audit the PERM, which means the DOL requires additional information. It can then take up to 90 days to get a response on the application.
2. The I-140 Immigrant Petition for Alien Worker:
Should the PERM be approved, the employer may submit the I-40 immigration petition for alien workers with USCIS.
This form is to prove that the Irish citizen is qualified and that the employer has the financials to pay fair wages.
This can take several months unless the employer apps for a premium process, which takes 15 days but is more expensive and costs $1,410
3. The I-485 Application to Adjust Status:
At this final stage, the Irish citizen, if they are already in the US with a different, valid status, can obtain the EB3 visa/green card, by filing an adjustment of status.
If they are still in Ireland, they will need to go to the US consulate in Dublin to get their EB-3 immigrant visa.
You will then be required to complete the Form DS-261, and undergo a complete medical examination.
You may be required to do an interview, too, with your supporting documents, including:
A valid passport.
Your I-94 record.
Your original birth certificate.
Your government-issued identification (e.g. driver's licence).
A letter from your employer confirming your employment (job offer).
Academic qualification documents, where applicable such as transcripts, certificates, etc.
Documents showing tax payments.
Any other document you might need to support the evidence given in your application.
The interviews are completed to determine your credibility and to ensure everything in your application is accurate and truthful.
Questions will vary for every interview, as there are no "set questions." You can, however, anticipate questions regarding the company employing you, your past professional/educational experience, questions regarding any criminal background or immigration breaches, for example. The interview is very important and we can help you prepare.
Cost of an EB3 immigrant visa
The fees you may have to pay include:
DOL Labour Certification fees (to be paid by your employer)
Application fees: $345
Fees for filing the Immigration Petition for Alien Worker $70
Biometric fees for medical examinations
Any other further cost for the translation of your supporting documents
Premium fee, if chosen to do so $1,410
What is the EB3 immigrant visa processing time?
The application process for an EB3 immigrant visa can take anywhere from one and three years. However, some applicants from certain countries could end up facing a wait of up to 6 years, because of the quota set by the USCIS, delaying applications due to backlog.
Your sponsor can pay the "premium processing fee" of $1,410 to shorten the processing time of your EB3 papers, to 15 days, however, this may not help if your permit priority date is still not current.
Can my dependents join me in the US with the EB3 Visa?
If you are successful in obtaining an EB3 Visa, your immediate relatives, or dependents, from Ireland may join you in the United States.
Dependents are defined as your legally recognized spouse or civil partner, and any unmarried children under the age of 21. Unfortunately, this does not extend to parents, grandparents, or siblings of the primary EB3 Visa holder.
What visa your family comes to America on will depend on what category your EB3 visa falls under. If your EB3 Visa subcategory is as a skilled worker or a professional worker, your spouse can apply for an E-34 Visa, and eligible children can apply for an E-35 permit.
If your EB3 Visa subcategory is for unskilled workers in the US, your spouse may be eligible for an EW-4 Visa, and eligible children may apply for an EW-5 Visa.
The spouse of an EB3 Visa holder under all subcategories can apply for an Employment Authorisation Document bracket (EAD), which could potentially grant them the right to work within the United States, while they are living with you.
Advice Package
Comprehensive immigration advice tailored to your circumstances and goals.
Application Package
Designed to make your visa application as smooth and stress-free as possible.

Fast Track Package
Premium application service that ensures your visa application is submitted to meet your deadline.
Appeal Package
Ensure you have the greatest chance of a successful appeal. We will represent you in any case.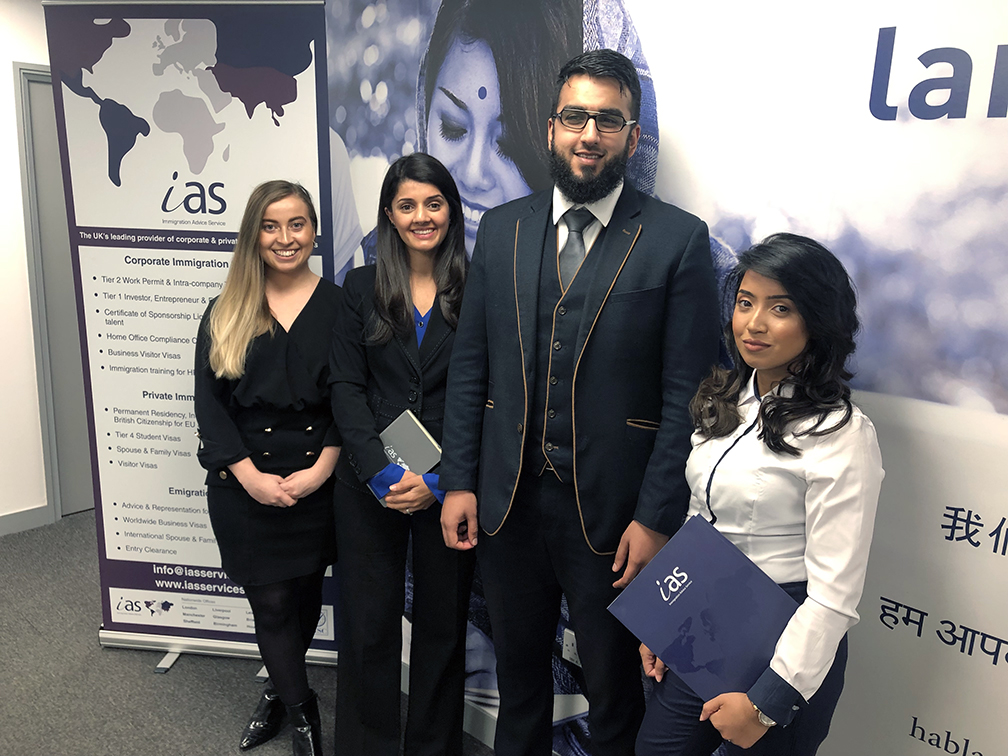 The Advice Package
During this untimed Advice Session with our professional immigration lawyers in London, you will receive our comprehensive advice, completely tailored to your needs and your situation.
Request the Advice Package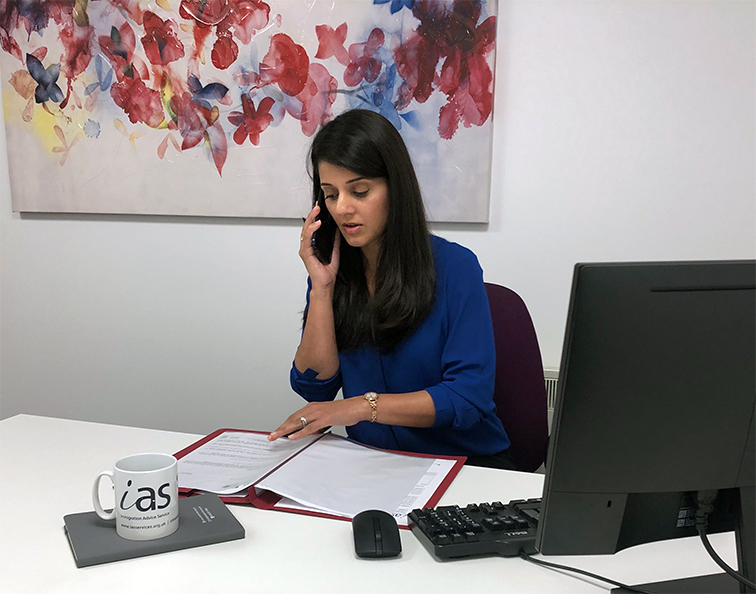 The Application Package
With our Application Package, your dedicated immigration lawyer will advise you on your application process and eligibility. Your caseworker will then complete and submit your forms to the Home Office on your behalf.
Request the Application Package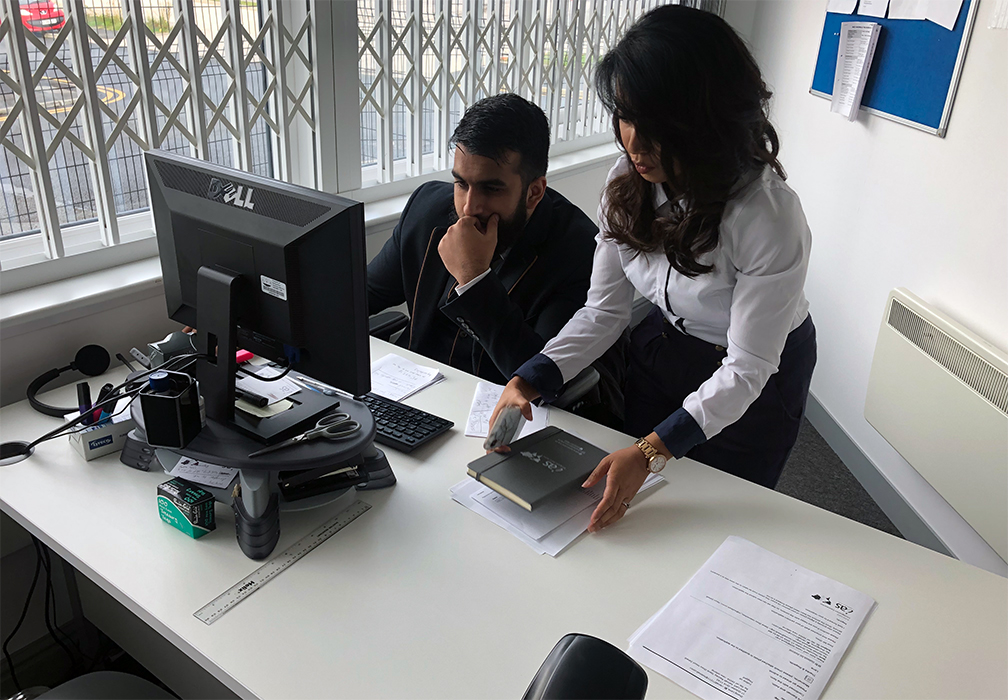 The Fast Track Package
Our Fast-Track Application Package is a premium service for those who need to submit their application in time with their deadlines. Your case will become a top priority for our lawyers and you will benefit from our highest-quality services.
Request the Fast Track Package
The Appeal Package
By choosing our Appeal Package, you can rely on our lawyers' legal knowledge and experience to ensure you have the highest chance of a successful appeal. We will also fully represent you in any hearings/tribunals.
Request the Appeal Package
Related pages for your continued reading.
Frequently Asked Questions
The EB-3 visa is an immigrant visa that allows Irish Citizens who are skilled workers, professionals or other types of workers to enter the U.S. to obtain permanent residency.
The majority of  EB3  permit you to expedite the I-140 processing time using an optional service called premium processing.
If you opt for the premium processing, it will cost $1,440 and take just 15 calendar days.
No, the Department of State doesn't impose any restrictions on the number of times you may travel in and out of the U.S.
18 years old.
Regardless of the type of visa you select for your circumstances, the best step is to get in touch with the team at Total Law, so you know that you are guaranteed the right path, and stand for a much higher success rate for your immigration application.
You can contact us seven days a week, either on the phone or by using the online chat function to speak with one of our client care agents.