L1 Visa
The L1 Visa is a Petition-based visa meaning someone or an organization has to apply on your behalf. L1 is an intra-company transfer visa applicable to certain employees of international companies.
If you need assistance with your visa application, feel free to call us on +1 844 290 6312, or you can request a call back through our live chat feature.
What is the L1 Visa?
L1 is an intra-company transfer visa applicable to certain employees of international companies.
You should apply for an L1 visa if you're transferring to a subsidiary, affiliate, or parent branch in the USA. It's a temporary permit valid until the termination of your employment.
There are two categories of the "L" visa – L-1(A&B) and L2. The former is for the applicant, while the latter is for certain family members.
With over thirty visa types for Irish citizens into the US, you must file for the right fit. If you get it wrong at the foundation, fulfilling your purpose in the US would be challenging. Worst case scenario is that you get deported. That's why you have to educate yourself on the different types of visas and find out the one applicable to you.
Non-immigration workers won't get a permanent visa when transferring to a company branch in the US. There are over ten different permits under this title, but our concern here is the L-1 visa. Employees in the intracompany transfer can enter the US with this visa, but the company has to file on your behalf.
A company is eligible to file if they've conducted business in the US for at least one year, has a minimum of three branches, and engages in commercial trade or service. All subsidiaries must prove an annual revenue minimum of $25million or 1,000 employee staff strength. The petitioner must also have a resume of 10 L-1 approvals at least 12 months before your application.
"I'm very happy with the standard of training received on the OISC Level 1 course, i passed my exam. Thank you!"
"My application was approved and a huge weight has been lifted from our shoulders this year "
"We used this service for the spouse visa extension application to assure that all the information was valid and correct."
L1A and L1B 
L-1A
The L-1A visa applies to employees in Management and Executive positions for at least one full year without breaks three years before the intended admission date. That means low-tier workers aren't eligible for this visa because they need supervision, can't make decisions on behalf of the company, and report to superiors.
In this instance, people in charge of small mini-teams wouldn't qualify. Your position has to be incidental to the running of the company. Ineligibility for the L-1A visa may qualify you for the L-1B visa.
L-1B
The only exceptions to the top-tier condition for an L-1 visa are Experts. Employees with special knowledge and skills intended for an expert position can file for an L-1B visa. Under this title, your position doesn't need to be leadership.
Specialization includes special knowledge of products, equipment, techniques, research, procedures, and processes. This visa is valid for a year if the company is new, and three for existing businesses. You can't extend your stay past five years unlike the L-1A which is seven years.
L-1B holders can apply for a status change to L-1A through their employer. Please note that you can only do what you've specified in your visa application. Working outside your scope of employment is grounds for revocation of visa.
Types of L-1 visa
Blanket L-1
Multi-tiered structured conglomerates are better suited to file a Blanket L-1 visa for employees. Intracompany transferees in leadership roles can file under this title.
Opening an Office
Employees whose transfer relates to overseeing the establishment of a new office can file under this title. The applicant must've worked in a senior position for a year (continuous, not cumulative) three years before the application. Finally, the new office must support the corporate leadership position within a year of the petition approval.
Documentation Checklist
Some credentials are specific to the type of L-1 visa you file, while others are general. In some cases, you have to pay fees to the embassy's cashier on the day of your visa interview. Applicants are to pay a Fraud Prevention and Detection Fee of $500. Also, companies subject to the Border Security Act would pay a fee of $4,500.
Please note this figure can change based on the exchange rate at the time of your application. The US embassy accepts cash USD and Euro, postal orders in Euro, and specific Credit Cards (Mastercard, VISA, Diners Club, Discover, and American Express.)
Here's a comprehensive list of documents you'll submit at the embassy.
General documents
Confirmation Page of your DS-160 form: The DS-160 form is the comprehensive document for non-immigration visas.
Appointment Confirmation Page (conditional): Applicants who file for themselves on behalf of their employers must present the page of their appointment confirmation.
The receipt number of Approved Petition: Copy the number on the top right corner of your form.
Valid Passport or Travel Document: All passports must be valid at least six months after the last day of your stay. Also, the booklet should have a minimum of one blank page.
5x5cm color photograph (conditional): You're exempt from this requirement if you successfully uploaded a photograph on your DS-160 form. Please note that your picture must be at most six months old.
Evidence of Previous US Visa: If you've entered the USA under other visas, you must present the evidence. If you've lost the old documents, don't worry; you can apply to the consular and get duplicates by courier at a fee.
List of Previous Locations in the US: If this isn't your first foray into America, submit a list of your previous stays under the L-1 visa.
Blanket L-1 additional documentation
2-Sets of Identical documents: You must present two identical Form I-1295. It's a summary of your petition containing your statement of purpose, position, skill, and visa type.
Letter from Employer: This letter would contain full disclosure of your employment status – position, the company you're coming from and moving to, description of your duties, previous and present salary quote.
Page 1 of Form 1797: Print the first page of your Blanket L-1 petition approval notice.
Educational Qualifications (conditional): Applicants under the L-1B visa must prove their specialized knowledge as experts with relevant certifications.
Requirements for L-1 Visa
In addition to the basic condition, there are certain criteria you must meet to qualify for an L-1 visa.
First, the applicant must be an employee in a senior position – managerial or executive or an expert.
Under the "Opening an Office" title, you must show proof of adequate physical location for the new office building.
Because the L1 visa is a temporary one, you can request an extension of up to 7 years. To qualify for that, applicants must prove ongoing work per the specifics in your initial visa application.
How To Apply
You have to follow the instructions in Form I-129 relating to non-immigration workers. Under this form, the applicable visa is the L-1A and L-1B for Temporary workers.
If you're exempt from this visa, your company can file Form I-129S instead.
As an Irish citizen, the Visa waiver program allows you to conduct business in the US within 90. The only condition is that you must have an Electronic System for Travel Authorization (ESTA) and activate it 72 hours before your departure.
Also, employees who enter the US under ESTA equally waive their right to an anti-deportation defense if they overstay.
Please note that the accepted browsers for filing the form are Google Chrome 58, Internet Explorer 11, and Firefox. You must sign your application even if your employer files the petition for you.
Complete your online form and sign
Pay your required fees
Prepare all the relevant documentation
Advice Package
Comprehensive immigration advice tailored to your circumstances and goals.
Application Package
Designed to make your visa application as smooth and stress-free as possible.

Fast Track Package
Premium application service that ensures your visa application is submitted to meet your deadline.
Appeal Package
Ensure you have the greatest chance of a successful appeal. We will represent you in any case.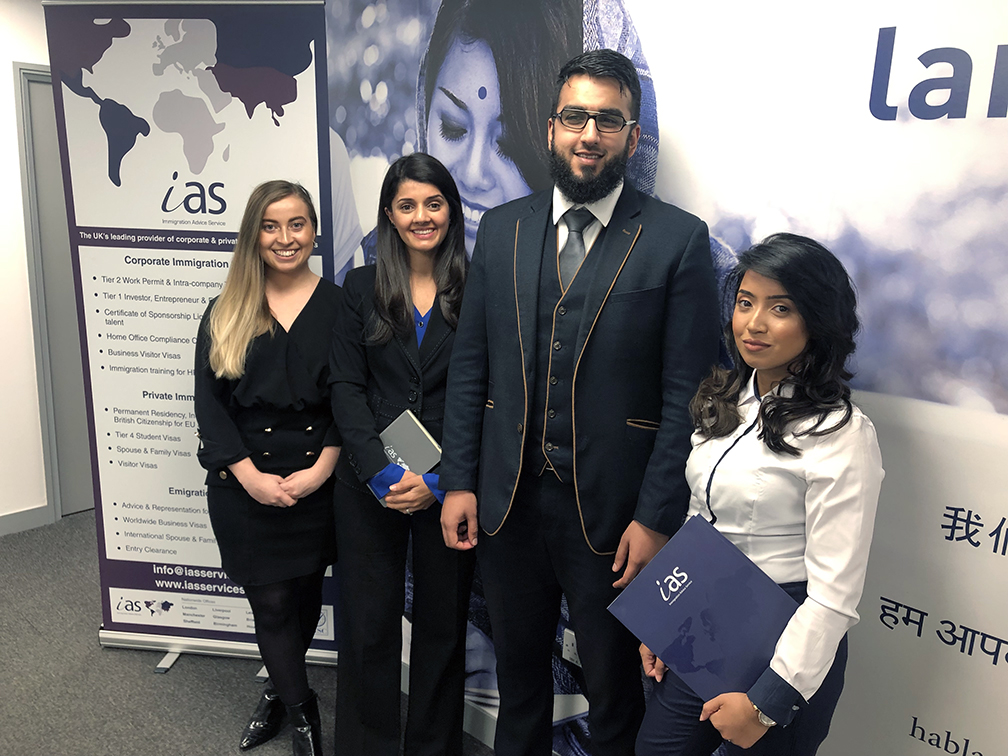 The Advice Package
During this untimed Advice Session with our professional immigration lawyers in London, you will receive our comprehensive advice, completely tailored to your needs and your situation.
Request the Advice Package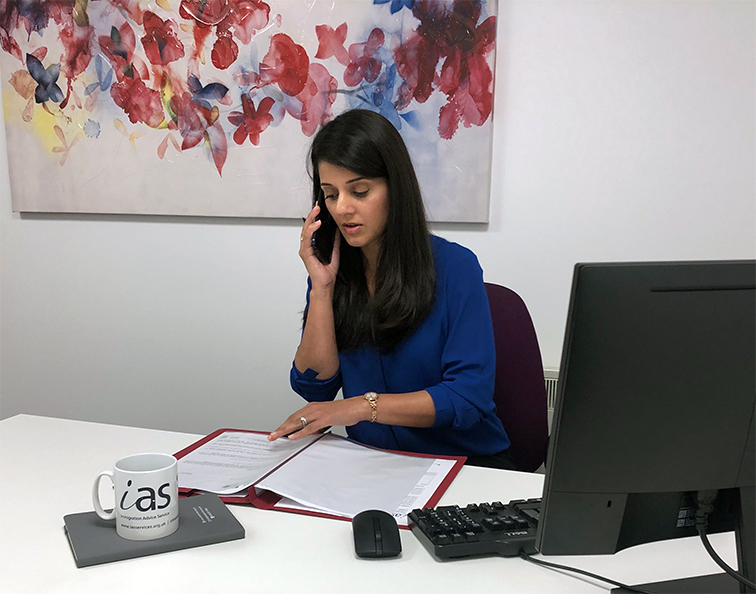 The Application Package
With our Application Package, your dedicated immigration lawyer will advise you on your application process and eligibility. Your caseworker will then complete and submit your forms to the Home Office on your behalf.
Request the Application Package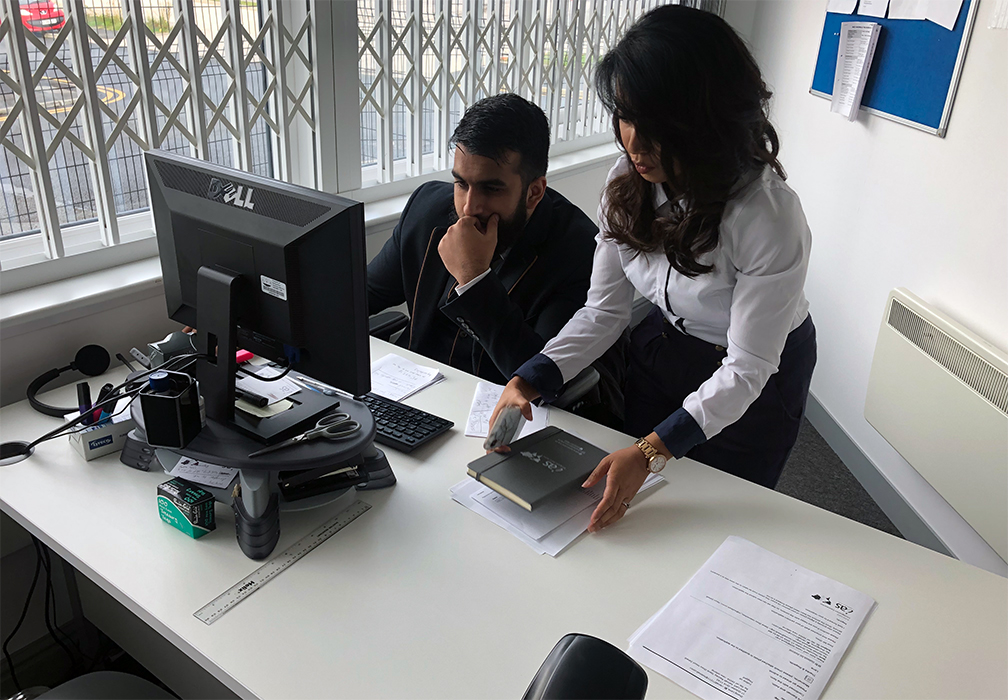 The Fast Track Package
Our Fast-Track Application Package is a premium service for those who need to submit their application in time with their deadlines. Your case will become a top priority for our lawyers and you will benefit from our highest-quality services.
Request the Fast Track Package
The Appeal Package
By choosing our Appeal Package, you can rely on our lawyers' legal knowledge and experience to ensure you have the highest chance of a successful appeal. We will also fully represent you in any hearings/tribunals.
Request the Appeal Package
Related pages for your continued reading.
Frequently Asked Questions
The USA recognizes that employees could have family members. The L-2 visa applies to spouses and children (below 21) of the L-1 visa holder.
Married children under 21 years aren't qualified because of their status.
With the L-2 visa, spouses can get the Form I-766 Employment Authorization Document with the I-765 application.
In case you extend your stay, they'll also be eligible for an extension. They, however, need to renew their L-2 permit before it expires.
Yes. Although the DS-160 form visas imply disinterest in immigrating to the USA, L-1 visa holders can apply for a Green Card. Like with every other process, there are strict requirements.
You must prove employment at a managerial or executive position in a foreign company for a full year in the three years before your application. Your company must be eligible, as mentioned earlier. Finally, your criminal record must be squeaky clean.
Once you fulfill these requirements, the rest of the process is seamless.
Unlike non-L-1A holders, you won't experience the Permanent Labor Certification Program or conditional Green Card period. L-1B holders have to do that, however.
Your L-1A and L-1B visas are only as good as your employees. If you get terminated during your posting, your visa becomes null because you can't fulfill the purpose listed in your application anymore.
You can extend your L-1 visa for two years and more until it reaches 7years.
Moving to a new country on business can be a complex venture. Any slight error can prove devastating in the long run. That's why you need a reliable service to facilitate the process for you.